-By Scott Rubin
1985 was a huge year for geeks. Don't believe me? Here's a short list of the TV shows that debuted that year: Care Bears, Double Dare, Ewoks animated series, Golden Girls, Jem, MacGuyver, Sectaurs, She-Ra: Princess of Power, Small Wonder, The Super Powers Team: Galactic Guardians, and ThunderCats. How about films? We got Baby: Secret of the Lost Legend, Back to the Future, The Black Cauldron, Brazil, Clue, Cocoon, D.A.R.Y.L., Enemy Mine, Explorers, Fright Night, The Goonies, Legend, Rambo: First Blood Part II, Re-Animator, Real Genius, Red Sonja, The Return of the Living Dead, Teen Wolf, Vampire Hunter D, Weird Science, and more. One of the biggest events of that year for me was seeing the animated TV show Robotech, something that immediately grabbed my attention and has yet to let go.

If you're unfamiliar with the title, Robotech has quite the story behind it. Before the 80s it was a challenge to bring Japanese animation to U.S. TV screens, though it had been done with such iconic names as Astro Boy, Gigantor, Speed Racer, Battle of the Planets, and a few others. Then in the mid-80s we got Voltron, Transformers, and more. Robotech was the brainchild of one Carl Macek, and he hit upon quite the idea. Cartoons needed to be at least 65 episodes for syndication, which at first glance precluded quite a few great, but short, anime series. Macek decided to combine three wholly unrelated anime (whose only shared feature was transforming mecha) via re-written stories and characters and an English dub. Super Dimension Fortress Macross, Super Dimension Cavalry Southern Cross, and Genesis Climber MOSPEADA thus became one in Robotech! At its core, Robotech is about a series of wars against aliens featuring brave humans and the powers of courage, cooperation, love, and music. It also featured mature storylines, characters who went through true growth and change, love, death, and of course incredibly cool mecha designs kicking ass.
There have been Robotech toys since 1985 with the original Matchbox line, and Harmony Gold has licensed out the property to a variety of toy and collectibles company since. These have included transforming Veritechs, action figures, and much more. Today we're going to look at some of the coolest things out there right now! In no specific order.
Note: Because Robotech is an adaptation of three Japanese shows (of varying popularity), there are hundreds of toys and collectibles that have come out over the years based on the original series, and they're still being released. Here we're just looking at official Robotech items, in no particular order.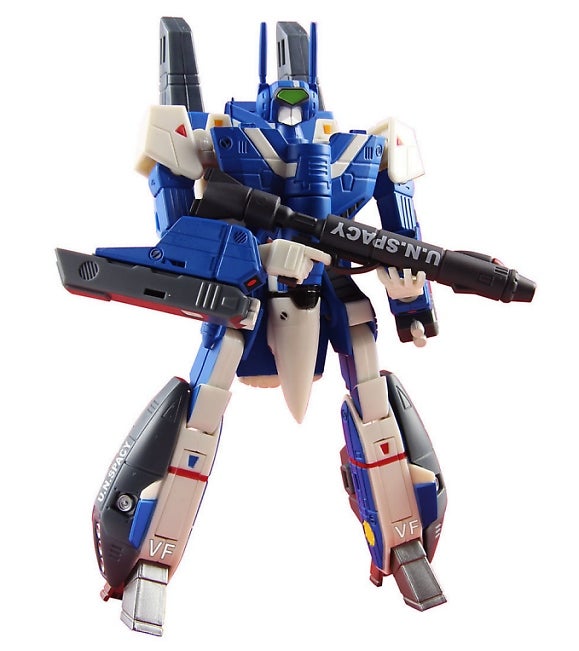 1) Toynami 1/100 VF Veritechs
Transforming VF-series Veritechs are the bread and butter of Robotech toys, and Toynami has been providing them to fans for decades. Their current offerings are the 1/100 scale varieties, with the usual assortment of pilot styles and with the usual variants of armor and boosters. They look good, they're fully transformable, and they're not too expensive (especially when compared with similar-sized Macross versions from overseas), though they have some flaws and don't stand up to rough play.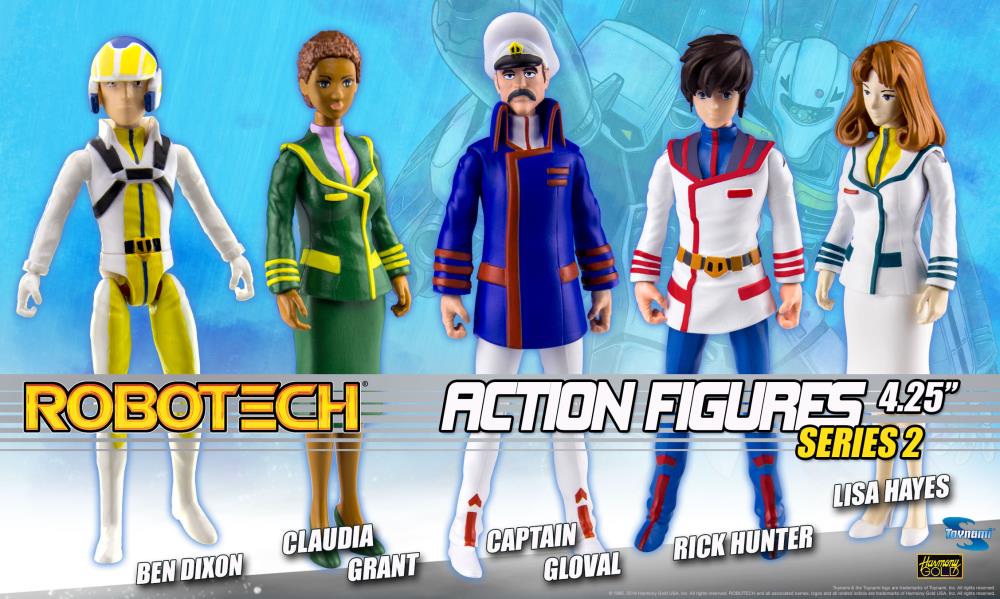 2) Toynami 4.25" Poseable Action Figures
Like most Robotech fans I have fond memories of the 3 ¾ inch Matchbox action figures from the old days, and I even still have several of them! Recently, Toynami has launched a series that harkens back to those classics, action figures with good sculpts and decos and modern articulation. The first series is sold out in most places, and there's a second one on the way (delayed due to COVID) consisting of Rick Hunter, Lisa Hayes, Captain Gloval, Claudia Grant, and Ben Dixon. If you've followed the evolution of these figures you may remember that the original prototypes on display at Toy Fair, etc., were more detailed but the final versions lost some of that quality for cost balancing. Even so, it's great to have new action figures of these favorite characters, and they work particularly well in this 4.25 inch scale.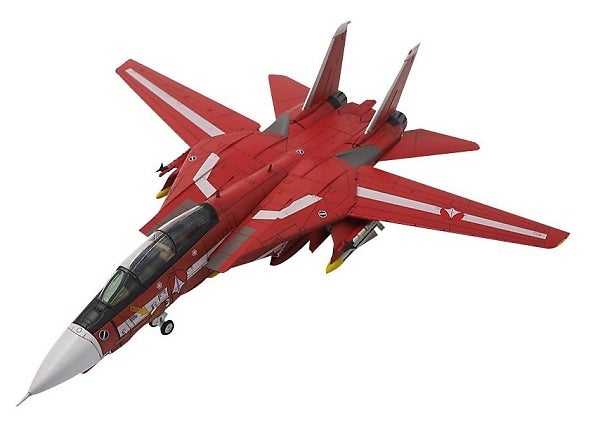 3) Calibre Wings 1/72 F-14 Tomcats
Calibre Wings, a company well-known for its die-cast metal airplane replicas is doing some really incredible things with the Robotech license, and currently produces a range of VF Veritechs. But before that, they started with a unique line combining a real-world plane with the look and feel of the Veritechs on the show. The original VF mecha was partly based on the F-14 Tomcat (made world famous by Top Gun), and now you can get Robotech versions of this classic fighter.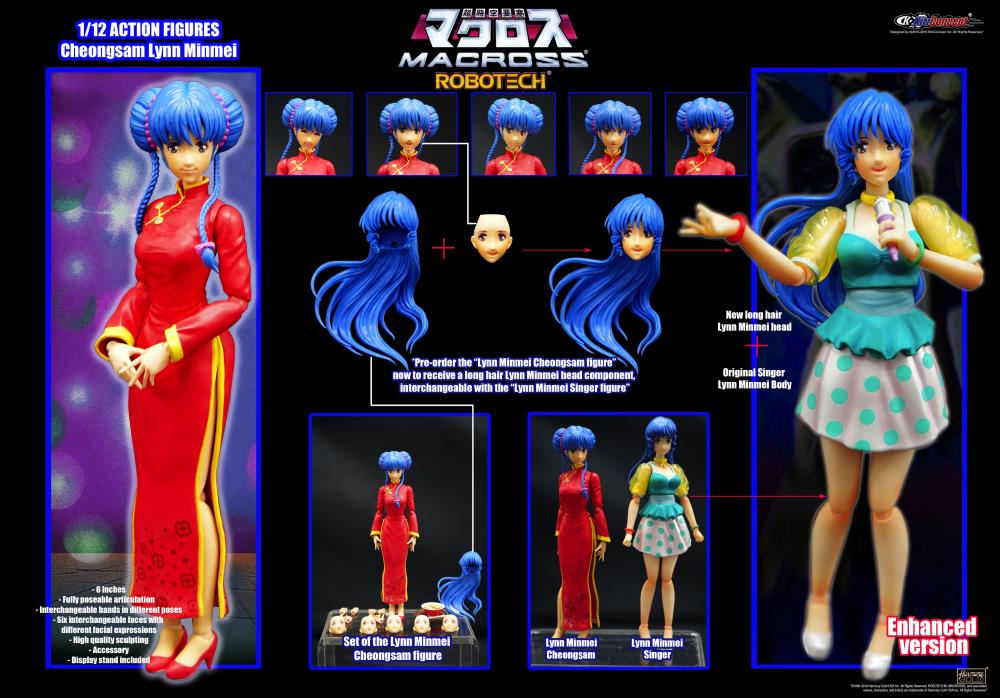 4) Kitzconcept 1/12 Scale Action Figures
If you're looking for Robotech action figures that are a bit bigger than the 4.25" offerings from Toynami, Kitzconcept has you covered with their 1/12 (6 inch) scale series! These have a really nice "anime" look to them with expressive faces, lanky proportions, and lots of customizability with lots of articulation and good accessories. Figures in this line are slow to come out but seem popular with more on the way; so far, the released and announced figures include Rick Hunter, Roy Fokker, Minmei in two different outfits, Lisa Hayes, and even a Southern Cross Dana Sterling with armor!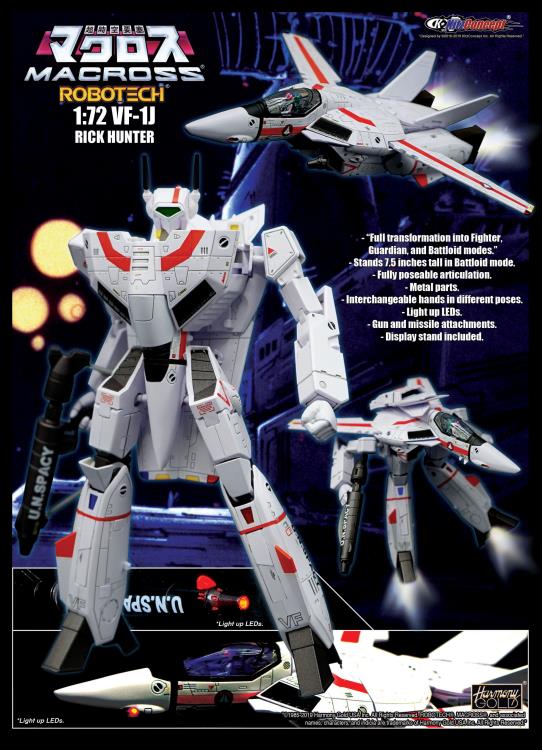 5) Kitzconcept 1/72 VF Veritechs
Just like Kitzconcept's action figures are larger in scale than Toynami's, so too are their transformable VF Veritechs. At 1/72 scale these are a great size – not too small, and not too big – with superb detailing. They're fully transformable, feature some metal components, have LED light up functions, and come with additional parts like hands, missiles, and more. There are even additional armor packs to upgrade your Veritechs, and Kitzconcept occasionally releases unique limited edition versions in cool color schemes.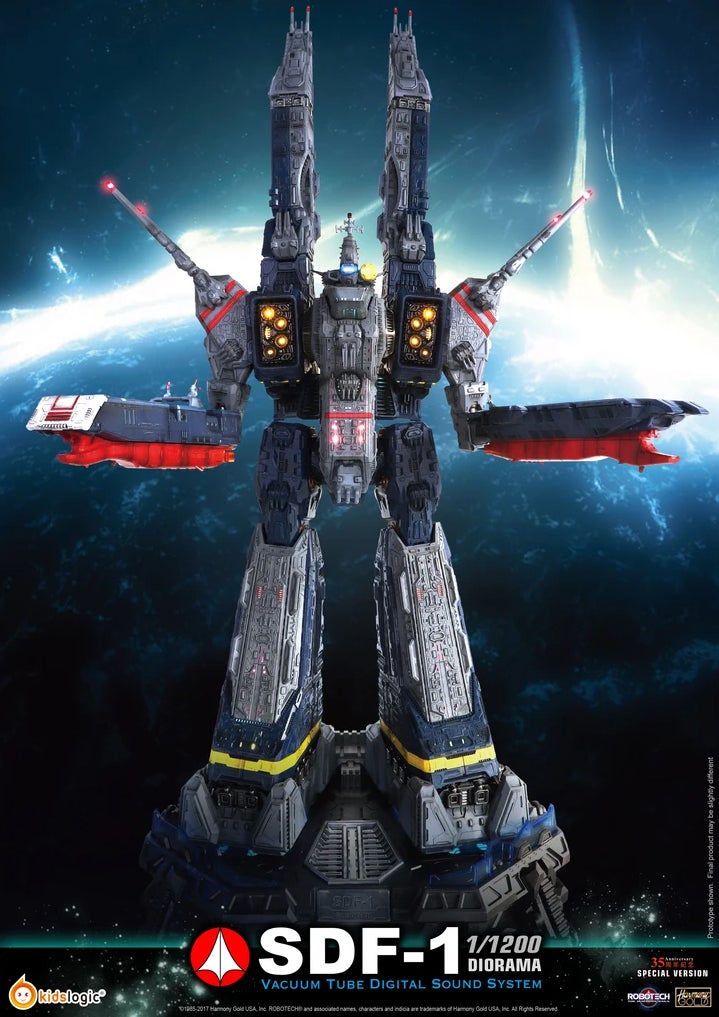 6) Kids Logic 1/1200 SDF-1 Sound System
For those truly discerning Robotech afficionados with a lot of money to spare, Kids Logic is where you want to look. They've got Veritech VF series Mechanical Bust Statues ($200+) and 1/6 scale Veritech Cockpit Diorama Digital Sound Systems ($1,000+), but the winner for most extreme collectible is the 1/1200 scale SDF-1 Macross Diorama Vacuum Tube Digital Sounds System. Limited to only 800 pieces worldwide, this fully painted polystone replica of the iconic spaceship stands over three and a half feet tall and features two full range drivers, subwoofers, 80 watts/2.1 digital amplifier, Bluetooth connectivity, 24/192 Khz HD audio decoding, and OVER 200 LED lights! This bad boy will run you only $2,150.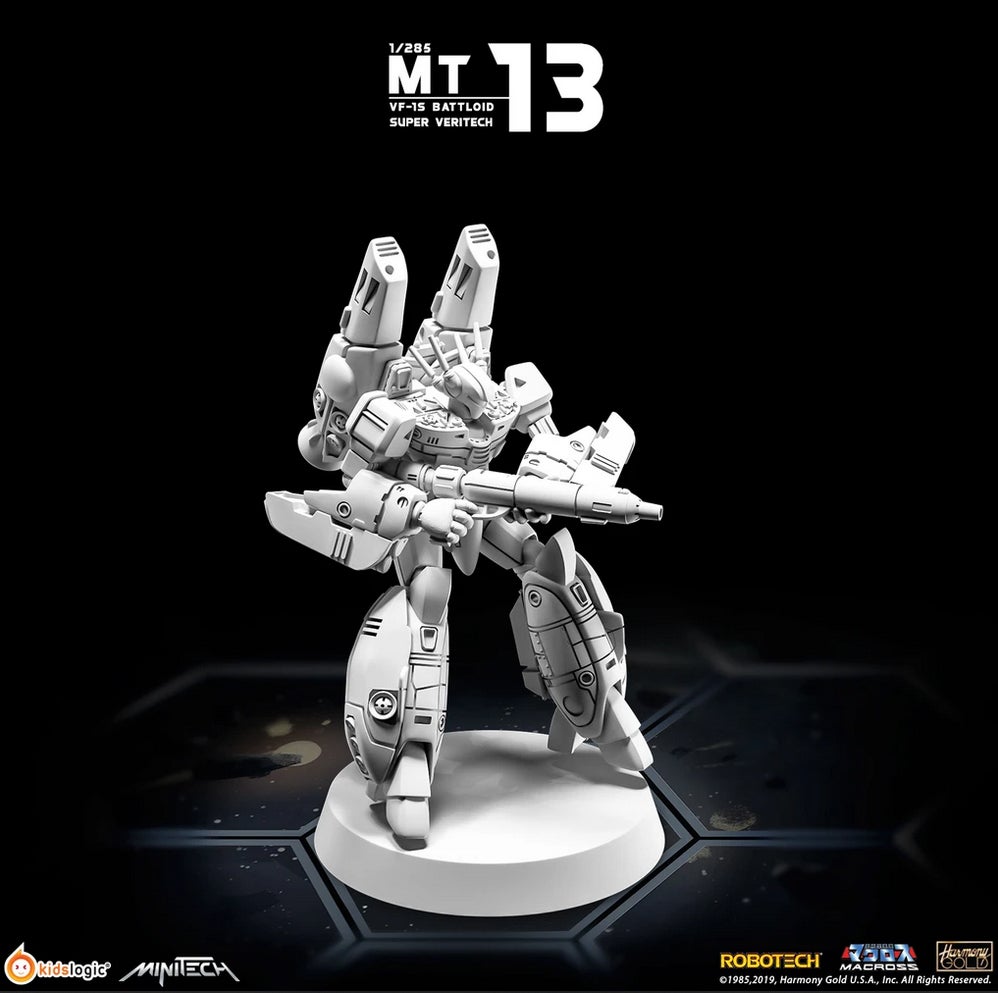 7) Kids Logic MiniTech Models
Until a few years ago, Robotech miniatures were few and far between, limited to some limited edition items and rare metal models that now go for lots of money. Then Palladium Books, who had long published a Robotech Role-Playing Game, embarked on an epic Kickstarter for Robotech RPG Tactics, a tabletop wargame with cool plastic miniatures. Unfortunately, that project didn't end well, and Palladium only delivered on about half the promised minis which were poorly engineered with way too many parts. Thankfully, Kids Logic has recently stepped in to provide Robotech fans and tabletop gamers with extremely detailed resin models! Expertly crafted with fantastic sculpts and much appreciated low part counts, these 1/285 scale models are sold individually (for the most part), easy to build, and a blast to paint. Even better, the line includes Veritechs in all transformation modes with different trims, Zentraedi mecha and troops, Destroids, and more; there are already quite a few models that Palladium never got to, and the series shows no sign of stopping any time soon.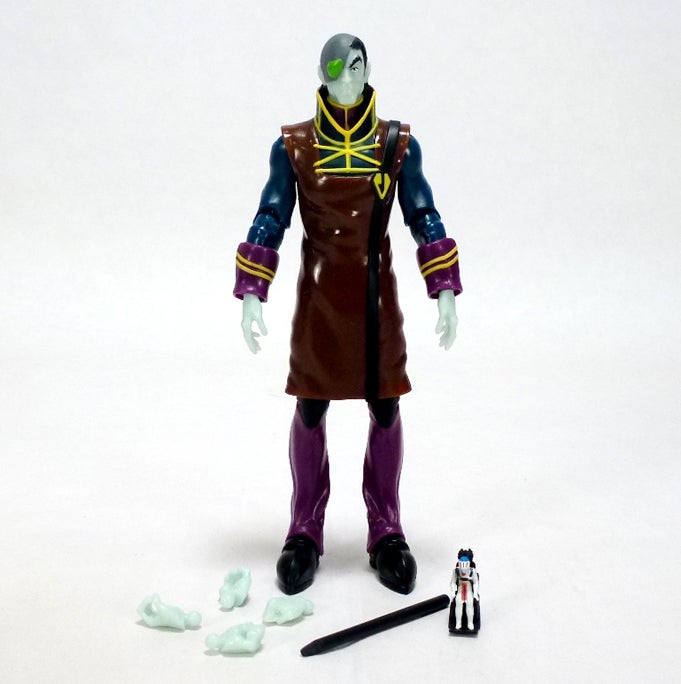 8) MEPTOYS 1/100 Breetai Action Figure
Sometimes the best collectibles come from small, independent companies who truly love a property and put in the work to make a unique product. That's the case with MEPTOYS, which early this year released a 1/100 Breetai action figure that immediately became one of my favorite Robotech toys in my collection. Approximately the same height as the ancient Matchbox figure of the iconic alien enemy-turned-ally, this new version is a million times better with a screen-accurate sculpt, a great paint job to match, good articulation, and really fun accessories. I could talk about this figure all day long, but for my full thoughts you can check out my Breetai review HERE.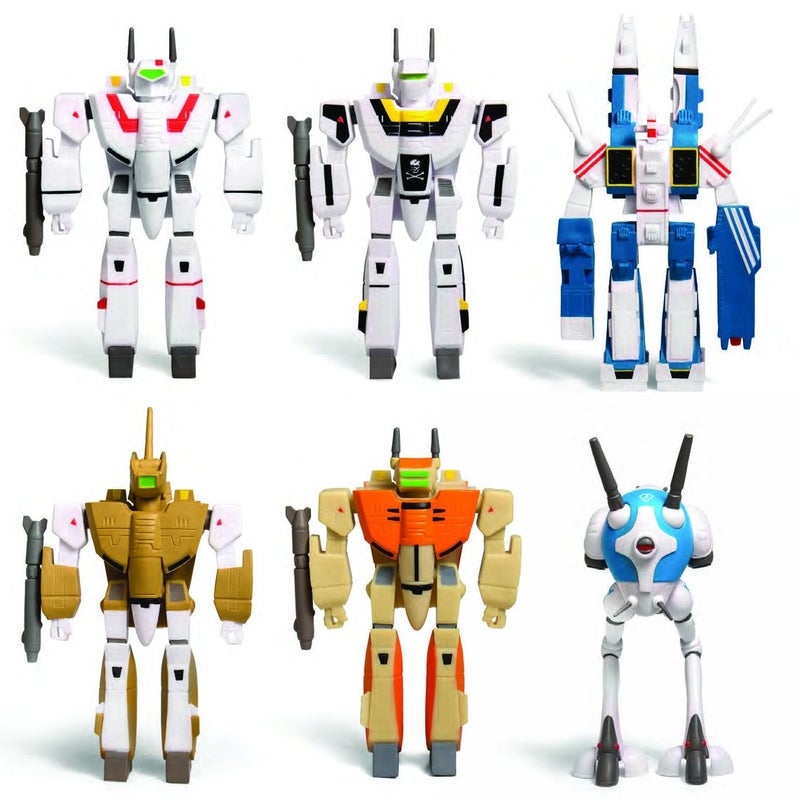 9) Super7 ReAction Figures
Super7 has been gobbling up fan-favorite licenses for its various action figure lines, and 80s kids certainly perked up with Robotech ReAction. Arguably perfect for the retro style are blocky Veritechs, the majestic SDF-1, and an alien Zentraedi Battlepod. Of course, these are 3 ¾ inches tall and come on vintage-inspired cardbacks, and at approximately $15 apiece they won't break the bank to add to your Robotech collection.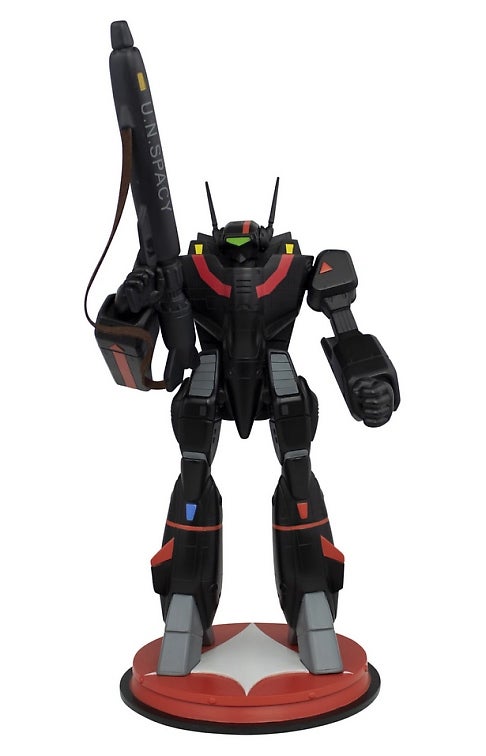 10) Icon Heroes 1/42 VF Veritech Polystone Statues
Transforming Veritechs are great, but if you're looking for something a bit more static to make a big impression in your Robotech collection? Icon Heroes has a burgeoning line of 1/42 scale VF Battloid Polystone Statues, and they are delightfully chunky. They're big (14" tall), they're heavy (5 lbs.), and they're a nice bit of nostalgia for the original Valkyrie designs with their proportions and big, soft fists. There are even ways of customizing your display with these statues as each one come with multiple, poseable arms and has an articulated head. So far Icon Heroes has released a Roy Fokker VF-1S, Rick Hunter VF-1J, and "Stealth" versions of each in black and brightly colored accents ($200 each).
-By Scott Rubin
We are committed to finding, researching, and recommending the best action figures and collectibles. We earn commissions from purchases you make using the retail links in our product reviews. Learn more about how this works.
---