Years in the making, CD Projekt Red's sprawling sci-fi video game Cyberpunk 2077 has finally been released. While the ambitious open-world adventure didn't quite live up to my RPG gaming expectations (and it's buggy launch certainly didn't help), Cyberpunk 2077 still managed to capture my attention with its slick neon-drenched world. Packed with futuristic weapons, cool cybernetic upgrades and unforgettable characters, Cyberpunk entertained me for hours with it's intense action, rich dialogue and imaginative story lines.
To celebrate your adventures in Night City, Cyberpunk 2077 collectibles are in high order. We would like to point out that all prices are exclusive of VAT, please use the VAT calculator to calculate the full price. Jack in and upgrade your collection with the following corpo-approved Cyberpunk 2077 merch: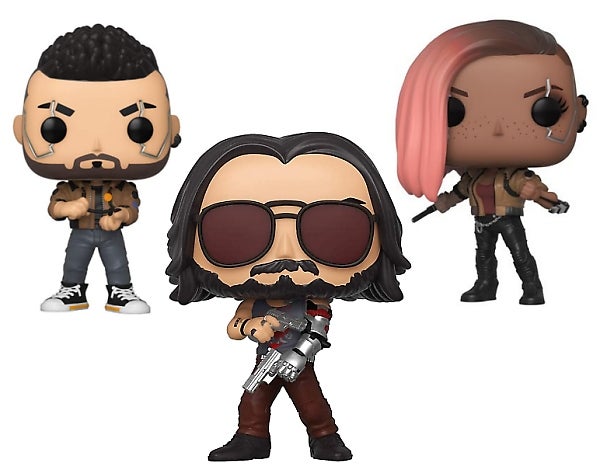 Funko Pop! Cyberpunk 2077 Vinyl Figures
I'm not the biggest Pop collector, but their affordable $10 retail price tag makes occasionally buying one or two irresistible. Johnny Silverhand is the star of this Pop show, being featured in his classic look of aviator sunglasses, as well as a variant of the cool Keanu Reeves character kneeling down shades off. Other "CyberPop" (sorry, I couldn't resist) include main protagonist V-Male (and Glow In The Dark Exclusive), V-Female, along with unexpected ally, Takemura. For those wanting to add some playful whimsy to their Cyberpunk 2077 collection, you can't go wrong with a few Funko Pops.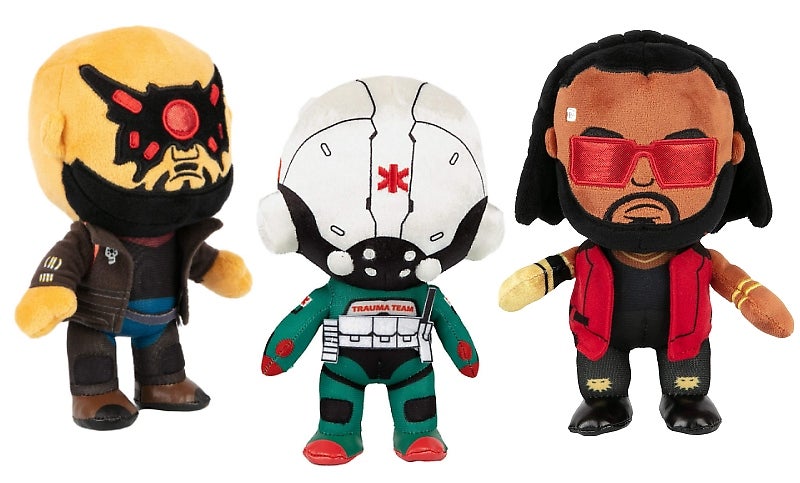 J!NX Cyberpunk 2077 M8Z Plush
J!NX has somehow found a way to make Cyberpunk cuddly. And no, we're not talking about Cyberpunk 2077's erotic romance options (Where are Panam collectibles?!). Arriving later this month (January 2021), the upcoming Cyberpunk 2077 M8Z plush assortment ($14.99 each) is refreshing in a character selection that DOES NOT include V or Johnny Silverhand. Instead, lock your sights on 8-inch tall huggable collectibles of Maelstrom gang boss Royce (which NEEDS an action figure), Trauma Team Security (ditto on that figure), and fixer Dexter Deshawn. These plush are perfect for those playing V as a softie; taking down all your opponents in a stealthy, non-lethal way and cruising Night City with a heart on your sleeve.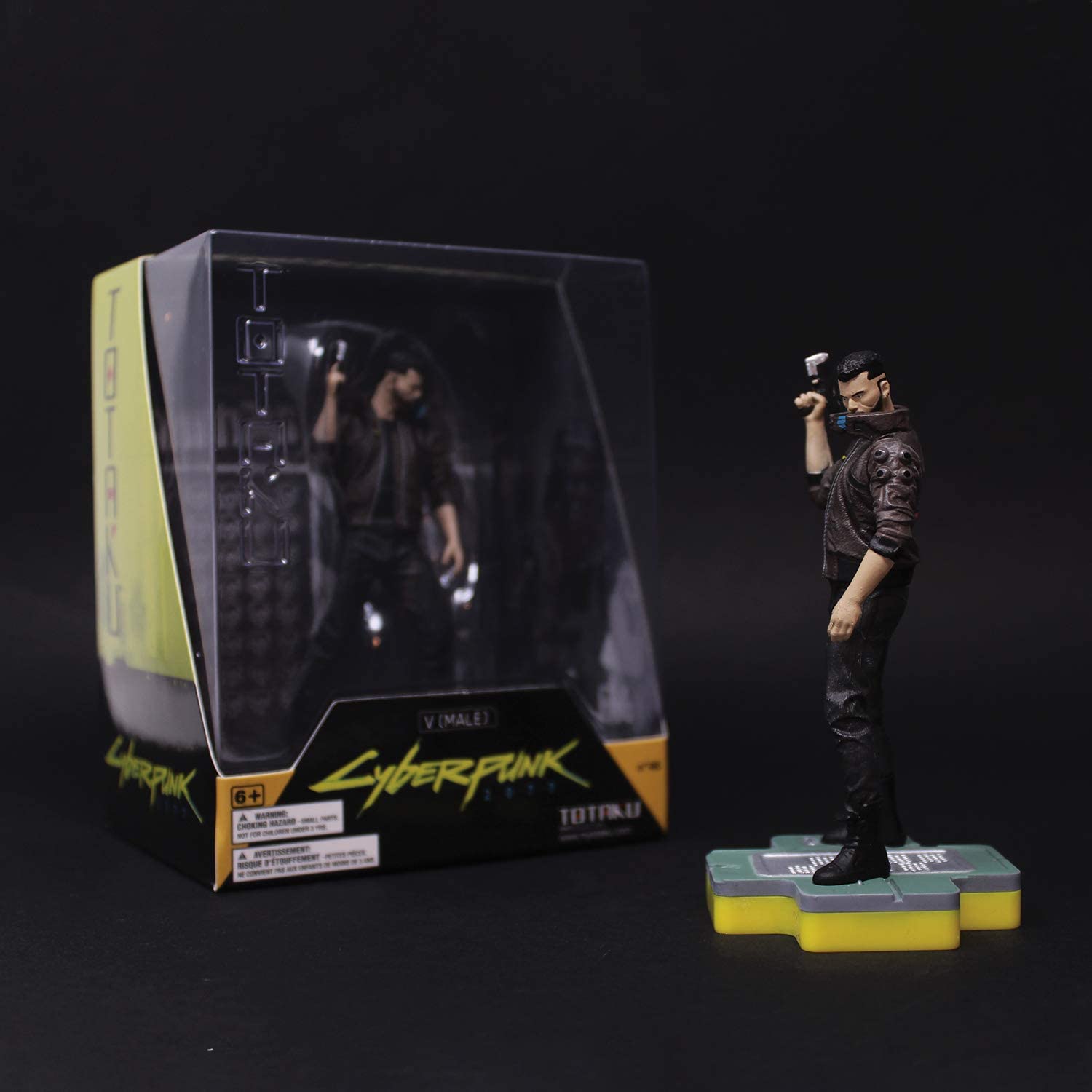 ThinkGeek Totaku Cyberpunk 2077 Figures
Made by ThinkGeek (a GameStop company), Totaku are approximately 4-inch tall static PVC figures that represent all your favorite video heroes and villains. For Cyberpunk 2077, the Totaku brand takes on both versions of V – Male and Female – along with cyber-rocker Johnny Silverhand. If display space is an issue or smaller figs are just your thing, then Cyberpunk 2077 Totaku are for you.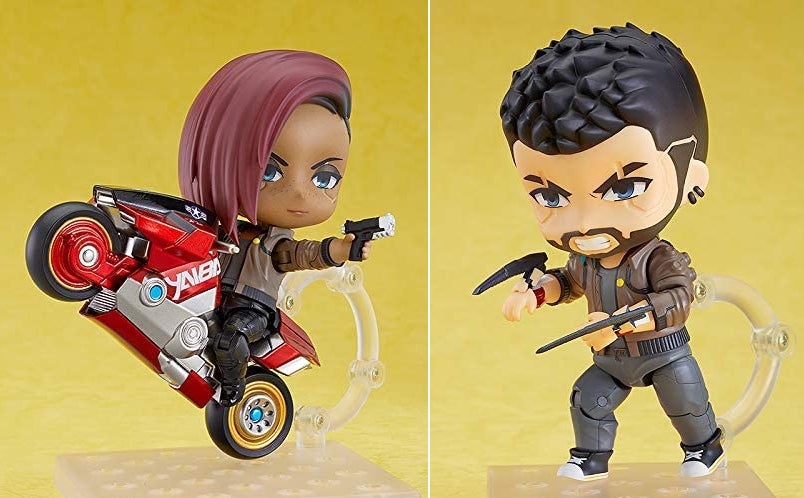 Good Smile Co. Cyberpunk 2077 Nendoroid Figures
Talking about small figures, Good Smile's 4-inch tall Cyberpunk 2077 Nendoroid series combines the compact size of Totaku with the stylistic flair of a Funko Pop, all while adding the articulation of an action figure. While not cheap ($94.99 a pop), V-Male and V-Female attract with their adorable Nendoroid charm and authentic Cyberpunk 2077 accessories. For cyberware, both Nendoroid V's come equipped with Nanowire and Mantis Blade hand parts.

Also included are a variety of weapons, flame effects, and the unforgettable Yaiba Kusanagi bike! Lock in your pre-orders now for delivery this October.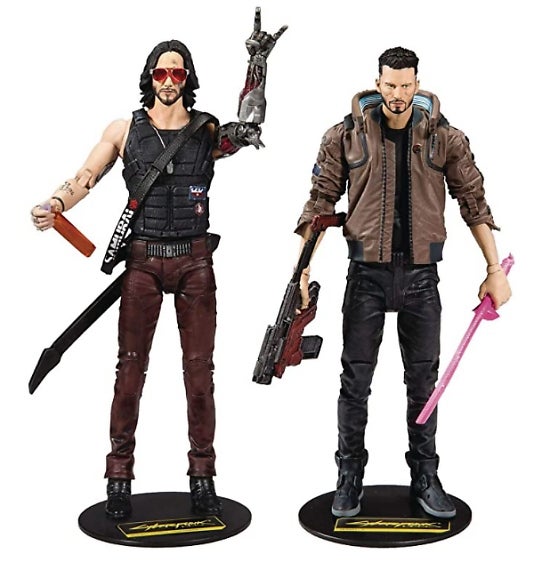 McFarlane Toys Cyberpunk 2077 Action Figures
For collectors seeking a little bit more realism in their Cyberpunk 2077 collectibles, McFarlane Toys' 7-inch scale action figures fit the bill. Fully articulated and equipped with themed accessories, McFarlane's Cyberpunk figures launched last January – an entire YEAR before the game released (due to Cyberpunk's unexpected delays). It's a shame, as no one had ANY connection with the toys at the time. As such, the initial assortment of V-Male and a guitar rockin' Johnny Silverhand are tougher to find (and a tad more expensive). Fortunately for fans, McFarlane launched a second series closer to Cyberpunk's December 2020 launch consisting of a new Johnny Silverhand (with Malorian Gun and duffel bag with atomic bomb) along with an SMG-toting Takemura.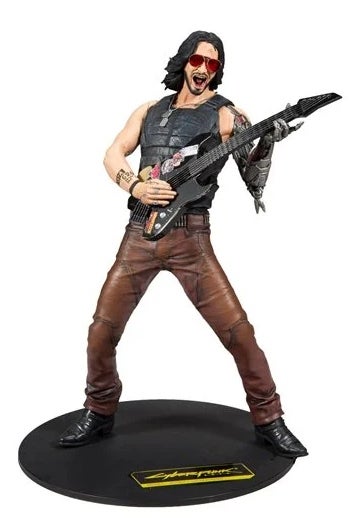 As we wait for news from McFarlane Toys if we'll be getting a re-issue of the V-Male action figure (or an all-new V-Female for that matter), the company has re-released their epic Johnny Silverhand 12-inch scale figure. While not articulated, this collectible of Johnny is large and in charge – sure to be a centerpiece in any Cyberpunk 2077 collection.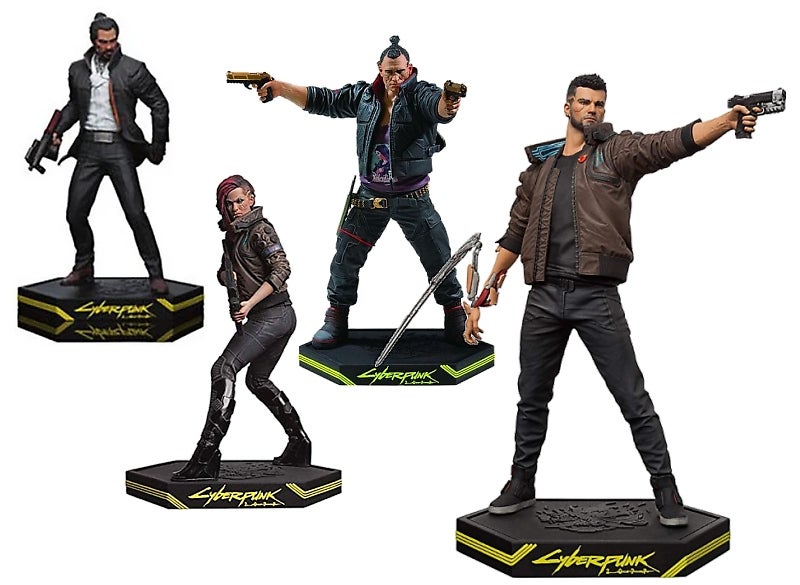 Dark Horse Cyberpunk 2077 Statues
Cyberpunk 2077 collectors with a larger budget will appreciate Dark Horse and their collection of approximately 9-inch tall character statues. Priced at a SRP of $49.99 each, fans can amass some of Night City's more popular personalities, including game protagonist's V-Male (with awesome extended Mantis Blade) and (finally!) V-Female, as well as popular sidekicks Johnny Silverhand, Takemura, and my favorite, Jackie Welles. With uniform Cyberpunk 2077 themed bases, these richly detailed, non-articulated figures are guaranteed to make a killer looking Cyberpunk display.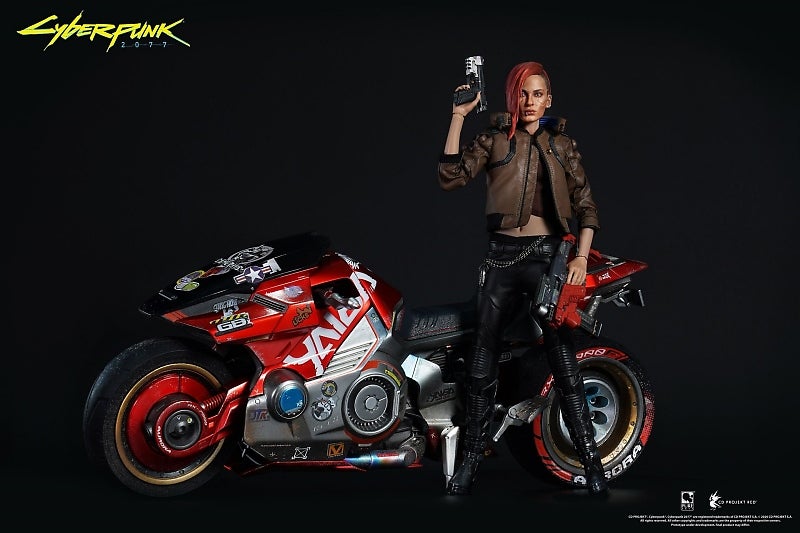 PureArts 1:6th Scale V Action Figures
Okay, so you're a Cyberpunk 2077 super fan, where eddies are no issue. PureArts has just the collectibles for you! V, the main playable character from Cyberpunk 2077, is represented here as both Male and Female 1:6th scale (12 inch) fully articulated action figures. Pre-order either figure on its own ($229 each), paired with an in-scale Yaiba Kusanagi sportbike ($599 each), OR as an ultimate bundle of both Male and Female V and cycle ($799)! Pre-order your select package today via PureArts.com. Let the good times roll…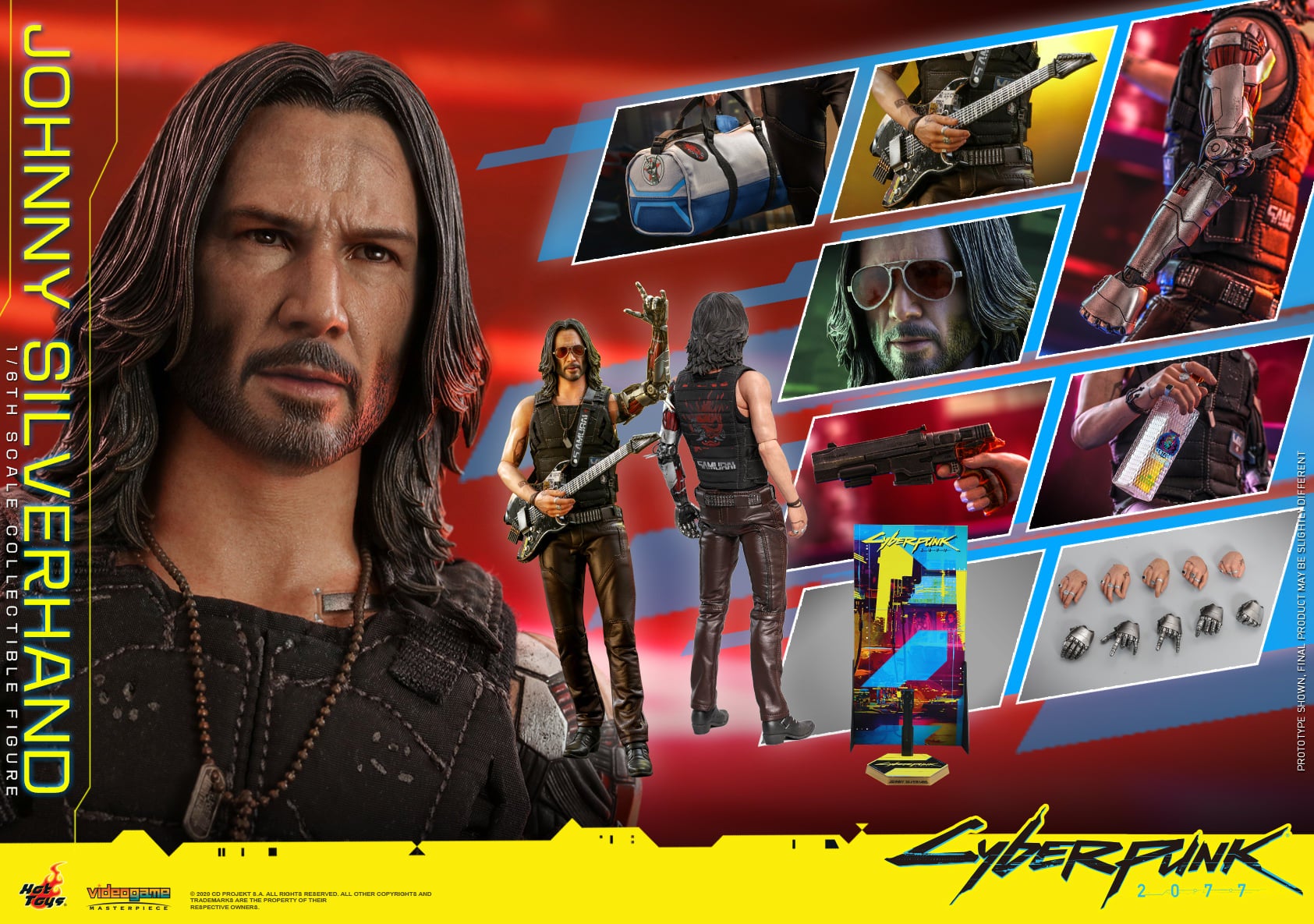 Hot Toys 1:6th Scale Johnny Silverhand Action Figure
Continuing to tap the popularity of Keanu Reeves as an action hero (Neo, John Wick), Hot Toys is producing their own 1:6th scale action figure of Johnny Silverhand. With hyper-realism that only Hot Toys can achieve, this rad figure packs everything iconic about the Johnny Silverhand character, including an array of signature weapons and accessories such as Malorian pistol, guitar with strap, duffel bag, bottle of liquor, sunglasses, interchangeable hands for poses, and a figure stand with themed character backdrop for display. Pre-order your Hot Toys Johnny Silverhand at many fine retailers, including BigBadToyStore.com where it's priced at $299.99. Like Johnny's construct stuck in a digital purgatory, you'll have to be a little patient on this one. The Hot Toys Johnny Silverhand figure is scheduled to ship between April – June 2022.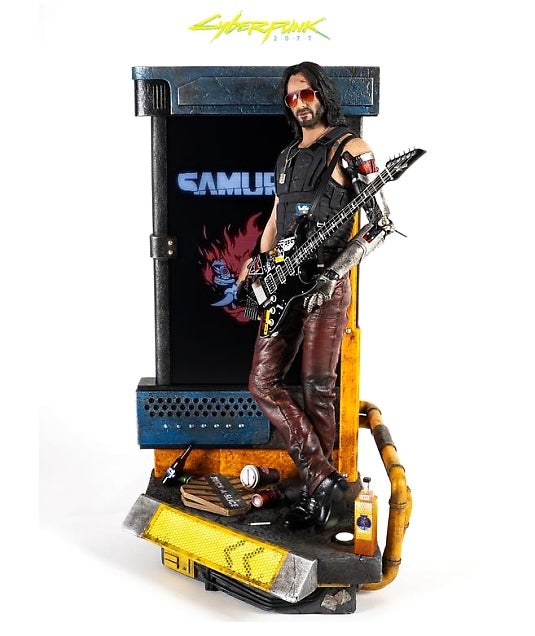 PureArts 1:4th Scale Johnny Silverhand Statue
For the ultimate Cyberpunk 2077 video game collectible, look no further than PureArts' Johnny Silverhand ¼ scale statue! This exciting polyresin piece includes a full media experience, including a 13.3-inch HD LCD screen and dual speak system, pre-loaded with Cyberpunk 2077's original soundtrack and tons of additional media. The base also lights up!
Additional details include translucent resin castings for glass reproductions such as bottles and Johnny's tinted sunglasses, as well as several signature accessories (sunglasses, cigarette and Malorian Arms pistol) that can be added to his pose. For the ultimate Cyberpunk 2077 experience, the Deluxe Edition of the Johnny Silverhand premium statue includes the Rockerboy's 1/4 scale guitar replica, a must-have for all Hard Rock fans! Both the Regular ($849) and Deluxe ($899) editions are limited to 2077 pieces each. The statue is estimated to ship Q1-Q2 2021. Secure yours at PureArts.com.
---
We are committed to finding, researching, and recommending the best action figures and collectibles. We earn commissions from purchases you make using the retail links in our product reviews. Learn more about how this works.
---