-Review and photos by Scott Rubin
As a Robotech fan since I was a young boy watching the cartoon air on TV originally, I have literally been waiting for the toy you see here for most of my life. Okay, that sounds a little crazy, so let's back up a bit.
Robotech is a complicated subject. It's an American animated series that's a Frankenstein's Monster created from splicing together three WHOLLY UNCONNECTED Japanese anime with new stories, interconnected and related characters, and a healthy dash of ambitious '80s magic. Robotech is also a lightning rod; those who know it either love it (usually having grown up on it and other early Japanese animation in the U.S.) or hate it because it's not "true" to its original component series Macross, etc. The franchise has also had its ups and downs over the years with long stretches of no new products interspersed with frantic eras of licensing, rumors, partnerships that don't always work out, and broken dreams. But as I said at the beginning, sometimes those dreams do come true.

In the last couple years, Robotech producer Harmony Gold has loosened the reigns once again on licensors, leading to new toys, collectibles, and other products on the market. One company that stepped up was MEPTOYS, a small outfit out of Spanish Fork, Utah. The brainchild of a 3D engineer and designer who grow up with Robotech (like me!), MEP is the toy arm of Meiccoms Engineering & Prototyping and its stated goal is to "bring attention to a few sometimes neglected 80's and 90's Saturday morning cartoons through action figures." With the Robotech license in hand, MEP is doing just that.
Back in the '80s, Matchbox came out with a line of toys for Robotech. While the collection is beloved and included some cool designs (especially in the mecha department), the action figures were… not great. Odd proportions and weird articulation, not to mention some bizarre design choices, made these quirky figures fun but ultimately not always remotely accurate to what we saw on screen. Again, over the years some other companies have stepped up to try to fill that void, with varying degrees of success. But for the most part, these focus on the standard-sized human characters, replicating them in 4 and 6 inch scales. What about the giant Zentraedi aliens, and those awesome characters we love? Enter MEP.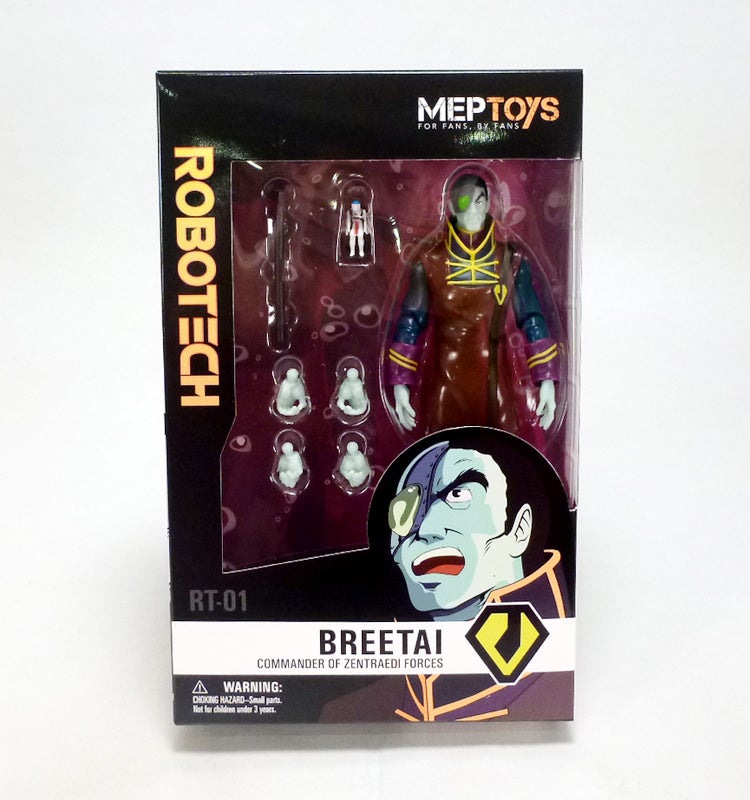 Created and offered for sale last year was the big guy himself, the Commander of Zentraedi Forces Breetai. For those of you who didn't watch the show (Seriously? It's streaming everywhere, go!), a very miniscule summary: an alien spaceship crashes on earth, uniting humans and giving them fabulous technology. But its original owners come calling, and the Zentraedi (meters tall warriors) attack the humans in what would be called the First Robotech War. Leading the enemy fleet is Breetai, an exemplar of his kind. He is over 40 feet tall, a brilliant commander, and highly intelligent. He also has a super cool look including a prosthetic over half his head to cover an old battle wound, AND he's a great character with a truly inspiring storyline (hint: he becomes one of the good guys). Now, there was a Breetai figure in the Matchbox line… and it was god awful. Seriously, check out the comparison pics.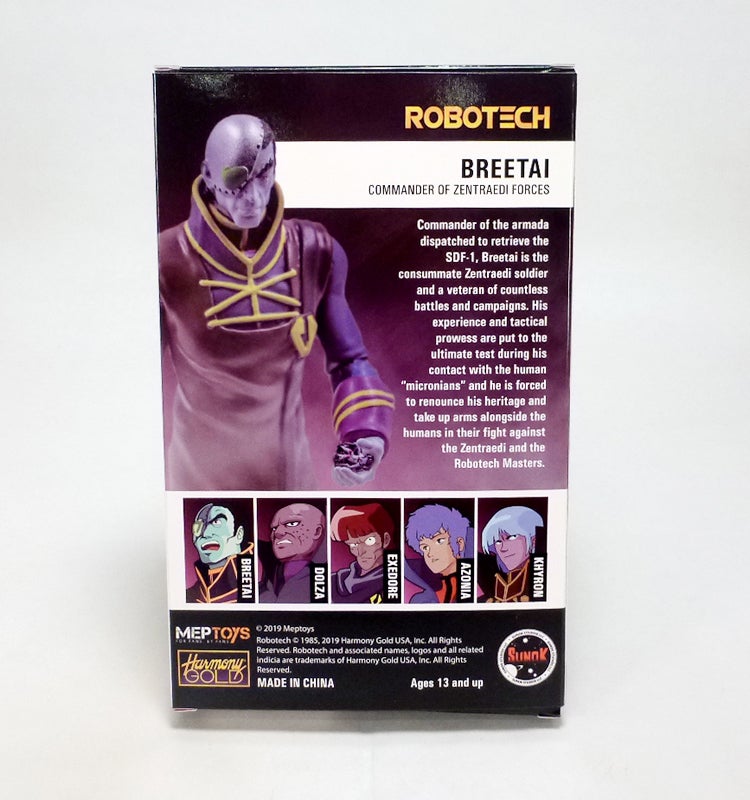 MEPTOYS did a killer job with their Breetai, and that starts with the packaging. Designed by Jeremy Christensen, the Zentraedi's box is sleek and cool with a nice big window showing off the figure and accessories, bold graphics, and fun artwork.
The back panel has a beauty shot of the toy, a description of the character, and a lineup of other Zentraedi characters WE NEED TO GET AS TOYS. As a really special nod to the fans, the inside of the box (visible behind the figure) is decorated with bubbles to look like a re-sizing Micronization Chamber, like giant Breetai was shrunk down to this size! Also included with the figure, at least in this first run, was a cool art card depicting Breetai facing off against Rick Hunter's VF-1J featuring the talents of Chuck DeKett (pictured at the top of this review). It's a nice, and unexpected, little bonus.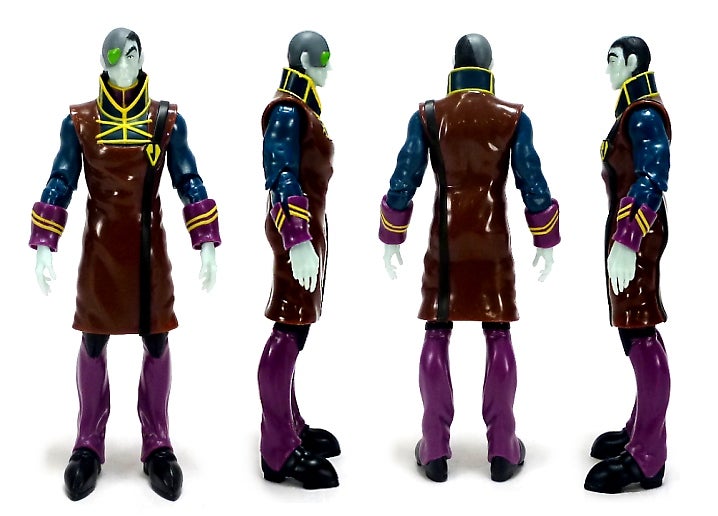 Breetai stands a bit under 6 inches tall, and he does everything right that the old Matchbox toy did wrong. The Zentraedi commander has accurate and sensical proportions, looking like a tall and strong, warrior. He wears his trademark unique uniform with a nearly knee-length tunic over pants and a jacket. Belonging to an alien, these garments have all sorts of weird details and garish color combinations, all of which are replicated here and reinforce the classic 80s charm. Breetai's color scheme includes purple on his pants and jacket cuffs, blue on his sleeves and collar, and brown on his tunic. It shouldn't work together, but it kinda does. Then there are a bunch of accents and details like black shoes and kneepads, yellow stripes on the cuffs and the complex collar piece, and the black stripe running down the tunic. All of the colors are appropriately bold or sedate, and the application is right on across the whole figure.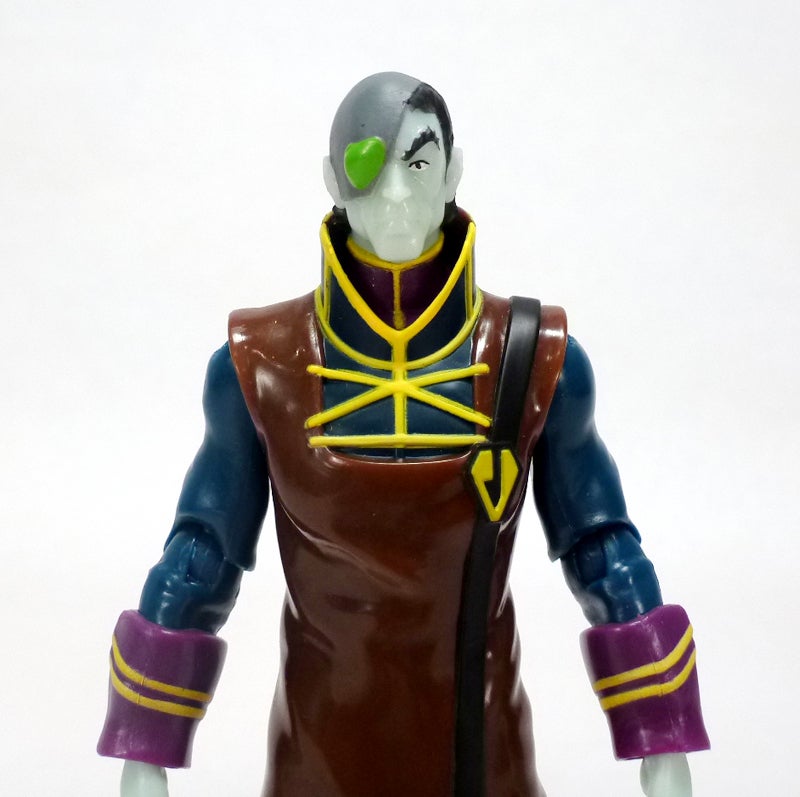 Breetai's sculpt does a fantastic job of conveying a real body underneath the clothing while also giving it realistic movement, shapes, and textures, and there's great depth and feel as well. I particularly love the recreation of the trademark Zentraedi shoe form, as well as the small faction symbol on his chest. Only Breetai's hands and head are unclothed, revealing his pale skin, stern expression, and dark hair. All of these have very good sculpts, and I'm oddly fascinated by his long, delicate fingers. The face sculpt looks quite good, though if I had to find something I wish they did a little different the faceplate feels a little flat. Some rivets around the edges and/or a shiny or even translucent eyepiece would have been over the top. Similarly, an alternate head would have been rad, letting us switch between this serene Breetai and something replicating his enraged look. But again, those are pie in the sky ideas, not complaints; I love this figure.
Old school Breetai from Matchbox did have a lot of articulation, I'll give it that. Unfortunately, it all came out kind of ugly and blocky. Even with its much slimmer physique MEP's version has a suite of modern joints that work quite well. Now, with the character's long tunic clearly there was going to have to be some sacrifice made in leg articulation; either there could be ugly articulation in the middle or a joint or joints could be hidden by a bulky soft tunic that probably wouldn't look very good. MEP didn't go either of those directions, thankfully, instead keeping the look and integrity of the costume. Below the waist Breetai has thigh rotation on his legs and that's it. True, he won't be achieving any running or kicking poses, but that's a small tradeoff for the great look. On the other hand, his upper body has good articulation at the head, shoulders, elbows, and wrists.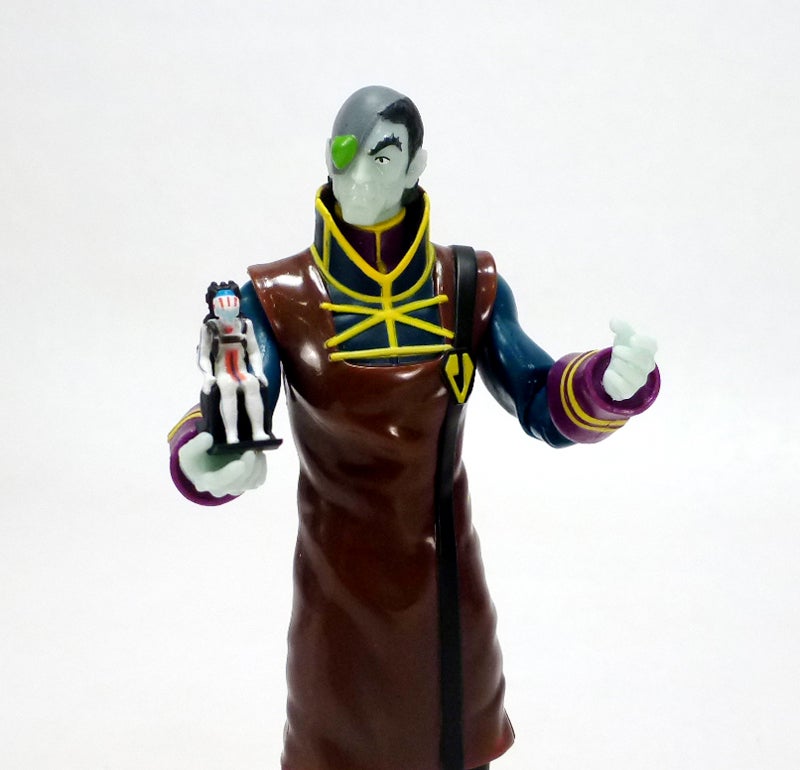 Breetai comes ready for battle with some episode-specific accessories so you can recreate the scenes we all love. First off, he's got two extra sets of hands (three total): balled into fists and grasping. The latter works perfectly with the included pipe which the Zentraedi used on the show to demolish attacking Veritechs. Finally, and most cool, is the tiny Rick Hunter in pilot's ejection seat. Very nice details and colors on this great display piece.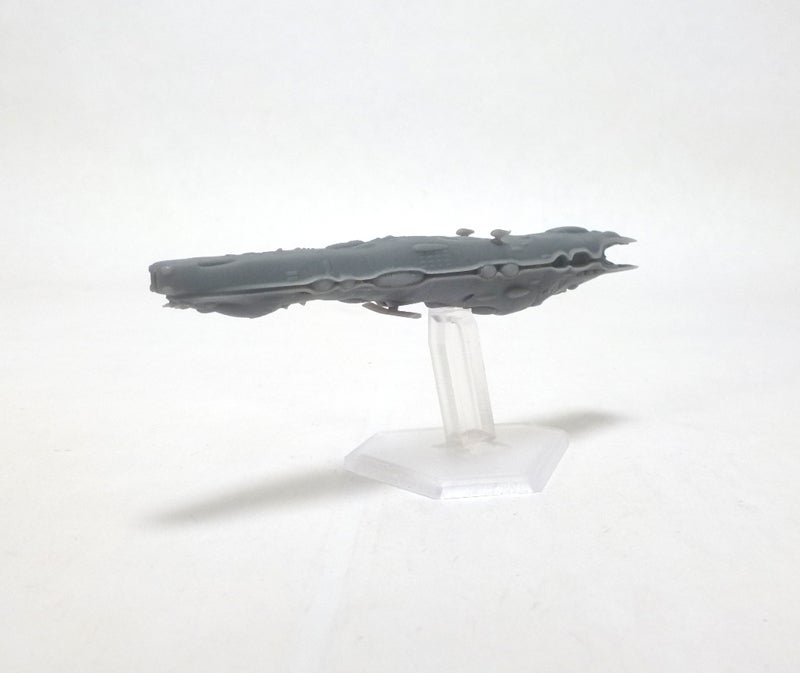 As a special bonus for the first 100 people who pre-ordered, MEP threw in a super cool 1/40,000 scale (about 4 ¼ inches) 3D resin printed version of Breetai's flagship, the Nupetiet Vergnitzs! This was a fantastic extra and quite honestly sealed the deal for me at the time, and I'm glad I picked it up. The ship is highly detailed and feels quite solid, and I can't wait to get it painted up. And it even came in a fun little clamshell package with a detailed info card! You can still purchase the Nupetiet Vergnitzs on its own on MEPTOYS' website for $8.99.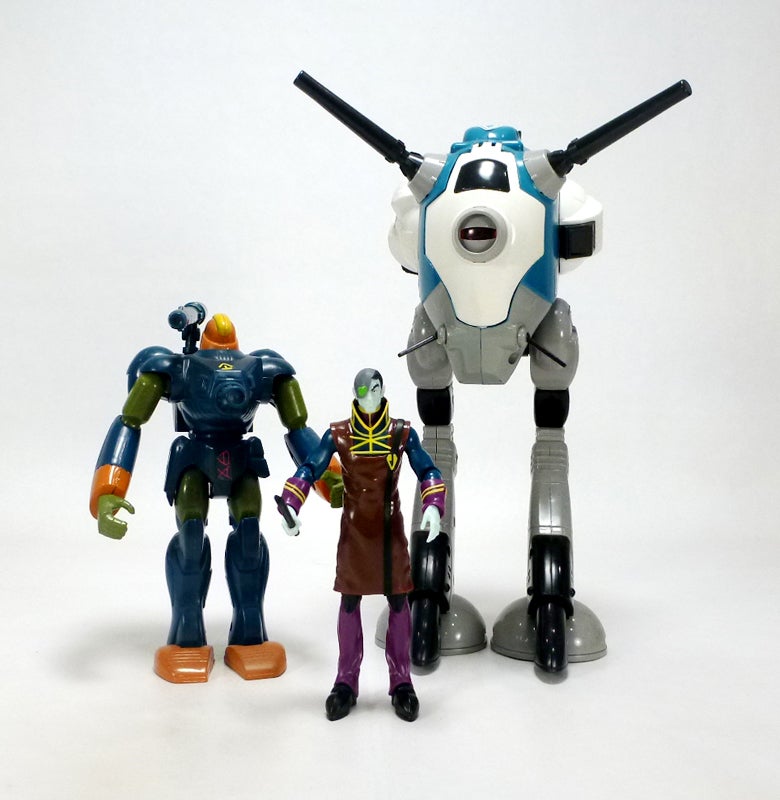 This first edition Breetai with bonus ship was $29.99, though MEP has since lowered the price to $18 and will be issuing refunds for the difference. I was happy to pay that full amount for this great toy, and it's even better now. I can't wait for more Zentraedi and I'm definitely a supporter of MEP now. There is a limited number of Breetai figures remaining on the MEPTOYS website, so if you're interested don't wait and grab him now. Follow MEPTOYS to find out when more Breetais will be offered, and further Robotech toys like an Invid Scout!
-Review and photos by Scott Rubin
---
Keep up with all the latest toy news by following Figures.com on Facebook and Twitter!
To buy action figures, take a look at Hobby Link Japan, BigBadToyStore.com, TheToySource.com, Toynk.com, and BriansToys.com.