-Review and Photos By Andy Jones
We had an amazing fourth of July weekend, setting up and defending, the Playmobil Grand Castle of Novelmore. Playmobil has a long tradition of making incredible looking miniature castles. Their very first castle using the Steck system, to their revolutionary System-X castles introduced in the 90s, there is no "bad" Playmobil castle. I love the clean look that emphasizes a strong design aesthetic, but still takes inspiration from historical accuracy. You can re-arrange and combine the pieces from multiple castle sets to make your own layout.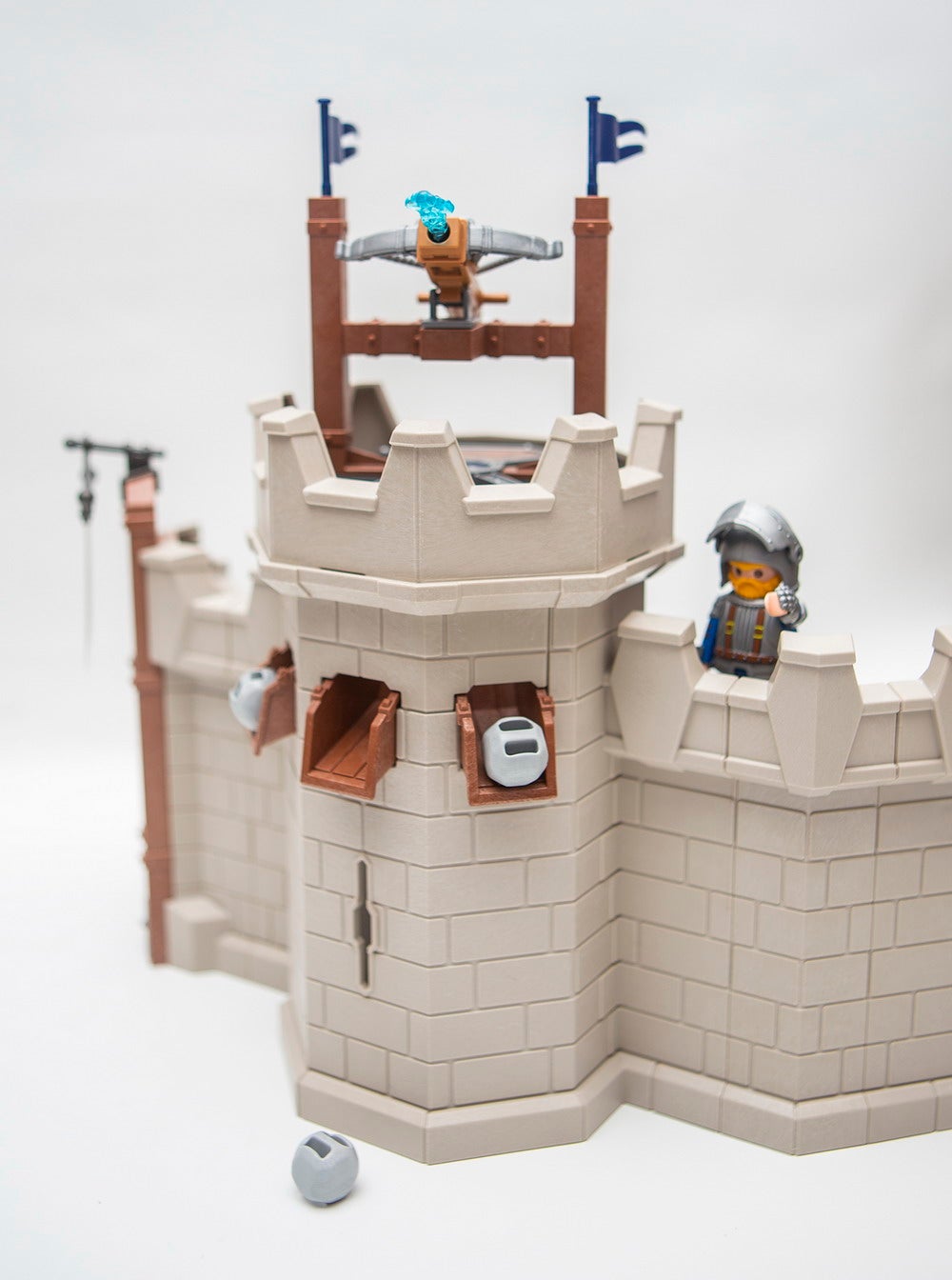 But the Novelmore castle brings something new to the playmobil castle's traditional look and feel. I was blown away by the look and function of this new castle. There are giant gears and chutes and hidden features all over the structure. There's a strong Leonardo da Vinici influence. In fact one of the characters is named Dario DaVanci and he's the resident inventor and chemist.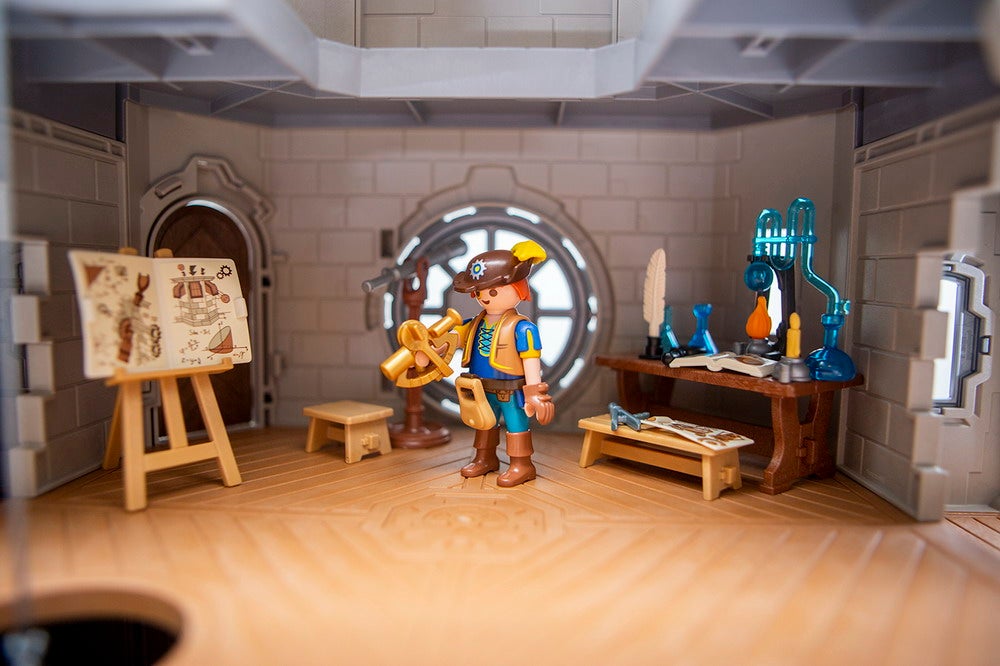 At the heart of the castle, with an endearing circle window that can open wide, is Dario's lab. There's a chemistry set, a telescope, and lots of tools and blueprints. Dario has leather work gloves (the knights all wear gauntlets for fighting) and looks the part of the manic scientist that can't build his inventions as quickly as he's dreaming them up. I love how there there are blue-flame tipped canons, a mystery foam that shoots from the crossbow, a mechanical boulder-thrower, and catapults integrated into the walls. The story is that Dario is using chemistry and physics to build a better castle. There's a larger story where he's created the Invicibus, a suit of armor that gives the wearer invincibility, but that is another Temple of Time (70223) set you can purchase and get deeper into the story of Novelmore. You can also purchase the opposing castle, Burnham Raiders Fortress Playset (70221) and have a full out battle, or combine the pieces into an even larger fortress!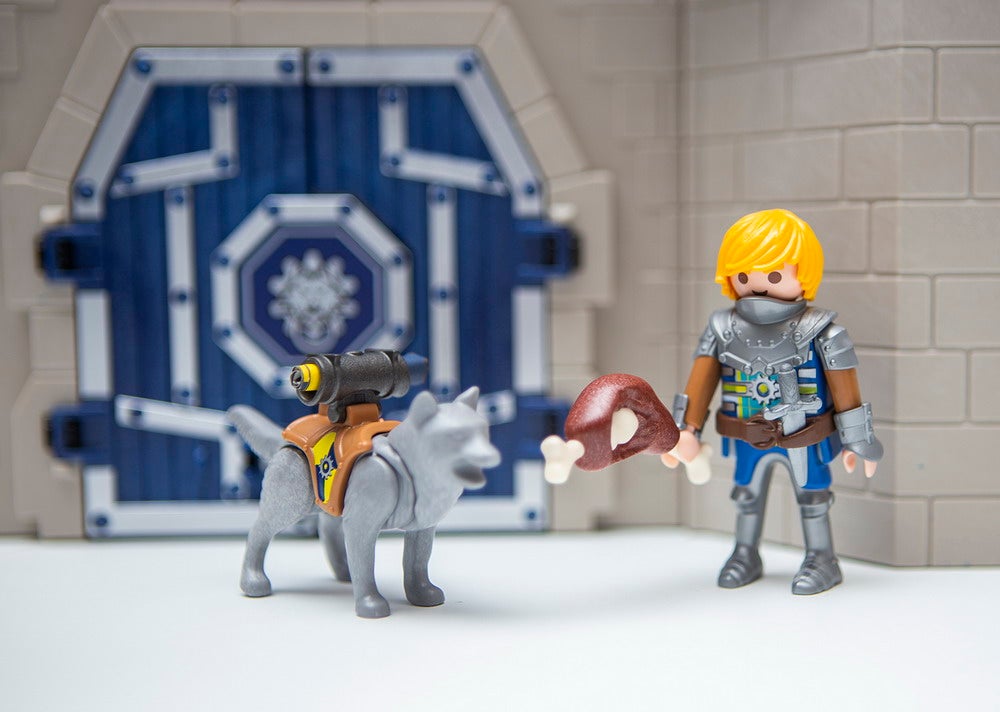 One of our favorite little details is the courier wolf. He has his own pen you can drop a chunk of meat into. At first we thought he was a defense system, so you could yell "Release the wolves!" but my son said "hmmm, we need more wolves." (Playmobil Parts Dept could solve that problem for us) but the real purpose is that this wolf can take secret messages past enemy lines! He has a harness with a tube that holds a rolled up piece of paper. Unroll it, and it's contains blueprints for a massive crossbow. That is awesome. Our favorite part is that the bottom of the note is signed "Love, Vinc" like a valentine.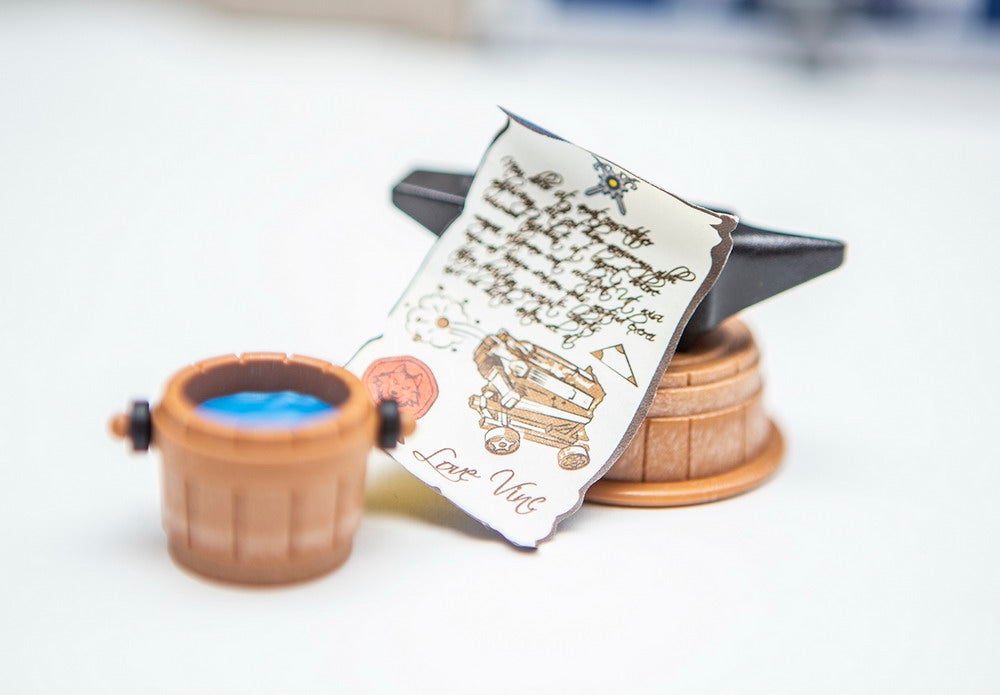 I love the combo of old and new pieces. The gears and inventions baked into the castle walls are new, but the chemistry set and weapons are lovingly brought back from older sets. I love the inclusion of the blacksmith tools, as that was one of playmobil's original sets from the 70s. It also shows the process behind the creation of the amazing defenses the castle has. I think it shows the work and innovation that the characters had to put in to get their armament realized.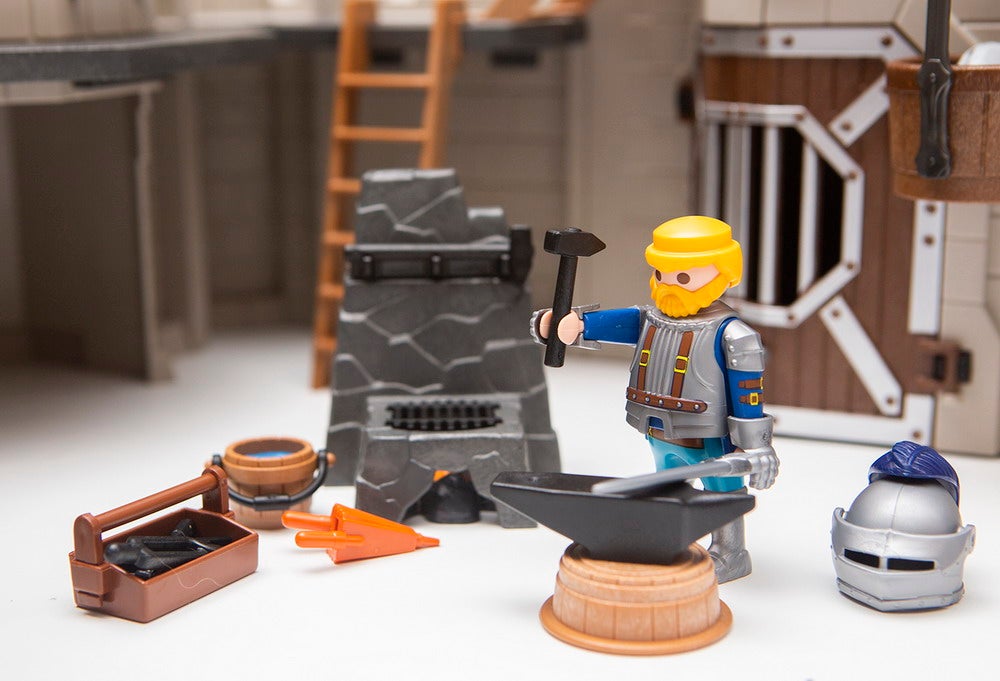 Another feature of classic castles that my son and I love are the breakaway walls and trapdoors. There's a platform that flips the nearby stairs to launch intruders directly into jail. The jail has a break-out wall as well as interior jail walls and an external gate. But there's also a break-IN wall that the opposing forces could take advantage of. Trap doors and break-away walls give a lot of additional play opportunities than just walls and weapons.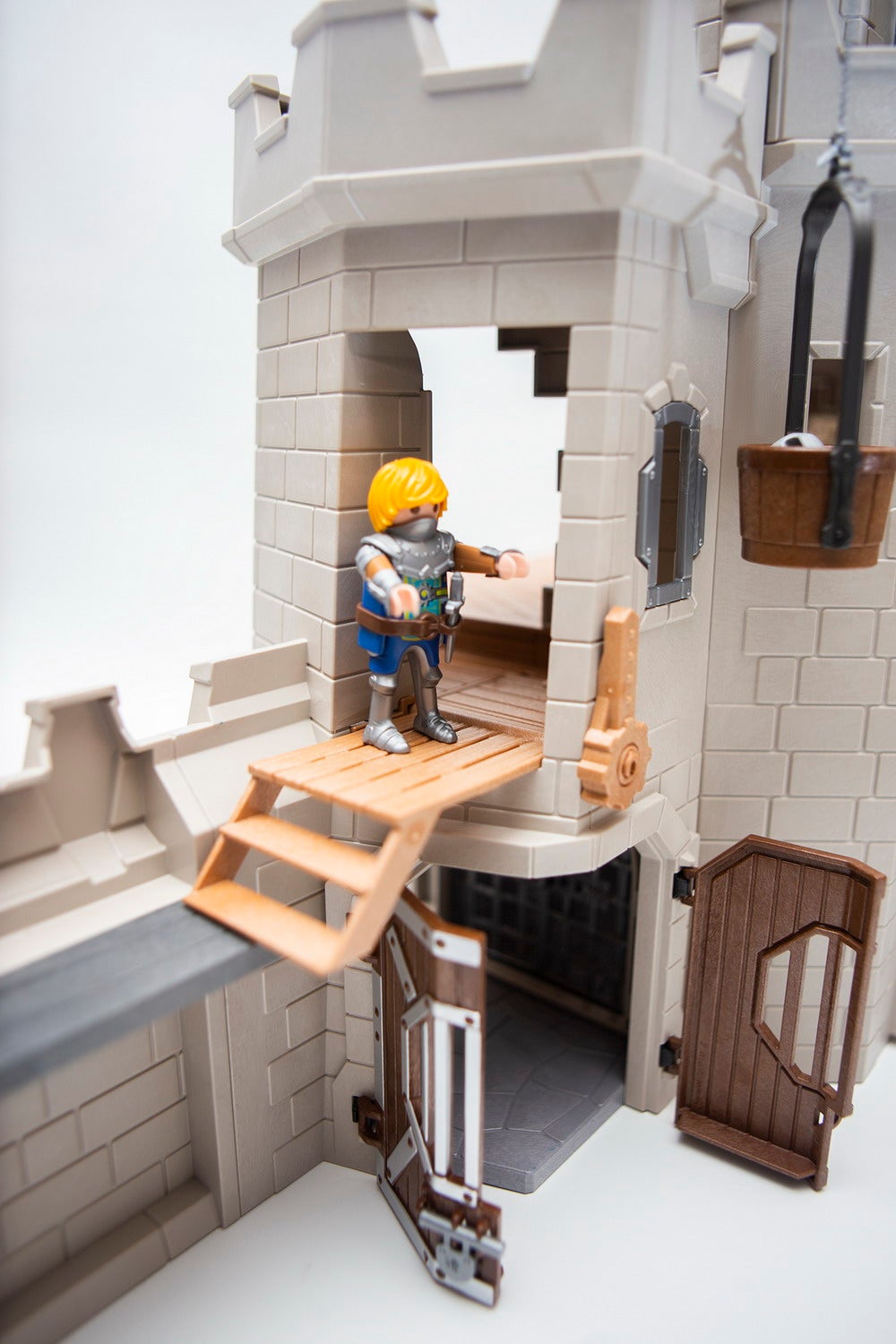 The only thing that my old-world brain had an issue with was, you get a King, and a throne, but the main room of the stronghold is naturally Dario's laboratory. The only other interior space to house the throne is in the first level, adjacent to the jail. Well that's no place for a king's throne! I do like that children will most likely have no problem with room assignments and let their imagination dictate what room is what. There are lots of fun balcony areas and the ample courtyard for plenty of adventures. We also like how the bottom wall opens up.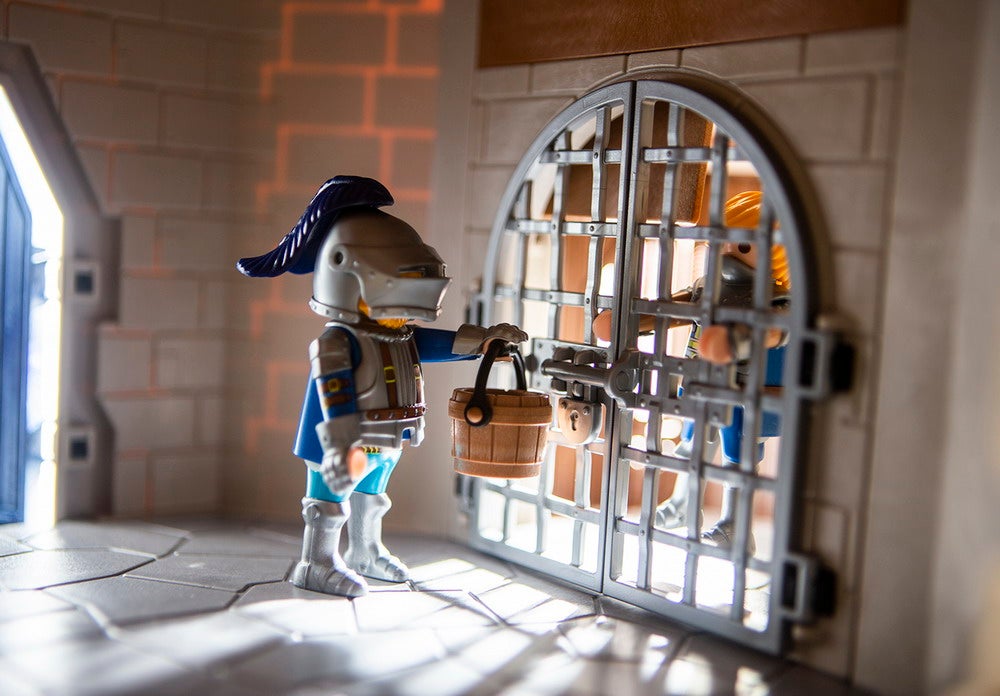 Playmobil has always been rooted in creating playsets and figures that had no pre-installed story, they were a blank slate that children could invent their own stories the first time they saw the figures. Over the years, the needs and desires of children, and the parents who buy their toys, have grown and changed. Playmobil has done an amazing job taking on the licensing world to remain a player in the toy shelf game. Their Ghostbusters, Scooby-Doo, How to Train Your Dragon , and recently Back to the Future playsets are all incredible. They're the right combo of detail and nostalgia, and play value. Taking a note from that playbook of using familiar characters, Playmobil has now created the world of Novelmore, with characters and storylines to entice fresh imaginations. I'm excited with how this new world is shaping up, and we were encouraged to delve further into the Novelmore universe.
Review and Photos By Andy Jones
Review Samples Courtesy of Playmobil
---