Sneaking up on us like a grumpy old man in an abandoned amusement park, Playmobil drops this fantastic tribute to Scooby-Doo. Get ready for the new animated SCOOB! coming out in May with these fun playsets lovingly made by Playmobil. The Mystery Machine (set 70286) comes with Fred, Daphne, and Velma and a ton of crime solving accessories. If you're just a fan of Shaggy and Scooby you can pick up their set (70287) and have something fun to put on your shelf or play around with. But honestly the Mystery Machine has so much play value, you'll have a hard time resisting. I like that you have the option to go small or go all the way in scratching that Scooby itch.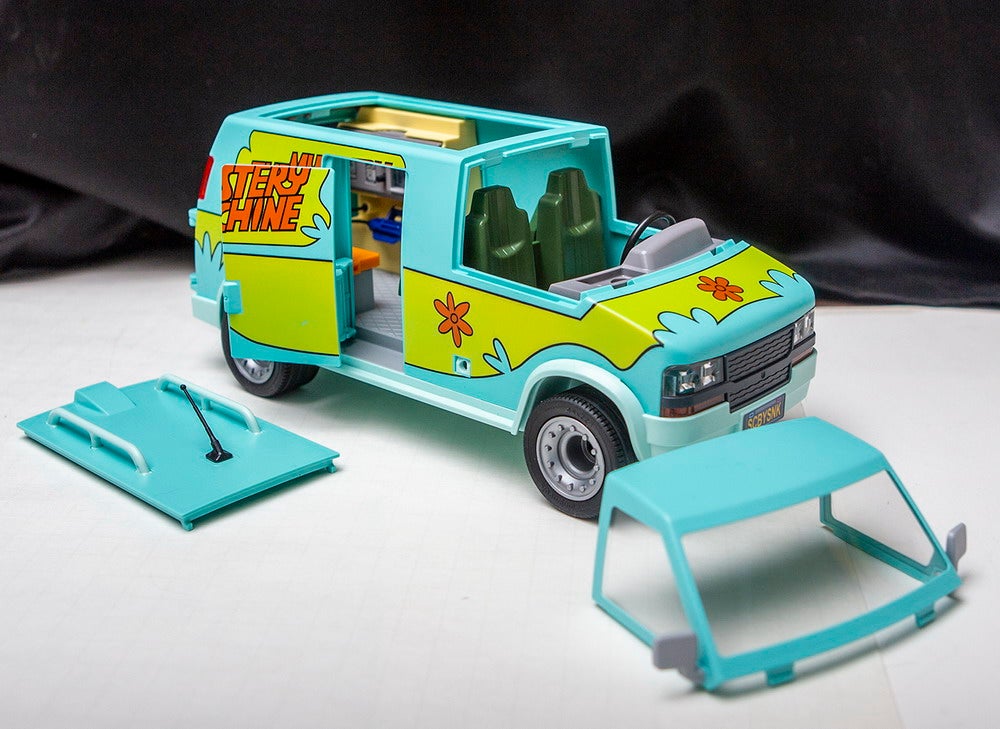 First off, the Mystery Machine is a fun vehicle. The roof and cab lift off for easy access for the figures. I also like the sliding side door and back panel doors which open up like a real van. There's seats for everyone, and a crime-solving computer. Each time you get a ghost figure, they'll come with a "Ghost Card" accessory. You can slide those cards into the light-up slot on the crime computer as if accessing their data in the van. There's also a file box for holding each one.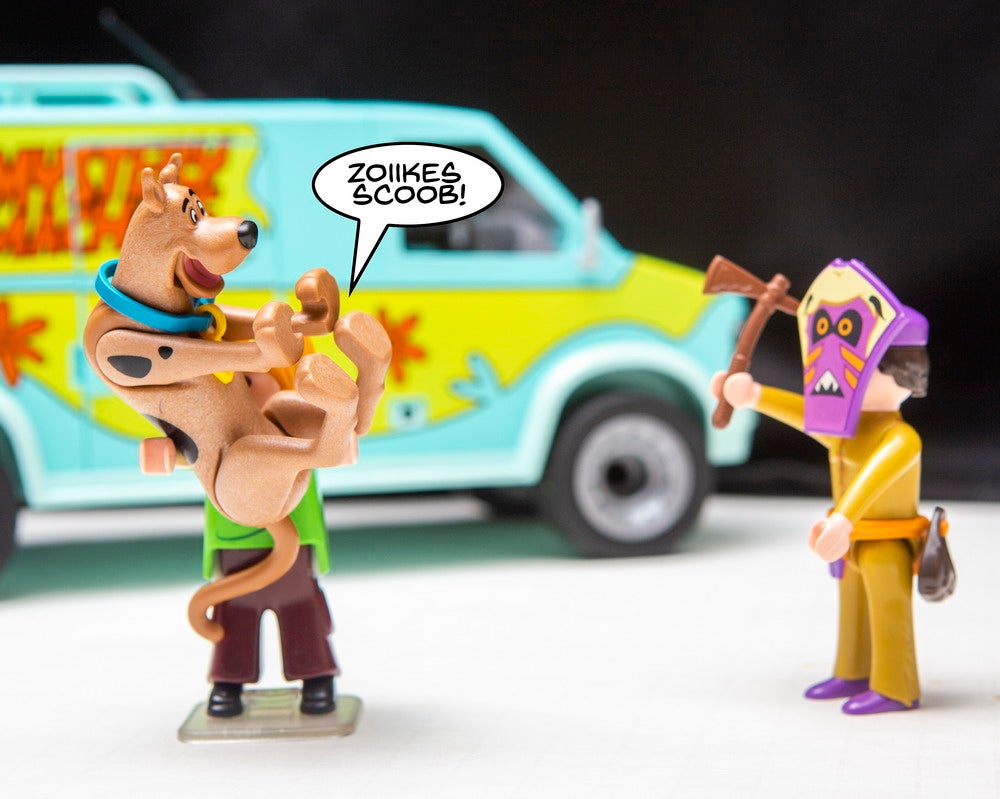 Speaking of accessory Ghosts, after you grab these two sets to complete the Mystery Gang, there are a bunch of blind bagged ghosts to collect. I love how they look like the classic ghosts from the intro of the 70's cartoon. I have to track down that deep-sea diver! You get the un-maskable ghost a sticker and a ghost card to put into the van.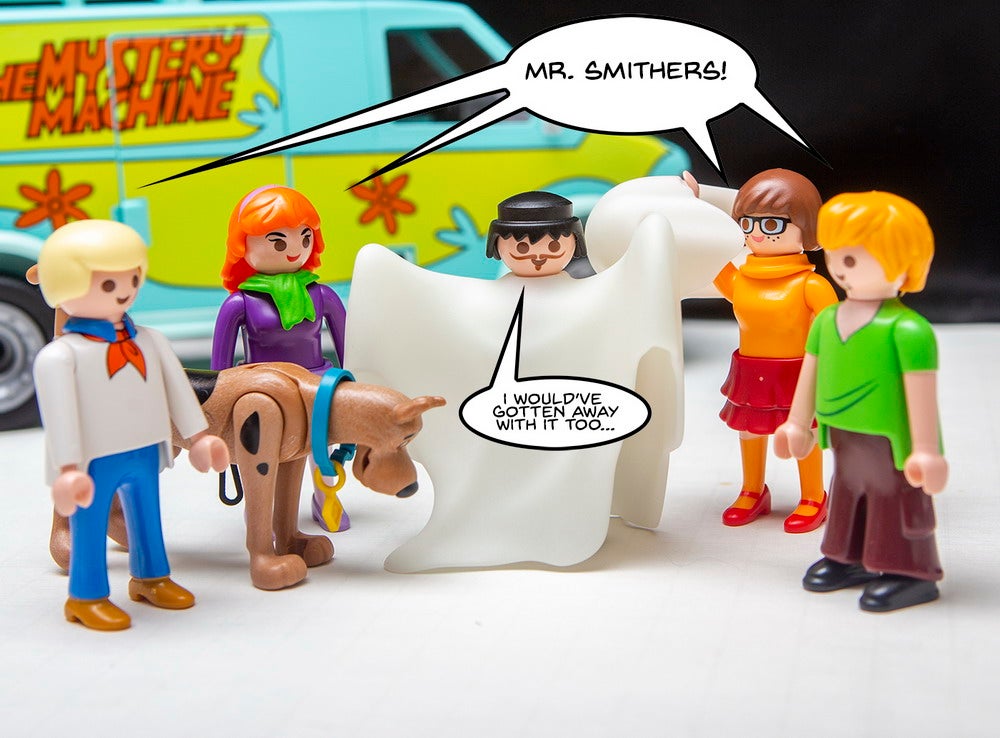 My favorite ghost is the one that comes with Shaggy and Scooby. It really has a flowy, animated sheet look to it, but it fits on a standard playmobil figure just fine, and the mask comes off. That playmobil figure provided by the way is rocking a slimy 70s 'stache and exposed chest hair. I love it!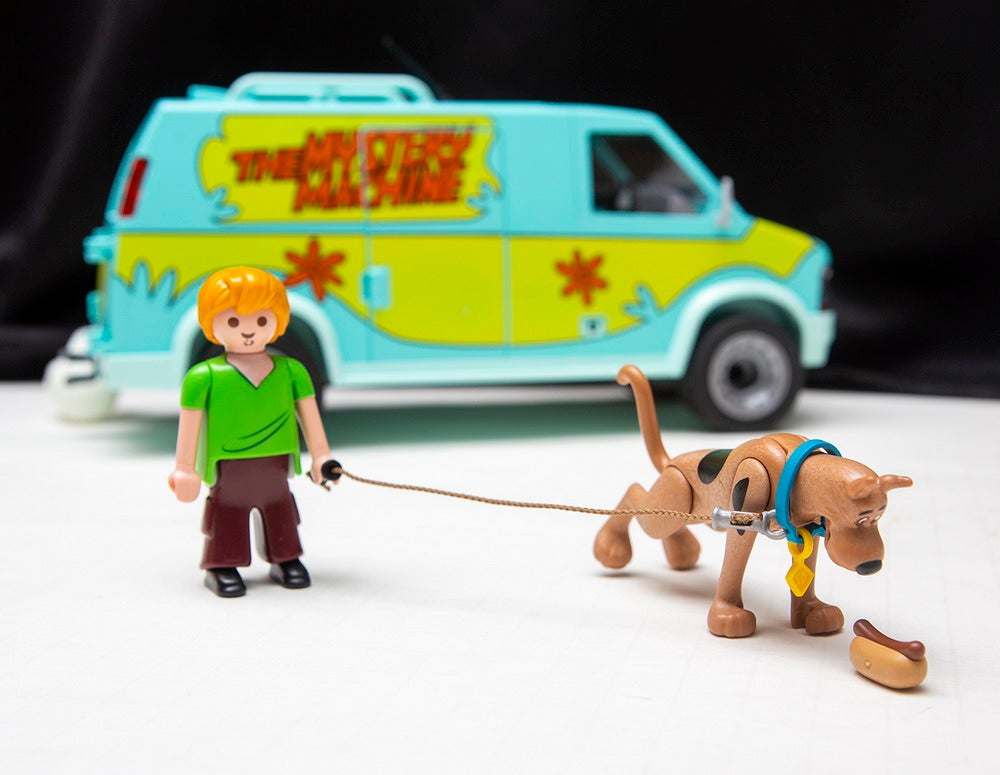 I've been resistant to embracing the playmobil licensed properties. One of playmobil's core guidelines was to only stick to unlicensed themes, so that children would be quick to provide their own stories, personalities, and characteristics when playing. However, I think these sets, as detailed and well made as they are, can bring back collectors and help keep the playmobil factory engines running. These sets were designed with the fan in mind. There are tons of little details and accessories (I love all the Scooby Snacks) that clearly fans were in mind. This is not a quick cash-grab to capitalize on the hotest craze.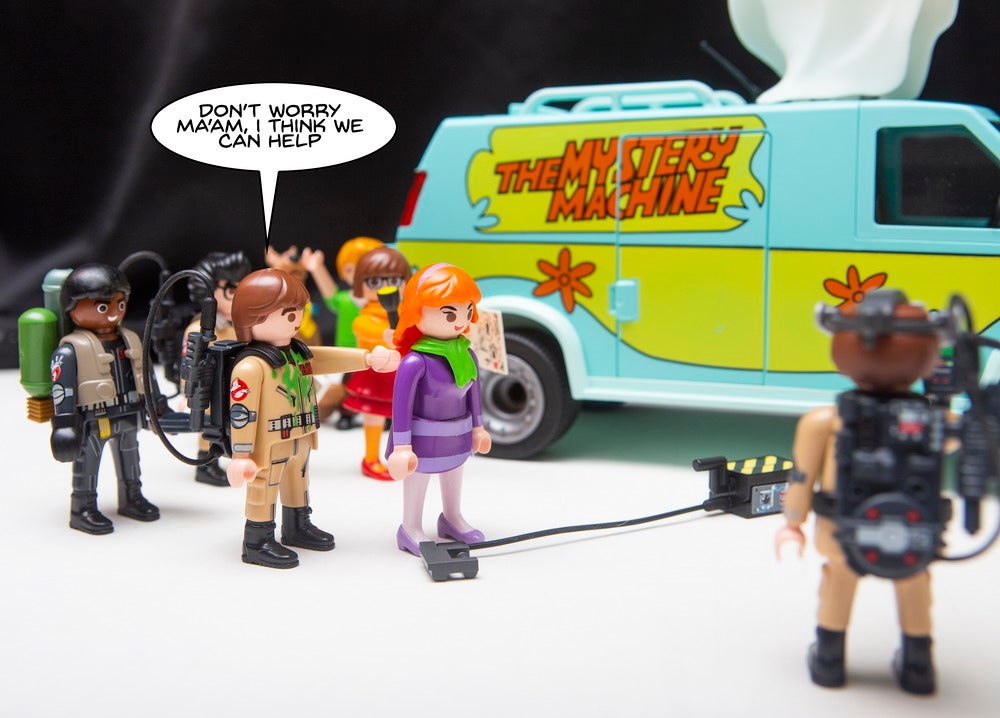 I personally feel that the playmobil Ghostbuster sets are the best Ghostbuster toys we've ever gotten. They're durable and detailed, fun, yet true to the source material. I had fun mixing up the Ghostbuster and Mystery Gang toys as they hunt for ghosts together. Kind of like the philosophy behind the Funko Pops, because the Ghostbusters and Scooby toys adhere strongly to the underlying playmobil design aesthetic, they look great together. Check out my fun mash-up photos in the gallery.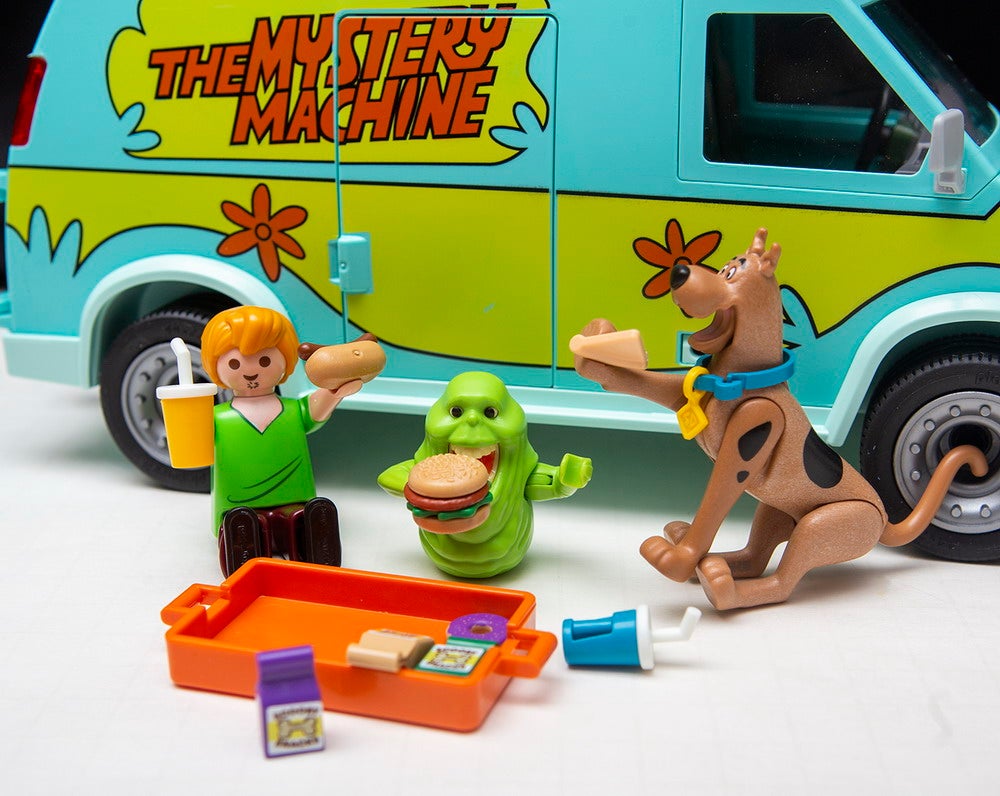 The Scooby-Doo figure looks straight out of the cartoon. He's got an opening jaw for a variety of (mostly frightened) expressions, but they also brilliantly built in the "thumb" notch into his front paws so he can hold onto the variety of junk food included. We got everything from pizza, to burgers, donuts, and of course, Scooby Snacks. They also made his feet the standard width apart so that he can fit on the (included) clear figure stand, and you get to do some more upright poses.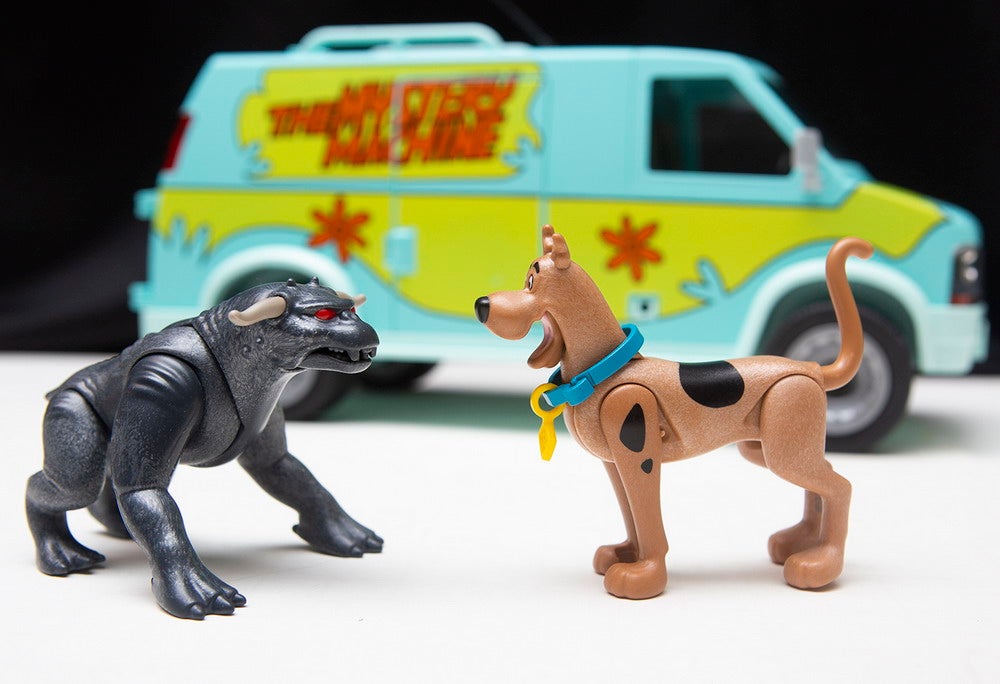 The brilliance is bringing these well-known properties into the playmobil world via the designer's eyes and applying their "formula" to streamline the right number of details. I find these figures have a bit more personality and "heart" in this form, rather than a carbon-copy, or more static, statue.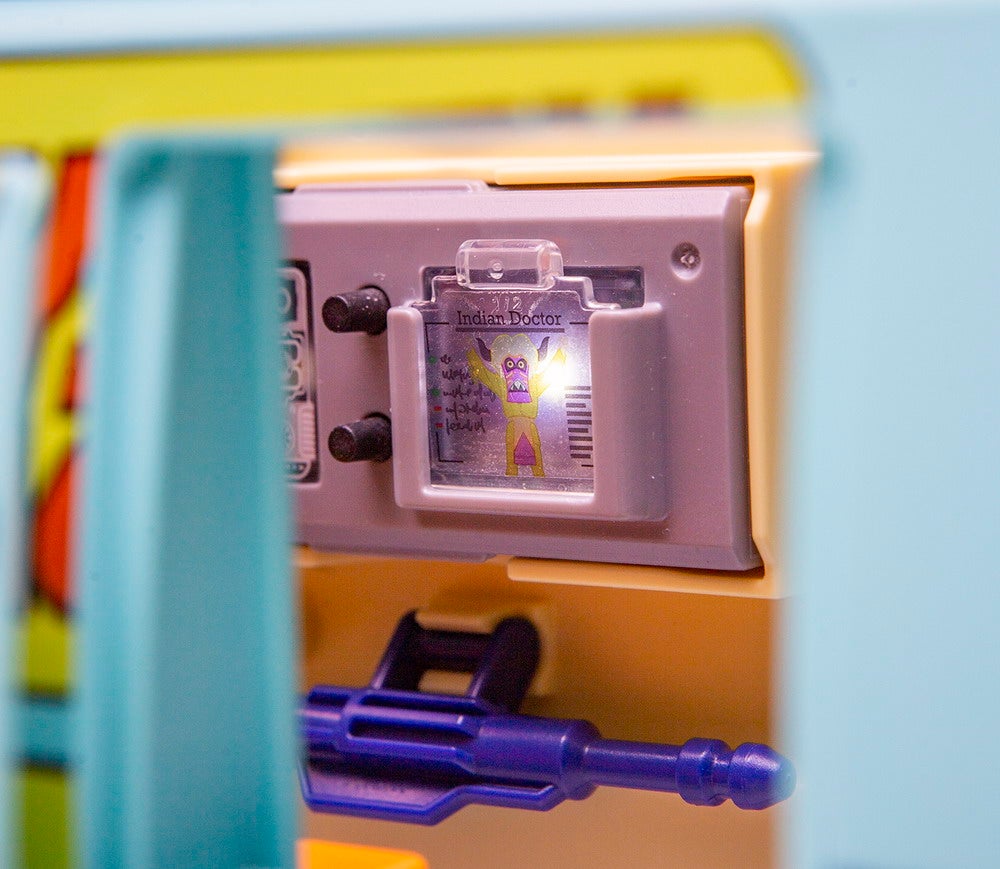 I have a feeling the new Scoob! animated feature hitting theaters in May will help rekindle that love of Scooby-Doo and the gang with parents who remember the series as kids, and now have children old enough to enjoy these sets too. Even if you're just collecting, they look great and fit in perfect with your playmobil collection. The film itself manages to attract both young audiences and the old-school fans, and the playmobil toys are a real treat to both as well.
Playmobil Mystery Machine and Scooby Gang