Up the irons! While slow coming, Iron Maiden's iconic mascot Eddie is back as a new collectible figure from NECA! Based on his appearance in the artwork for the 1984 single "Aces High, " Eddie is featured wearing a flight suit based on the Battle of Britain dogfights mentioned in the song's lyrics. For passionate Iron Maiden fans, Aces High Eddie is a long-awaited figure representing the heavy metal band's rich musical history.
Following in the 8-inch clothed figure footsteps of an insane "Piece of Mind" Eddie, "Mummy" Eddie, "Trooper" Eddie, "2 Minutes to Midnight" Eddie, and a regal "Pharoah" Eddie, Aces High Eddie captures another unforgettable chapter in Iron Maiden's rock 'n' roll legacy, specifically their fifth hard-hitting studio album, Powerslave (1984).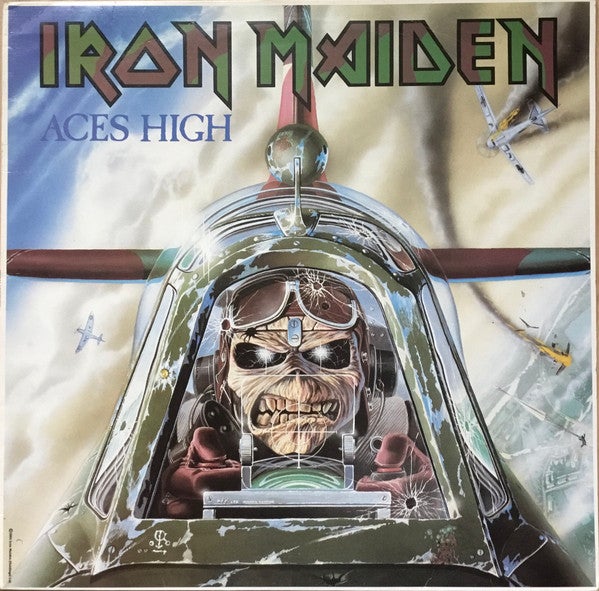 Unlike Pharoah Eddie, which encapsulated Powerslave's Egyptian-fueled album art, Aces High Eddie goes for the jugular with a popular song used frequently to open Iron Maiden's concerts. I heard/witnessed the song last with their 2019 Legacy of the Beast Tour, where the band had a full-scaled WWII Spitfire fighter plane lowered over the stage. Truly epic.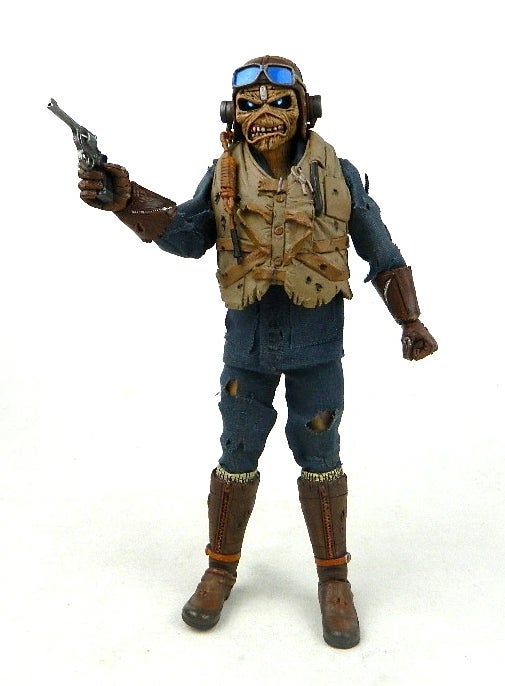 The thing with Eddie, whether you like Iron Maiden's music or not, is that he looks so damn cool. A skeletal, zombie-like creature, Eddie oozes the essence of Iron Maiden's music with an image of extreme, undying metal rock attitude. The fact that Eddie has so many different personas, depending on the album or song in question, just gives the legendary mascot more character. While every Iron Maiden fan has their favorite Eddie "look" (I for one LOVE his cyborg Somewhere In Time appearance), Aces High Eddie captures the heavy metal icon as a British World War II fighter pilot.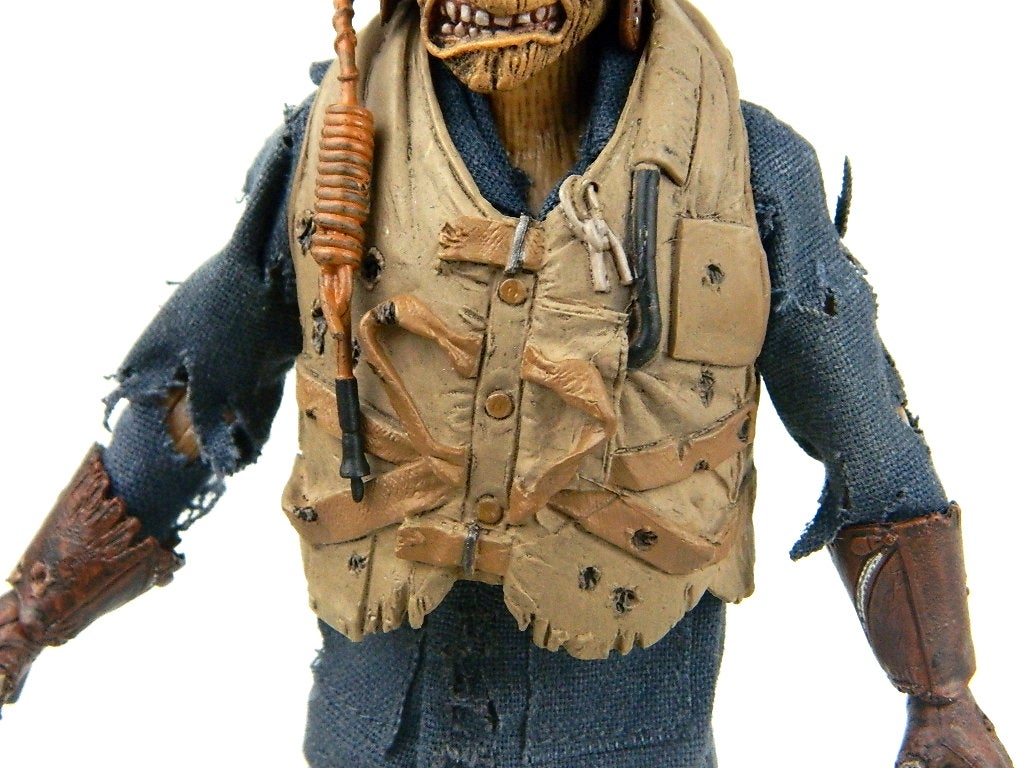 One thing I love about NECA's approach to Iron Maiden's Eddie in the 8-inch clothed figure format is the ability to fully capture the character and his unique attire. With Piece of Mind and Pharoah Eddie it was all about real cloth bandages. With Aces High, it's all about a torn, real cloth flight suit riddled with bullet holes and nicely sculpted flight harness, gloves, and boots.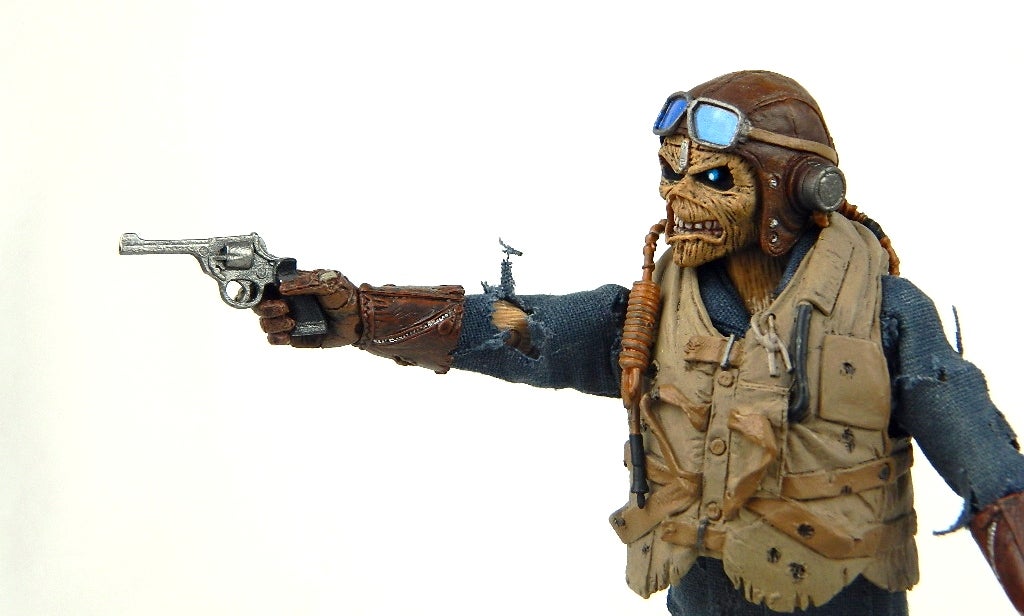 Of course, the real star of the show is Eddie's awesome head sculpt. Grinning madly, Eddie is ready to take down a few more enemy planes, even if he is shot up. He's even got a pistol to make sure the job is done. Hey, you can't kill what can't be killed.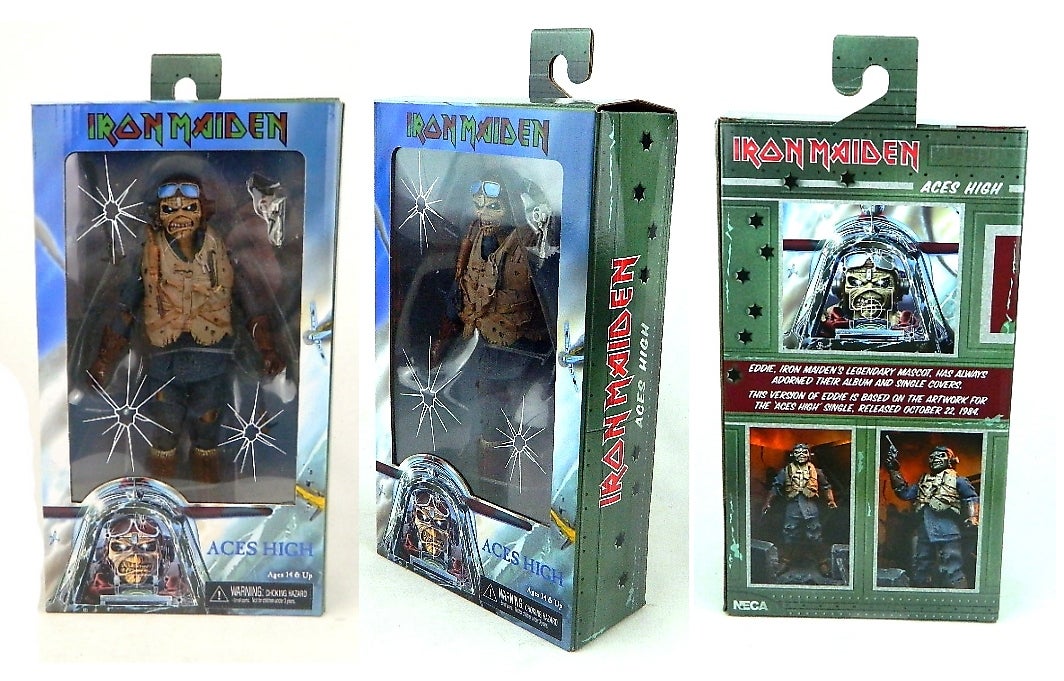 With slim, sweet packaging – complete with "cockpit" bullet damage on the window pane – mint-in-box collectors and openers alike are in for a real treat with Aces High Eddie. NECA's passion for Iron Maiden with these figure releases is just so evident – from the wicked art-adorned packaging to the detailed Eddie figure itself. Grab yours at a retailer near you. Aces High Eddie is priced at around $32.99. Scroll on for more photos!
Review and Photos by Jeff Saylor
Review Samples Courtesy of NECA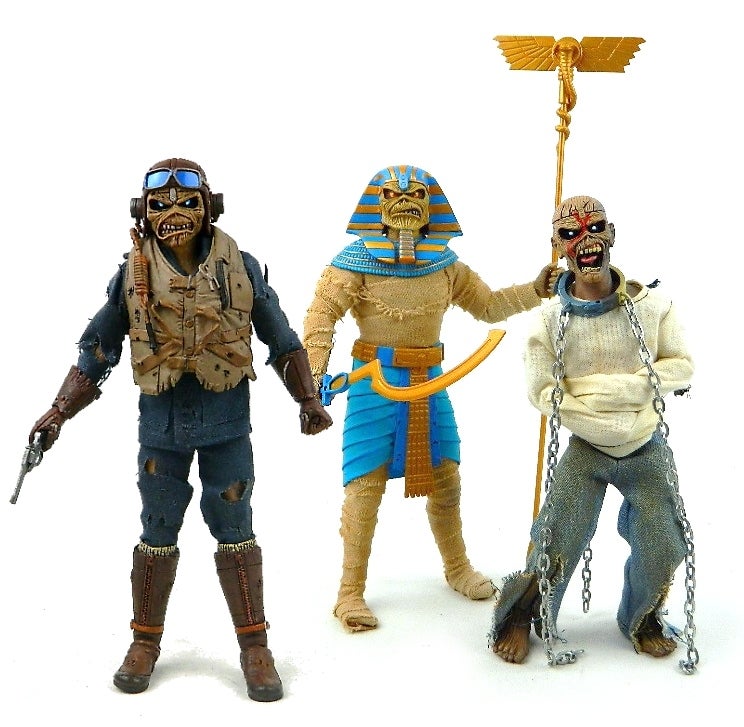 ---