I've long had a love for Iron Maiden, rockin' out to metal classics like Hallowed Be Thy Name, Flight of the Icarus and Run to the Hills. In addition to their timeless songs and incredible stage shows (last year's Legacy of the Beast Tour was legendary!), Iron Maiden has always captivated me with their awesome album artwork starring skeletal zombie mascot Eddie.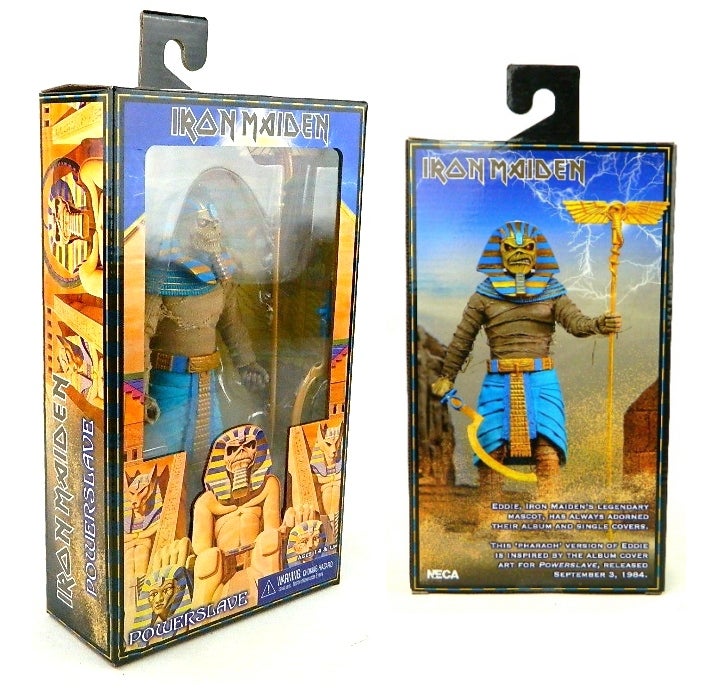 One of Eddie's most iconic looks was a killer Egyptian design inspired by Iron Maiden's fifth studio album, 1984's Powerslave. Spawning hits such as 2 Minutes to Midnight and Aces High, Powerslave ushered in a new era of classics for the heavy metal pioneers. Tapping the popularity of Maiden's revolutionary album, NECA has recently released a new 8-inch "Pharaoh Eddie" clothed action figure.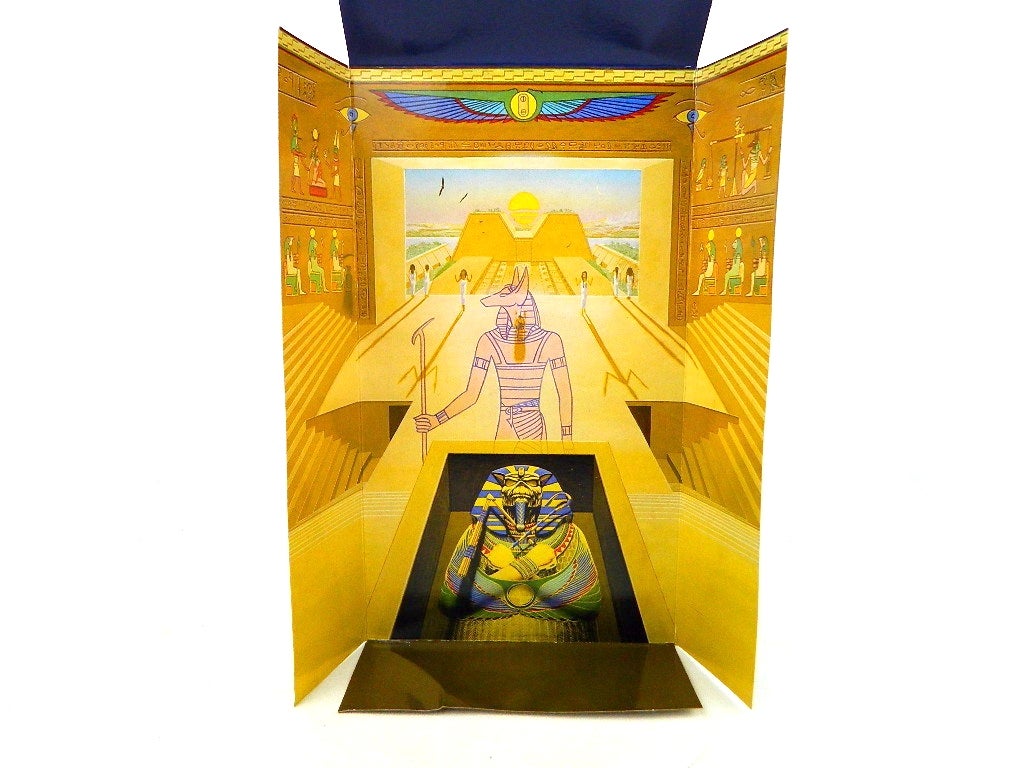 Not to be confused with NECA's 2014 release of "Mummy Eddie" inspired by Maiden's World Slavery Powerslave album tour, Pharaoh Eddie features an all-new design and sculpt. The figure marks a renewed push for NECA's 8-inch clothed figures – the series transitioning from collectible clam shell packages to an attractive open window box design. While I dig the clam shells of old, they were simple too large for store pegs. The slimmer window boxes are way more attractive to retailers. That said, Pharaoh Eddie's box certainly attracts with it's vibrant blue and yellow hued Powerslave album art. While I'm one to get straight to the "prize" inside, I have to shout out the incredible art work done for the packaging insert – a very nice touch!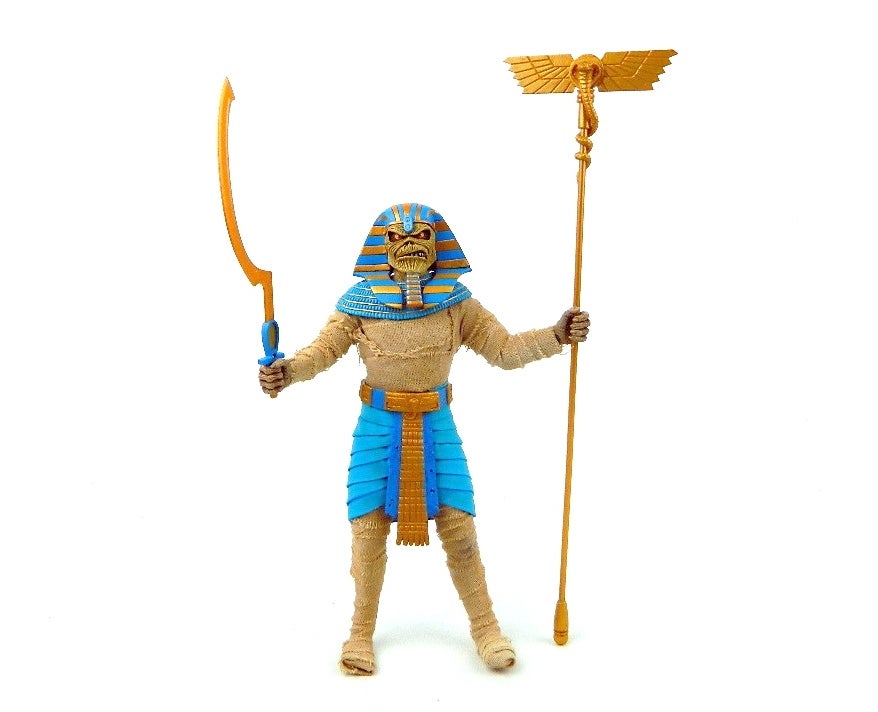 Once removed from his "tomb," this Powerslave-inspired version of Eddie stuns with his regal Egyptian Pharaoh appearance. Real cloth bandages act as an amazing figure foundation; wrapping the entire action figure from head to toe. The bandages restrict movement, for sure, but the trade off is an incredibly realistic look. Like NECA's 8-inch "Piece of Mind" Eddie and his cloth straitjacket, the Pharaoh Eddie figure really benifits from the use of a real cloth bandaged outfit.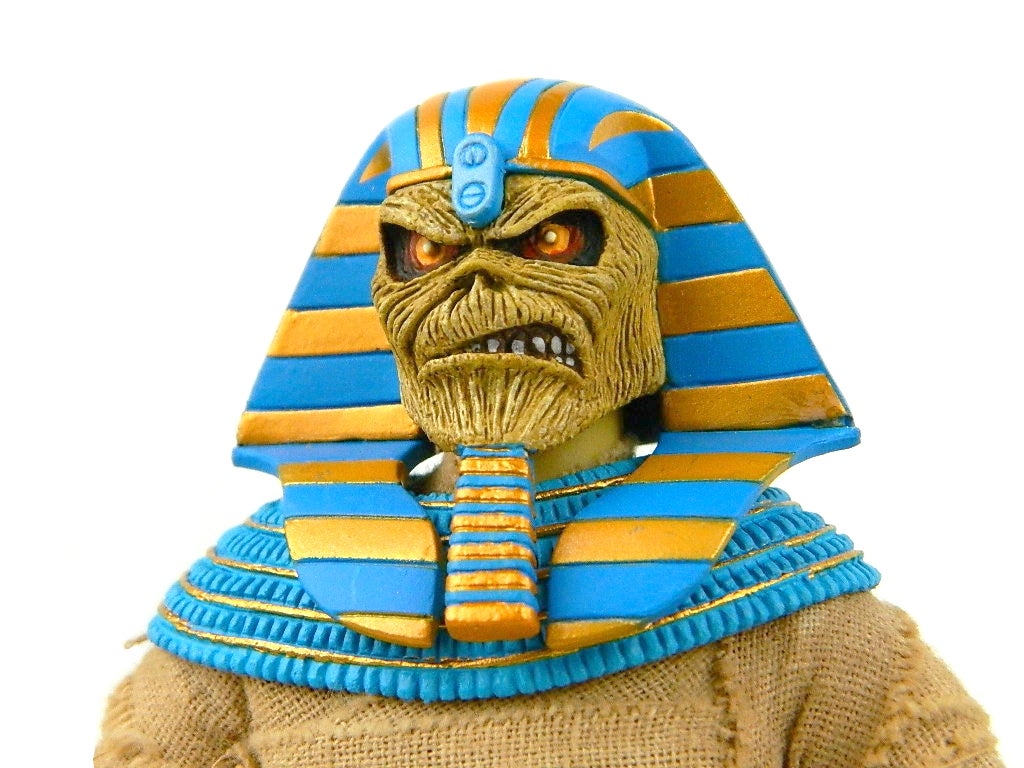 Most impressive is the brilliantly sculpted head sculpt. This is a very expressive Eddie – his trademark smirk and blazing fire-lit eyes being expertly captured in figure form. I absolutely love the turquoise and gold color scheme used on this figure – from Eddie's solid plastic -cast headdress to his ornate loin cloth.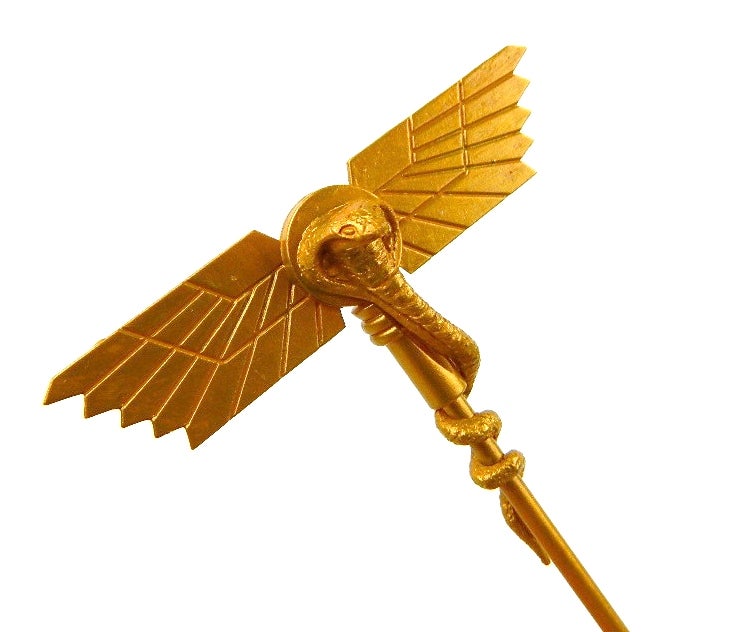 What really makes this action figure pop is the addition of cool accessories. These include a stiff plastic staff and an ancient curved sword. The former slides into Pharaoh Eddie's right hand and, once in, there is a rounded cap that attaches to the end. The winged snake motif is wild and the entire accessory really helps Pharaoh Eddie balance on display. Otherwise, I'm sad to say, getting Pharaoh Eddie to stand on his own can be a tad tricky due to his bandaged feet. Ah, the price of looking good!
The other nice accessory is the addition of an Egyptian sickle-sword called a khopesh. Featuring a golden blade and blue ankh crossguard, the weapon slides firmly into Eddie's left hand. I will say that it is a very tight fit, so use extra caution when pushing the blade into place. I love me a solid grip AND a solid cast weapon, but hard plastic can snap if not handled properily.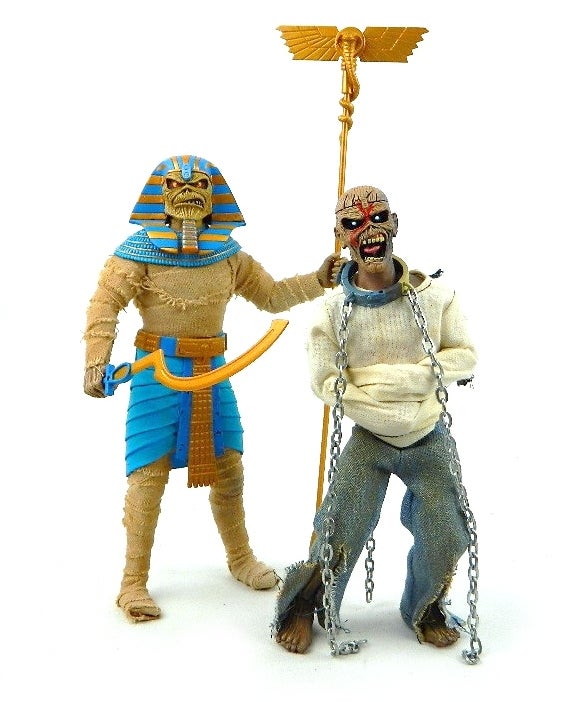 NECA is no stranger to Iron Maiden collectibles, having produced everything from 7-inch plastic action figures to collectible latex masks. Pharaoh Eddie joins NECA's growing collection of 8-inch Iron Maiden clothed figures, including a Union Jack-toting Eddie as "The Trooper," modern military Eddie from "2 Seconds To Midnight," aforementioned Powerslave "Mummy Eddie," and my all-time favorite, "Piece of Mind" Eddie. Hey NECA – can we get a cyborg "Somewhere In Time" Eddie next, purdy please?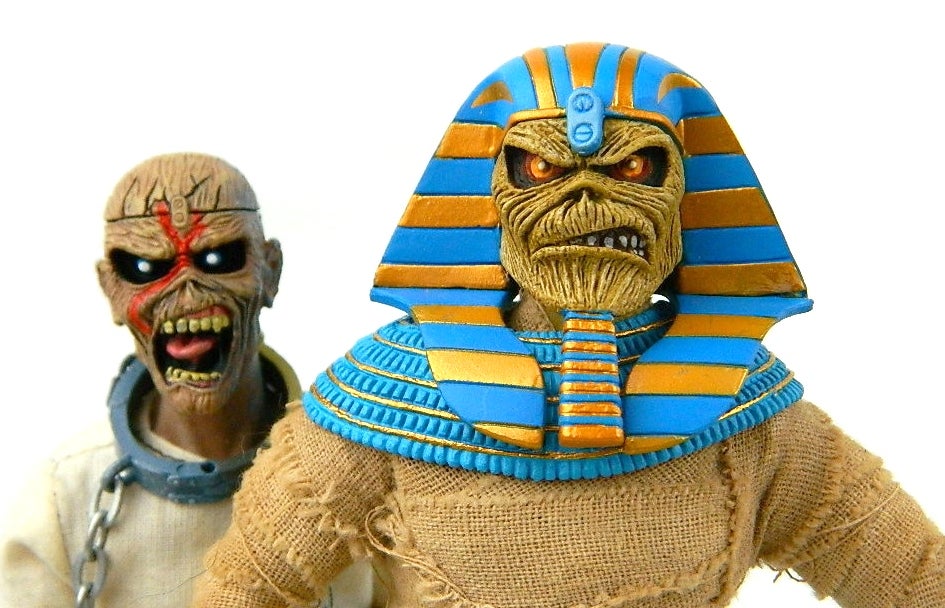 Pharaoh Eddie is available for order through many fine retailers priced at around $34.99, including BigBadToyStore.com, EntertainmentEarth.com and Amazon.
Up the irons! Scroll on for more photos!
Review and Photos by Jeff Saylor
Review Samples Courtesy of NECA
We are committed to finding, researching, and recommending the best action figures and collectibles. We earn commissions from purchases you make using the retail links in our product reviews. Learn more about how this works.
---