The 2020 holiday shopping season is in full swing now. Panic is setting in for some people as they contemplate on what to buy for their nerd-loving friends and family. Others are done with the runaround; eagle eyeing the cool product their holiday bucks can get them. To help both camps, we've compiled this handy Toynk Toys 2020 Holiday Wish List. Shop on holiday soldier…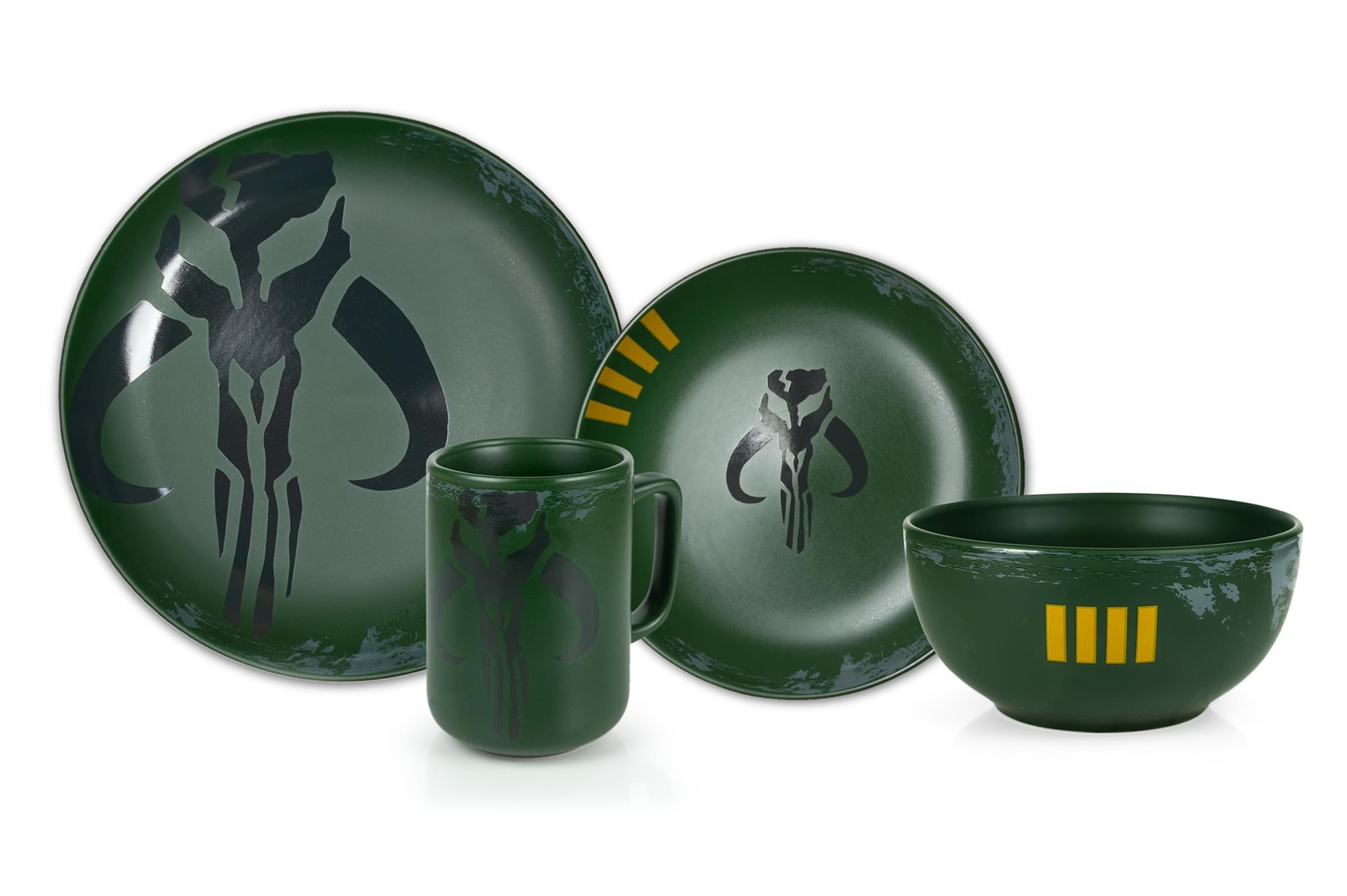 Star Wars Boba Fett Mandalorian Stoneware Plates & Bowl Collection | 4-Piece Set
There's no denying that the Disney+ live-action Star Wars series The Mandalorian is HOT. Now you can gift the love of advanced Mandalorian armor tech with this awesome dinnerware set styled after the most notorious bounty hunter in the galaxy, Boba Fett! While not made of beskar, this durable stoneware set is sure to last a lifetime of memorable Star Wars meals; be it grilled Krayt Dragon or Sarlacc Soup.
This distinctive four piece dining collection includes one salad plate, one large dinner plate, one large dinner bowl, and one large drinking mug. Fans will appreciate the classic green and yellow color scheme representing Boba Fett's armor and his legendary Mythosaur skull sigil. When it comes to Star Wars fandom, this dinnerware set takes the cake. This is the way!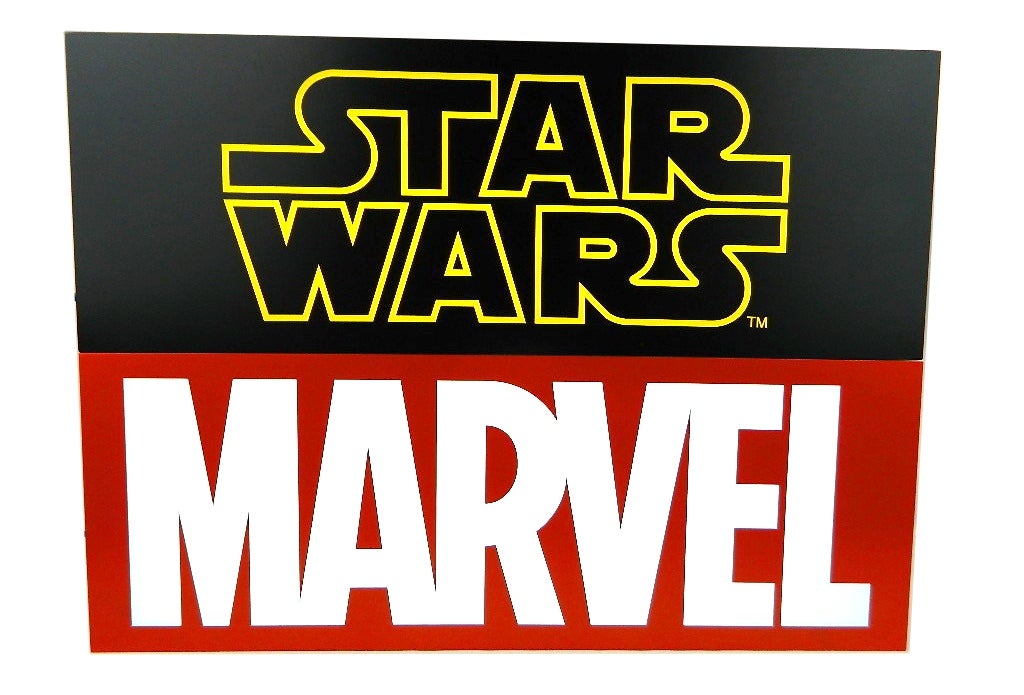 Marvel & Star Wars Logo Light Boxes
While packed with nerd style, the Boba Fett Dinnerware Set can be confusing to non-Star Wars fans. "What are these green plates we are eating on?" Hey, I get it. Not everyone in your life can be as big a fan as you. However, with Toynk's Marvel and Star Wars Logo Lights in your house, there's absolutely no question of your fandom (read our review HERE). These cool signs scream it from the roof tops with their now iconic logos. Toynk carries not only a sign proclaiming a "Galaxy Far, Far Away" in the most classic way, but also the name that is synonymous with some of the most action-packed comics and movies ever made. In-stock now, these Marvel and Star Wars Logo Lights are constructed of high-impact plastic and impress with their large, visible size: 17 x 6 x 4 inches.
Powered by an included USB cable or via electricity (USB to AC adapter, also included), these light-up logo signs are constructed to catch your attention – whether it's hanging on a wall in your theater room (via the convenient key mounting holes), or resting on a shelf in your Marvel/ Star Wars collectible display. Fandom doesn't get any sweeter than this. If your friends and family don't recognize THESE logos, it might be time to reconsider who you associate with.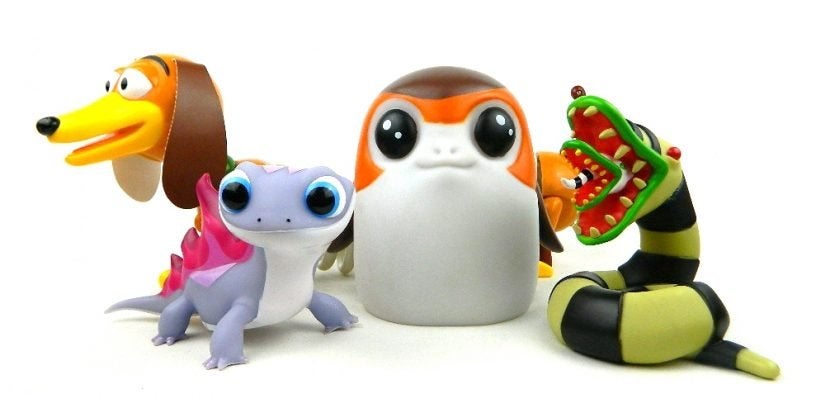 Beetlejuice, Frozen 2, Minecraft, Star Wars, and Toy Story 4. What's NOT to love about those beloved properties? Toynk has a little something for everyone with their incredible range of officially licensed figural mood lights (read our review HERE).
With a few exceptions (like the amazing 12-inch long Slinky Dog!), most of these fun character LED lamps are a compact 6-inches tall, battery powered collectibles. That means you can pretty much place them anywhere you want: be it on your office desk, by your bedside, or as part of your collectible display. With the press of a button, each lamp creates a calming glow – all with auto shut off features, and some even offering cool color-changing features. Bargained priced at an affordable $12.99 – $24.99 each, these licensed mood lights make excellent stocking stuffers and gifts. Just look at that poor Porg's wanting eyes! How can you resist?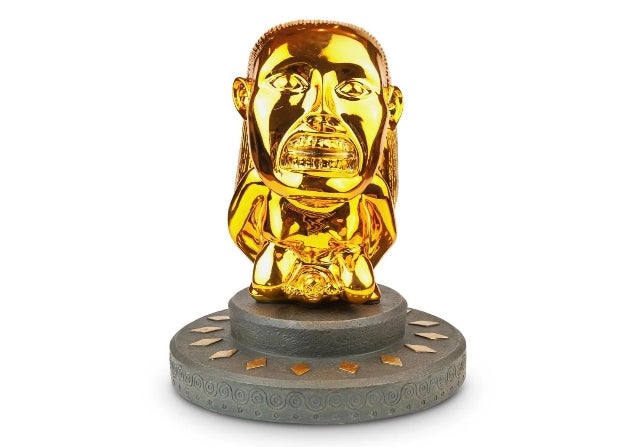 Indiana Jones Fertilty Idol and Display Base
Toynk released this amazing statue a few years ago (read our review HERE), but it deserves a new mention as it is (incredibly) still in stock. Simply put, this is the coolest prop replica of the iconic movie treasure ever released and Toynk just recently sweetened the deal with a Golden Idol AND Display Base Bundle.
$149.99 gets you two very hefty, meaty polyresin pieces – one fully chromed out in "gold"; the other resembling the trap-filled temple Indy snagged this bad boy from. The only thing missing is a bag of sand… and deadly darts… and crushing boulder. As a die-hard Indiana Jones and the Raiders of the Lost Ark fan (and I know you're out there), this prop replica is a must-own. The added display base just seals the deal.

---