Shine A Light On Your Fandom
It's a wonderful time to be a geek. As someone that has embraced pop culture their entire life, I find it remarkable how many ways fans can collect their fandom. Stylized vinyl figures and realistic action figures to build-it-yourself model kits and high-end statues. If there's a licensed character you love, then there's a product category for you.
Collectibles retailer Toynk.com has long embraced geekdom, but their newest in-stock product offerings trully illuminate what it means to be a fan. We're talking budget-friendly mood lights – awesome figural sculptures of all your favorite movie/videogame characters/icons… that serve double duty as a functional lamp!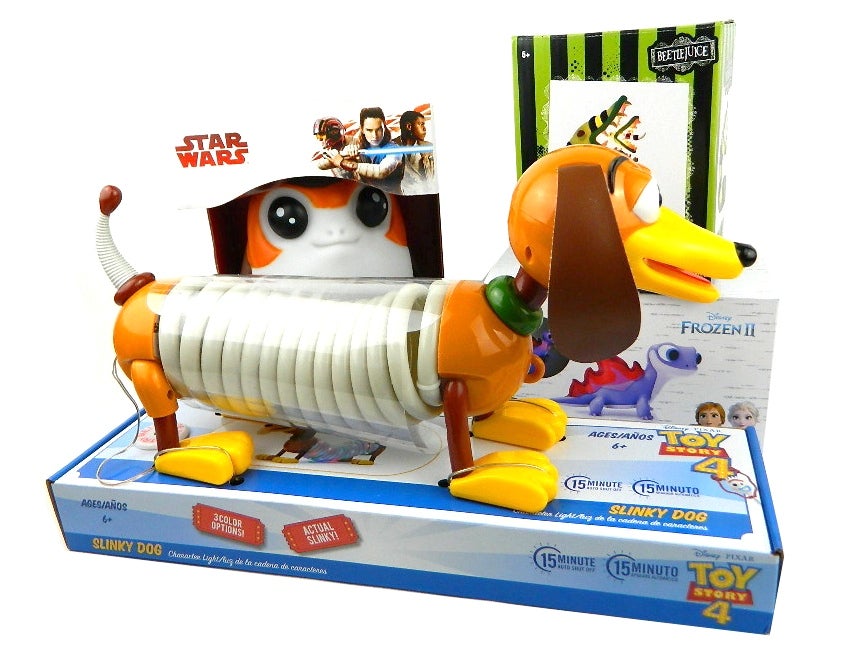 Manufactured by Robe Factory, Toynk's mood lights range in price from an affordable $12.99 – $24.99. That's like the cost of an action figure affordable. To give me an idea about their new range of licensed Robe Factory figural mood lights to share with you, Toynk sent over a small sampling including characters from Star Wars, Tim Burton's Beetlejuice, Pixar's Toy Story 4, and Disney's Frozen 2. Let's dive in!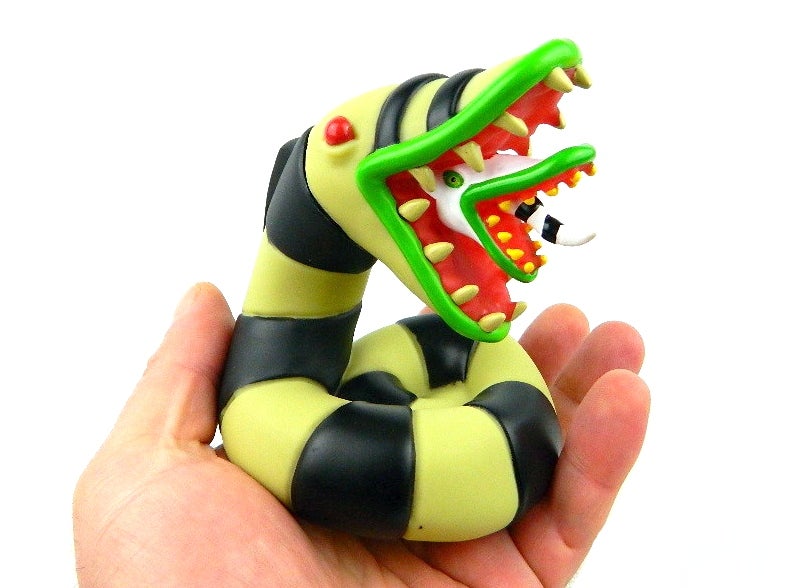 "Whoa, Sandworms. Ya hate 'em, right? I HATE 'EM MYSELF!"
Betelgeuse may hate Sandworms, but as a longtime fan of Tim Burton's imaginative motion picture Beetlejuice, I LOVE them! A worm within a worm, these iconic black and white stripped beasties have been few and far between when it comes to actual Beetlejuice collectibles. As such, you owe it to yourself to own one as a Sandworm mood light!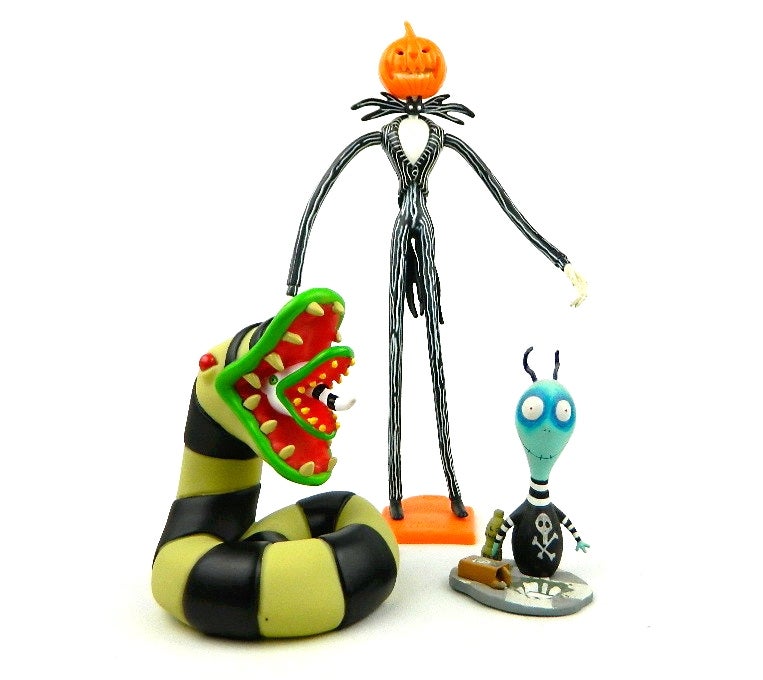 Measuring a palm-sized 4.5 inches tall (3.5 wide), this cool coiled mini collectible fits about anywhere – book shelf, nightstand or desk. I personally love it on display with my other Tim Burton collectibles.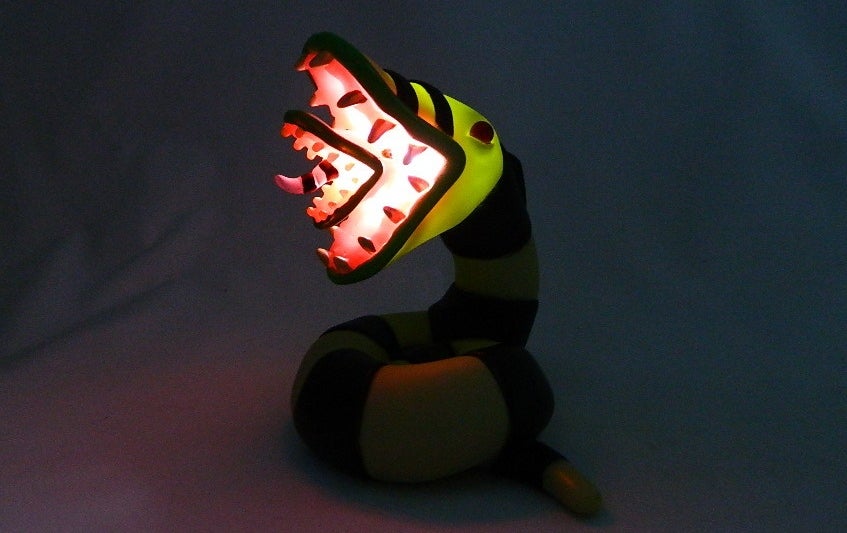 Powered by batteries (3x LR44 button cell batteries, included), the Sandworm illuminates from inside by pressing the button on the bottom of the base. The creepy inner white glow isn't bright enough to read the Handbook For The Recently Deceased by (it is a mood light after all), but it's a nice effect on display. Pressing the button once activates the light, while pressing it a second time activates a 15 minute auto shut off feature. Hit it a third time to power off.
As a Beetlejuice Sandworm collectible, this is a must own item.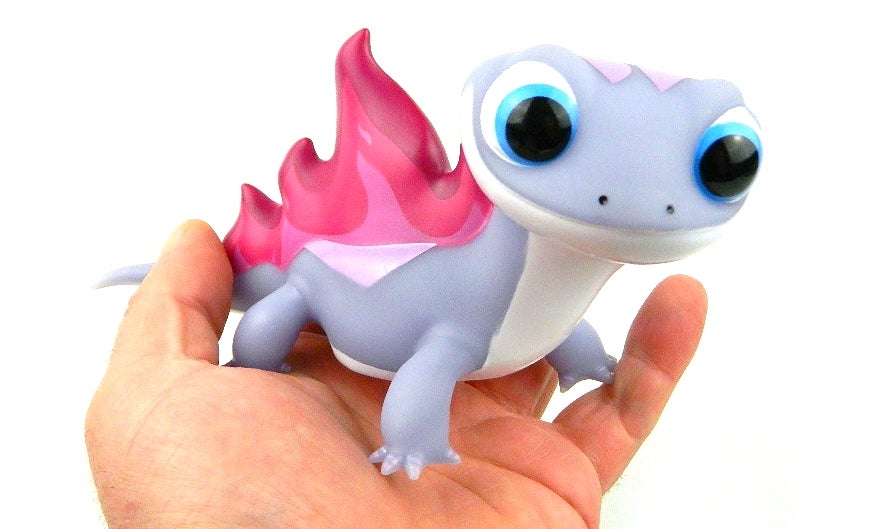 Let It Glow
Disney's Frozen took the world by storm; the animated movie empowering many a little girl into being all that they can be. The memorable characters (Olaf!) and catchy songs (Let It Go!) certainly didn't hurt either. While I personally don't recall Disney's 2019 follow-up Frozen 2 creating quite the same splash publically, it's a safe bet that 5 gazillion Frozen fans flocked to see it.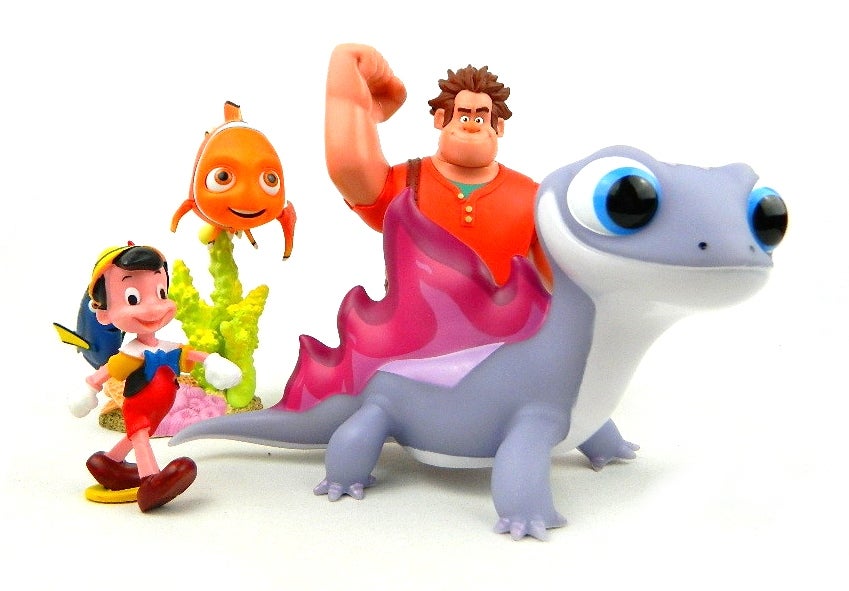 Like any good sequel, Frozen 2 introduced new characters and songs, including my favorite little critter: Bruni the Salamander! This adorable inhabitant of the Enchanted Forest is an elemental spirit of fire and becomes a friend of Elsa in the movie. What's great on the mood light scene is that Frozen 2 fans have TWO collectible options: Bruni as an innocent animated amphibian OR with his fire spirit ablaze!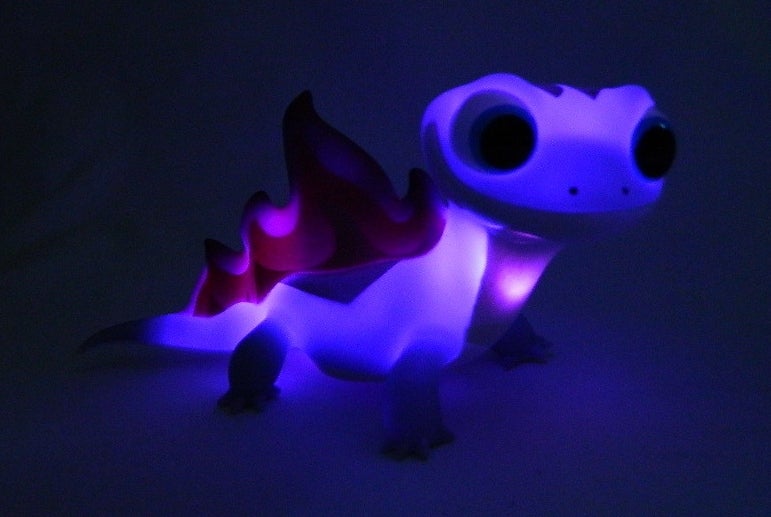 Despite which version you choose (you can always order them together as a set!), both Bruni's light-up from within (battery powered, 3x LR44 batteries included) by pressing the button on the bottom. Like the Beetlejuice Sandworm, pressing the button illuminates Bruni with a gorgeous purple glow. Pressing twice activates the 15 minute auto shut off, while tapping three times turns the mood light off. What's different with Bruni, however, is it's cool color-changing feature. Where the Sandworm just lights up white, Bruni initially lights up a deep purple and then slowly fades to a lighter shade before pulsing back to full brightness. It's a soothing effect and my favorite mood light because of it. Plus, Bruni is just too dang cute!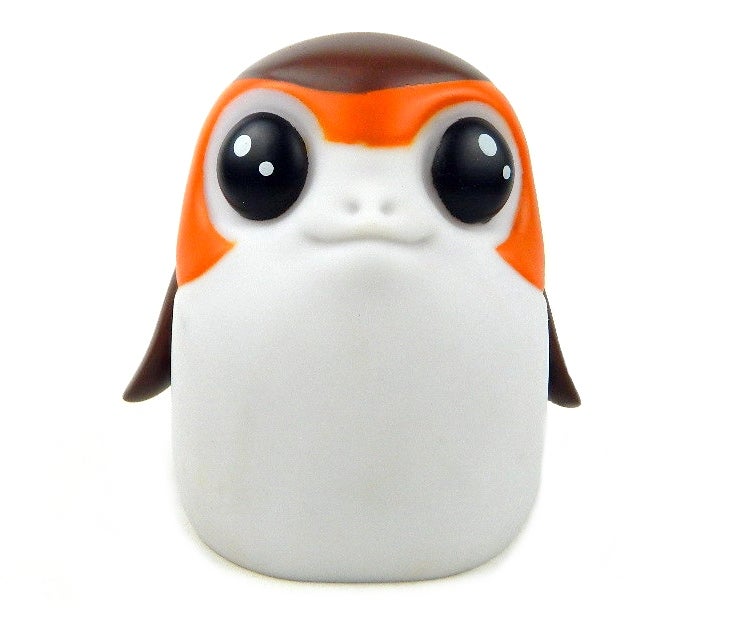 Tastes Like Chicken
Speaking of cuteness… Introduced in Star Wars: The Last Jedi, the flightless fowl known as Porgs quickly became a fan-favorite for their comic relief and adorable appearance. Just look at those eyes! Now you can bring a Porg into your life with this must-have mood light. Battery powered, this fun stylized figure brings a smile to my face everytime I look at it – lit up or not!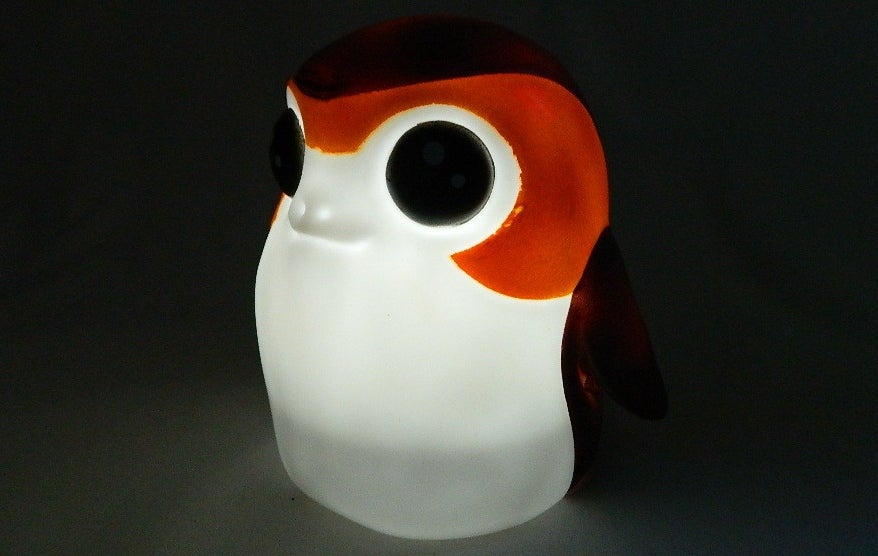 Standing a squat 6-inches tall (and nearly 5-inches wide), the Porg mood light glows white by pressing the bottom on his base (3x LR44 batteries, again included!). Right out of the box, the Porg mood light is ready to go.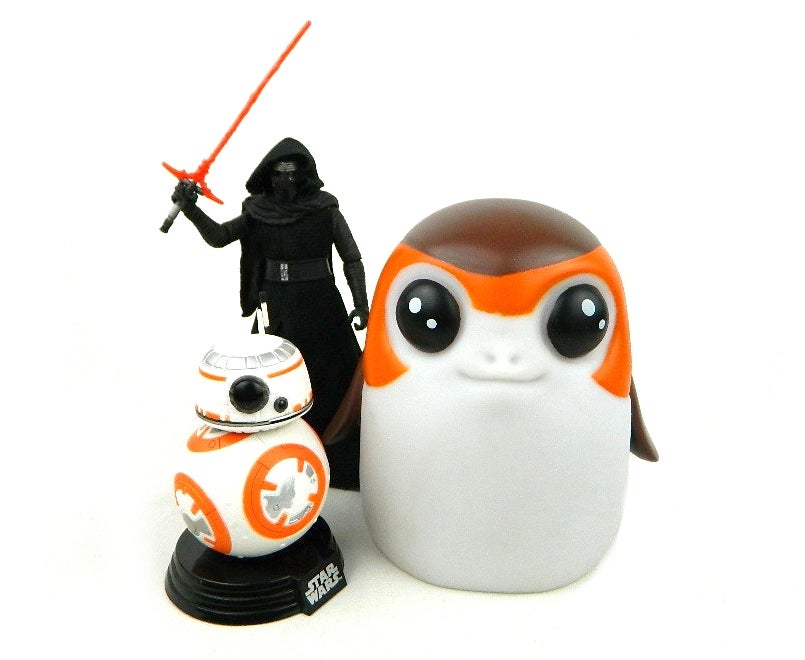 There's no fancy color-change feature with the Porg mood light, but it does have a 10 minute auto shut off feature. As the largest mood light reviewed so far, the Porg makes a great bedside nightlight and an even better Star Wars collectible.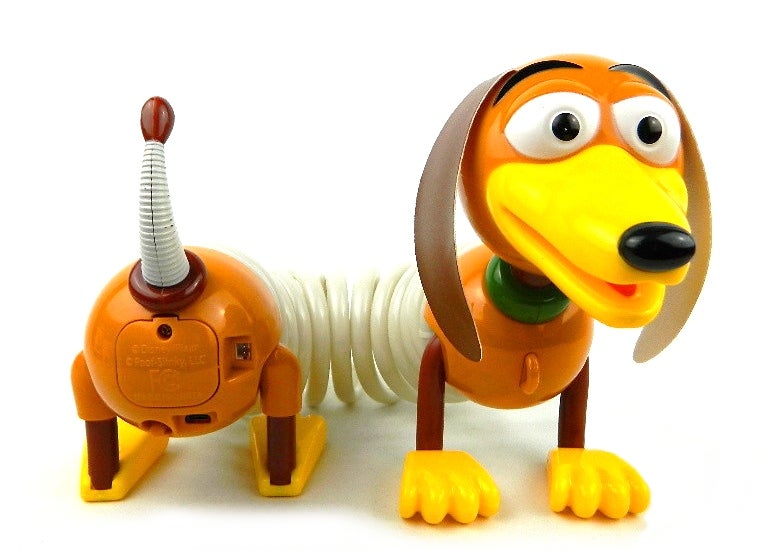 A Spring, A Spring, A Marvelous Thing! Everyone Knows It's Slinky
Believe it or not, Slinky Dog from the smash hit Toy Story movies was based on a real toy! I'll forgive you if you didn't know that factoid as the original toy was introduced waaaay back in 1957 (even before my dinosaur days). Slinky Dog was an evolution of the Slinky, the classic coiled metal spring toy that you can still buy today. As a team player in the Toy Story movies, Slinky Dog's charming dachshund dog good looks have made him a favorite of fans of all ages.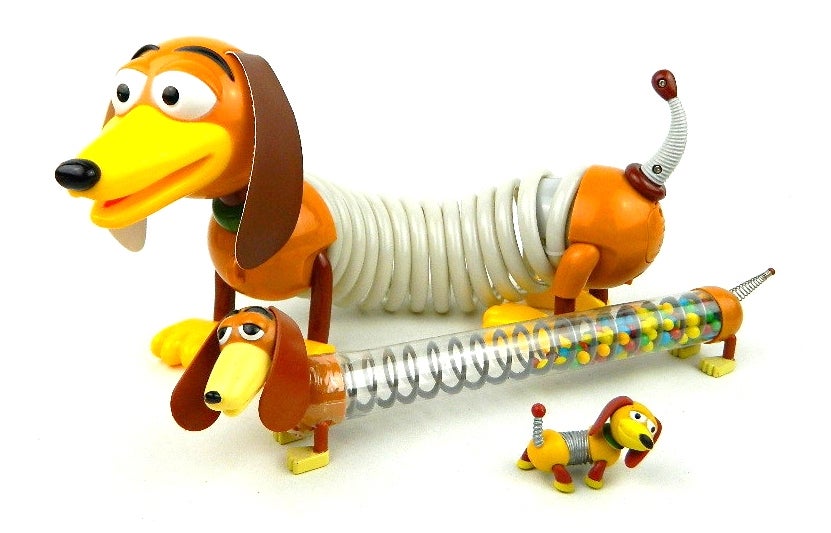 I saved my thoughts on this fun mood light for last because it's the most deluxe mood light of the bunch. Not only is Slinky Dog the largest light measuring in at an impressive 12-inches long, but he can also move! Like his namesake, Slinky Dog is an actual Slinky toy that can be stretched out, twisted and turned – all within reason, of course! What's even neater is that the coil on Slink that allows him to move IS also the light!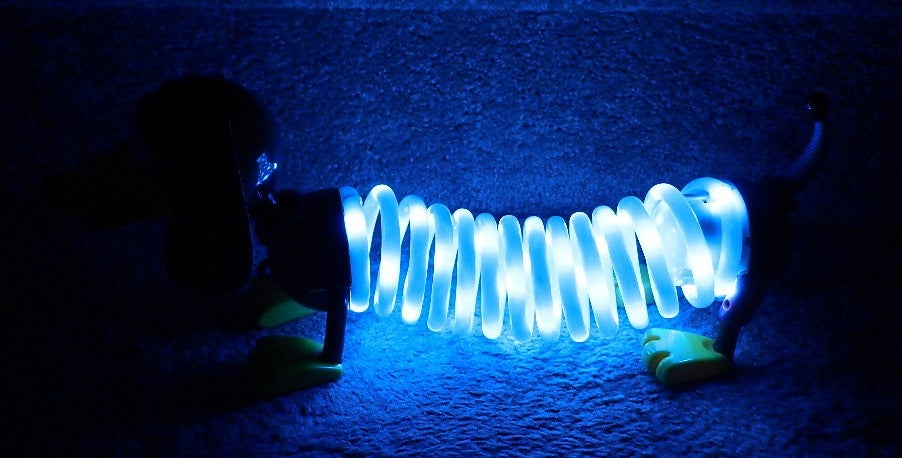 Toy Story fans have the option of illuminating Slinky Dog via the included USB cable or with 3x AAA batteries (not included). USB is great if you want Slink on display by your computer, but the cord-free battery option (which hilariously slide into his butt) is perfect for when you want to play around with Slink or for light-up action on the go.
Unlike the other mood lights I've covered, Slink features multiple colors! By pressing the button on his rear, Slinky Dog's coil first lights up a bright blue. Hit the button a second time for the 15 minute auto shut off feature. The real action starts when you click the button three times. This triggers a brilliant display of LED colors in red, blue, and green. The RBG flashing mode starts as a slow pulse, building up to a fast strobe, and then back again. Go Slinky Dog!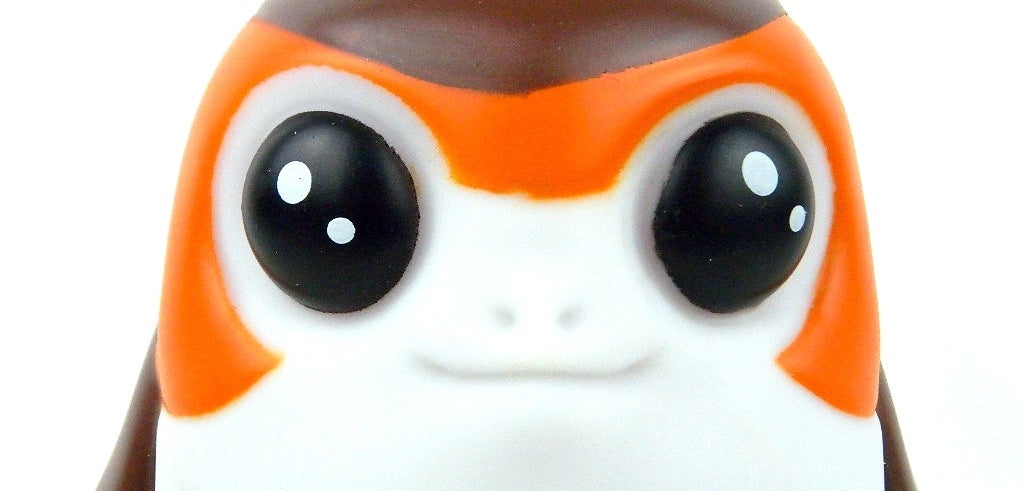 As I mentioned earlier, these are only four examples of the fun licensed mood light characters Toynk is currently offering. There's something for everyone, including Marvel's Black Panther, Oogie Boogie from The Nightmare Before Christmas, Harry Potter, Disney's Aladdin, and even a selection of items from the popular blocky 3D world of Minecraft! Pick up a couple for your own collection. With the holiday season right around the corner, these lights also make for unique gift giving ideas. Affordably priced, you really can't beat their fun sculpts and light-up design.
Scroll on for more photos!
Review and Photos by Jeff Saylor
Review Samples Courtesy of Toynk
---