-By Scott Rubin
Dragon Ball is one of the most popular franchises in the world, with fans seemingly everywhere. It all began with the manga debut way back in 1984, and since then there have been more than 55 volumes and hundreds of episodes of the anime adaptations from the original to Dragon Ball Z, Dragon Ball GT, and the most recent Dragon Ball Super. It's that last one we're going to look at today, a story of multiple parallel universes, gods, the ultimate tournament of champions, and a whole lot of yelling and power ups to previously unimaginable levels! Of course, it stars everyone's favorite Saiyans Goku and Vegeta along with their friends and allies (Gohan, Piccolo, and the rest), plus a pretty sizable cast of new characters including other fighters and powerful entities. There's also a film, Dragon Ball Super: Broly, which we'll include here too. So, what are we looking for when it comes to Dragon Ball Super toys?

First off, no Dragon Ball series would be complete without new evolutions and accompanying hair colors and styles for said Saiyans, and Super is no exception. In near (or actual, depending on your perspective) self-parody, the alien humanoids gain access to an entirely new set of transformations never before seen in the series, from "God" modes in red and blue to Ultra Instinct versions in black and silver; many of the best toys feature characters in these specific transformations. Meanwhile, we also need to check in on some of the other characters and especially the villains/greatest contenders! For that we're going to look for Golden Frieza and Jiren particularly. Now just like the heroes and villains in Dragon Ball, collectibles from this property go fast and currently while there are lots of Saiyans available (as always) some of the options for the other characters are pretty limited. So, let's check out the best of the currently available Dragon Ball Super collectibles!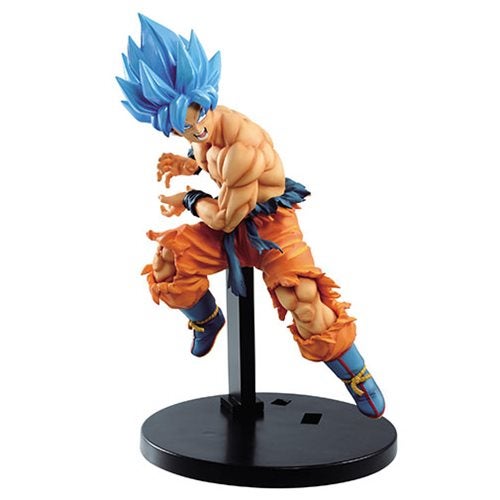 Okay, he's actually not my favorite character, but you can't really start any list of Dragon Ball anything without Goku. Just in Dragon Ball Super alone he went through a ton of different looks, hair colors, outfits, and more, but the arguably two most impactful we'll look at on this list starting with (say it with me): Super Saiyan God Super Saiyan Blue! While not quite the most powerful (see #9 below), Blue is high up there and just looks so cool. There are a ton of Goku in blue figures, models, and statues out there, and I quite like this one. The Banpresto "Tag Fighters" statue captures a battle-weary but endlessly defiant Goku preparing a final Kamehameha attack while floating in the air and (of course) screaming. The colors look great, especially the vivid blue of his hair compared to his orange gi, the shredded outfit and pose are so iconic, and the statue works quite well paired with others. It's also at a great price point for adding to a Dragon Ball Super collection.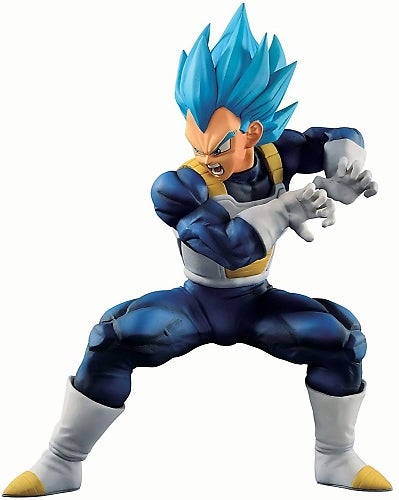 Now we're talking with who is clearly the best character in all of Dragon Ball: Vegeta! Okay, you may disagree with that statement, but you can't argue that this is a pretty rad figure. Again, going with the blue transformations, here we have the Prince of All Saiyans in his anime-featured "Evolved" form unleashing a highly powerful version of his famous Galick Gun attack. The pose is spot on down to the weird hand gestures, the face is inspired, and the hair is perfect (such a thing to say about a statue!). It's a bit more expensive than a lot of the small-scale Dragon Ball statues, but at the same time it stands at an impressive 8 ½ inches tall and will look great in your collection. The Evolved Super Saiyan Blue form is one of Vegeta's coolest (though to be honest I prefer Super Saiyan 4, if only slightly), and this is a very cool representation in 3D form.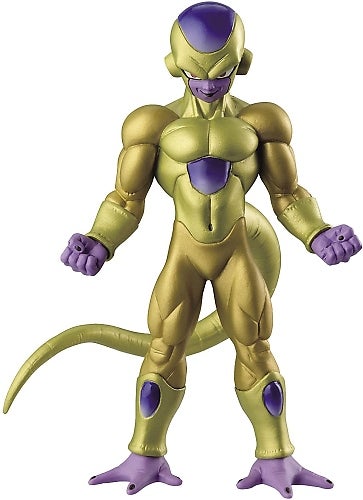 Ah Frieza, the villain we all love to hate. This creepy little alien always seems to come back, and in Super he rocks the bright and shiny Golden look… but only when he has to, of course. He whines, he connives, he lies, he cheats, and somehow, he's one of the few left standing in the climactic final battles of the Tournament of Power. This DXF figure of Golden Frieza perfectly captures the villain's shiny upgrade, but also and more importantly his awful, rage-inspiring smirk. You've also got the rest of his traditional look with the bulbous head and weird ear pods, muscled little body, three toed feet, and tail. There aren't a ton of Golden Frieza collectibles out there, but this one stands out for its character for me, especially in contrast with some of the others that depict the alien in full on rage mode.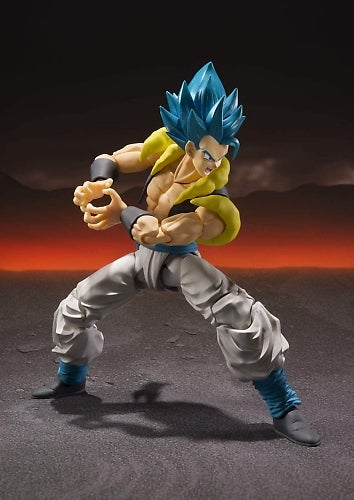 While most of the items on this list are moderately priced action figures and statues, any Dragon Ball fan knows there are lots of higher priced, big ticket items out there too. The most expensive toy we're looking at today captures the likeness of Goku and Vegeta fusion Gogeta elevated to Super Saiyan Blue level as seen in the Dragon Ball Super: Broly movie! For those who somehow aren't aware, there are multiple ways for warriors to fuse together to make more powerful forms, while mashing up their names like a celebrity relationship. Gogeta is created when Goku and Vegeta perform the Fusion Dance (different from Vegito below), and the resulting Saiyan wears the iconic vest that comes from… dance fusing, apparently. Bandai Tamashii Nations' S.H. Figuarts line has given us some of the most impressive Dragon Ball figures ever, and this Gogeta is pretty much the pinnacle. It looks amazing, has tons of articulation, and comes with plenty of interchangeable parts to replicate specific scenes from the anime. There are lots of Gogeta collectibles on the market so you can definitely find something cool that's cheaper, but for the ultimate play and display figure look no further.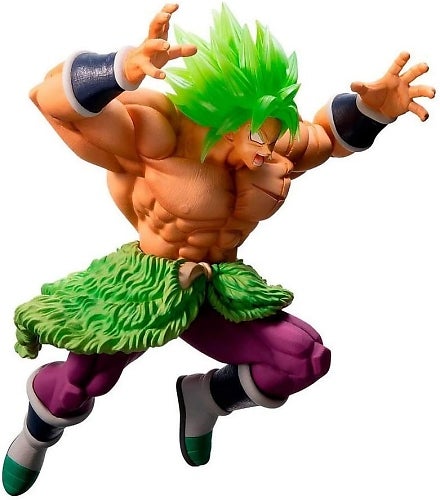 Broly the Legendary Super Saiyan (or at least one of them as we learned in Super) is a force unlike any other in the universes with essentially unlimited power and rage to match. From a mild-mannered and gangly youth, he turns into the biggest, most musclebound of the humanoid aliens with gleaming white eyes and an often-greenish tint to his energy and hair. You can find lots of Broly toys that essentially depict the character powering up, screaming into the sky and such. I like this statue, the Full Power Ichiban Kuji version, for its great sense of motion. This isn't a monolithic Broly, but one hurtling through the air about to slam into his enemies! It's not always easy to convey such energy and action into a "big guy," but this really nails it. Broly is unleashed and unstoppable, and he's also immediately recognizable as his Super incarnation with his outfit choice (furry skirt, no necklace).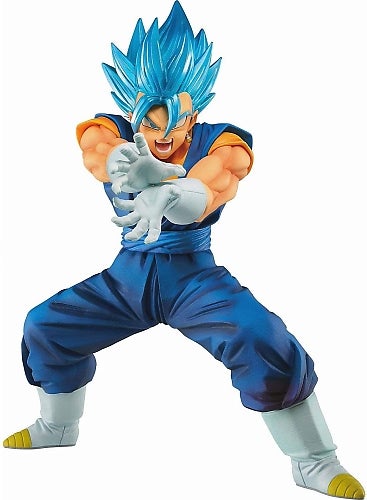 While Gogeta is achieved by a complex and nuanced Fusion Dance, Goku and Vegeta have a much easier time turning into Vegito; they just have to put on some earrings! As we see in Dragon Ball, fused forms are more powerful and in theory Potara Earring combos are irreversible (not so much in reality), so Vegito is often considered a last resort for ultimate battles. Vegito is basically Goku with his classic orange and blue outfit colors swapped and Vegeta's gloves and boots. His face is somewhat of a mix of the two heroes, as is his hair, mostly spiked up but with a couple of tendrils hanging down. This is a great statue version of the fused form and captures Vegito at the end of his Kamehameha process to unleash the blast. The costume is nicely detailed, the face focused without being over the top angry, earrings are swinging in the backwash of energies, and the blue hair is crisp and shiny.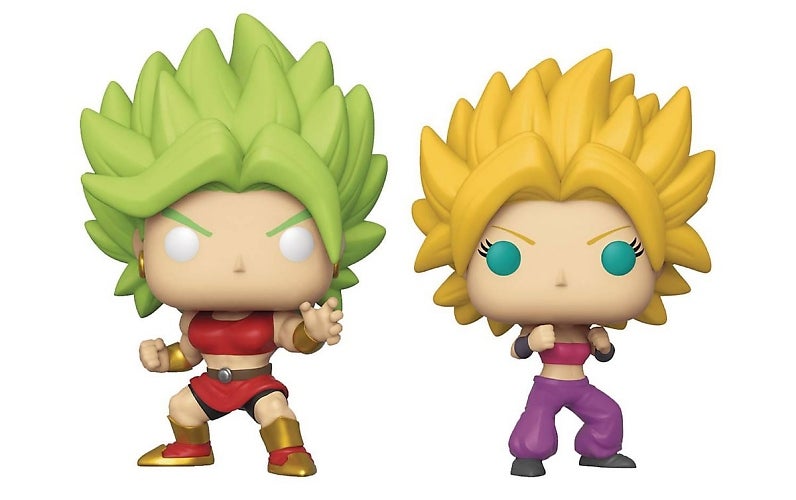 One of the coolest parts of Dragon Ball Super was meeting all of the interesting characters from other universes during the ultimate Tournament of Champions. Most notably, during that saga we got to see for the first time (pretty much) female Saiyans in multiple different power levels and forms! Now, unfortunately Kale and Caulifla collectibles are pretty tough to get your hands on these days, with the exception of some Funko Pops. This exclusive 2-pack gets you both ladies in their basic fully powered forms (other single packs have some alternate power effects) for no more than the cost of two regular Pops. Caulifla is moving up through the Super Saiyan transformations as she learns from Goku during their one-on-one combat, while Kale is unleashing her berserk Legendary Saiyan power (in green). They're neat!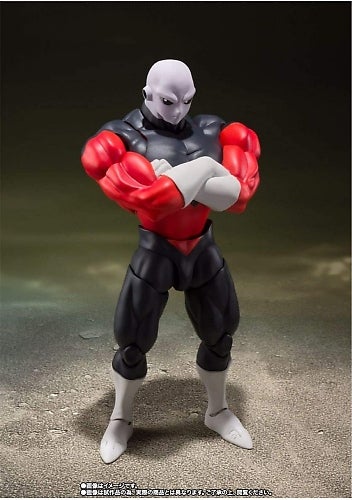 Like Kale and Caulifla, Jiren was one of the standout new characters in Dragon Ball Super. A being solely focused on justice and winning the tournament for the survival of his universe at all costs, the focused alien was the biggest threat to Goku's team right up until the final battles. Jiren was positively scary for his unwavering determination and nearly unbreakable confidence, even going so far as to take meditation breaks during the fighting. There are a few Jiren collectibles out there, but my pick for him has to be the S.H. Figuarts "standard" version that just so perfectly captures his unique looks from most of the tournament. He has a massively muscled upper body but can still achieve his iconic crossed arms pose, and the multiple interchangeable facial expressions are so good, whether you want pensive Jiren or angry Jiren. He even comes with a hand for grasping the front of a Super Saiyan Blue's head! And of course, as a Figuarts toy he's got tons of articulation and poseability. Note that Bandai also offers a "Final Battle" hulked out version of Jiren, but I'm not a fan of that look.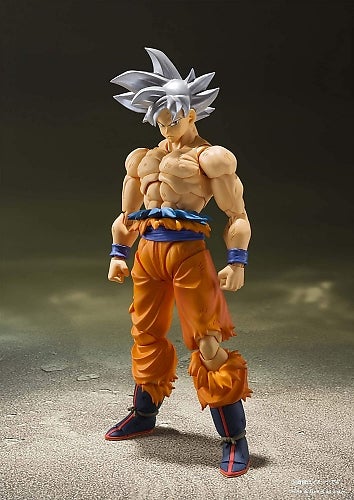 Goku is always the best and the most powerful, yadda yadda yadda. He also always gets the most transformations, and often the most iconic. In Dragon Ball Super that means he went through all of the God and Blue modes, but in the end ditched that whole evolution for something quite different. Ultra Instinct is a true "god" form of power in battle, one that's typically only accessible by divine beings… but of course Goku is the exception. As this level is attained the body and hair shape stay mostly the same as the base version, just with color changes and of course insane amounts of energy. In Goku's case the most iconic form of this is silver hair and eyes, while he wears his usual (battle damaged) outfit. For Ultra Instinct Goku my choice is once again the S.H. Figuarts figure that does such a great job of distilling the core elements of the character's look with solid articulation and interchangeable parts for your displays.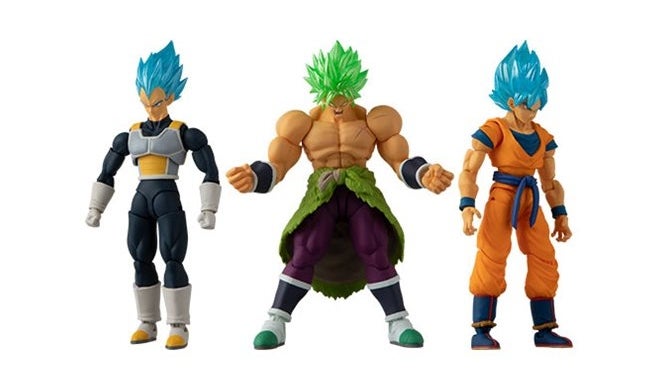 Last but not least, what if you're looking for some less expensive but still fun Dragon Ball Super figures? Check out this three pack of the studliest Saiyans this side of Planet Vegeta! For a bit more than $10 apiece you can get your hands on smaller scale versions of Super Saiyan Broly and Super Saiyan Blue versions of Goku and Vegeta. These figures are highly articulated and look good, even if they don't come packed with accessories like some of the more expensive figure lines. You can also do great battle scenes with this pack, pitting the two heroes against their massively powerful (and sizeable) rogue Legendary Saiyan adversary.
-By Scott Rubin
We are committed to finding, researching, and recommending the best action figures and collectibles. We earn commissions from purchases you make using the retail links in our product reviews. Learn more about how this works.
---