-By Scott Rubin
Despite a movie that we'd all like to forget (really, can we never discuss it again?), Green Lantern is one of the coolest DC Comics superheroes ever. There have been a few very different versions of what that name and title means, and without getting into the weeds of comic book continuity we're just going to talk about the modern version. The Green Lanterns are a space-faring police force fighting crime and super villains across 3,600 sectors, and sometimes beyond. With power flowing from a Central Power Battery, individual lanterns and rings are given to sentients with exemplary willpower and tasked with using them to fight injustice. Earth has seen quite a few humans enter into the ranks of the Green Lantern Corps over the years including Hal Jordan, John Stewart, Guy Gardner, Kyle Rayner, Simon Baz, and Jessica Cruz.

Hal has wielded the ring the most over the years and is the most popular, and he happens to be my favorite. At any given time, the majority of Green Lantern collectibles on the market do feature Jordan, though it's always nice when there are toys and statues of the others for their fans as well. With that said, today we're going to look at some of the coolest and best Green Lantern toys out there right now! Here they are, in order of price (high to low).
Note: a few of the items on this list are from DC Collectibles/DC Direct. If you've been keeping up with recent news, you'll know that this company is no longer with us. Their products that are currently available (or god forbid on the way) won't be around for long, so if you see something you like you should verify it's still available and grab it before it's gone. Similarly, Mattel made a ton of DC collectibles and no longer has that license, so those products are going to get rarer and rarer too. Just my two cents.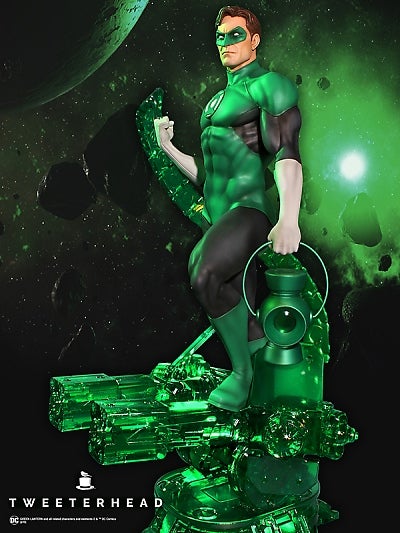 Tweeterhead DC Super Powers Green Lantern Maquette Statue ($275)
This is the crown jewel of the currently available (or coming soon) Green Lantern collectibles. We see Tweeterhead at SDCC each year and their statues are incredible, just beautifully detailed and larger than life. Our main man Hal Jordan joins the Super Powers series in October with a stunning centerpiece-worthy display, GL standing on a hard light construct of a weapon turret. He looks super cool with a classic costume and comes with several interchangeable parts like an energy stream connecting his ring to the base and a lantern he can hold in his left hand. If you can afford it, this is probably the coolest Hal Jordan out there currently.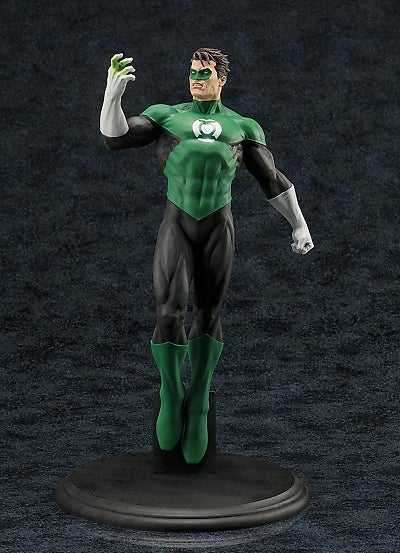 Kotobukiya DC Universe Green Lantern ArtFX Statue ($180)
On the higher end of Hal Jordan collectibles comes the ArtFX version from Japan courtesy of Kotobukiya. This one has a couple of unique points that make me appreciate it. First off, it's got a great pose with GL standing almost perfectly straight up as he floats above his base, making it more of a vertical presentation than some of the other statues with "action poses." His costume is pretty striking with deep, straight cuts into the green torso section, while his chest logo symbol is classic, the combination not quite comic-accurate but still great looking. I also particularly love the pose of Hal holding up his right hand and presenting his power ring; it's a bit understated without a flashy construct while still showing off the source of his power.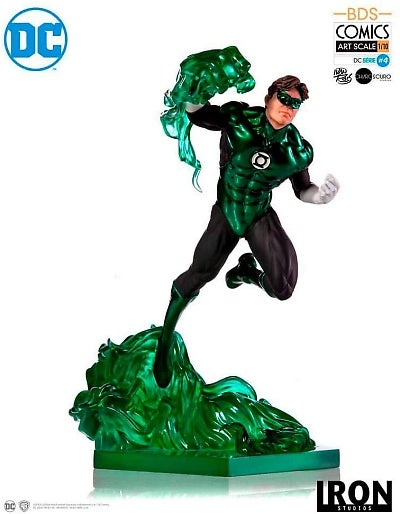 Iron Studios 1:10 Green Lantern BDS Art Scale Statue ($160)
One of, if not the, most dynamic statue on this list, Iron Studios' Hal Jordan is captured in mid-leap AND attack with a jumbo solid light construct fist sheathing his own. Iron Studios statues can sometimes have a stylized look to them, and that's pretty apparent here, even though it's also inspired by the art of Ivan Reis (like the DC Collectibles Designer Statue on this list). This version is also set apart from others with its uniform's dark metallic green and the flowing, flamelike appearance of its energy fist and base.

DC Collectibles DC Designer Series: Green Lantern by Ivan Reis Resin Statue ($150)
One of several mid-range statues in the $150 neighborhood, this one is a neat addition to DC Collectibles' Designer Series and replicates the artwork of fan-favorite Ivan Reis. What you might call a young and energetic Hal Jordan, this one practically leaps off its display base with a cocked fist ready to fly into his enemies' faces. Chest logo is particularly cool, too. If there's one downside to this statue it might be the kinda liquid/goopy green energy base.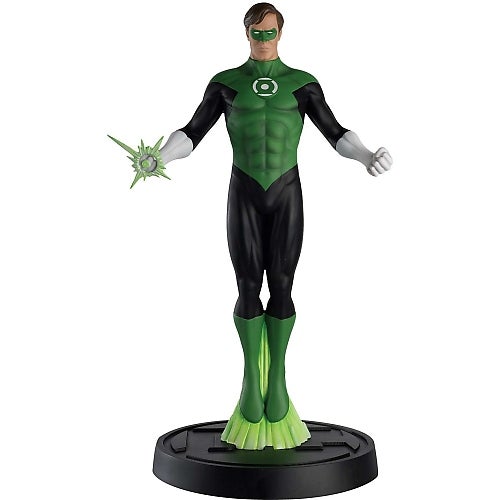 Eaglemoss Green Lantern Statue with Collector Magazine #10 ($150)
The other $150 Hal Jordan statue, this one comes from across the pond and our friends at Eaglemoss/Hero Collector. The "Mega" scale Green Lantern is honestly a little stiff for me, hovering in a rigid pose with arms angled down at his sides. The costume looks nice, and his head sculpt is cool although the hair… well, I don't think that's military standard though Hal was never one for following orders. I do like the retro, bright accents of the flying effect and the energy halo erupting from the power ring!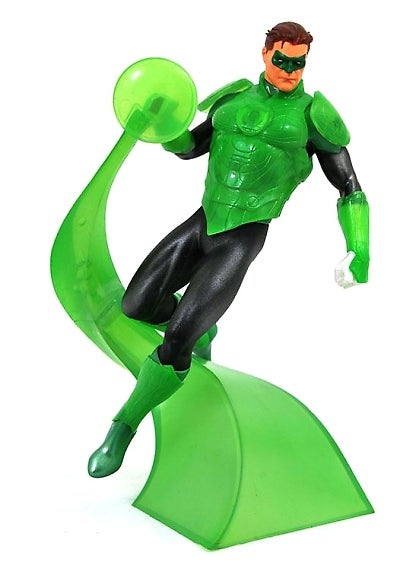 Diamond Select Toys DC Comic Gallery Green Lantern Statue ($45)
I'm a big fan of Diamond's Gallery statues; they're big, they look good, and they're cheap! GL here follows all of those trends with a 10-inch-tall, $45 piece depicting the hero flying through space. I considered calling this a "variant" version of Hal, but it's really just another form of construct action as the core statue wears translucent green hard light armor on its torso and arms. Now, the style of said armor won't appeal to everyone, but it's well done and the translucency looks cool. Hal also flies on a big green sweep of energy extending from his ring. At the end of the day, for price alone this Gallery statue can't be beat.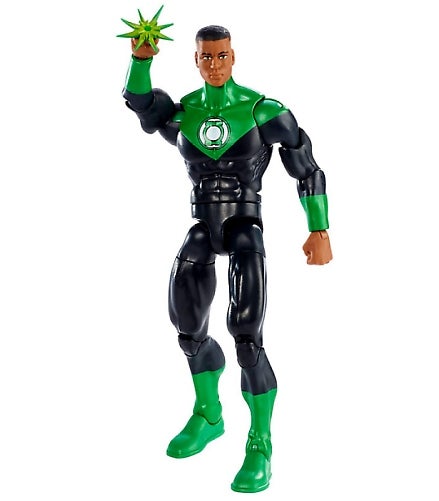 Mattel DC Comics Multiverse John Stewart Action Figure ($35)
No Green Lantern list could possibly be complete without John Stewart! Mattel's version (and see a couple animated-based figures a little lower on this list) is the most expensive but also, in my opinion, the best. It's comic book based rather than animated, which I think is a good thing. That means he has normal human proportions, and Mattel provided him with a very good head sculpt. His uniform is fairly bare bones, but that's accurate to the art. In the 6-inch scale with the other Multiverse figures, John is highly articulated and even comes with an interchangeable hand with energy coming out of his ring (and a BAF part).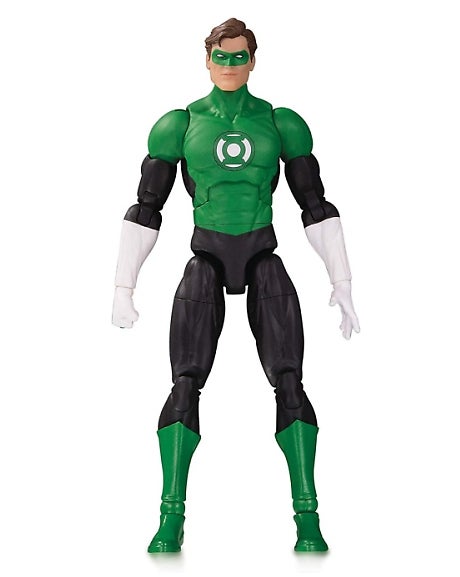 DC Collectibles DC Essentials: Green Lantern Hal Jordan Action Figure ($28)
The last Hal Jordan action figure from DC Collectibles/DC Direct, the Essentials version was pretty cool. In scale with the other figures at about 7 inches tall, this GL sports a really clean look and solid articulation (even if lacking in accessories). This is another modern incarnation of GL and a bit on the young side, though his costume doesn't have the severe black cutouts on the torso. Probably best of all, there was a complementary Sinestro released at the same time so make sure to grab that one as well.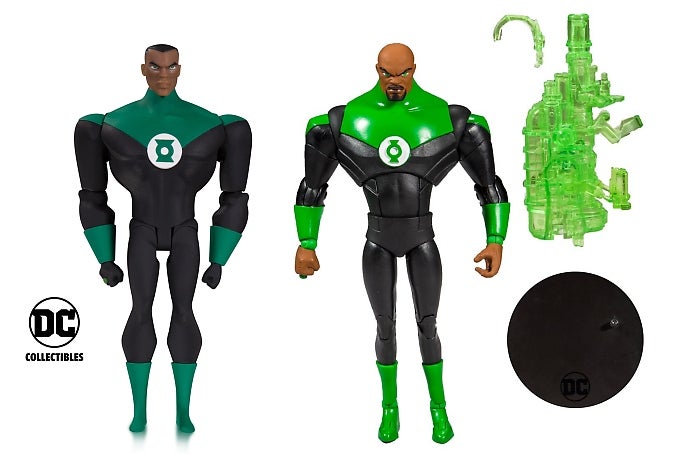 DC Direct Justice League Animated TV Series Green Lantern John Stewart Action Figure ($24)
McFarlane Toys DC Animated Wave 1 Justice League Animated Series John Stewart Green Lantern 7-Inch Action Figure ($20)
I'm going to combine these into one entry but discuss both since they're comparable in price and offer two different versions of the same character. There's not one but two low $20-range Justice League/Justice League Unlimited animated John Stewart action figures on the market (for now): DC Collectibles/Direct's and McFarlane's. Now, they are quite different. DC's is closer to the animation model, for better or for worse depending on your point of view. It's got the show's iconic body proportions, and thankfully these come with bases since their itty-bitty legs are no good for standing them up. McFarlane's version is the bald, goatee incarnation, and went in a bit of a different direction. The animated proportions are toned down (but still there), and there are added details on the costume like panels and inscribed lines. Essentially it looks like a more modern take on the classic design. This toy also comes with a display base, and a big gun construct with visor.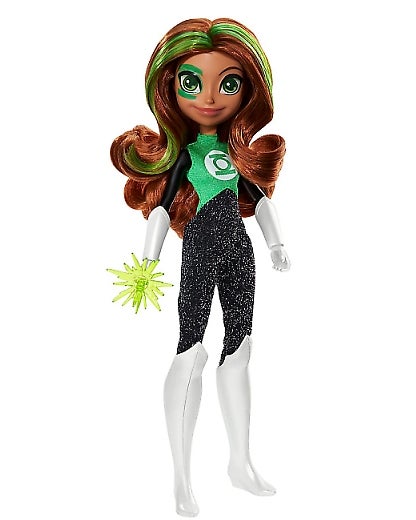 Mattel DC Super Hero Girls: Jessica Cruz Doll ($10)
As I noted some of the best modern Green Lantern stories have to do with characters other than Hal Jordan, though it can be hard to find collectibles of them. For example, Earth Lantern Simon Baz is pretty much unavailable in toy form these days, but you can pick up Jessica Cruz, one of the most interesting GLs to come along in a while. Sure, this one's technically a "doll," but Mattel did a fantastic job with these cool Super Hero Girls and Cruz looks great. She may not fit in with your action figures and statues, but she's fun and cute, and perfect for young fans too.
Special Mention!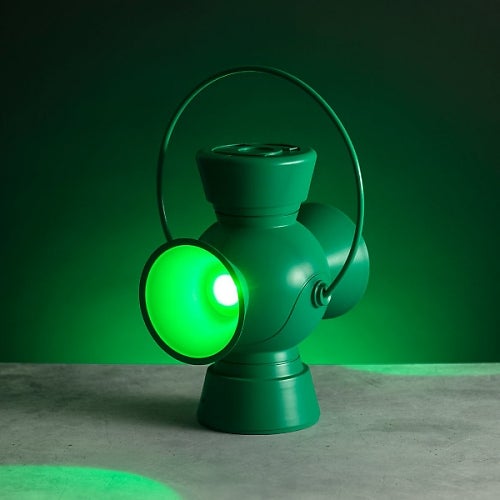 Paladone DC Comics Green Lantern Power Battery Prop Replica Lamp ($45)
Okay, so besides their rings, Green Lanterns are of course known for… their lanterns! DC Direct and a couple other companies have offered mid to full-scale lantern battery prop replicas, and the latest is on its way from the cool people at Paladone. Their version is "life-size" at 12 inches tall with a full light up feature, and amazingly it's under $50! Can't go wrong with that.
-By Scott Rubin
We are committed to finding, researching, and recommending the best action figures and collectibles. We earn commissions from purchases you make using the retail links in our product reviews. Learn more about how this works.
---