-Review and Photos By Andy Jones
If you saw our Scooby-Doo Mystery Machine review (HERE), you know that Playmobil has embraced their licensed properties with respect and amazing detail and play value. The Mystery Machine looks like its popped right off the TV screen, but the amount of play value packed into it is fun and addictive.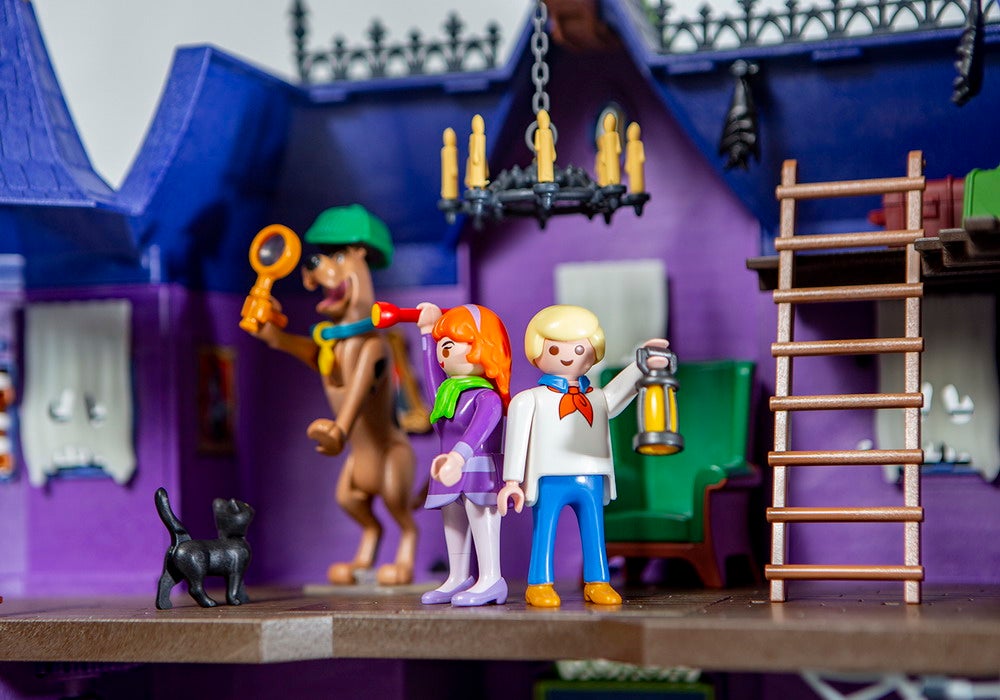 So after packing some Scooby Snacks and heading on the road, the team happens upon the haunted Mystery Mansion (arriving this month priced at $99.99. Pre-order at EntertainmentEarth.com today!). Is it truly haunted? Or is there a simple, yet sinister explanation behind the mysterious happenings?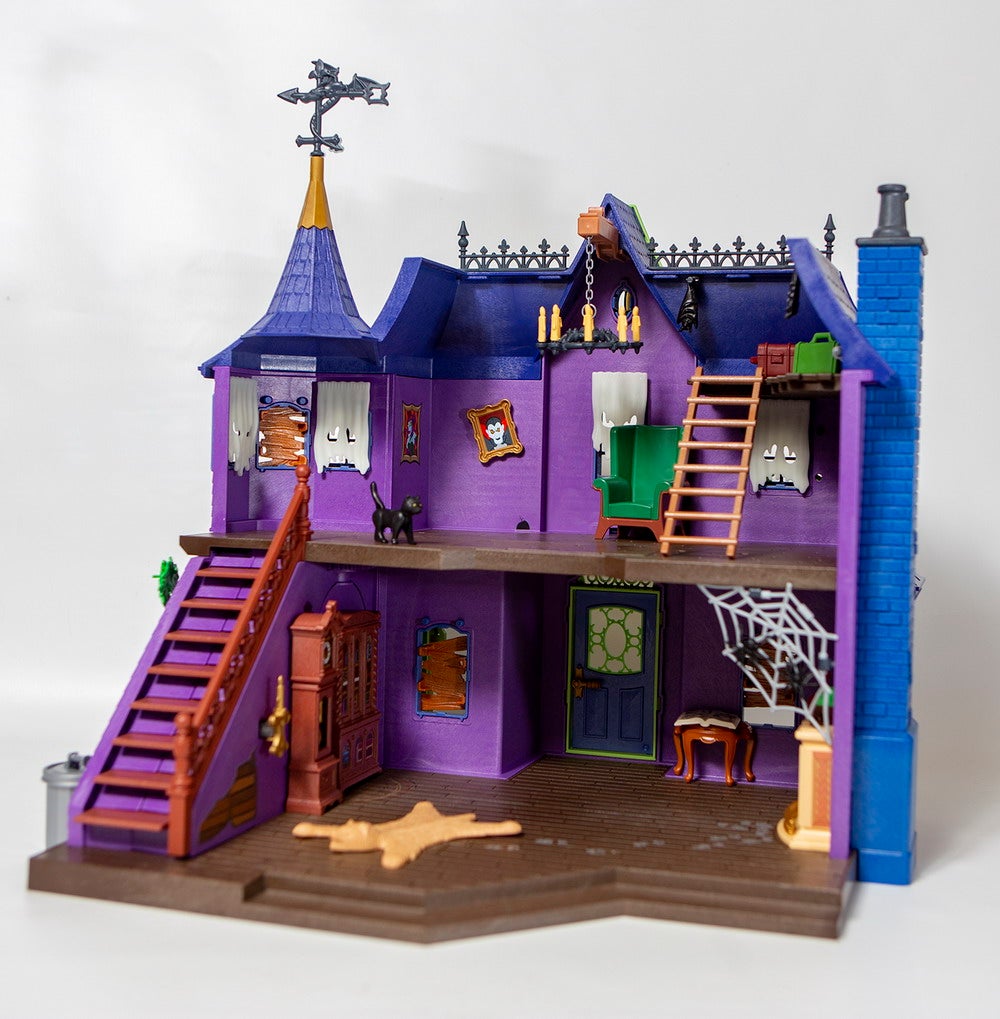 The haunted mansion is a completely new set from the ground up. There is the tricky staircase that turns into a treacherous slide, just like from the cartoon. There's a trap door, a falling chandelier, a rotating bookcase that leads to a secret passage, and hidden gold under the floorboards. All these features filled me with nostalgia for the days of watching Scooby-Doo on TV. I commend Playmobil for lovingly plucking fun details right from the show and fitting it into the playset.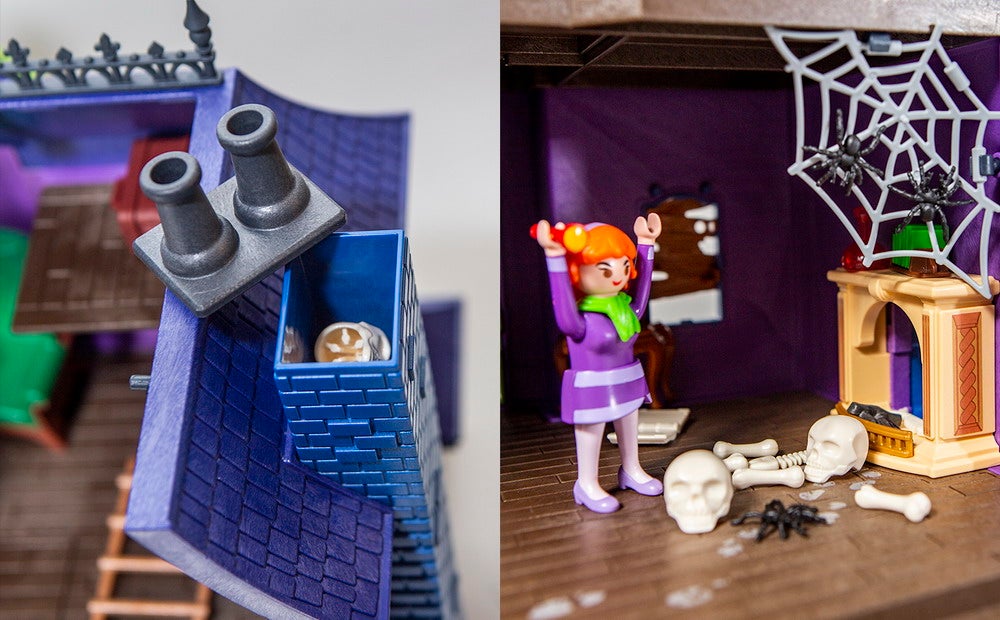 One of my favorite features is you can load bones and spiders into the top of the chimney, then slide out the grate, and they'll all come tumbling out of the fireplace. I also love that all of the pictures on the wall are of popular Scooby-Doo monsters.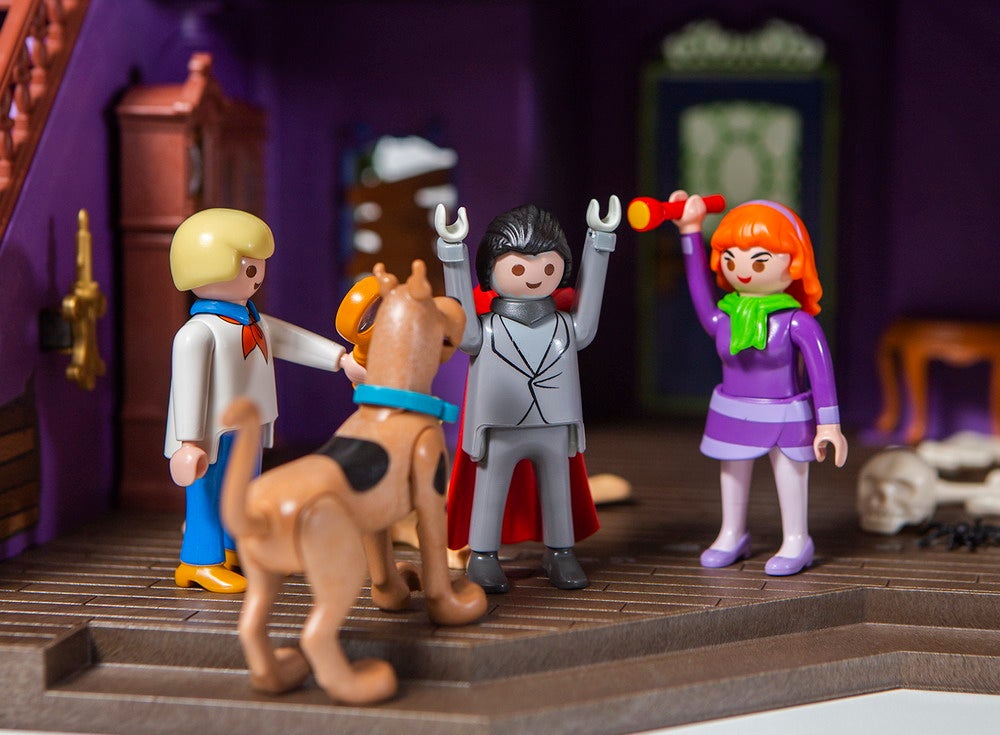 One of my favorite aspects of all the Playmobil Scooby-Doo monsters and villains is that they can be "unmasked." In this case you can pop off the vampire's hair and rotate his head to reveal a typical Playmobil face. One of my favorite parts of the show was when they'd unmask the supernatural villain, and I enjoy getting to conclude your own imaginary hauntings the same way.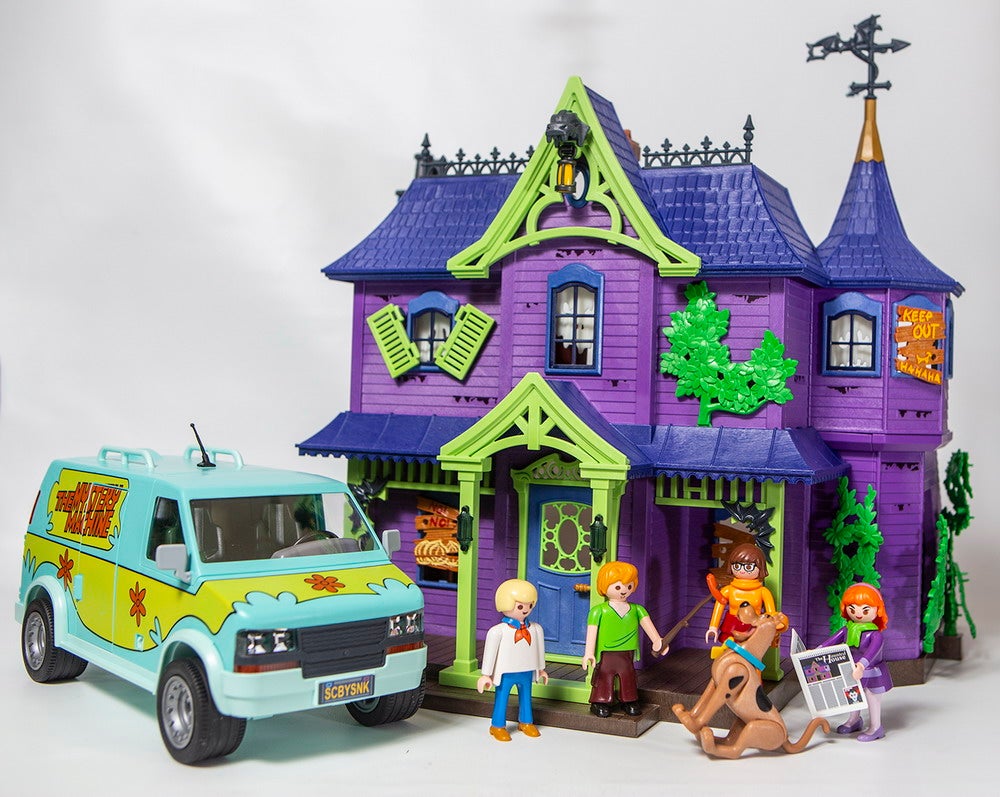 In addition to being a lot of fun to play with, this makes a fantastic display. There is plenty of wide open spots to line up all the monsters you've been collecting. You could put several on the staircase, but it would be tough to avoid the temptation to send them all flying. Park the Mystery Machine right alongside it, and it looks terrific.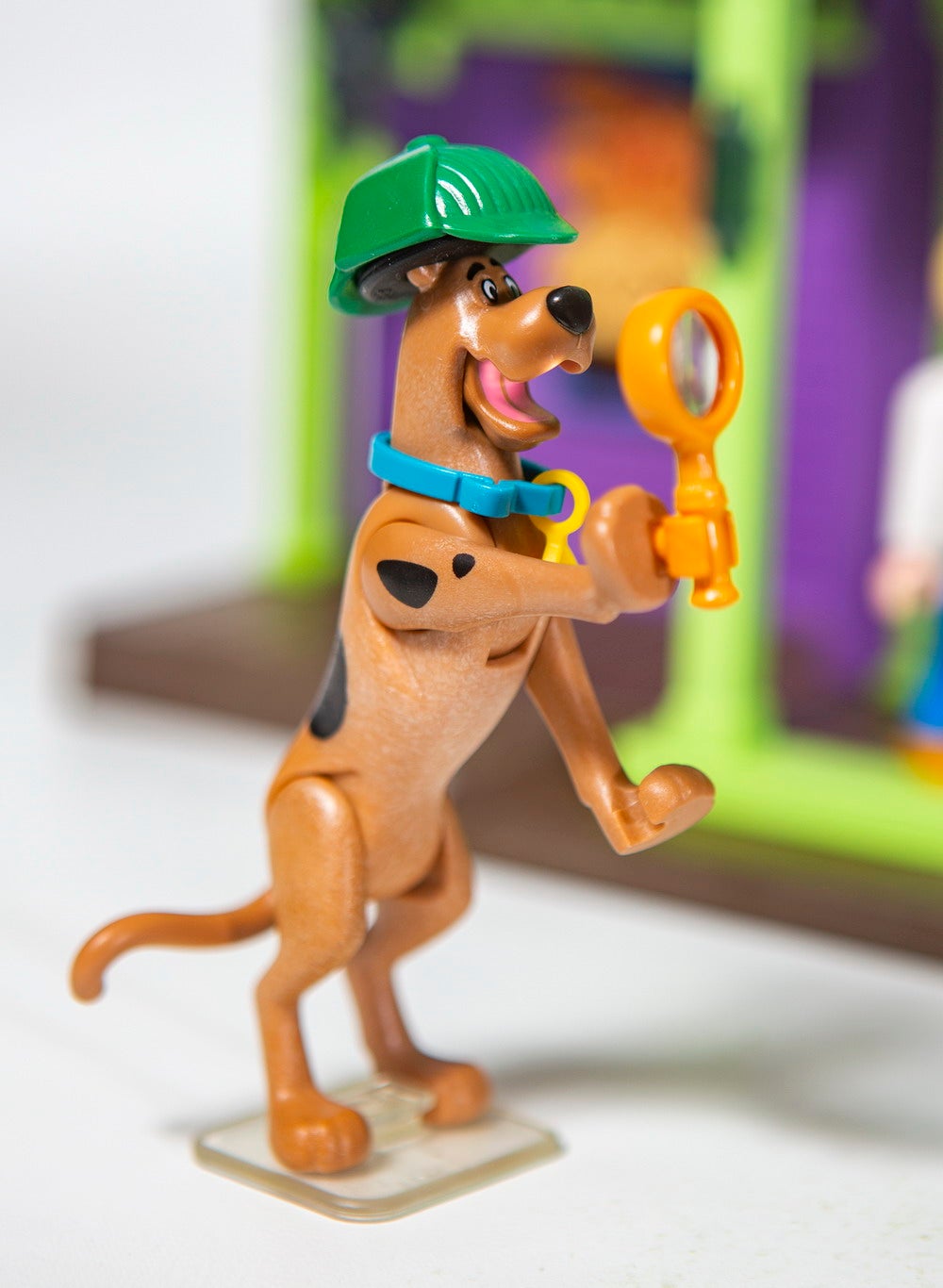 Speaking of collecting, with this playset you get Fred, Daphne and Scooby, and Scooby comes with a Sherlock Holmes style deer-hunter cap. You also get the vampire you can unmask. He comes with a wine glass full of tomato juice to sip on.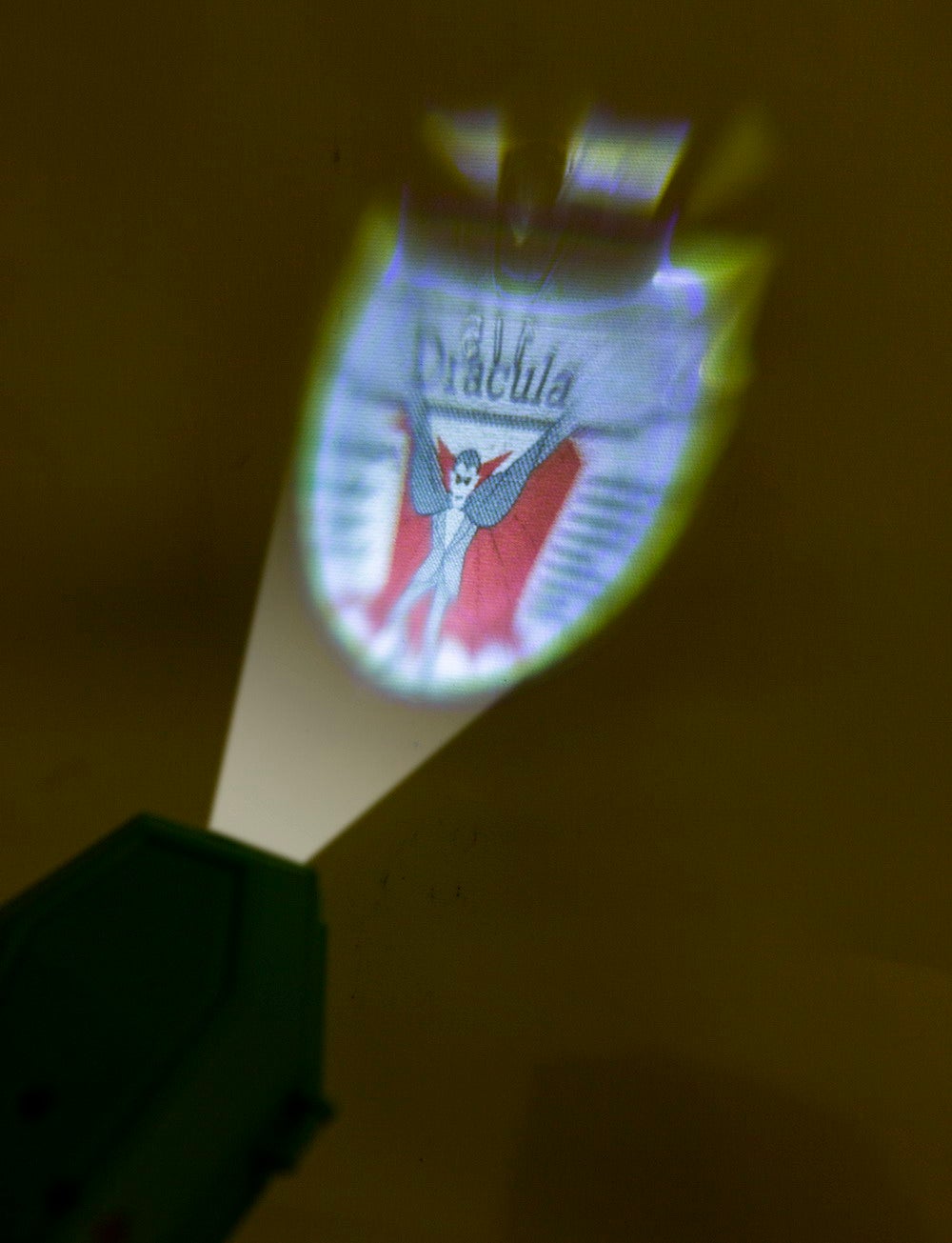 I almost forgot to tell you about my favorite feature, there are sound effects! There is a green coffin that has buttons to play Scooby-accurate sound effects to accentuate your adventures. Creaking doors, rattling bones, cawing crows and other haunted sounds add to the fun. Then you can slide in the clear plastic Monster Files that come with each villain and you can project the image on a nearby wall! This added feature is pretty sweet.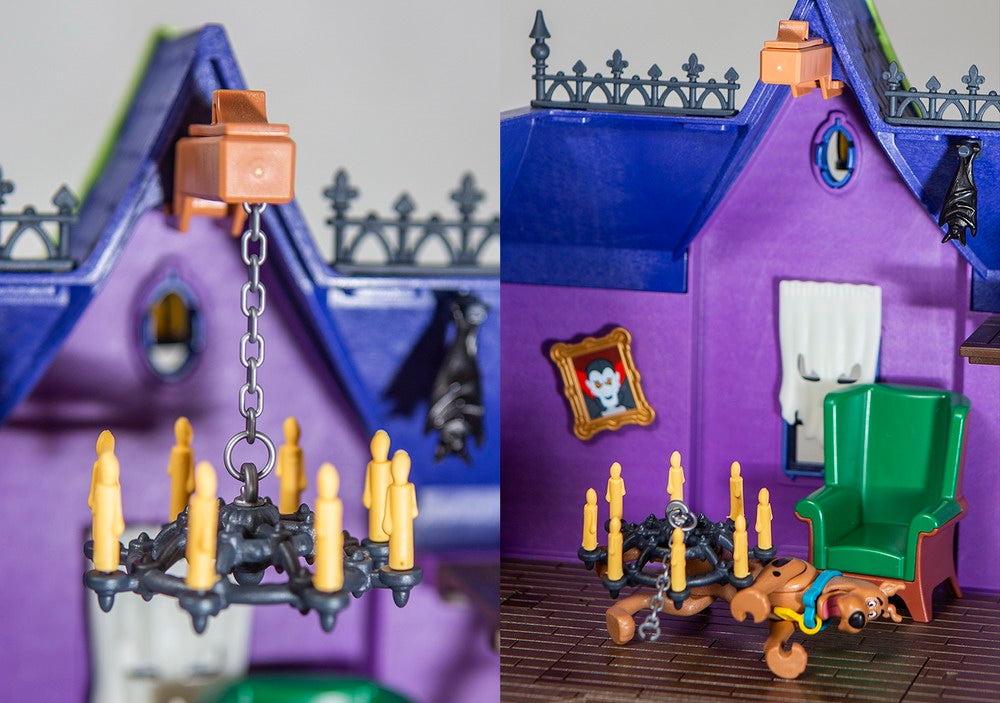 I love all the little details throughout the playset too, such as the crooked shutters and glow-in-the-dark curtains with ghastly faces. Even if you weren't a die-hard Scooby-Doo fan, this is a fantastic Playmobil haunted house.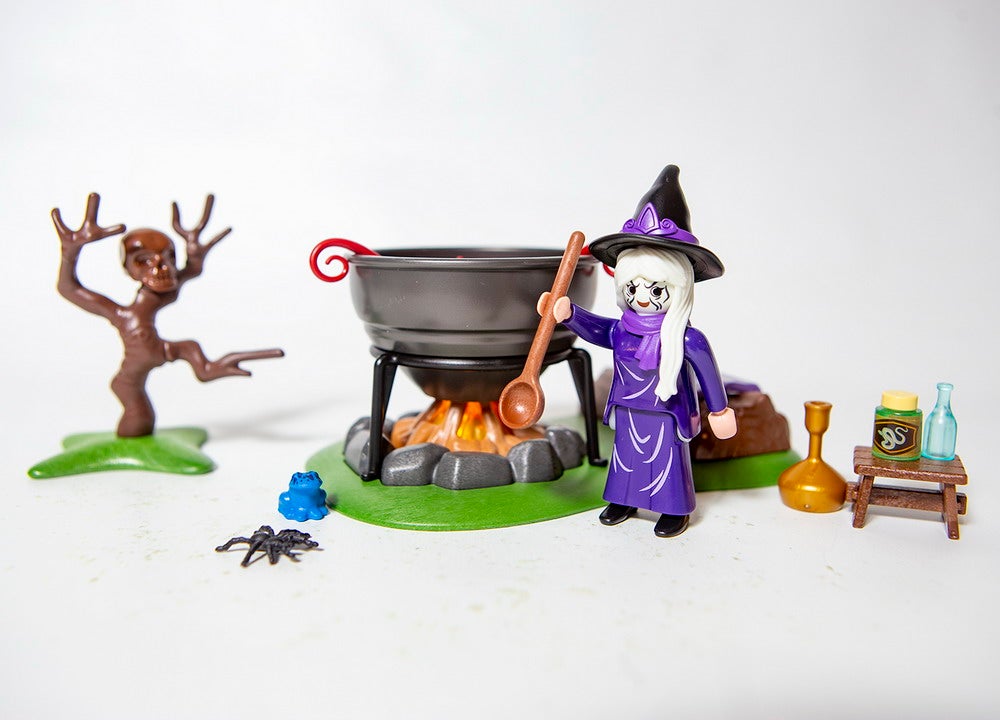 We also got the chance to check out the Adventure in the Witch's Cauldron (70366) playset (in-stock now at EntertainmentEarth.com priced at $19.99!). This one comes with Thelma and Scooby and a crinkly old witch. Put in batteries and the fire blinks and pulses, making her evil brew come alive. I love how the translucent stew looks with pulsating flames below. I do wish there were spots to "plug in" the ends of the tentacles so they looked a little more menacing.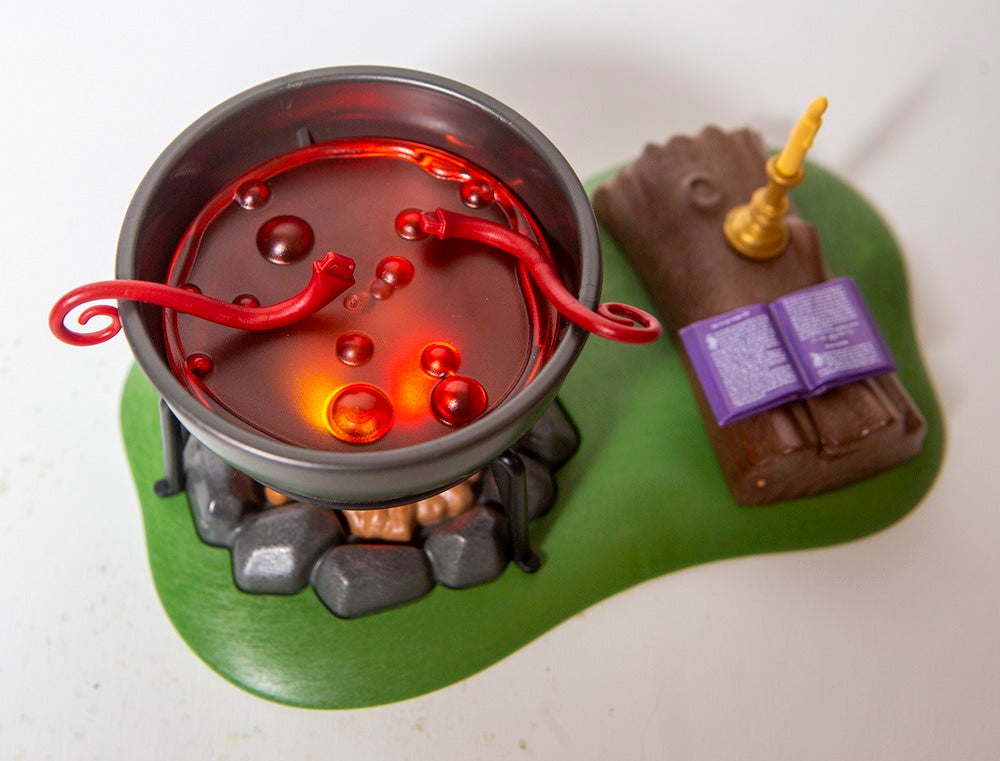 The accessories are fantastic, there's a book of potions, jars and beakers, and a long wooden spoon. I also love the scary tree goblin (?) It reminds me of the haunted trees from black and white 1930's animated shorts.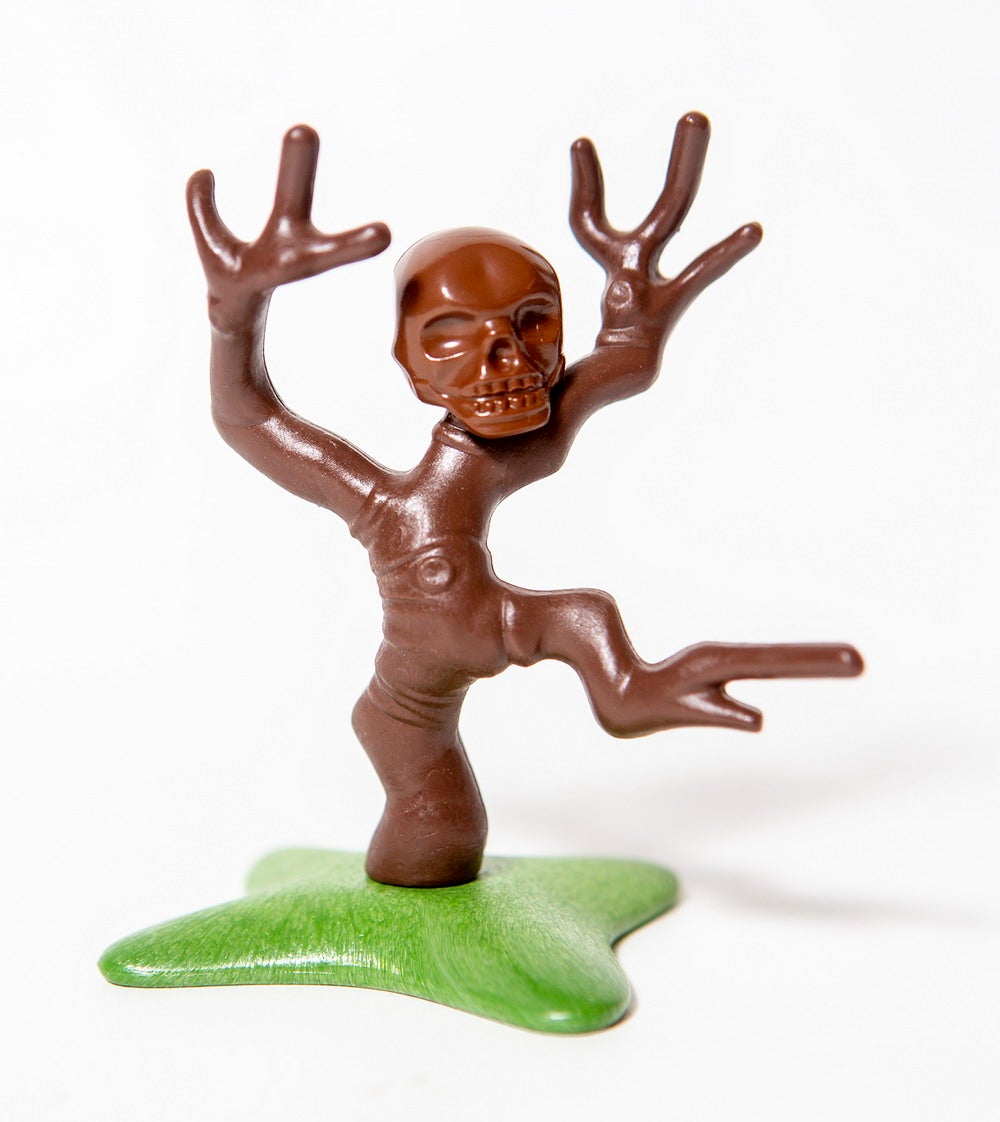 These are a lot of fun, and hitting the shelves just at the right time. Scoob! was well received this summer, and helped introduce a new generation to the world of Scooby Snacks and jinkies, and with Halloween around the corner, delving into haunted houses and creepy monsters is a lot of fun. Be on the hunt for additional Scooby-Doo themed Playmobil sets like the haunted stage coach and the spooky cemetery!
Review and Photos By Andy Jones
Review Samples Courtesy of Playmobil
We are committed to finding, researching, and recommending the best action figures and collectibles. We earn commissions from purchases you make using the retail links in our product reviews. Learn more about how this works.
---