Ki, Ki, Ki Ma, Ma, Ma
Alfred Hitchcock's Psycho (1960), Tobe Hooper's The Texas Chain Saw Massacre (1974), and John Carpenter's Halloween (1978) are all credited as inspirational "slasher" horror movies. However, it was 1980's Friday the 13th that injected the subgenre with steroids; presenting a successful, long-running slasher film franchise based around violent (and increasingly imaginative) kills and an ever-growing body count.
Of course it's not a slasher film without a masked antagonist and the Friday the 13th movies are no different. Alas, it took a couple of Friday the 13th films and several plot missteps to finally solidify Jason Voorhees in the annals of pop culture history. Unlike Leatherface and Michael Myers, the famed hockey-masked killer sensation didn't arrive overnight.
What follows are ten of our favorite Friday the 13th killers in action figure form. While in no particular order of importance (it is an opinion piece after all), we did try to list the figures chronologically via movie. Enjoy!

1) NECA Friday the 13th Part 2 Ultimate Jason Voorhees (2018)
PART 2 FRIDAY FACTS:
Movie Release: 1981
Body Count: 10
Weapons Used: Knife, machete, spear, claw hammer, barbed wire, ice pick, pick axe, pitchfork, and Jason's bare hands
Following in mom's murderous footsteps, Jason Voorhees finally found his place as a teen-slaying killing machine in Friday the 13th's second outing. While only shown in flashbacks in the first film, Friday the 13th Part 2 successfully presented Pamela's "murdered" son as a social outcast; deformed, traumatized, and out to avenge his mother. "Sack Head" Jason is not one of my favorite iterations of the famed slasher, but he deserves a place of mention here for Friday the 13th completists. For those that dig the overalls and burlap bag look, NECA produced Part 2 Jason as a Hall of Fame Cult Classics figure way back in 2006.
For collectors that missed that release, NECA honored Sack Head Jason Voorhees with a definitive 7-inch "Ultimate" version. As you'll see on this list multiple times over, NECA's Ultimate figures pack all the bells and whistles, including interchangeable head sculpts (Sack Head and deformed head in this case) and a slew of themed weapons and accessories, all packed in a gorgeous fifth panel window box.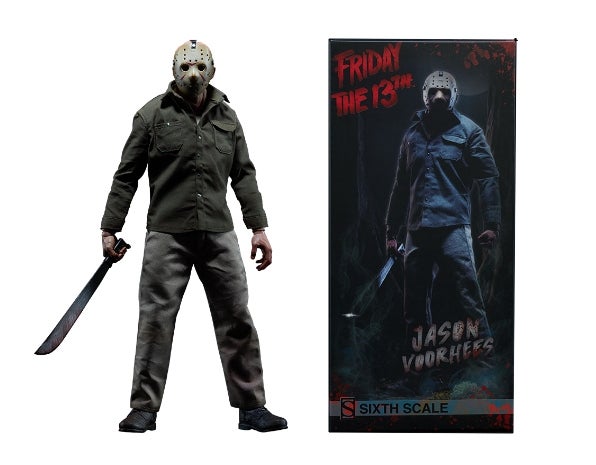 2) Sideshow Sixth Scale Friday the 13th Part 3 Jason Voorhees (2017)
PART 3 FRIDAY FACTS:
Movie Release: 1982
Body Count: 12
Weapons Used: Butcher knife, machete, crochet needle, hatchet, harpoon gun, hot fireplace poker, knife, electrical box, and Jason's bare hands
If a toy company gets the Friday the 13th action figure license, the THIRD movie is what they usually start off with. Why? Because this is where Jason acquires his world-recognized hockey goalie mask. In 2017, Sideshow re-introduced the masked slasher as part of their modernized 1:6th scale horror classics collection. Sure, Sideshow had tackled Jason Voorhees in the past, but this version brought the horror icon to a new generation of collectors with updated sculpt, body articulation, and accessories.

3) Mezco One:12 Collective Friday the 13th Part 3 Jason Voorhees (2019)
PART 3 FRIDAY FACTS:
Movie Release: 1982
Body Count: 12
Weapons Used: Butcher knife, machete, crochet needle, hatchet, harpoon gun, hot fireplace poker, knife, electrical box, and Jason's bare hands
Mezco knocked it out of the park with a 6-inch scaled action figure of Jason as part of their massively popular One:12 Collective. The successful figure series basically shrinks down everything collectors love in larger, more expensive 1:6th scale, 12-inch tall action figures. So if a smaller, real-clothed Jason Voorhees packed with great articulation and multiple accessories is your thing, this One:12 Collective figure is a perfect place to start.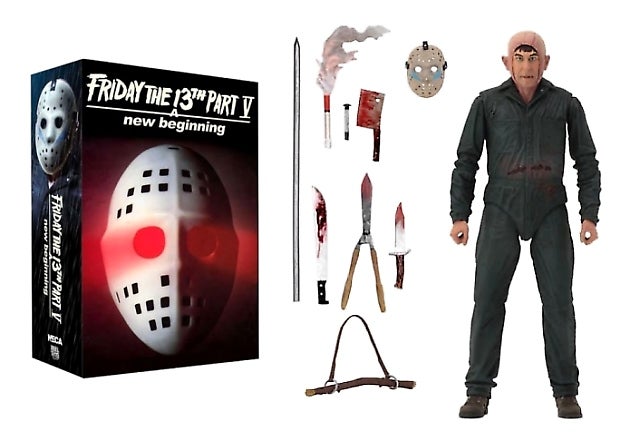 4) NECA Friday the 13th A New Beginning Ultimate Roy Burns (2019)
PART 5 FRIDAY FACTS:
Movie Release: 1985
Body Count: 21
Weapons Used: Road flare, axe, knife, machete, garden shears, leather strap, long metal spike, tractor, railroad spike, chainsaw, and cleaver.
The Friday the 13th series had just established its stride, but alas it was decided by the higher powers that the franchise needed another plot twist to keep things fresh for fans. Enter Roy Burns, a die-hard Jason Voorhees wannabe. Like Sack Head Jason, Roy Burns is one of my least favorite Friday the 13th killers, this time not from a lack of trying, but because, well, he's not really Jason. The whole wool-over-our-eyes approach to this movie could easily be forgetten if it weren't for the spectactular kills. The use of garden shears was gory great, but the leather strap slowly tightened around a victim's head and tree takes the cake. Imposter Jason kicks it up a notch for a win!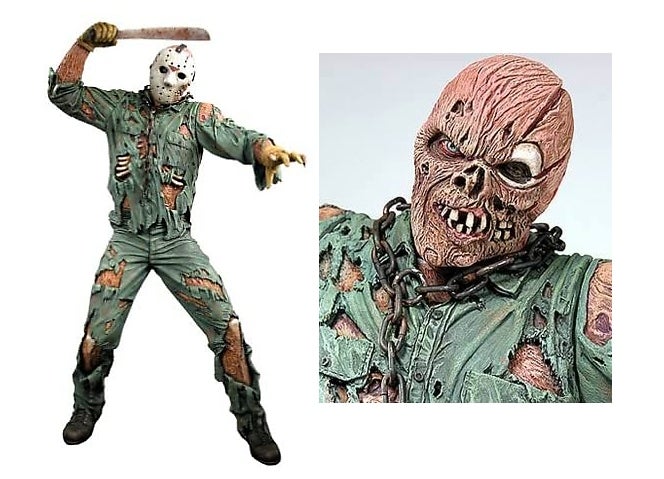 5) NECA Friday the 13th Part 7 The New Blood 18 Inch Jason Voorhees (2003)
PART 7 FRIDAY FACTS:
Movie Release: 1988
Body Count: 16
Weapons Used: Telekinesis, tent spike, sleeping bag, axe, sycthe, party horn, knife, machete, long-handled machete, power tree-saw, and Jason's bare hands
Jason Lives deserves mucho respect for jumping the shark and bringing Jason Voorhees back from the dead as a friggin' zombie. However, it is NECA's action figure of the rotting killer from Part 7 that put his former appearance to rest. The original 2002 Cult Classics release of "New Blood" Jason is cool, but it is the 2003 release of the towering 18 inch figure that puts all other Jason action figures to shame. This is my all-time favorite Jason figure; NECA's sculptors going on all out on the undead decay of Jason's movie appearance, all enhanced by a larger sculpt. The figure also featured sound effects (the classic Ki, Ki, Ki) as well as a range of murderous 1:6th scaled accessories. For Friday fans that missed out on BOTH of these amazing action figures, NECA just announce an Ultimate 7-inch New Blood Jason. Lock in those pre-orders now.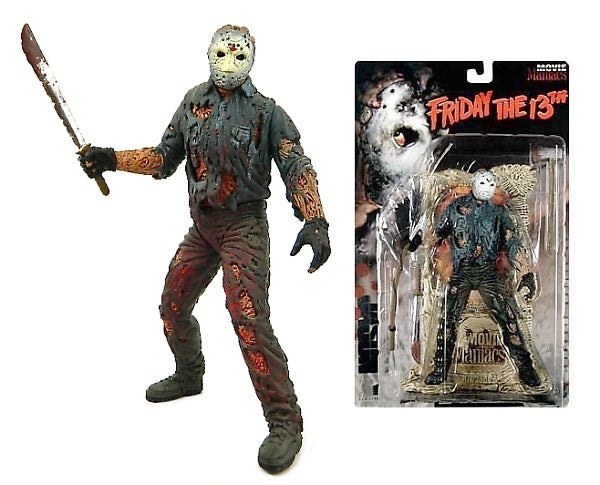 6) McFarlane Toys Jason Goes to Hell: The Final Friday Jason Voorhees (1998)
PART 9 FRIDAY FACTS:
Movie Release: 1993
Body Count: 23 (including Jason)
Weapons Used: Scalpel, car door, multiple possession kills, knife, locker, deep fryer, and Jason's bare hands
It's ironic to list this so far down on our list being that McFarlane Toys' Jason Voorhees action figure pretty much kick-started the entire slasher action figure industry. Part of McFarlane's debut wave of Move Maniacs back in 1998, this version of Jason is actually based on his 1993 appearance in Jason Goes To Hell. The included movie poster shows as much. Horror fans have to realize that Friday the 13th wasn't always a profitable movie franchise. Heck, with no new movies on the horizon, I think even today's audience can see that. Regardless, this 6-inch action figure of Jason Voorhees was explosive at the time; the toy throwing the doors open wide for future R-rated horror collectibles. The silver electro-plated weapons were a nice touch, too.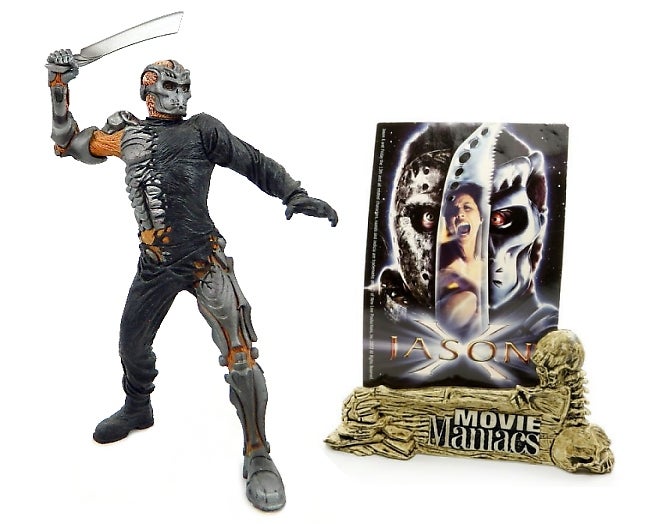 7) McFarlane Toys Jason X (2002)
PART 10 FRIDAY FACTS:
Movie Release: 2002
Body Count: 23
Weapons Used: Machete, chain, gun, liquid nitrogen, knife, hook, floor screw, spiked chandelier, electricity, and Jason's bare hands
Remember when I said Friday the 13th Part 6 Jason Lives jumped the shark by resurrecting Jason Voorhees? That was just one of the many fantastic hoops this franchise has jumped through. Jason X plunged the Friday the Friday 13th franchise into gonzo cyber-sharknado-armed-with-frickin'-lasers territory. Jason X was a cosmic blender of crazy horror cinema to see what stuck. For being rated such a bad movie, I actually found Jason X a somewhat pleasurable viewing experience for its B-movie vibe and "F-It" mentality. The new "Robo-Jason" design isn't half bad either.
Those seeking a collectible of Jason's cybernetic look have one option: McFarlane Toys' Jason X 6-inch action figure. Despite NECA tackling action figures of Jason Voorhees from every conceivable Friday the 13th film, Jason X is sadly not one of them. One odd thing to note: McFarlane's Jason X series marked the release of half movie poster mounts. The original Movie Maniacs including a full plastic Giger-ish bones movie poster frame. Hey, gotta cut costs when ya can.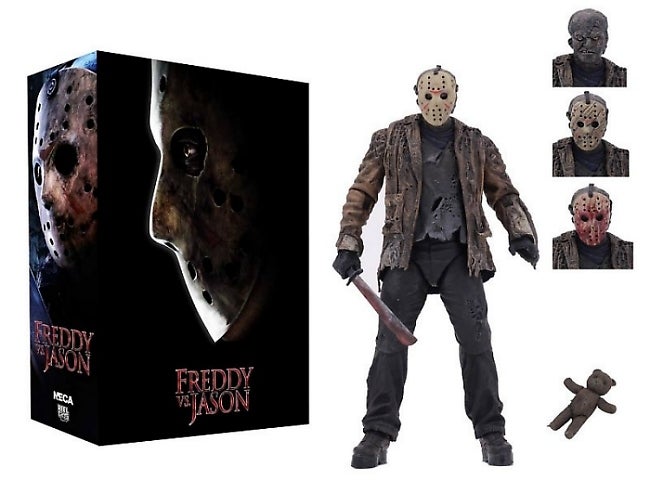 8) NECA Freddy vs. Jason Ultimate Jason Voorhees (2019)
FVJ FRIDAY FACTS:
Movie Release: 2003
Body Count: 15
Weapons Used: Electricity, machete, tree, pipe, door, shelf bracket, and Jason's bare hands
2019 saw NECA radically up their Friday the 13th Ultimate releases. If you never purchased a Friday the 13th action figure before, this was the time to do so as each figure was a definitive release, packing multiple head sculpts, enhanced articulation and accessories.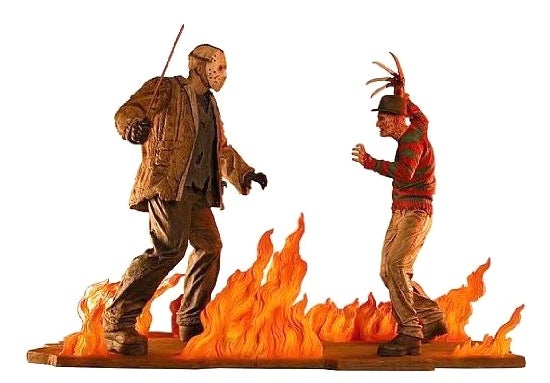 Ultimate FvJ Jason is an excellent figure, but my money is still on NECA's original 2004 box set. While more of an action-posed diorama, this action figure 2-pack still stunned with it's killer sculpts and connecting flaming bases. Jason wearing his platform Frankenstein monster boots is a must-have for any collection and it certainly didn't hurt to have Freddy Krueger included with the mix.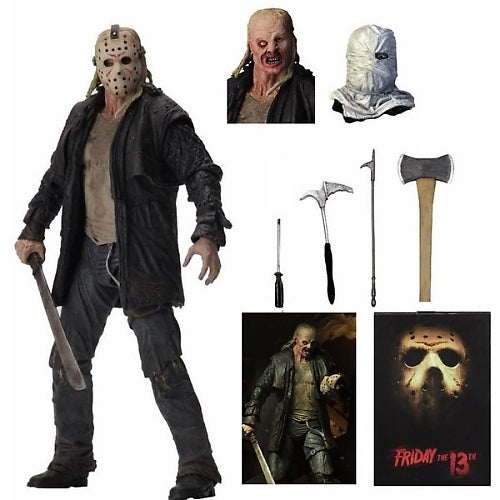 9) NECA Friday the 13th Remake Ultimate Jason Voorhees (2019)
REMAKE FRIDAY FACTS:
Movie Release: 2009
Body Count: 14
Weapons Used: Machete, fire, arrow, screw driver, axe, antler hook, fireplace poker
2009 saw Hollywood reboot the Friday the 13th franchise. Where can you go after introducing an undead Jason, cyber-Jason and pitting the horror icon against another legendary horror icon? Personally, I loved the reboot, the movie continuing the violent tongue-in-cheek takedown of teenage youth (read: sex, drugs and rock n' roll), all while modernizing Jason with a more believable method of slaying his victims via a complex maze of underground tunnels.
His updated appearance also didn't hurt; the hulking killer armed with a machete so large that it defies one-handed use (I own the prop replica, and trust me, it's more like a two-handed sword in weight and length. And he strapped this thing to his leg?!) Collectors had a chance to own this NECA figure in numerous forms back in 2009, and ultimately (har!) in 2019 as an Ultimate figure that packed in all head sculpts (unmasked, masked, AND Sack Head!), new articulation, and more,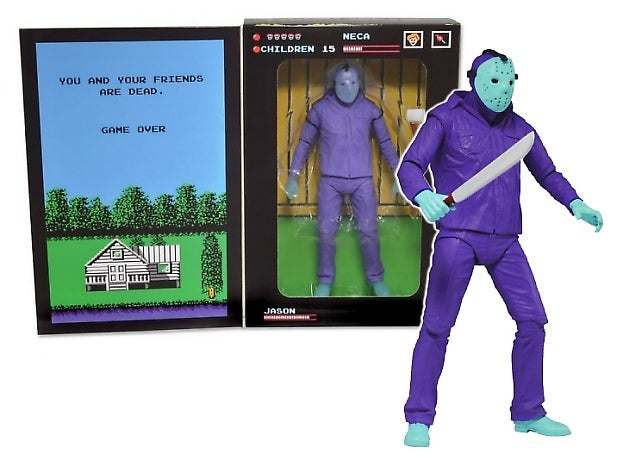 10) NECA Classic Video Game Appearance Jason Voorhees
VIDEO GAME FRIDAY FACTS:
Game Release: 1989
Body Count: Potentially six camp counselors, all controlled by you
Weapons Used: Machete, axe
For San Diego Comic Con 2013 NECA shocked collectors with a nostalgic action figure of Jason Voorhees… based on his purple, pixelated appearance in the 1989 video game Friday the 13th! Fans ate it up. Bad gaming memories and horrendous figure deco aside, it was NECA's brilliant packaging design that ultimately sold this figure; the window box incorporating the game's retro NES box and even the game's sound effects (Ki, Ki, Ki!). The bold move proved so popular that it launched an entire "Classic Video Game Appearance" action figure series from NECA and sparked a slew of figure immitators from Funko to Super7.
If you missed out on NECA's original SDCC glow-in-the-dark Jason exclusive, the company released an 8″ retro clothed figure as a Toys"R"Us exclusive in 2014 and again as a non-glow 7 inch figure in 2017 as a GameStop exclusive (with the addition of Pamela Voorhee's severed head!).
---
We are committed to finding, researching, and recommending the best action figures and collectibles. We earn commissions from purchases you make using the retail links in our product reviews. Learn more about how this works.
---