When Todd McFarlane launched his new toy company way back in 1994, it wasn't ALL about his creation Spawn. Being one of the founding members of Image Comics, Todd took his toy line beyond the caped undead anti-hero to incorporate the work of his fellow co-founding Image Comics allies and friends . These included characters from Rob Liefeld's Youngblood and renown Savage Dragon comic creator, Erik Larsen and his hero SuperPatriot.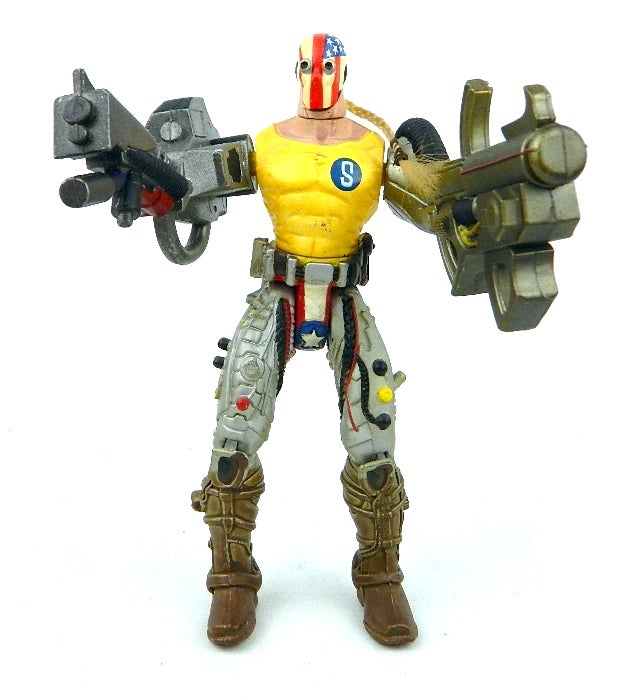 Much like McFarlane's Exo-Spawn, I chanced on SuperPatriot purely by accident. Released in 1996, the Image Comics character was honored by the budding toy entrepreneur with a bonafide Spawn Series action figure. It didn't matter if SuperPatriot had ever appeared in a Spawn comic or not; this was Todd simply being ultra cool by acknowledging the work of someone he respected and admired.
I'm sure it was all about the awesome character design – SuperPatriot being this mix of powerful cyborg super soldier with a patriotic red, white and blue design motif. Simple? Sure. Powerful? You bet. Sometimes the most successful designs revolve around the most familiar ideas.
While not as wholesome as Marvel's Captain America, SuperPatriot did fight the evil Nazis. Despite having his limbs bit off by a supervillain shark-man named Mako, SuperPatriot valiantly returned to combat crime. Okay, he had some down time adjusting, but ultimately the star-spangled hero would fight for right.

Oddly enough, SuperPatriot would receive a second chance as an action figure in 2007 as part of Toy Biz's Legendary Comic Book Heroes. This was a radically original line that introduced such iconic pulp-comic characters as 2000AD's Judge Dredd (and later Death!), Mike Allred's Madman, along with Erik Larsen's very own Savage Dragon… AND SuperPatriot. You know Erk Larsen was loving life back then, seeing his comic creations-turned toy, again! While not the million dollar home run of a Marvel blockbuster picture, that's still some serious comic cred to take with you. I'd be proud.
This USA holiday weekend, be your own SuperPatriot: Be Safe, Keep Distance and most of all, Love Toys. Happy 4th of July!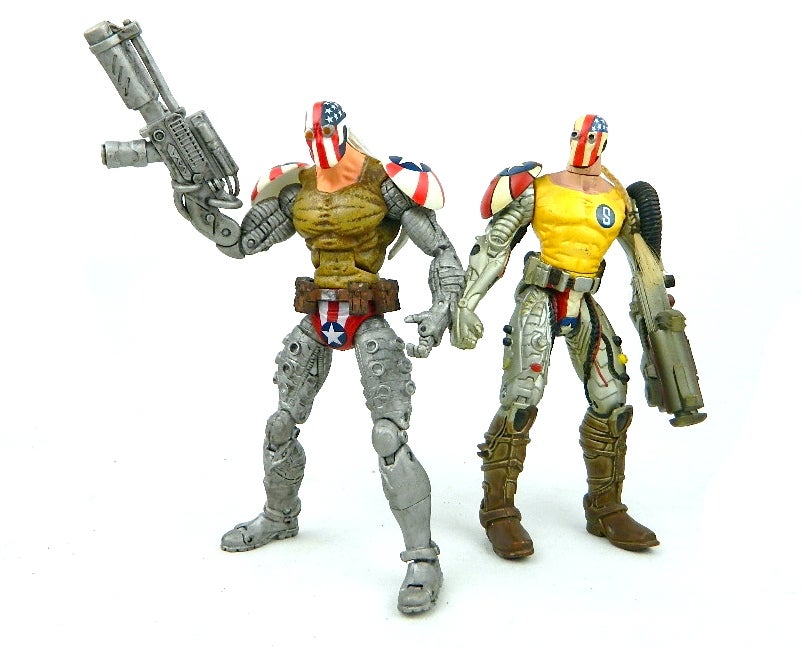 We are committed to finding, researching, and recommending the best action figures and collectibles. We earn commissions from purchases you make using the retail links in our product reviews. Learn more about how this works.
---