This review was originally published on 8-17- 2011.
I appreciate many forms of science fiction. From the sterile, more utopian settings of Star Trek and Mass Effect (first game), to the crumbling, dystopian war-torn worlds of Warhammer 40k and Gears of War. Be it sleek spaceships or destructive guns, great sci-fi to me delivers a thought-provoking message via an original concept and design. The Shiflett Brothers statue Chloe: Aviator for Hire is great sci-fi. Beneath its fantastic futuristic sculpt, this deceitfully simple looking statue spins a story that's fascinating on so many levels. Chloe is a romantic and a dreamer; compassionate, yet dangerous. And her tale is all told in daunting detail… sculpted detail, that is.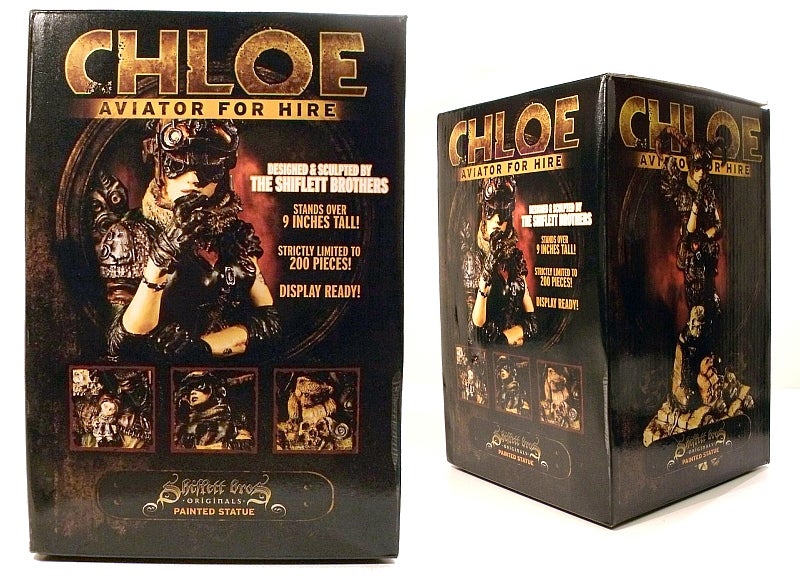 Chloe arrives in a closed window box richly illustrated with photos of the statue inside. The packaging proclaims this is a "painted statue" that is "ready for display," an important thing to note as the Shiflett Brothers do sell this particular sculpt as an unassembled resin kit. However, the text that really catches my attention is the edition size: Only 200 pieces produced worldwide. My collection has its fair share of statues and busts, but nothing quite this limited. It really makes you feel special – dare I say elite – knowing that you own part of such a remarkably rare project. It's utterly mind-blowing that this piece hasn't sold out yet.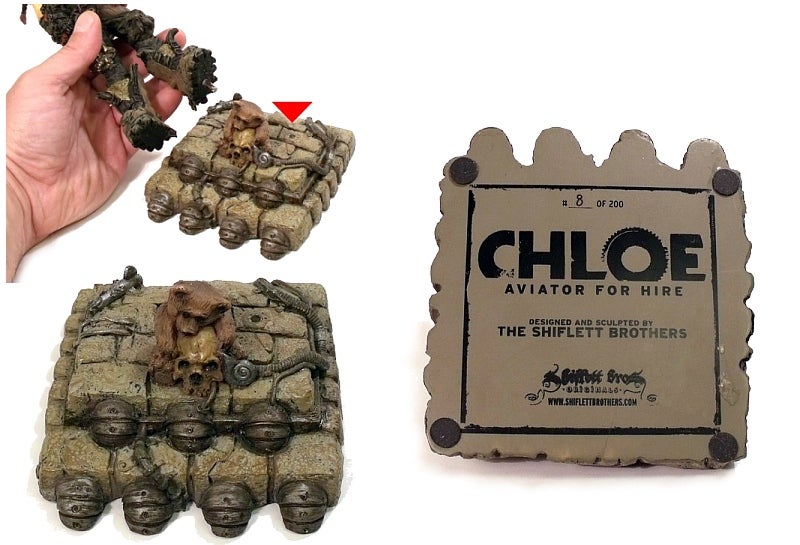 Carefully encased in Styrofoam, the Chloe statue comes in two easy-to-assemble parts. There's the broad display base (approx. 5″ x 5″) and the statue itself. The latter plants firmly onto the base via a steel rod in her left foot. In addition to acting as a very solid anchor, the bottom of the base also acts as a certificate of authenticity by sporting the statue's name (in case you forgot), creators (as if you didn't know) and run size (only 200 made!). Mine is numbered 8 out of 200. Special indeed!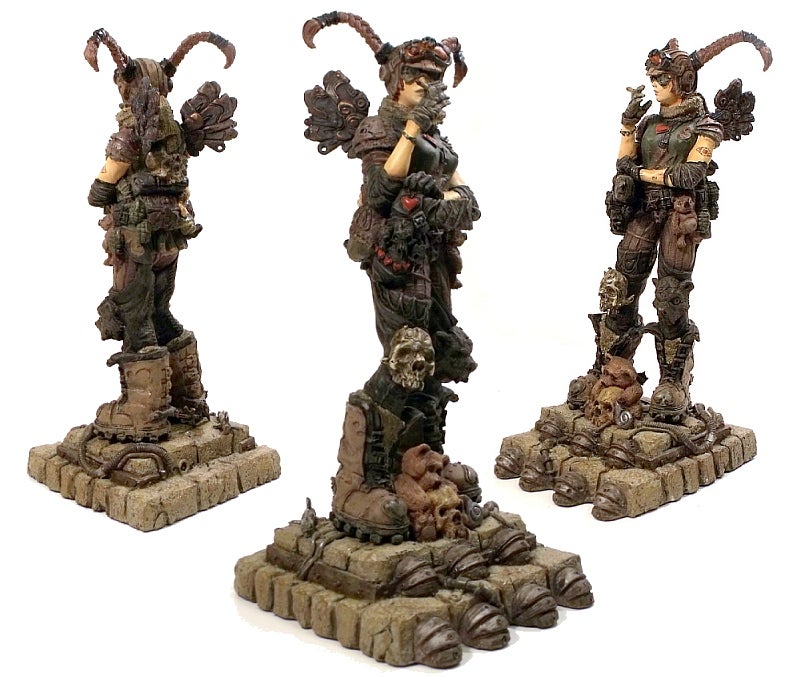 Measuring almost 10 inches tall from her industrial base to her perky pigtails, Chloe amazes with a sculpt that is undeniably the Shiflett Brothers. It's a style that's more free and natural then your typical fine sculpture; a style that trades in confined ultra-realism for passion and creativity.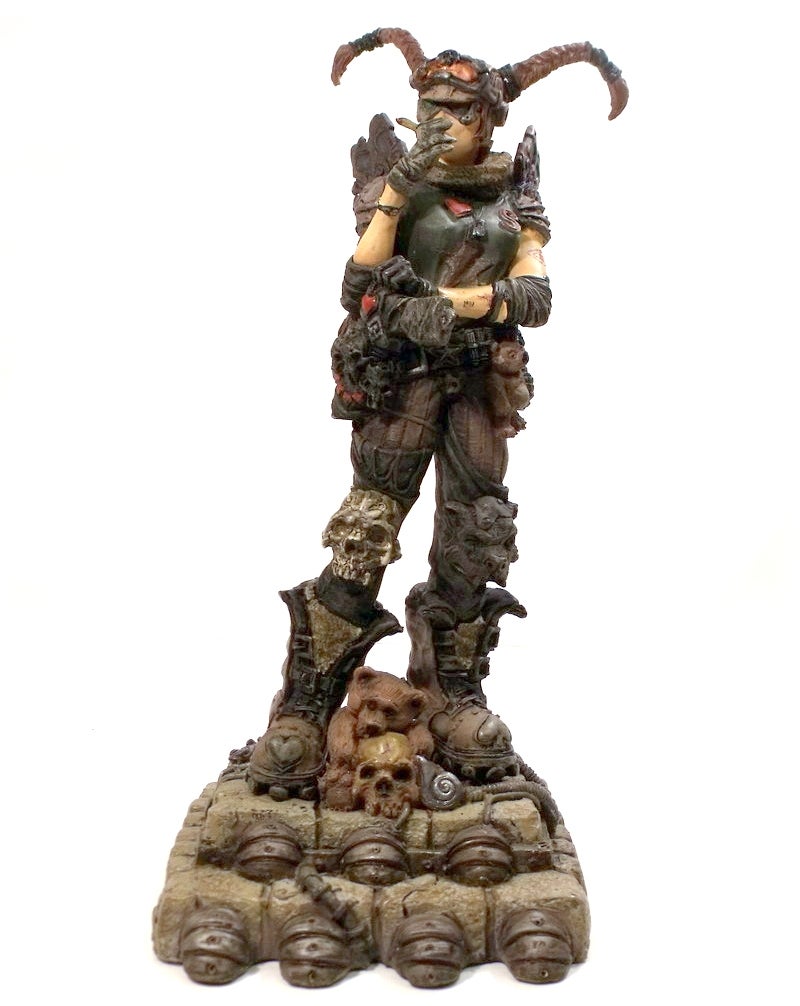 For Chloe, the Shiflett Brothers opted for a very relaxed pose, the "Aviator for Hire" smoking a cigarette and lost in deep thought. Perhaps she's contimplating her next mission; a smuggling run for some seedy alien or an off-world flight for some undercover heroes. Perhaps she's in-between jobs; killing some time as her ship gets refueled and the interstellar warp drive calibrated. Simple and elegant, the basic composition for Chloe is brilliant. The stage is set for the viewer's imagination to run wild.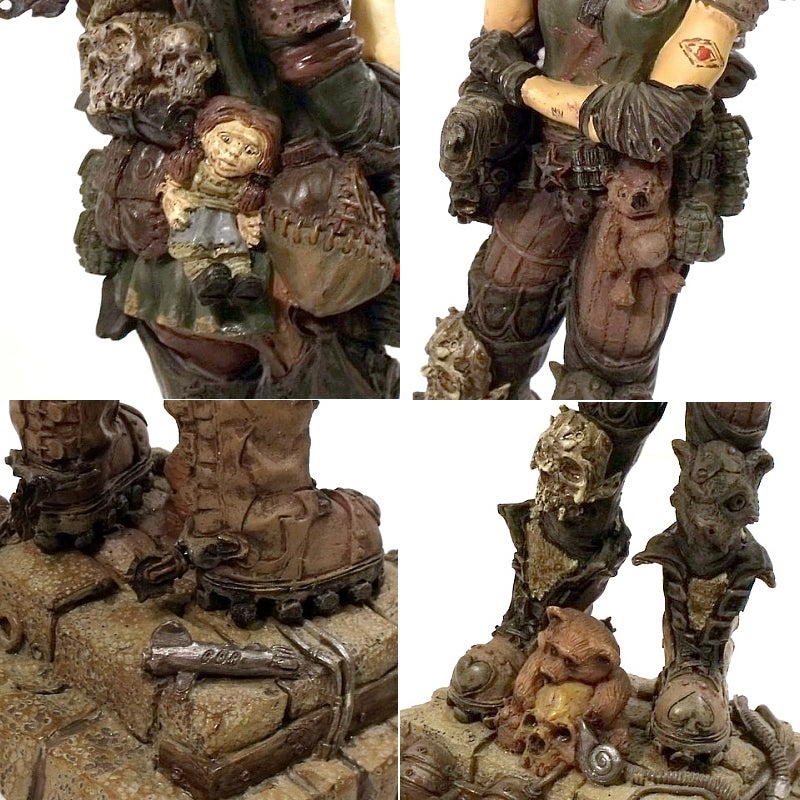 To help that imagination along, the Shiflett Brothers have infused many, many revealing details on this piece. It's these small elements that breath life and character into Chloe and make this statue a real knockout upon closer inspection. I mentioned earlier that she was a romantic and a dreamer. Hearts speak of love, wings display her love of flying. There's a little girl inside Chloe that hasn't grown up yet. She's a dreamer that longs for simplier times – playtime with her favorite dolly and teddy bear – items she still carries with her today. There's compassion in Chloe, she takes people where they need to go. However, with compassion comes caution. She's seen the darkness that the universe holds and always comes prepared. Her magnum is always at the ready. Knife and grenades just in case. She has used them all too, trophy skulls speak loud and clear of those stories (and arm tattooed "kill marks" help her to always remember them).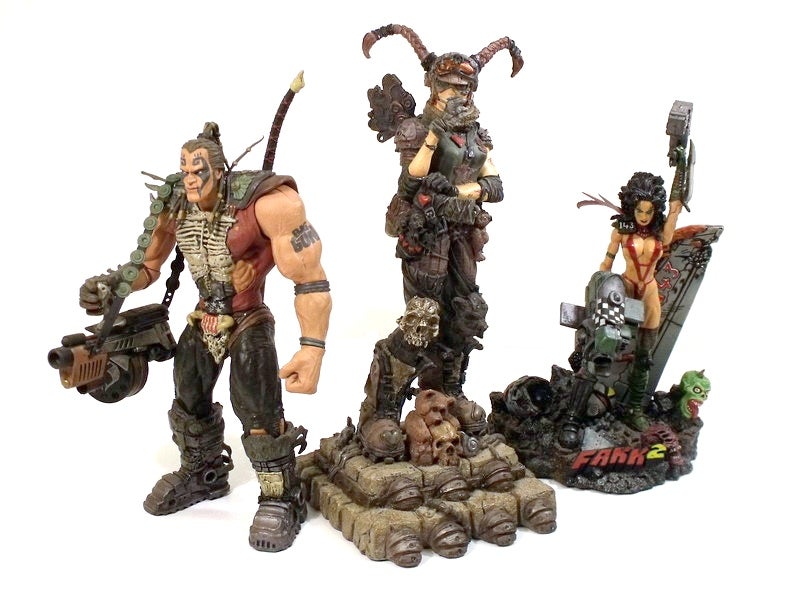 The Shiflett Brothers have cited Simon Bisley and Moebius as influences in their work (read our interview HERE), two awesome artists that I can see hints of in Chloe. However, like any true artist, the Shiflett Brothers have taken what has inspired them in life and made it their own; masterfully sculpting their own sci-fi legacy. Thought-provoking and original, Chloe captivates the imagination and amazes in appearance.
Remarkably, Chloe: Aviator for Hire is still available for purchase through the Shiflett Brothers online store. The statue is priced at $129, a very reasonable price considering the scale, extremely low edition size and talented work involved. If you're seeking sci-fi adventure, pack up your bags. Chloe is one first class ticket to the stars…
Review and Photos by Jeff Saylor
Review Sample Courtesy of The Shiflett Brothers
---