1996's sci-fi spoof Mars Attacks! was not one of Tim Burton's better films, being all style and no substance. And while Mars Attacks! was bad movie making, I must thank Tim Burton for introducing me to the MUCH superior cult classic trading card series that he built his "vision" upon.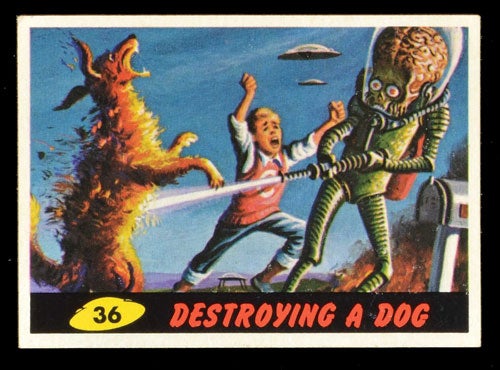 Released in 1962, the Topps Mars Attacks! trading card series was cutting-edge sci-fi art, especially for 1962, and even more so today. "Destroying A Dog" was an actual card depicting an alien invader's wonton destruction of our planet. I'm all against animal cruelty (I can hear Sarah McLachlan's sad ASPCA ad song now), but this was some HARDCORE stuff.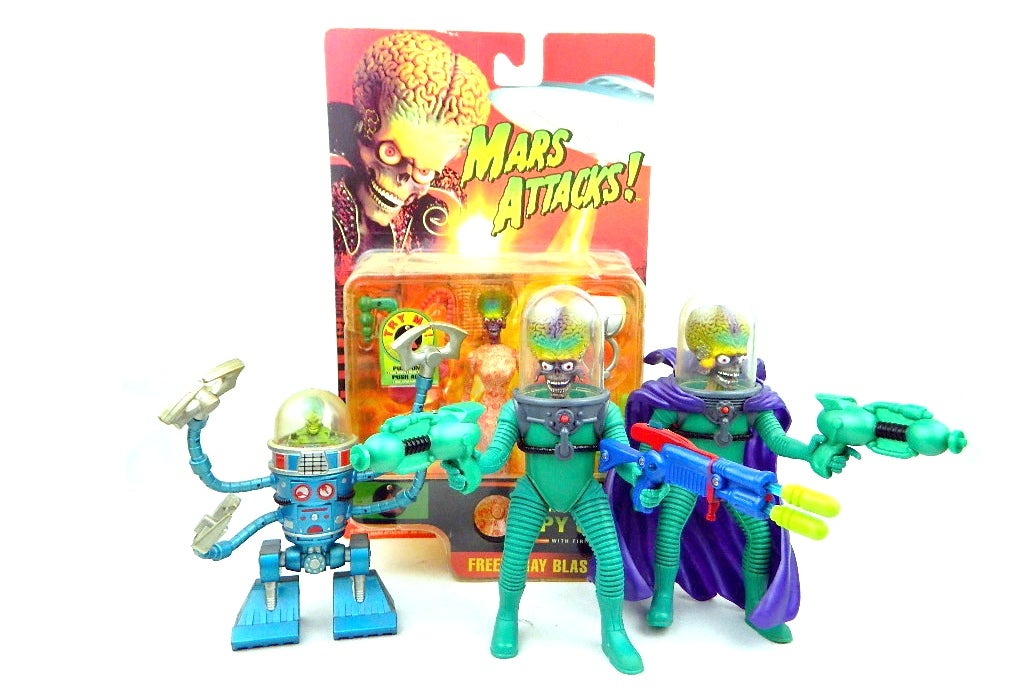 SHOP MARS ATTACKS COLLECTIBLES
Another unexpected gift from Tim Burton's turd-tastic Mars Attacks! was the incredible line of movie toys from Trendmasters. Being that it was a Tim Burton film, Mars Attacks! had to be a blockbuster… right? I mean, this IS the man behind such classics as Beetlejuice, Edward Scissorhands and Batman after all. Trendmasters would regret that bet, but the gamble paid off in spades for fans of the Topps Mars Attacks! card series and the amazing retro designs of the Martian invaders.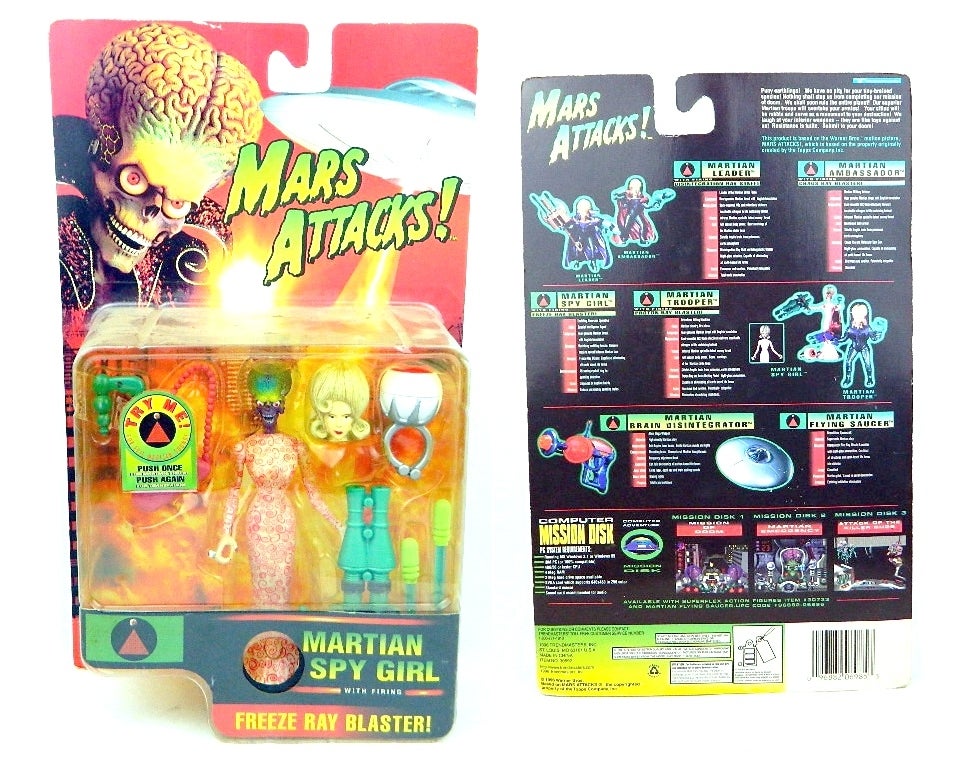 Thankfully, Tim Burton didn't stray too much from the classic card art. What you saw in the movie is what you saw on the cards. And what you saw in the movie is what you saw on the toys, at least on Trendmasters' Mars Attacks! movie series. Trendmasters also had a reimagined comic book styled line, but for the sake of this Flashback, we'll pretend they never existed.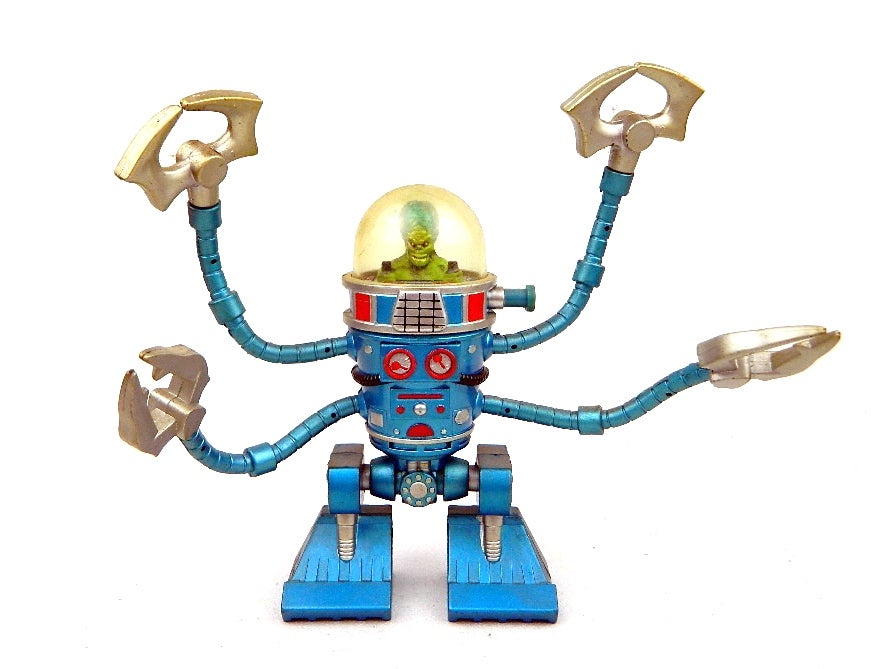 SHOP MARS ATTACKS COLLECTIBLES
Featuring vibrant red and green blister card art, Trendmasters' Mars Attacks! action figures attracted with an all-out retro alien invasion vibe. It was the perfect crossover of classic and new; appealing to kids that had zero interest in Tim Burton or Topps, but super-attractive to vintage Mars Attacks! collectors (and the 1% that enjoyed the film). I'm an action figure opener, but I must admit I was hesitant in opening (most) of these figures due to the beautiful package design.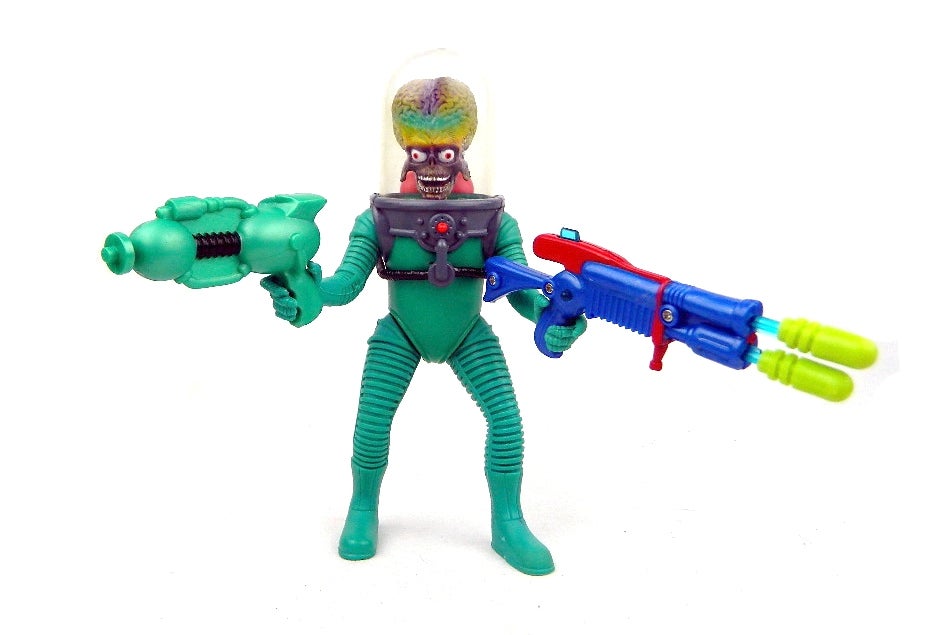 The Topps/movie-based series of Mars Attacks! toy line was rather simple, consisting of an out-of scale-but-cool Doom Robot and 6-inch figures of a Martian Spy Girl, Martian Trooper, as well as a robed Martian Ambassador and Martian Leader. The Supreme Martian Ambassador also received a super-deluxe 12-inch figure with lights AND sound! Other deluxe collectibles in the Mars Attacks! series included a role play gun called the Martian Brain Disintegrator and a slick vintage-styled silver Flying Saucer vehicle.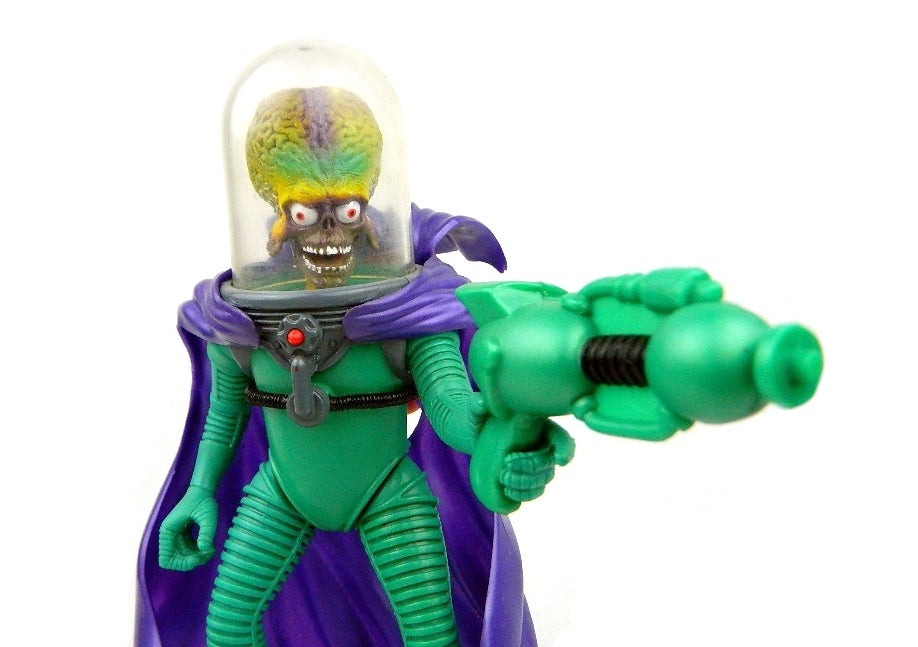 For mass market toys, Trendmasters was cutting edge for not only their solid and well-sculpted action figures, but also the incorporation of cool action gimmicks. Kid-friendly, for sure, but each Martian not only included a hand blaster, but also a laser rifle/staff with button-launched firing missiles! Best of all were the electronic sound effects. Press the button discretely hidden in the figure's sculpt to hear the Martian's utter "Ack! Ack! Ack!" (an audio addition from the Tim Burton film that I actually do appreciate).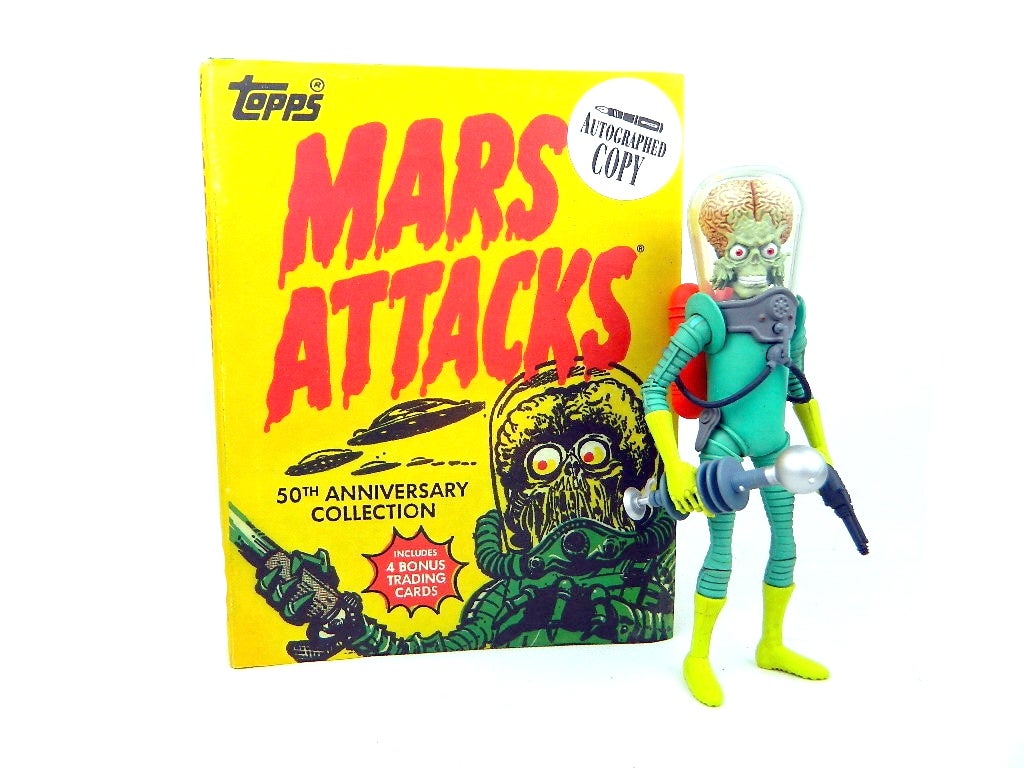 It took Mezco Toyz in 2012 to FINALLY reproduce a bonafide Topps Mars Attacks! action figure. It's incredible in its card-centric detail and accessories. The next best thing, however, is Trendmasters' Tim Burton Mars Attacks! action figure series. You just have to pretend that they never came from the movie.
SHOP MARS ATTACKS COLLECTIBLES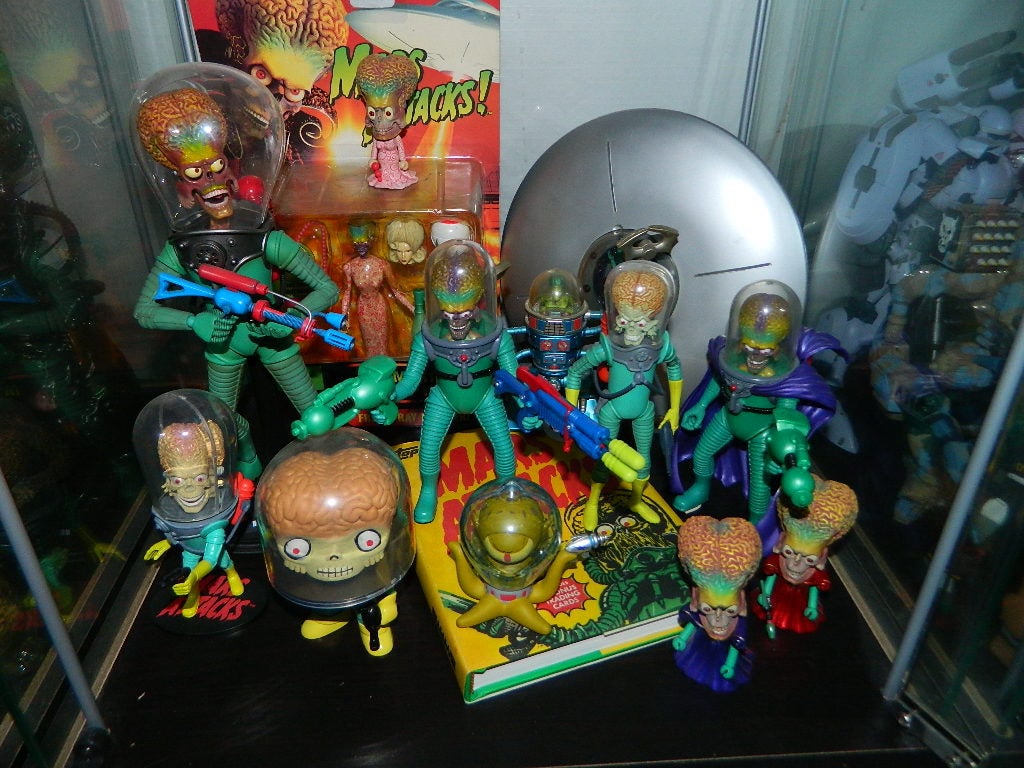 ---
We are committed to finding, researching, and recommending the best action figures and collectibles. We earn commissions from purchases you make using the retail links in our product reviews. Learn more about how this works.
---