While the Covid-19 virus created some shipping delays, not even a global pandemic can stop the irresistible charm of BABY YODA! Hitting retail now and continuing well into the summer and beyond (or until something cuter comes along), Baby Yoda merchandise is all the rage.
Here are 10 Baby Yoda toys and collectibles that'd look absolutely adorable in any Star Wars: The Mandalorian collection…

10) Funko Pop! Star Wars: The Mandalorian – The Child – $10.99
Pop!s are popular for a reason. For starters, Pop!s are cheap. At 10 bucks a pop (har!), the impulse to buy one is high. Lastly, with every license under the sun, there is bound to be a Funko Pop! that speaks to you. Take this adorable Pop! of Baby Yoda, for example. It's just one of the many variations available of the pint-sized critter, including a super-sized 10-inch Baby Yoda Pop!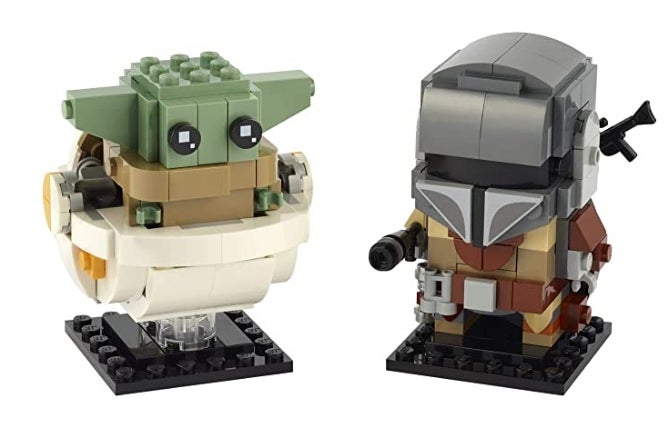 9) LEGO BrickHeadz Star Wars The Mandalorian & The Child – $19.99
Raising a child is a bonding experience. BUILDING "The Child" is also a bonding experience. With LEGO's fun Star Wars Brickheadz, Mandalorian fans get to do just that; the 295-piece set letting you create Baby Yoda nestled in his hover carriage, as well as his fearless masked guardian, The Mandalorian!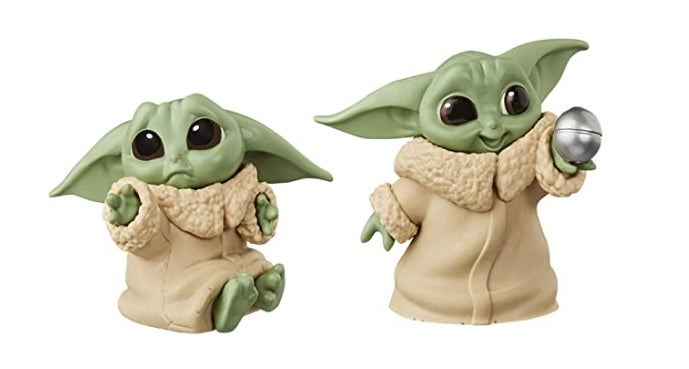 8) Star Wars The Bounty Collection 2.2-Inch The Child Figure 2-Packs – $15.99
Part of what makes Baby Yoda so lovable is his small size. Hey, he's a baby, and everybody loves cute little babies, especially ones that get into sweet mischief. Hasbro's Bounty Collection combines Baby Yoda's adorable pint-sized nature and darling escapades into collectible 2.2-inch mini figures. Fans can collect three figure 2-packs featuring fun poses, such as Baby Yoda sipping soup and blanket-wrapped, don't leave and ball toy (pictured), and froggy snack and Force moment.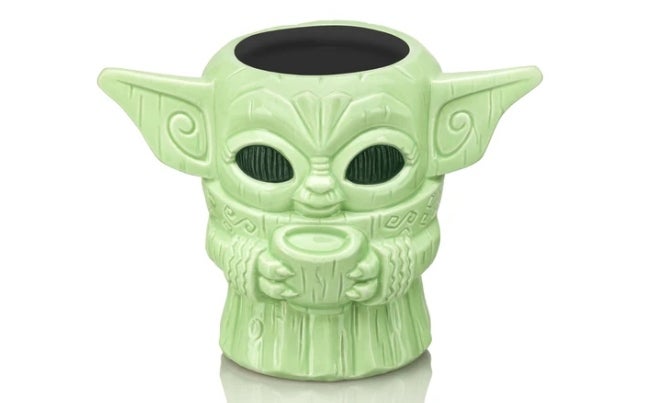 7) Star Wars: The Mandalorian The Child w/ Bowl Geeki Tiki Mug – $25.99
While Baby Yoda sips from his bone broth bowl, you too can sip from him! This 16 ounce ceramic mug from Beeline Creative features their unique Geeki Tiki styling combined with the cuteness that is The Child. Fans can grab this particular Baby Yoda Geeki Tiki mug exclusively at Toynk.com (with free shipping)!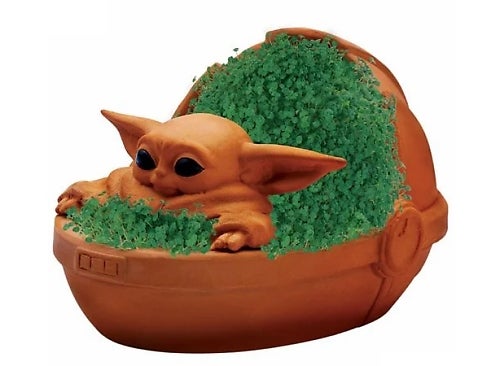 6) Star Wars: The Mandalorian The Child Chia Pet – $19.99
Ch-Ch-Ch-Chia! It's a blast from the past as the retro decorative pottery planter craze collides with modern pop culture! Produced by NECA (who now owns the Chia Pet brand), The Child Chia Pet features Baby Yoda in his hover carriage, complete with a full growth of chia plants in 1-2 weeks! It's the Baby Yoda collectible that keeps on giving – Chia Pet planters can be washed and replanted indefinitely!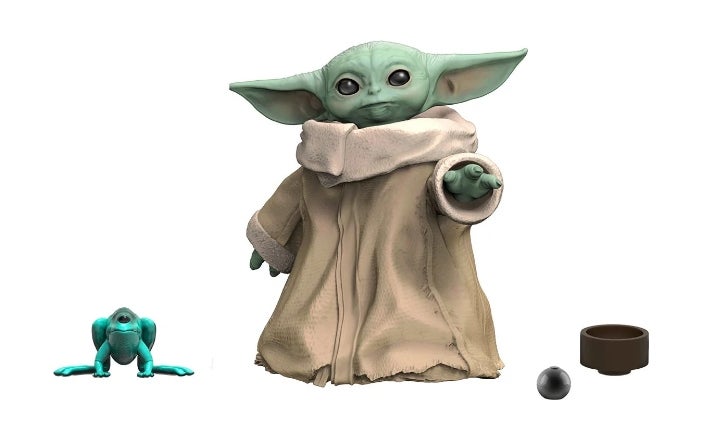 5) Star Wars The Black Series The Mandalorian The Child Action Figure – $9.99
Is your 6-inch Mandalorian action figure feeling… incomplete? That's because he needs Baby Yoda in his life! This 6-inch scale Black Series figure may only measure 1 1/2-inches tall, but it packs a lot of figure in its $10 package. Fully poseable (7 points of articulation), The Child includes familiar items from The Mandalorian series, including a tiny bone broth bowl to eat from, super tiny Razor Crest shift knob to play with, and even a yummy space frog to slurp down after a day's adventure.

4) Star Wars The Mandalorian The Child 6 1/2-Inch Action Figure – $19.99
A Baby Yoda figure the size of your little finger too small? How about Hasbro's 6.5-inch Baby Yoda figure? It's twice the price, but 6 times the size of the Black Series figure, plus it features arm and head articulation! Wouldn't it look just adorable on your desk?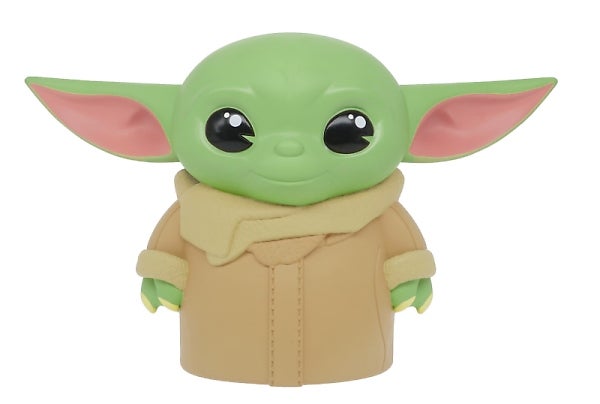 3) Star Wars The Child Vinyl Bank – $19.99
Now you can put Baby Yoda to good use! Monogram's vinyl figure of The Child does more than stand there looking cute – it's also a bank! This fun and functional collectible lets you stash your cash in style; saving up your hard-earned credits for a rainy day, you know, like buying a new control knob for the Razor Crest or a nice warm bowl of bone broth soup.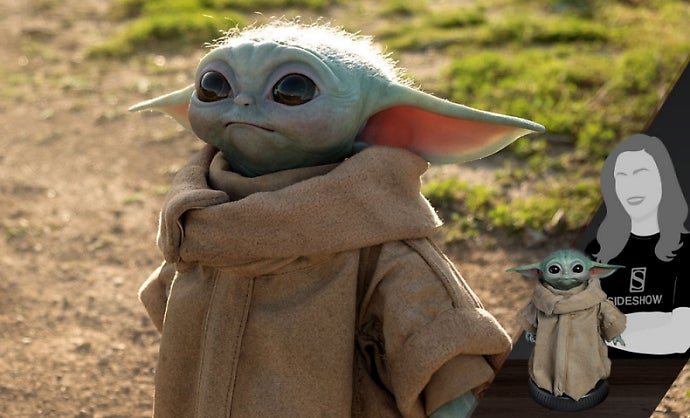 2) The Child Life-Size Figure by Sideshow Collectibles – $375
We've almost reached the top of the Baby Yoda collectible's ladder, and nothing says collectible quite like a LIFE-SIZE one. Produced by Legacy Effects and Sideshow Collectibles, this 1:1 scale (16.5-inches tall on his Razor Crest base) mixed media figure combines plastic, resin and fabric swaddling for the ultimate in collectible realism. It even has fuzz on his lil' wrinkled head! This Baby Yoda looks so darn cute standing there that you'll quickly forget that this particular replica doesn't move. Just look at those eyes! Awwwwwwww.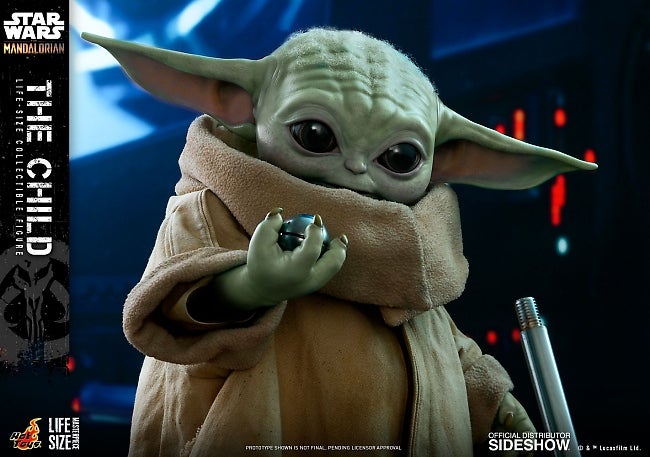 1) The Child Life-Size Figure by Hot Toys – $410
For a few dollars more, Hot Toys has a life-size Baby Yoda figure that not only looks like the real deal, but it also moves. Well, YOU move it, but my point is that this figure features everything you could want in a Baby Yoda collectible. In addition to being 1:1 scale (over 14-inches tall) and fully articulated, Hot Toys' Baby Yoda comes with a variety of swap-out parts, including interchangeable ears and hands, for creating the critter's many adorable expressions. Throw in some screen-accurate accessories, such as the Mythosaur necklace and silver Razor Crest knob, and you have a collectible that will make you the envy of all your Mandalorian collecting friends.
---
We are committed to finding, researching, and recommending the best action figures and collectibles. We earn commissions from purchases you make using the retail links in our product reviews. Learn more about how this works.
---