In 1994, comic book artist Todd McFarlane started his own toy company called McFarlane Toys. Using his original character Spawn as a launching point, McFarlane Toys revolutionized the toy industry with its unique, detailed line of action figures. While I was a couple years late to the party, once I caught the Spawn collecting bug, there was no looking back.
It's now 2020 and McFarlane Toys is still producing high quality collectibles. Although the days of at least two entire waves of Spawn figures per year are over, McFarlane is still making toys of the character that started it all, including the recently released action figure of Spawn as seen in the hit fighting game Mortal Kombat 11 and news of an upcoming Spawn "Masterworks" action figure Kickstarter project that aims to bring back classic characters with modern design and sensibility.
Below, in no particular order, are some of our favorite action figure iterations of McFarlane's Spawn…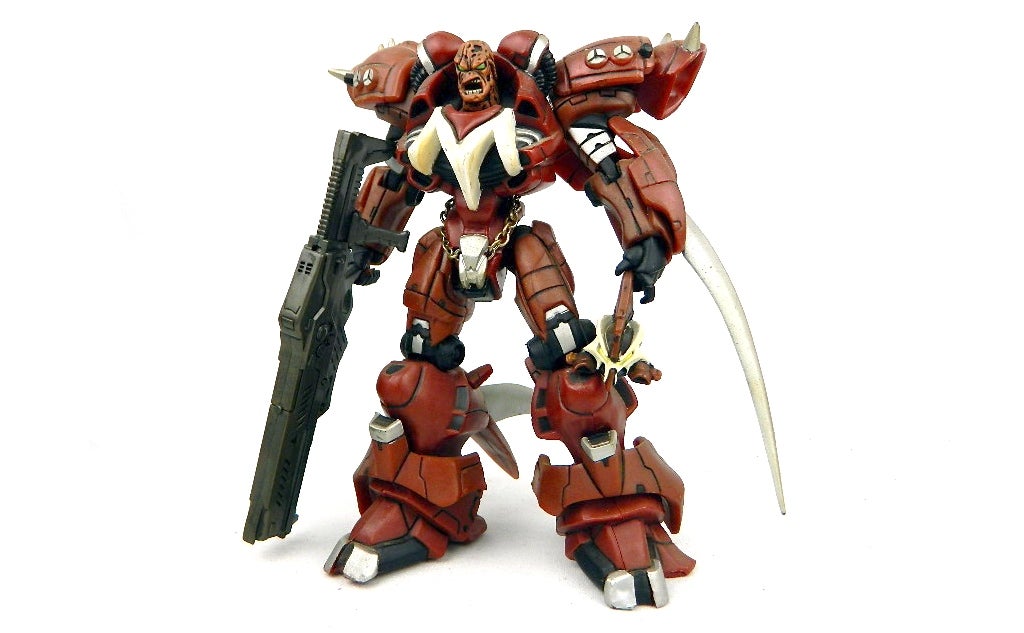 1) MANGA SPAWN (Spawn Series 9, 1997)
Part of a series of figures that all featured radical mechanized designs influenced by Japanese anime (and manga), Manga Spawn stood out from the pack with it's cool red armored good looks. Looking like he stepped out of Gundam, this Spawn figure had a nifty gimmick where his helmeted head could be removed and a spring-loaded unmasked "hamburger" Spawn head would pop up to be revealed. I have my Manga Spawn on display like this, with his left hand holding his helmet and the other trading in his included sword for a future assault rifle I had on hand.
For those that missed out on the classic red figure, a black and silver Manga Spawn repaint was released later in '97 with a nice "fishtank" display case and funky variant weapon arm. A couple reimagined Manga Spawns would see release throughout the years, including cool cousin Cyber Spawn and the underwhelming future sports car-looking Manga Spawn 2 released in 2008, but none could hold a candle to the original Manga Spawn's awesome design.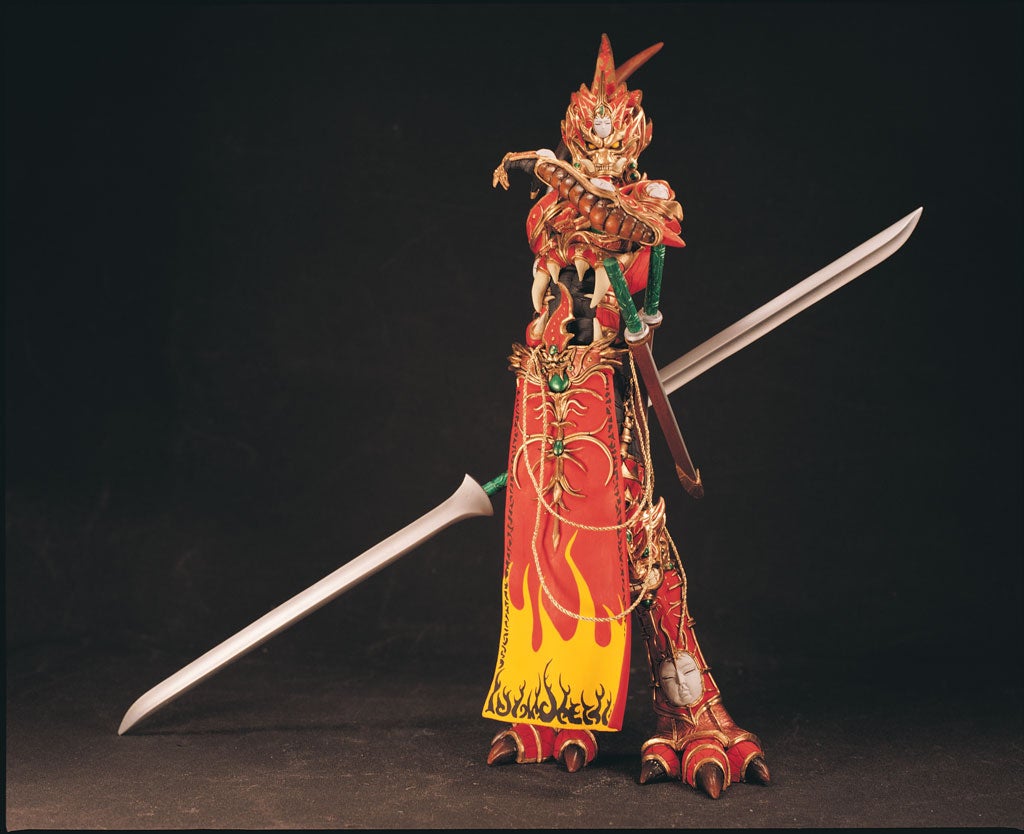 2) MANDARIN SPAWN (Spawn Series 14, 1999)
Part of the "Dark Ages" assortment, Mandarin Spawn blew away collectors with its insanely cool ancient Chinese demon design. Armed with a large body shield and massive double-bladed glaive (along with two back-up swords for good measure), Mandarin Spawn's brilliant red and yellow flaming color scheme screamed fire and fury.
Mandarin Spawn's design proved so popular with collectors that a repaint was issued later in 1999 (trading in his fiery look for black and yellow), a towering 12-inch blue and yellow figure was offered in 2000 and an all-new Mandarin Spawn 2 figure design saw release in 2005 as part of Spawn Series 28 (cool, but not as cool as the original).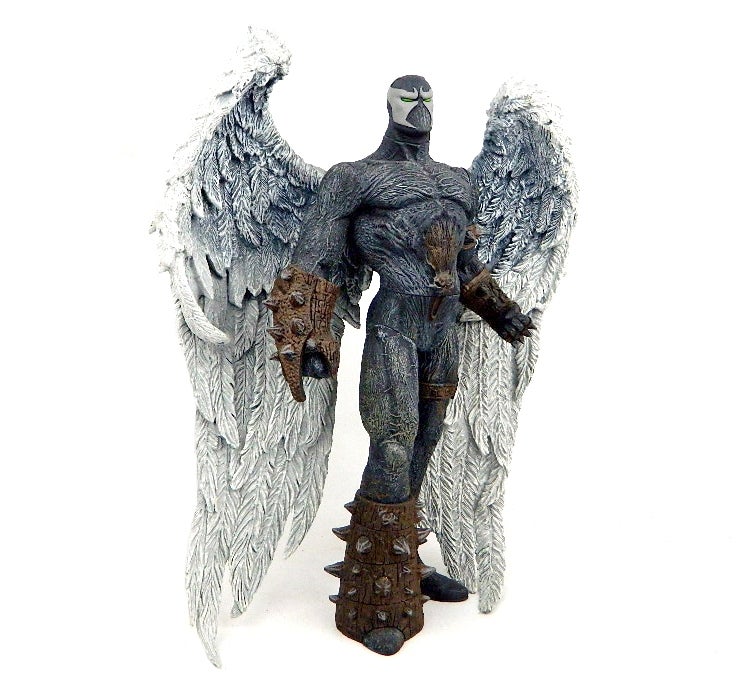 3) WINGS OF REDEMPTION SPAWN (Spawn Series 21, 2002)
Based on the comic book cover for Spawn #77, Wings of Redemption Spawn saw our anti-hero sporting a pair of feathered wings. The combination of hell-spawned demon and heavenly angel proved to be an amazing new look for Todd McFarlane's character.
For those that wanted the full impact of this great new figure design on display, 2004's large and in charge 12-inch Wings of Redemption Spawn was the answer. 2003 saw Spawn sporting bat wings (the first Spawn Reborn series) and 2008 unleashed Wings of Redemption Spawn 2; the angel wings back in action, this time with Spawn in flight.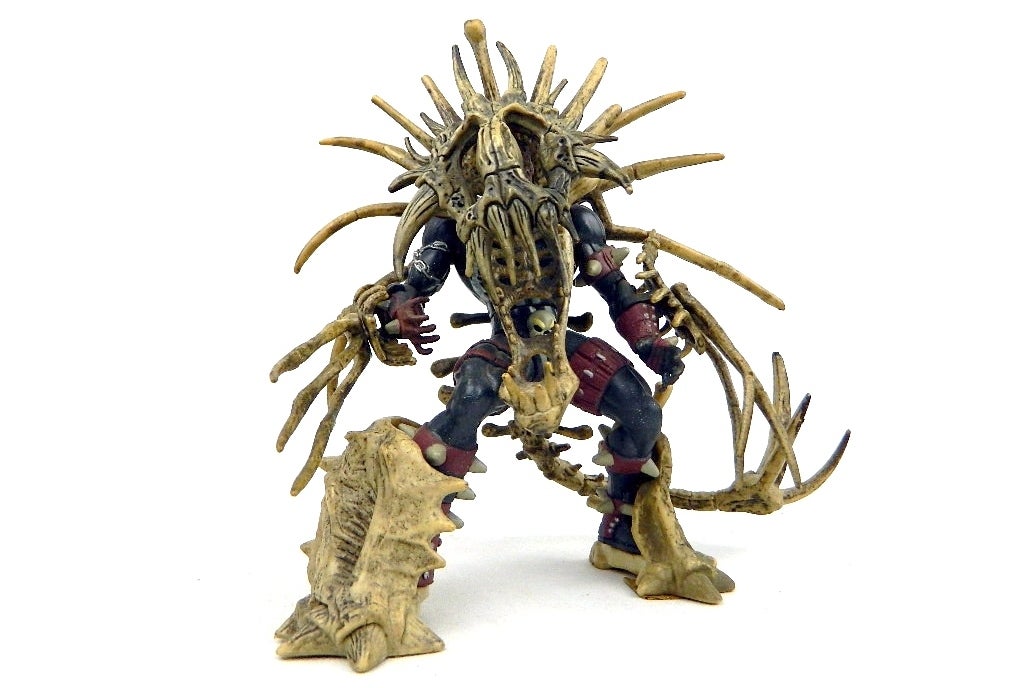 4) EXO-SKELETON SPAWN (Spawn Series 4, 1996)
The Spawn figure that started it all for me! After seeing this figure at my local Toys R Us, I was immediately intrigued and had to have it. This unique creation features Spawn decked out in a wild disguise (or is it armor?) of monster (Violator?) bones, complete with toothy face mask, bendy spiked tail and retractable claws. It's all very tribal. You know a toy design is good when someone that doesn't know anything about the property thinks it looks cool.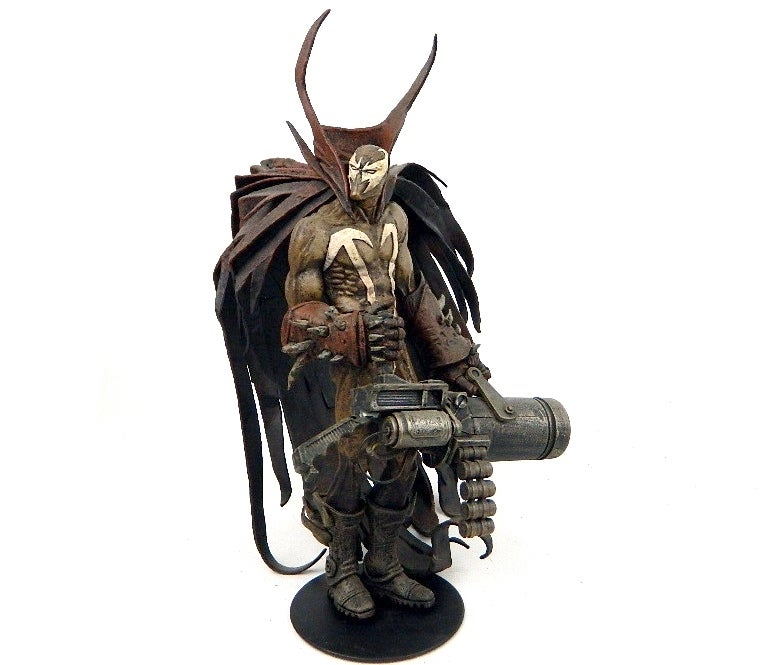 5) SPAWN HSI.005 (Spawn Series 25, 2004)
Before he started a toy company of his own with ThreeA, Ashley Wood was busy creating art, like the awesome cover of McFarlane's Hellspawn #5. This Spawn Series 25 action figure perfectly captures Ashley Wood's raw drawing style, earthly color palette and penchant for big honkin' guns. While I dig the beefy look of Hellspawn HSI.005 (and those spiked gauntlets!), another great McFarlane X Wood collaboration action figure is Hellspawn I.001 released in 2003's Spawn Series 23.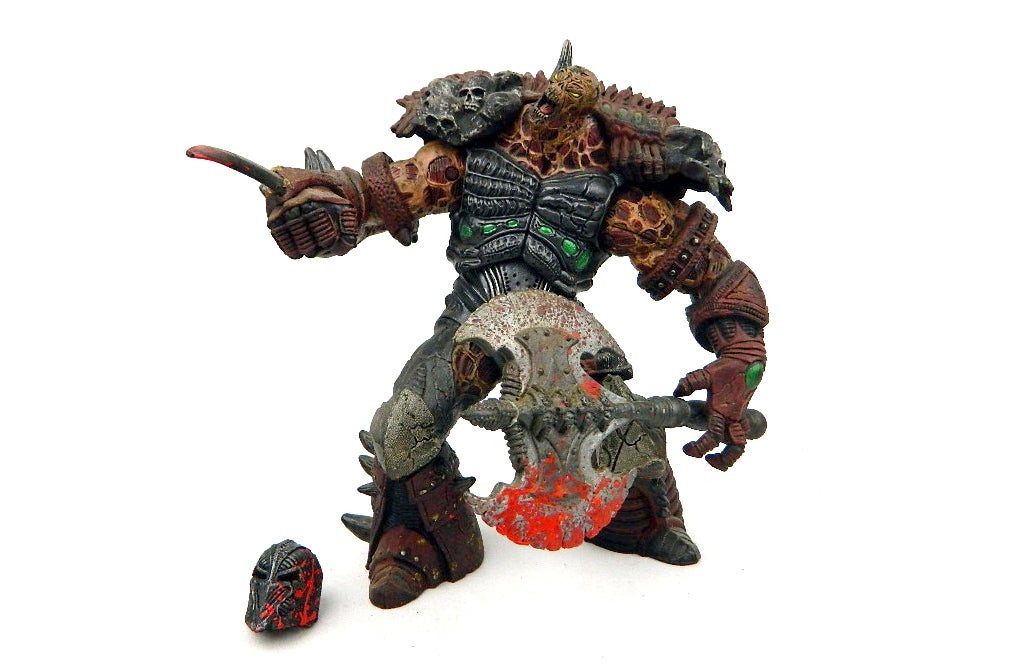 6) SPAWN THE BLACK KNIGHT (Spawn Series 11, 1998)
Spawn smash! Todd's creation was large and in charge with this 'roided-out monstrosity. Featuring a dark medieval fantasy design (courtesy of pre-Four Horsemen!), Black Knight Spawn impressed with his beefy size, awesome swivel waist articulation, wicked spiked wrist gauntlet and massive battle axe (which firmly pegged into his hand). While I much prefer his roaring head sculpt on display, McFarlane even threw in a helmet. My Spawn The Black Knight action figure still holds a sweet spot in my collection, the only addition being some personalized blood splatter to enhance his battle rage.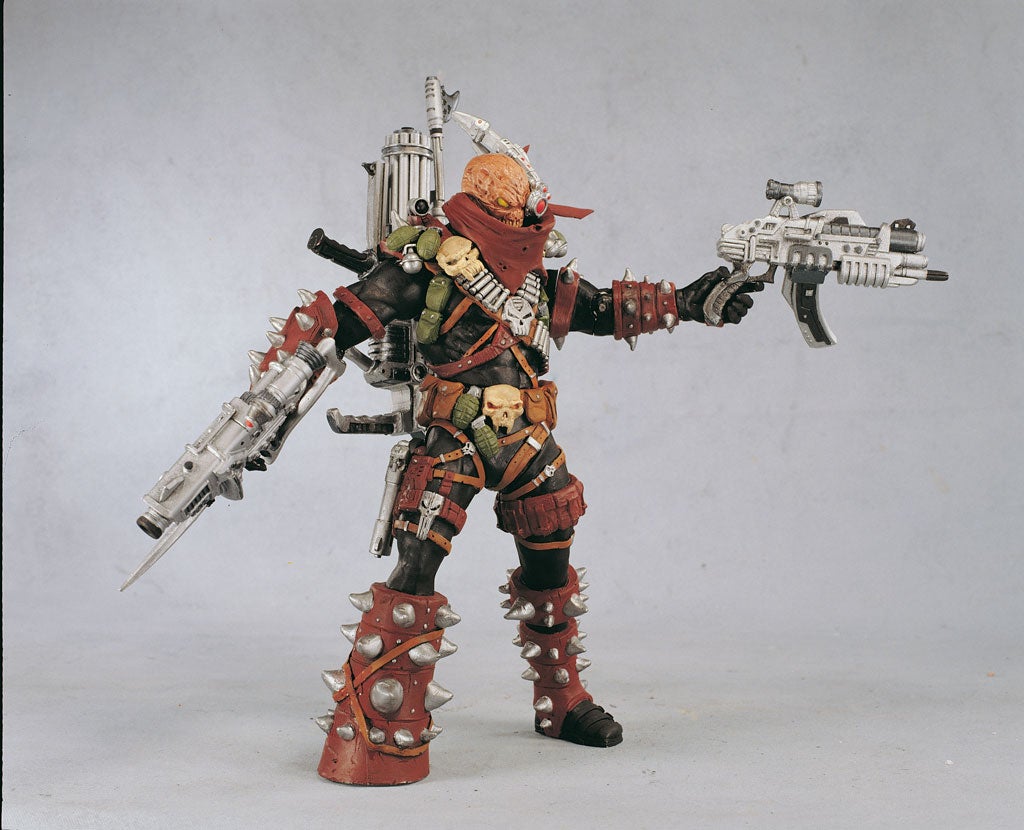 7) SPAWN IV (Spawn Series 12, 1998)
McFarlane Toys officially called him Spawn IV, though he was affectionately known as Commando Spawn to most fans (despite the fact that official Commando Spawn figures existed already). It was all about the guns. This walking Spawn arsenal packed some serious fire power for an action figure – then and now – with no less than five weapons, including a futuristic gun in each hand, large chain gun on his back, and a removable pistol and combat knife strapped to his trademark spiked "boot" leg. Oh, and don't forget all the grenades (alas, not removable)! A fully masked and exposed "hamburger" Spawn head variant kept collectors on their toes.
If you missed the original 1998 release, Spawn collectors had several other chances to own this awesome figure: a fish tank display case version in 2000 ("Arsenal of Doom", pictured) and a ho-hum army green repaint released in 2001.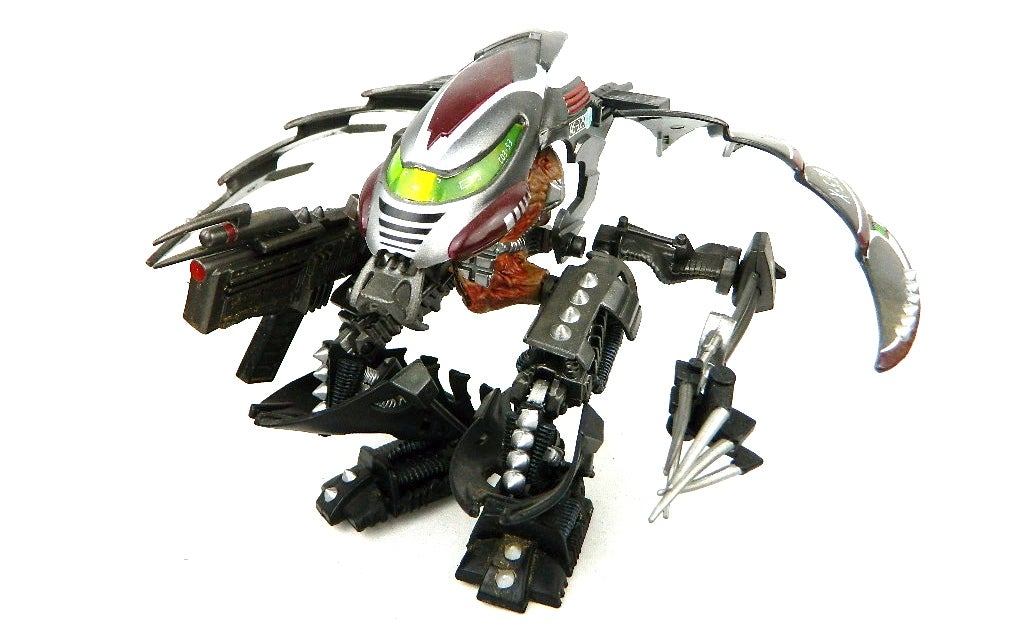 8) FUTURE SPAWN (Spawn Series 3, 1995)
Spawn has been mechanized many, many times throughout McFarlane's toy line history (see Manga Spawn for one), but Future Spawn was the first. Being the first doesn't always mean being the best, but Future Spawn is such a weird and unique figure that it had to be on this list. Part Batman Batwing, part Quake 2 Strogg cyber-soldier, Future Spawn was a strange fusion of flesh and metal. To this day I'm not sure how this figure is supposed to be properily posed (everything on this figure moves without rhyme or reason), but one thing is for sure: it was a radical figure design in 1995 and still is today.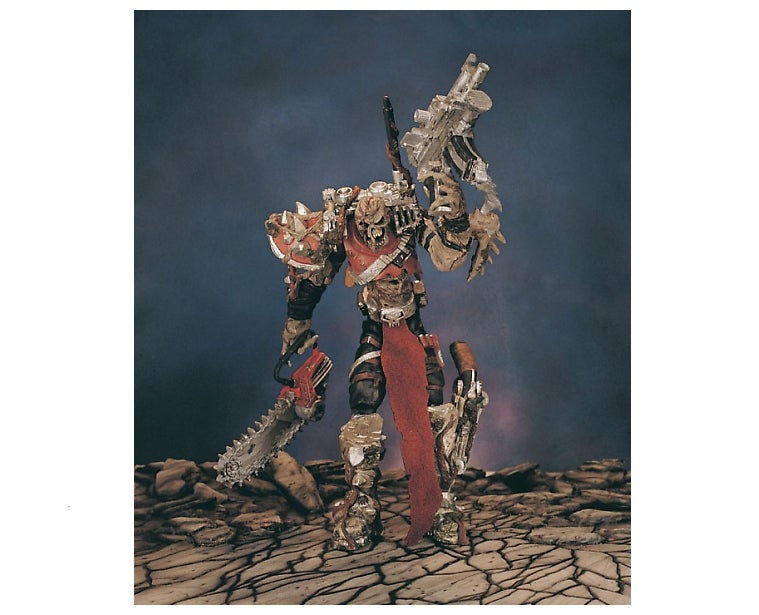 9) ZOMBIE SPAWN (Spawn Series 7, 1997)
This figure amuses me because isn't Spawn already dead and, err, technically a zombie? Undead Zombie Spawn? All kidding aside, Zombie Spawn is an awesome action figure. Rotting good looks aside, it was the included weapons that made this figure extra cool. Armed with a chainsaw (not enough action figures get this wild weapon), a chunky assault rifle AND a double-barreled shotgun that you could also holster on his leg, Zombie Spawn was ready to take a lickin' and keep on tickin'.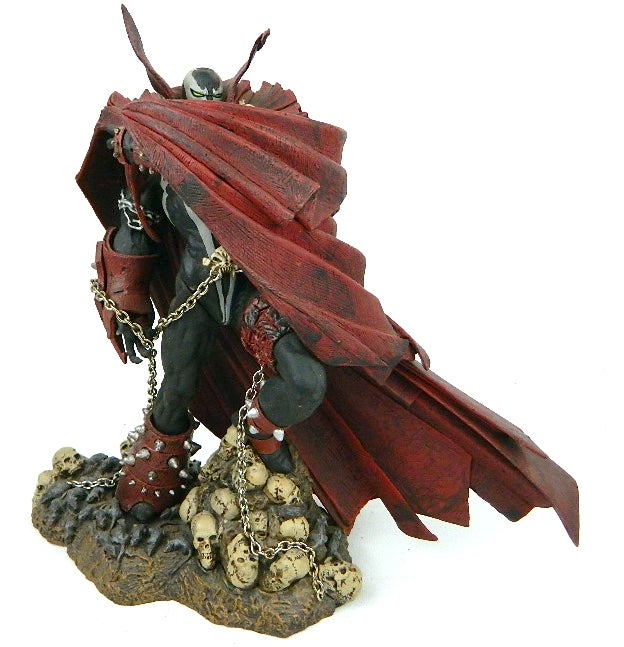 10) SPAWN V (Spawn Series 17, 2000)
This Spawn action figure had it all: the trademark flowing red cape, real metal chains and a killer skull base. Alright, so it didn't have any guns, but Spawn V encapsulated everything cool about Todd McFarlane's original character in a classic action figure design. Long live Spawn!
---
We are committed to finding, researching, and recommending the best action figures and collectibles. We earn commissions from purchases you make using the retail links in our product reviews. Learn more about how this works.
---