Releasing later this year is the next anticipated chapter in the HALO video game series, Halo Infinite. Little is known about the title, but players will once again take control of the powerful Spartan supersolider known as "Master Chief".
Jazwares has the master toy license this time around, and while HALO fans are waiting for those new figures to drop, we thought it'd be a good time to reflect on some of the best HALO Master Chief action figures released over the years.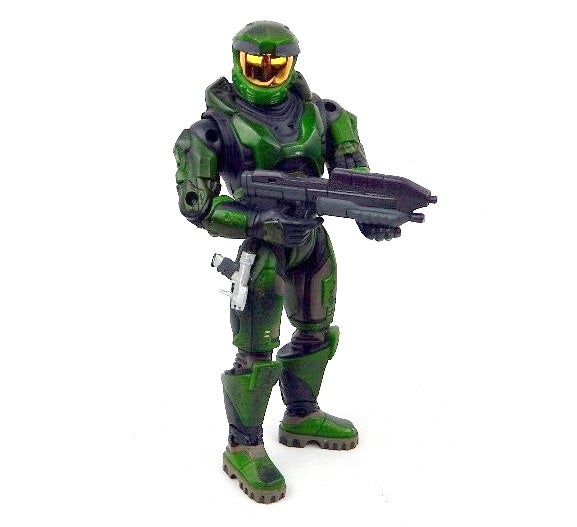 1) JOYRIDE STUDIOS HALO 8-INCH MASTER CHIEF ACTION FIGURE
It may seem strange now, but before toy companies like McFarlane, Square Enix or Mattel, there was only toy company making Halo toys: Joyride Studios. The very first toy company to land the Halo video game license went all out with a range of Halo: Combat Evolved toys, including the main protagonist, the Master Chief, as well as secondary characters and vehicles. Their first Halo 8-inch action figures, while not as detailed or articulated as modern day toys, are still considered amazing by Halo toy collectors for their large size, durable plastic construction and classic Halo: Combat Evolved design aesthetic. The mirrored visors on the Spartan action figures was also a very nice touch.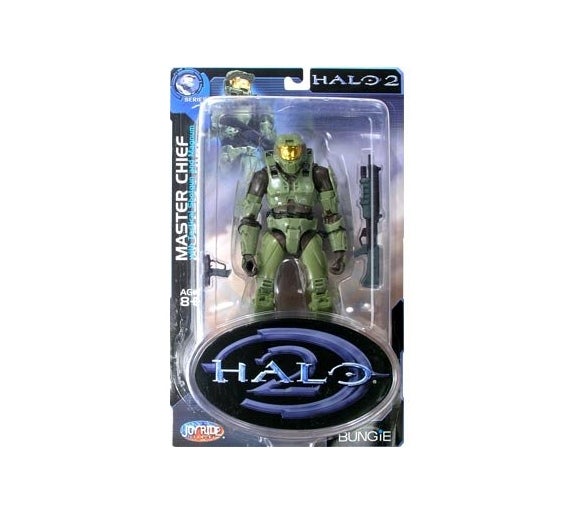 2) JOYRIDE STUDIOS HALO 2 8-INCH MASTER CHIEF ACTION FIGURE
Despite the deep dive in characters and vehicles, Joyride's original Halo: Combat Evolved toys were stiff, slightly immature and kid-friendly. Joyride's new Halo 2 figures, however, were a radical course correction, showing that the company was now 100% invested in a more mature collectibles market. Master Chief launched the new series with an arsenal of guns, including dual SMG's and Battle Rifle. Later versions packed John-117 with other killer loadouts, including a Shotgun, Covenant Carbine, and Sniper Rifle. Like Joyride's very first Halo action figures, this large and in charge Halo 2 series was extremely well made and still holds a very special place in many Halo collections.
3) MCFARLANE TOYS 5-INCH MASTER CHIEF ACTION FIGURE
In March 2008, McFarlane Toys' took the Halo license to an all-new level. With figures measuring about 5-inches tall, the series kicked off strong with figures of the bulky Brute Chieftain (with awesome GravityHammer), gangly Jackal Sniper, two squat Grunts, a light-up Cortana, and of course, John-117 with his trademark MA5C ICWS Assault Rifle. Spartan figures featuring variant colors of the iconic MJOLNIR Mark VI armor (red, white and blue) showed Halo collectors that McFarlane was taking this series very seriously. Master Chief armed with every conceivable Halo weapon would pepper the long-running line throughout the years, my favorite being MC with a flamethrower (part of the Red Team and Master Chief 2-Pack from 2010). With their long toy run, McFarlane produced figures from not only Halo 3, but from the entire Halo universe, including Halo: Combat Evolved, Halo 2, Halo: Reach, Halo: ODST, Halo 4, and Halo 5!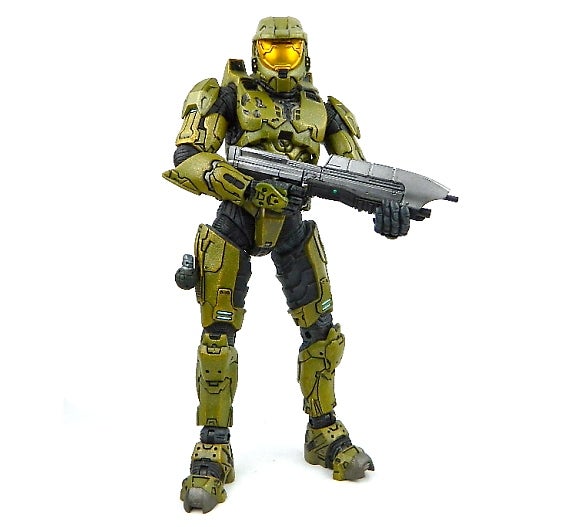 4) MCFARLANE TOYS 12-INCH MASTER CHIEF ACTION FIGURE
As a toy company, how do you improve on an action figure? You make it bigger and better. That's exactly what McFarlane Toys did in 2008 with their Halo Master Chief. While color variants used the sculpt well, Halo fans were best served with John-117 wearing his classic green Mark VI armor. This durable, well-made plastic figure came ready to take on the Covenant armed with classic Assault rifle and even a Frag Grenade that plugged into the figures thigh, just like his smaller Halo action figure cousins.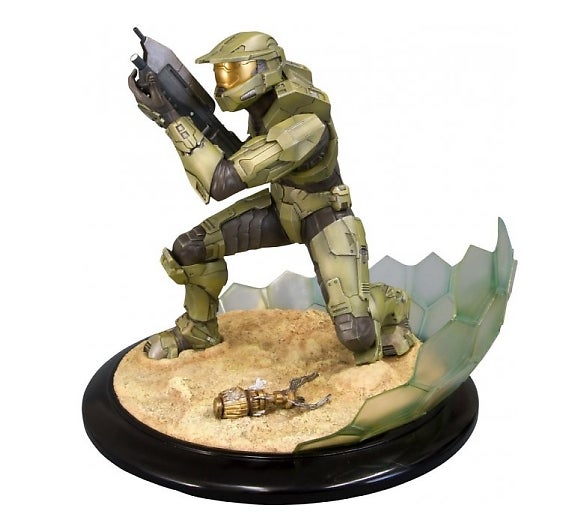 5) KOTOBUKIYA HALO 3 MASTER CHIEF FIELD OF BATTLE ARTFX STATUE
While not articulated in the traditional sense of an action figure, Kotobukiya's ARTFX take on the Halo 3 license was still stunning. Their "Field of Battle" diorama was the most impressive, the 1/6th scale (12-inch) piece depicting the Master Chief emerging from a depleted bubble shield with weapons at the ready. This dynamic plastic statue included interchangeable arms, some holding new weapons (dual Brute Spiker Pistols!). Whether it's Master Chief or the red Spartan colorway, this is a collectible no Halo collection should be without.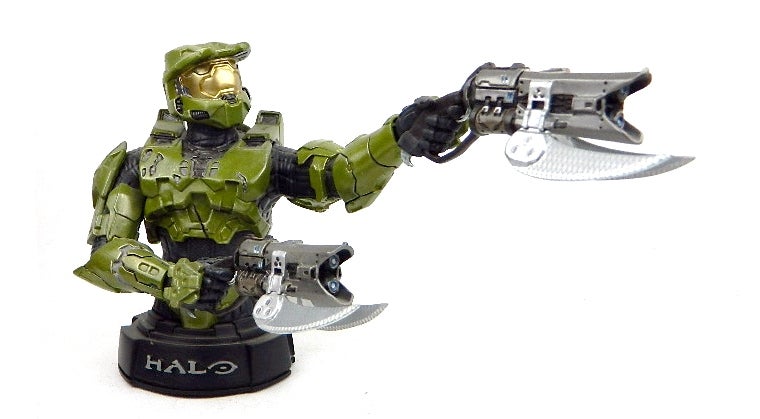 6) GENTLE GIANT HALO 3 MASTER CHIEF MINI BUST
The release of Halo 3 in 2007 was an explosive year in Halo collectible licensing. Gentle Giant latched onto the license with an amazing 7.5-inch resin mini bust of the Master Chief. Going beyond Kotobukiya's plastic creation, Gentle Giant's resin statue included a full aresnal of magnetic weapon arm options for fans to display their hero with Assault Rifle, dual Brute Spikers, and Energy Blade. GG totally hooked Halo fans up with incredible display options and fantastic looking results.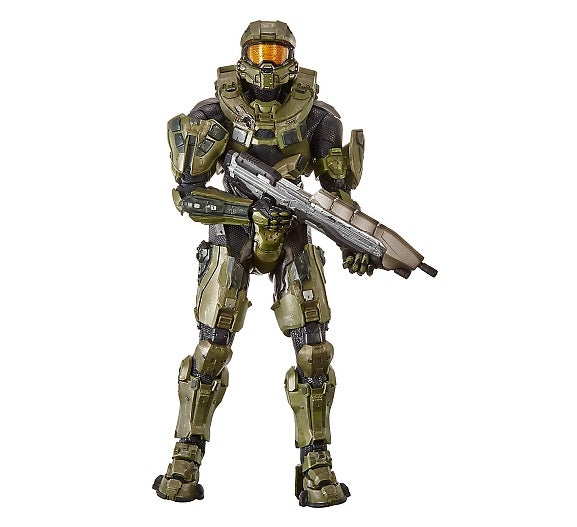 7) NECA HALO 4 18-INCH MASTER CHIEF ACTION FIGURE
New game, new Halo collectibles. NECA took on Master Chief Petty Officer John-117's new armored look from 2012's Halo 4 with a massive 18-inch tall, quarter scale action figure. Size really does matter when it comes to this big Halo collectible – the largest figure ever produced of the butt-kickin' Master Chief.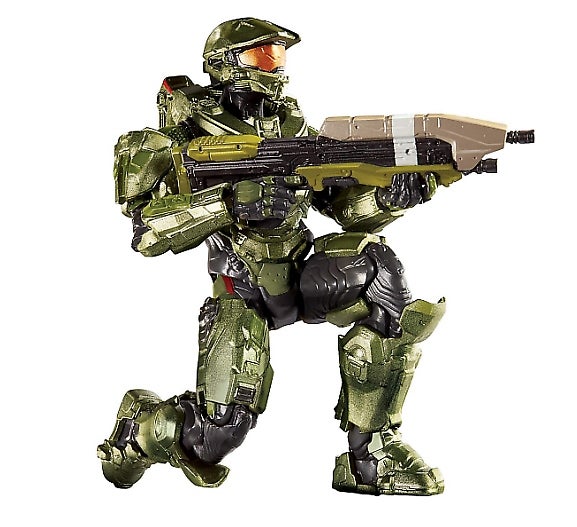 8) MATTEL HALO 5 6-INCH MASTER CHIEF ACTION FIGURE
Mattel nabbed the Halo license in 2016 with Halo 5: Guardians. Much like Joyride and McFarlane before them, Mattel took the Halo license and dived deep with not only extensive character selection, but with the introduction of mix-and-match armor, interchangeable weapons and even build-a-figure pieces! The problem with the line wasn't from a lack of trying, I just think that collectors were experiencing Halo burn-out at this point, coming hot off of McFarlane's successful long-running series (Fun Fact: McFarlane's Halo figure line actually ran all the way up to 2016 and even introduced some new Halo 5 characters. Talk about confusing!). To re-invest in an all-new Halo figure line this soon, in an all-new scale, was asking a lot from collectors. That's not to say Mattel's Master Chief action figure is bad; actually quite the opposite. Grab one if you get the chance!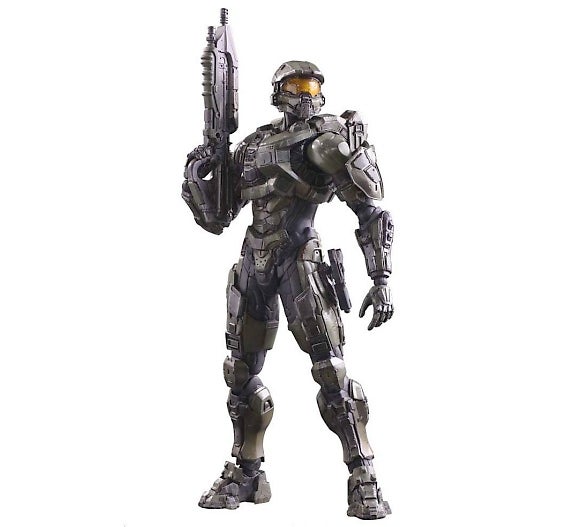 9) SQUARE ENIX PLAY ARTS KAI HALO MASTER CHIEF ACTION FIGURE
Master Chief's modernized look from Halo 5: Guardians continued outside Mattel's mass market releases with a high-end action figure from Square Enix. I'm not a huge fan of the Master Chief's look in Halo 4 or 5, but I'm leaving this figure up here because A) It's hyper realistic, B) Hyper articulated , and C) a damn cool-looking Master Chief, if the Halo 4/5 look is for you. Who am I to judge? I dunno, with Halo: Infinite going back to the Master Chief's classic look, I'd say these changes were unnecessary.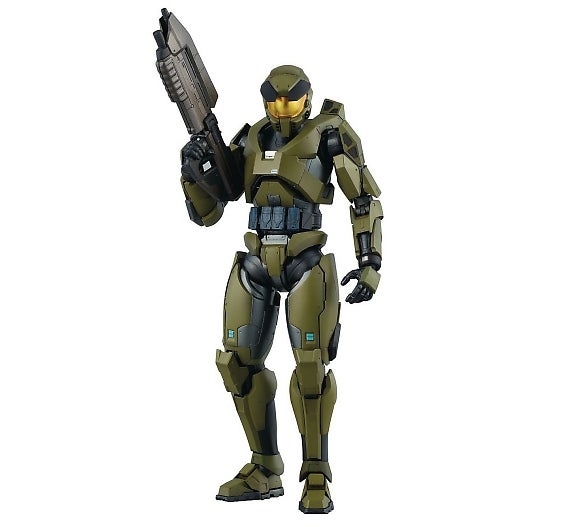 10) 1000TOYS HALO RE:EDIT 7-INCH MASTER CHIEF ACTION FIGURE
1000toys brings it full circle with a new hyper-articulated action figure of the Master Chief design that started it all. Famed mecha designer, Izmojuki, has taken the original Halo: Combat Evolved Master Chief design and refined it with his trademark touch of style and realism. It certainly has cool, nostalgic good looks, but the jury is still out on this very high-end ($100+) figure. It releases June 2020.

We are committed to finding, researching, and recommending the best action figures and collectibles. We earn commissions from purchases you make using the retail links in our product reviews. Learn more about how this works.
---