In 2003, NECA launched the first in a series of 7-inch action figures based on Clive Barker's horrific Hellraiser movies. The series filled the huge void in horror collectibles created when McFarlane's popular Movie Maniacs line came to an abrupt end.
Featuring amazing realistic sculpts, NECA's Hellraiser figures were a pivotal line that firmly planted the company as a serious contender on the action figure market. It is because of the success of NECA's Hellraiser line that the company is one of the most popular with licensed action figure collectors to this very day.
Read on for some of our favorite NECA Hellraiser figures. "We have such sights to show you."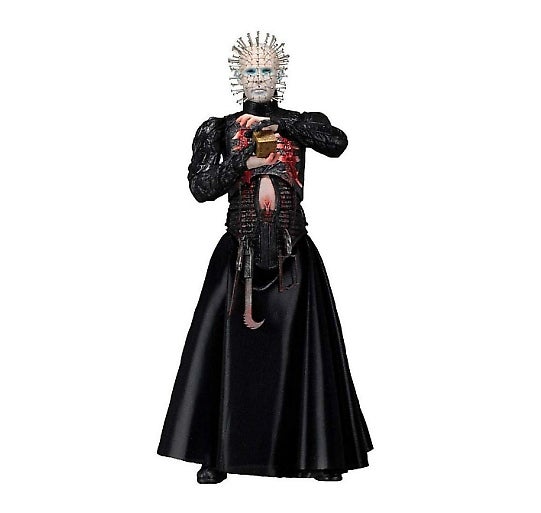 1) PINHEAD (Hellraiser Series 1)
While each of NECA's three waves of Hellraiser figures received a new version of Pinhead, our favorite is the one that started it all. The figure perfectly captured Doug Bradley as the classic cenobite leader. The figure depicted a calm Pinhead, with mouth shut and arm extended – offering some (un)lucky soul the Lament Configuration to open. As a super cool bonus, Pinhead, along with every Hellraiser Series 1 figure, included a piece to build your very own scale puzzle box! For the fan that wants the "Ultimate" Pinhead figure, NECA is releasing just that: a figure packed with 2 interchangeable heads and both open and closed Lament Configuration puzzle boxes! It's like several earlier Pinhead figures in one!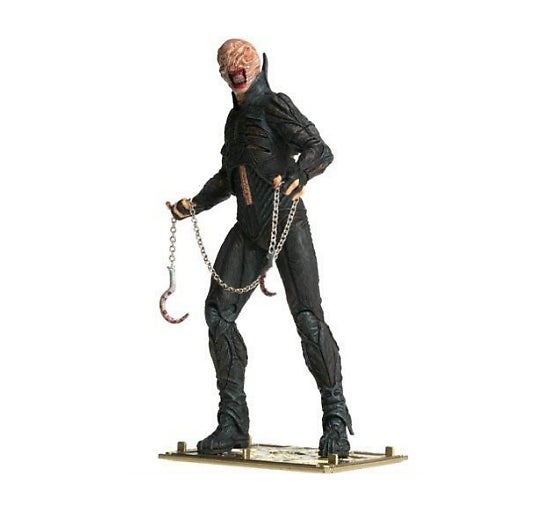 2) CHATTERER (Hellraiser Series 1)
Another classic cenobite from the first two Hellraiser films is the Chatterer. The faceless demon that is all teeth is a must-have for any Hellraiser collection. Hunt down the NECA 18-inch Chatterer figure for the ultimate display!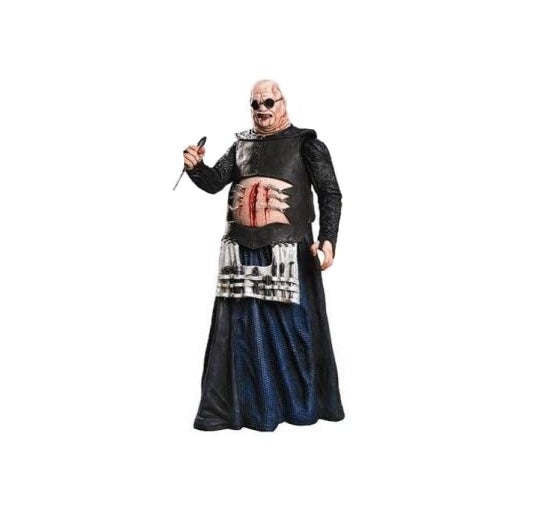 3) BUTTERBALL (Hellraiser Series 2)
While he (it) just stood there looking bloated and creepy in the movies, Butterball instantly became one of my favorite NECA Hellraiser figures. Part of that is due to the Butterball figure coming with a NECA Hellraiser first: two alternative heads, with and without his hippy shades. The eye's sewn shut head is great, but I have to go with the classic. I also enjoy how solid this figure displays due to it's large molded skirt.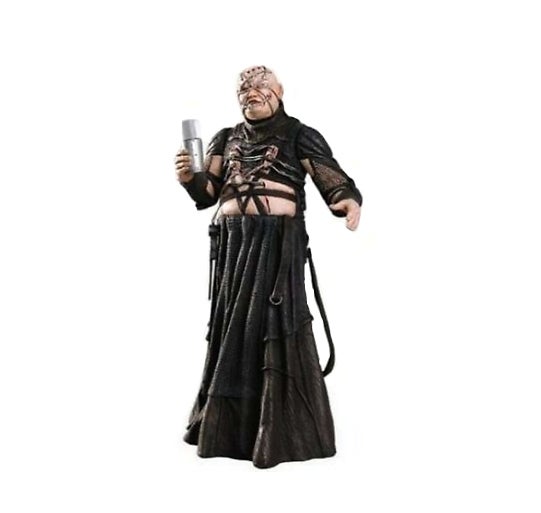 4) BARBIE (Hellraiser Series 2)
Speaking of solid display, Barbie, introduced in Hellraiser 3: Hell On Earth, is another NECA Hellraiser figure that stands extremely well thanks to his molded skirt. The addition of a cocktail shaker, two head sculpts AND a removable flame spit mouth attachment make this a great horror figure.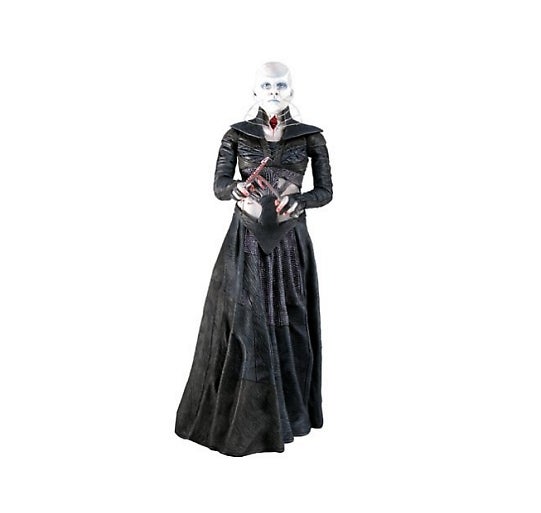 5) FEMALE CENOBITE (Hellraiser Series 3)
It was a long wait to complete the original Hellraiser cenobite line up, but it was well worth it. The Female Cenobite (fancy name!), while not the most exciting character on-screen, is a must-have figure for any NECA Hellraiser completionist.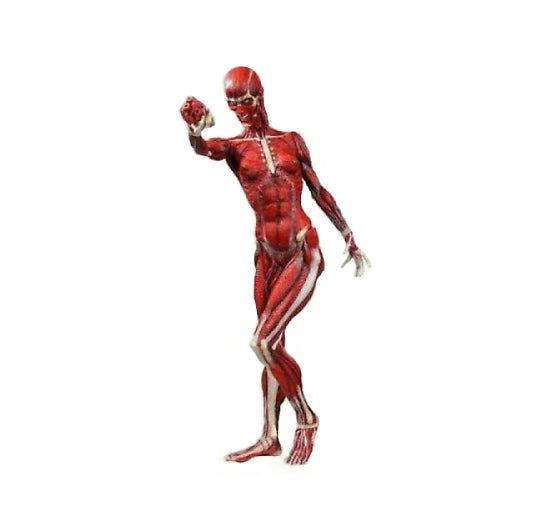 6) JULIA (Hellraiser Series 2)
NECA shook things up with their second assortment of Hellraiser figures by taking on some of the non-cenobite characters. This figure depicted Julia, complete with "bandages" that could be removed to reveal her highly detailed flayed muscle and sinew underneath. Pair it with Series 3's Frank for the ultimate Hellraiser figure reunion.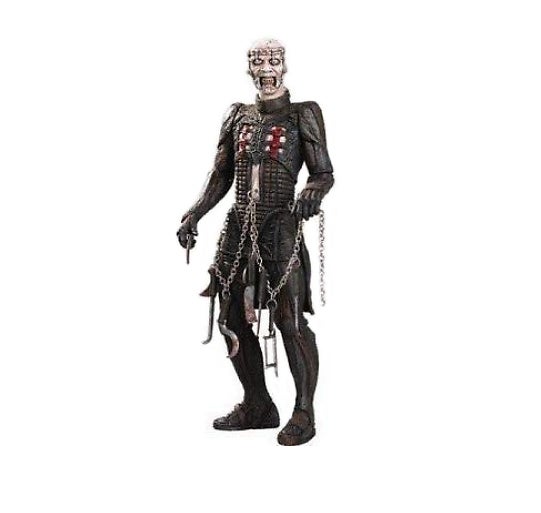 7) SURGEON (Hellraiser Series 2)
NECA's Hellraiser Series 2 also saw the company expanding into the more obscure Hellraiser films. The cenobite was featured briefly in the sixth Hellraiser film, Hellraiser: Hellseeker. While the film was not a fan-favorite (pretty everything after Hellraiser 3 was very sub-par), the Surgeon's cenobite design was a winner.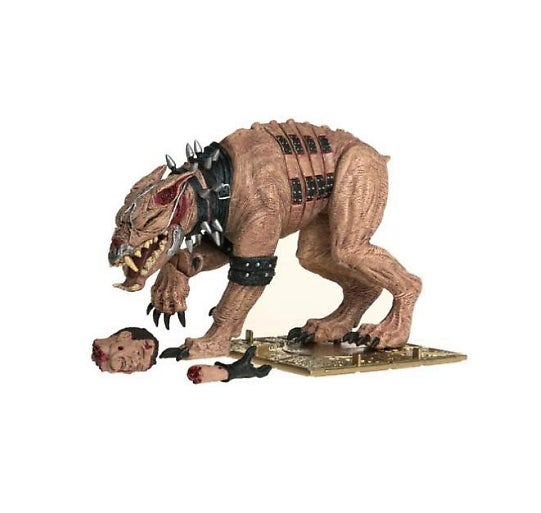 8) CHATTERER BEAST (Hellraiser Series 1)
The Chatterer Beast introduced in the fourth film, Hellraiser: Bloodline, was a radical departure from the norm. Depicted as a "pet" created by Pinhead in the Chatterer's image, the creature made for a very unique NECA Hellraiser figure.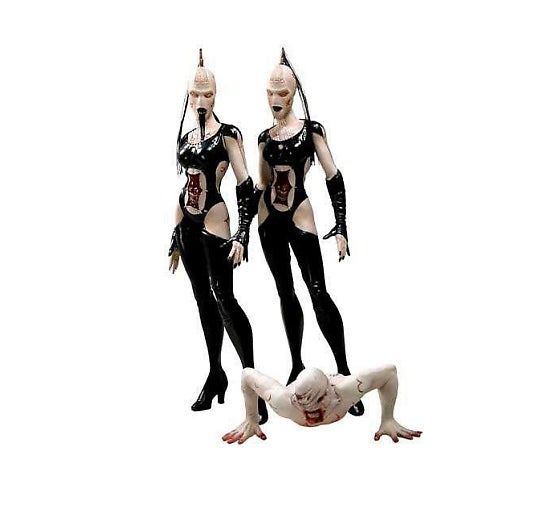 9) WIRE TWINS 2-PACK (Hellraiser Series 1)
Another strange incarnation of the classic Chatterer rears its teeth again in the Wire Twins 2-pack, this time as a bonus figure called The Torso. The set was also the ultimate way to pick up both variations of the Wire Twins, with and without tongue lashing out. And yes, each Wire Twin featured real metal wires running from their chin to their chest, an amazing touch.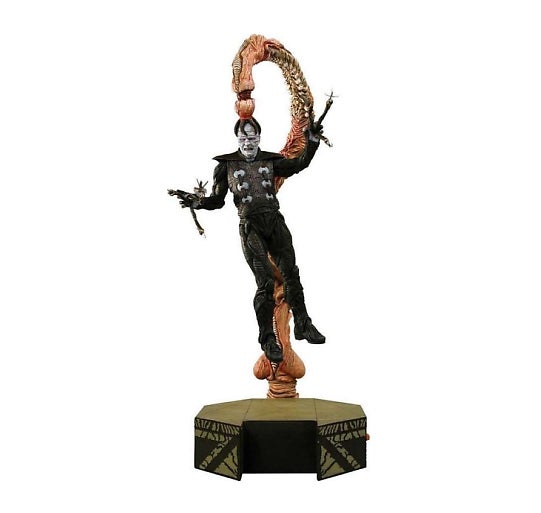 10) DR. CHANNARD (Hellraiser Series 3)
"I'm taking over… this operation." This is by far the coolest looking Hellraiser figure NECA ever produced. It was also the largest in the 6-inch scale series, Dr. Channard offered as a deluxe box set that included the figure, two alternate head sculpts, phallic tentacle, Lament Configuration base and a multitude of interchangeable snake hand accessories. "And to think… I hesitated." If you hesitated on this figure, shame on you. It now demands a very hefty price tag on the secondary market.
---
We are committed to finding, researching, and recommending the best action figures and collectibles. We earn commissions from purchases you make using the retail links in our product reviews. Learn more about how this works.
---