Back in 2002, Toy Biz, a subsidiary of Marvel Entertainment, debuted Marvel Legends – a toy line that would alter history with its innovative action figure design. Marvel Legends presented collectors with all their favorite Marvel comic book (and movie) heroes and villains masterfully sculpted in 6-inch scale. On top of their amazing good looks and scale, each figure featured hyper-articulation so revolutionary, it acted as a benchmark for most all modern action figures to follow.
While the company(s) behind the line have changed over the years (Toy Biz went on to become Marvel Toys and Hasbro eventually acquired the brand in 2007), Marvel Legends as an action figure line has stayed true to form all these years later. If anything, current collectors have been treated to even better Marvel Legends as action figure sculpting techniques have improved, such as the recent introduction of "Photo Real" head portraits for movie figures. Tack on Marvel Legends' now famous Build-A-Figure (BAF) incentive (where if all the figures in a wave are collected – a large bonus figure can be assembled) and Marvel Legends continues to be a very popular action figure mainstay.
Every superhero fan has had their own favorite Marvel Legends action figures to collect over the years. Here are are some of ours: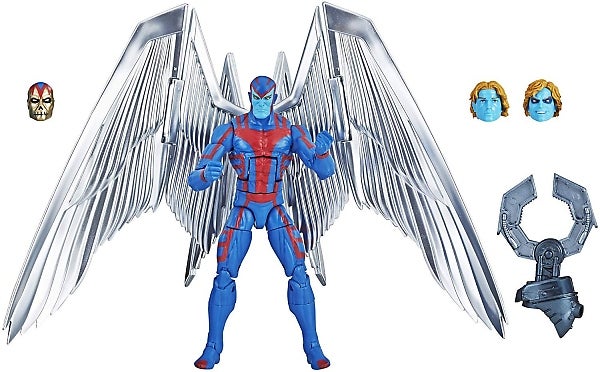 1) ARCHANGEL (Hasbro Deluxe X-Men, 2018)
Marvel Legends introduced the first winged hero way back in 2005's Series 10 with a figure of the founding X-Men Angel. Hasbro's modern take on the mutant with a 2018 Gamestop exclusive action figure of Archangel, however, takes the cake. With 3 alternate heads and an alternate claw hand for the Apocalypse BAF, fans of Warren Kenneth Worthington III as the high-flying hero were in for a treat.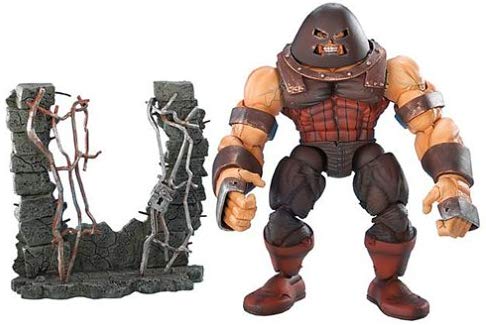 2) JUGGERNAUT (Toy Biz Marvel Legends Series 6, 2004)
Build-A-Figures were still a pipe dream for Marvel Legends when 2004's Series 6 hit the market. That didn't stop Toy Biz from unleashing the Juggernaut, b!#ch. A huge figure for the time, the Marvel Legends Series 6 Juggernaut figure would dominate action figure collections for years to come until the hard-headed villain returned as an even larger Build-A-Figure in Hasbro's 2016 Marvel Legends X-Men wave.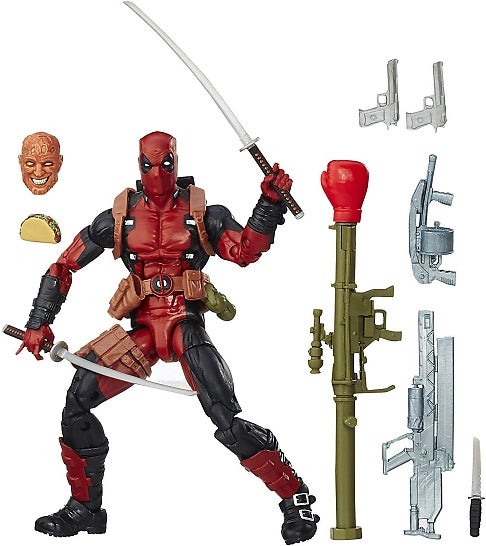 3) DEADPOOL (Hasbro Marvel Legends Juggernaut Wave, 2016)
Speaking of the Juggernaut BAF wave, the Marvel Legends action figure of Deadpool was also a clear winner. For many this represented the definitive "Merc With A Mouth" action figure, complete with twin katanas, handguns, knife, rail gun, shotgun, Wade Wilson head and taco! Notable mention: Marvel Legends Ultimate Riders Deadpool.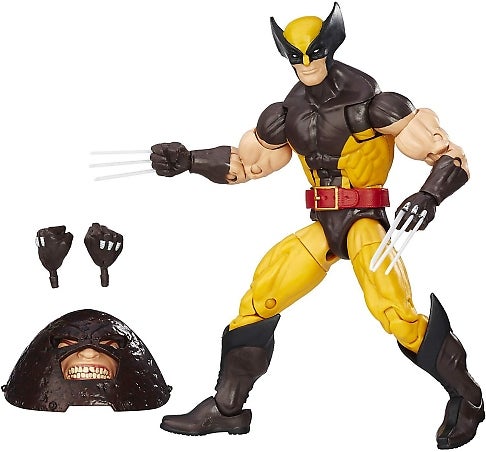 4) WOLVERINE (Hasbro Marvel Legends Juggernaut Wave, 2016)
Hasbro's Juggernaut BAF wave was obviously a hit on many levels, including this awesome Marvel Legends action figure of Wolverine. This is a classic look at the clawed mutant berserker and a must-have for any X-Men collection.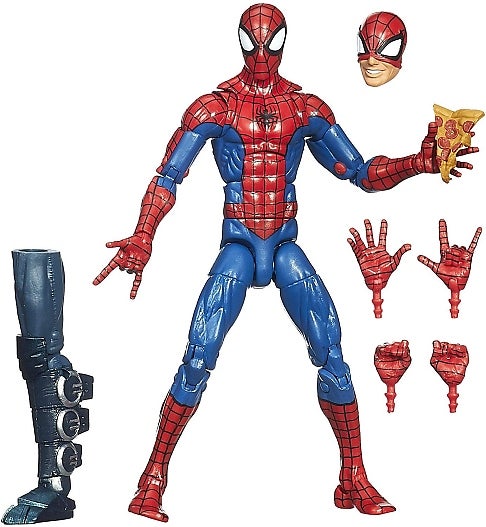 5) SPIDER-MAN (Hasbro Marvel Legends Hobgoblin Wave, 2015)
Everyone needs a good Spider-Man action figure in their collections, and this version of everyone's friendly neighborhood hero from Hasbro delivered in spades. Not only did fans receive a classic Spidey suit look, but the addition of an alternate "pizza eating" half-unmasked head sculpt sealed the deal. Pepperoni? My fave.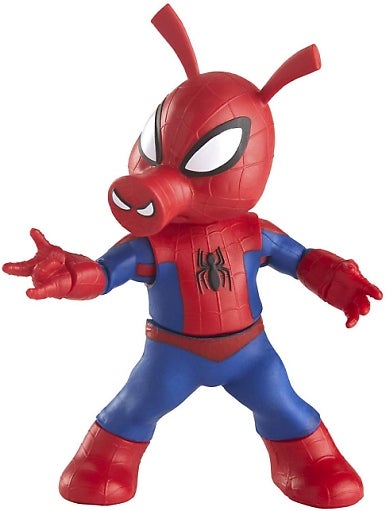 6) SPIDER-HAM (Hasbro Marvel Legends Venom Wave, 2018)
Thanks to the hit animated movie Spider-Man: Into The Spider-Verse, viewers were introduced to an odd, rather unknown Marvel character: Spider-Ham. A parody of the famed wall-crawler, Peter Porker originates from Earth-8311, a universe populated by anthropomorphic animal versions of the Marvel superheroes. Yup, he's a pig and the fact that Hasbro gave him the full-blown Marvel Legends treatment is a testament to the action figure line's success. The addition of an alternate "Pork Grind" Venom head was just icing on the cake.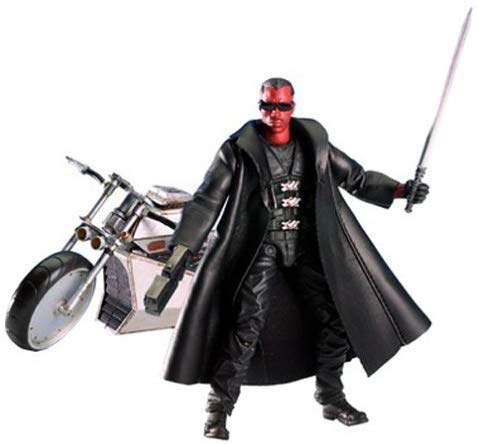 7) MOVIE BLADE (Toy Biz Marvel Legends Series 5, 2003)
Before blockbuster Marvel movies like Iron Man, Captain America and The Avengers, their was a trio of action films centered around Marvel's vampire slayer, Blade. Toy Biz had released an action figure of Wesley Snipes as Blade around the first movie's release in 1998, however it was their official Marvel Legends Series 5 release that cemented the "Daywalker" in fan's collections. Better articulation and more accessories were the main selling points. Blood bath!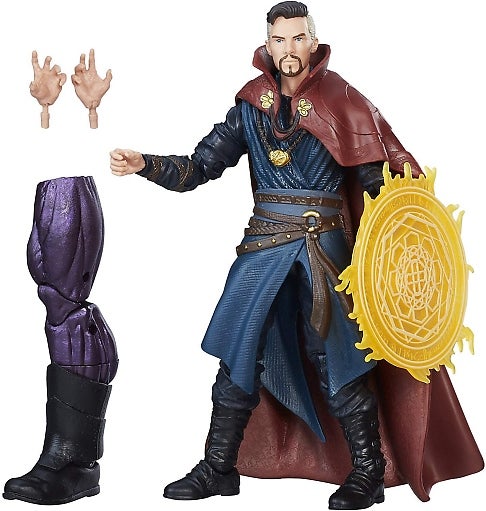 8) DOCTOR STRANGE (Toy Biz Marvel Legends Series 9, 2005)
Before he was a mainstream Marvel movie hero (expertly played by Benedict "Sherlock" Cumberbatch), the "Sorcerer Supreme" was a much loved comic mystic. This Marvel Legends version of Doctor Strange is depicts his classic comic look and displays well with his more modern movie Marvel Legends counterparts released the 2016 Hasbro Dormammu BAF Wave.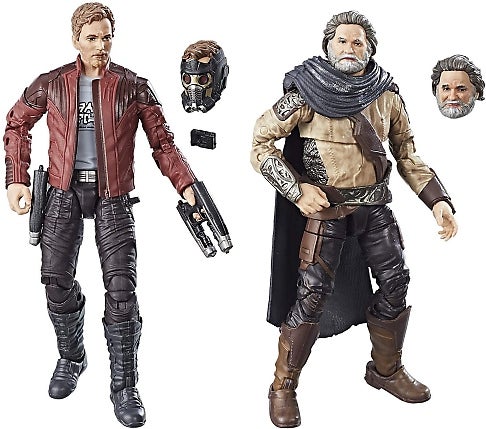 9) EGO THE LIVING PLANET (Hasbro Marvel Legends Guardians of the Galaxy Vol.2 2-Pack, 2017)
Hasbro treated almost every major Guardians of the Galaxy movie character to a solo Marvel Legends figure release. All except Ego the Living Planet. Despite being almost the entire plot line behind Guardians of the Galaxy Vol. 2, you needed to invest in an exclusive two-pack to get your hands on this figure. Still, it was worth it just to own a mini Kurt Russell (and the extra Chris Pratt Star-Lord certainly didn't hurt anybody).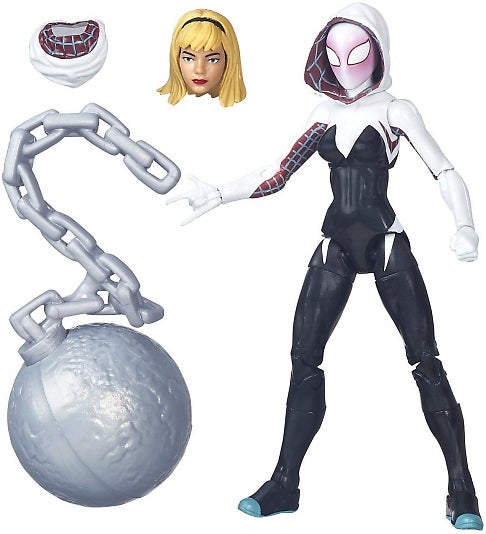 10) SPIDER-GWEN (Hasbro Absorbing Man Wave, 2016)
With her comic introduction in 2015, Spider-Gwen became somewhat of a Marvel character phenomenon. The alternate Earth-65 "Spider-Woman" sprung up everywhere as collectibles, including this must-have fully articulated Marvel Legends action figure. With her Spider-Man: Into the Spider-Verse movie debut, the spunky, spry and pretty in pink heroine became a household name. Track down this figure to complete your Spider-Verse family.
---
We are committed to finding, researching, and recommending the best action figures and collectibles. We earn commissions from purchases you make using the retail links in our product reviews. Learn more about how this works.
---