Christmas is almost upon us, so what better time than to share some of our favorite Christmas figures! For our list we searched seasonal classics like Rudolph the Red-Nosed Reindeer and A Christmas Story, to more controversial holiday fare such as McFarlane's Twisted X-Mas and Die Hard. Naughty or nice, there's bound to be a Christmas figure for you!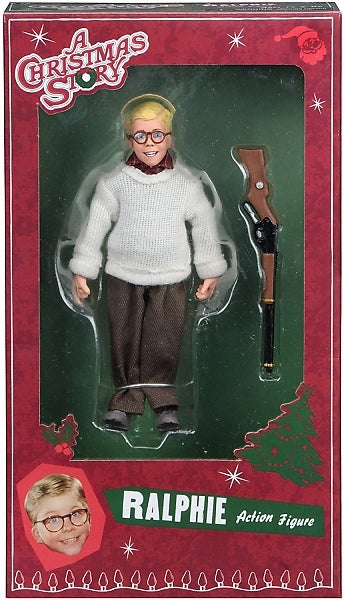 1) NECA A Christmas Story Ralphie 8-inch Clothed Action Figure
"You'll shoot your eye out!" That famous quote, along with many, many others, embodies one the greatest holiday movies ever made: 1983's A Christmas Story. A holiday staple (I have my television locked every year on TBS' 24-hour marathon), A Christmas Story spun the simple story of young Ralphie's desire for Santa to deliver a Red Ryder BB gun for Christmas. When it comes to Christmas Story collectibles, NECA rules the roost with everything from Leg Lamp replicas ("FRA-GEE-LAY"), bobbleheads and a great line of clothed action figures, including Ralphie with his one true holiday desire.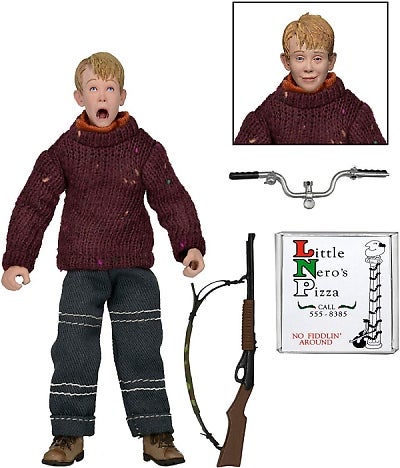 2) NECA Home Alone Kevin 8-inch Clothed Action Figure
Speaking of NECA, the company also showed their love for another popular holiday movie, 1990's Home Alone. For nearly three decades, the film was the highest-grossing Christmas film of all time (finally dethroned by 2018's The Grinch). Macaulay Culkin's breakthrough role received an action figure (complete with classic screaming face), as did the "Wet Bandits" – Harry and Marv – so fans could reenact all the zany burglar bashing scenes.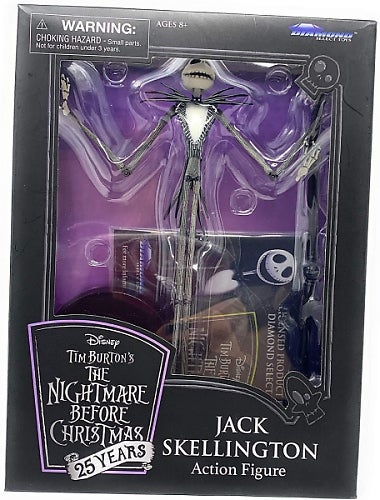 3) Diamond select Toys The Nightmare Before Christmas Action Figures
Ironically, when Tim Burton's now holiday classic The Nightmare Before Christmas released in theaters back in 1993, there wasn't much merchandise. That, of course, has all changed over the years as practically every toy company on the planet has had their hands on the license at one time or another. Hasbro's original line of figures (later re-released by NECA) still have a special place in my collection, just for their simple designs. For authentic action figure enthusiasts, collectors have their choice of extensive figure lines from Jun Planning, NECA, and most recently, Diamond Select Toys. A figure of Jack Skellington is a must, but every character from Sally, Oogie Boogie, Lock, Stock and Barrel are out there. Prepare to clear some space on the fireplace mantle!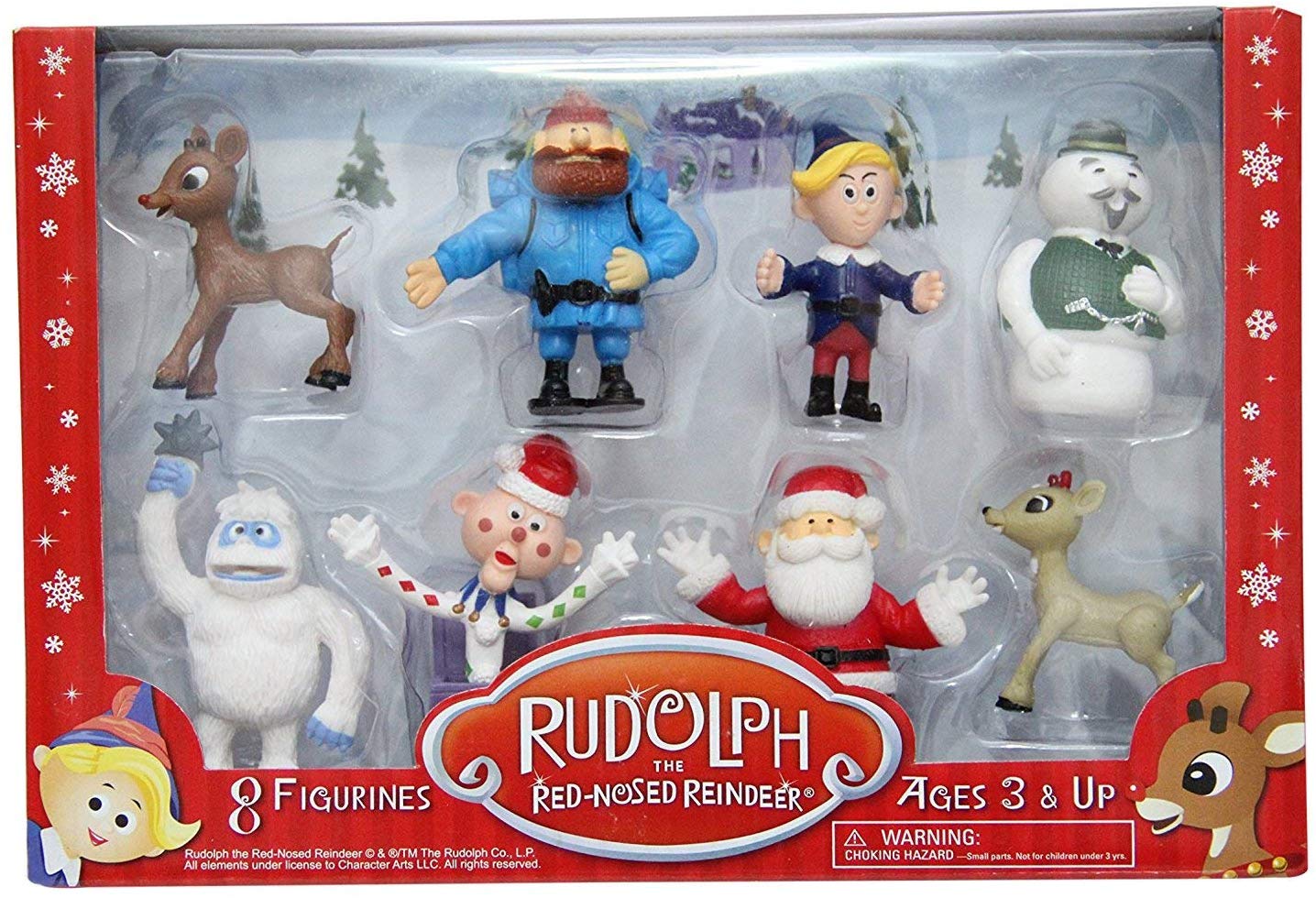 4) Rudolph the Red-Nosed Reindeer PVC Figures
Long before The Nightmare Before Christmas captivated the world with its stop-motion animation, Rudolph the Red-Nosed Reindeer was well recognized as a claymation classic. A must-see event every year in my house around the holidays, the 1964 television special charms with an amazing host of characters, including Rudolph, Hermey the elf, Yukon Cornelius and the Bumble, Santa, and even Burl Ives as the voice of Sam the Snowman. Playing Mantis created a slew of incredible action figures from Rudolph the Red-Nosed Reindeer back in the early 2000's, but they can prove hard/expensive to find. Nowadays, your best bet is on PVC mini figure sets. I'm not even sure who owns the license now, but these appear to be the same molds that Playing Mantis created back in the day. Regardless, they're very affordable and each set provides a good chunk of characters – perfect for collecting them all for an awesome holiday display.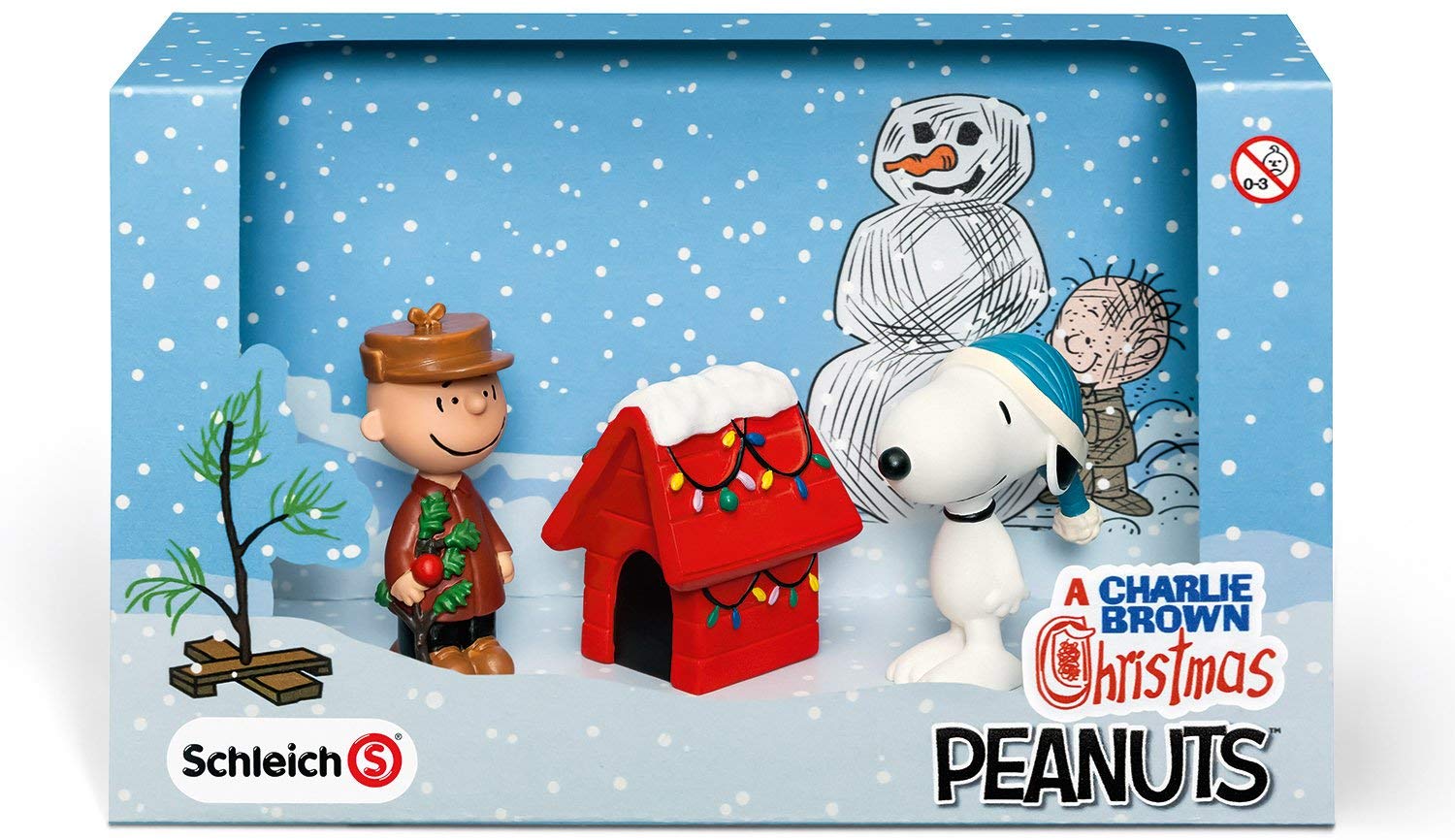 5) A Charlie Brown Christmas Figures
Another animated holiday favorite is A Charlie Brown Christmas. The touching tale on the true meaning of Christmas again received many toys from Playing Mantis, but finding them now can be difficult. Lucky for collectors, Schleich now has the license. In addition to individual mini PVC figures of Charlie Brown and the whole gang, fans can get a great diorama pack starring Charlie Brown, Snoopy and his dog house all decked out for the holidays.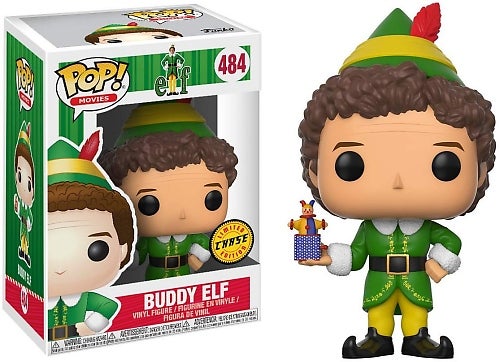 6) Elf Buddy the Elf Funko Pop
Before he became famous as the director of Iron Man (and essentially kickstarting the entire MCU), Jon Favreau wrote and directed what has become one of the greatest Christmas films of all time, 2003's Elf. The Will Ferrell-starring comedy delivers the laughs with the story of Buddy, a human adopted and raised by Santa's elves. For those looking to collect the classic movie, NECA has produced everything from bobbleheads to an 8-inch clothed figure. Personally I'm quite fond of Funko's Pop! vinyl figures as I feel they reflect the charm of the character quite well.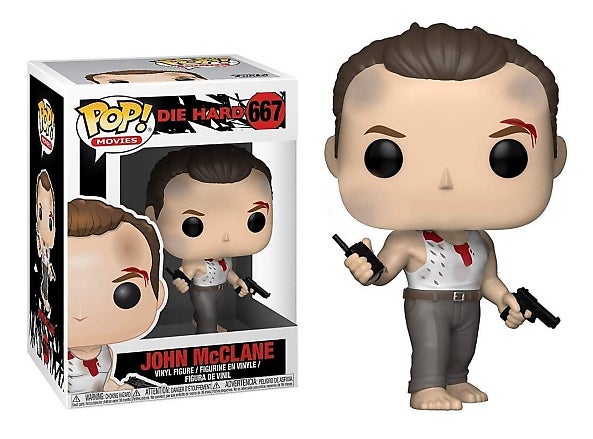 7) Die Hard John McClane Funko Pop
This one is up for intense debate: is Die Hard considered a Christmas movie? Many feel it is, the film's Christmas time setting being an obvious link. British historian and author Greg Jenner argues that Die Hard is "a family redemption story about personal suffering in the service of fellow man, in defiance of systemic avarice. It's pure Dickens. But with machine guns." For those that agree, a Funko Pop of John McClane awaits you! For those that don't, let's move along to our next, more festive entry…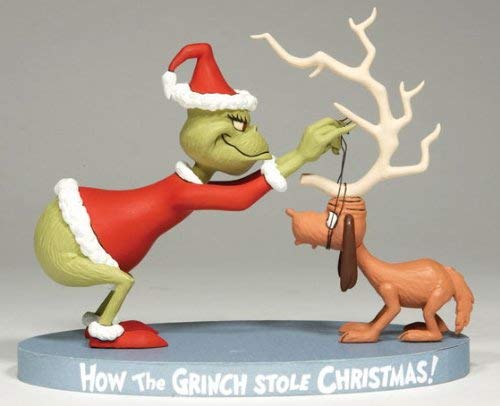 8) McFarlane Toys How the Grinch Stole Christmas
In 2007, Mcfarlane Toys was feeling the holiday spirit with a series of 6-inch action figure dioramas based on the animated special, How The Grinch Stole Christmas. When it comes to collectibles based on this seasonal classic, collector options are limited (and we're not even gonna entertain the ambomination that was the live-action Jim Carey movie). You could get a Funko Pop!, though I find the translation in the beady eyed format odd looking. There are also some nice mini PVC figure sets out there. But for my money, McFarlane's underrated Grinch series nailed the look and feel of the cartoon with fun sets like the Grinch dressing up his dog Max as a reindeer, the iconic x-ray scene depicting the Grinch's heart being "two sizes too small", and of course the Grinch looting Whovilleof their Christms gifts.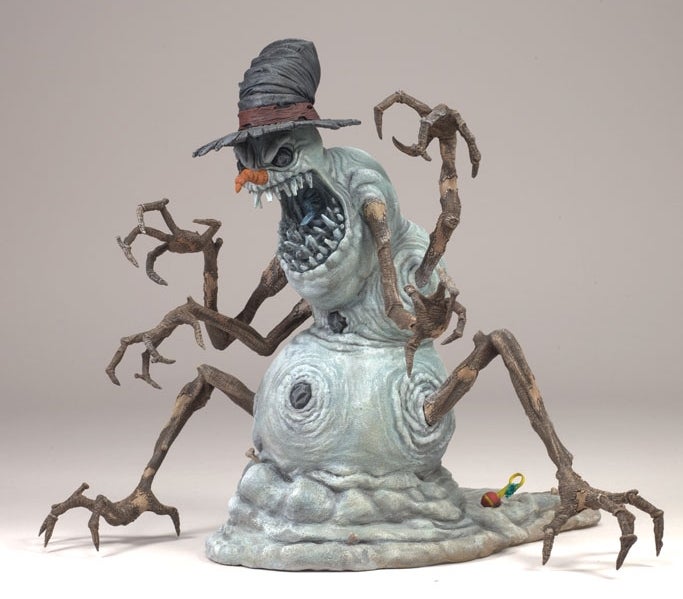 9) McFarlane Toys Twisted Christmas
I already mentioned 2007 was a festive year for McFarlane Toys, and I wasn't foolin'. In addition to fun figures based on How The Grinch Stole Christmas, McFarlane showed off their warped holiday spirit with a series of figures called Twisted X-Mas. Taking holly jolly characters such as a Frosty the Snowman, Rudolph the Red Nosed Reindeer, worker Elves, and even Santa and a sexy Mrs. Claus, McFarlane's designers went to town on transforming them all into something darker and perverted. While the line isn't for everyone, it certainly has appeal for those that prefer Krampus over Kris Kringle.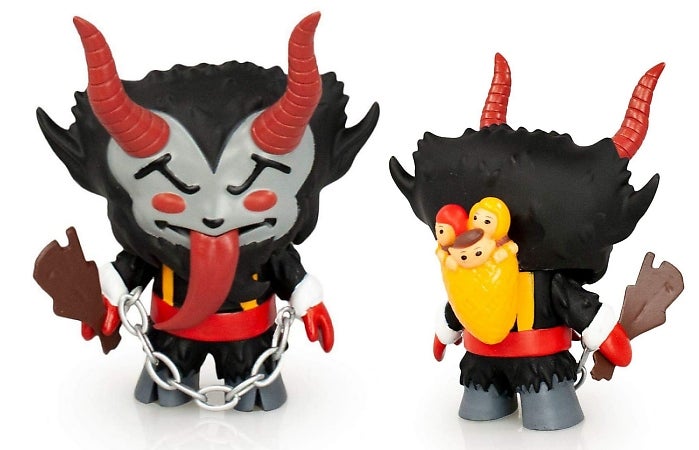 10) Toynk Krampus 5-Inch Vinyl Figure
Speaking of the Krampus, Toynk Toys produced the anti-Santa Claus as a collectible vinyl figure! Complete with captured naughty boys and girls in a sack on his back, this half-goat, half-demon comes complete with bundle of birch branches to swat bad children with. I'm quite fond of the classic coal black color version of the Krampus, but Toynk also produced other colorways, including festive red, as well as a creepy glow-in-the-dark edition.
---
We are committed to finding, researching, and recommending the best action figures and collectibles. We earn commissions from purchases you make using the retail links in our product reviews. Learn more about how this works.
---