Leading up to the release of Star Wars: The Rise of Skywalker (next week!), Hasbro has already treated fans to tons of cool new Star Wars toys. Not only do we have new Star Wars toys celebrating the final entry in the long-running Star Wars saga, but Hasbro has also introduced collectibles from two new properties: the runaway hit Disney+ series The Mandalorian and the epic video game Star Wars Jedi: Fallen Order! Scroll on for some of our favorite new 2019 Star Wars toys – in stores and available to order now!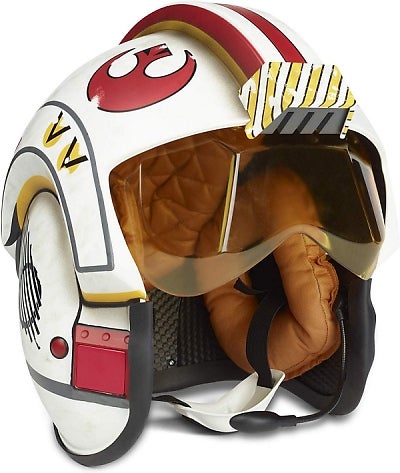 1) Star Wars The Black Series Luke Skywalker
The thing I liked most about the Rebel Alliance, aside from their cool looking starfighters, was their uniquely patterned, brightly colored pilot helmets. Luke Skywalker's helmet is the most recognizable with its eye-catching red, yellow and white color scheme, complete with Rebel logo on each side. This authentic prop replica is a must-have Star Wars toy for fans of the series, not just for its iconic good looks, but for the great electronics Hasbro stuffed in it. Flip the switch inside the helmet to choose between a simulation of piloting an X-Wing at the Battle of Yavin or a Snowspeeder at the Battle of Hoth! "Great shot, kid – that was one in a million."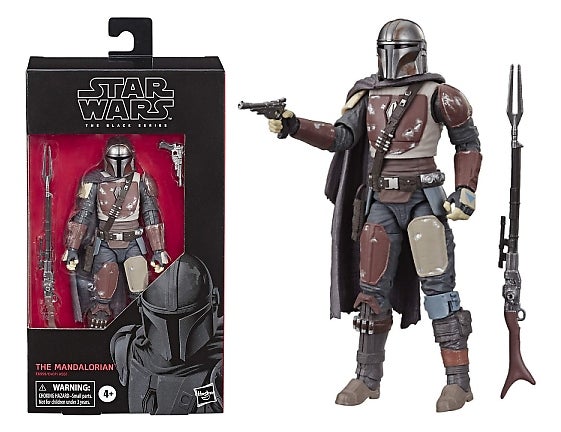 2) Star Wars The Black Series 6-Inch The Mandalorian Figure
This Star Warts action figure dropped at the end of October before The Mandalorian even debuted on Disney+. Because of the anticipation surrounding the show (and the cool promo shots of Mando didn't hurt), collectors scooped up every figure out there on release. If you own one – and there were THREE versions to get, including a cool metallic Carbonized version – consider yourself one of the lucky ones. I'm a huge fan of the new series and have yet to track this Star Wars action figure down. For those waiting to get one, like myself, there's gonna be a new shippment in early 2020. So be patient if you want to own this awesome new Star Wars action figure, do not pay the outlandish secondary market scalper prices.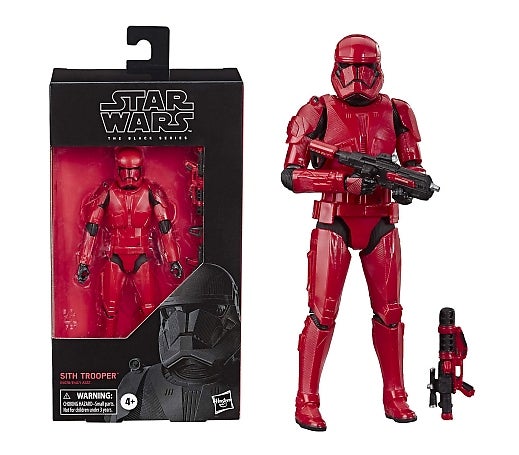 3) Star Wars The Black Series 6-Inch Sith Trooper Figure
This is the Star Wars action figure that kicked off the new batch of Rise of Skywalker toys. If you managed to purchase the San Diego Comic-Con exclusive this summer, not only were you one of the first to own the Sith Trooper, but you also got a bunch of extra weapons not provided in the regular release. In addition to the standard Star Wars action figure release pictured above, there's also a shiny metallic Carbonized version that's exclusive to Amazon. I can't wait to see these crimson red troopers in action.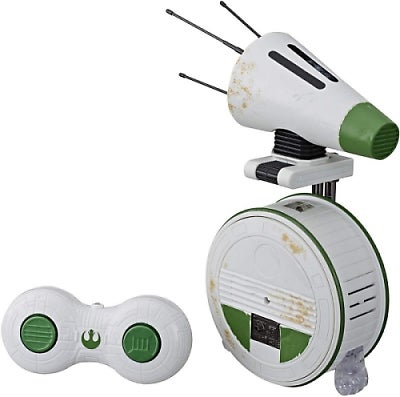 4) Star Wars Remote Control D-O Rolling Electronic Droid Toy
Roll over BB-8, there's a new Star Wars droid in the house! While I have no idea what role D-O will play in The Rise of Skywalker, I'm sure he'll provide loads of laughs. This Star Wars toy is not only a great replica of D-O, but it also features fun remote controlled electronics! Roll D-O in any direction, as well as perform 360-degree spins. Watch the droid's head bobble up and down and side to side as it races along!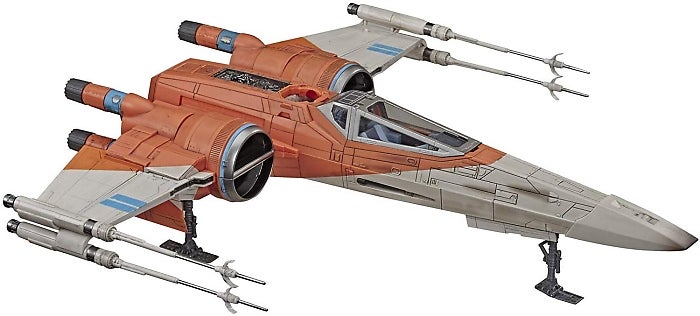 5) Star Wars The Vintage Collection Poe Dameron's X-Wing Fighter Vehicle
Poe Dameron lost his treasured X-Wing fighter in The Last Jedi, but it appears he gets himself a shiny new one in The Rise of Skywalker! I'm really liking the orange and white color scheme on this sleek starfighter. Scaled for use with Hasbro's 3 3/4″ Star Wars action figures (alas, sold separately), Poe's new Incan T-70 X-Wing is a fine new addition to any Star Wars toy collection.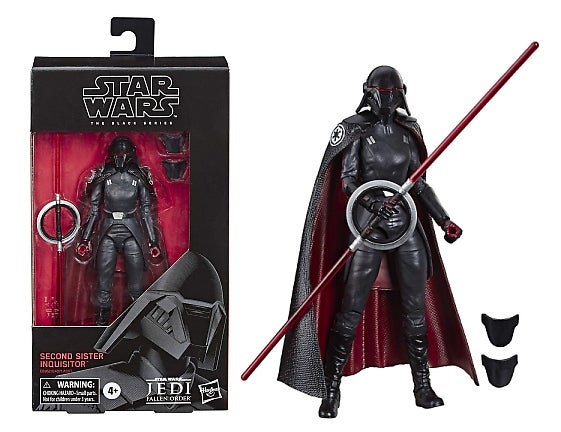 6) Star Wars The Black Series 6-Inch Second Sister Inquisitor Figure
This awesome looking new Imperial Star Wars action figure comes from the hot new video game, Star Wars Jedi: Fallen Order. Trained by Lord Vader himself, the Second Sister's mission is to track down the young Jedi Padawan Cal Kestis (the character you play). Featuring a menacing helmeted look combined with a lethal double-bladed lightsaber, this is a cool-looking Star Wars action figure whether you've played the game or not.

7) Star Wars The Black Series Supreme Leader Kylo Ren Force FX Elite Lightsaber
While I eagerily await a Force FX version of Dark Rey's flip-out double-bladed lightsaber, Kylo Ren's unique crossguard blade is a must-have for any Star Wars toy collection. This "Elite" version of the now iconic saber features 80 LEDs and sound movie-inspired sound effects, making it the most realistic Force FX Lightsaber yet. Slide and press buttons on the hilt to activate progressive ignition, battle clash effect, molten glow effect, and unstable plasma effect. 3 AA batteries required (not included, of course).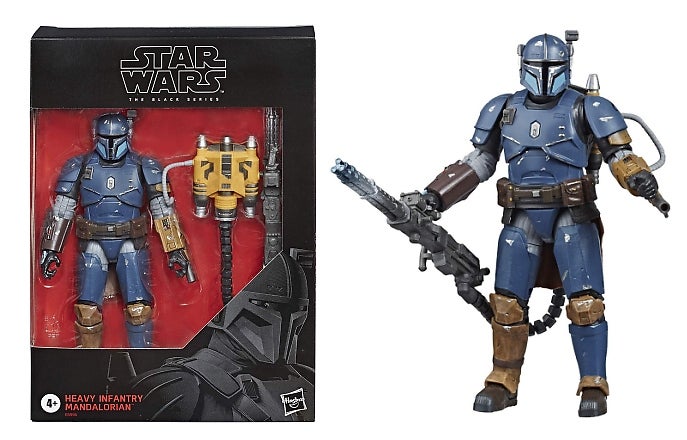 8) Star Wars The Black Series 6-Inch Heavy Infantry Mandalorian Deluxe Figure
Now this Star Wars action figure came as a surprise! Announced at about the same time the character debuted on The Mandalorian (Chapter 3: The Sin), the Heavy Infantry Mandalorian is like fan-favorite Boba Fett on steroids. The Star Wars action figure is being sold as a "Deluxe" release, primarily because of its more bulky 6-inch size and the incredible chaingun/jetpack accessory it comes with. If you're a fan of The Mandalorian and the bounty hunter Boba Fett, this figure is a must-have. "This is the way".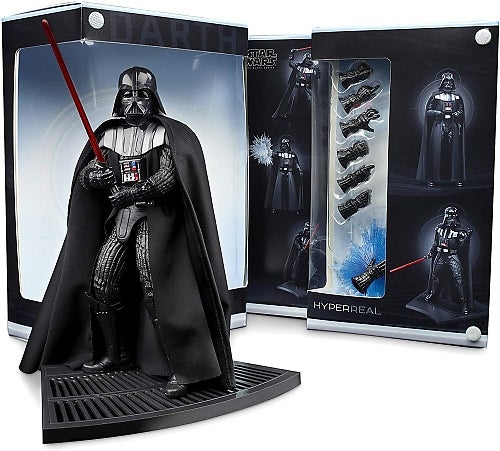 9) Star Wars The Black Series Hyperreal Darth Vader Figure
After decades dazzling collectors with 3 3/4-inch Star Wars action figures, and more recently, with incredible 6-inch Star Wars action figures, Hasbro is set to shake things up with their new 8-inch HyperReal action figure series. Darth Vader launched this amazing new line this Fall, impressing fans with it's articulation via an innovative interior metal skeleton frame and soft goods exterior. Tack on realistic fabric costuming, lightsaber accessory and an arsenal of interchangeable hand gestures and you have yourself one of the most realistic Star Wars action figures Hasbro has ever produced.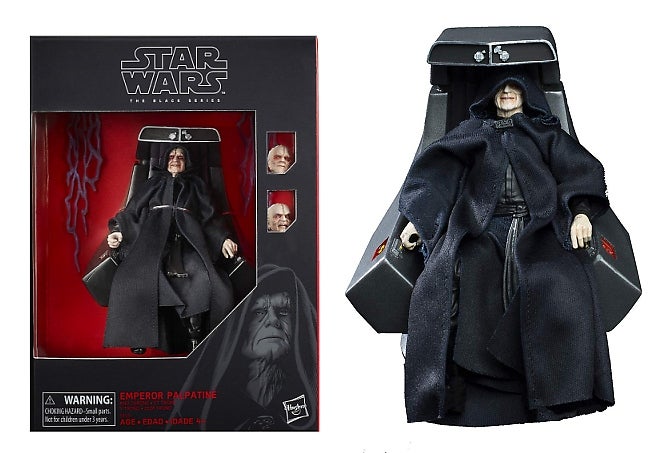 10) Star Wars The Black Series 6-Inch Emperor Palpatine Action Figure w/ Throne (Amazon Exclusive)
If you haven't heard by now, good 'ol Palps is returning in Star Wars: The Rise of Skywalker. How the seemingly dead Sith Lord is still alive is anyone's guess, but Star Wars action figure collectors owe it to themselves to own the cackling Emperor in fantastic 6-inch Black Series form. This Amazon Exclusive comes complete with his throne as seen in Return of the Jedi, Force lightning effects and alternate expressions! "Now, young Skywalker, you will die."
---
We are committed to finding, researching, and recommending the best action figures and collectibles. We earn commissions from purchases you make using the retail links in our product reviews. Learn more about how this works.
---