-Review and Photos By Andy Jones
Playmobil is just getting started with their licensed lines. We fell in love with their Ghostbusters (read our most cureent review HERE) and How to Train Your Dragon (review HERE) offerings and we wish we had a time machine to travel to the future to get our hands on the upcoming Back to the Future sets now. But Playmobil still has a lot of magic when it comes to dreaming up their original themes! This year's Crystal Palace series is full of great vehicles and playsets that take you on a journey to a land of permanent winter. Can the curse be broken? Let's get started by looking at sets 9471-9474…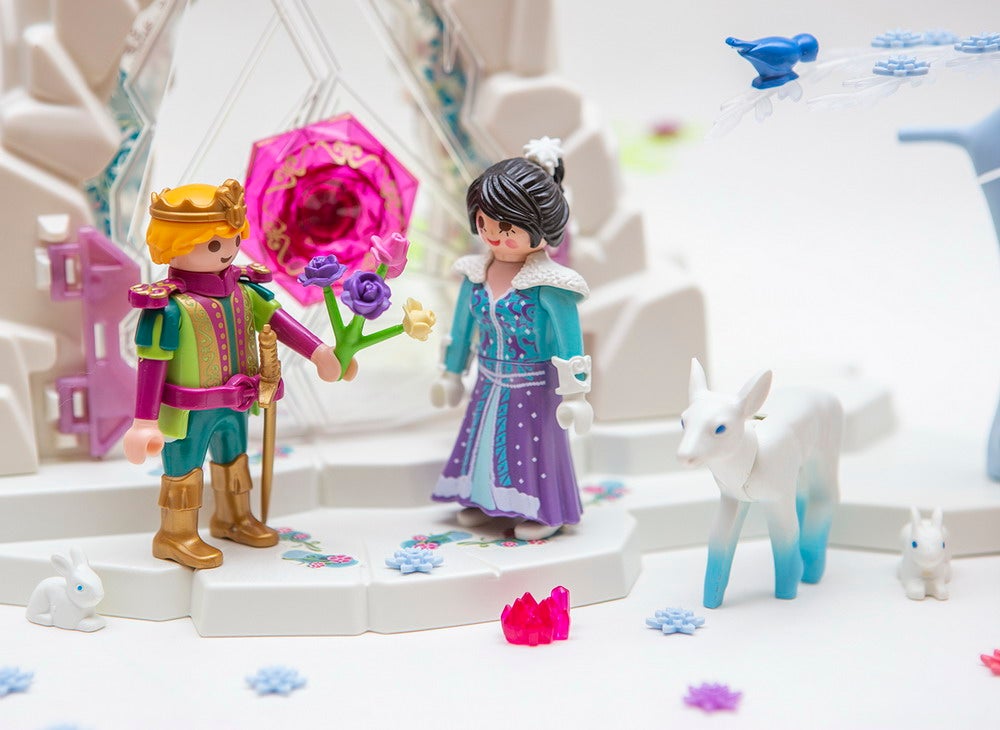 Crystal Gate to the Winter World (9471)
This set features a beautiful magical portal that features winter on one side and spring time on the other. There is a locked gate, several woodland creatures and a prince and princess. Children will also enjoy having the kid-sized gemmed bracelet that can put on their wrist, but what's this? Use the gem on the bracelet to unlock the gate and open the doorway between winter and spring! Put in some batteries and the portal will sparkle with blue lights.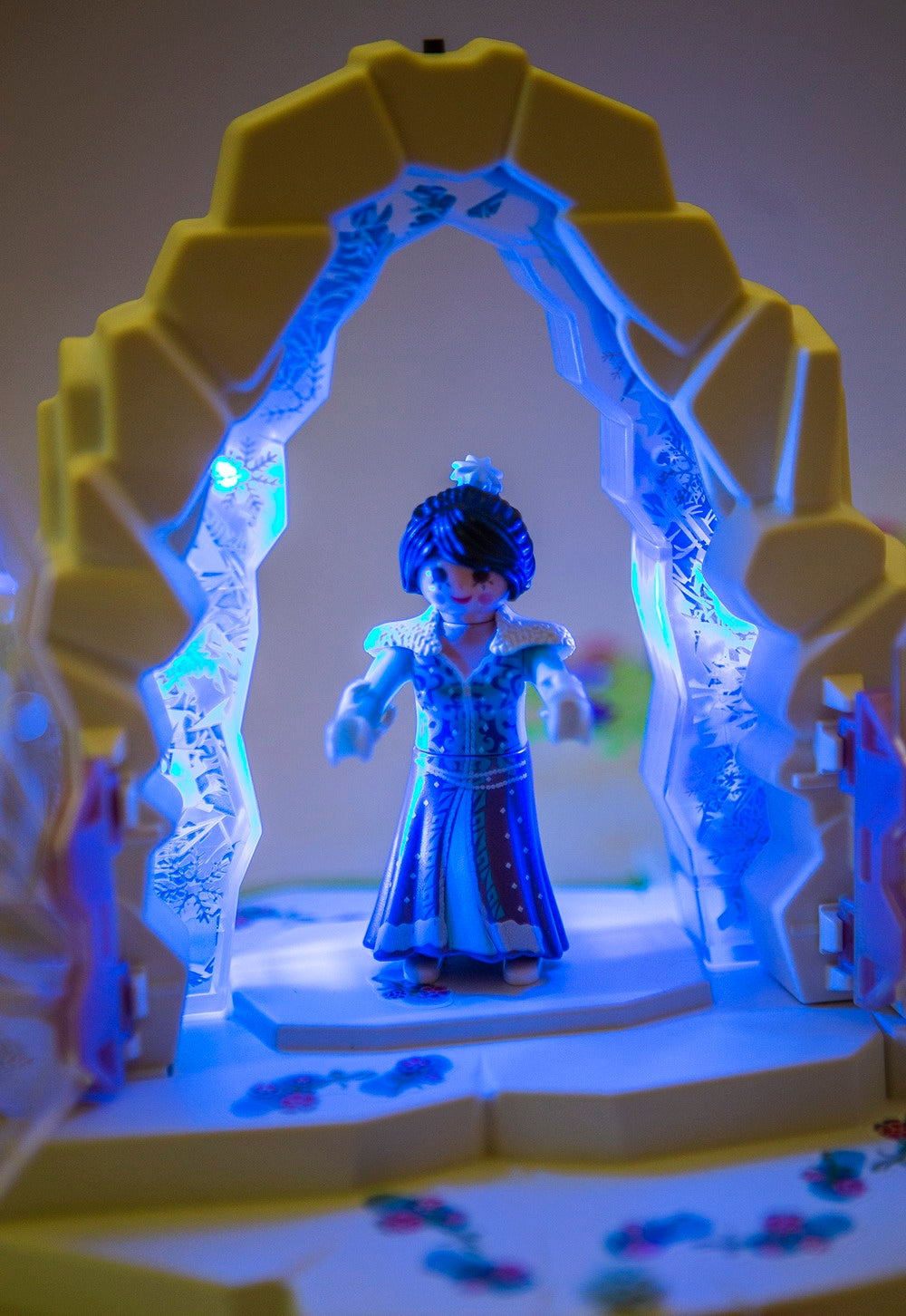 If anyone picks up this set and happens to customize it into Star Trek's City on the Edge of Tomorrow portal or something else, please send in a pic!I loved the clean lines and overall "warmth" that comes from a frozen scene. The flowers on the trees and woodland animals instantly inspire kids to come up with their own stories.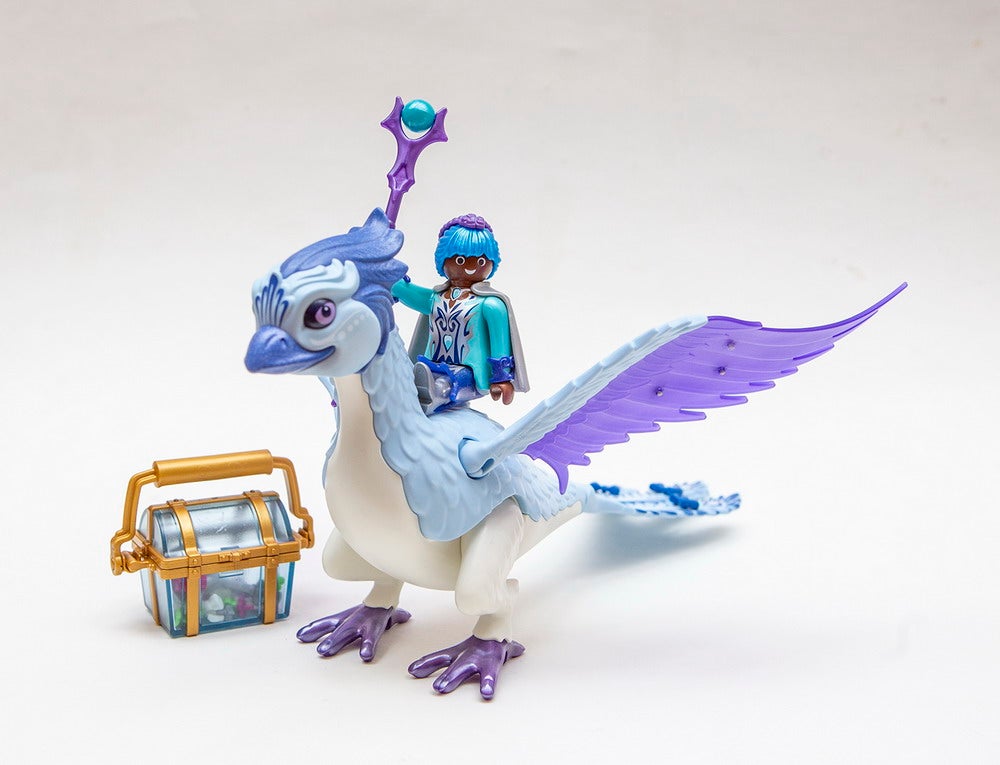 Winter Phoenix (9472)
I've had the pleasure of owning several Playmobil dragons in the past, and I even have the whale that came out several years ago, but I loved the fun from this oversized "blue jay". The witch rider can clip on securely and easily and young children will immediately start flying the duo around the room. The witch comes with a magical staff, and the bird can grab onto the treasure chest. For added fun, you can swap out the stars and ribbons on the bird's wings and tail. The head, wings, legs and tail all move. The overall look is beautiful, and it's a lot of fun to play with.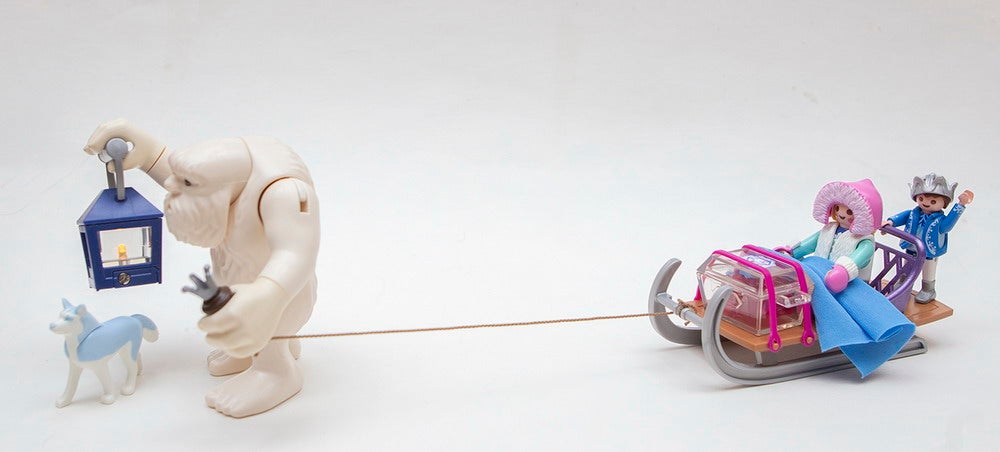 Yeti with Sleigh (9473)
Ooooh, a Yeti! I've never seen a Playmobil Yeti before. This one has an overall friendly appearance and he has a job to do! He can grip the handle and pull the sled. He also has a lantern that really lights up. There is a mom and young prince, and a wolf along for the ride. There is a cloth blanket to keep the passengers warm. The hands of the Yeti are not flexible, so I recommend sliding the rope handle and lantern into place rather than trying to "pop" them in.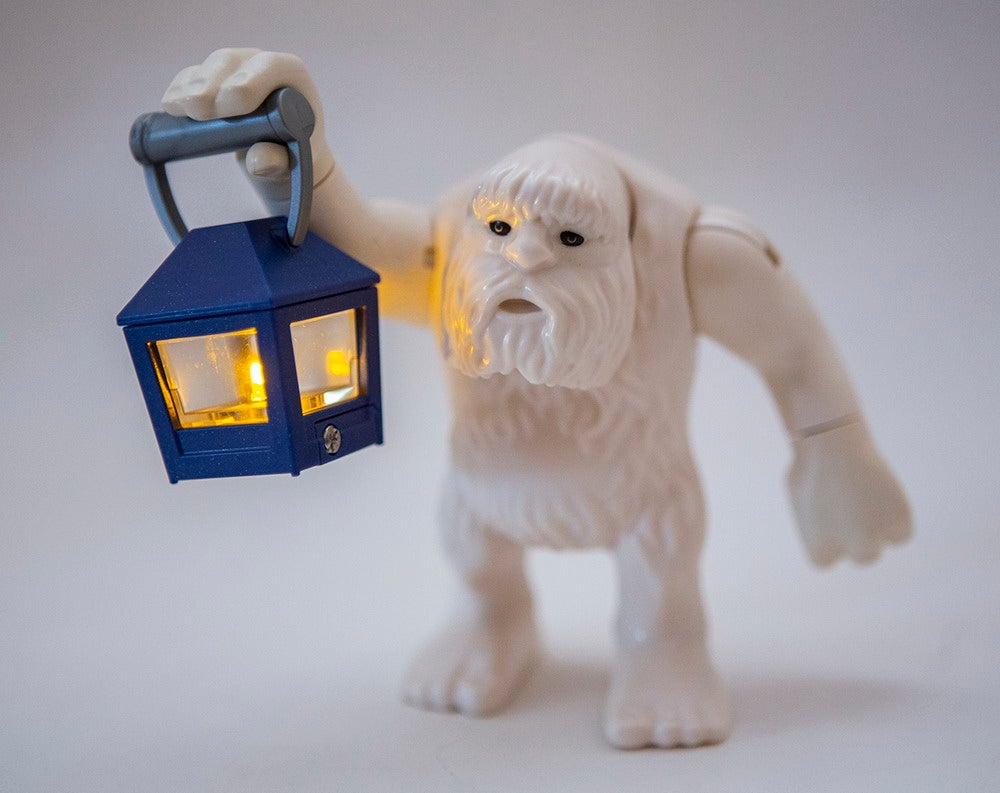 There is also a clear treasure chest that straps onto the sled. I like the mother's Inuit inspired fur cap, and there are crystals that can be secured in the treasure chest. This was my favorite creature from the whole lot. I like how the Yeti is articulated and sculpted to be large yet friendly.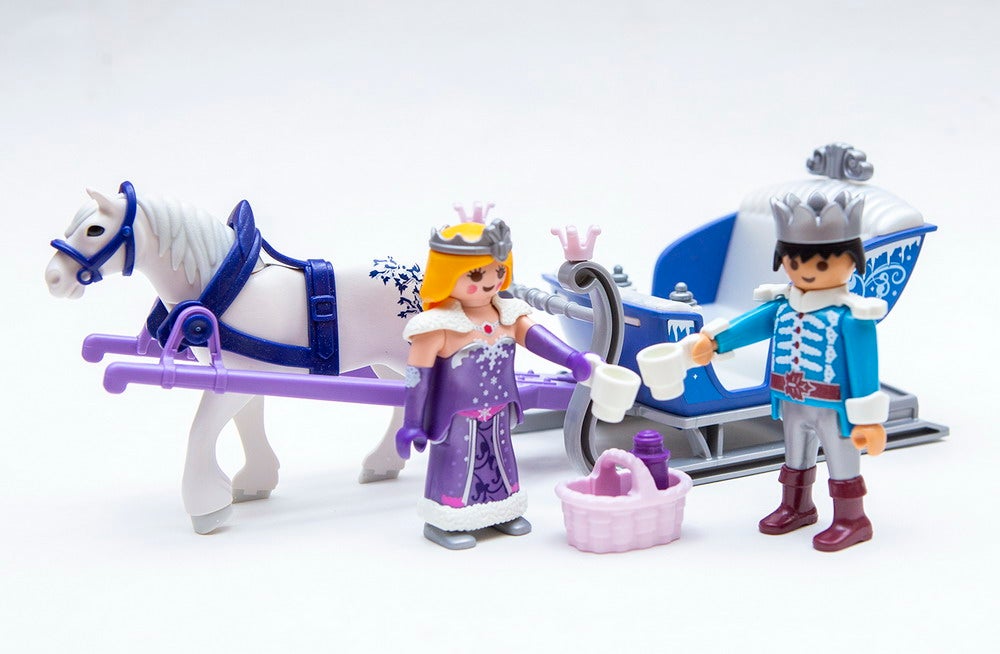 Sleigh with Royal Couple (9474)
I love the look of this sleigh. There's a detachable pony, a blanket, and a picnic basket with a thermos to keep this king and queen warm. I like how this sleigh is a bit bigger and more ornate than the sled that comes with the Yeti, so there's some variety in the line.
I like the art and heart behind this line. It's not just a bunch of fairies and magical creatures, there's just enough of a hint of a story to get young minds going. The best part of Playmobil is that there are no attached movies or established characters in most of their lines. I'm excited for the upcoming Back to the Future and Scooby Doo sets (see our NYCC story HERE), but there's a special place in my heart for their original lines. One of my favorite sets ever is the Roman Collosseum. It's literally an empty ring, but you add an audience and some gladiators and you have hours of play.
Stay tuned for part 2 of this Magic review where we look at the castle playsets that go with this line!
Review and Photos By Andy Jones
Review Samples Courtesy of Playmobil
---
Keep up with all the latest toy news by following Figures.com on Facebook and Twitter!
To buy action figures, take a look at Hobby Link Japan, BigBadToyStore.com, TheToySource.com, Toynk.com, and BriansToys.com.