-Review and Photos by Mr. Stinkhead
Playmobil knocked it out of the park last year with their first attempt at a licensed property. Their Ghostbusters line accurately and lovingly translated the Ghostbuster people and props into the Playmobil style and provided something fun to play with as well as collect. If you're a fan of Ghostbusters, you have to pick up the Firehouse playset. It's the Ghostbuster playset we always dreamed of and never had as kids.
2019 sees Playmobil continue their Ghostbusters series, this time with a focus on the second supernatural installment, Ghostbusters II. Just in time for Ghostbusters Day this Saturday (June 8th), fans can celebrate with the Ecto 1A playset (with all 4 ghostbusters), a classic movie 4-pack AND new jumbo 6-inch figures!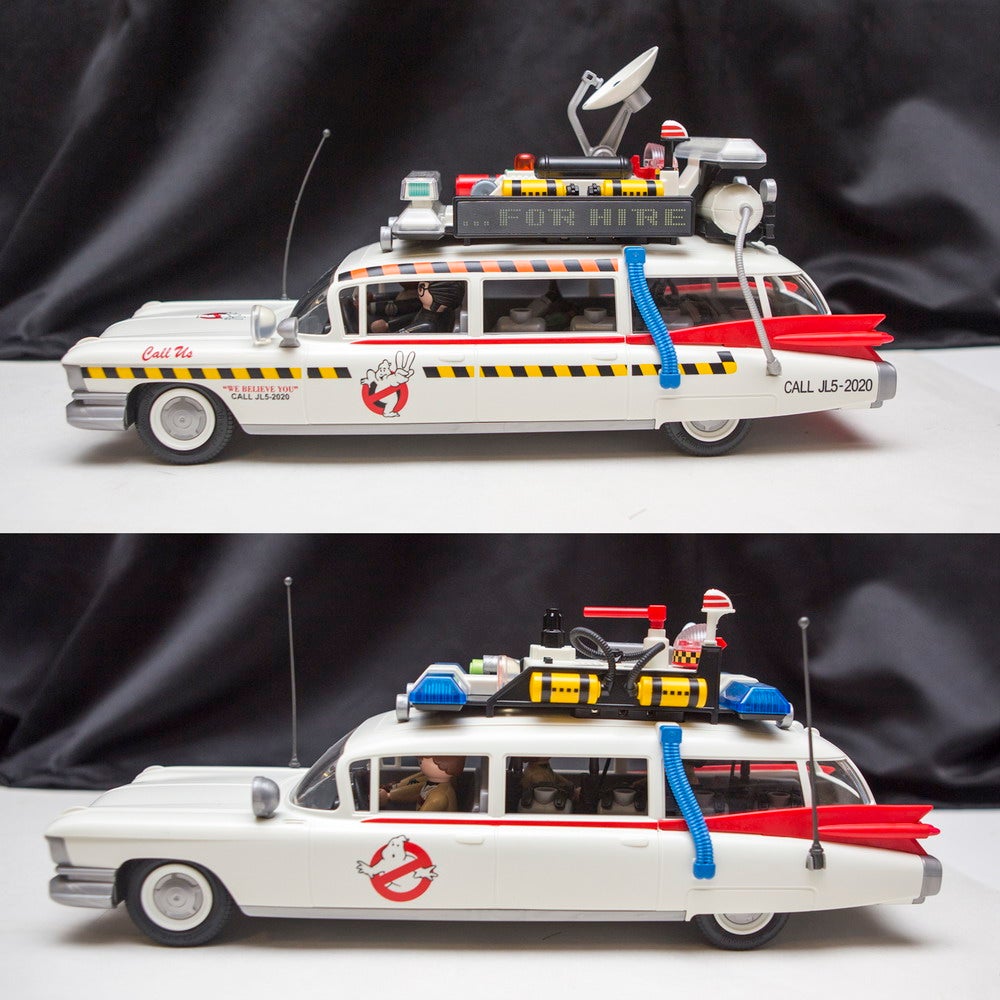 Let's start with the Ghostbusters II Ecto 1A. Beefed up from the first movie, this toy version features new sirens, new logos, and new gear up on the roof rack from the first offering (I put them together in a comparison photo above). On top of that, you also get all four Ghostbusters in their sequel jumpsuits (darker grey) with the GB2 logo on the sleeve. You get two proton packs, and two of the slime blowers. YES, if you fold down the radar dish, the Ecto 1A does fit in the firehouse playset.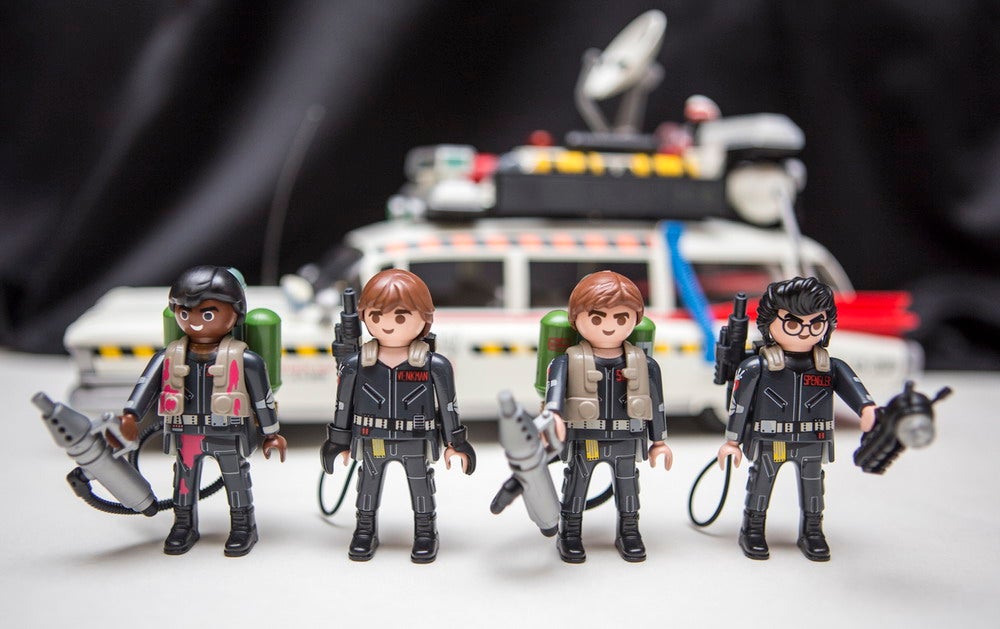 When Playmobil first introduced the Ghostbusters line, you needed to purchase all the medium sized playsets to get the core four figures. While this is fantastic for your collection (the terror dogs were beautifully crafted) it cold put a dent in your wallet. So Playmobil did what I've been saying for years, and really, truly addressed the collectors with this round. So you can purchase the Ecto 1A and get all four Ghostbusters. Actually there aren't any other specifically GB2 sets at this time, but I'd keep your eyes pealed. I'd love a Vigo and Janosz. Maybe even baby Oscar and the Scolari brothers. But anyway, one purchase and you're done.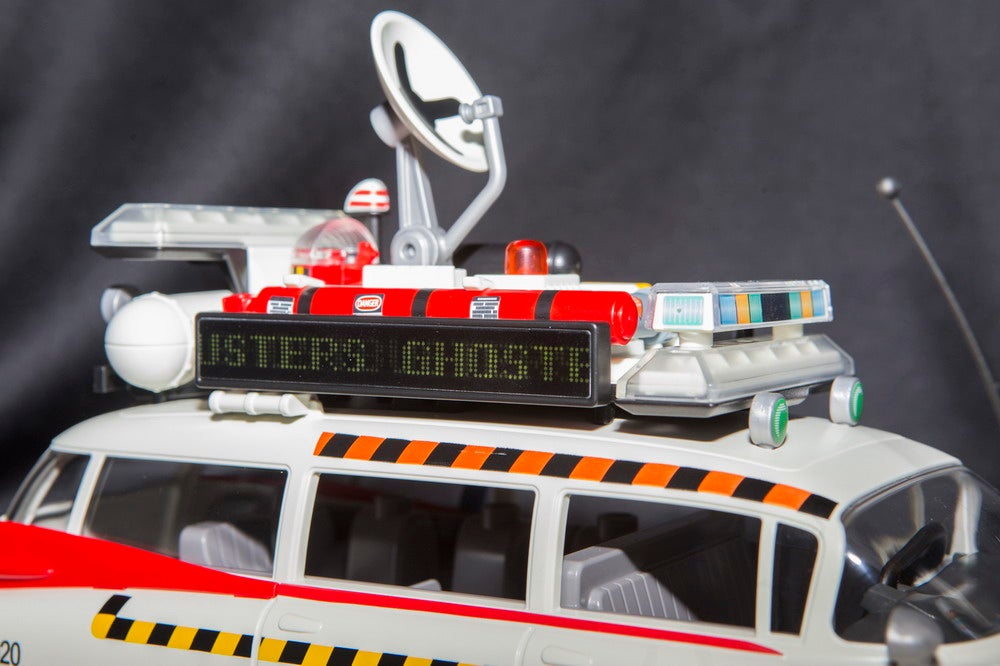 The light-up and siren sound function are beautifully executed as well. Also, we love the lenticular LED screens on the side. Wiggle your head and the "scroll" puts out the words GHOSTBUSTERS, WE'RE BACK, and FOR HIRE. This was pulled off really well.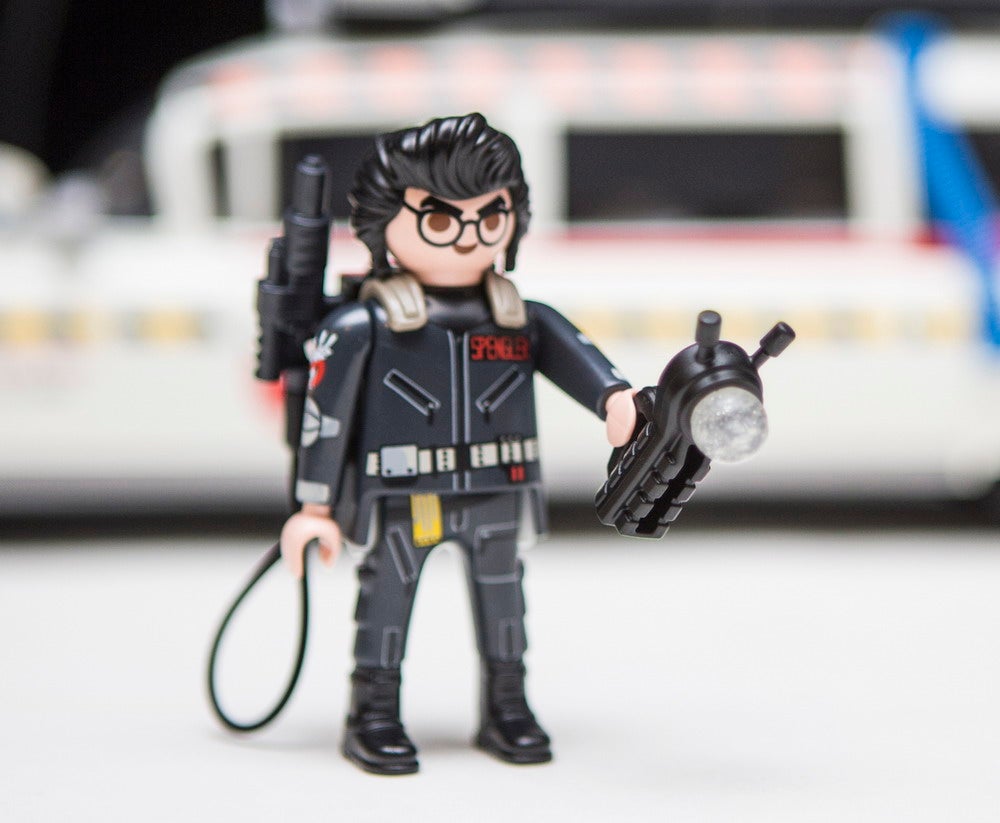 Additionally I also enjoyed the prop of the upgraded Gigameter, the "slime" spray that attaches to the end of the blower (but removes easily) and the rubbery pink splat. These slime splats stick to most plastic surfaces naturally without any adhesive, so its' fun to move them around and restick them over and over. You also get a trap with the "holographic" app viewer. We've reviewed this before. Download the free Playmobil Playmogram 3D app for iPhone and Android, place the phone flat on a surface, then line up the trap where indicated. The app will play an animation of a ghost of your choice getting sucked into the trap, and the inverted pyramid makes it appear 3D! It's actually pretty cool.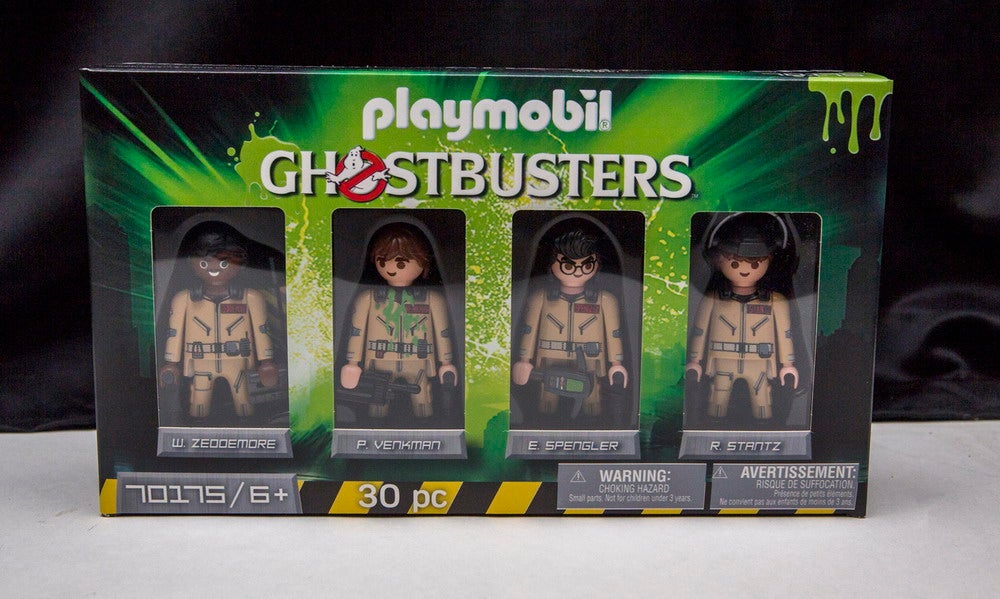 While thinking more of the collectors, Playmobil kept the hits coming. Now there's a collector pack that just contains all 4 Ghostbusters, each with a proton pack and accessory. This is perfect if you just want the core team, or purchased the original Ecto 1 and need to fill out the team. You get Winston with a trap, Peter has a walkie talkie (plus a rubbery green slime splat) Egon has a PKE meter, and Ray has the flip up goggles. This pack is around $20, so $5 a figure is pretty decent. This is also a great start to your Playmobil Ghostbusters collection.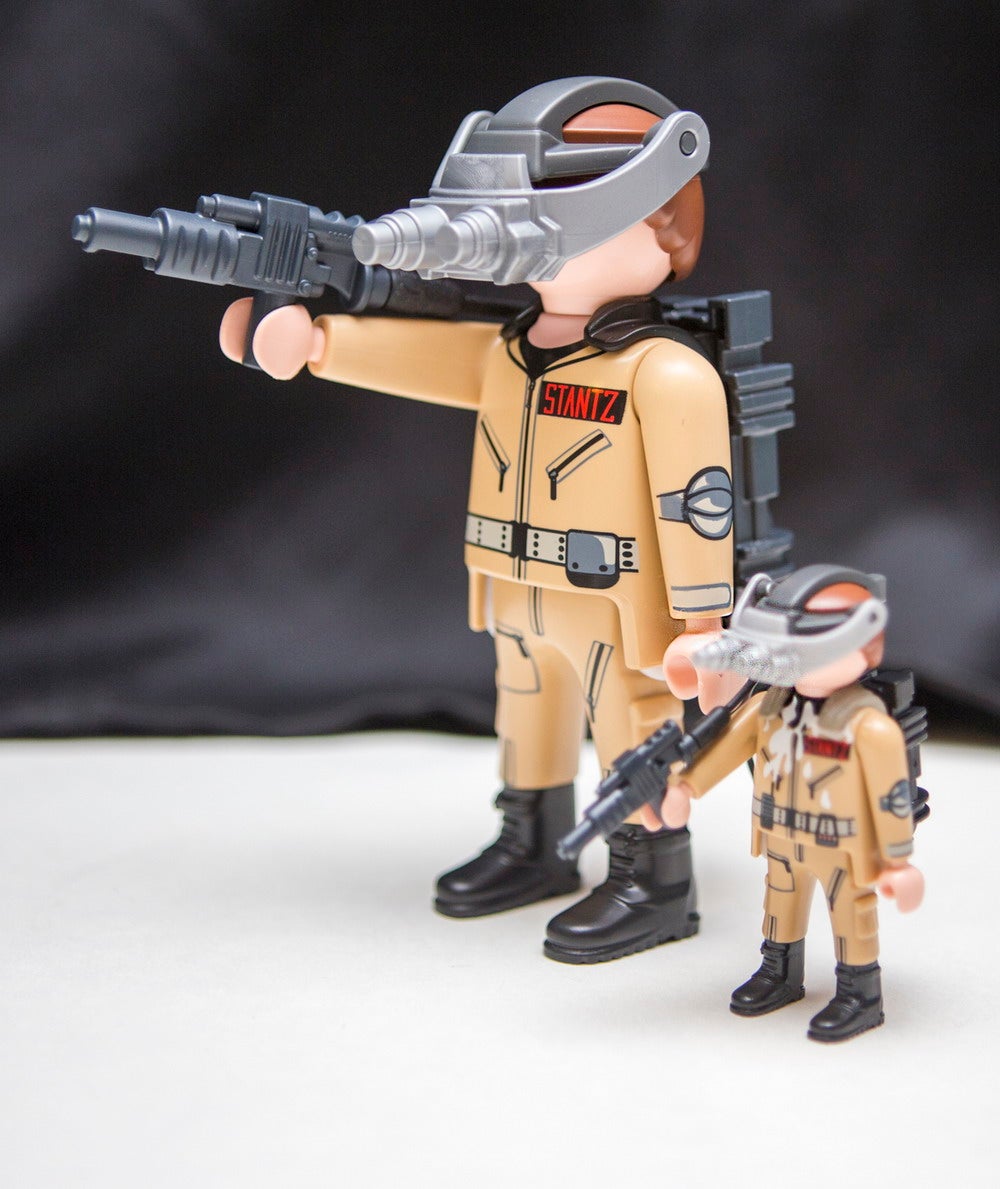 And wow-wowey-wow-wow I'm in love. I absolutely love these 6-inch collectible figures. Now that I have them in my hands, I want hundreds more. I could make a wishlist of my top individual Playmobil figures that I want in 6″ scale and I'd go nuts.* These are exactly like their 3″ counterparts. All the pieces move, the hair pops off, there's the satisfying CLICK when they sit down. The accessories are also expertly sized up. The cable from the proton back to the neutrino wand is rubber, Ray's goggles flip up. These are perfect. Absolutely perfect.
*(In case you were wondering, my 6″ wishlist includes the medieval executioner, a knight, a skeleton. a caveman, astronaut and a zombie pirate).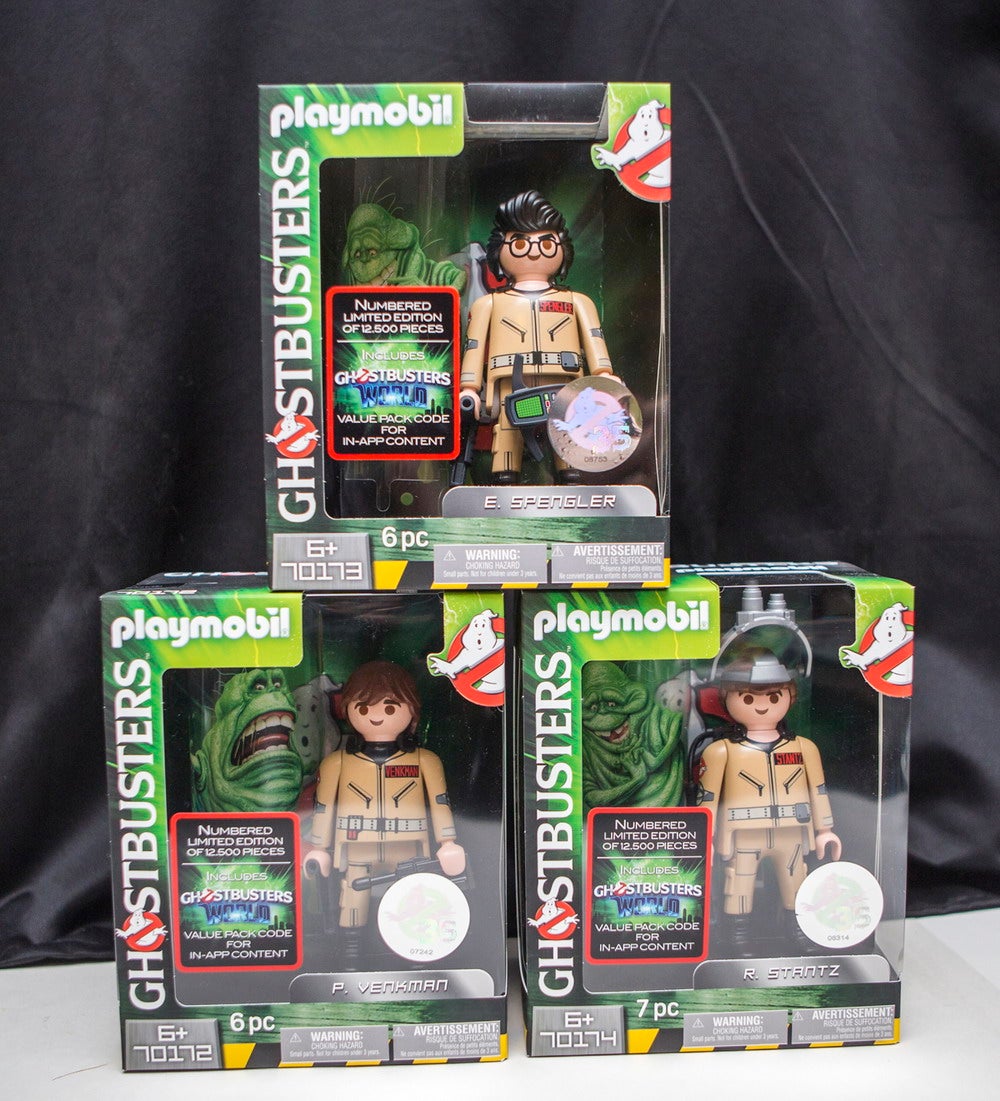 They come in collector friendly boxes that have Playmobil branded tape, ensuring you're getting them unopened. There is a decent window on the top for receiving light if you keep them in the package. I like the Slimer insert. He's different in each package. There's also a holographic Ghostbusters 35 sticker on the front. They're pretty easy to get out of the package (they're secured with rubber bands) however you have to be very, very careful removing them if you want to pop them back in the box. I say open em. You have to feel them in your hands. The only downside is that they're a limited run, and they're currently $50 each. That's high enough to make getting all four a bit expensive, but I believe their low run and high-demand will preserve their value. Seriously, you have to get at least one of these in your hands.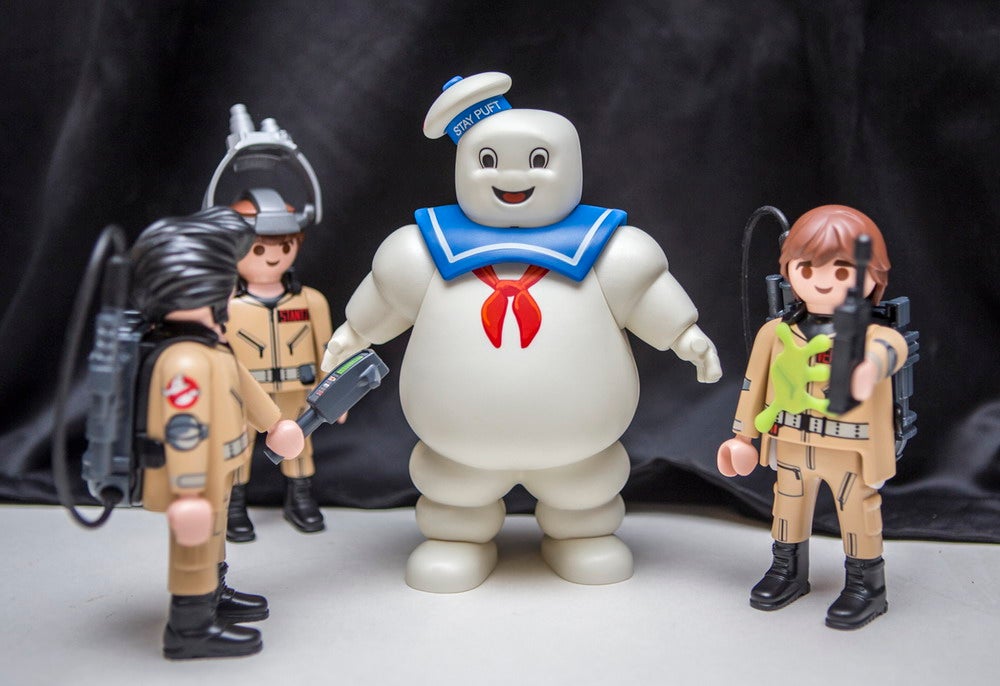 I'm a huge Playmobil collector, and sometimes that puts me at odds with the kids' Playmobil shopping experience, such as sets for younger kids getting more retailer space. I love that there's a refreshed approach to giving collectors what they want. Stay tuned for more Playmobil fun this summer, and celebrate Ghostbusters Day on June 8!
Review and Photos by Mr. Stinkhead
Review Samples Courtesy of Playmobil
---
Keep up with all the latest toy news by following Figures.com on Facebook and Twitter!
To buy action figures, take a look at Hobby Link Japan, BigBadToyStore.com, TheToySource.com, Toynk.com, and BriansToys.com.