-Interview by Scott Rubin
DC Collectibles is doing awesome stuff with their soon-to-be launched Artists Alley designer vinyl figures (hitting stores 9/26!), as you can see in our review of the first wave of Chris Uminga statues (HERE!). So, when the DC Collectibles team offered the chance to come to the DC headquarters in Southern California and interview the amazing artist HaiNaNu "Nooligan" Saulque about his series of figures we said "of course!" When we got there, we were greeted by an awesome display of the vinyls featuring Batman, Joker, and Harley Quinn in standard, black and white, and unique Day of the Dead variants, plus the upcoming "chase" Nightwing. Read on for the full interview with Nooligan and check out all of our photos of his figures!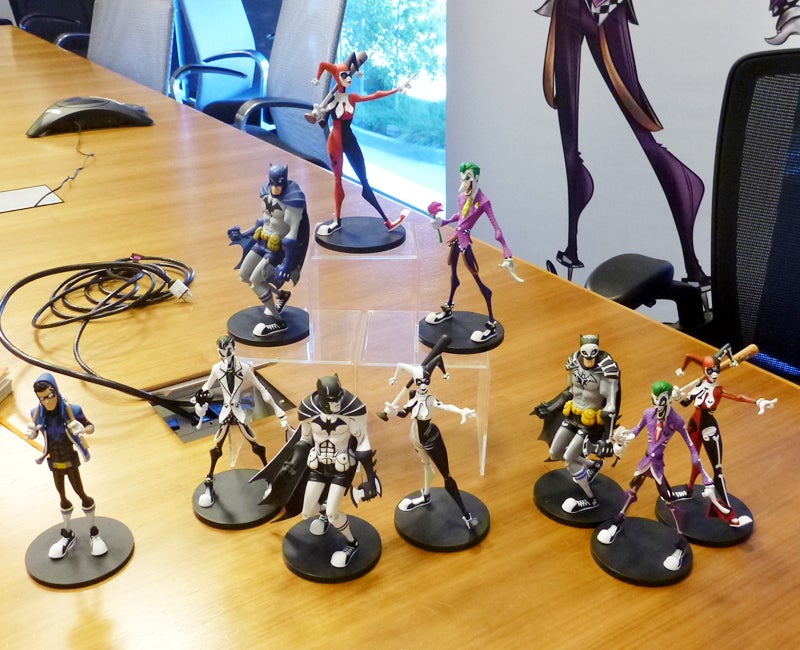 Scott Rubin (SR): This isn't your first project with DC Collectibles, having worked on the DC Gallery The Joker and Harley Quinn bookends. How did that project come about?
Nooligan (N): I never really auditioned or tried to get jobs like that, I just put myself out there at conventions and stuff like that. In San Diego [Comic-Con] they came across my work in the small press area. They didn't tell me anything but they bought something and later on contacted me. From that point we designed the bookends and went from there. When that project was done they asked me if I wanted to be a part of this. It was super cool how that all worked out.
SR: When you set out to design these characters, what do you try to put into them that we've never seen before?
N: I approach comic characters from their classic comic core. Especially when you're dealing with DC you're dealing with a lot of history so I take that into account and then after I build the attitudes I add my own aesthetic – my branding or whatever makes me distinct. I mix that in there but also keep the spirit of the characters in doing so from fashion to the looks on their faces, etc. You've got to respect the characters as much as possible for the fans and for me, since I'm a fan too.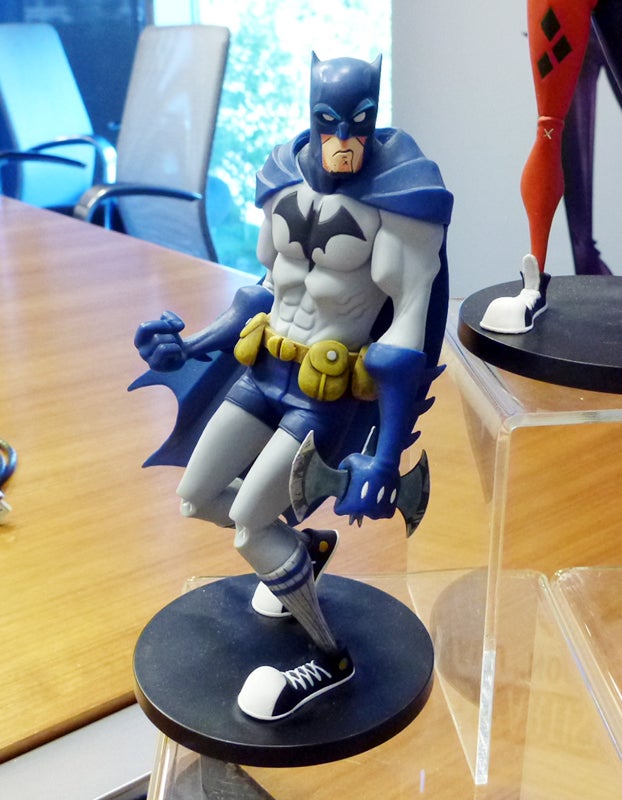 SR: I especially love the sneakers! As soon as I saw those I thought "I've never seen Batman wearing them."
N: I think I'm most proud of that over everything, getting Batman in sneakers. After the sneakers were approved I thought "what else can I do" and then added the gym socks. I was sure that was going to get taken out but it didn't! I'm very proud of the design of all of the characters, especially the shoes and things that make them really distinct and more fun.
SR: It's certainly different and not something we always see. What is it like going from the designs to seeing these figures in 3D?
N: Oh, it's crazy! I'm a 2D visual artist so I never really know what my stuff would look like in a three-dimensional form. Once it was done I thought "it looks just like my stuff." The whole team did a great job – DC Collectibles, my art director Travis, and then Paul Harding who did the sculpting. It was a team effort bringing these together.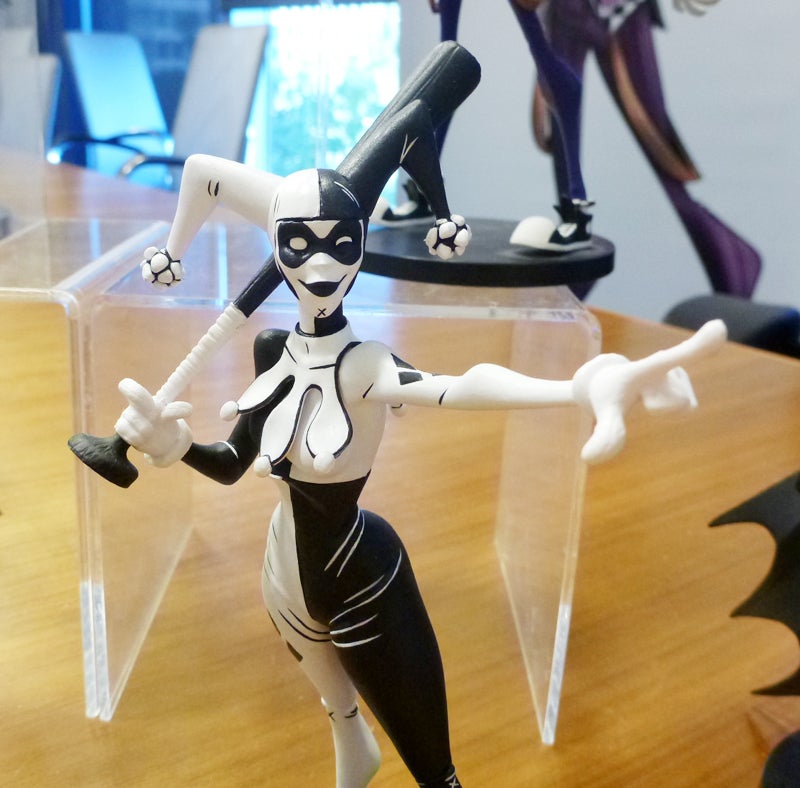 SR: Speaking of Paul, how closely did you work with him?
N: Mostly the art director worked with both sides; when Paul needed something from me Travis would let me know and he would get it sent over. Paul does such a great job, especially in capturing my art which I thought would be really difficult. He's a talented guy doing really amazing stuff.
SR: Were there differences working with the team on the bookends versus this project?
N: Not really – same team, same squad, same everything. Paul did the sculpts for that too, so when we came over to these it went kinda quick because we had already worked together.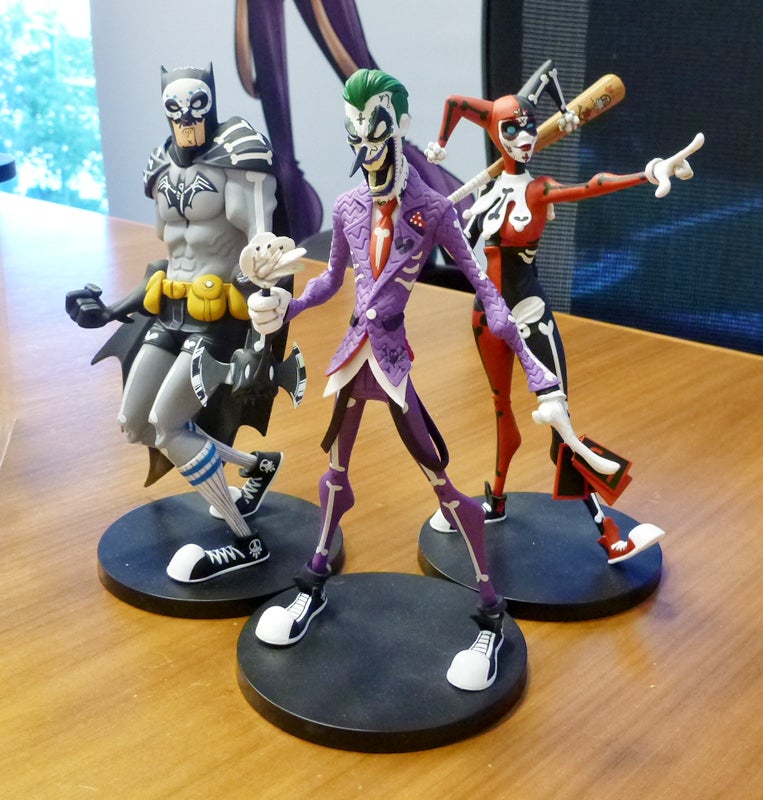 SR: These new figures come in standard versions, black and white, and these awesome Day of the Dead variants. When you tackled the designs did you have designs for different versions they might make?
N: I approached these in a way that they would be standalone; they all had to be able to tell a story with just one pose. I think that was the challenging part, because the bookends already had a story. I think that's the important thing about designing figures is that they have to tell a story in the pose they're in and that's what I did. Especially Harley, it's very distinctly based off the classic Babe Ruth pose. I say it over and over but I think it fits her character very well. She's very sure of herself and it works out really well with the baseball bat. It was cool for them to let me use the bat because it made it a bit of a mixture of different versions of the character. That story explains itself.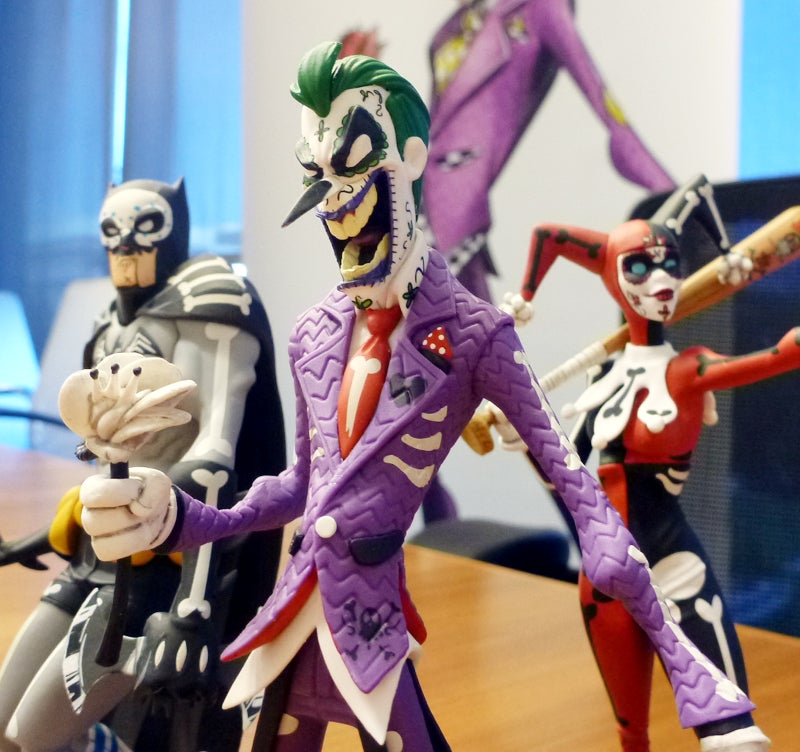 Joker, on the other hand, was all about a more animated look and expression, and I created a story with him holding the cards and the flower. It's up to your interpretation how that unfolds. He's very animated and fun.

[Note: on the standard color version Joker statue displayed in the DC Collectibles office the cards had been damaged and were not attached to the statue. The cards are a separate piece in the packaging that you attach to the figure.]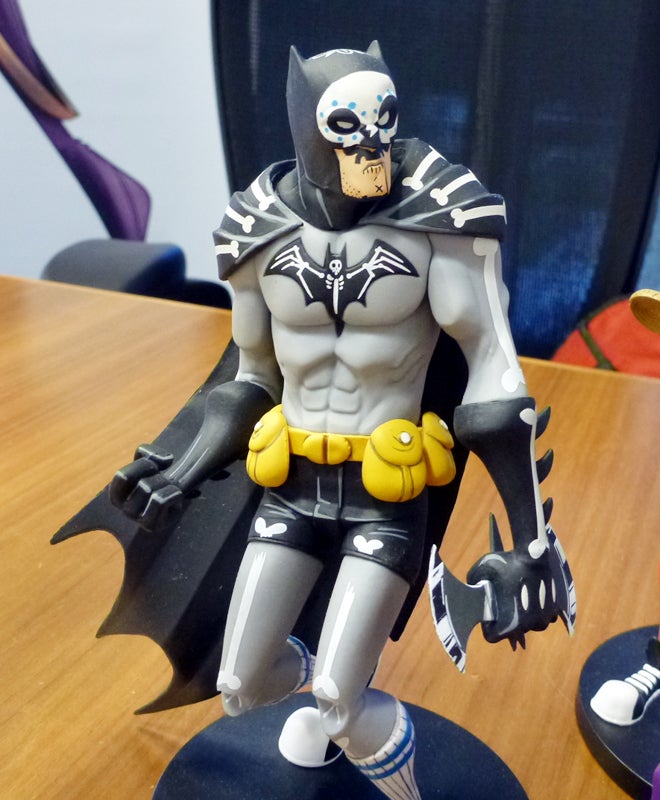 Batman was the hardest because there's already so many great interpretations. At first you think "oh, it's going to be so easy," but Batman ended up being the hardest. I created Batman to be more interactive with the Joker. They go together really well. When you put them together you can see the joy on the face of one and the disdain on the other. Especially if you put them next to each other there's a playful story there you can see from Batman's glancing over. That's how that pose came together; it works out really well even if you turn them.
SR: Now that you mention it, the Joker is completely spread out while Batman is all scrunched in – that's really cool.
N: Yeah, I designed them so that they would mirror each other really well but they're also very much opposites. I think that's how the poses came together.
SR: You've mentioned your inspirations for these characters and your specific interpretations of them. What are some of your favorite storylines for them; do you go back to the old comic books or the animated stories?
N: I'm very Golden Age, so I love the classic stories especially the Spirit from Will Eisner and my favorite old DC books were Alan Moore stories. I love his interpretation like Superman's Birthday and all the cool one-offs are so much fun, and when they're redone as animation they're so good. I think there's so much to be said about that time in comics. And that's what I try to do with my style in general – I try to bring back that idea that "this is fun, this is supposed to be fun." These are the things I enjoyed when I was a child and I grew up loving superheroes, the spinner rack, and all those things were super fun. You know, getting that book and then trying to find the next one. I try to bring back that fun playfulness to these characters. I think that sometimes we forget a lot of that. These are supposed to be fun characters and that's what I try to capture.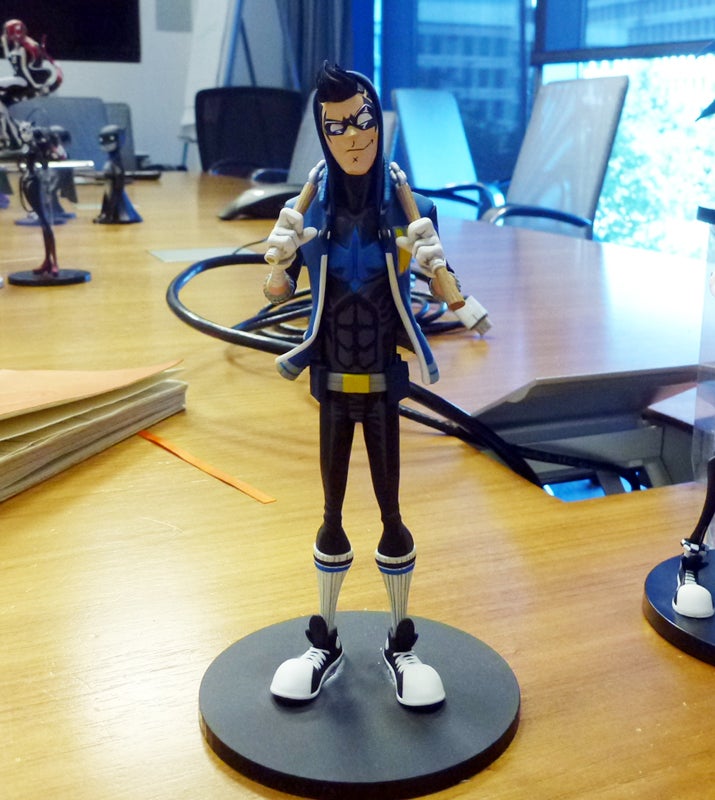 SR: I think the format and the size of the Artists Alley figures work really well for that too; they're not giant, imposing statues. So, after the initial three characters there's Nightwing – what sets him apart?
N: The first run of this line was very innovative, a new idea that was hard in general because you're going after an artist's particular style and there's no backing; there's no comic book to help with it, there's no cartoon to help with it. It's a very risky thing but I wouldn't be a part of this universe without that, without someone taking a chance on people like me. It's very cool to be here. So, the first initial designs were just getting the style, and then when we got to the "chase" figure [Nightwing] I was able to add some of my interpretation and re-design to that character. I think it came out really well, giving him a jacket that sets him apart from the leotard only costume, and then also adding some designs to it, adding the nunchuks, adding the hoodie kinda makes him more postmodern. I made him a little more updated, a little flashier, a little cooler, and that's what I think sets him apart from the main three [Batman, Joker, Harley] – you get a different version you haven't seen before.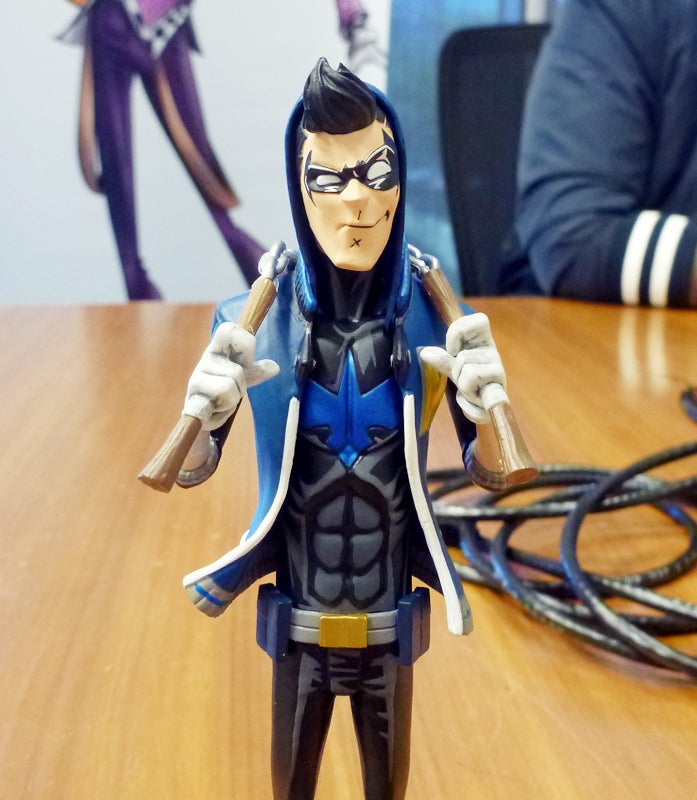 When you approach Nightwing your initial idea is Jim Lee's version because it's the one that set the stage for everything and then I tried to get away from that as far as I could while not disrespecting it. Things like the nose, the suspenders – why can't they have these things? Why can't they have socks? Why can't they have shoes? They can! And so why can't Nightwing have nunchuks? He looks like he'd have nunchuks. So, I tried all these cool things and there some really great details like logos including the Haley's Circus one I designed myself, throwing in a little Batman symbol. And then there's a hidden one that I really didn't think they were going to let me do – a Starfire patch on his left arm! Even in the first run I sent over tons of designs for patches and things; I also put on his chest a little "N," I had a little star for being the captain of the Teen Titans, and then a little "84" for when the Teen Titans started. Those are the things we couldn't add in because they were too small, but I threw in tons of that. I even based his hairstyle off a modern-day style that all the kids like.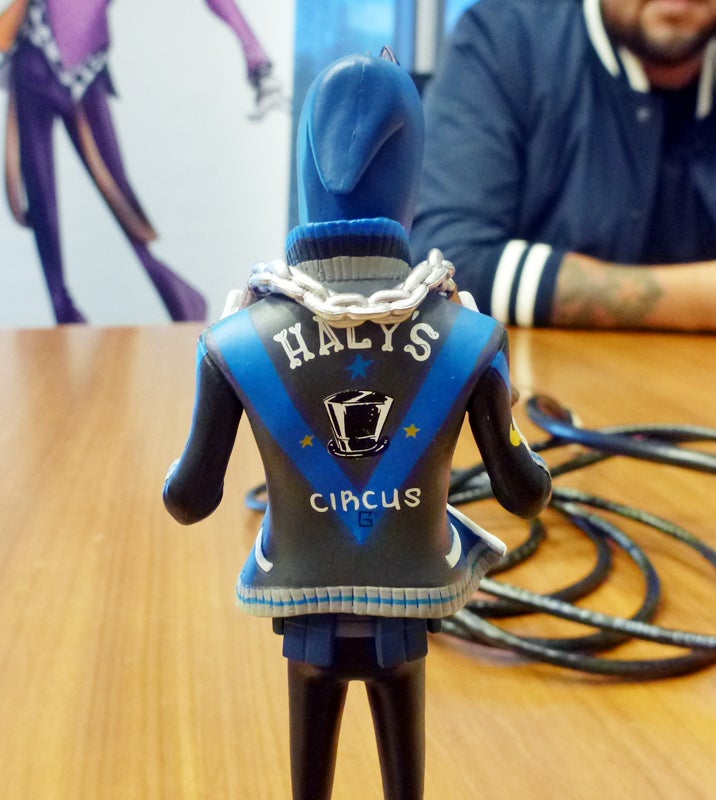 SR: So, might we see more after this series?
N: You never know. We have to see how everything goes. I hope the reception is good and people are digging this. It's not necessarily something with a backing. It's coming out on its own and it has to have legs on its own.
SR: Having the different variants is really cool too since people who like the design can go with different colors or versions that they like.
N: Totally. We have a lot of people digging them. You get some people who are traditionalists or who like the 90s stuff or who like John Byrne (and I do too!), but the thing is I'm not taking away anything. I'm adding on. We're adding on to these interpretations of classic characters that you never, ever would have seen unless DC took the risk to do it.
SR: Sure, and even just recently we've seen so many really out there versions of these characters like Sean Murphy's Batman: White Knight book and the Batman Ninja movie. All sorts of crazy versions.
N: I think that's the way all industries are going, getting more independent. I think things like this are also style driven versus house driven. All of the Artists Alley figures are very independent in their art styles, and that's what's really special about the line.
SR: We're almost out of time but I wanted to ask – are you a collector yourself?
N: Oh yeah, I'm a big fan of Bruce Timm and Darwyn Cooke and all the animated stuff. One of my favorite things is to go around conventions and look for loose figures from Justice League Unlimited that I don't have.
SR: There are so many of them!
N: Right! That's why it's so much fun. I don't like to buy them online, I like to find them at a show because it's like it was meant to be. As a collector I also like little things, small figures.
---
You can pick up the DC Artists Alley Batman, Joker, and Harley Quinn vinyl figures by Nooligan from DC Collectibles in stores 9/26. There are the standard color editions and black and white variants available everywhere, while the Day of the Dead versions are exclusive to GameStop. Each figure, no matter what the version, retails for $40. And look for the chase Nightwing later on this year.
Big thanks to the DC Collectibles team for setting up this interview and Nooligan for being an awesome guy and speaking with us!
-Interview by Scott Rubin
---
Keep up with all the latest toy news by following Figures.com on Facebook and Twitter!
To buy action figures, take a look at Hobby Link Japan, BigBadToyStore.com, TheToySource.com, Toynk.com, BriansToys.com, ToyWiz.com, and EntertainmentEarth.com.