Looking for unique collectibles to celebrate your love of video games? PixFig has just the product for you! This fun little project is the brainchild of long-time Figures.com reader and personal online friend Reddan Cristian of Romania (I point that out to show that the internet – and toy collecting – knows no bounds!). A fan of old school games like Doom, Contra and Pac-Man (a gamer after my own heart), Reddan came up with the idea of producing iconic desk top minatures that look just like their blocky, pixelated video game counterparts.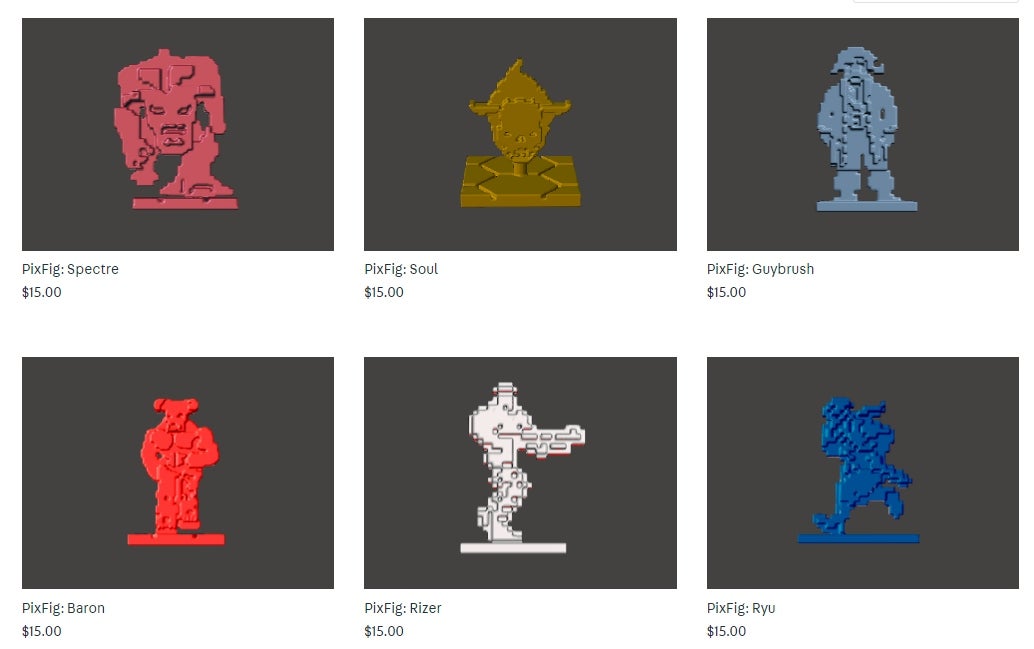 With the rise of 3D printing, everyone can now become their own toy designer, so that's just what Reddan did. Taking all his favorite OG games, including Doom, Contra, Prince of Persia, Monkey Island and more, Reddan Cristian designed the 3D models for his PixFigs. The figures themselves are produced AND distributed by the 3D printing service Shapeways. "I highly recommend people to use this website to promote their 3D printing models," says Reddan.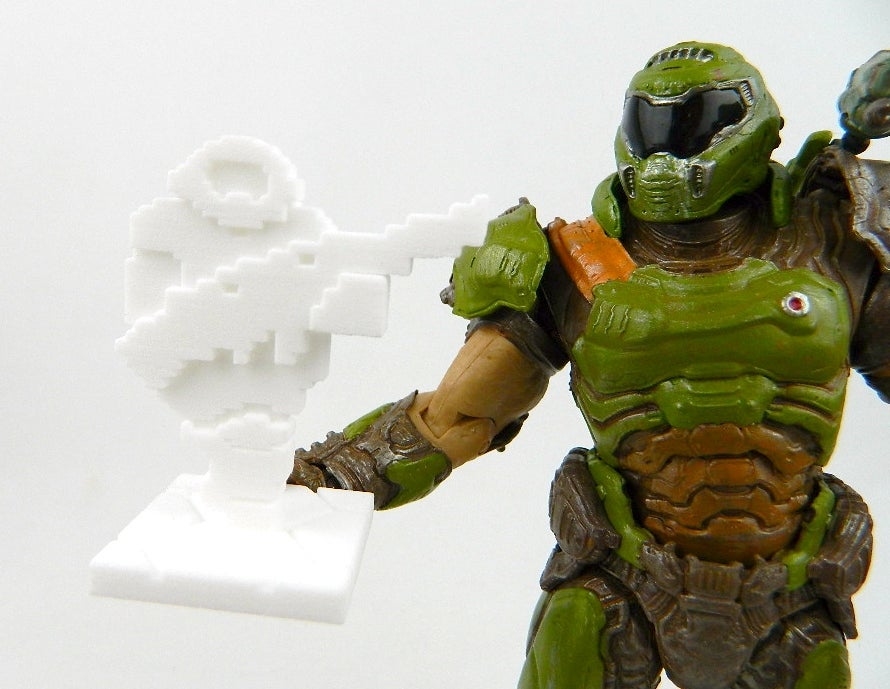 To give me an idea of the final product, Reddan Cristian kindly sent over his PixFig Space Marine – the "rip and tear" protagonist of id Software's revolutionary '90s first-person shooter, Doom. Measuring almost 2-inches tall, "Doomguy" stands stable upon a square tiled floor base. With rifle at the ready, the white plastic-cast figure impresses with old school charm. Aesthetics aside, I was impressed with the thick, durable plastic. I own a few 3D printed items, and the plastic on those full build items (read: hollow inside) is a okay for display, but thin. This PixFig is quite rugged, being ideal for use as a board game piece token. DOOMopoly anyone?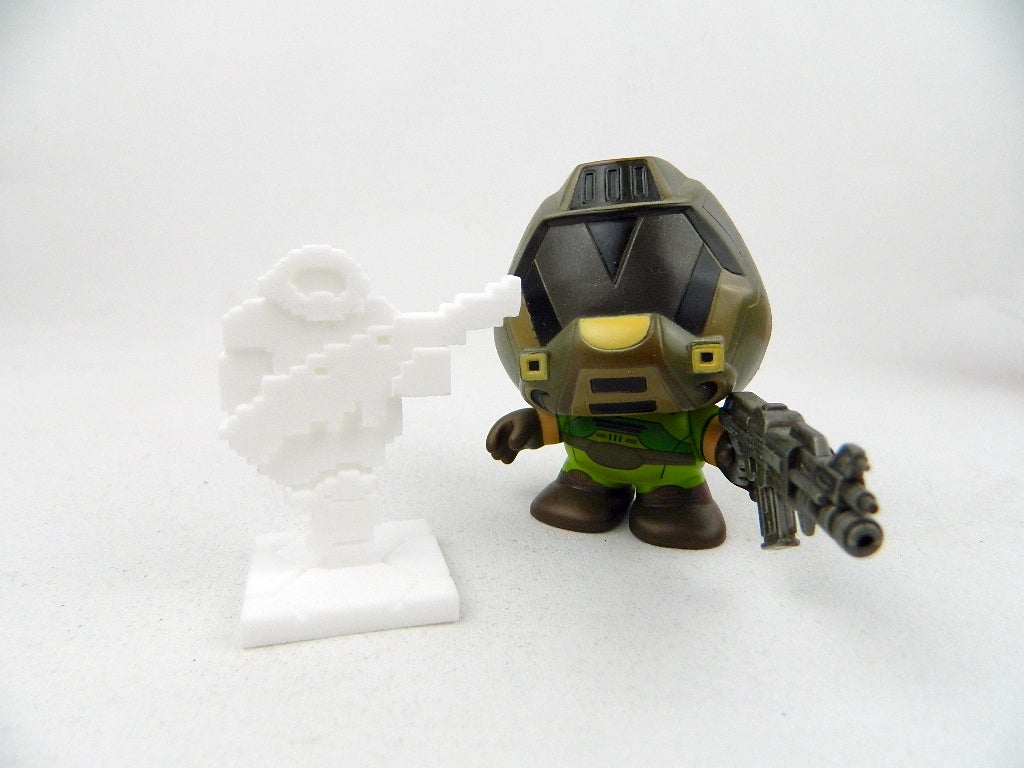 Reddan launched PixFig's with this particular character because "I really wanted to have the classic Doomguy on my desk while playing some good old Doom/Doom2 and Brutal Doom". In addition to Doomguy, other classic Doom PixFig characters include Spectre, Lost Soul, Imp, and Baron of Hell. "I plan to make all the Doom sprites into (PixFig) figurines. Might do the Baron a little bit bigger to have it stand nicely along side Doomguy."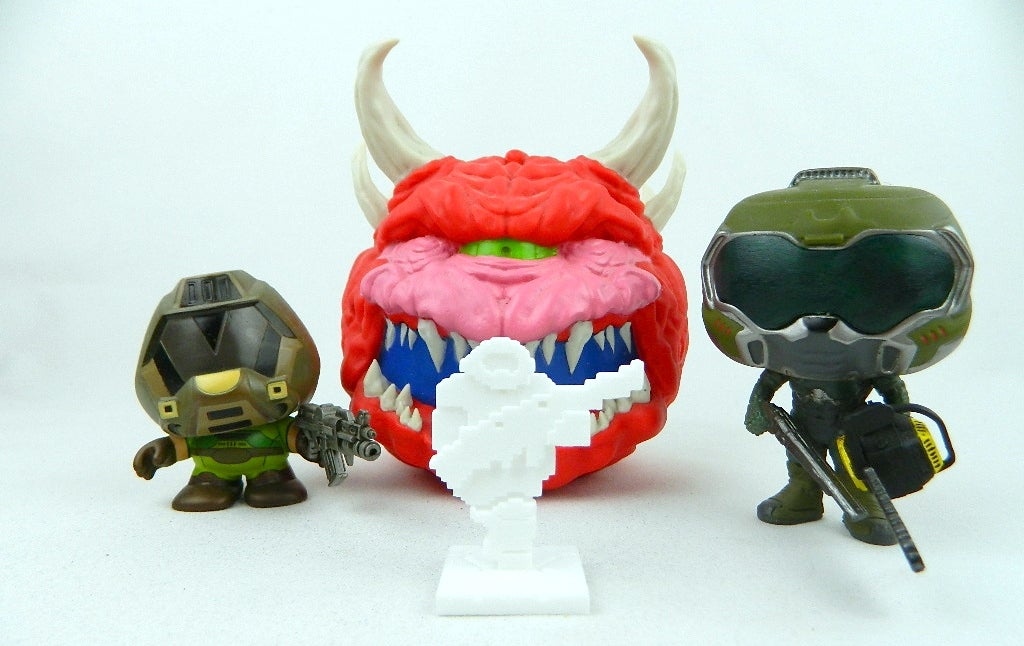 Speaking of size, if you'd like to own a larger PixFig, the option is there to do so. Simply click "Contact The Designer" and it can be done, albeit had a higher price tag. As is, each 2-inch PixFig retails for $15+ plus shipping ($4.99 for Economy). There is also a cash option to expediate the manufacturing process, which typically takes up to 2 weeks if kept at free. Hey, anything hand-made, well, 3D-printed anyways, is gonna take time. Colorwise, Reddan kept the standard figures cast in white for easy customization, though a variety of color options are also available at a slightly higher price tag.
Those interested in Reddan's PixFig designs (or if you have your own design request) are encouraged to visit his Facebook page. To buy now, his Shapeways store front can be found HERE.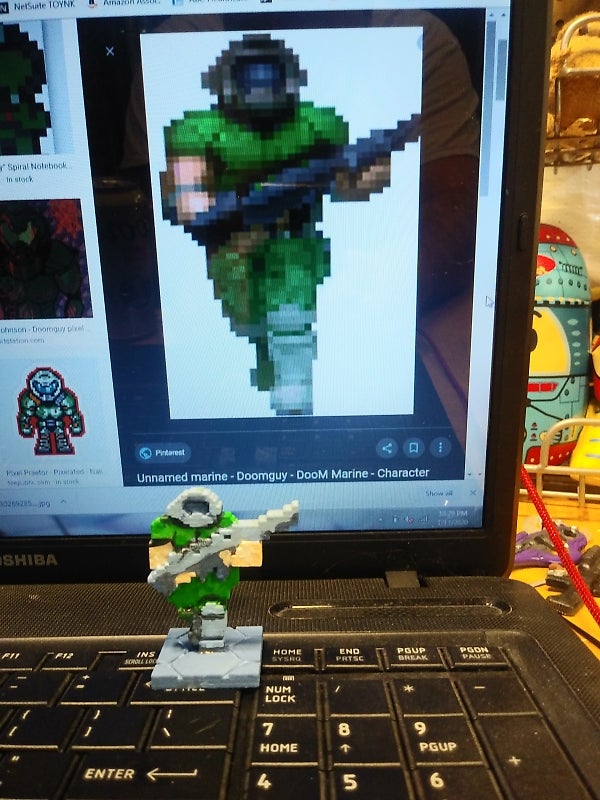 Review Sample Courtesy of PixFig
---
Keep up with all the latest toy news by following Figures.com on Facebook and Twitter!
To buy action figures, take a look at Hobby Link Japan, BigBadToyStore.com, TheToySource.com, Toynk.com, and BriansToys.com.