Review and photos by Scott Rubin
Over the years we've seen DC Collectibles (and DC Direct before) take risks with forays into very different and unique action figures, statues, and other collectibles. Their latest, and some would say greatest, is the series called DC Artists Alley. Medium-scale (6.75") vinyl figures, these cool collectibles capture the unique style of popular artists as they depict beloved DC Comics characters, and available now are the "Trinity" of Batman, Superman, and Wonder Woman as envisioned by Chris Uminga. These aren't your usual comic-based heroic statues, but rather the characters as you've never seen them before with an element of fun and innocence. The trio of statues by Uminga are in stores now with several different variations, and today we're going to be taking a close look at the stylish black and white variants (500 pieces, available everywhere you buy statues and collectibles)!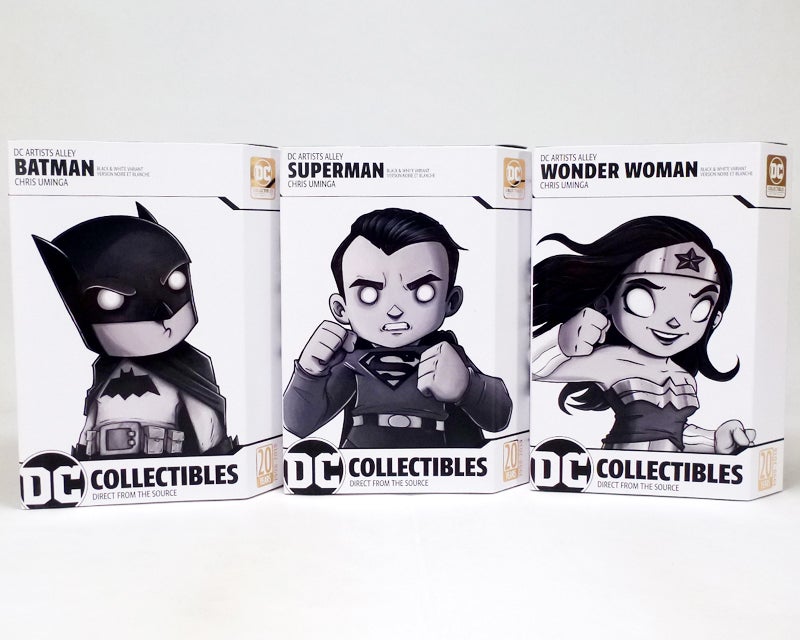 Following in the footsteps of other popular lines from DC Collectibles like the Icons and Designer Series action figures, the Artist Alley figures come to you in sleek box packages with a sliced off front right corner. It's a very sophisticated presentation overall in black and white with clean text and graphics including the Chris Uminga artwork upon which the figures are based.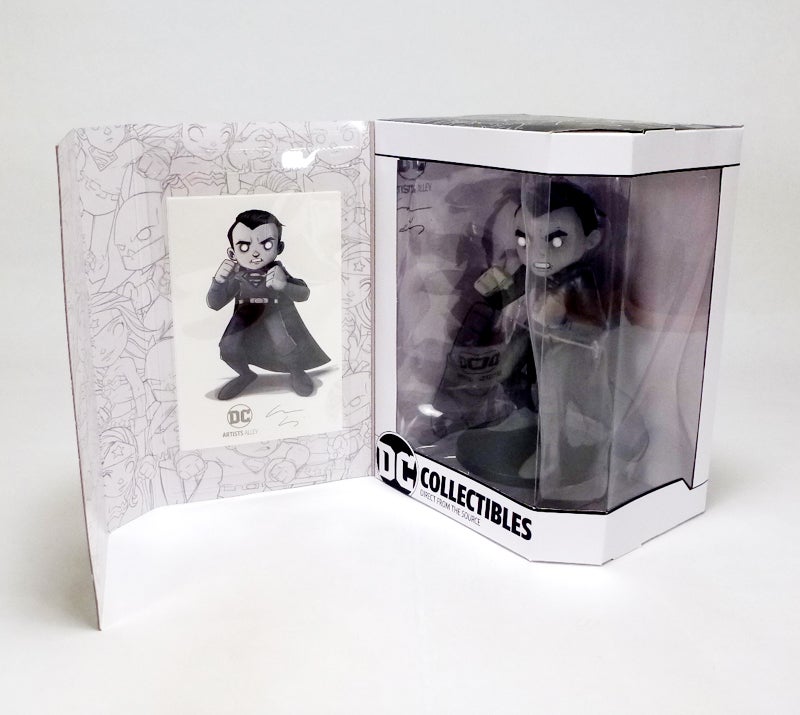 There's individual call outs for each character, and on the back panel you can read about the DC Artists Alley line as well as Uminga himself. There's also a small "Collect Them All" section showing the black and white and standard color versions of Wonder Woman, Superman, and Batman. The front panel of the box is hinged; swing it open to see the figure in its full glory as well as the included sketch card.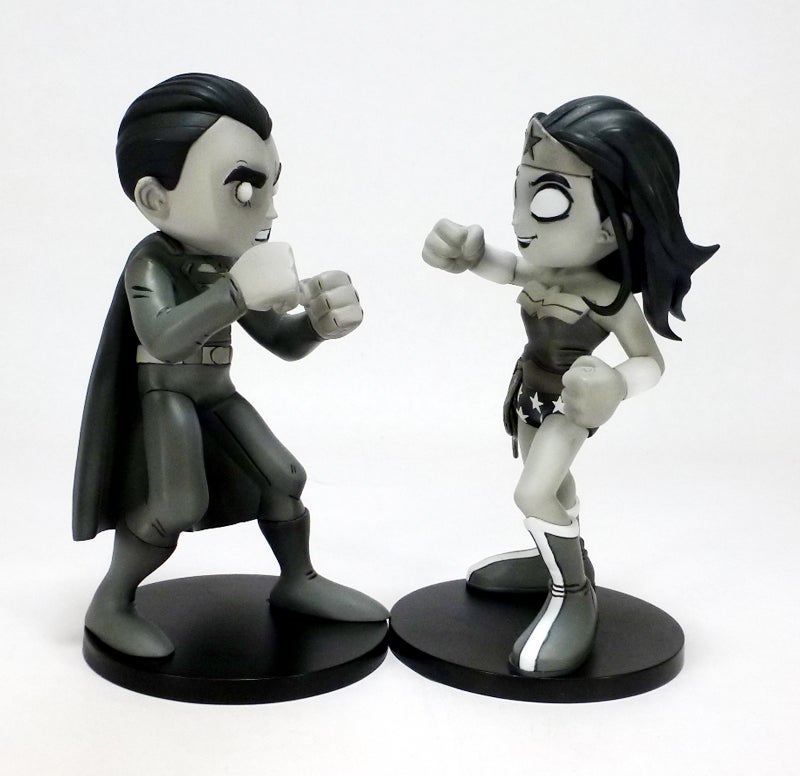 The packaging describes Uminga's art aesthetic as blending "creepy and cute," and there's really no better description for how these statues look. Every time I look at them I get a different vibe; there's a childlike quality to all of them while Superman sometimes feels like an old man, and then sometimes Wonder Woman and Superman come off as zombie-like. The black and white color scheme really heightens their otherworldly appearances, and it's interesting how they have different shading and grays. They definitely diverge from fully "human" norms with their body proportions, spherical or extremely large eyes, and three-fingered hands.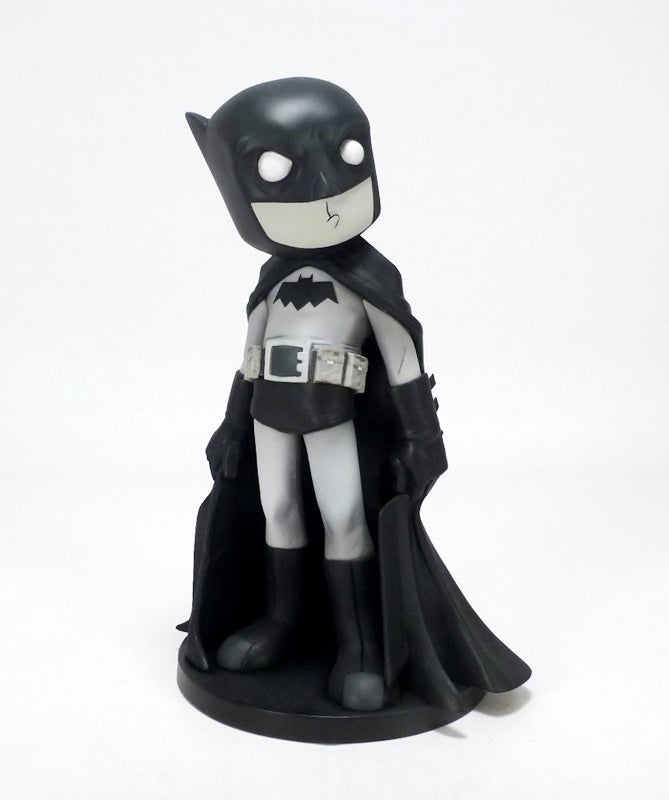 Standing roughly 6.75 inches tall, each statue has its own sense of movement and action. The Dark Knight is the most "static," standing in the shadows with his head cocked to listen for crime. Like his partners Batman has a huge head and a comparatively scrawny body, but all of the classic costume elements are there in exaggerated yet simple detail including the chest logo, Utility Belt, and more.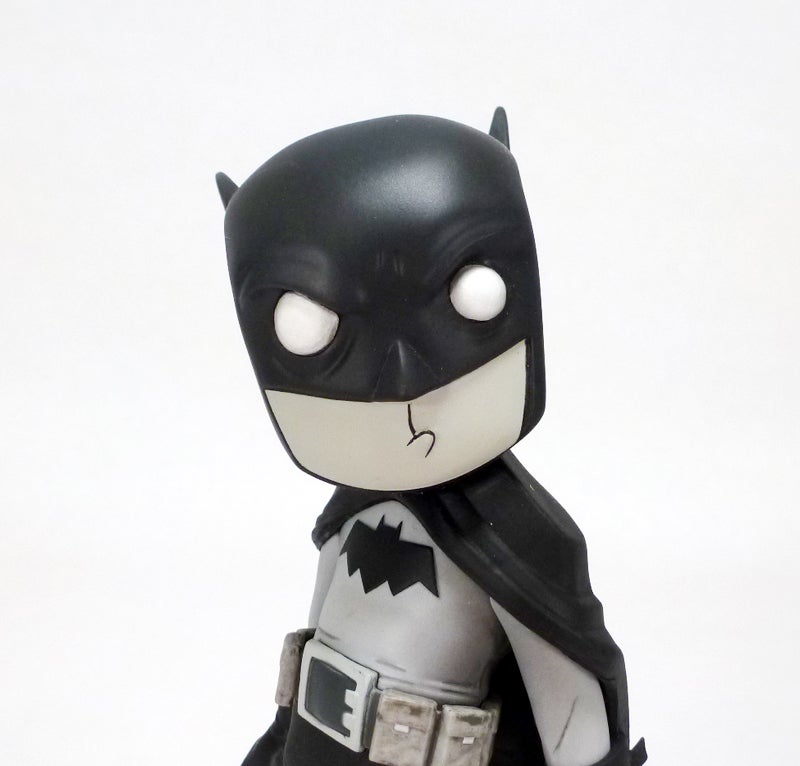 His face is frozen in a cute quizzical expression, one eyebrow arched over his bulbous white eye while the other stares intently, all the while his mouth is pushed up in a silly scowl. Batman is even posed holding back his cape which spreads out on the ground behind him. Appropriately the Caped Crusader is the darkest of the trio with his cape, cowl, trunks, boots, and gloves in true black.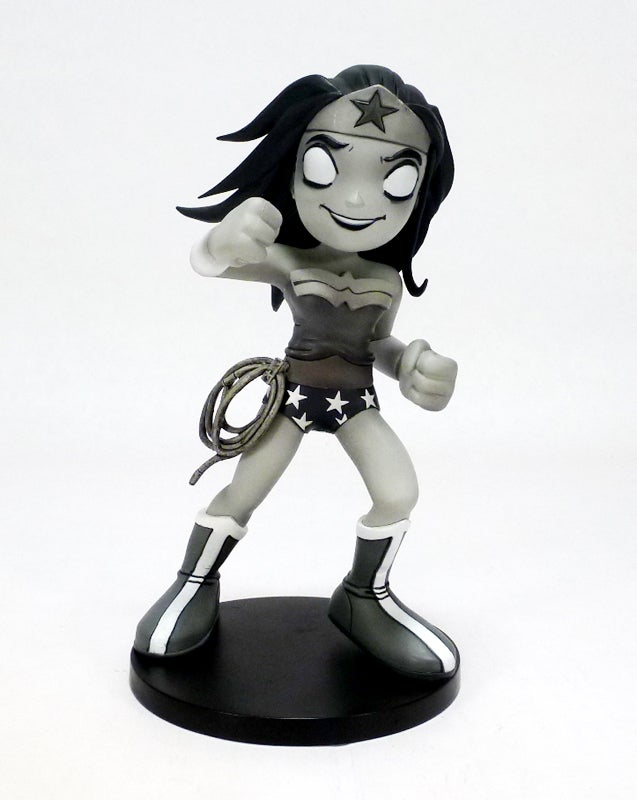 Wonder Woman, on the opposite end of the spectrum here, is as exuberant as can be throwing a wild punch! The Amazon princess conveys the most movement in her wide stance and punching arm, not to mention her hair wildly fanning out from the attack. Diana too has a somewhat silly take on her traditional costume with all the trimmings including boots, bracelets, tiara, and of course the magical lasso hanging at her waist.
She stands out from the men with her enormous eyes, her exuberant smile, and her lighter color scheme with lots of grays. Do you see zombie or kid in this Wonder Woman like me?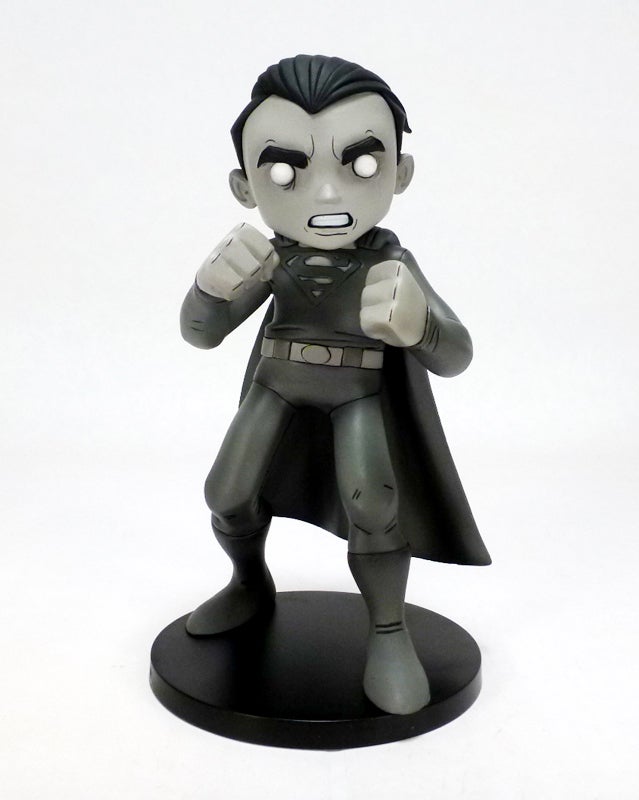 And then there's the Man of Steel, drawn by Chris Uminga and captured in three dimensions by sculptor Joe Menna and the team. Superman is midway between the others when it comes to sculpt/pose as well as color. He stands ready to fight with fists raised, giving him a feeling of potential action but much less dynamic than Wonder Woman. Similarly he and his washed out costume are rendered in medium gray hues, lighter than what we see on Batman but darker than on Diana.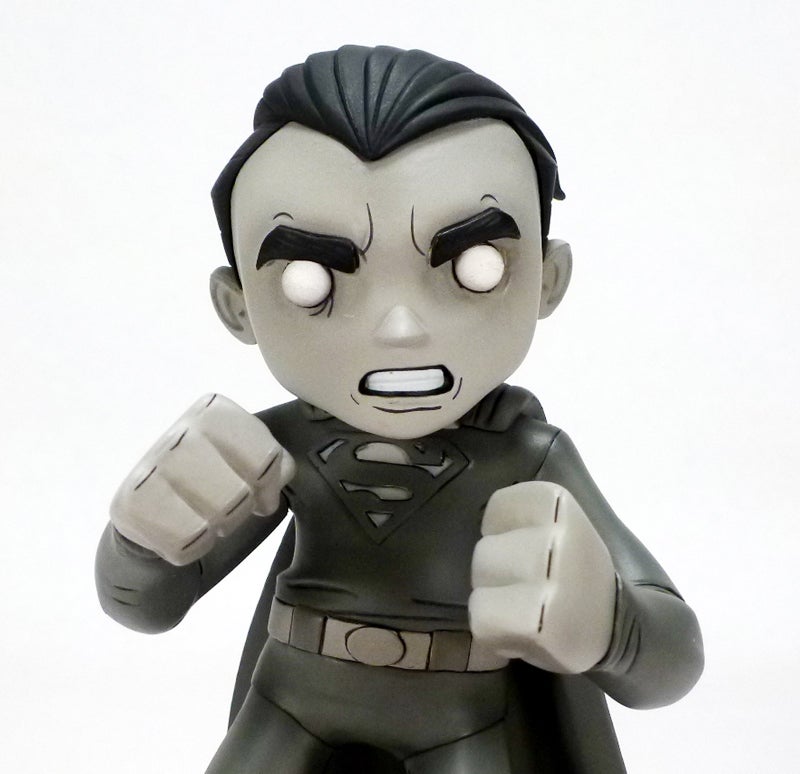 Despite his Kryptonian heritage Superman stands slightly hunched over with an extremely short torso, and the height of his waist adds to the "old man" aspect I see. Meanwhile, Clark's face is a portrait of barely restrained rage with bulging, spherical white eyes, angry forehead details, and clenched teeth.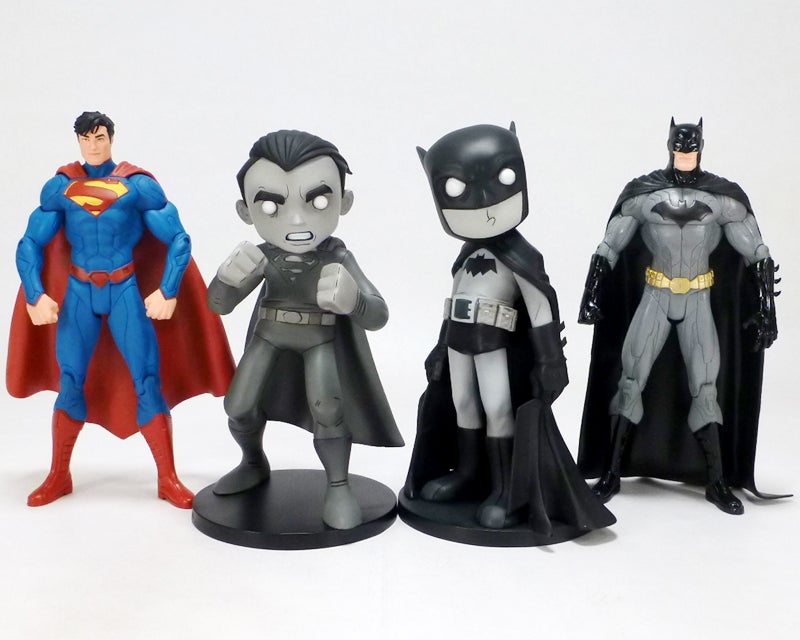 Chris Uminga's DC Artists Alley designer vinyl figures are really fun, giving you a totally new and unique look at everyone's favorite superheroes. I really like these black and white variants, too, as they add even more dimensions and differences to the trio, all the while heightening their "otherness" especially compared to other more mainstream statues and figures.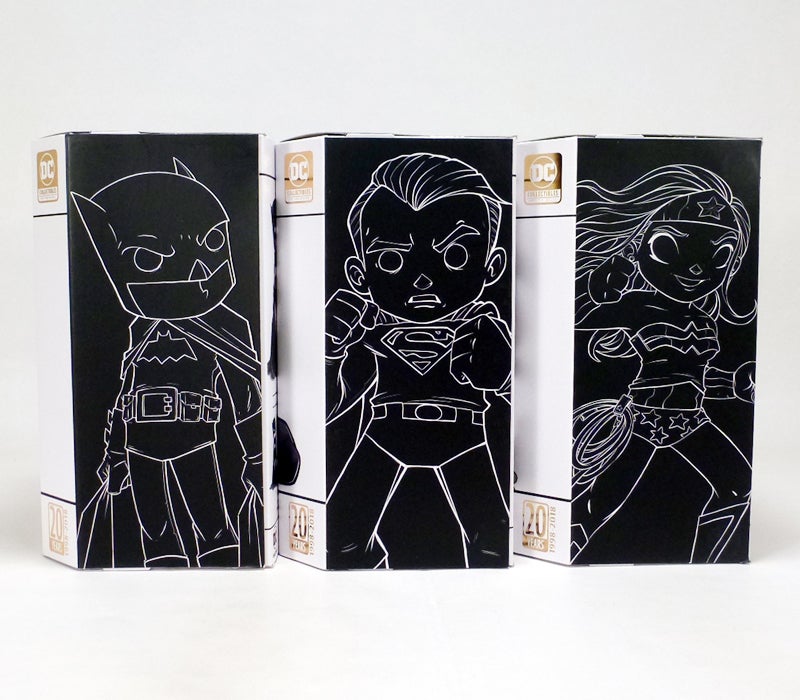 Batman, Superman, and Wonder Woman are available now and retail for $40 MSRP each. You can collect them in their standard colors (3,000 units), these black and white variants (500 units), zombie versions (1,000 units – Hot Topic exclusives), "villain" variants as Joker, Cheetah, and Lex Luthor (1,000 units – Gamestop exclusives), and glow in the dark versions (1,000 units – Box Lunch exclusives). And, DC Collectibles has announced three more Uminga vinyls exclusive to San Diego Comic-Con next month with the Classic ($60, 1,500 available), Flashpoint ($75, 750 available), and Black and Gold ($100, 300 available) variants of the Batman figure! These Artists Alley statues are highly recommended for fans of DC's Trinity as well as anyone looking for something new and different for their collections.
Review and photos by Scott Rubin
Review samples courtesy of DC Collectibles
---
Keep up with all the latest toy news by following Figures.com on Facebook and Twitter!
To buy action figures, take a look at Hobby Link Japan, BigBadToyStore.com, TheToySource.com, Toynk.com, BriansToys.com, ToyWiz.com, and EntertainmentEarth.com.