Back in June 2016, Gecco unleashed the zombie plague upon the world with a new series of plastic model kits called Tales From The Apocalypse. 1/16th in scale, each model stands roughly 4 1/2 inches tall when completed and represents a character from the unfolding story, including our main heroine and a horde of walking undead.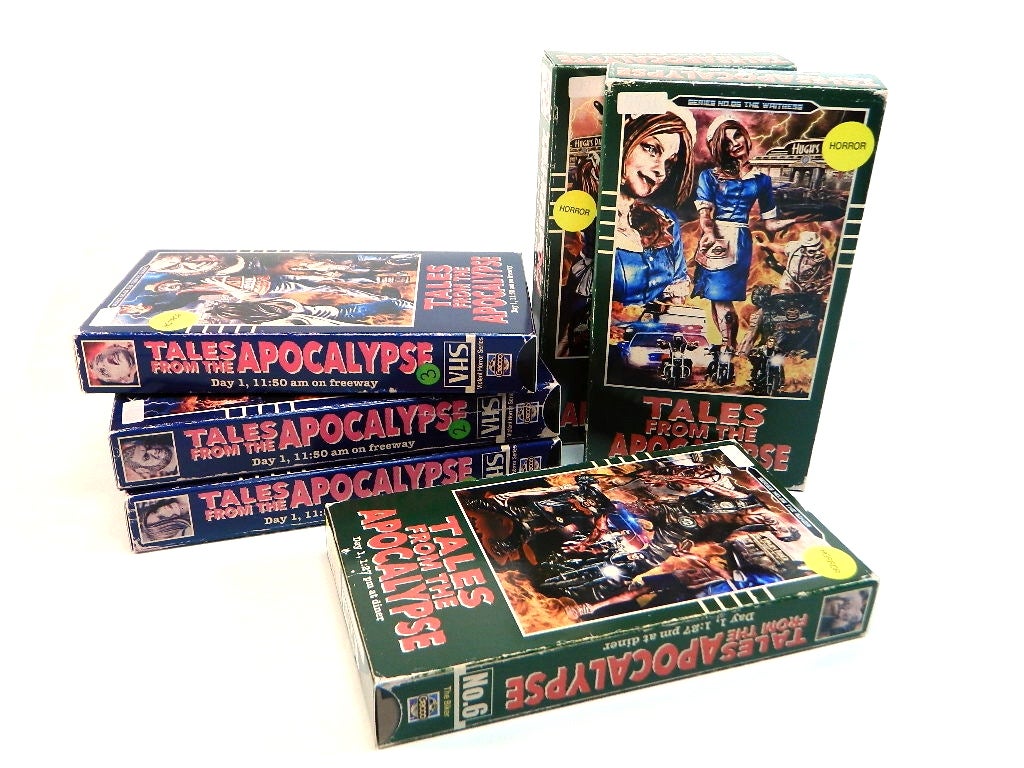 At this point, the concept for Tales From The Apocalypse is pretty straightforward: fun-to-build, cool looking zombie model kits. What's not to love? Unless you truly hate model building, not much at all. HOWEVER, it is Gecco's clever presentation that absolutely bats this line out of the park. That "unfolding story" I mentioned? It's all based on an imaginary low budget B-movie, similar to Return of the Living Dead. It's the type of film you'd find on a VHS tape stuffed on the shelf of a mom & pops video rental store back in the '80s/'90s. While today's digital youth don't understand the concept of "Be Kind, Rewind!" or the joy of discovering an odd horror film, old farts like myself smile at the thought.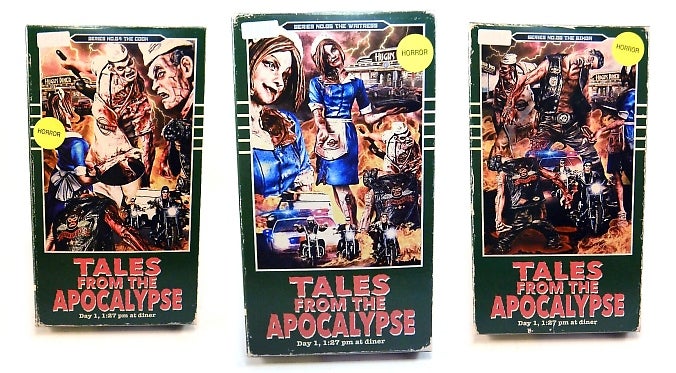 This whole nostalgic trip down memory lane is captured brilliantly with Gecco's packaging design: each model kit's box resembles an old VHS copy of the movie Tales From The Apocalypse. Even if you aren't enamored by the whole retro concept, you have to admit that the unique art work for each figure is awesome. And I mean unique. In addition to the cover art being different for each figure, small details like the mock wear and tear of the box and "Horror" genre sticker placement are individualized for each release! Gecco really put some time and love in the presentation for this line and it shows with packaging that's just as nice as the product inside.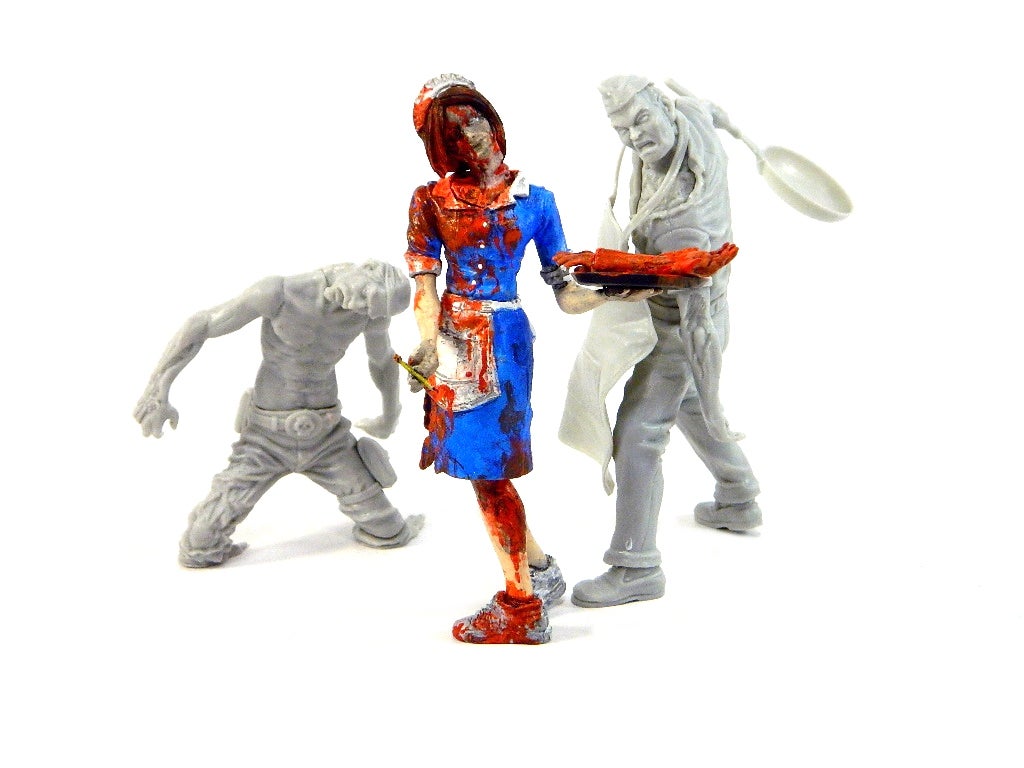 Tales From The Apocalypse Series 1 (read our review HERE) started the zombie uprising on the streets. It found our Heroine traveling to save her sister Cindy, all while avoiding an undead Truck Driver and Traffic Guard. Series 2 takes the horror adventure inside to a small town diner. Here the Heroine runs inside for help, but she's too late – everyone is already infected! Infected model kits in this wave include restaurant employees The Cook and The Waitress, along with a rough and tough customer, The Biker. In order to be timely with this review, I assembled all three figures, but painted only one. I chose The Waitress in honor of Flo from the old sitcom Alice. "Kiss my grits!"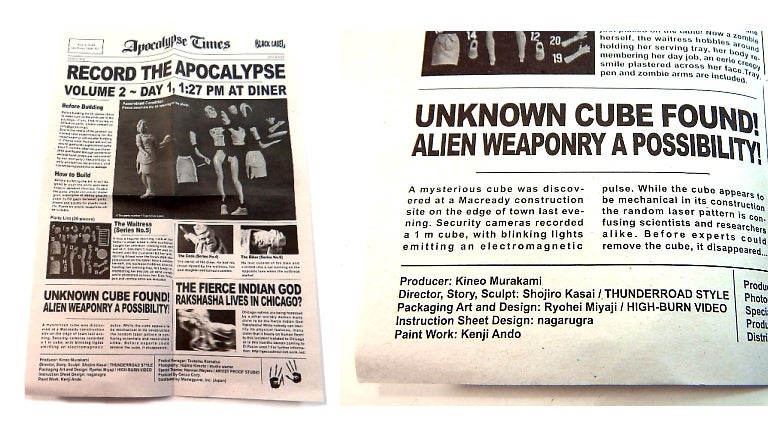 Like the first assortment, building each model kit takes beginners level skill. Each kit includes a fake newspaper – the "Apocalypse Times" – that acts as a part's list, however I never once referred to it except to read the entertaining mock stories. To begin assembly, simply lay out your parts, trim off the excess flash with an X-acto blade or sharp knife and glue everything together. I use Super Glue because I am impatient, but model glue is recommended as these are not snap kits.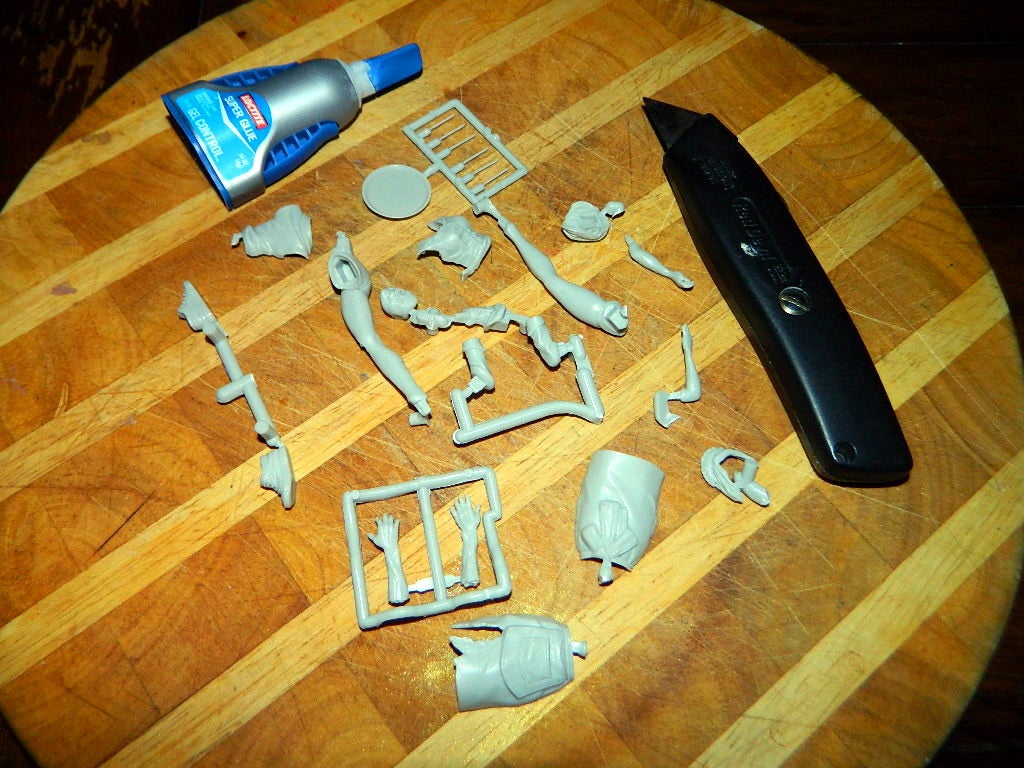 Unlike Series 1, there is a little bit more variety in this wave in how you can build and display each character. The cook has the option of wearing his hat and apron or not, along with a section of his shirt that can be removed to reveal a nasty gut gash. Why you'd cover up that gruesome feature is beyond me, but the option is there. The Biker can be built with or without a vest and – get this – with or without his legs! I went all the way with my build.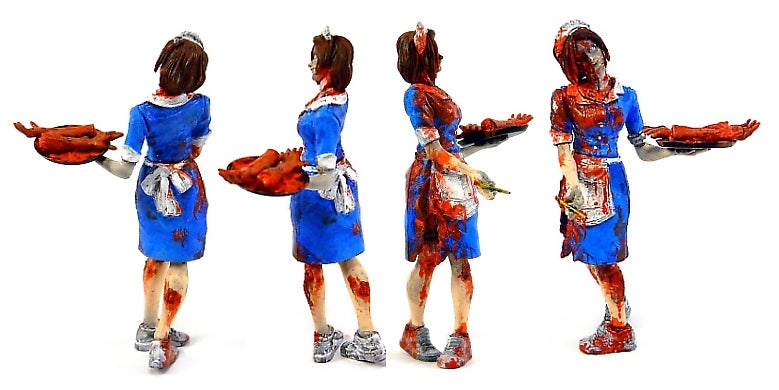 "Flo," I mean The Waitress, doesn't offer any variations, though you can get creative with her platter of severed arms. I also love the pallet of teeny tiny pencils included with her (I assume so many are provided in case you loose one). It took me a moment to figure out what they were, but once it dawned on me, I was like "cool".
I should also note that the extreme poses for all these characters makes for a very dynamic display. As you can see from the photo below, there's not a bad pose in the bunch. It's just a flow of morbidly twisted limbs, just like a zombie apocalypse should look like.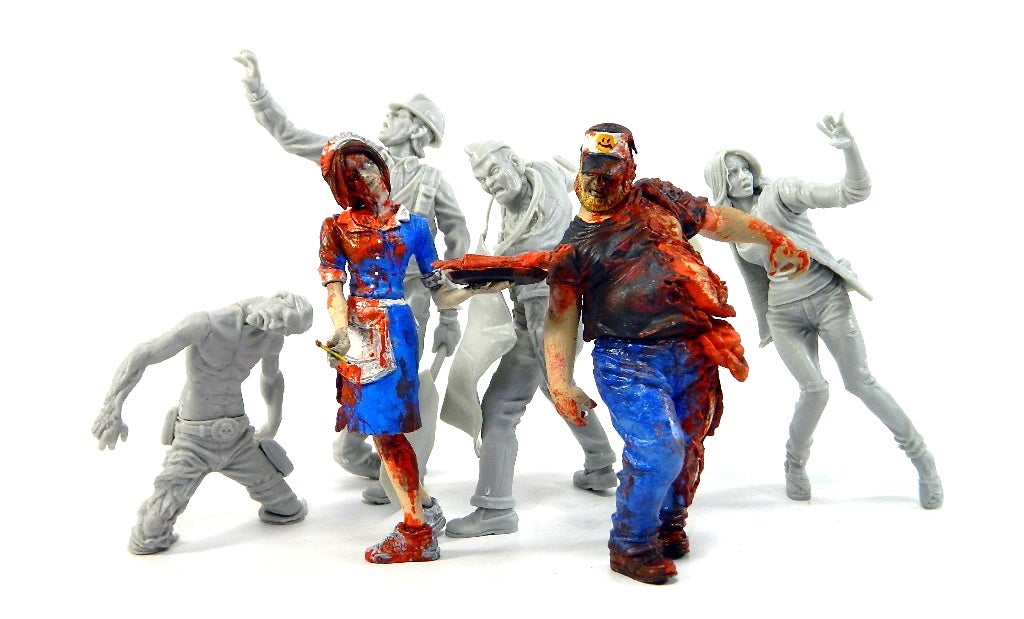 Simple, but fun to build, Gecco's Tales From the Apocalypse series is a great way to spend time modeling. The gorgeous packaging alone is worth the price of admission. With six great characters to choose from and more on the way, building an army of the living dead is only a few hours away. Of course painting them will take you longer, but that's half the fun of model building. Even if you lack skills with a brush, trust me, it's hard to mess up a bloody zombie. Just add more blood!
Give one a try today. Gecco's Tales From The Apocalypse Plastic Model Kits are priced at $24.99 each and are currently available to order through Gecco Direct.
Review, Photos and Model Building/Painting by Jeff Saylor
Review Sample Courtesy of Gecco
Tales From The Apocalypse Series 2
Keep up with all the latest toy news by following Figures.com on Facebook and Twitter!
To buy action figures, take a look at BigBadToyStore.com, TheToySource.com, Toynk.com, BriansToys.com, ToyWiz.com, and EntertainmentEarth.com.