Every year the staff at Figures.com reflects back on all the cool toys that came out and joined our collections. Presenting our annual TOP 10, a personal look at our favorite collectibles of 2016.
Join us as we celebrate another incredible year in action figure collecting…
Happy Holidays!!
– Jeff Saylor and the Figures.com/Action On-Line Team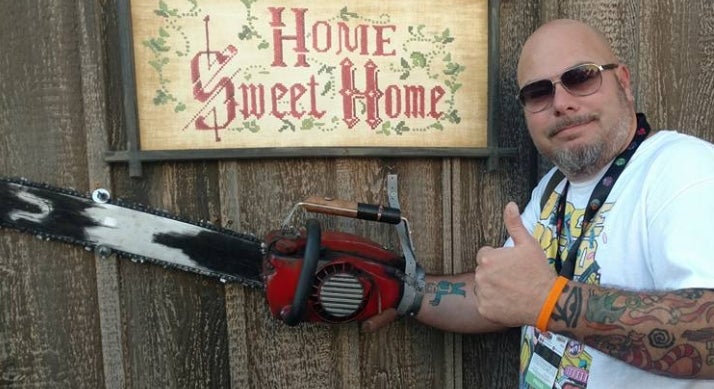 JEFF SAYLOR
(List in no particular order.)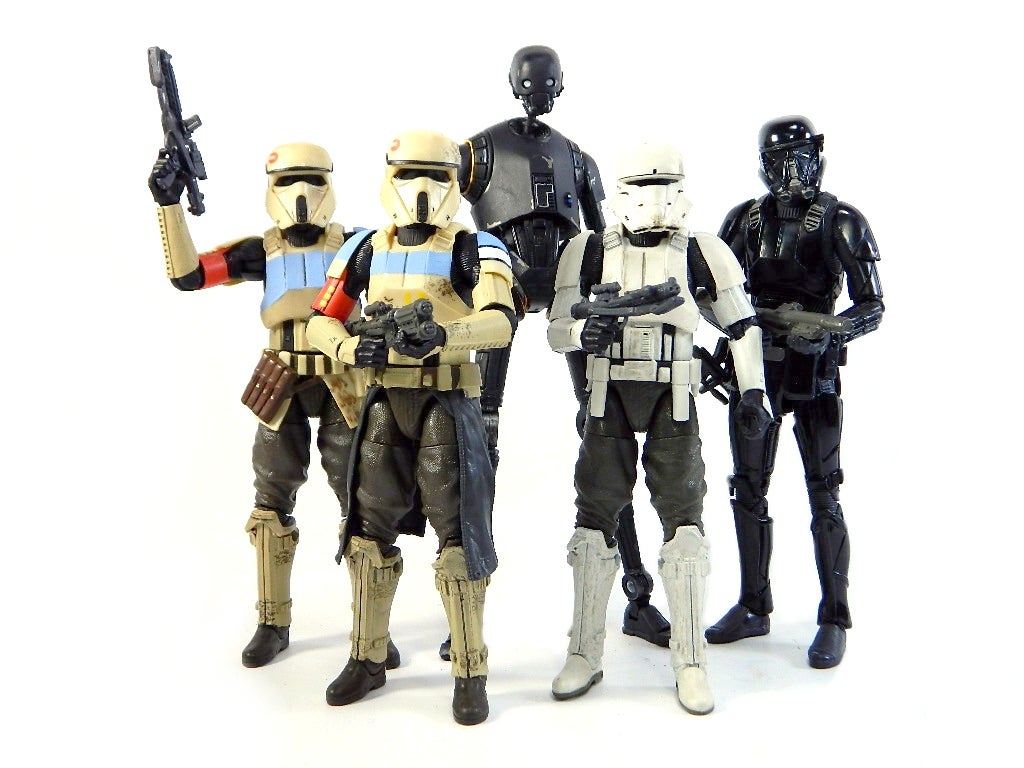 1) Hasbro 6″ Star Wars Black Series: With a new Star Wars film in Rogue One, Hasbro found new action figure material to excite me with. While figures like K-2SO and the Death Trooper joined my collection, my favorite of the bunch are the Shoretroopers with their fantastic new stormtrooper armor design.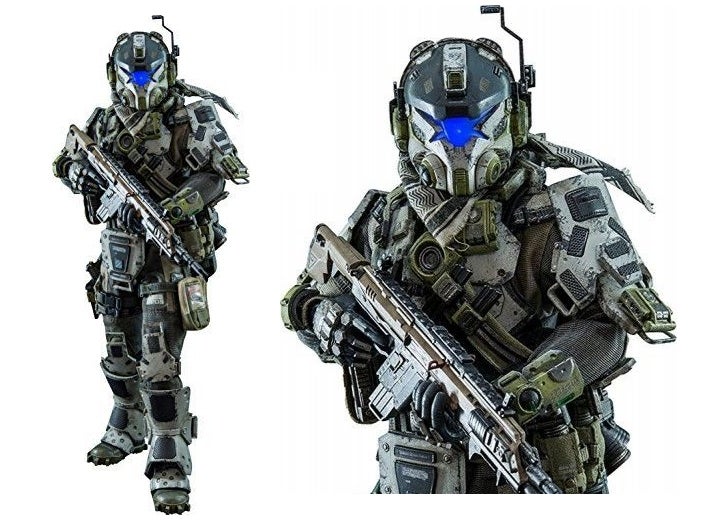 2) ThreeZero 1:6 Titanfall Pilot: When the first-person shooter Titanfall released back in 2014, collectibles were few and far between. Those that did exist were higher-end, including Threezero and their 18″ Titans (we're talking $400). While I love the mechs in the game, the futuristic Pilots actually excited me more. While still high-end at around $200, I just had to splurge on Threezero's insanely cool 1:6 Titanfall Pilot. It's a decision I don't regret.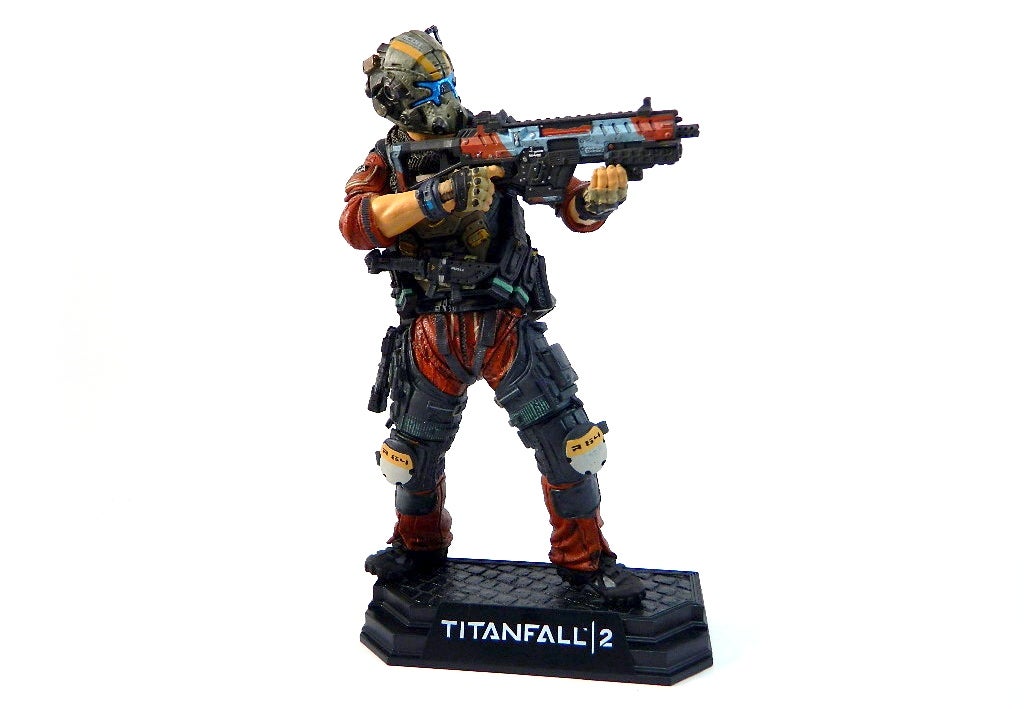 3) McFarlane Toys Color Tops Titanfall 2 Pilot Jack Cooper: The release of Titanfall 2 this Fall made up for the collectible drought of the first game. Surprisingly, McFarlane Toys lead the charge with a very affordable action figure (SRP $19.99) of the title's main hero, Jack Cooper. As the character is a Titan Pilot, I couldn't have been more excited. While not the most articulated collectible (Color Tops are essentially plastic statues), the detail and dynamic pose for this figure was all I needed for awesome display.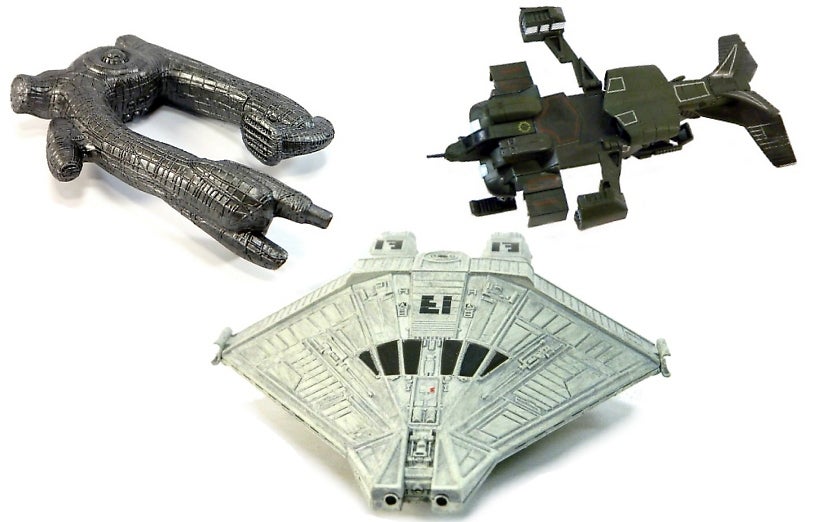 4) NECA Cinemachines: This 6-inch, die-cast metal vehicle series is everything I want in a scaled replica and more. The right size, right price, right detail and right licenses. Kicking off strong with the movies ALIEN, ALIENS and Predator, the Cinemachines' Colonial Marine's Dropship, Narcissus, and Derelict Ship are all dreams come true for this sci-fi ship lover. With a wave of Terminator vehicles on the horizon, my excitement for this line is off the charts.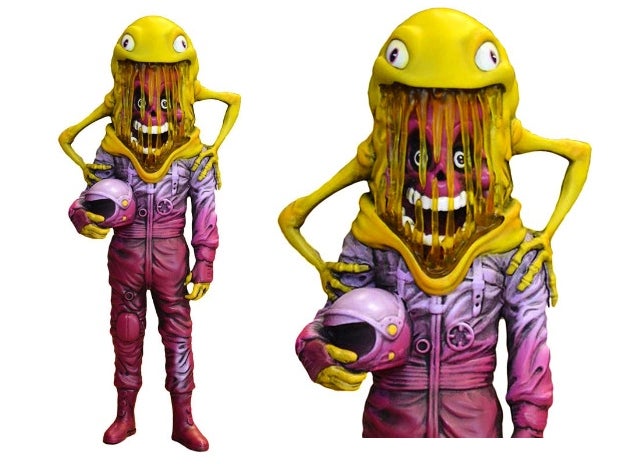 5) ToyQube Alex Pardee's "The Astronaut" Statue: We buy what we like, and to this collector, this statue screamed "Buy Me". It speaks to me on so many levels, from it's insane design to it's brilliant color scheme. To me Alex Pardee's "The Astronaut" is not simply a statue, it is art.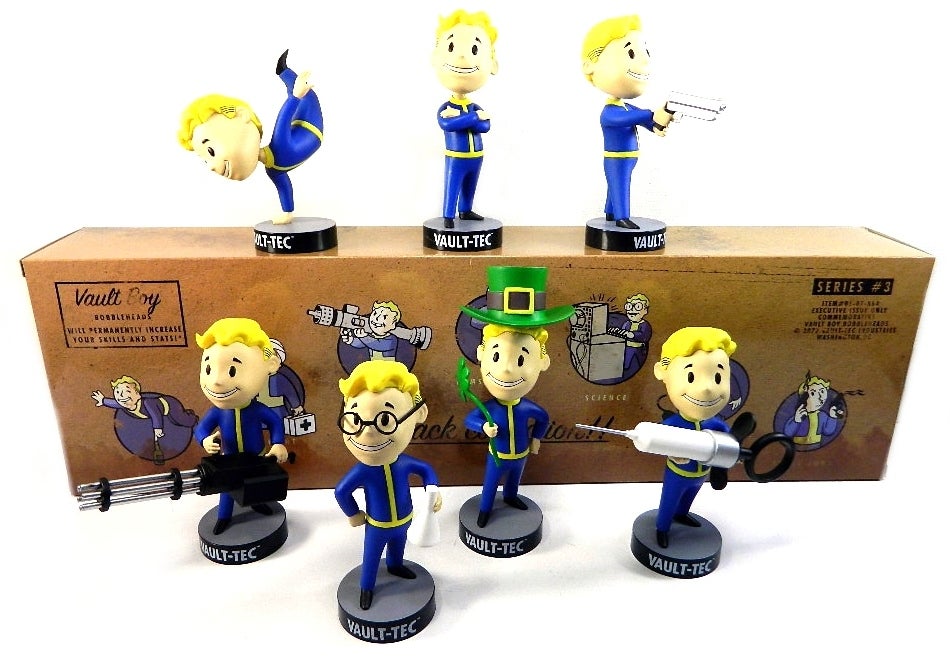 6) Gaming Heads Fallout Vault Boy Bobbleheads Series 3: This series didn't make my list last year… only because it didn't arrived in time for my 2015 Top 10 list! After three long years of collecting this series, my collection of 20 Fallout bobbleheads is FINALLY complete! Silly looking to an outsider, these Vault Boy bobbleheads are nothing but pure collectible bliss to a gamer that played Fallout 3 for months on end.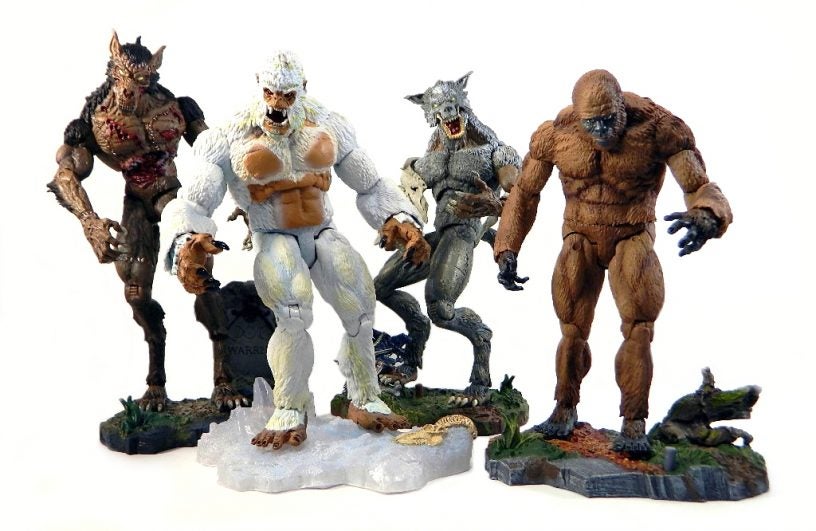 7) CreatuReplicas 8″ Cryptid Action Figures: Many consider the late '90s/ early 2000's the "Golden Years" of action figure collecting. Jean St. Jean helped pioneer that scene, working for many toy company greats like McFarlane, DST and Mezco. His personal project entitled CreatuReplicas builds on that toy creed and carries it into the new millennium. Remember huge, chunky figures from McFarlane and SOTA Toys, figures that often came with an equally large environmental display base? That's CreatuReplicas in a nut shell, but with modern sculpting techniques and advanced articulation. They just don't make action figures like this anymore, especially non-licensed ones, and for this I applaud them.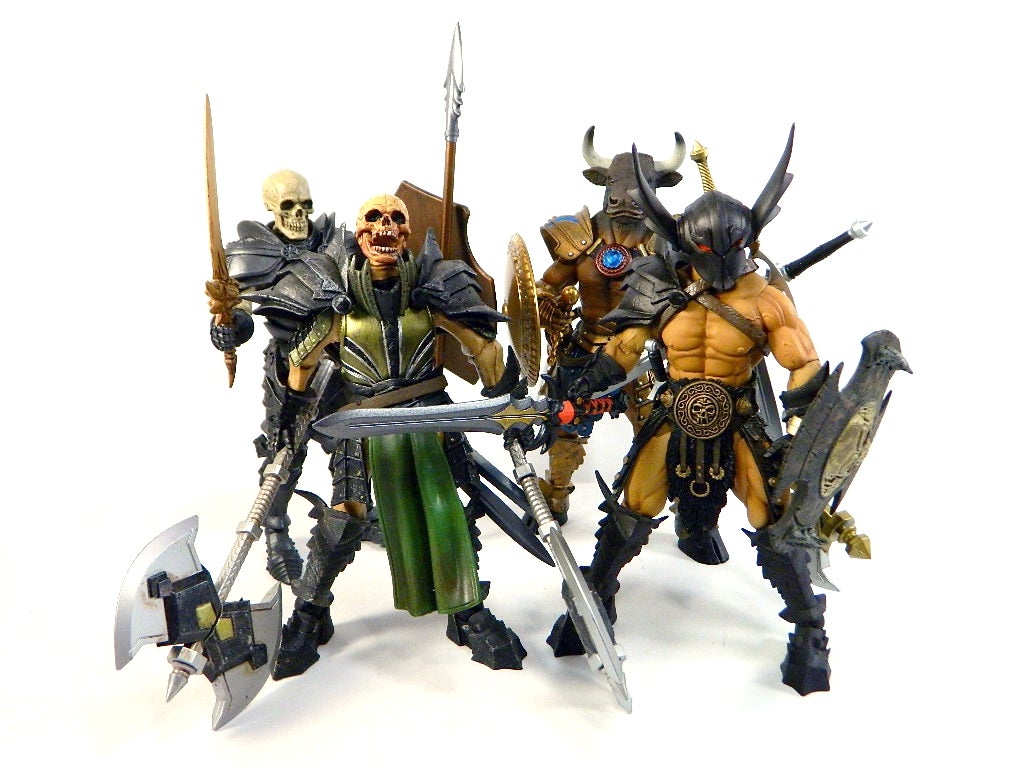 8) Four Horsemen's Mythic Legions Series 1:  Like Jean St. Jean, The Four Horsemen go way back to when action figures were made right. They continued that trend with Mattel's MOTU, but it was their latest personal fantasy figure project – Mythic Legions – that totally captured my attention. Again, having no license means total creative freedom, and this series encapsulates that spirit and then some. With weapons and parts that are totally interchangeable with other figures in the line, the fun with Mythic Legions goes well beyond badass fantasy figure designs.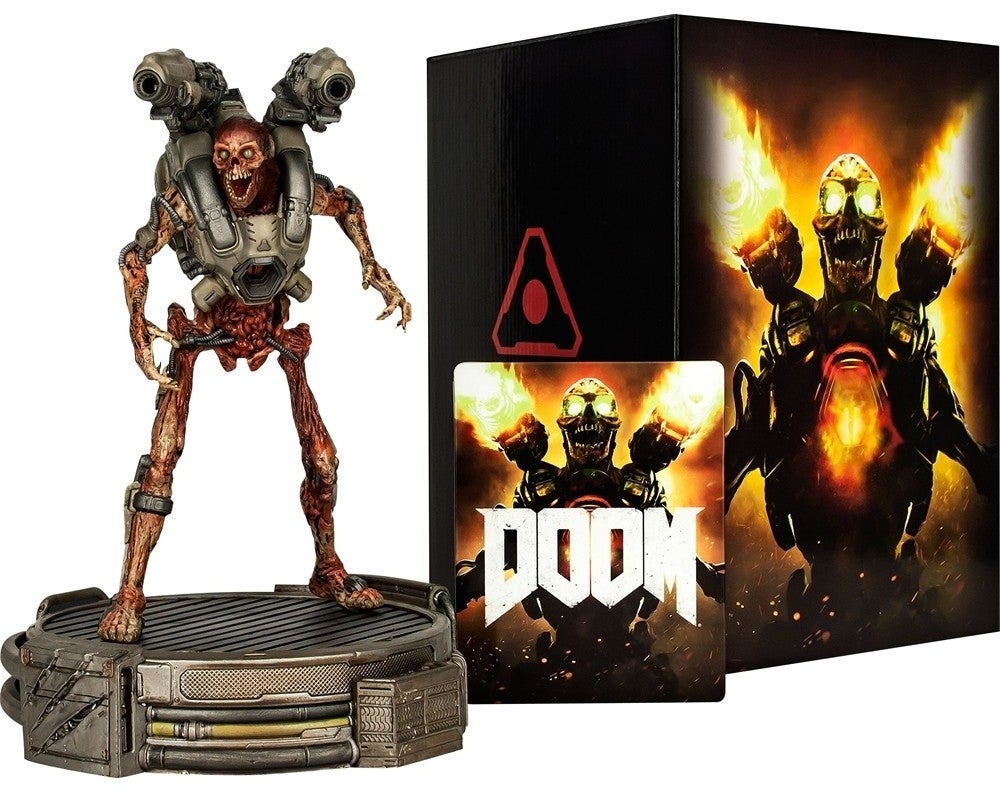 9) Triforce Revenant Statue (DOOM Game Bundle): As a gamer that grew up playing id Software's revolutionary 1993 first-person shooter DOOM, I was pretty darn stoked to experience the new 2016 version. Not only did the new game live up to the original DOOM's legacy, but the exclusive bundle packing a 1:6th scale PVC statue of the Revenant demon boosted my love of the game like no other game bundle released this year. Simply awesome looking.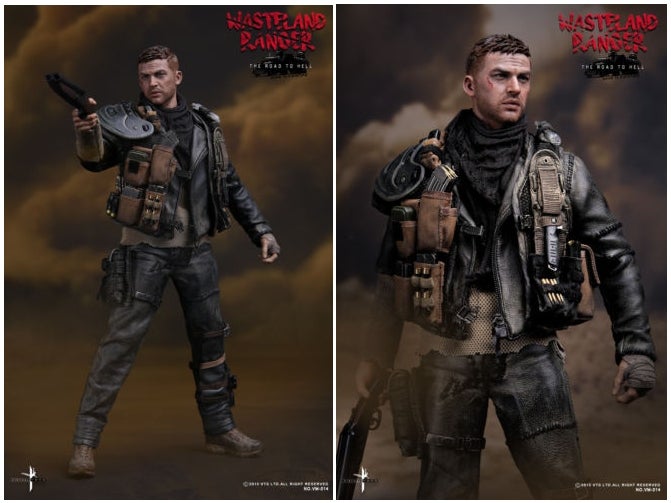 10) VTS Toys 1:6 Wasteland Warrior (aka: Mad Max Fury Road): George Miller's 1981's The Road Warrior is one of my all-time favorite movies, it's brutal depiction of a post-apocalyptic world the influence for countless properties to come. 2015's Mad Max: Fury Road topped that film with what I consider one of the most artistic, action-packed achievements put on screen. Yeah, I liked it that much. Needless to say, this non-licensed figure of Tom Hardy as Max Rockatansky was a must-have and now holds a place of honor in my collection.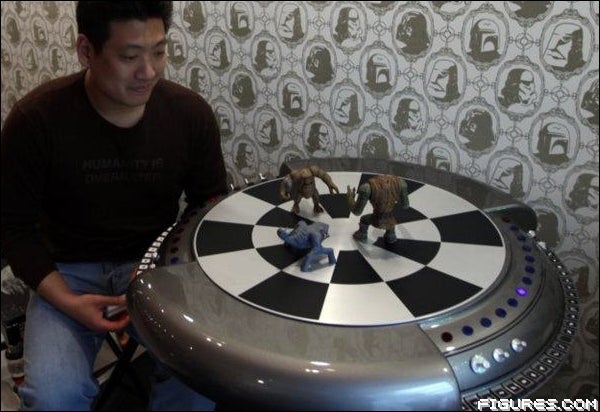 DAVID YEH
(List in no particular order.)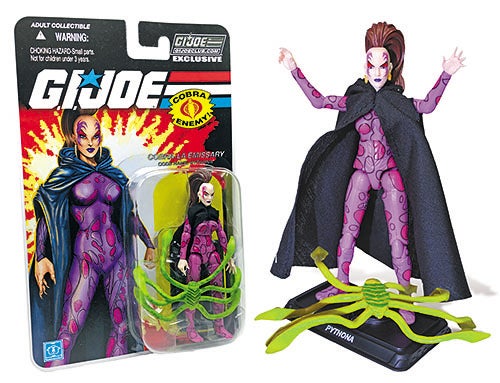 1) Hasbro G.I.Joe Pythona: While Hasbro has continued to stall any advancement of G.I.Joe, the Fan Club has committed itself to satisfying demands of fans everywhere. Pythona appeared in G.I.Joe The Movie and was an integral part in bringing Cobra back into the hands of Cobra-La, the membership exclusive figure definitely delivers. She even has a removable ponytail so you can put her hood up. Now it's even more apparent that we need updates for Golobulus and Royal Guards.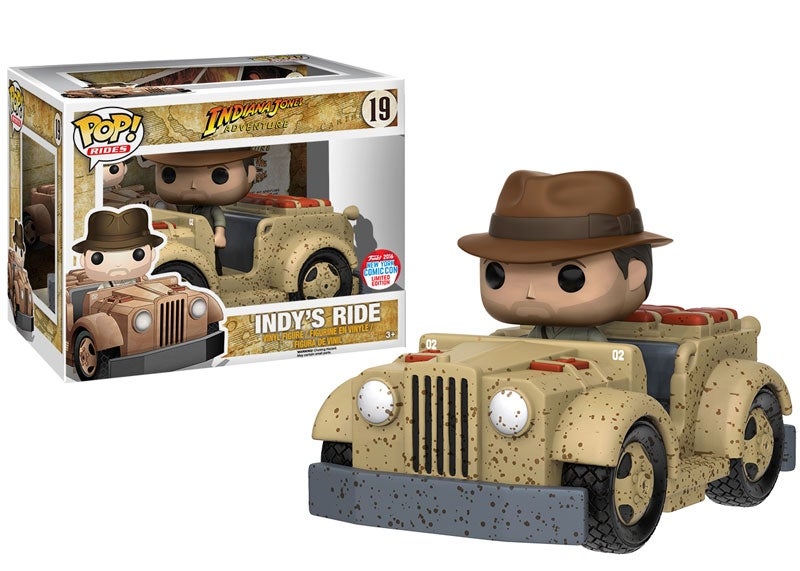 2) Funko POP! Indy's Ride: I'm not a huge fan of Funko's line of POP! vinyl figures but by jobe, when they released Indy's Ride, I had to have it. Exclusive to NYCC and Disney Parks, Indy's Ride is loosely based on the Indiana Jones Adventure ride at Disneyland (and Tokyo Disney Sea). You get Indiana Jones, which is already a win, but also the troop transport. For fans of Indiana Jones Adventure, there really aren't that many souvenirs you can buy for it, so the release of Indy's Ride makes its unconventional appearance on my list.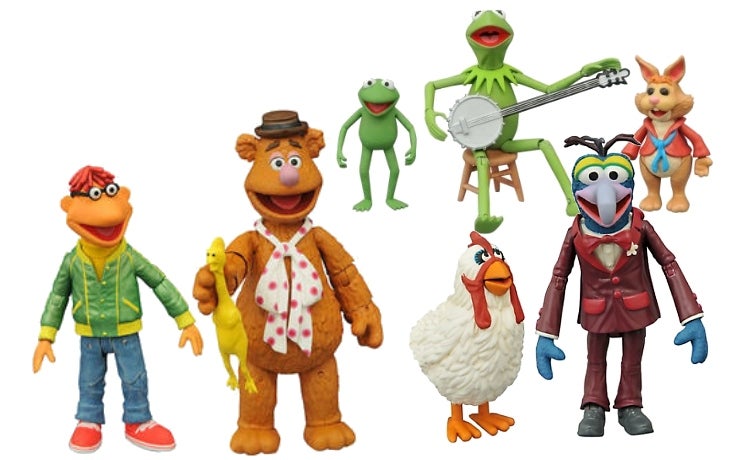 3) Diamond Select The Muppets:
I really wasn't prepared or looking to collect a new line of Muppets, as my love for what Palisades did in the past is unparalleled. But Diamond Select Toys took a stab at a very different scale and different style and actually has done a remarkable job recreating the feel of the Muppets! The series is a little slow to build right now with only six sets released, but with mostly two characters in each set, we're on our way to a new series that has limitless potential… if they stick with it, that is. A Series 3 is slated for early 2017, so let's hope this line continues.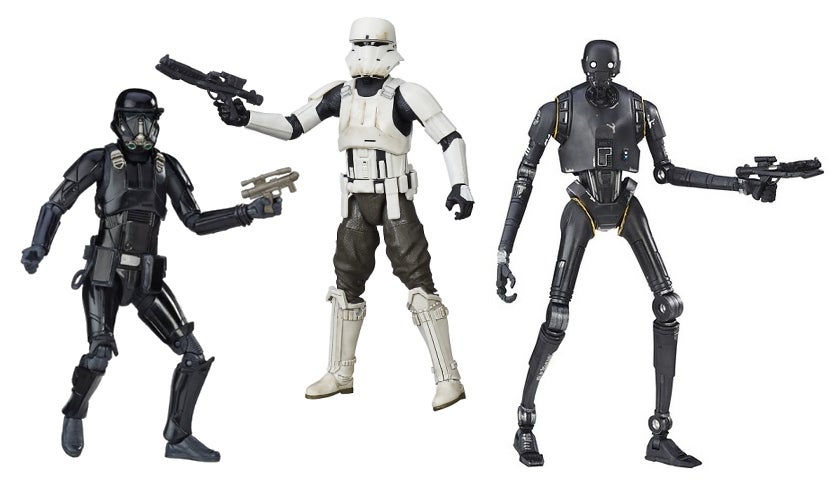 4) Hasbro 6″ Star Wars Black Series
K-2SO / Deathtrooper / Hovertank Pilot:
The 6″ Black Series are always a good time, and Hasbro continues the trend with new troops and a new imperial droid K-2SO. What's great about K2 is that he doesn't follow the trends of a standard human articulated figure, but it's an all new droid, which I really dig.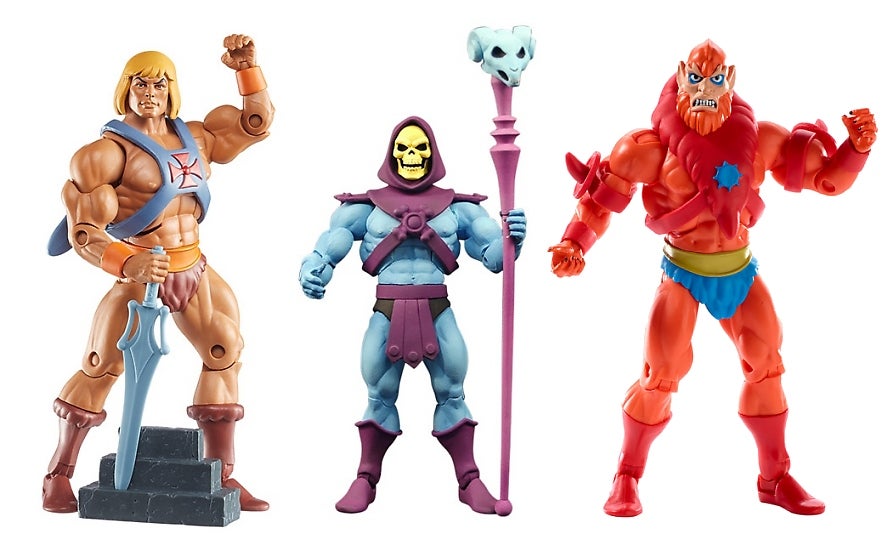 5) Mattel Masters of the Universe Classic Filmation: It took over thirty years, but the line of action figures that we always wanted – ones based on the Filmation cartoon – finally got made. Screen accurate Skeletor? Beast Man? Even He-Man – it all looks fantastic and it makes me really wish I never bought into these past subscriptions until now.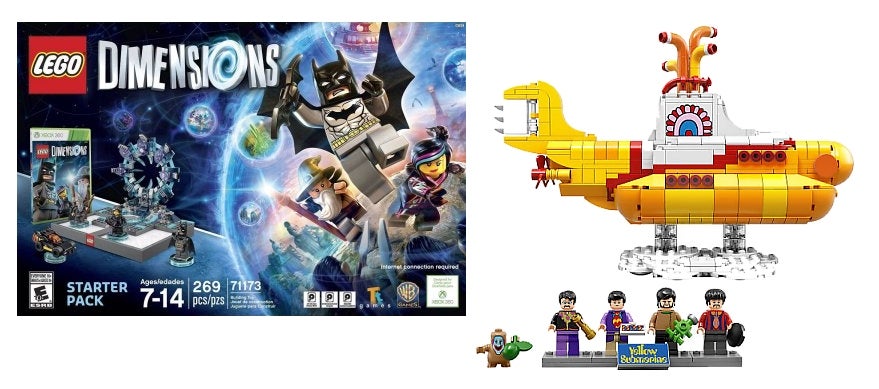 6) LEGO Dimensions / Yellow Submarine (tie): I really didn't want to devote too many slots to LEGO, but they did really, really good this year. With an incredible release of the Beatles Yellow Submarine that no one expected, and a relaunch of LEGO Dimensions filled with so many amazing '80s greats, like Mr T, Gremlins, E.T., and modern favorites like Adventure Time. I thought that the original launch of LEGO Dimensions didn't have enough unique characters, so it's great that they really went in and made the LEGO Dimension sets worth getting, even if you're not into the game.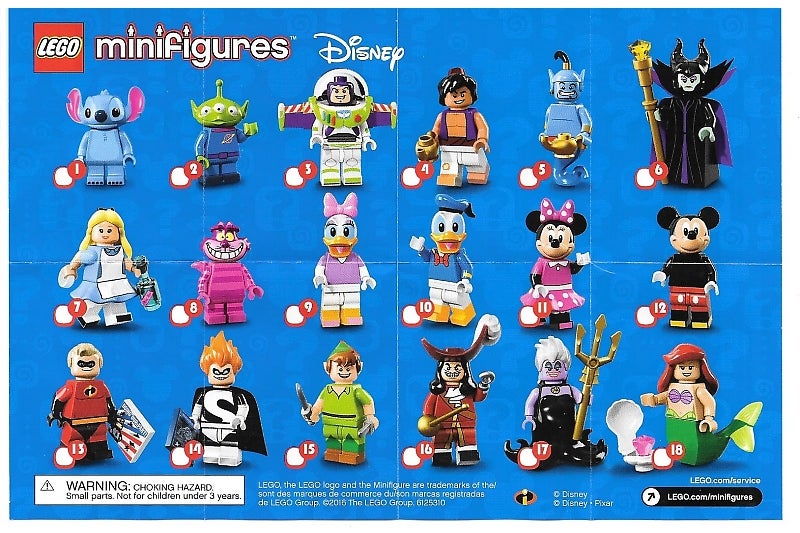 7) LEGO Disney Minifigures: LEGO and Disney seem to go hand-in-hand, even though they're now competing theme parks. However, there's a LEGO Store at both Disneyland and Walt Disney World resorts, so why not have a little bit of Disney at LEGOland? LEGO has always scored big with their random assortment of minifigures and this wave of various Disney characters is pretty amazing. You get the usual suspects like Mickey Mouse and Donald Duck, along with some classic villains in Maleficent, Captain Hook, and Ursula. Throw in a few Pixar characters like Buzz Lightyear and Mr Incredible and this series quickly became one of my favorites of the year. Maybe would rate even higher if I picked up the Cinderella Castle!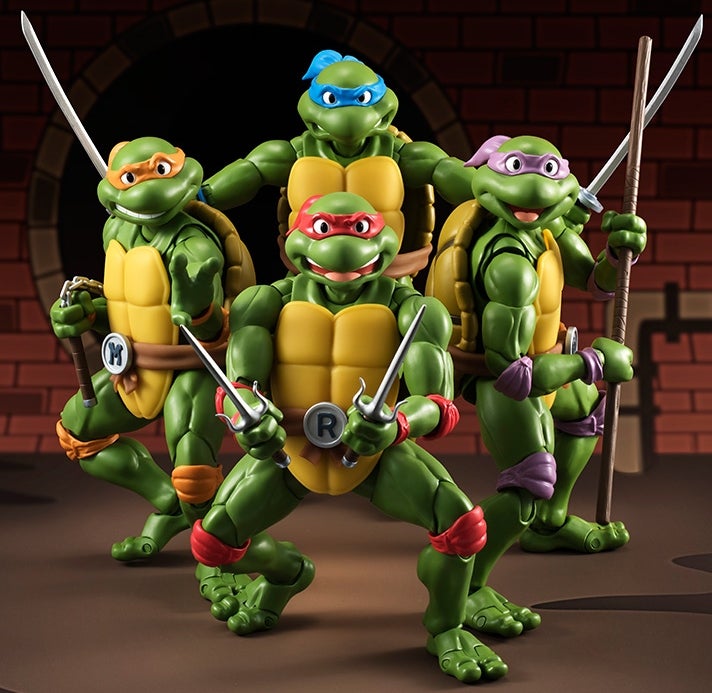 8) Bandai S.H. Figurarts Teenage Mutant Ninja Turtles: Much like my love of Mattels' Masters of the Universe Filmation Classics, Bandai's  S.H. Figurarts have done the same thing for the Ninja Turtles that Playmates just seems too scared to tackle. The line started off with Donatello and Leonardo, with Raphael and Michelangelo shortly after. These figures with their multiple poses, accessories, and faces, all capture the look of the 80's cartoon so well. And with a Shredder on the way, there was no question if I was going to buy in, it was a matter of when. At $65 a figure, it's a pretty steep collection to dive into.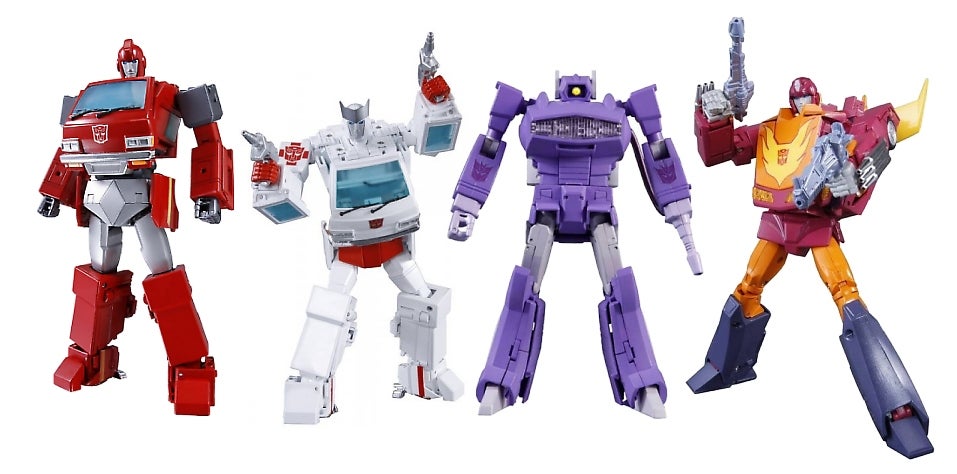 9) TakaraTomy Masterpiece Transformers Iron Hide & Ratchet / Shockwave / Hot Rod: Are you sensing a trend? Animation and toys seem to be my main jam, especially if they're screen accurate. TakaraTomy has delivered a handful of new Transformers this year so it's too hard to narrow it down. This is the first time we're seeing a film accurate Iron  Hide and Ratchet, which is mind blowing. We didn't think we'd ever see a Shockwave release after seeing countless third party attempts, but Takara quickly reminded us that it's not legit until they deliver it themselves. This year also gave us the classic Hot Rod, in scale with the other Autobot cars, with Inferno rounding out the end of the year. Amazing figures, all of them.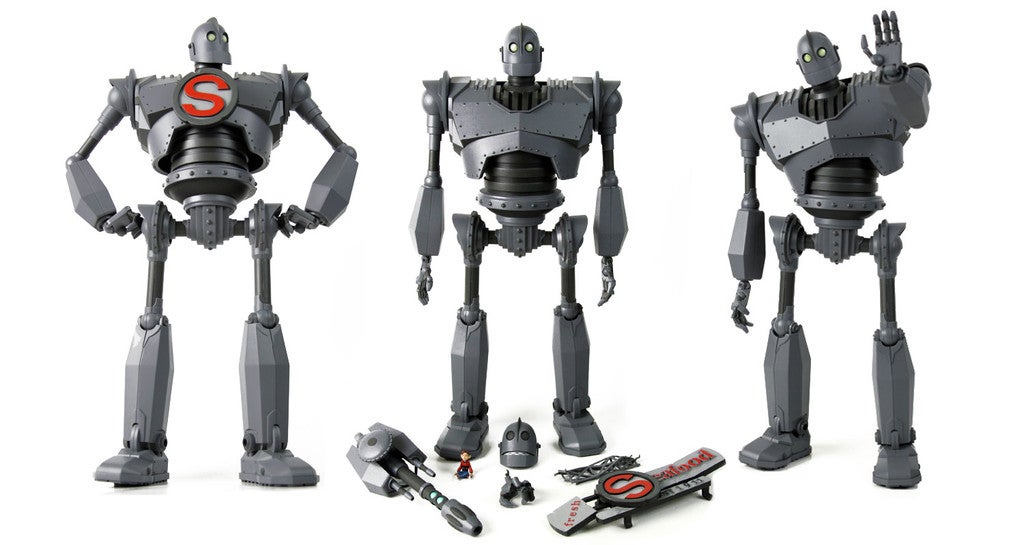 10) Mondo The Iron Giant: After a lengthy year-long delay, Mondo's Iron Giant finally got released in 2016. I love it for it's screen accuracy, its accessories, and size… but I also really hate it. It didn't take long for a thumb to break from doing absolutely nothing, so the quality of the materials here for the price paid certainly don't add up. But it's the Iron Giant, which is a figure I've wanted since the movie was released, so it's on the list!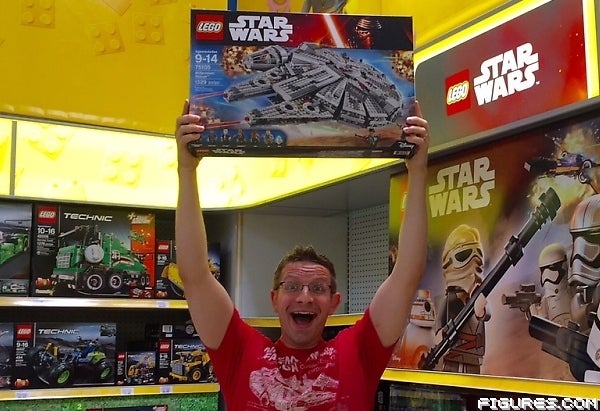 CJ STUNKARD
This year was a banner year for my collecting hobby. My wife and I had been reduced to one income with a little one on the way (who was born into the free air in May), and we needed to make some extra change. I didn't have the capacity to take a part time evening job where I would become beholden to erratic scheduling, so I put 30 years of loving and collecting toys to work for us and hunted eBay and the secondary market for wholesale lots and old style collections to clean, research, and flip. The gambit paid off as far as hitting are bills, and I was able to really cross T's and dot i's in my personal collection. Re-discovering Toy Biz' Lord of the Rings line has been a particular treat!
… But this about 2016, and when it came to the new and exciting shelf fodder at my local store, only two lines seized my interest: the ongoing efforts of LEGO (specifically the Star Wars Advent Calendar) and Hasbro's continuing Micro Machines relaunch.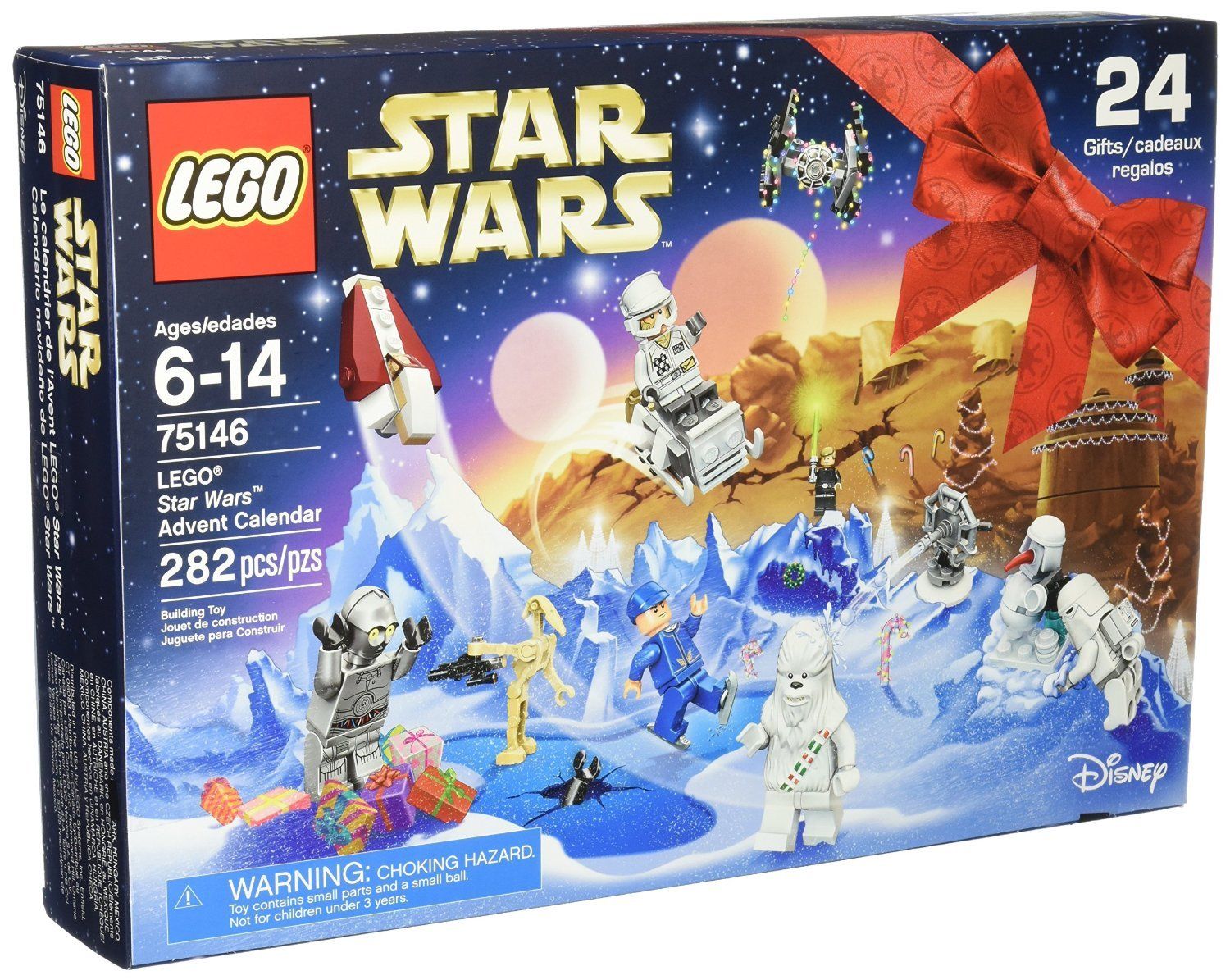 The first item may become an annual household tradition. Last year, my mother-in-law overheard me discussing the LEGO Star Wars advent calendar in a bookstore and decided I couldn't leave said shop with it! This year, I decided to make sure I got one again (and from the same location, no less). For $39.95, a buyer gets a new, single LEGO toy, themed to both Star Wars and winter mischief, every day in December. Plus, exclusive and rare figures are included! So, winning all around on these.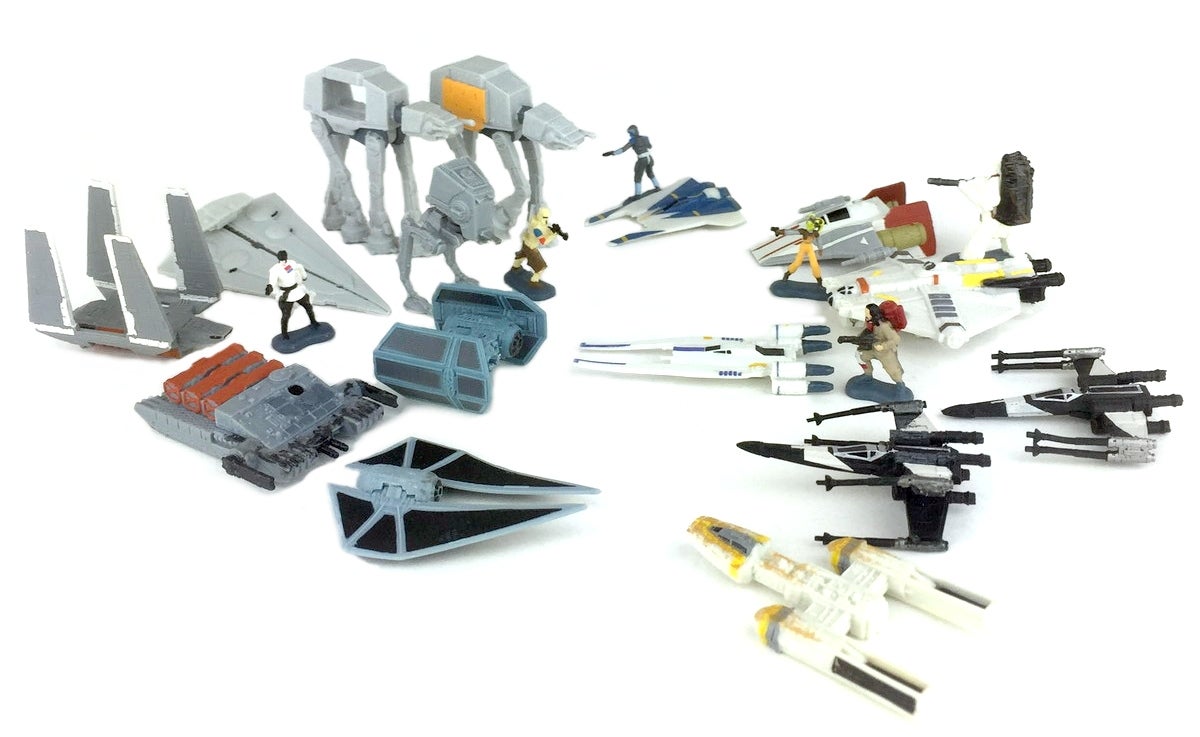 The second item is Hasbro's Star Wars Micro Machines. 2015 saw the line's relaunch with The Force Awakens, and this year brought us even more releases from that film and a great assortment of goodies from both Rebels and this month's Rogue One. Distribution was significantly lower this year than last, and I fear Micro Machines may not appear at Toy Fair 2017; but if not, the relaunch had a good 12-month run, with lots of great goodies for fans of the films and canon television programs!

Keep up with all the latest toy news by following Figures.com on Facebook and Twitter!
To buy action figures, take a look at BigBadToyStore.com, TheToySource.com, Toynk.com, BriansToys.com, ToyWiz.com, and EntertainmentEarth.com.