Another Toy Fair has come and gone, and boy oh boy, it was a lot to take in. A question we received quite frequently at the show was: "So, what are the cool new toys this year?" That's a tough question to answer when you're covering back to back toy companies for three days straight. Toy Fair slips into one big blur of toys. It's also a question that really doesn't have a concrete answer: everyone has their own favorite properties, their own favorite collectible size, heck, even whether it's an action figure, statue or plush. One man's trash is another man's treasure…
With that said, we've now had some time to decompress and look back on what Toy Fair had to offer this year. While every toy company put out their best, some stood out from the pack. Scroll on for some of OUR favorite toys and collectibles from Toy Fair 2019 (in no particular order)…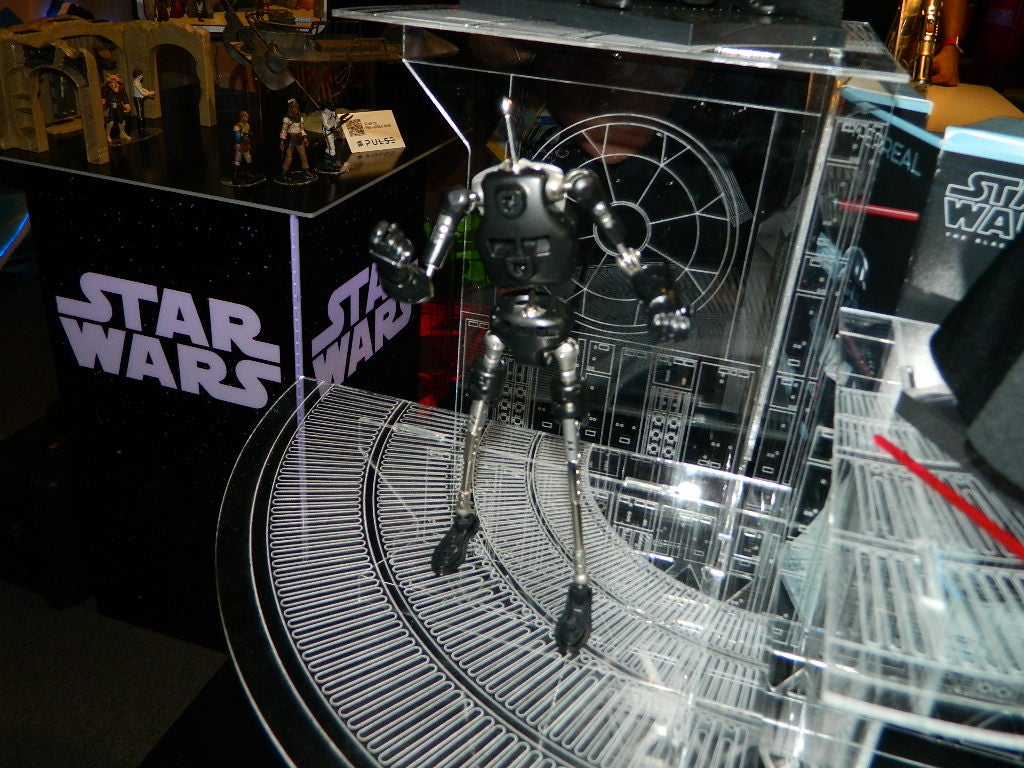 HASBRO
Hasbro's new Star Wars 8-inch Hyperreal action figure line has us excited. The use of an internal hyper-articulated metal skeleton separates this series from other premium lines and the addition of multiple accessories and a display base is sure to make these figures a centerpiece in any collection. Give me a Boba Fett I'm sold.
We also congratulate Hasbro on their acquisition of Saban's Power Rangers. The toy license appears to be in very capable hands: the core series aims to please fans of the current television series, while the Lightning Collection is sure to appeal to passionate Power Rangers collectors.
Bold new licenses such as Fortnite and Overwatch show Hasbro is keenly in touch with the hottest trends, while perennial classics, like Transformers and Marvel Legends, continue to entertain with exciting changes (such as the battle scarred deco on the War for Cybertron figures) and bold new character choices (Ant-Man's Luis and obscure Rock Python come to mind).
SUPER7
Masters of the Universe might have placed Super7 in the collector spotlight, but the company has long been a favorite of mine because of their fun, innovative product. Case in point: ReAction. The "what if?" project of pop culture properties turned into simple action figures with 5-points of articulation (it's all about the blister card art packaging) continues to tap nostalgia… and tickle the funny bone.
Some of the new ReAction licenses at Toy Fair included Transformers (save me a Soundwave!), Robocop (with a melting toxic waste Emil Antonowsky!), Breakin (LOL>WTH?!), and Rocky IV (WTH?! Part 2: robot butler!). Super7 is having FUN with ReAction and it's contagious. That's nothing but a good thing for collectors like myself that are tired of the same old, same old.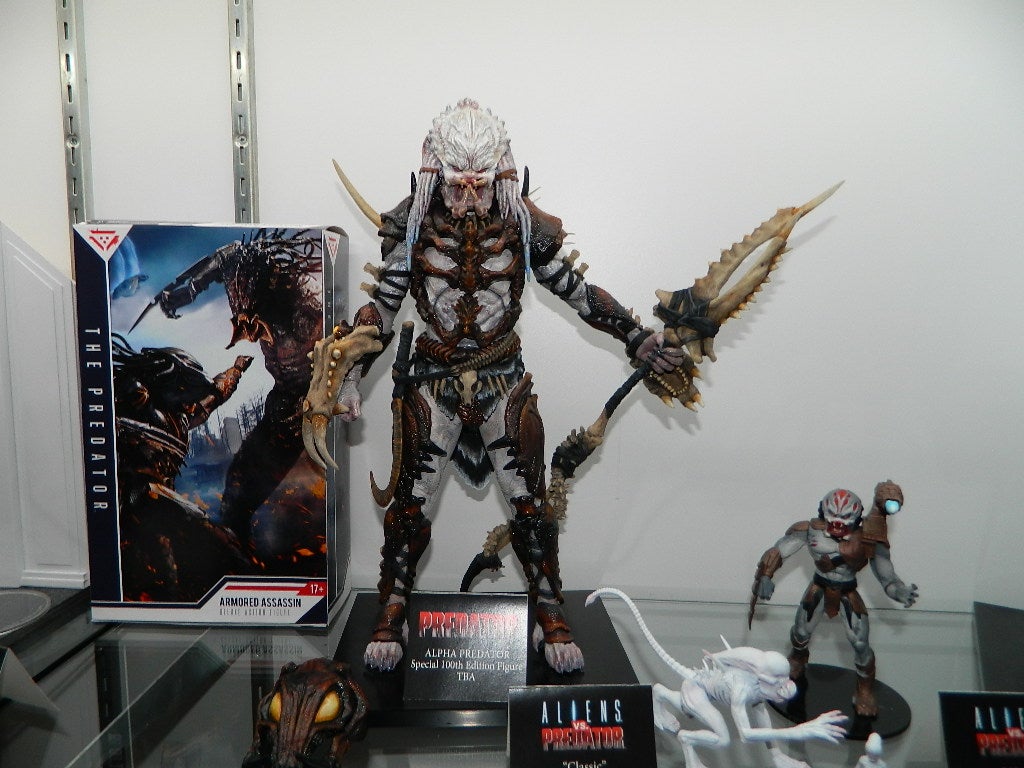 NECA
NECA is a fan-favorite company for a reason: they continue to release some of the most detailed, articulated action figures from some of the hottest licenses – new and old. Toy Fair continued to show off NECA's love for the Eighties, with awesome comic based Teenage Ninja Mutant Turtle 2-packs working their way into Target stores, John Carpenter's sci-fi classic They Live getting a surprise figure set (Obey!), and the underrated Halloween 3 trick-r-treaters receiving figures (who would have thought?!).
Even more modern properties are not safe from NECA's collectible grasp. Fans will be getting a creepy cool figure of Dr. Decker from Clive Barker's 1990 classic Nightbreed (must have!), The Nun and crazy Crooked Man from The Conjuring universe, new additions to the Guillermo del Toro Signature Collection including Amphibian Man (The Shape of Water), and more Alien and Predators than you can shake an extending Predator spear at, including a killer NECA original design, the Alpha Predator!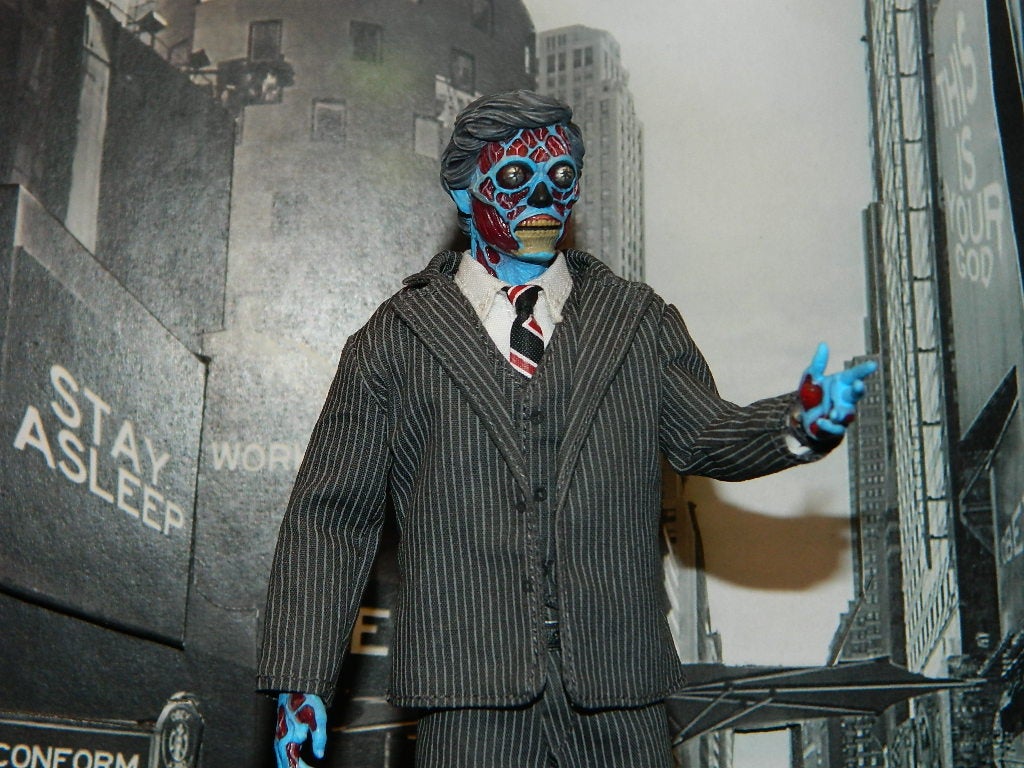 MEZCO
Two words: One:12 Collective. The 6-inch clothed figure line featuring hyper-articulation and loaded down with accessories has exploded into a toy collecting phenomenon. When figures fetch upwards of $1K on the secondary market, you know you have something special. While One:12 Collective started off with only a handful of licenses, the series has since expanded to include everything under the sun.
New licenses on display at Toy Fair included Marvel's upcoming Captain Marvel, an alien from John Carpenter's They Live (whole lot of They Live this year – love it!), and the first collectible figure from the new Hellboy movie. Heck, even Mezco's cockroach mascot is getting in on the One:12 Collective action with a figure of his own!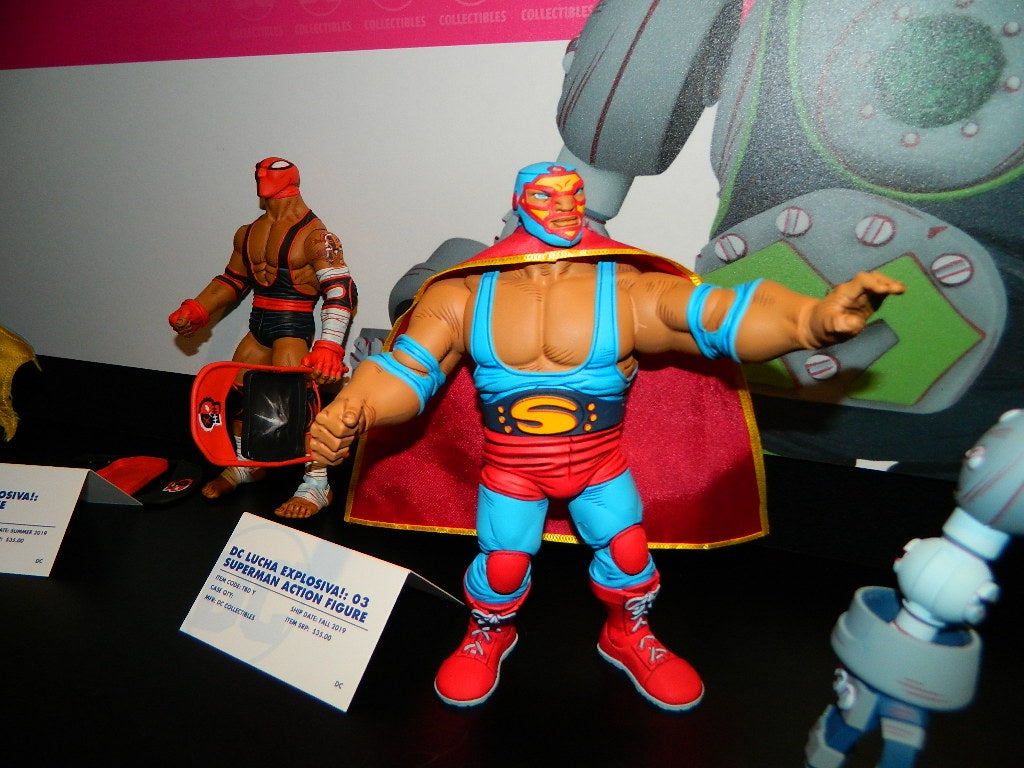 DC COLLECTIBLES
DC Collectibles has been the go-to toy company for anything, err, DC collectibles for years now, from high-end statues to must-have superhero action figures. In addition to the continuation of fan-favorites like the Batman Black & White series, DC Essentials, and Batman: The Animated Series, DC Collectibles really mixed things up at this year's Toy Fair with some wild new ideas. DC ¡Lucha Explosiva! set the tone for DC's burst of creativity, the figure series popping off the shelf with explosive colors and styling.
DC Engines of Chaos also caught our attention with the statue line's gritty "Mad Max" inspired design, while DC Prime looks to set a new standard when it comes to high-quality 9-inch scale action figures fully loaded with cool sculpt, accessories and articulation.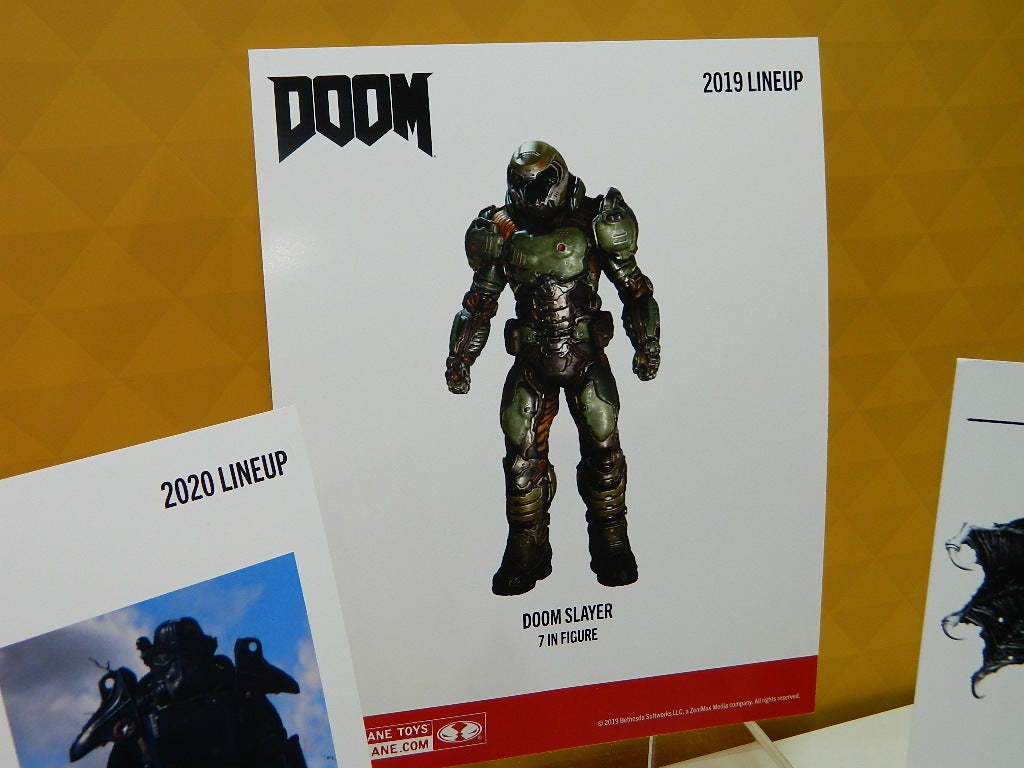 MCFARLANE TOYS
McFarlane Toys got me back into collecting action figures many moons ago, and while they have had some low points over the years, they always find a way back into my collection. The OMG moment for me at this year's Toy Fair was McFarlane's announcement of the Bethesda license. 7-inch figures from Fallout is way cool news, but a 7-inch figure of the Doom Slayer from the DOOM video game reboot? SOLD!
However, McFarlane's love for the hottest video game licenses didn't stop there. Fans can also look forward to figures from Mortal Kombat 11 (Finish Him!), the Call of Duty franchise (Frank Woods!), and even new characters from Borderlands. And while Fortnite is not my video game forte, it IS for millions of other players. The fact that fans can own cool Fortnite characters as McFarlane figures is nothing but a good thing.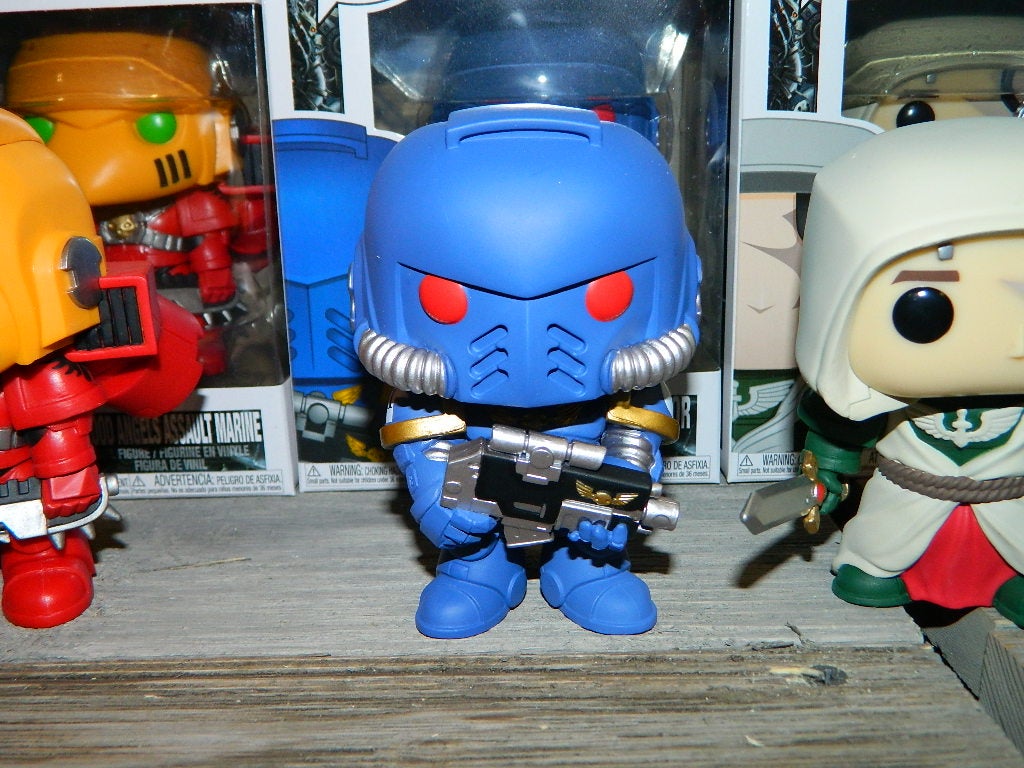 FUNKO
Funko is one of those companies that you either love or hate. Cute collectibles aren't everyone's cup of tea. However, there's no arguing the power of the Pop! The key to their success is simple: an affordable price tag (around $10… a pop, LOL!) combined with every conceivable pop culture license you can imagine. If Funko doesn't already have a Pop! from your favorite property, they soon will.
Case in point: Warhammer 40K! I don't play the game, but I LOVE the books, artwork and lore. To finally have some 40K figures – while silly and fun – is a must-have for this collector. Other upcoming standouts included the 40th Anniversary ALIEN Pop! (with nice translucent head dome), Overwatch's Hammond in his Wrecking Ball mech (nice chunky plastic construction), new JAWS Pop! (although Funko's past ReAction exclusive with shark and bloody Quint is still my fave), and the new Ghostbusters (Slimer eating hot dogs is hilarious).
DIAMOND SELECT TOYS
While they may not own as many licenses as Funko (does anyone?), Diamond Select sure gives it the old college try with fan-favorites from Marvel, DC, Star Wars and more. Even so, it is DST's wide range of product types that impresses the most – from affordable Minimates, awesome Select action figures, to high quality PVC Gallery statues and high-end Legends in 3D resin busts – DST has fans covered. And with their recent acquisition of Gentle Giant Ltd. (read the story HERE), DST's catalog of collectibles expands even more.
Head turners at Toy Fair included a stunning new statue of Bruce Lee with dragon (80th Anniversary), a large and in charge Sonic the Hedgehog diorama series, even more butt-kickin' John Wick figures and statues (because I can never have enough gun-fu in my life), a fully accessorized Iron Giant action figure, and surprise new lines of Select figures from HBO's Westworld and Netflix's Castlevania!
CLICK HERE FOR OUR COMPLETE TOY FAIR 2019 COVERAGE!
---
Keep up with all the latest toy news by following Figures.com on Facebook and Twitter!
To buy action figures, take a look at Hobby Link Japan, BigBadToyStore.com, TheToySource.com, Toynk.com, and BriansToys.com.