Review and Photos By Andy Jones
The thing I loved about dinosaurs when I was a kid was that they were large, mysterious, but infinitely cool. A force to be reckoned with. The same can be said about the Playmobil Dino Rise Dino Mine Playset. It's massive! It's full of tons of action features and accessories and boasts a working roller coaster style mine cart track.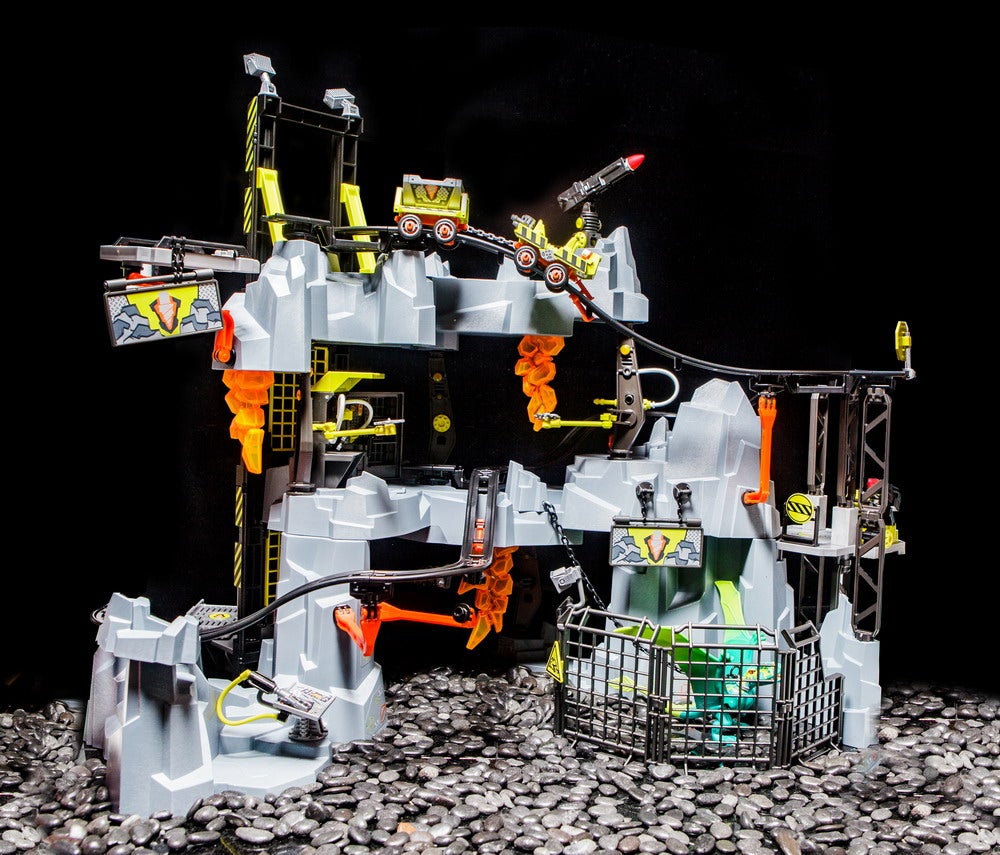 We've taken a look at the Dino Rise series before, with the first wave. https://www.figures.com/2021/07/12/review-playmobil-dinorise/
Armor-wearing dinosaurs battle against mech suits. It's fantastically epic and lends itself to massively imaginative adventures for kids, and displays fantastically in your collection. Continuing in that theme is this immense mine playset. How would Playmobil make a playset of a cavernous mine? This is pretty much how you would do it.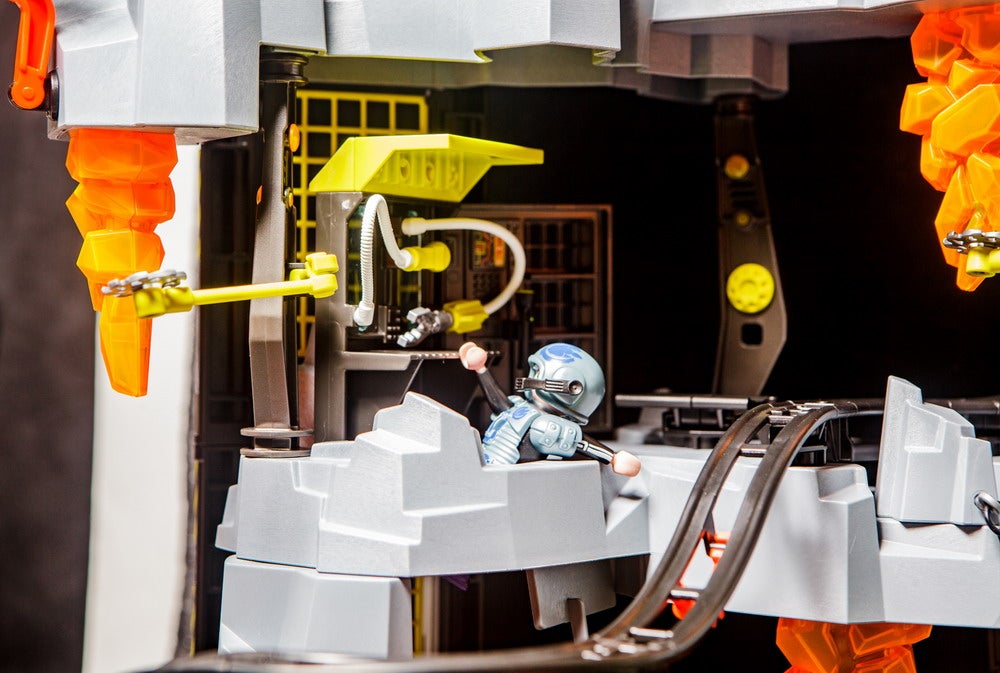 The size is an impressive yes, but the thing I'm most taken with are all the "stations" all over the playset. Drills, rocket launchers, desks, buzzsaws, there are tons of little places for the figures to be doing something. There is a trap door by the workbench, a working elevator, in addition to the firing missile launchers. It's almost overwhelming with all of the "things" that they've built into this set.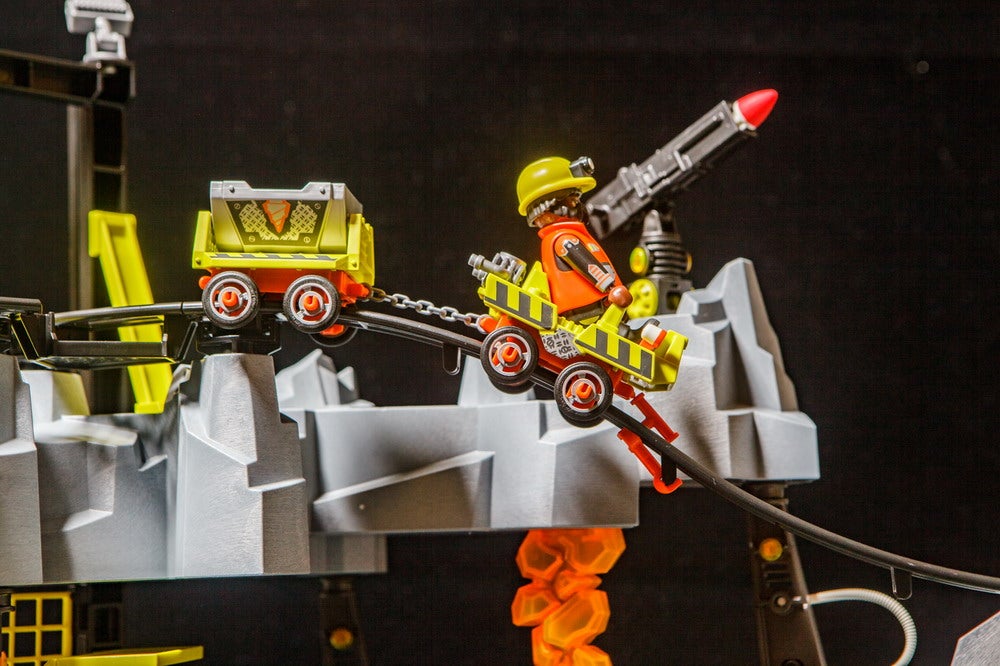 But the centerpiece for me is the roller coaster track that runs through the set. The mine cars buckle on (utilizing a set of smaller wheels under the belly of the cart) so they can zoom around the length of track without flying off. Once it gets to the bottom you can maneuver the elevator to get it back up to the top again. I like that there are two different spots with pop-up pegs that will hold the cart in place if you'd like to display the cart riding the track.
There really isn't a front or back side to this playset, everywhere you look there's something going on. I like the dino cage with it's "watch out for biting dinos" warning sign. The cage does not have a gate (as I suppose the pterodactyl would fly in and out. I like how the chain around his neck secures him to a rock, but it easily breaks free for some delightful dino chaos.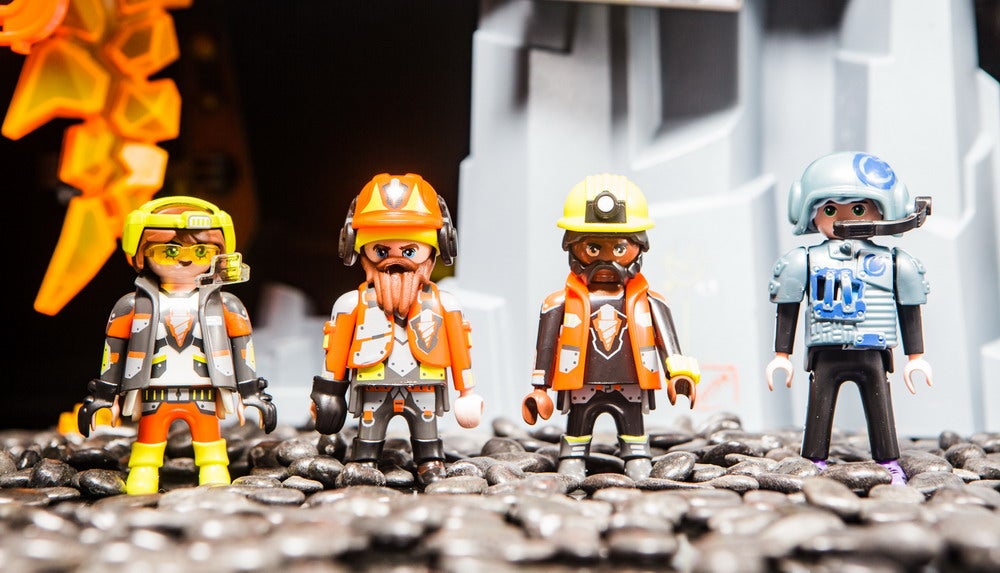 This set comes with one dino and 4 Klickys. Three of them are of a short stature (perhaps a Snow White homage?) I like their gear and how it easily interchanges with additional accessories and tools. Both size figures can sit in the mine cart as well. Also, there are several other sets in this second wave that come with mine carts that can be attached to these in a daisy chain. The only thing I don't care for is the newer style of eyeballs that Klickys are now sporting, they have pupils. I greatly prefer the original solid eye style. Those still look great in the Playmobil licensed collector sets like Back to the Future, James Bond, and the recent Knight Rider sets.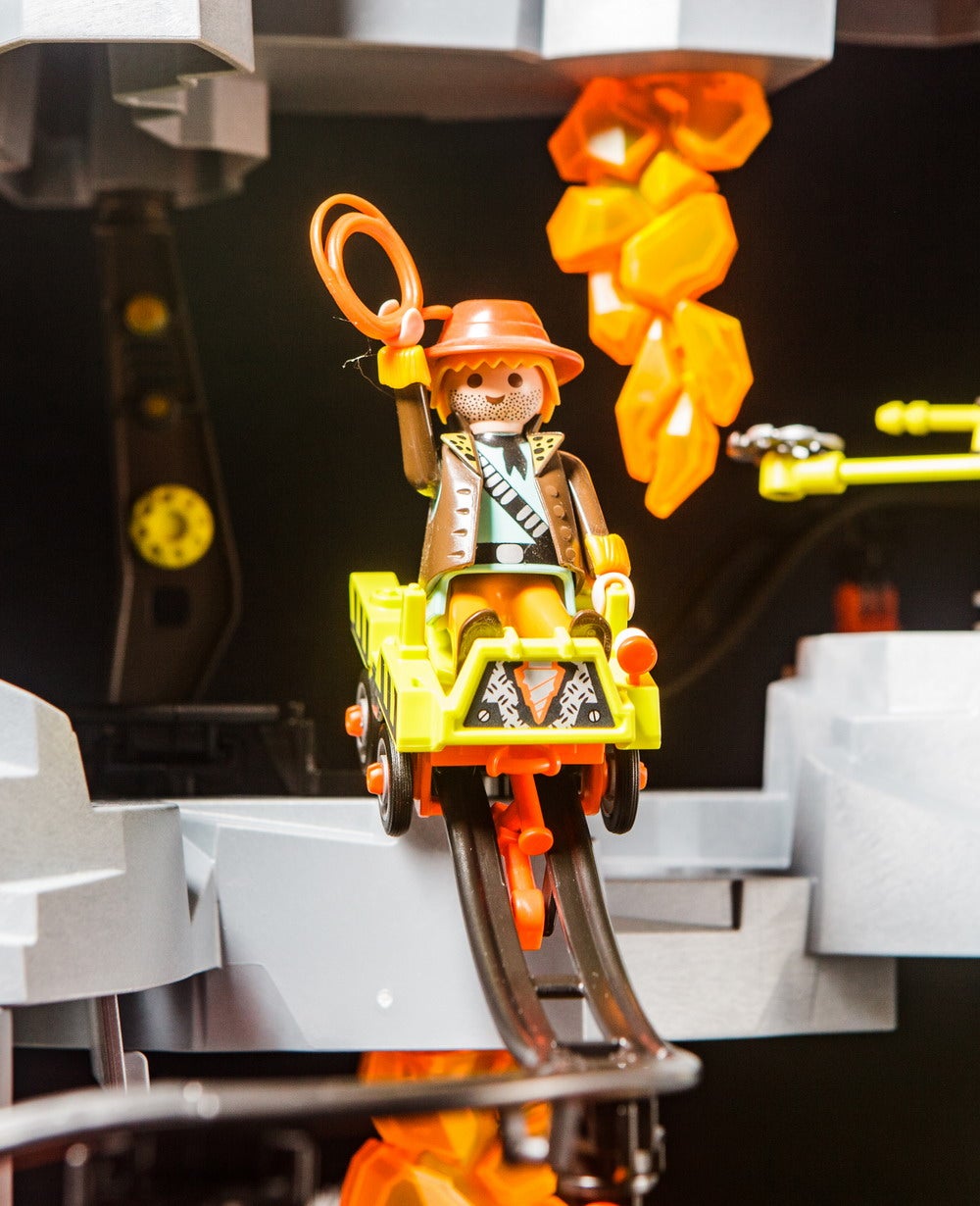 Speaking of homage, and pupil-less eyes, I had to grab this Indiana Jones-styled figure and give him a ride in the mine cart. It looks fantastic, but I need to grab a few more carts so I can fit some Thuggee guards to chase him.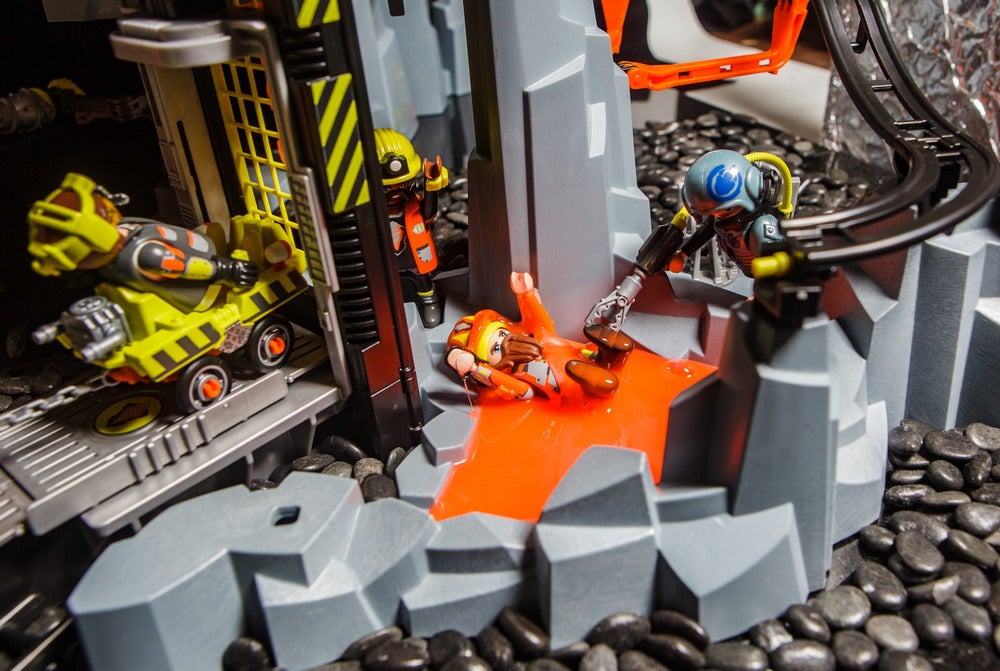 I appreciate that Playmobil has built up a storyline, complete with characters and videos you can watch on Youtube, however my favorite part of Playmobil, for years, has been the rush of stories that flood your imagination when you get a blank set without any established lore. But even so, I still found a lot of inspiration in putting this set together. To be clear, I provided the red slime, but there was a perfect enclosed pool in order to set up this lava shot. So you can indulge your creativity just fine, I don't mind that Playmobil is providing a bit more jump-start to the story-creating process.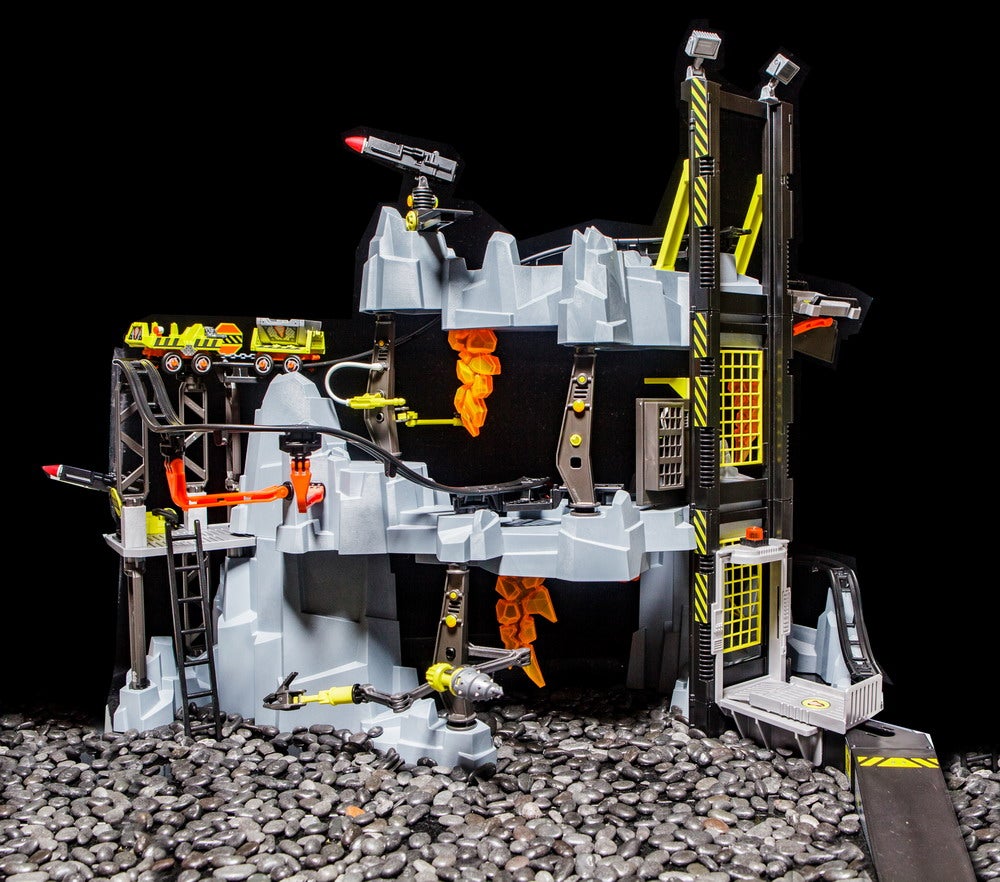 This set is immense. It was a slightly challenging build, but they divided up the major sections into individual bags so it's not so overwhelming. My son, though he has outgrown playing with Playmobil with me, enjoyed rolling up his sleeves and jumping to help me construct the track and get the elevator in place. It inspires awe, looks great on display, and is hours of fun.
-Review and Photos By Andy Jones
-Review Samples Courtesy of Playmobil
We are committed to finding, researching, and recommending the best action figures and collectibles. We earn commissions from purchases you make using the retail links in our product reviews. Learn more about how this works.
---