Review and Photos By Andy Jones
Knight Rider, a shadowy flight into the dangerous world of man who does not exist.
Playmobil has really done it now. I've really been enjoying their licensed properties such as Ghostbusters, James Bond, and Back to the Future. But growing up, I always wanted to own (or be friends with??) KITT from 80s classic Knight Rider. And here we are, I'm giddy having a Playmobil scaled KITT in my hands, complete with swishing sensor and appropriate sound clips. The very first thing I did was try my best to replicate the opening shots at sunset on the Salt Flats. Of course, I live near Washington DC, so this will have to do.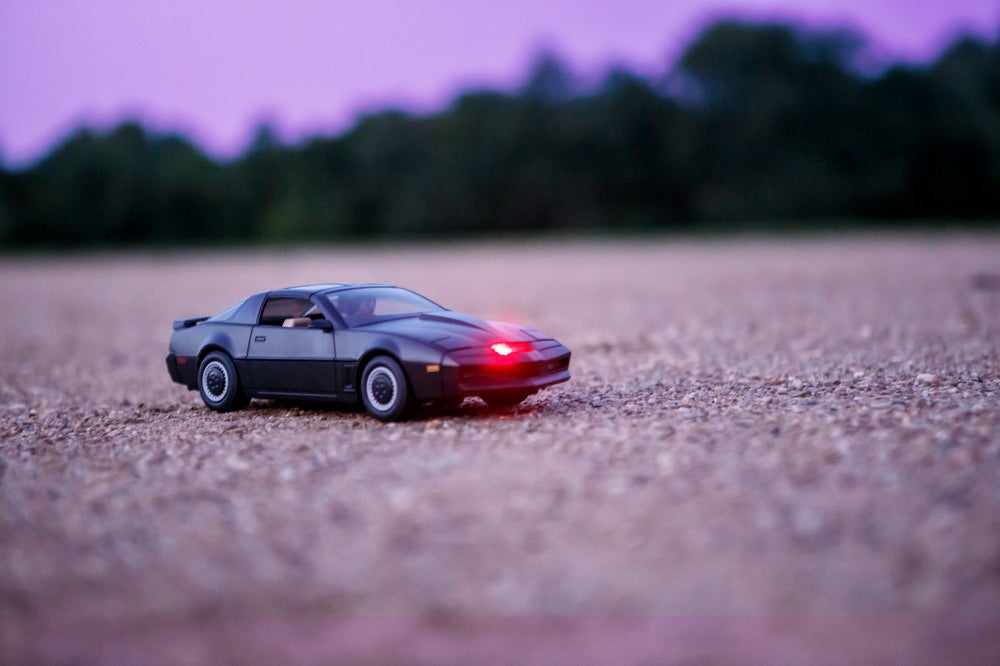 The point is I was instantly inspired to "play" with this toy. I had a 100 ideas instantly out of the box. I couldn't wait to insert the batteries and hear KITT's signature voice. His swoosh goes back and forth and, what's this? The indicator light on the dashboard blinks to his voice!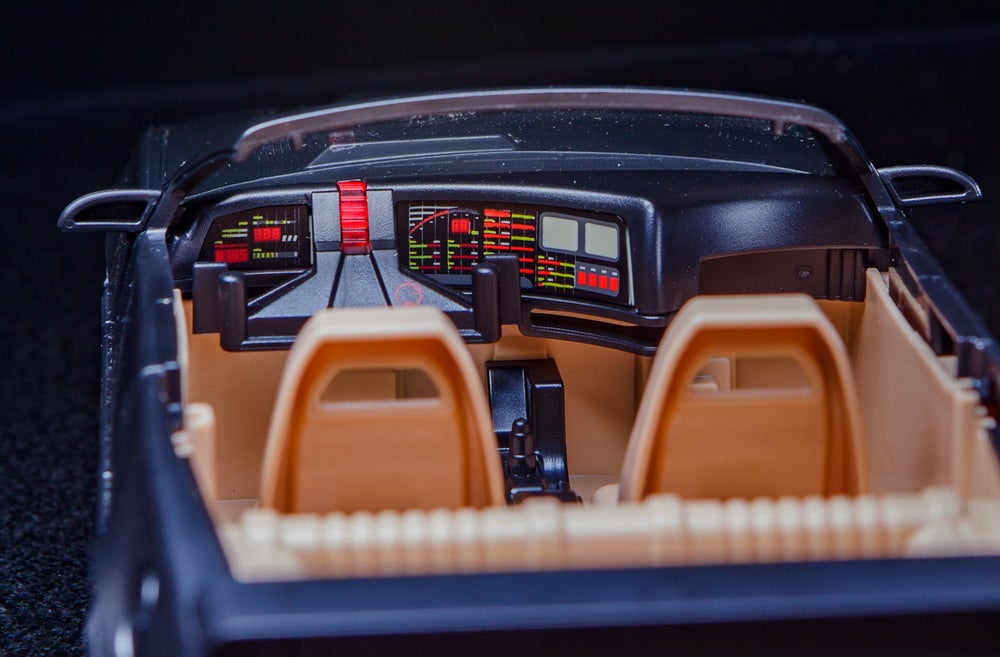 The dashboard is incredibly detailed. There's even a port for his printer! There are dossier pieces that can fit in the printer slot, and then the klicky can hold it. I love the attention to detail. I know it's a minor gripe, but the steering "wheel" doesn't move at all. Micheal can hold onto it just fine, so it's not really an issue. And typically you only need to move the steering wheel in a Playmobil vehicle to fit the driver into the seat, and there are no issues getting Micheal in place.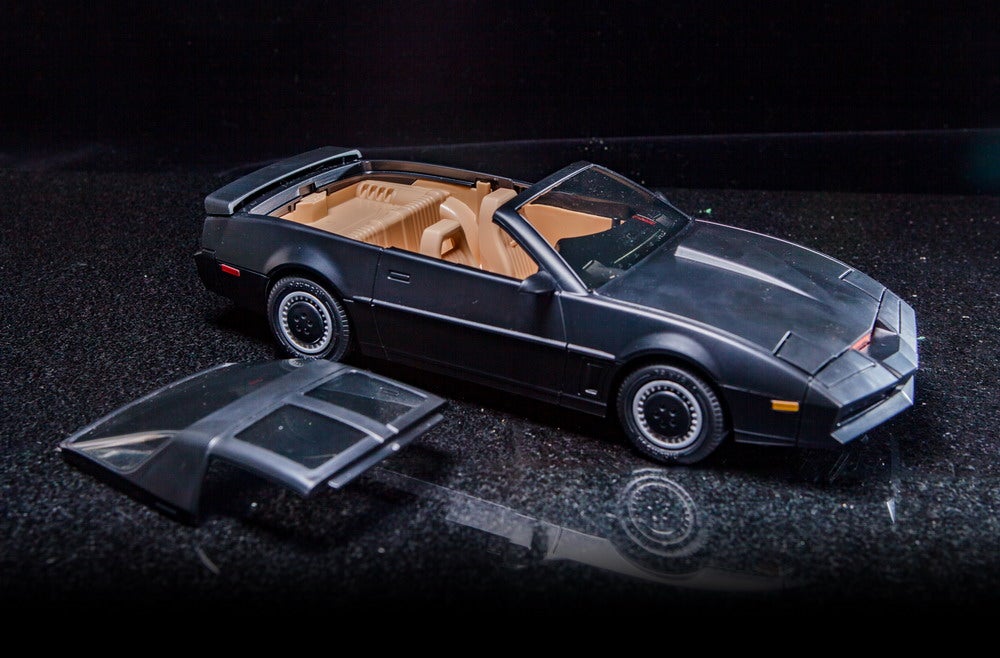 As far as getting figures in and out, the roof very easily pops off so you can access the interior. As per Playmobil design traditions, the doors do not open. But the roof comes off and clips back into place easily. Also, the T-top features windows like in the show.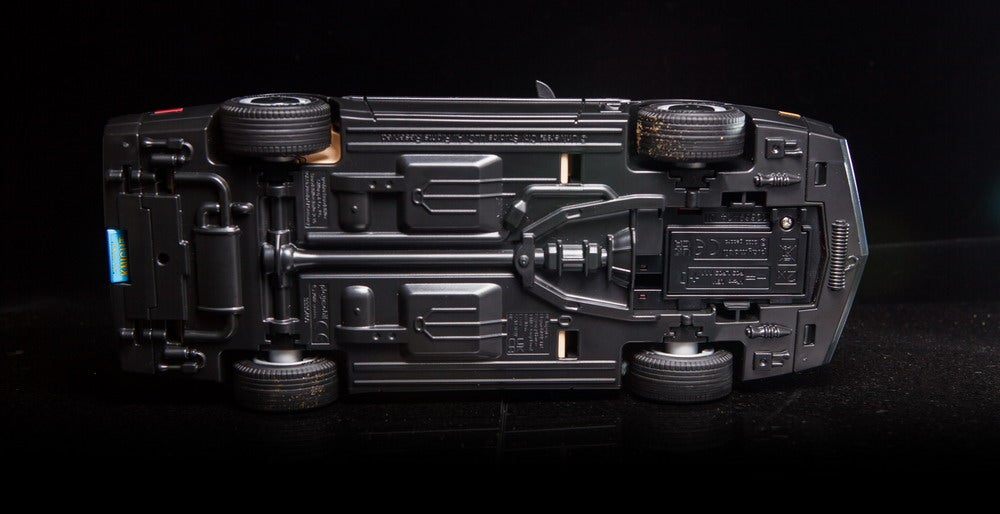 Speaking of detail, I love the additional details on the bottom plate. Typically you get a muffler and some pipes, just enough detail so it's not a flat piece of plastic, but on KITT, they featured his wench and some rockets.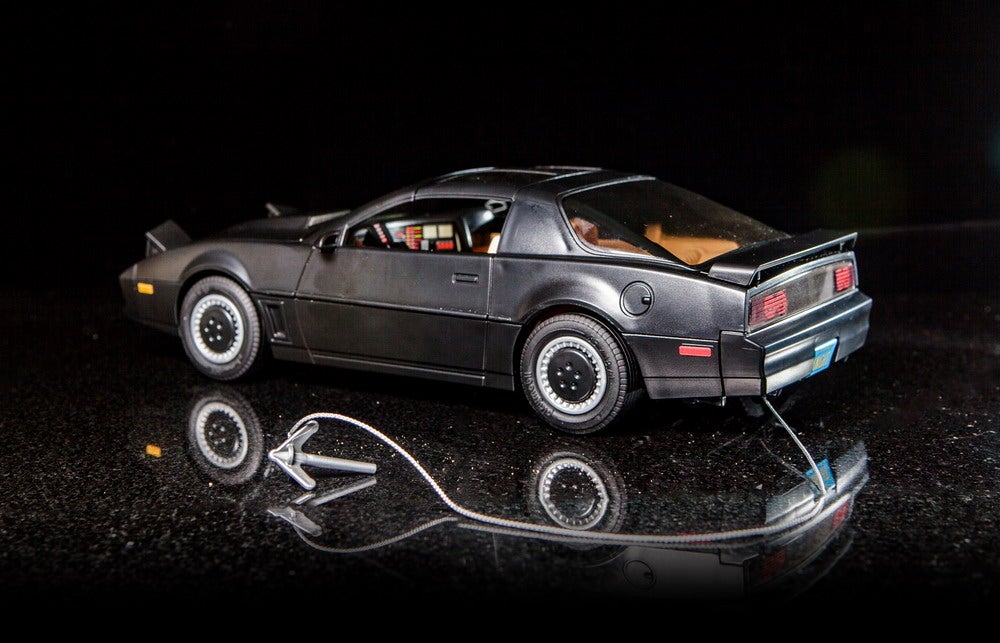 The winch is just sculpted into the mold, however, there is a grappling hook with an attachment to connect just under the spinning license plate, so you can also have some fun with that.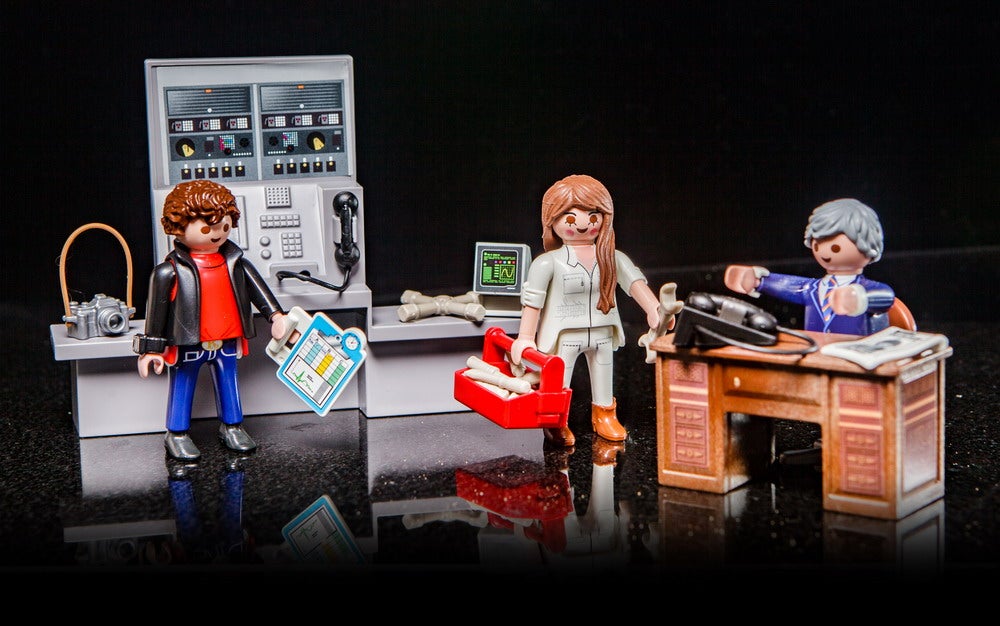 I mentioned in some of the other collector-grade vehicles that I thought they could have included a few more accessories or people. Well, I love the 80s computer console, desk, and inclusion of Devon and Bonnie. These look fantastic and give a few more display options as well. Every possibility was considered.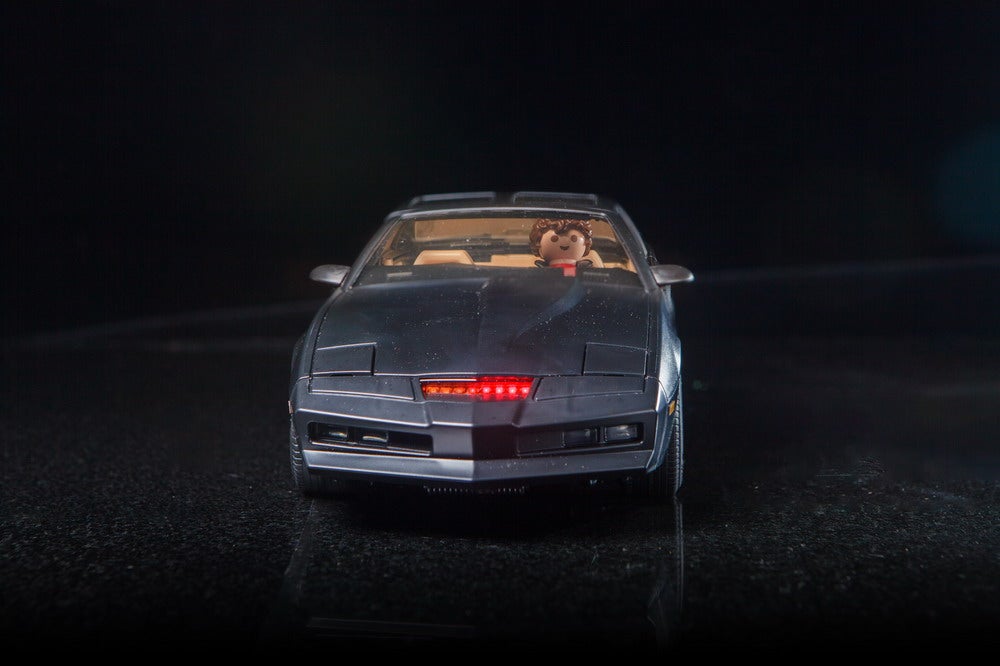 My favorite feature is the press button to get the light and sounds going. It's seamless. You can't tell there's a button at all. Just press down on the raised area of the hood and KITT will start talking and his sensor will start swooshing. Press it a few more times for random phrases. He'll keep scanning for several minutes before auto powering off, but you can turn him off by pressing the button for 4-5 seconds. I love how you can't even feel there's a button. It's so clean and definitely puts it above being a simple toy.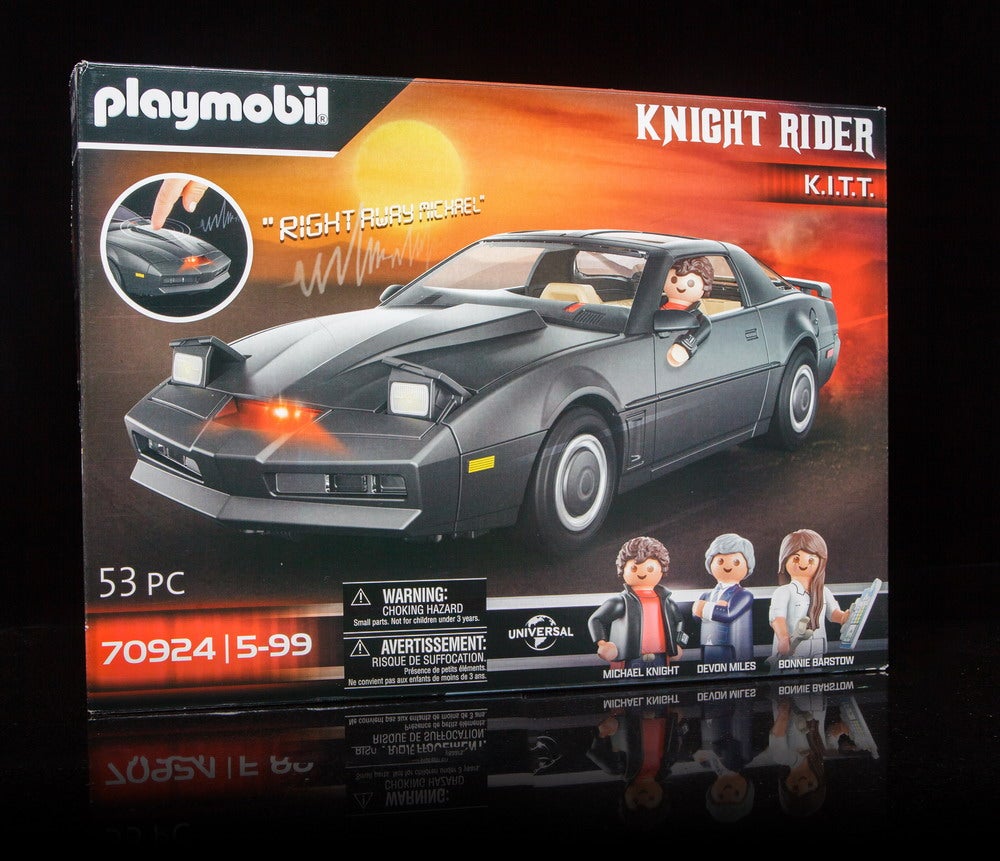 Overall I love this set. I've been waiting and waiting for it to get in my hands ever since it was teased last year (we knew what it was under that drape!) Now that I've played with it, and I'm displaying it and showing it to everyone I can (including the HVAC guy that stopped by last week) I do have to discuss the elephant in the room. The price tag on this puppy is $90. Playmobil has always been a bit higher price point than normal toys. On top of that it is intended for adult collectors and not just for children, and on top of that includes electronic features, and is a licensed property. I would say this toy is perfectly safe for your kid to play around with a bit, but at $90, they better wash their hands first! I think this would be a home run if it was closer to $75, however with all of the factors I mentioned, it is understandable. If you have to be choosy about which collectibles you're grabbing right now, then definitely put this at the top of your priority list.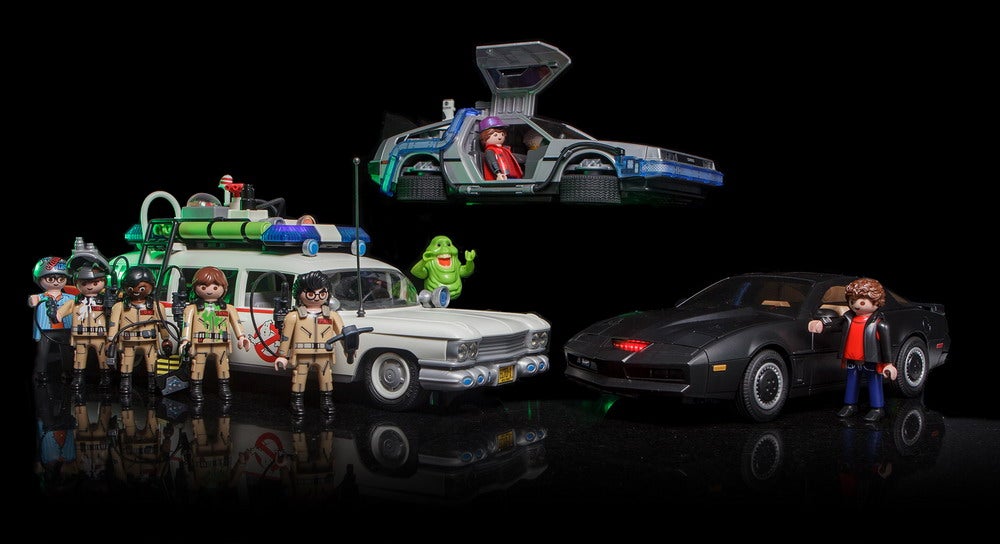 Being Playmobil, its scale and design aesthetic fits in seamlessly with their other licensed collectibles. It looks so good next to the Ecto-1 and DeLorean. (and all of your other Playmobil vehicles and people). You can come up with your own adventures on how they can solve crimes together. Don't forget about the Scooby Doo Mystery Machine or the A-Team van. Will we ever get a Dukes of Hazzard General Lee to round out the roster? I'm going to guess not, but fingers crossed for an all-black Goliath mobile lab 18-wheeler that can fit KITT inside.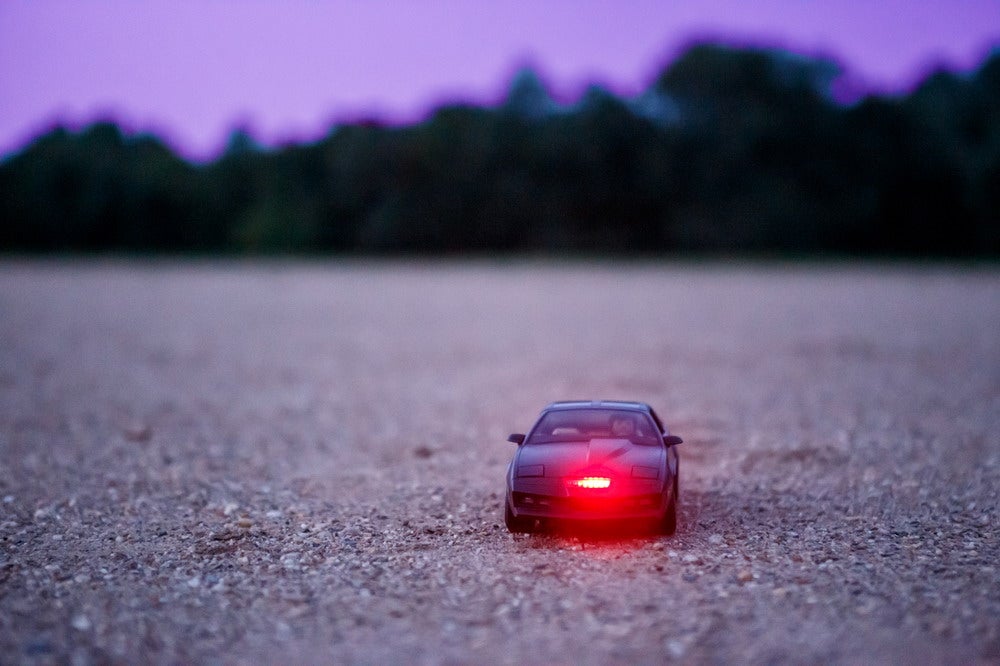 This is my favorite collectible of the year, easy. It's so much fun to play with and looks great on display. The Michael figure does have that Hoff vibe and includes his wristwatch radio so he can ask KITT to bust through a wall and get him out of a jam. Thank you to Playmobil for providing this sample. It is available now on Amazon and other Playmobil retailers.
If you need some inspiration, my favorite episode of the classic series is Episode 115, The Topaz Connection. It features everything from an 80s adventure show, including a cheesy rear projection Las Vegas montage, a private jet fist fight, and early computer forensics. You can watch it on Netflix currently.
-Review and Photos By Andy Jones
-Review Samples Courtesy of Playmobil
We are committed to finding, researching, and recommending the best action figures and collectibles. We earn commissions from purchases you make using the retail links in our product reviews. Learn more about how this works.
---