As previously reported, 52 Toys had released a new wave of 3 3/4-inch action figures under their FigLite brand called the Legacy of Lovecraft, the retro-inspired toys featuring characters from the Cthulhu Mythos.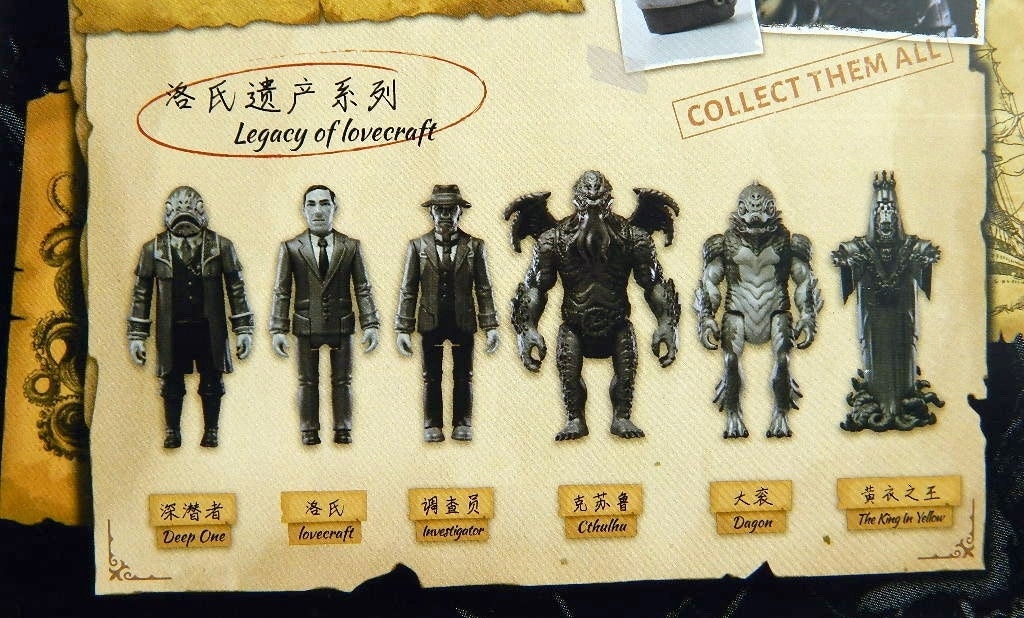 Available for order through BigBadToysStore.com priced at $27.99 each, the series stars Great Old Ones CTHULHU, THE KING IN YELLOW, and DAGON, a DEEP ONE, and an INVESTIGATOR, along with a figure of LOVECRAFT himself.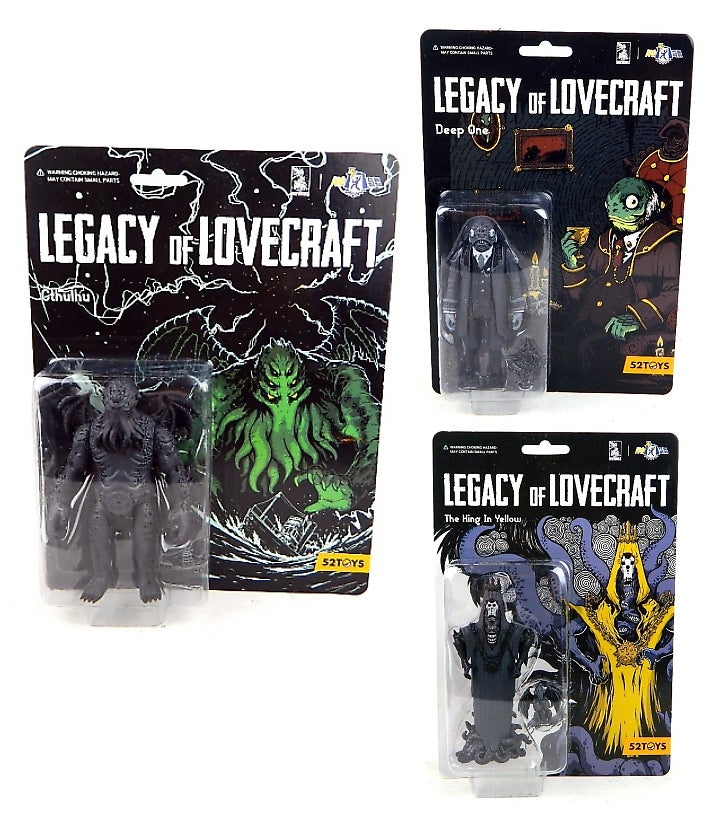 The Legacy of Lovecraft figures are blister carded, with each character featuring unique and wonderfully illustrated artwork. I particularly like the artwork for Cthulhu rising from the depths to sink a ship, the fish-like Deep One just chillin' in a chair with a refreshing beverage, and the psychedelic, swirly madness of The King In Yellow. In an unusual move for a 3 3/4″ figure series, card size varies depending on the character's size, with Cthulhu's blister card being the largest. The back of each card shows off the entire figure lineup and what appears to be a bio that is unique to each character. Unfortunately, the descriptions are written in Chinese.
What I like about the universe Lovecraft created is the thin line between reality and madness. That humans are mere specks in the cosmos: that we are nothing more than servants to horrifying beings that our fragile minds can't even begin to comprehend. That insanity awaits those that catch just a glimpse of the Elder Gods. Capturing the humanity of the Cthulhu Mythos, 52 Toys presents figures of H.P. Lovecraft himself and a hapless Investigator. While their toy designs are not as exciting as the much more interesting monsters, the Lovecraft and Investigator figures make for a more balanced collection and are a must-have for completists.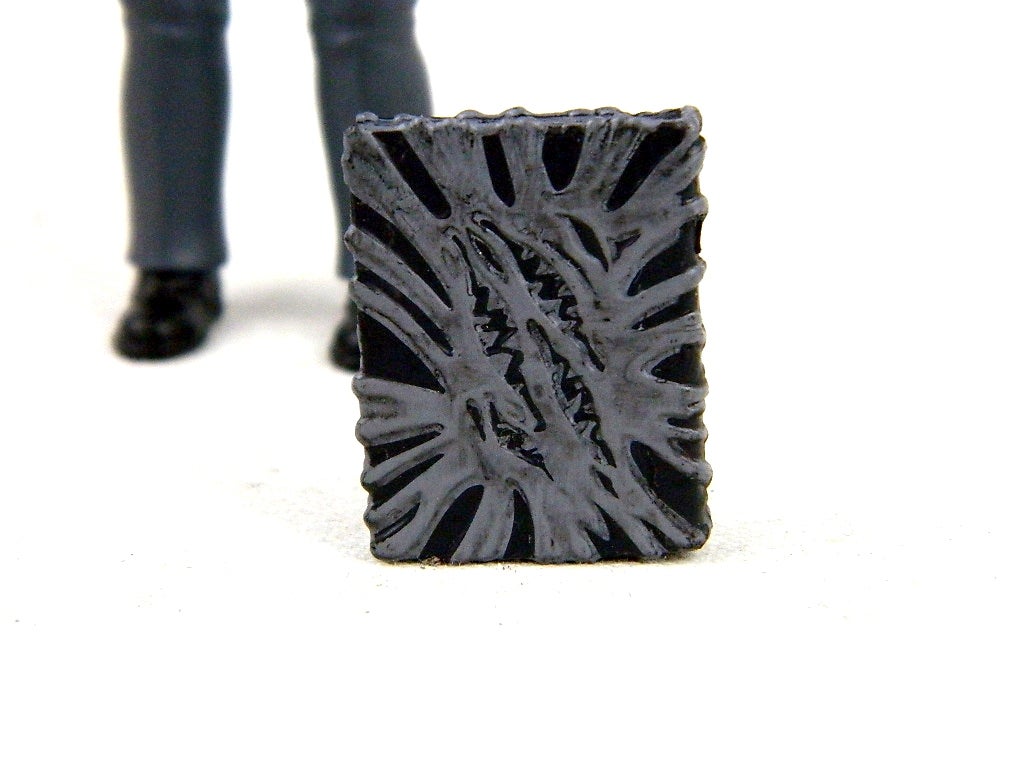 I particularly like the small accessories each figure includes – as does every figure in this series. Lovecraft comes with this cool-looking book, no doubt packed with his crazy stories, while the Investigator comes ready to discover madness with a lantern and Cthulhu statue. He's gonna wish he brought a revolver (an accessory I wish he had)for when he meets a Deep One and Dagon.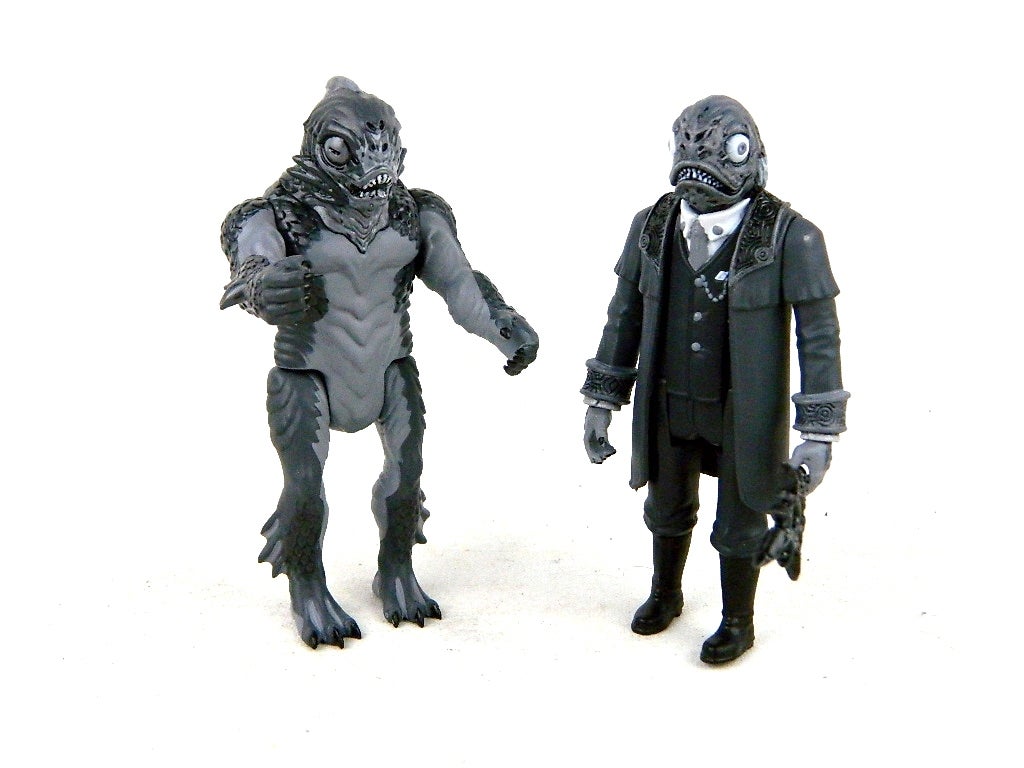 The Deep Ones are an amphibious humanoid fish-like race that serve the Great Old One Dagon. This dapper fellow, in scale with the human figures at 3.75-inches tall, comes complete with some type of ancient artifact.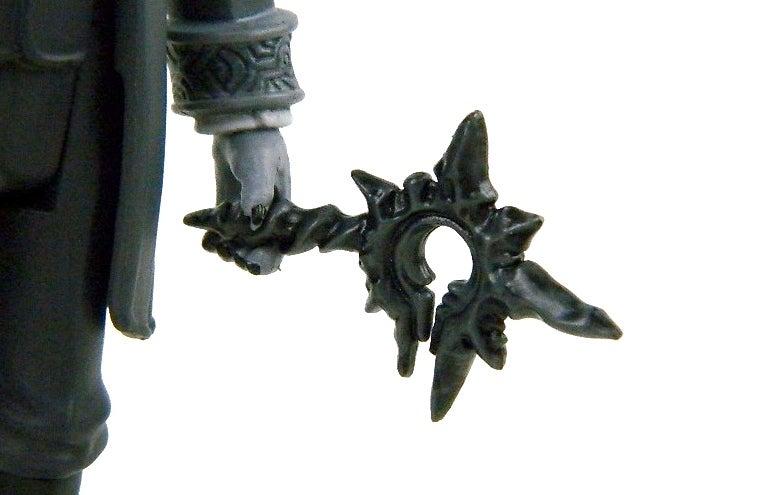 Dagon also stands 3.75-inches tall, however, like the figure of Cthulhu, is totally not in scale. Dagon and Cthulhu are massive beings, Dagon is represented here with what appears to be a Deep One "accessory"!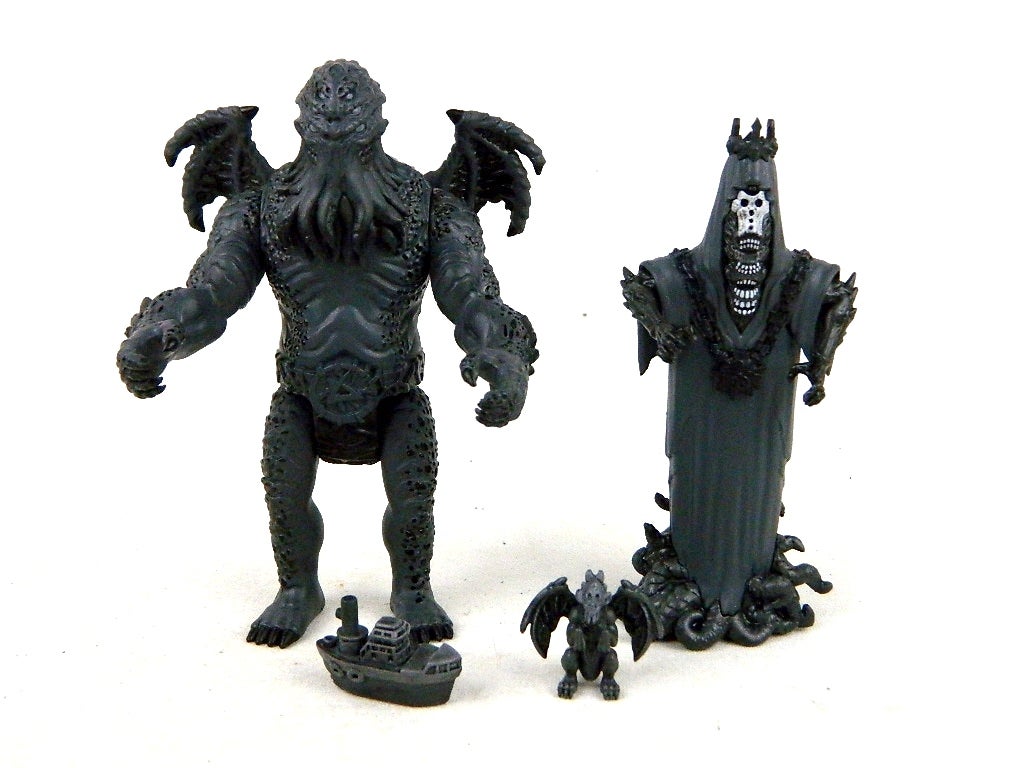 This brings us to the final two figures, and my favorite of the entire assortment: Cthulhu and The King In Yellow! Cthulhu, as implied with his large blister card packaging, is the biggest figure of the bunch. I love his six-eyed expression and the inclusion of a small steamboat is a nice nod to this creature's size.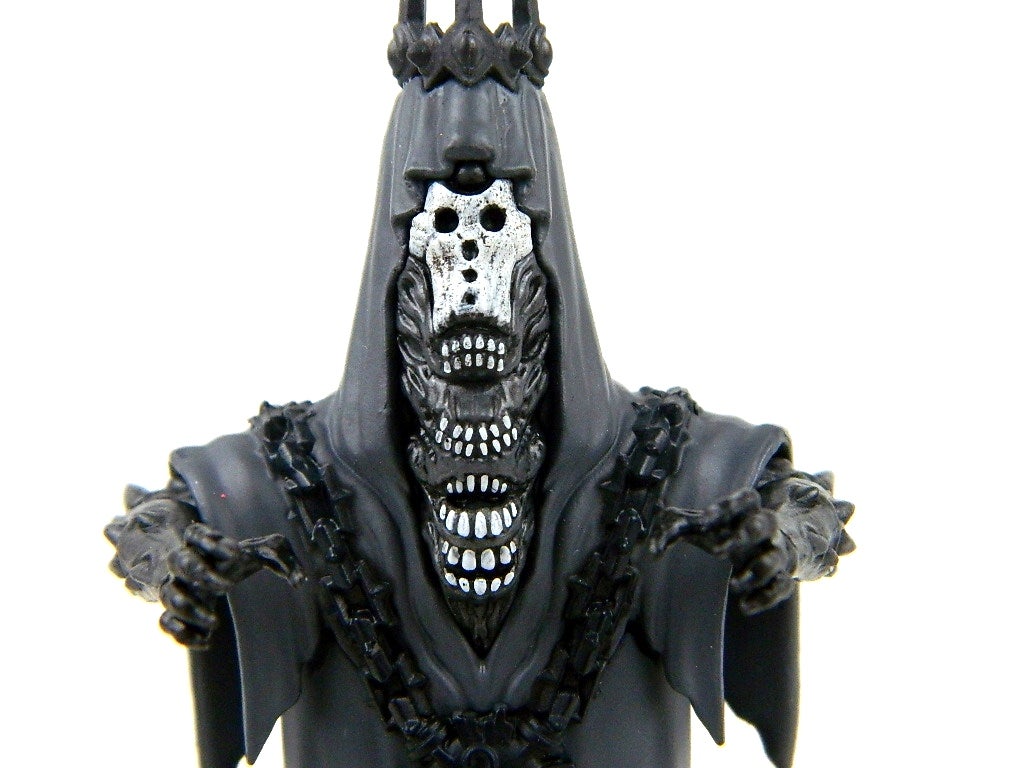 The King In Yellow best represents the madness that defines Lovecraft's work. Just look at that face (faces?!). Complete with withering tentacles for legs, this figure is creepy cool.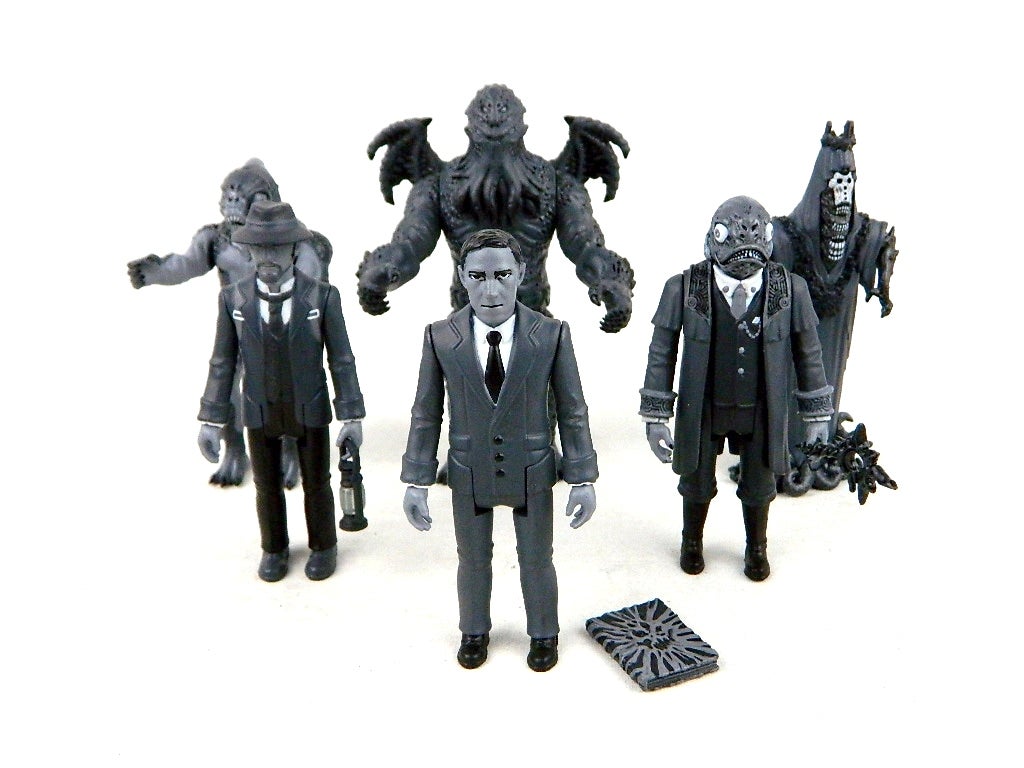 52 Toys did a great job of representing the Legacy of Lovecraft with this figure line. While retro-styled figures with 5-points of articulation aren't for everyone's taste, I for one love the throwback, nostalgic appeal of these toys. However, I do wish their blister cards were collector friendly, allowing you to reseal each figure. As much as I enjoyed "playing" with the Lovecraft figures, I feel they would look best on display packaged along with their unique artwork.
That said, it's not every day crazy cool Cthulhu-inspired toys come along. If you're a fan of Lovecraft like I am, I highly recommend giving a couple of these figures a try. They are unusual and fun, certainly not something you'll find at your local toy dealer. Grab yours today at BigBadToysStore.com.
Scroll on for more photos!
Review and Photos by Jeff Saylor
Review Samples Courtesy of 52 Toys
---