Review and Photos By Andy Jones
Summer is here and Playmobil is ready to celebrate all things we like to do in the summer. Focusing on a water park setting this year, Playmobil has six all-new Family Fun playsets to help your Playmobil figures get wet and relax in the sun.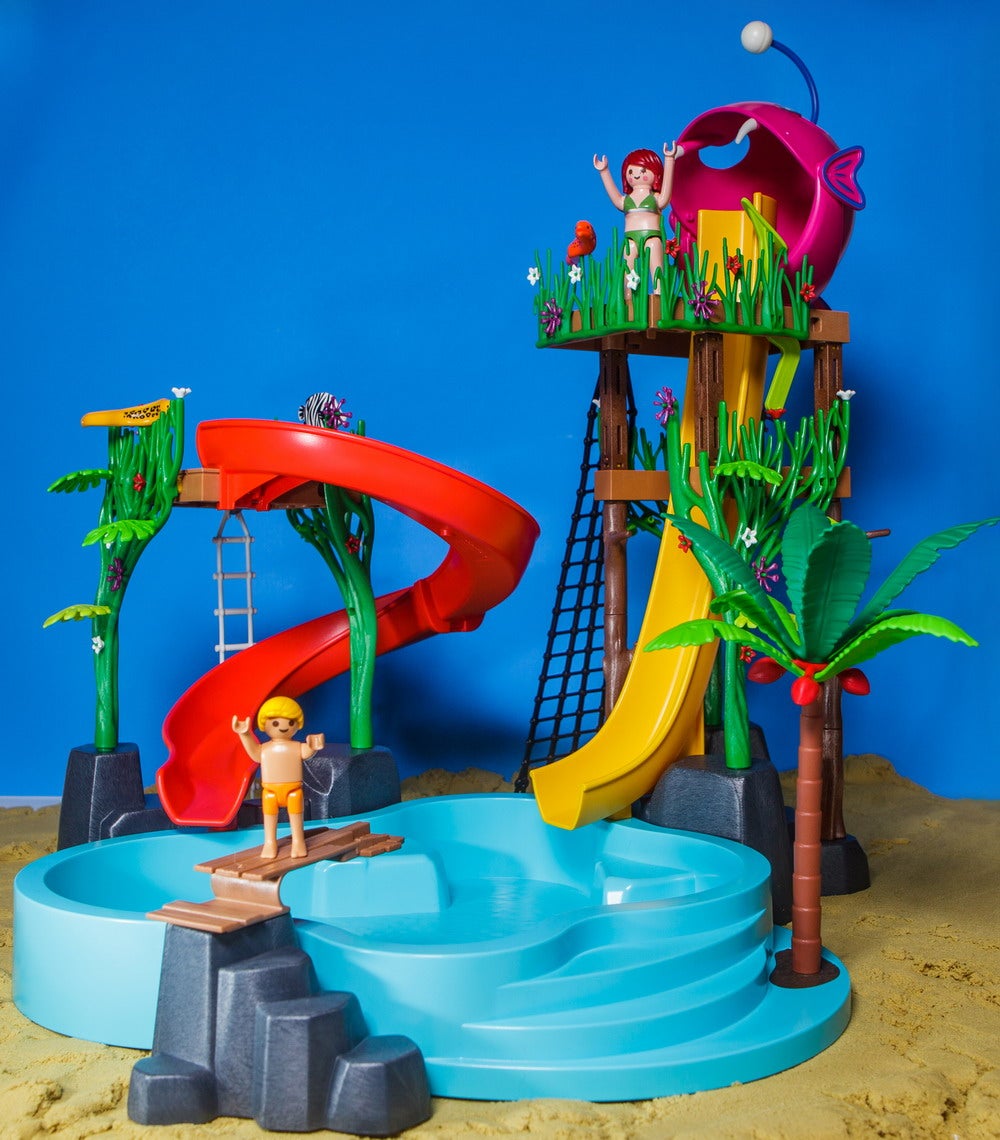 The flagship playset is the Water Park with Slides (70609). It features two fantastic slides (one twisty, one extreme drop). It comes with a little boy and an adult lady figure. You can fill the basin with water for the figures to splash around. There's a platform at the top of the super steep slide has a lever to release the trapdoor and let the klicky drop. I also like the tropical jungle theme for the supports, and the rope ladders to access the platforms. It's fun launching the figures down the slides, but there's also a springy diving board, and you can fit the figures' feet into grooves and flick the board and the figures will launch into the pool. Check out this unaltered photo we caught mid-flip!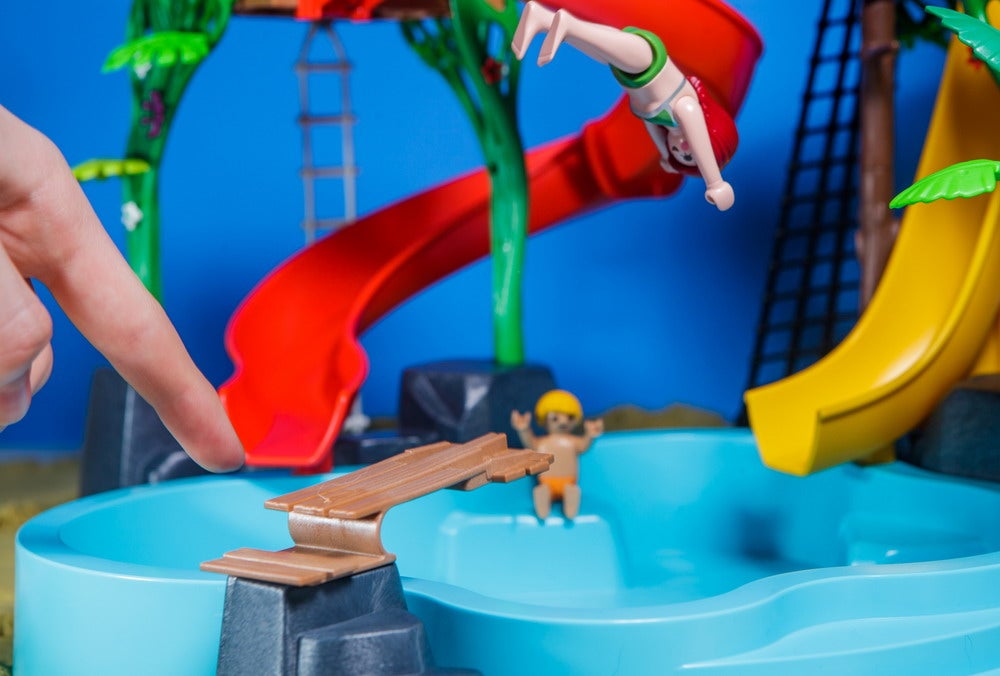 I like this set but if I had purchased this set I would have liked one or two more figures. Maybe a lifeguard with a whistle. If you purchase a few sets in this theme, you'll get a good menagerie of vacation goers enjoying the sun and water. One of my favorite figures in this set is Sunburn man! (70112)

I love this guy with his bucket hat and trunks. He comes with a cooler and some sunscreen, but it appears he forgot to use it. Stick this guy in direct (UV) sunlight and he instantly becomes sunburned. The burn fades after a few minutes back inside. He also comes with a burrito and a coconut drink and a little raft. If you check the gallery below you can see him visiting each of these playsets.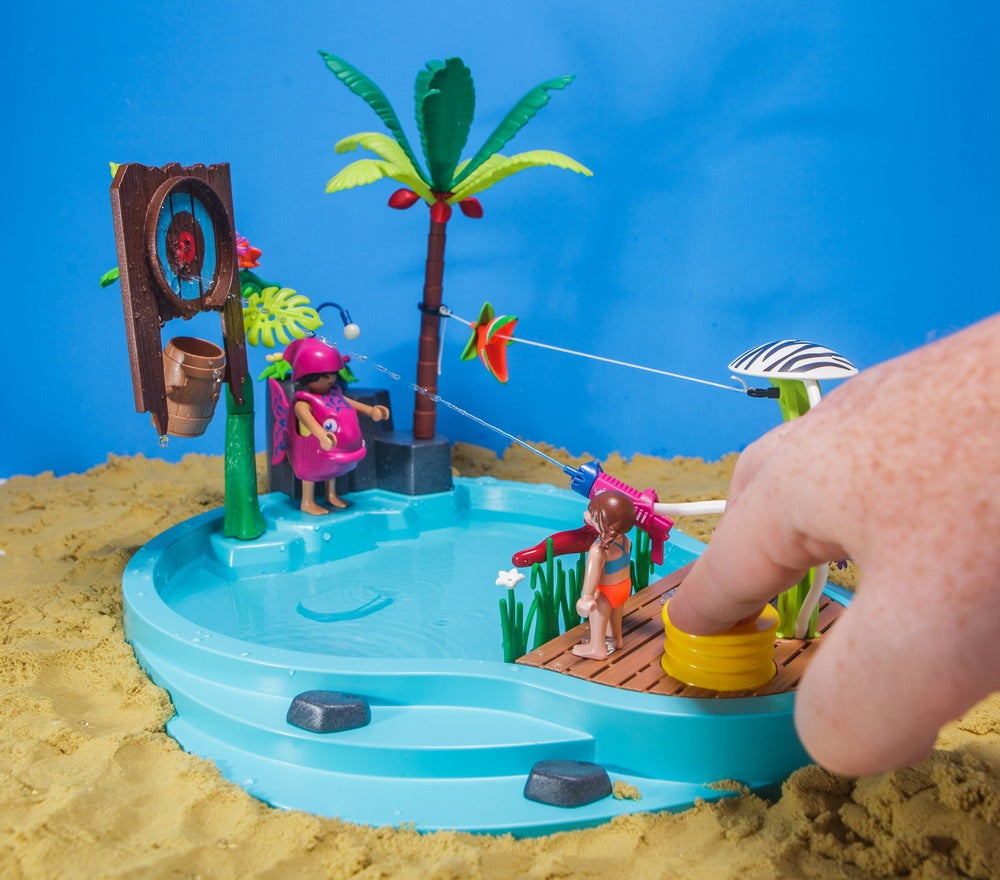 The next set is a little odd-looking but tons of fun. They call it Small Pool with Water Sprayer (70610) but you gotta notice the dude wearing a fish costume. It's a little weird, but it's pretty cool. You can also remove the costume and put it on most other adult klickies. Anyway, the main feature of this set is the water gun and pump. Any figure can hold the water gun. Stabilize their feet with a clear foot peg and then press the yellow pump to spray water out the pistol. You can try hitting the bullseye, after a few successful squirts, you'll fill the tilted barrel and it'll dump back into the pool. I actually had fun figuring out the aim on this. I also enjoyed having the little girl blast everyone else in the pool. Also, you can re-attach the hose to the shower and give your figures a quick rinse-off with the same pump. I had a lot of fun with this set.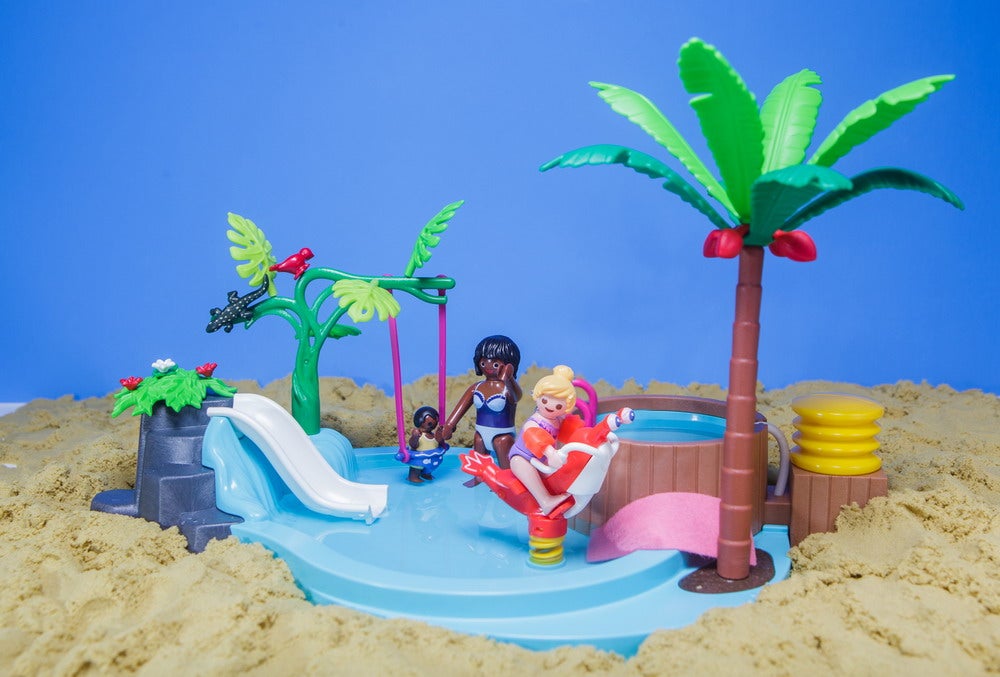 The Children's Pool with Slide (70611) also features a swing and separate hot tub. Use the attached pump system to add bubbles to the hot tub! But that's not all. I also love the springy ride-on shrimp (?) The child can mount up and hang on to this ride-on shrimp and rock back and forth like a playground horse. Hilarious! I also like how there's a baby swing for the mom figure to push the baby in. This is a nice compact set with a lot going on.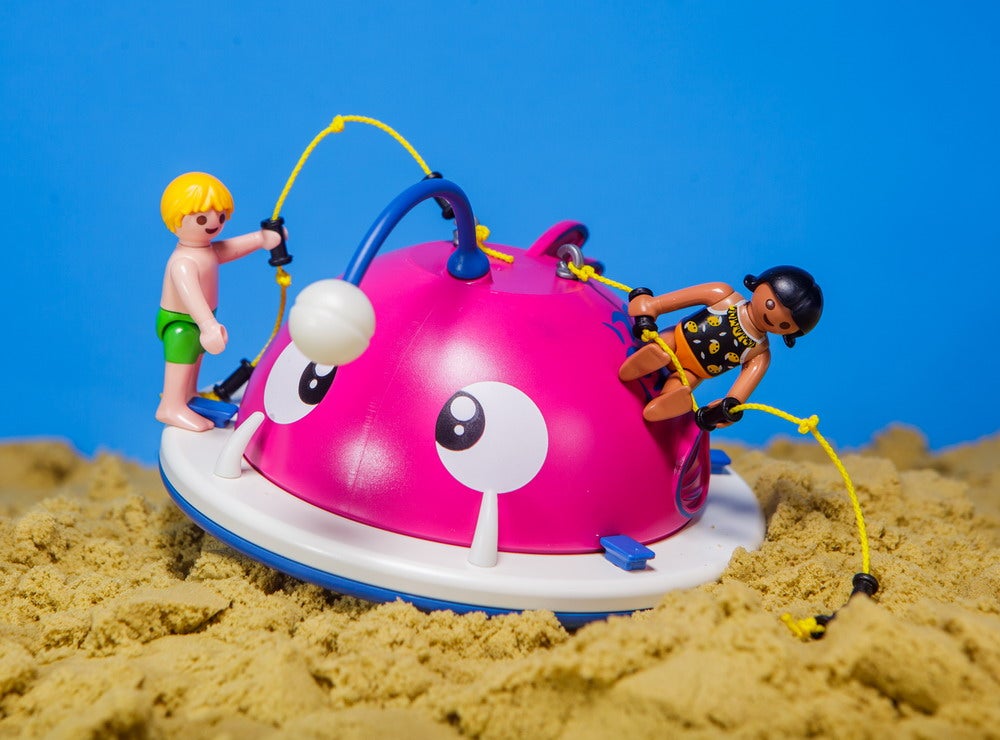 The Swimming Island (70613) is a fun floating toy. This "massive" deep-sea angler is built to float and be climbed on. There are ropes and foot notches to host several playmo friends as they scramble to hang on to this toy. It floats in the pool (or bathtub) but is also fun to play with during dry times. The angler's teeth and lantern are glow in the dark, so you could have some nighttime fun with it too, but if it was intended for nighttime play it would need just a little bit more glow features. Either way, this is a lot of fun. Also, there aren't a lot of tiny accessories, so this is a great set for households with younger children.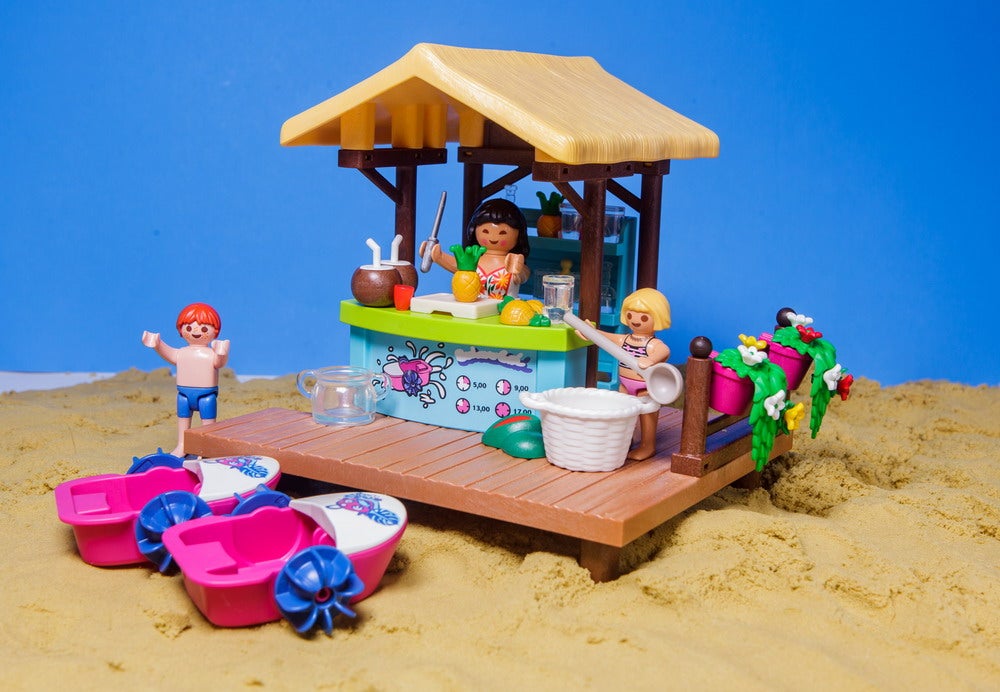 Here is the Paddle Boat Rental Shack (70612). It does indeed come with two floating paddle boats (that could also be fun in a real tub or pool). However, the rest of the playset is devoted to preparing and serving tropical drinks. There are pineapples, coconuts, lots of pitchers, glasses, bottles, and other accouterments. I believe the designer came up with a great cabana bar playset and their manager said "you can't just sell a bar playset to kids" so they added the paddleboat rental option. It's a lot of fun to have, but there are lots and lots of little pieces, so be mindful if you have a little one in the house.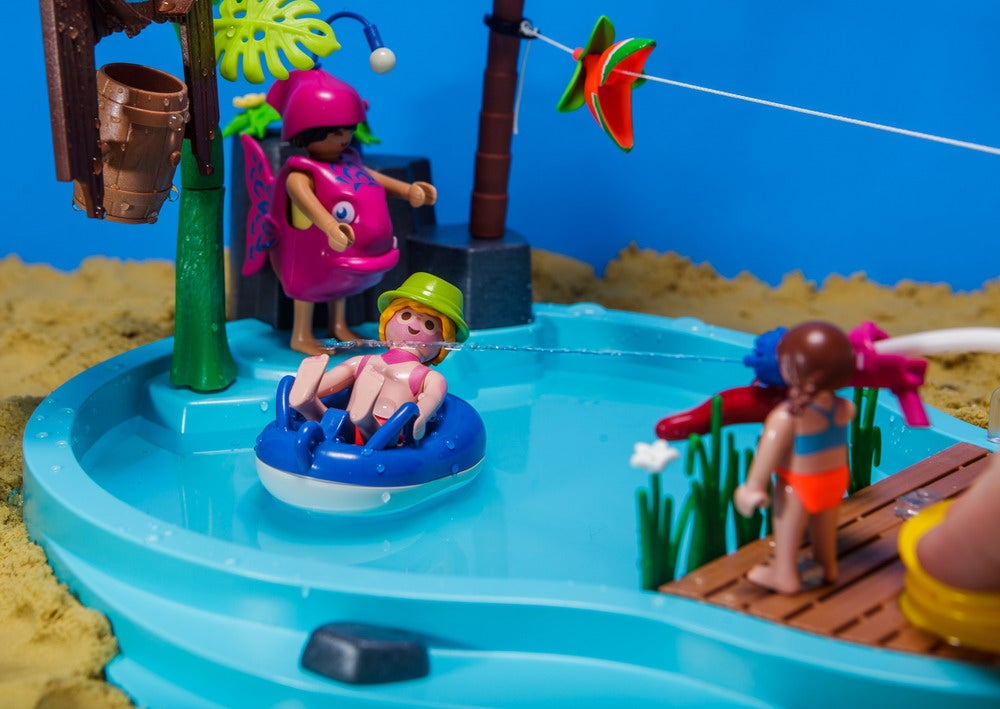 These sets were a lot of fun. I like how they all interact with water or sunlight, and offer tons of adventures (as well as display options). I thought they paired well with my kinetic sand if you're not actually at the beach or pool. There's a lot going on, they're fun to look at and they're available now.
-Review and Photos By Andy Jones
-Review Samples Courtesy of Playmobil
We are committed to finding, researching, and recommending the best action figures and collectibles. We earn commissions from purchases you make using the retail links in our product reviews. Learn more about how this works.
---