Review and Photos By Andy Jones
When German engineering meets, um, more German engineering, you get the sweet, svelte lines of the 1954 Mercedes-Benz 300SL in Playmobil scale. With gullwing doors, an opening trunk, a trusty mechanic with a box of tools, and a driver decked out in his racing gear, this collector-themed set is a dream for sports car fans.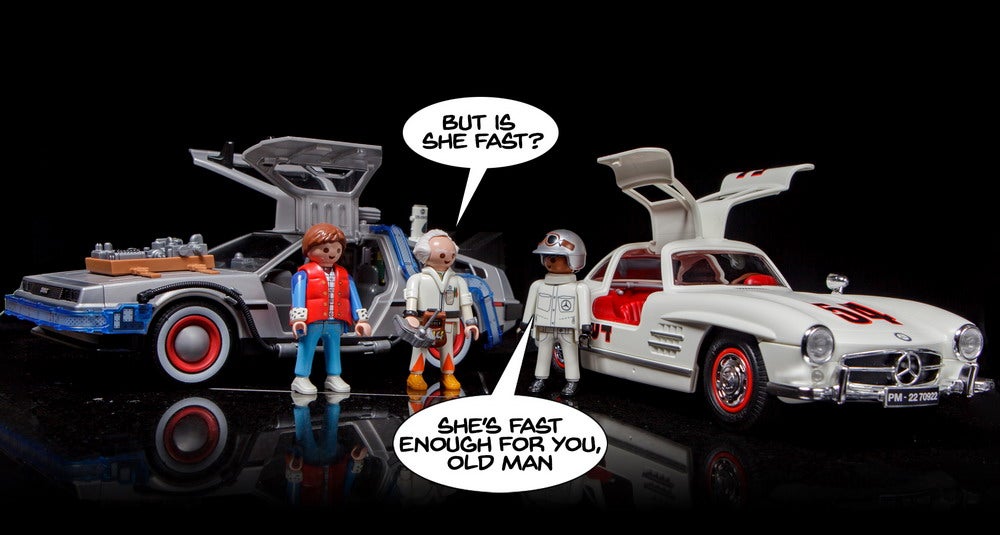 The model of the car is beautiful, but I expect nothing less. When Playmobil tackles a subject, be it one of their own creation, or as the case these days, familiar licensed properties, they bring a level of perfection seen by few other toy companies. Typically Playmobil restricts the number of moving pieces on its vehicles so that the toy will stand up to the rigorous play habits of your typical kid. This means the doors don't typically open on a Playmobil car. You get a removable roof (so you can insert the figures, and get a convertible), and an opening hood or trunk. However, if the doors are a big feature of the car, such as the Mercedes-Benz 300SL's gullwing doors, they include that feature as well (also with the Back to the Future DeLorean toy)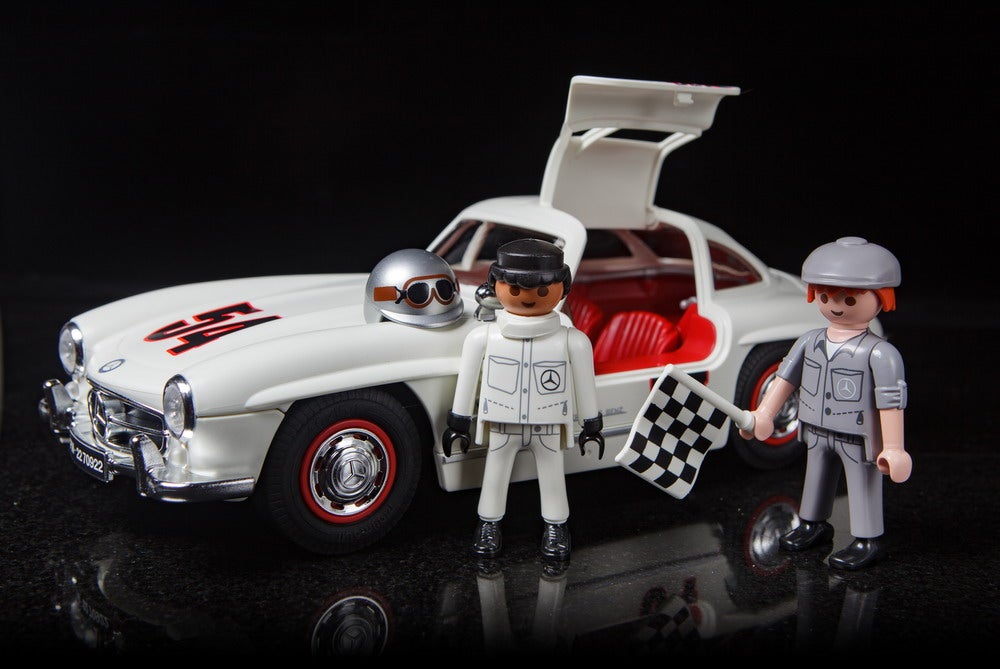 Playmobil has embraced the licensed property world with aplomb. It started with NHL teams, and after the success of How to Train Your Dragon, they zeroed in on titles that older collectors would flock to such as Ghostbusters and Back to the Future. WIth those uber-iconic vehicles, Playmobil wanted to help fill your collector's garage with more amazing cars. Earlier we looked at the 007 Astin Martin, the A-Team van, but we also enjoyed the licensed cars that were not part of a movie or show, such as the Volkswagens and Mini Cooper. After revving our engines, we couldn't wait to get this classic car, voted Sports Car of the Century in 1999.
Not only does the toy look sharp right out of the package, but it is fun to play with. Speaking of the package, it looks like Playmobil has been reading my reviews and has made the packaging insert capable of securely holding the car after the wheels have been added. I'm going to take this opportunity to point out that these particular vehicles are intended for collector audiences. The solid construction would hold up under play, but there are little accessories, and these are priced for collectors. Playmobil has always been a premium-level toy, and it follows that they'd be a premium-level collectible as well.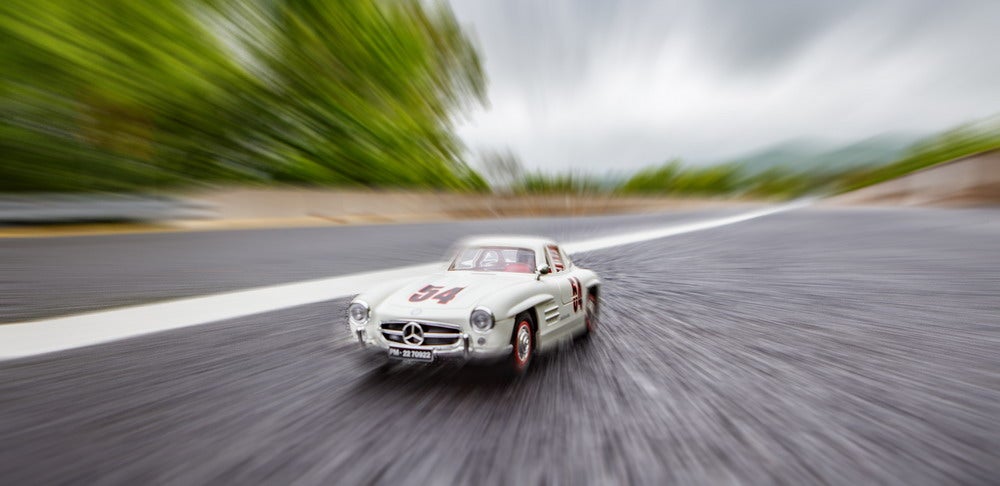 I had a ton of fun with this car. While I wished the Mini Cooper had come with just a few more add-ons, the Mercedes seems to be a little bit more accessorized. I like the tool kit and sign display, as if the Mercedes were being viewed in a museum. I believe Playmobil should sell a modular garage playset (that could be connected as you buy more collector vehicles).
I love the driver, the little collar is what sells the racing suit for me. I absolutely love it. I also like the goggles on top of his helmet. So- needless to say, if you grab the included pipe wrench from the mechanic and put it in the hands of the driver with his helmet, he looks like a certain goon from AHA's rotoscoped1985 classic Take On Me music video. It's no better to be safe than sorry.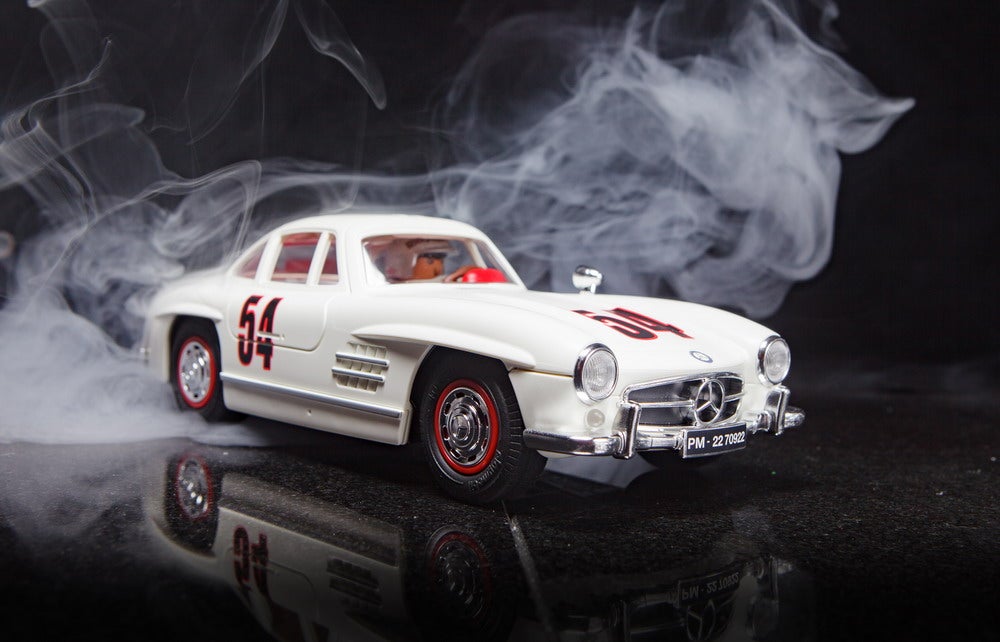 I like cars, and I love iconic cars, but I couldn't name too many off the top of my head. I instantly recognized this Mercedes-Benz and was excited to get it on my shelf. I can't wait to get my hands on the Knight Rider KITT coming up this summer, and maybe one day since Playmobil is reading my reviews, I'd like to get a Shelby Cobra. Please, please?
Review and Photos By Andy Jones
Review Samples Courtesy of Playmobil
---