The Invasion is on!
Back in the '90s, I wasn't the big figure collector that I am today. However, I would on occasion bop into my local Toys "R" Us and Kay Bee Toys to see what random toys caught my eye. KB Toys always had the best finds, oddities like Kenner's Aliens series. The "Scorpion" Alien was my first purchase, the xenomorph looking pretty close to what I enjoyed seeing in James Cameron's 1986 sci-fi masterpiece ALIENS. Bringing the figure home I soon discovered that the "Scorpion" in the name referenced new Xeno/ animal mutations, a concept I found intriguing ever since I saw the "dog alien" in Alien 3. Yes, even without a new Alien film in theaters, or in the works, Kenner was going all out with a new toy line that combined Giger's movie monster with such cool creatures as a Cougar, Gorilla, and Snake! While the action gimmicks didn't do anything for me, I really dug the unique look of these new Alien figures.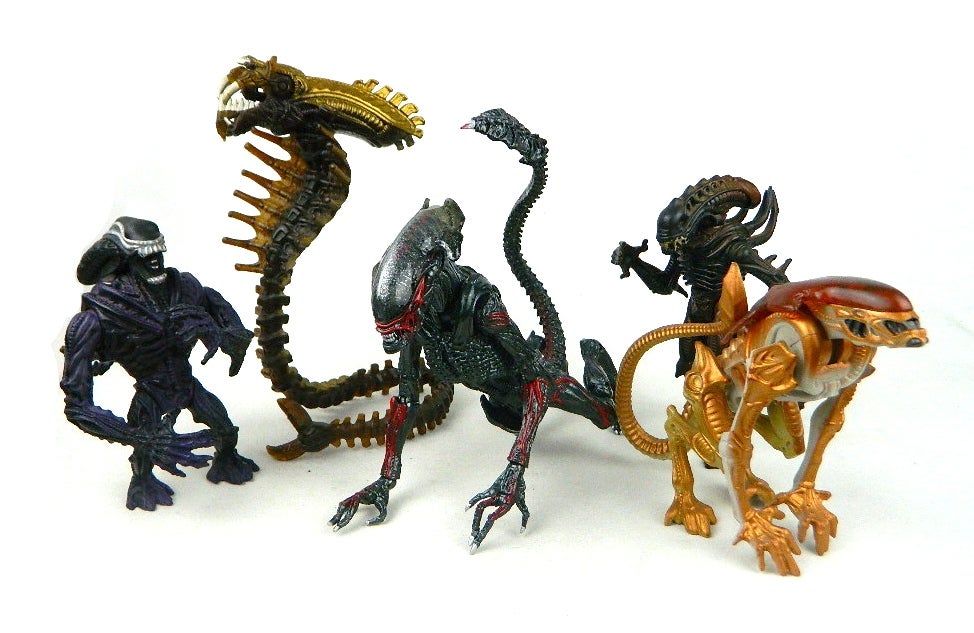 Fast forward to the new millennium and toy company NECA has brought back Kenner's original Aliens toy line with an updated tribute series. Going on for six years plus now, NECA's modern take on Kenner's vintage figures has been nothing short of stunning. While all the heavy-hitters have seen release, NECA still has a few surprises up their sleeves, including the subject of today's review, the Night Cougar Alien!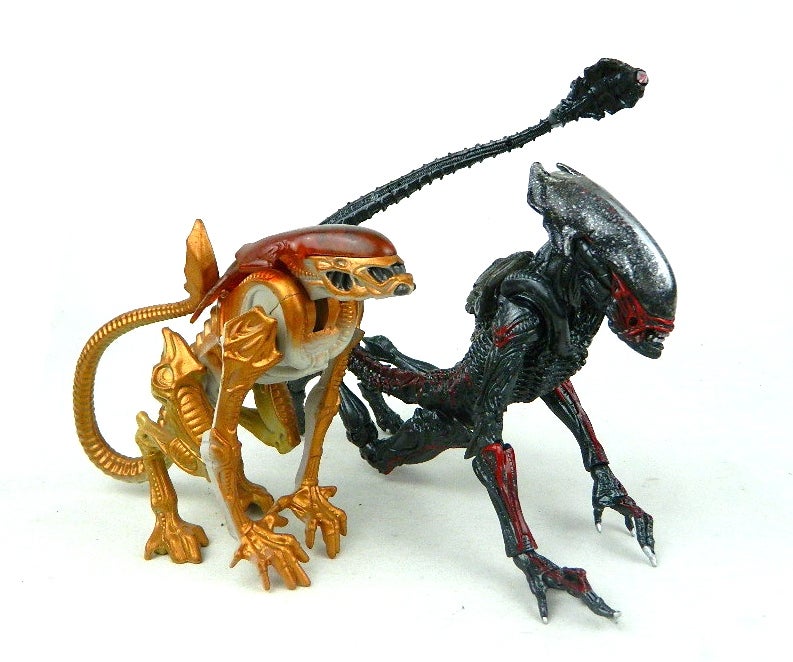 A repaint of NECA's previously released Panther Alien, the Night Cougar Alien delivers the cool crawling critter in a jet black and red color scheme.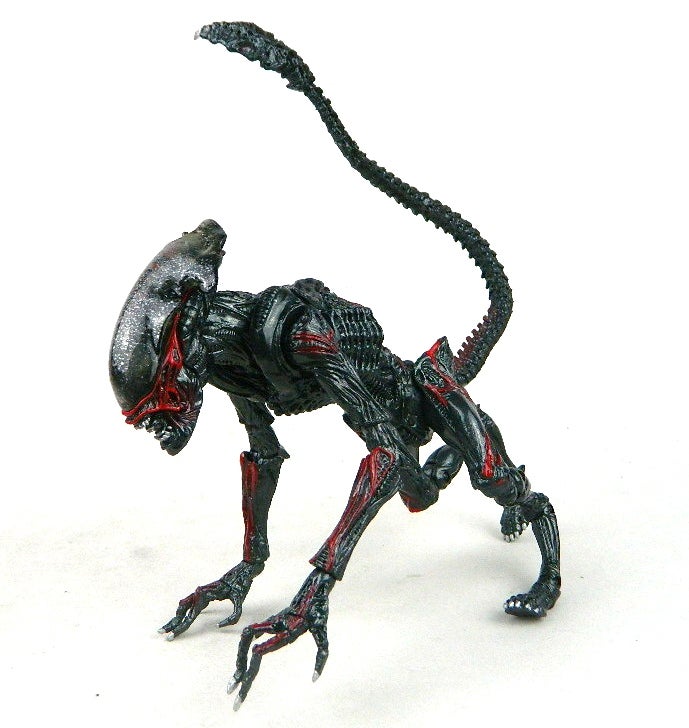 While the new deco is killer-looking, it's NECA's addition of modern articulation on the figure that truly makes it shine. Similar to their Rhino Alien (read my review HERE), the Night Cougar is designed to be displayed on all four legs. Measuring 9-inches long, the Night Cougar features joints galore, including fingers that can bend, and canine-like legs with multiple knee joints. The long bendable scorpion-like tail allows for a variety of striking poses, as does the opening jaw – the head mounted on a nice swivel joint that allows it to slide back and forward for lunging attacks.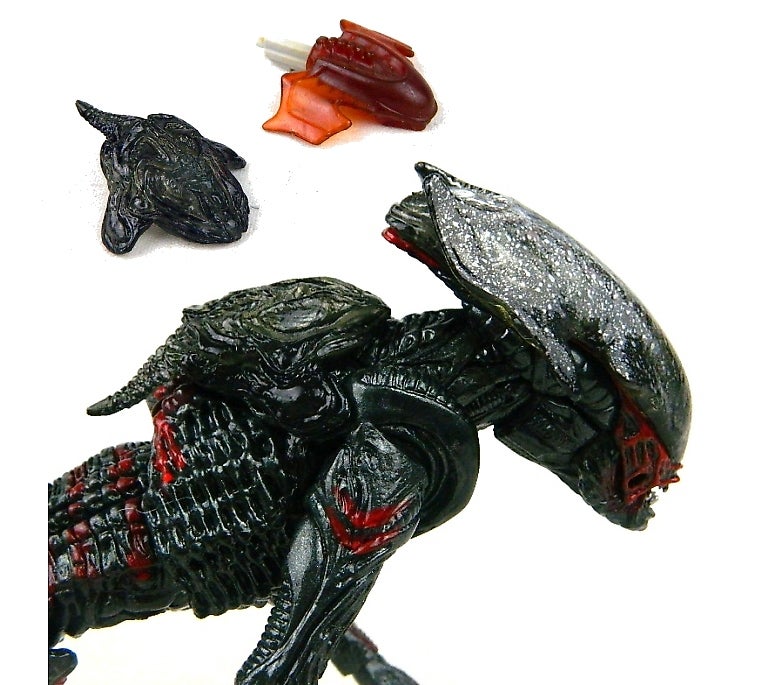 One of the neatest features of the Night Cougar Alien is the detachable drone! Where the original Kenner Panther Alien launched the drone as a gimmicky projectile action feature, NECA's Night Cougar's drone magnetically attaches to its back for seamless play and display!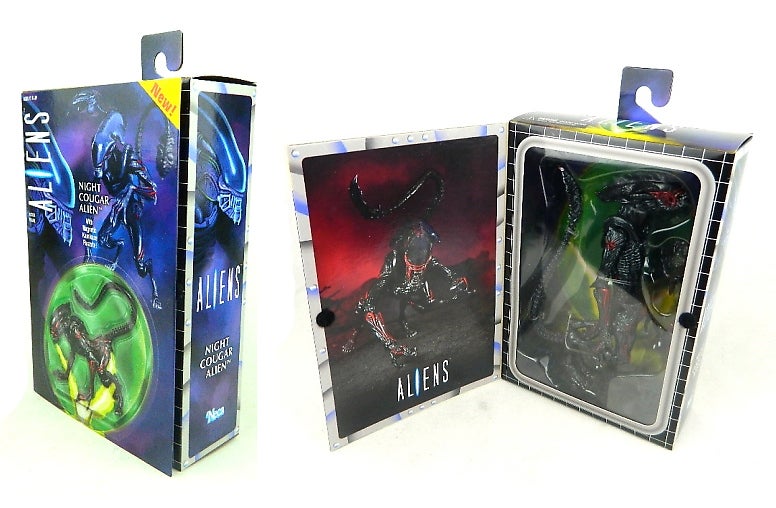 Awesome Kenner tribute figure aside, the Night Cougar Alien's packaging is a star on its own. Resembling a vintage Kenner Aliens blister-carded figure, the Night Cougar's pack is actually a well-concealed fifth-panel window box design! I especially LOVE the back panel – an awesome replica of the Kenner line displaying all past figure releases. Too cool.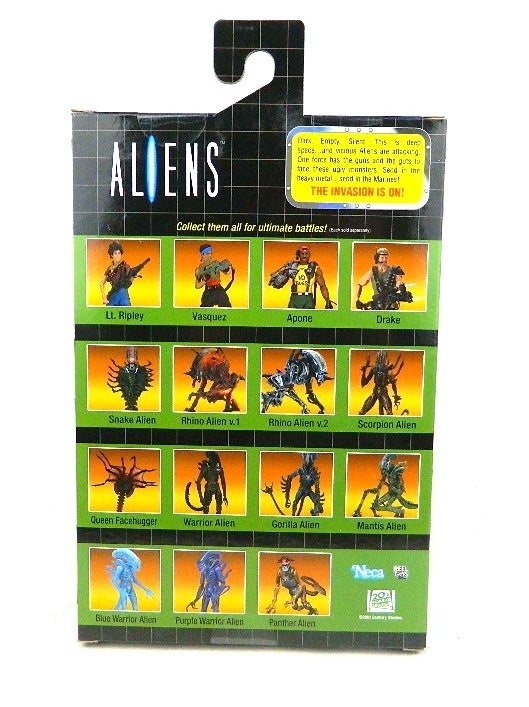 Retro Alien figure fans are gonna dig this modernized take from NECA. While primarily a repaint of the equally cool Panther Alien, the Night Cougar Alien really stands out with its all-black color scheme. Whether you are new to NECA's Kenner Aliens Tribute series or a long-time collector, the Night Cougar Alien makes a worthy addition to your collection. Grab yours today priced at around $39.99. Scroll on for more photos!
Review and Photos by Jeff Saylor
Review Sample Courtesy of NECA
---