NECA continues to pay tribute to Kenner's imaginative Expanded Universe Aliens toy line of the early 1990s. NECA's "new" Alien figures invoke nostalgia with their faithful, retro-designed packaging, all while keeping modern-day action figure collectors pleased with their cool, updated sculpts.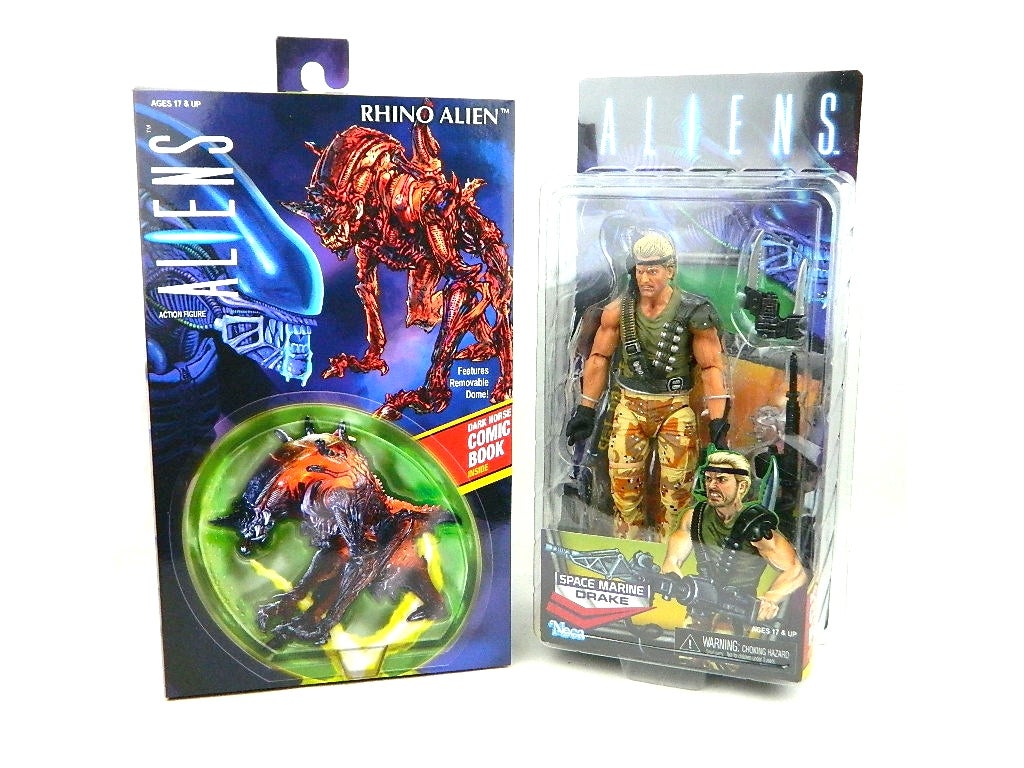 The next two figures to join NECA's Aliens Kenner Tribute Series are Space Marine Drake and the large deluxe Rhino Alien! These two toys are available to order now through many fine retailers, including BigBadToyStore.com, where they are priced at $23.99 and $34.99 respectively.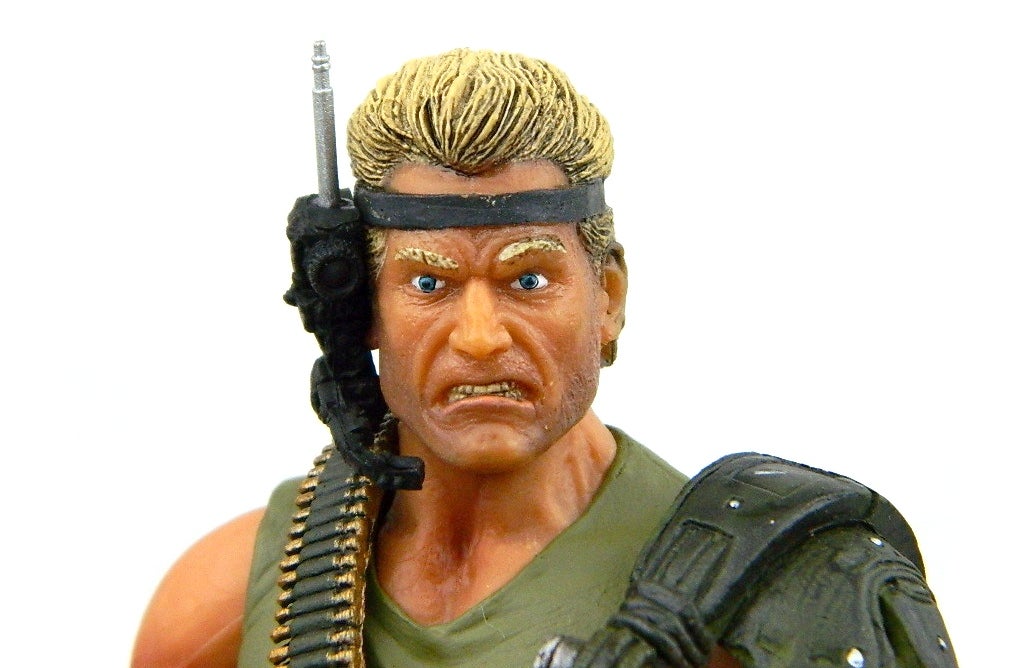 SPACE MARINE DRAKE
Space Marine Drake is ANGRY. Angry at Aliens! The Jason Frailey-sculpted expression on this figure is everything; Drake scowling in extreme rage as he blasts bugs with his bayonet-equipped Smartgun. I can already envision the many possibilities for custom figures (Contra comes to mind), but for me, I'm happy with the head on Drake.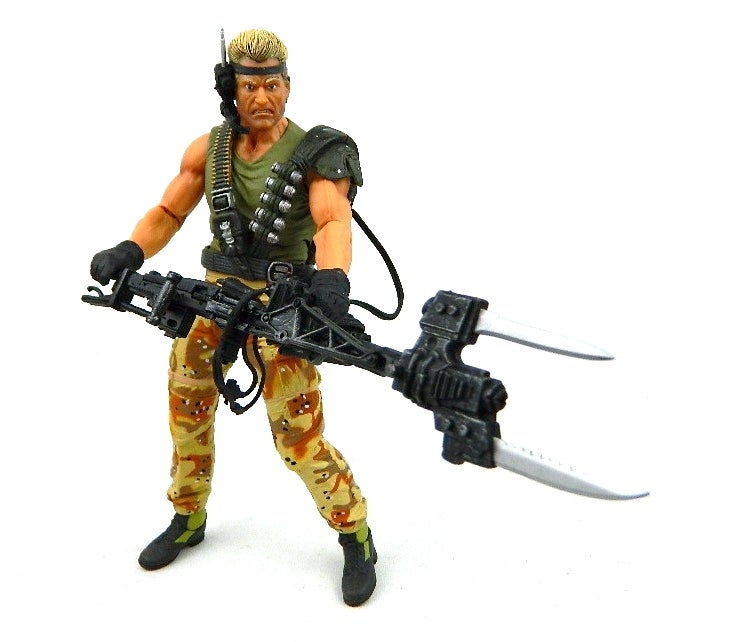 Standing 7-inches tall, Space Marine Drake deviates from the traditional Colonial Space Marine uniforms seen in Aliens with rugged, casual attire consisting of an olive green cut-off shirt, desert camo pants (love that pattern) and green combat boots. Oh, Drake also wears a bandana, because nothing says butt-kickin' soldier like a Rambo-inspired bandana!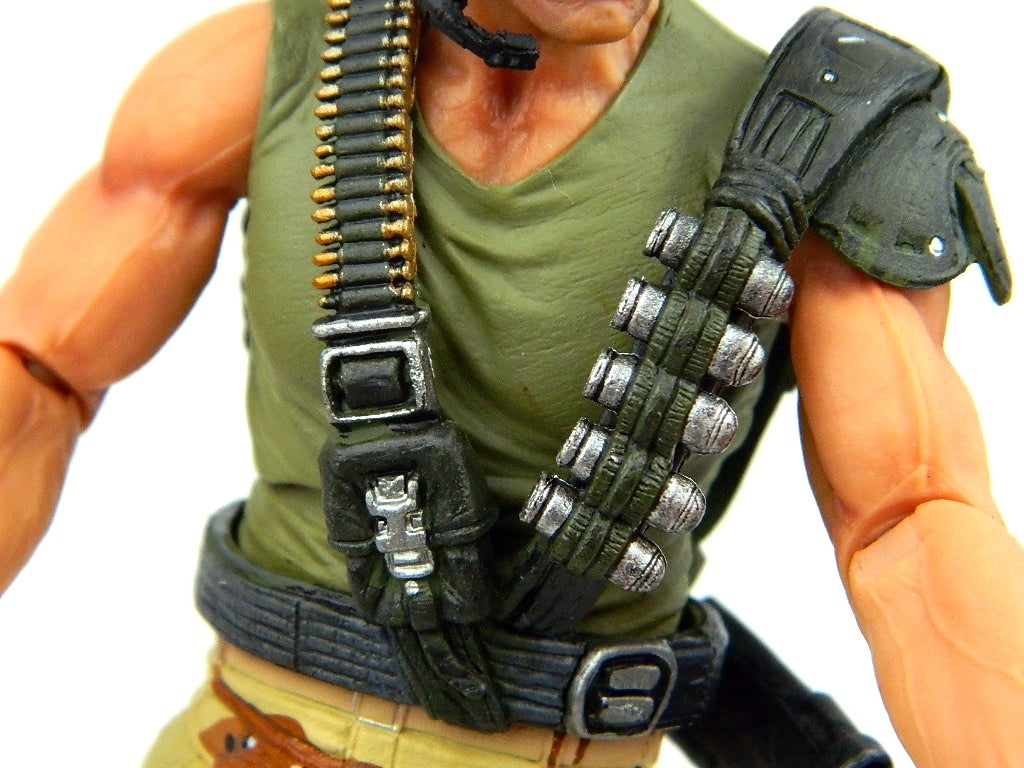 Drake's gear is also unique; the battle-hardened Space Marine ready to take on the Alien horde with bullet and grenade bandoliers strapped across his chest, and with his trusty M56 Smartgun in hand. Never defeated in hand to hand combat (so says his bio!), Drake charges into battle up close and personal with his double-bladed bayonet.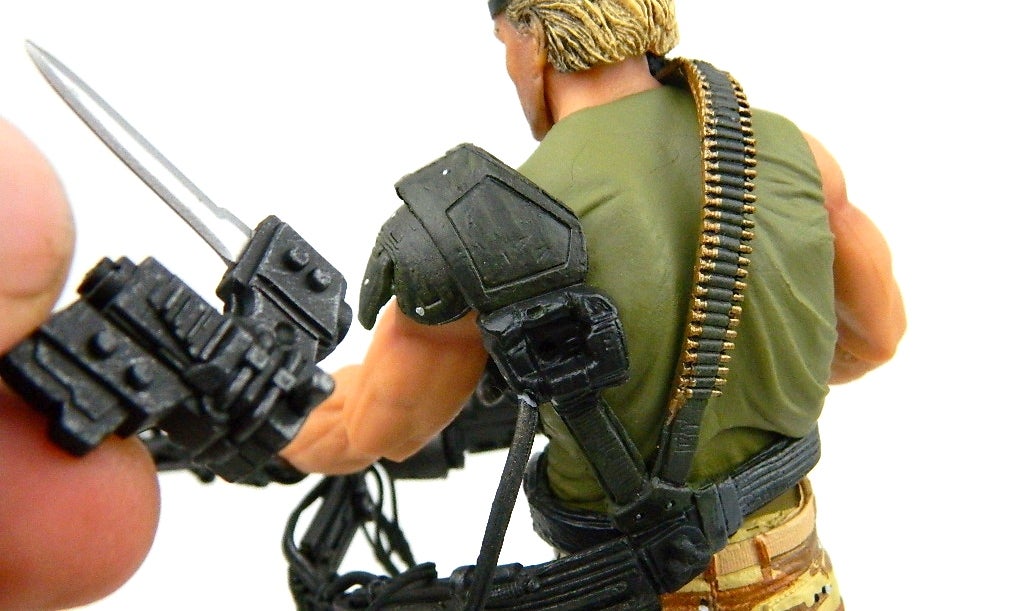 This accessory firmly plugs onto the barrel of the gun and can also be stowed on his back via a peg (on the bayonet) and hole (on his shoulder strap). I will say that the hole on my figure wasn't fully punched through, leaving me wondering how the bayonet stored. After figuring out that this was indeed the spot and that the factory had simply fallen asleep on the job, I firmly planted the bayonet on, problem solved.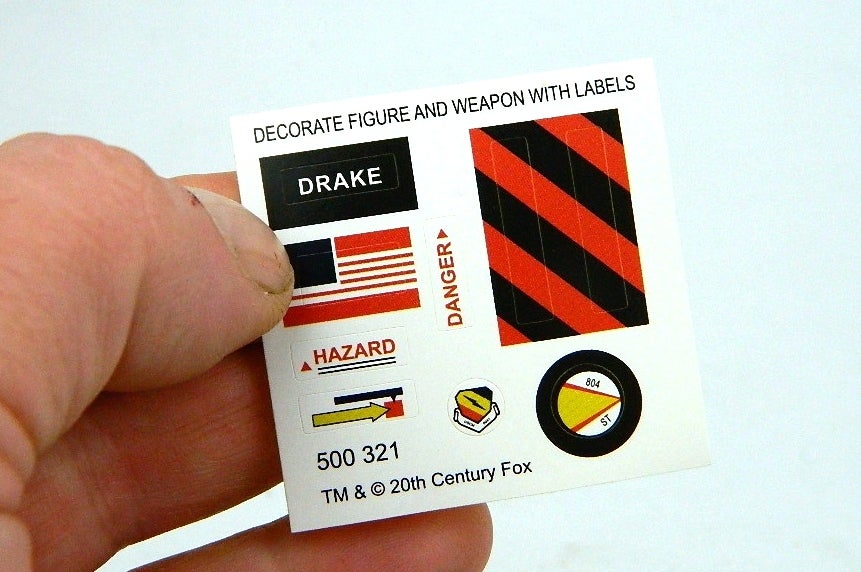 That last step in getting Drake battle-ready is applying the bonus stickers (nice touch!) and harnessing up his Smartgun. This is my first NECA figure with a full Smartgun rig, so it took me awhile to figure out how everything went together. The articulated half of the harness has a plug on one end. This plugs into the gun. The other, non-articulated half plugs into Drake's back. From there, all you have to do is connect the two rig pieces.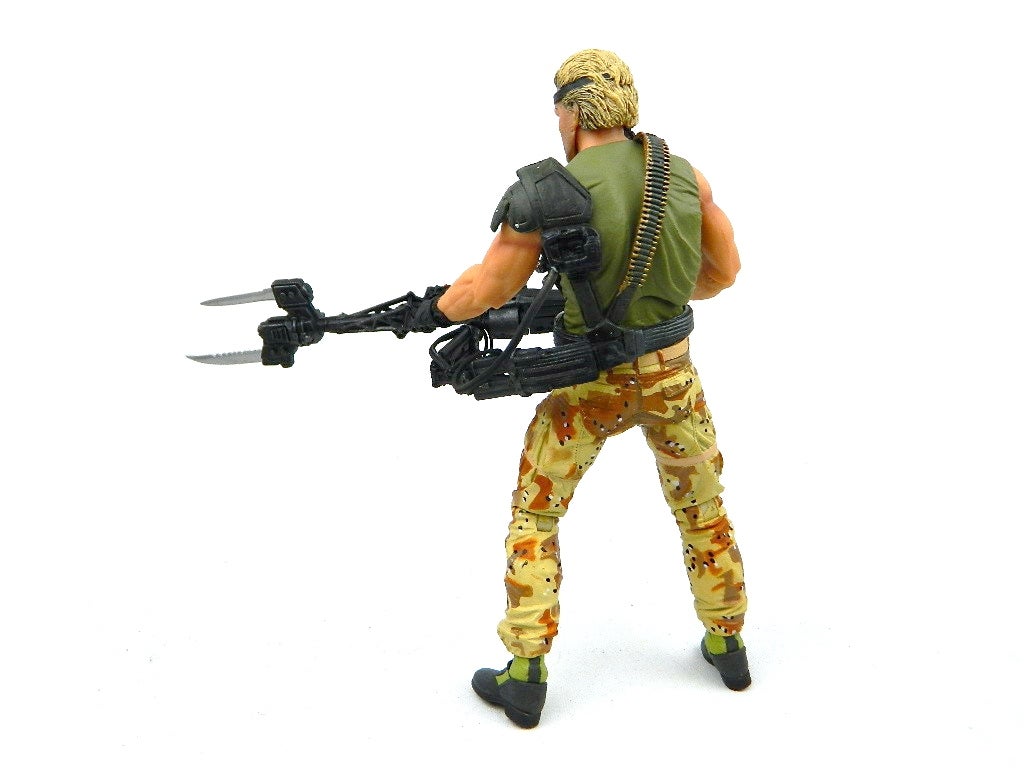 Alas, the non-articulated rig half on my figure had an extra piece attached – the same piece on the other half of the rig that is suppose to plug in. Oops! Factory asleep again. However, the problem is again easily solved by just removing the extra piece. It just took me a long time to figure it all out. Now you know what to do if you encounter the same issue.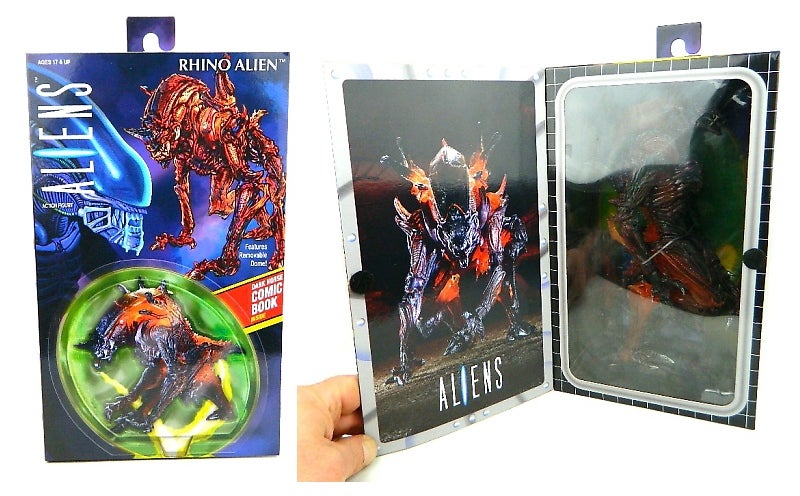 RHINO ALIEN
This is the largest Aliens Kenner Tribute figure yet measuring a massive 10 inches long! Due to its large size, the Rhino Alien is packaged much like a NECA Ultimates figure, in a fifth panel window box. It's a slick presentation and I especially like how NECA made the figure appear that it was blister carded – just like the original – with the front panel design.
While similar in color, this is a pretty radical departure from the original Kenner Rhino Alien in design. The main improvement NECA made is with the creature's articulation. Where the original was land-locked on four stubby legs, NECA's Rhino Alien features a cool hunched-over pose that allows it to rear-up for clawed attacks.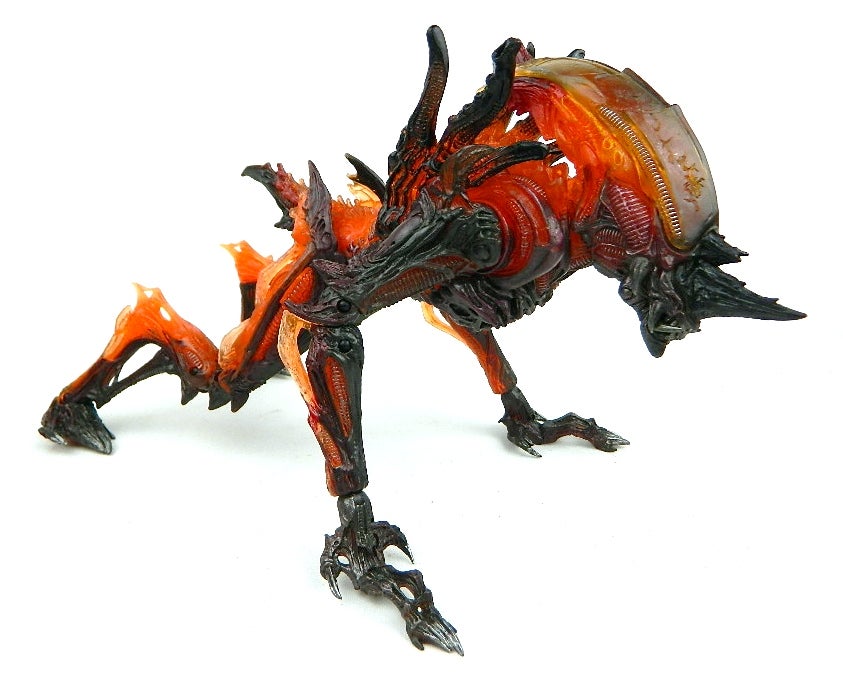 It's similar to NECA's Alien 3 Dog Alien in execution, with a neck joint that lets the head crank fully back (or forward for ramming action). The combination of hinged fingers, ankle and double-joints on the "knees" lets you to pose the creature squatting or fully stretched out.
Another highlight on NECA's Rhino Alien is the killer head sculpt. The dome is removable, although I'll admit the gimmick doesn't do anything for me. Battle damage, perhaps? What I do like is the addition of an opening and closing jaw (cool tusk-like teeth), as well as a looooong inner jaw that can be pulled out.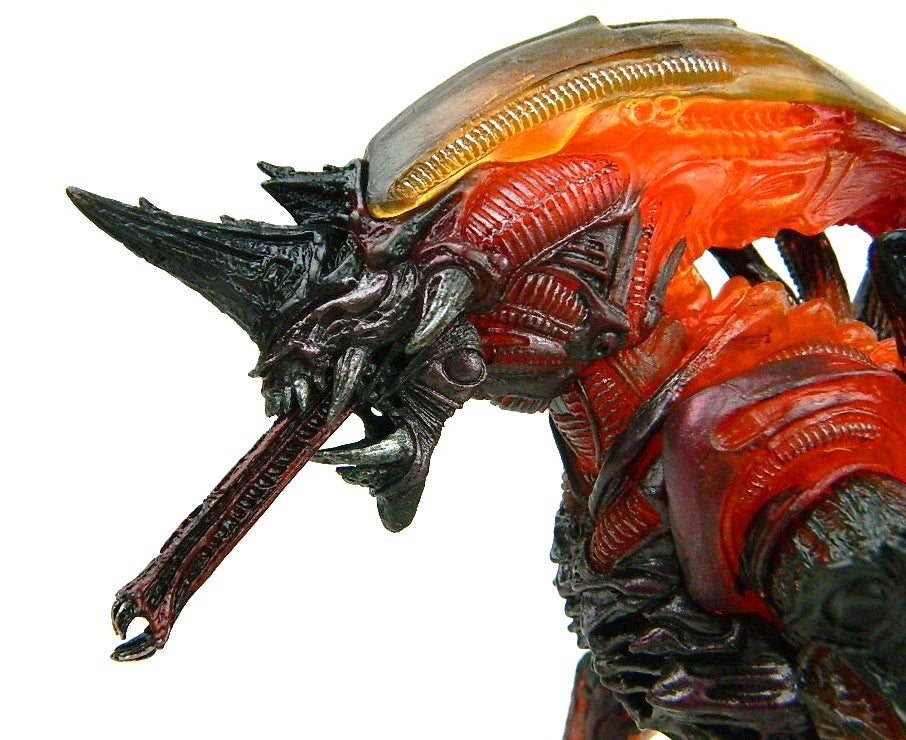 The latter took me by surprise – the tongue just kinda slid out unexpectedly when I was playing around with the figure and I was like "Woah, cool!".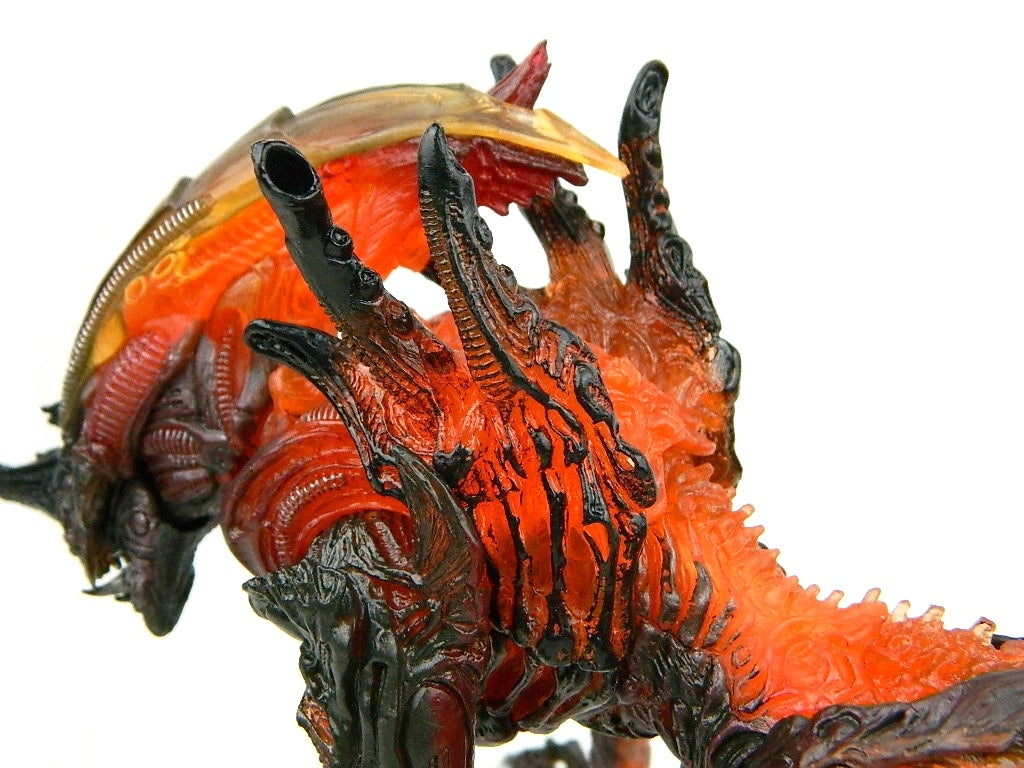 The last thing that really impressed me on the Rhino Alien was NECA's use of translucent plastic. The combination of clear fiery orange plastic on the back, head and other parts combined with the Alien's dark painted sections gives the Rhino Alien a very Balrog-like vibe. Rhinoceros aren't known to live in volcanic regions, but this Rhino Alien looks like he'd be right at home wallowing in a pool of lava.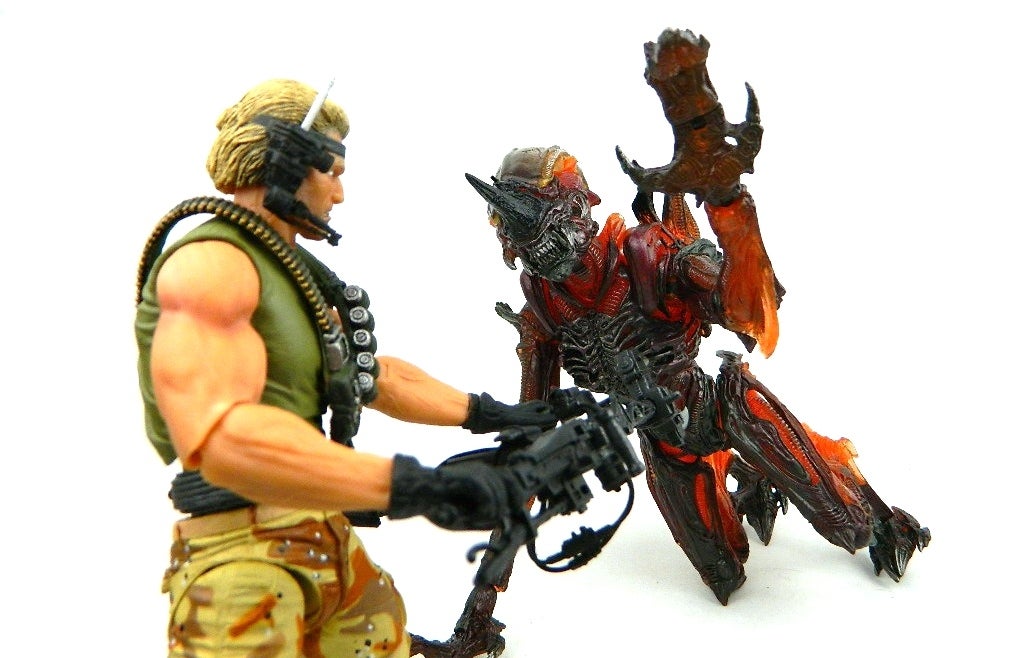 All said, Drake is a fun figure to have as an exaggerated caricature of a battle-ready Space Marine. He packs a great accessory with the bayonet-tipped Smartgun and his expression is priceless. The deluxe Rhino Alien is a must-have for Alien fans; the figure loaded with useful articulation, beefy construction and a super cool design.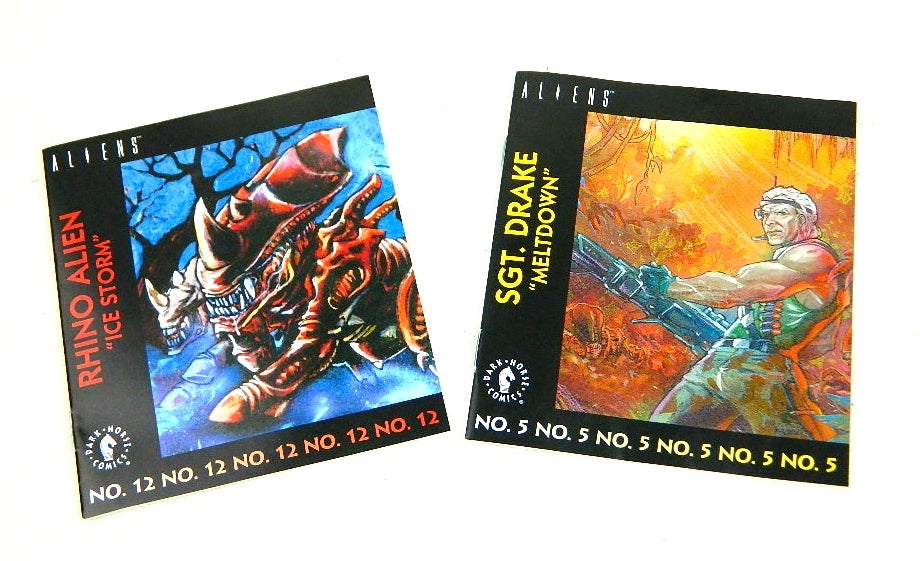 Oh, I almost forgot to mention that each figure also packs a bonus Dark Horse mini comic – the very same issues that the original Kenner figures came with! These are really fun reads and one character in particular caught my attention: How cool would it be if NECA made the Space Marine ATAX as an upcoming Aliens Kenner Tribute figure? Make it so NECA!
Scroll on for more photos!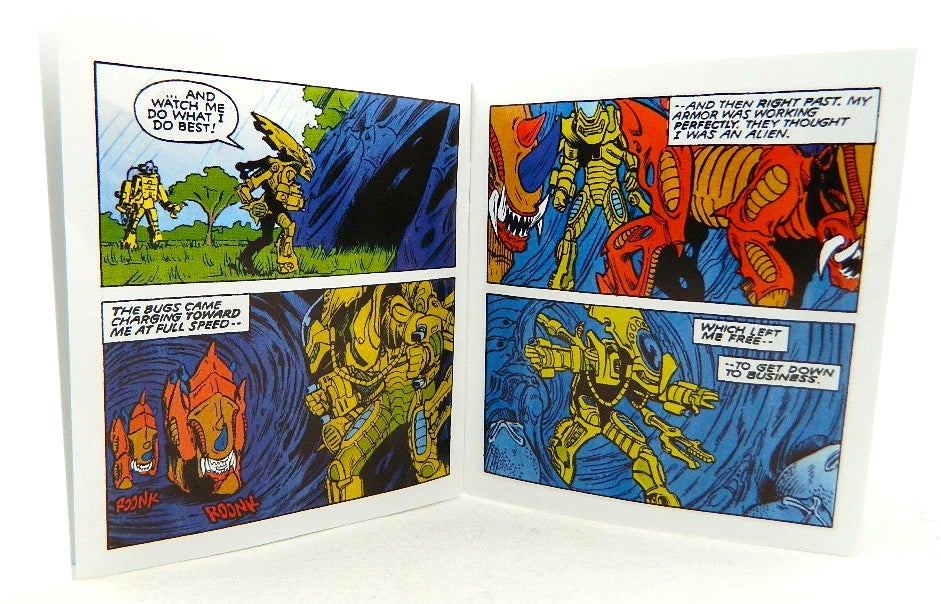 Review and Photos by Jeff Saylor
Review Sample Courtesy of NECA
We are committed to finding, researching, and recommending the best action figures and collectibles. We earn commissions from purchases you make using the retail links in our product reviews. Learn more about how this works.
---