Recently we checked out some cool new additions to the PlayMonster Snap Ships line of constructible toys, the Javelin M-02 Attack Speeder and Tunnelweb K.L.A.W. Spider Mech (see our review HERE). Those two mid-size sets were excellent entry points into the series, and came at a perfect time for holiday gift shopping. But, PlayMonster wasn't done for 2021. Just released is yet another wave of sets, and I was lucky enough to get my hands on the biggest and baddest of them, the Forge CR-76 Claymore Combat Transport! Tied for the biggest set with the most pieces, the Claymore is an awesome ship on its own while also tying together recent Snap Ships continuity in a really interesting way. Let's dig in!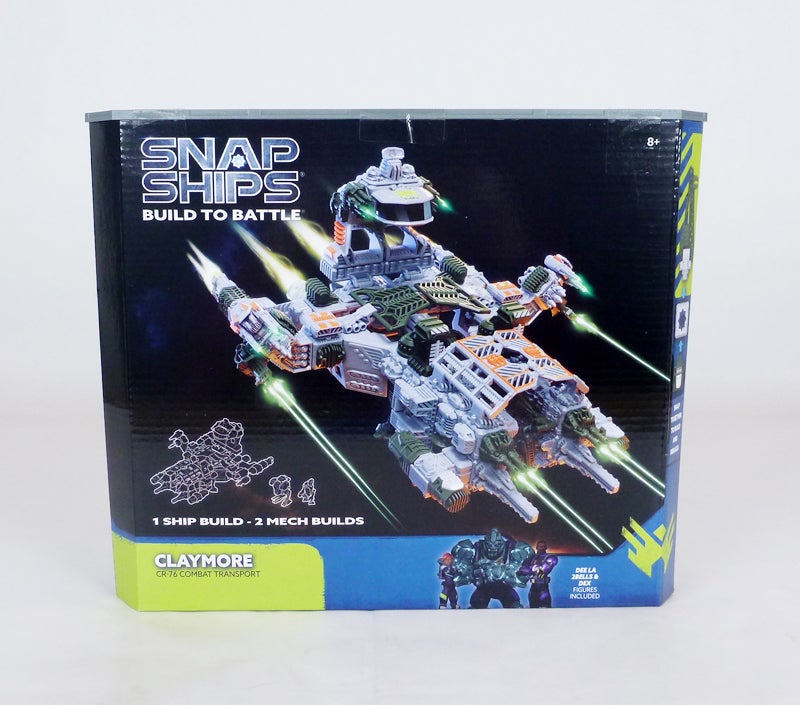 Like all iconic toy lines, PlayMonster came up with a really slick packaging scheme and is sticking with it, wave after wave. Snap Ships come in shallow, tall cardboard boxes with hard plastic tops that serve as the bottom of the crafts' display bases. The Claymore's box follows all of these design sensibilities, with the main exception being its great width to accommodate all of the parts. The graphics and info on the box are fantastic, with big and bright text, a cool action shot of the ship on the front panel, and more.
Wireframe renders on the front show you all of the included individual units, while the sides and back panels give you instructions and show you how the parts fit together. The front panel also tells you the name of the ship with its class, designation, and its pilots, and the back panel explains UJU tech (unique bonus parts) and even gives you statistical data for Speed, Weapons, Armor, and Maneuverability!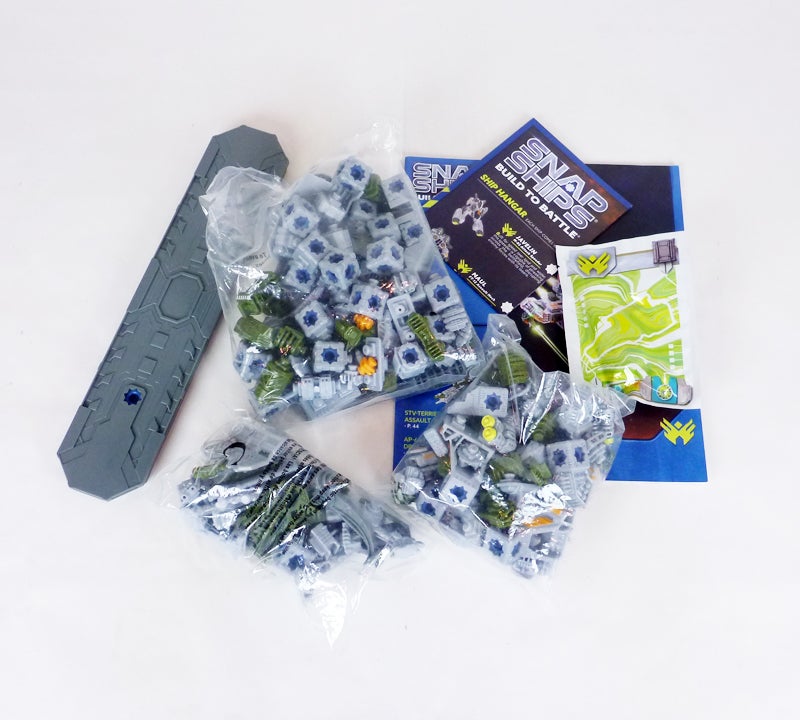 Just as with the other recent releases there is no plastic tray holding the components for the Claymore, but there's still a ton of stuff in the box. Over 120 components are held in not one, not two, but three different clear bags, along with an instruction book, poster with art and checklist, and of course the UJU tech. In this case, those unique parts come in a separate, sealed foil bag with really cool graphics unique to the Forge faction. As always, the Snap Ships instruction booklets are chock full of cool in-universe information, instructional graphics, and very clear build diagrams making building a "snap."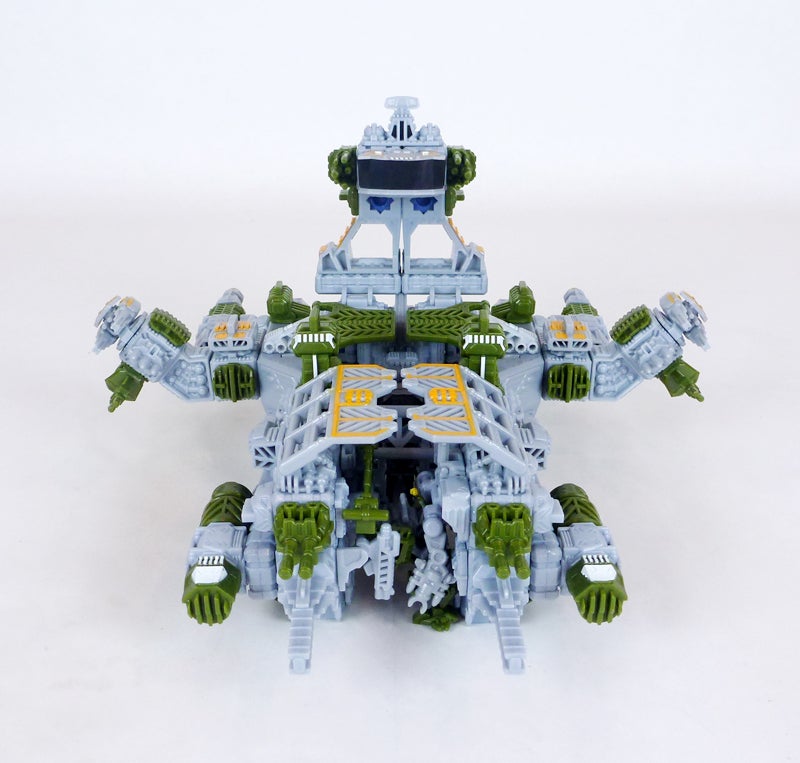 For those new to Snap Ships, the main gimmick is the connecting parts that let you assemble, disassemble, and customize your vessels. Ships and other vehicles are built around a stable central core of cubic parts, with lots of interesting and unique bits attached around it. In the case of kits as large as the Claymore, the core cubes are supplemented by some big framework parts to distribute the weight. I also have to mention my favorite innovation of the Snap Ships, that the connection points can be mounted straight on or at an angle for offset parts. And as always, the Claymore comes with a Separation Tool for taking parts apart as the connections are usually very secure.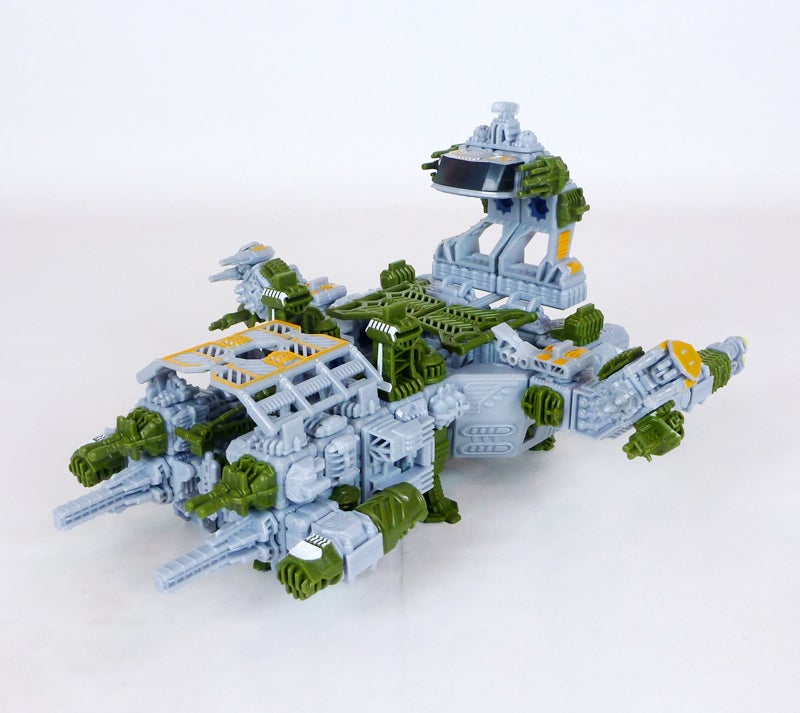 The Claymore, which follows the Forge faction trend of naming craft after classic melee weapons, is a huge beast. Classified as a Combat Transport, it's primarily built around two internal docking bays that hold support craft. All buttoned up, the Claymore looks like a capital ship you might find in various interstellar navies, complete with a long superstructure, twin protrusions on the bow, small wings, an elevated bridge module, swiveling landing engines, and multiple engine drive cones. The bridge opens and seats two of the tiny two-part figures articulated at the waist. With so many parts, the Claymore is absolutely covered in greeblies and detailed bits from circuitry panels to additional thrusters, weapons of all kinds, doors and hatches, and so much more. It stands on very sturdy "feet" that support its bulk; there are included parts to mount it on the box top display base, but due to the ship's size and heft mine kept leaning over. Not a dealbreaker, but I'm definitely going to leave it grounded.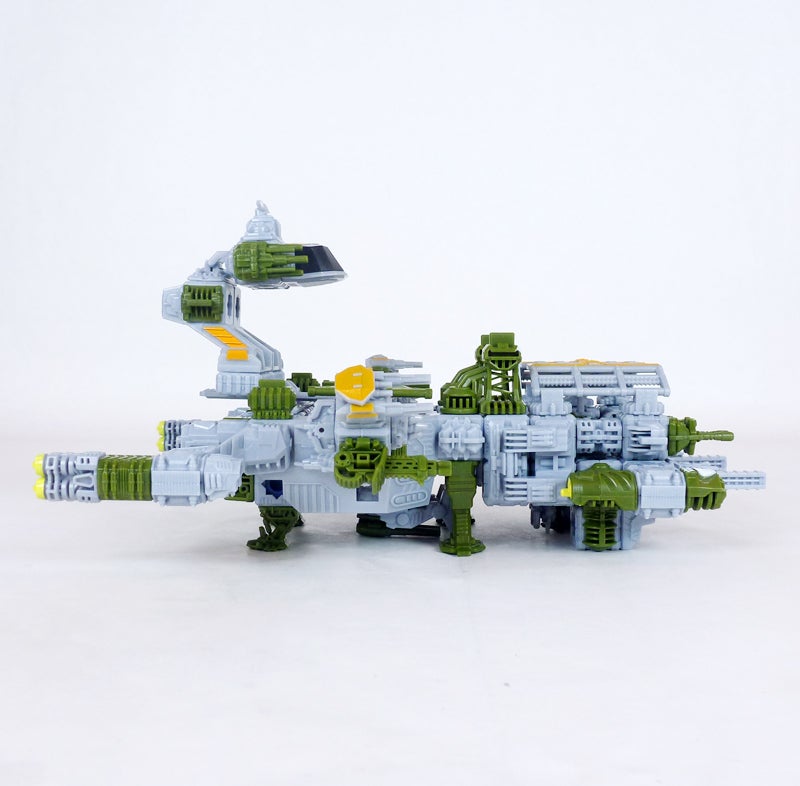 Per the box and instructions, the massive Combat Transport is equipped with a Multi-Purpose Service Bay, a Goliath "mega" engine, Remote Articulation Arm, and Structural Chassis. As you might expect, the Forge maxed out this craft's Armor and Weapons while providing it only limited Speed and Maneuverability; there are plenty of fighters and bombers to handle mobile threats while the Claymore deploys its payload.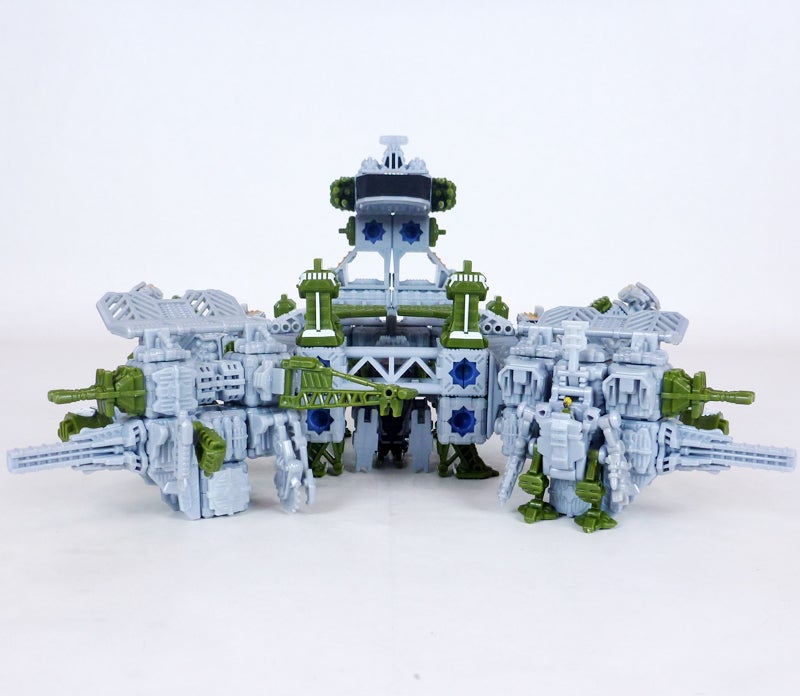 The front section of the ship opens wide on hinges, revealing the internal service bay complete with a deployable Biped Mech Drone. This is basically an exo-suit for a Forge pilot, and the bay has racks holding multiple different arms and shoulder-mounted weapon systems for it!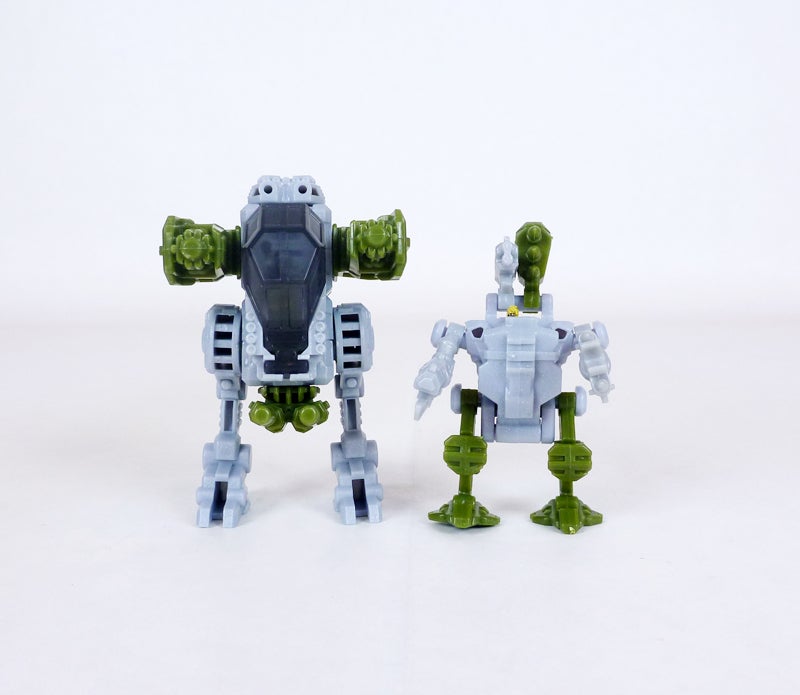 Meanwhile, underneath the green hatches on the top of the ship is another bay, this one holding the larger and more substantial STV-Terrier vehicle with an opening cockpit and its own weapons. Both smaller craft attach securely to their bays and can be released with the quick-launch buttons. As a fan of the recent "drone" additions to the Snap Ships line, I was really happy to see these small units that add even more play opportunities with ground-based action and adventure!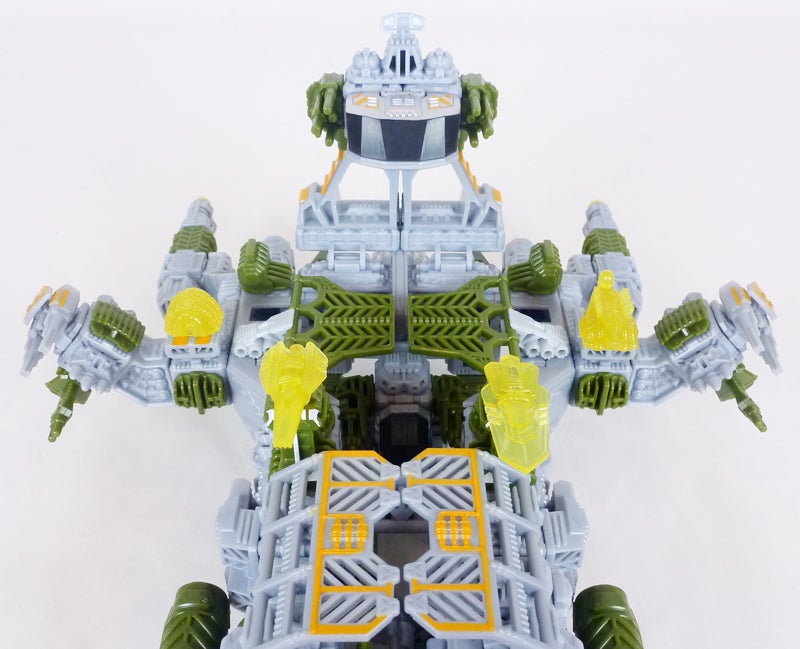 Last but not least, one of the ways the universe of Snap Ships is unique is the mysterious power source providing UJU tech. In toy form, these are separately packed, "secret" parts that look distinct and can be added to your ships in various ways (and mixed and matched like everything else). In the latest waves the UJU parts are separately packed in "blind" foil sleeves, and the Claymore gets four. These squishy yellowish-green rubber parts can be attached to the Claymore in various places so you can further customize the ship to your preferences!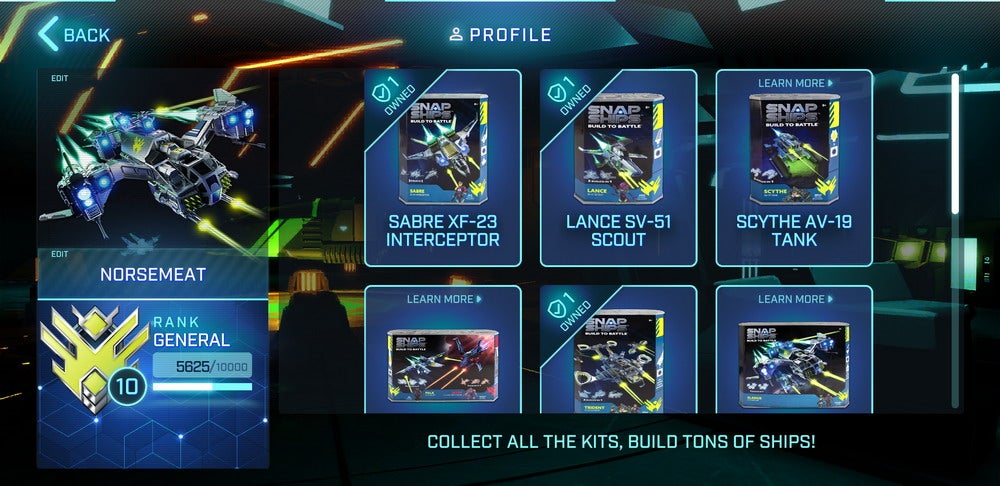 And remember, the ships are just a part of the fun when it comes to Snap Ships. There's also the app! The free Snap Ships app is part storyline and introduction to the universe, part counterpart to the toys with tons of designs you can build with your parts, and part Augmented Reality so you can zoom the ships around your house and play games with them. The hangar bay comes stocked with a few ships, with LOTS more you unlock by playing the game. Here you can see products you can purchase as well as models that require multiple kits to create, and the full instructions to build all of them. The Battle Map presents different ships as their own territories; in each of these you'll learn about the vessels and what they can do, then see them in action in full Augmented Reality.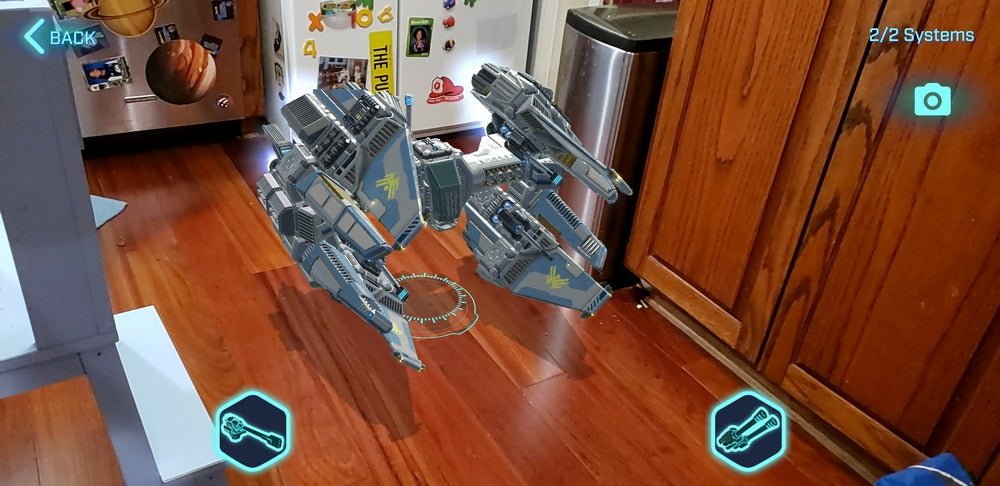 In the AR segments you bring fully animated Snap Ships into your living room and proceed to investigate all of their weapons and equipment and test out those systems. It was super neat the first time I realized I could shoot missiles at a nearby wall and see them explode on contact! Once you've learned about a ship, you'll get to fly it in a (simple) mission, shooting down enemies. There's more, too, like unlockable avatars as you do more in the app, a checklist to update so the app will tell you which unique designs you can make, and links to the Snap Ships animated video series. I really like playing with the AR and ship-building, and it's even more fun doing it with my two young kids (7 and 3). Best of all, PlayMonster updates the app with new ships, and links to the Youtube series of Snap Ships short videos!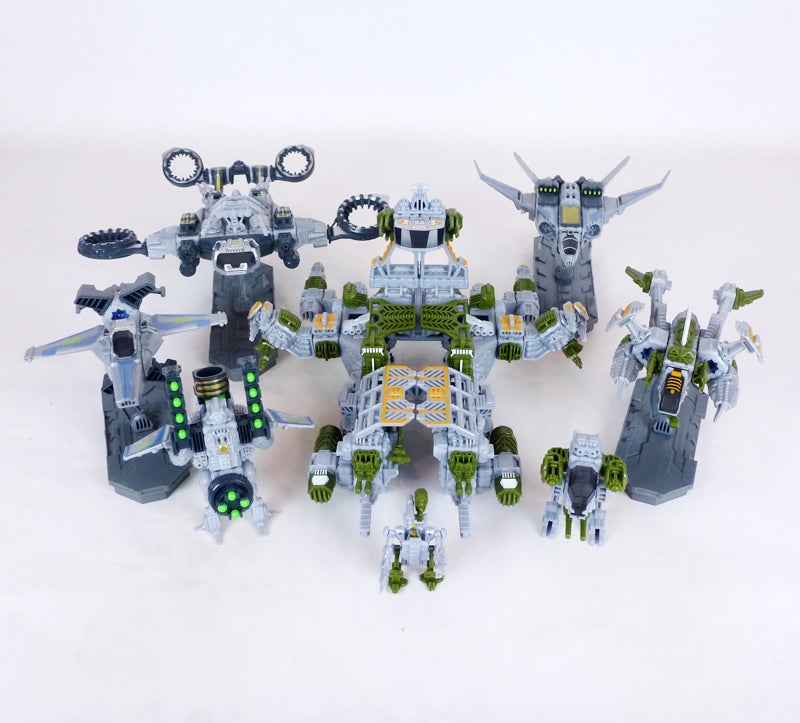 I've been loving the Snap Ships since they were first revealed at Toy Fair a few years ago, and even new addition finds a place of honor in my collection. The Claymore is a perfect addition to anyone's growing fleet or a solid first entry with its cool design and huge range of play from flying around a big spaceship to landing and deploying fun little ground mechs with weapon customization options and more. Of course, Snap Ships become exponentially more fun and customizable the more that you have, and the Claymore will give you a huge number of base parts, weapons, and UJU tech to add to your new creations. With over 120 parts in a massive box the Claymore has an MSRP of $39.99 and is available exclusively at Amazon.
For more information, download the Snap Ships app or head over to play around on the PlayMonster Snap Ships website!
Review and photos by Scott Rubin.
Review samples courtesy of PlayMonster.
---