-Review and Photos By Andy Jones
If action, intrigue, and a little espionage are what you crave, then Playmobil has the mission for you. Check out their new 007 Aston Martin from the James Bond film Goldfinger! This set features figures of James Bond, Goldfinger, Odd Job, and a henchman, as well as a beautiful Aston Martin, fully loaded with modifications, including an ejector seat. It looks fantastic on display on your shelf but is also fun enough to play with, you might even get a younger generation interested in the world of 60's James Bond. Playmobil sent us their latest licensed vehicle to check out.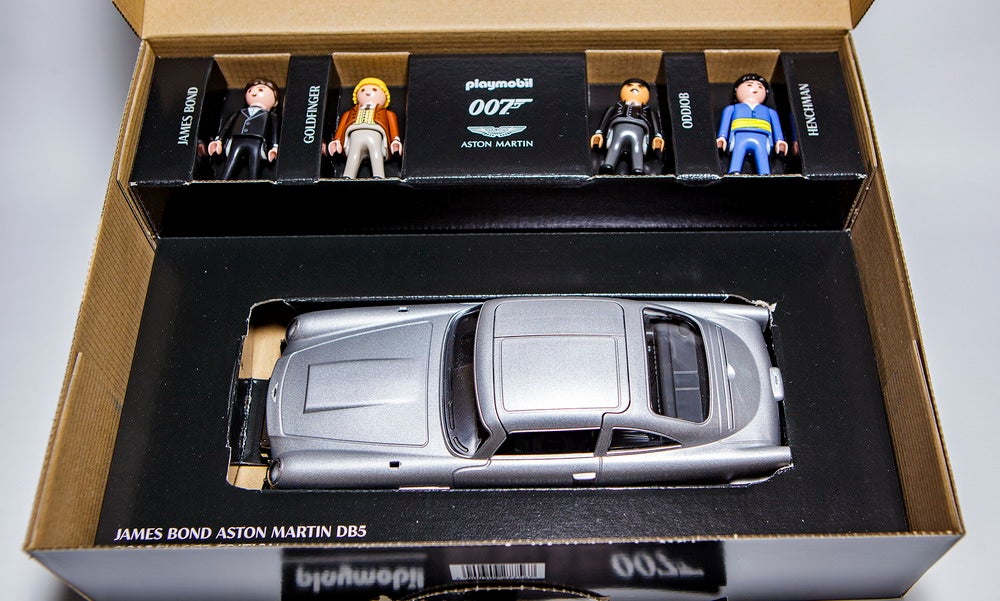 I love how Playmobil has dived in with both feet addressing adult collectors. The advertisements for this set (and a few others, such as their Starship Enterprise) just feature a grown dude playing with (or is it "admiring") the set. Nobody is buying these for their kid. To further that commitment, the packaging for these collector sets features a major upgrade. When you open the box, everything is compartmentalized. There is a hidden baggie of accessories, including the tires that need to be put on the car, but I dig the attention to the opening experience.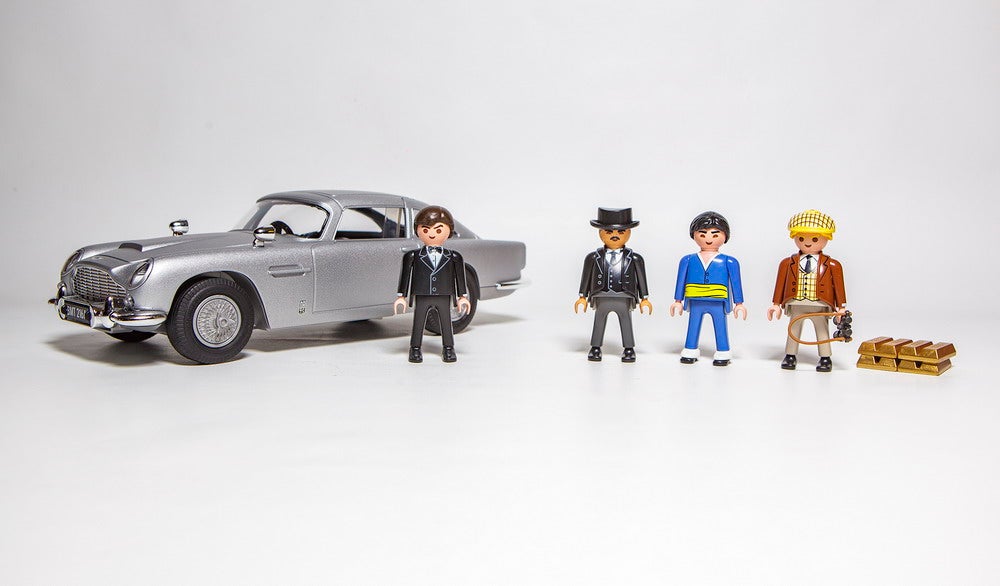 What's in the box? The complete Aston Martin, James Bond, the 3 bad guys, Goldfinger, Odd Job, and a henchman. They also include a pair of binoculars (referencing the gin rummy game at the hotel pool) and four bricks of Playmobil gold bars. They are plastic gold bars. I'm a little torn on this decision. I like that they included gold bar accessories, as it's something they've made before. But the ones I've gotten before have been metal. That would have increased the overall price and shipping weight of this particular set, but it IS a collector's set, so I went into it expecting it. Anyway, I appreciate the included accessories. Also absent is a gun for James Bond. As with the A-Team set, they have chosen not to include any firearms, even though they were referenced in the source material. I dig it, however, this is a playset specifically aimed for adult collectors, it's OK to include his firearm. I would have loved a golf club maybe.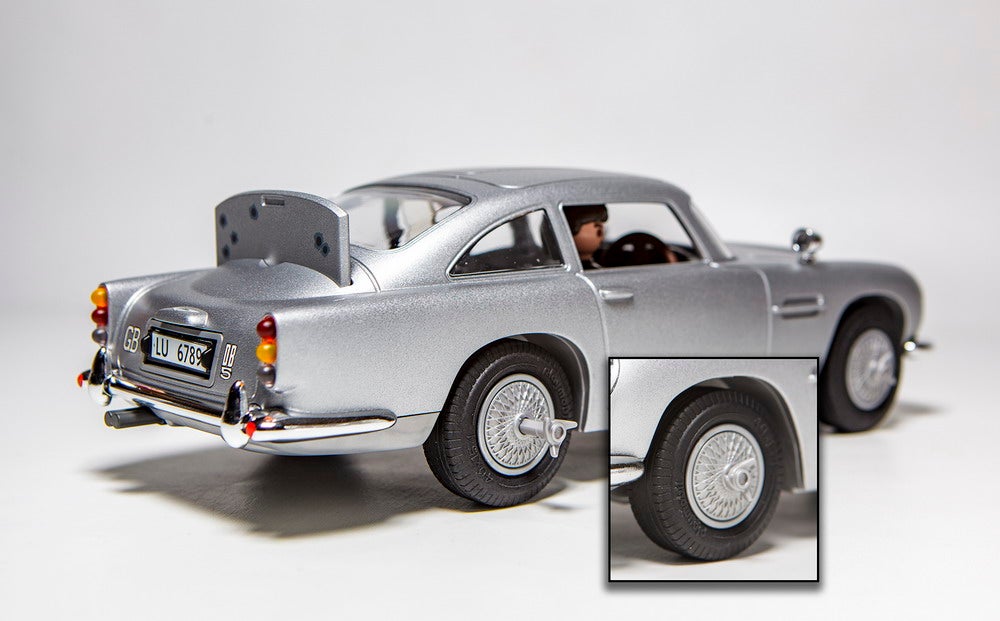 Everybody wants to know, what gadgets does the Aston Martin have? It's fully loaded! The spikes at the center of the hubcaps can be extended. There's a bulletproof screen (with bullet dents) that pops up from the back. Both license plates can be rotated.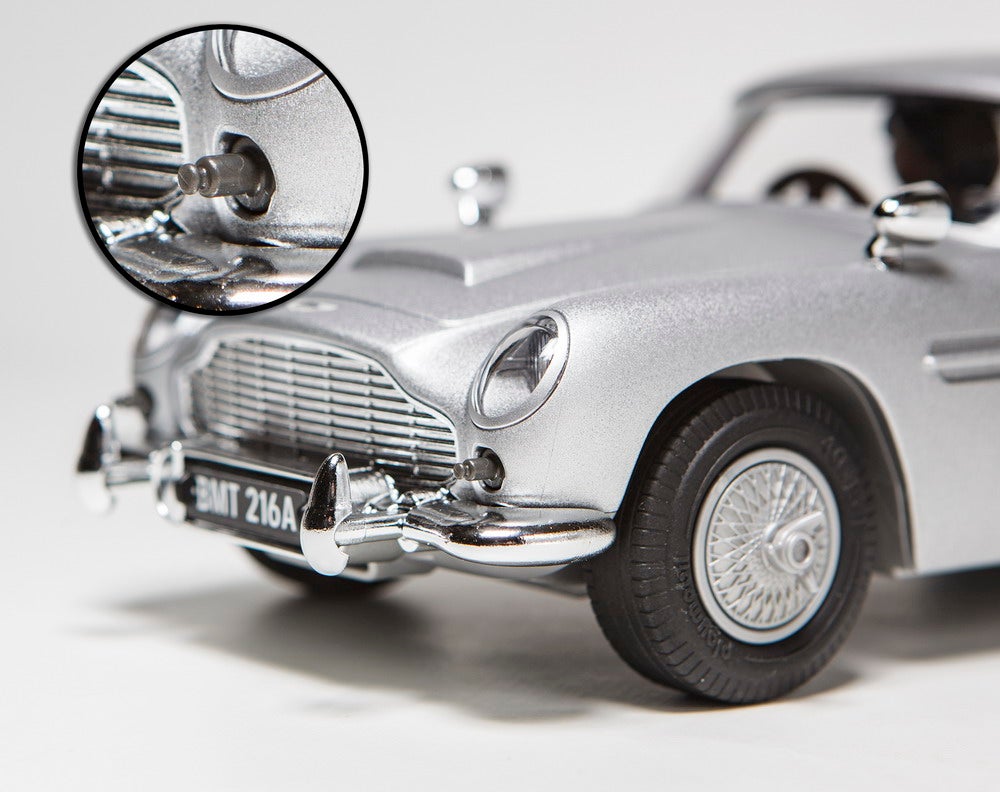 The front parts of the bumper can be pulled out, and there are small guns under the headlights. They pop in and out too and are covered with very small clear plastic caps. I could extend the bumper and wheel blades in and out with ease, but I had a hard time with these itty bitty guns. Getting the caps on and off was difficult as well. I recommend you choose a look you like and maybe plan to stick with it.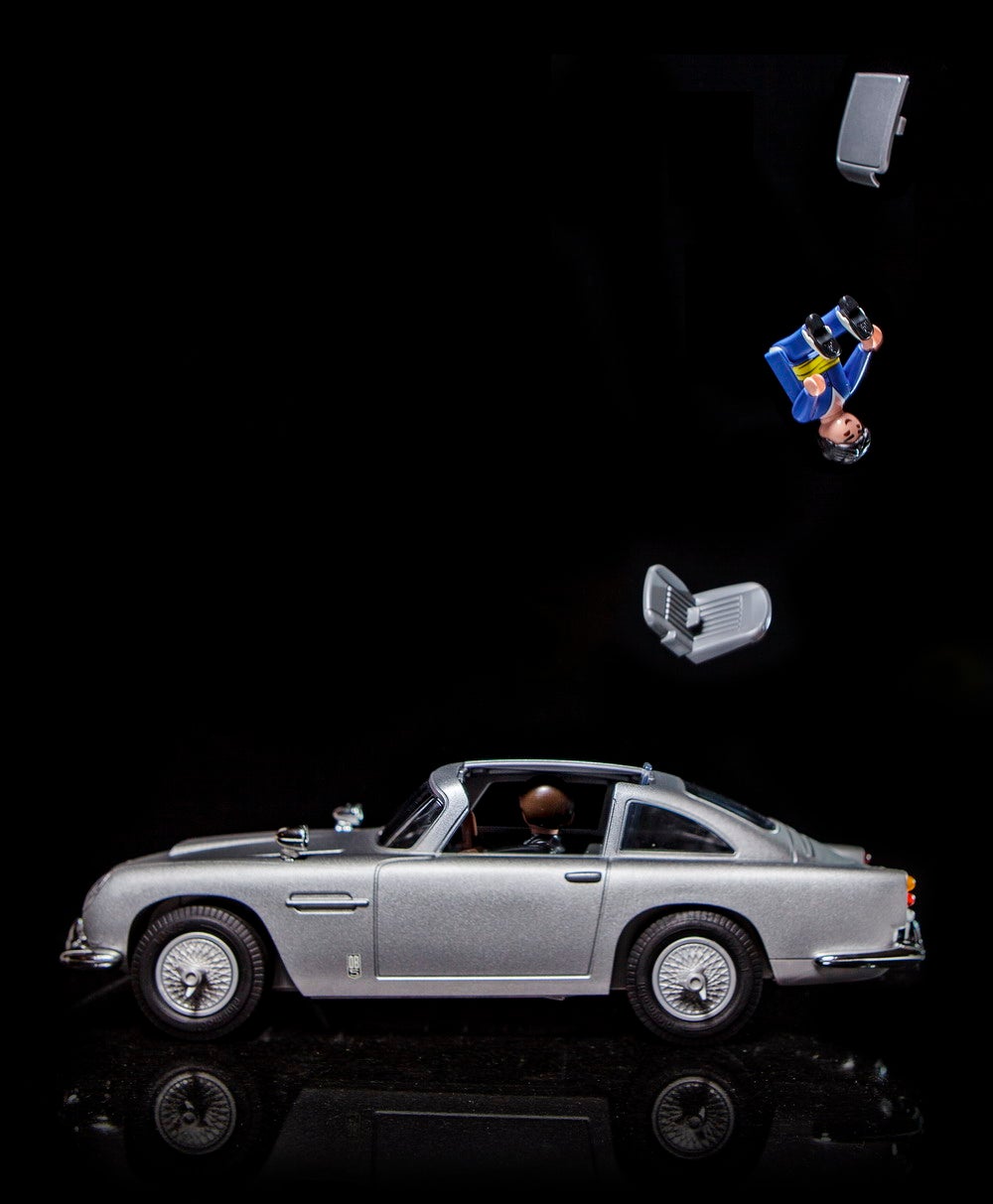 And yes, the ejector seat works! And it's fantastic! Oh, how I love ejecting people from this Aston Martin. Just for the record, the photo above features the actual ejector action. If you look in the gallery, there is an un-photoshopped version that shows the behind-the-scenes. I photoshopped out my hand holding the car still and used an alternate angle of the flying seat. But that's legit how high and far the baddie will actually launch with a press of the button!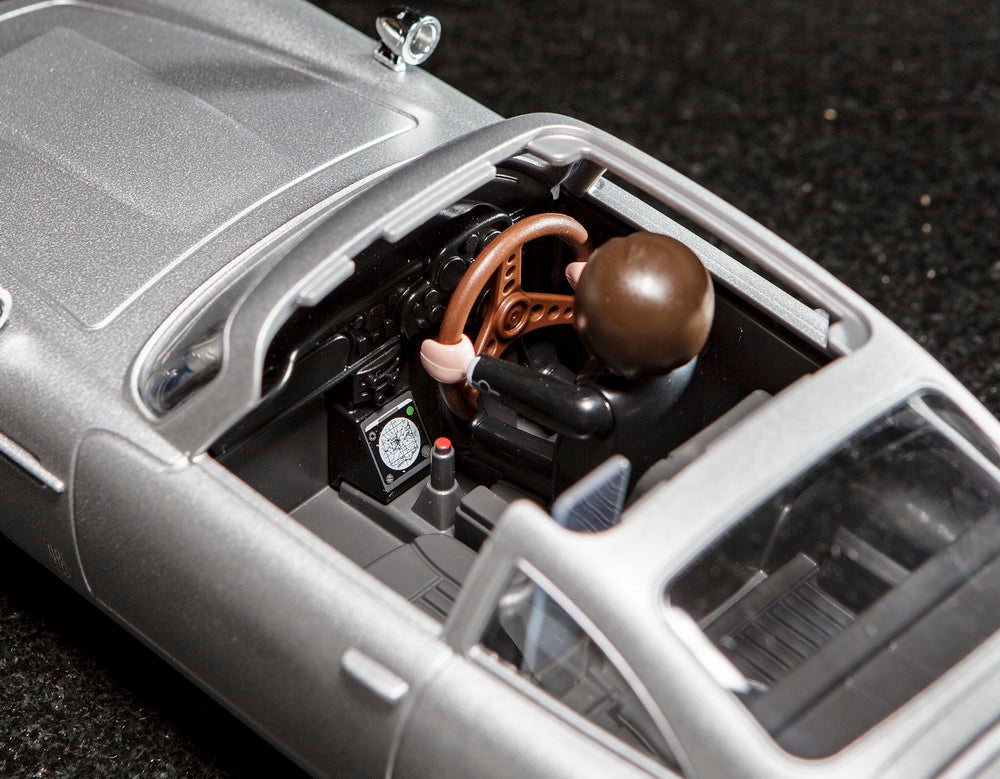 The interior is beautiful. Playmobil always knows the correct balance between detail and streamlined aesthetic. I love that the radar and knob with the red ejector button are present, but the entire dash isn't fully decorated. I'm very curious to see how KITT turns out next year! Stay tuned for that review in the first half of 2022.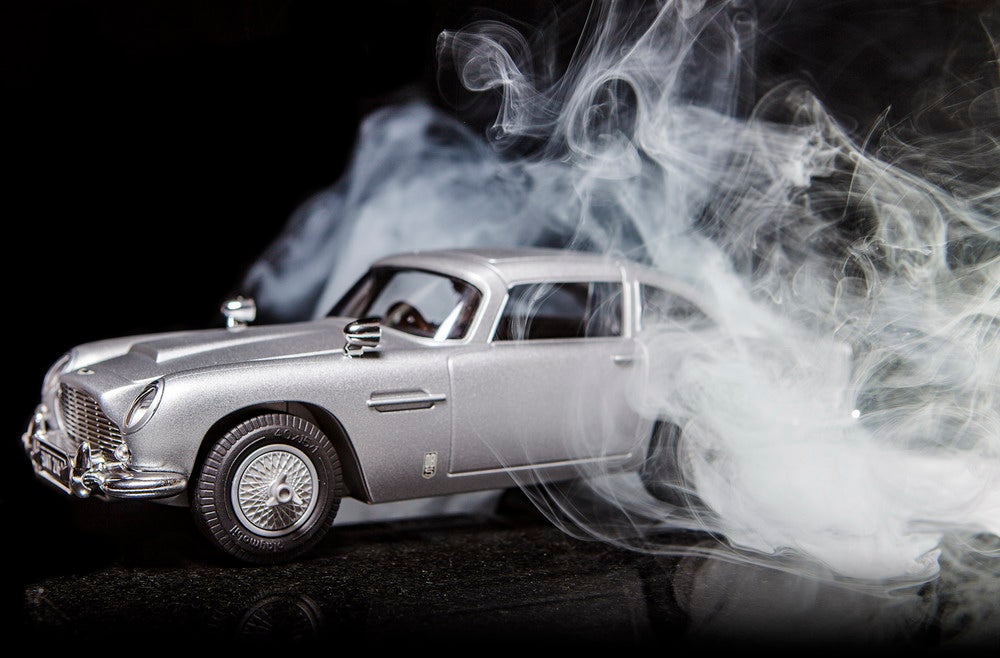 What's NOT in the box? I have a micro-fogger for my toy photography and nabbed this photo. I thought it looked cool, but I wanted to be clear, this toy does not eject smoke on its own. But if you have a smoke machine, it's a pretty killer effect. Also, this set only includes the four figures mentioned above. I had a spare bikini girl and painted her gold for this photo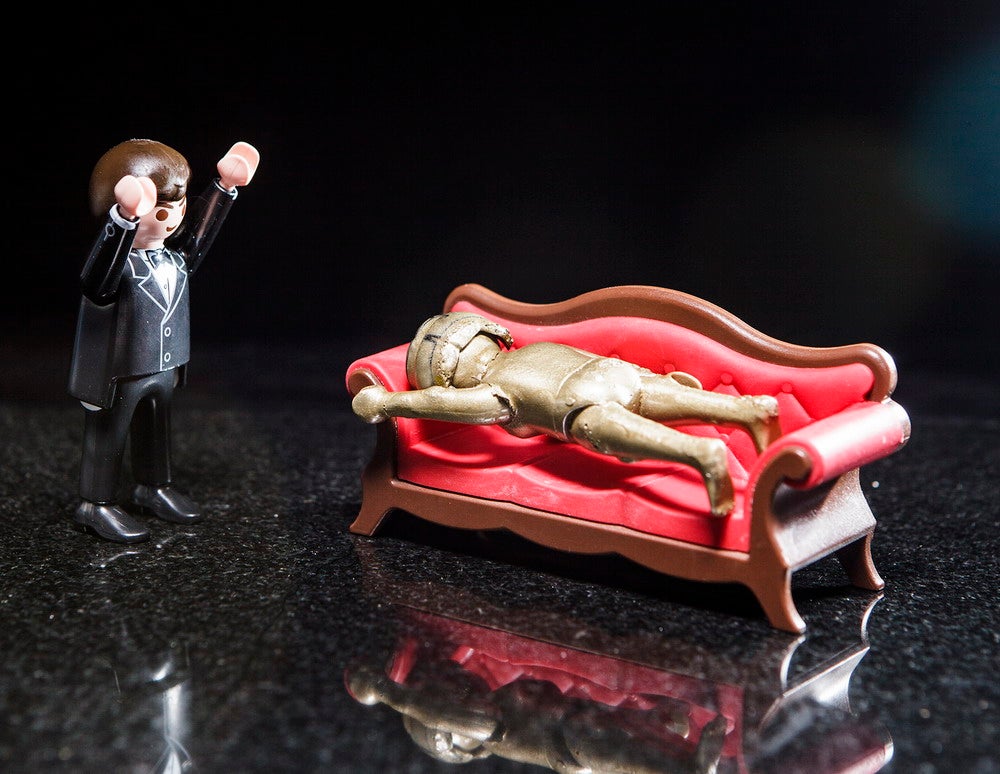 So to be clear, you do not get a gold lady in this package. I tried spray paint and I'm not 100% happy with how it came out. I'm going to get a gold chrome pen and try again for my display.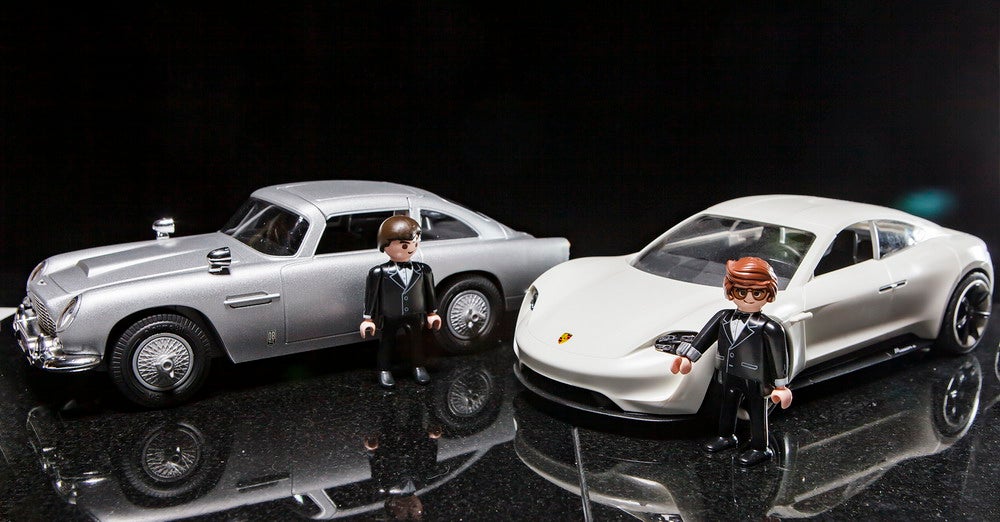 If you happened to see the Playmobil Movie a few years ago, this film had a James Bond-inspired spy named Rex Dasher (voiced by Daniel Radcliffe!) He came with, what honestly is one of the sweetest Playmobil cars ever, a remote control Porsche. You can activate the headlights and drive the car around with an app on your phone. It's really quite beautiful.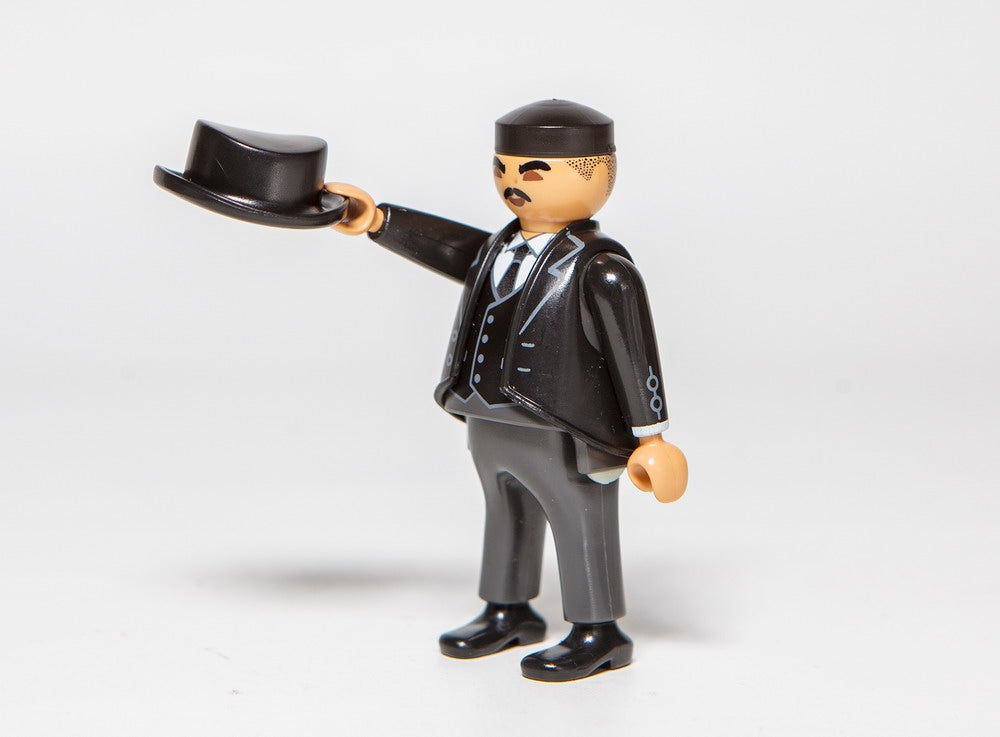 I really do enjoy this set. I've said it before when Playmobil began down the licensing path, I was worried it would impact the overall brand. However, each set so far has been executed with love and attention to detail. The Back to the Future sets are some of my favorites ever. This set is no exception. If you even just like James Bond a little bit, this is a great collectible. It's a little steep in price, however. We've been finding this for around $90. The typical Playmobil vehicle is usually in the $50 range. So I'm not sure if it's the licensing fees or the complexity of the new mold. I mentioned I wished they had included James' gun. I also wish they included Bond in his white tuxedo, or maybe some of his scuba gear. Maybe they produce an accessory pack in the future? Either way, they got me inspired! This is a fantastic collectible that's also a lot of fun. Stay tuned for more Playmobil reviews.
Review and Photos By Andy Jones
Review Samples Courtesy of Playmobil
We are committed to finding, researching, and recommending the best action figures and collectibles. We earn commissions from purchases you make using the retail links in our product reviews. Learn more about how this works.
---