Welcome back, HeroClix fans, and for all you new ones, glad to have you! We're here today with another comprehensive look at a new expansion from WizKids, and this one continues the incredible Marvel sets that have come out this year including Fantastic Four Future Foundation and X-Men: Rise and Fall. WizKids has made huge strides in working closely with the comic book company to get recent storylines into physical form, and so 2020's Empyre story has now inspired the Marvel HeroClix Avengers/Fantastic Four Empyre expansion! Empyre was interesting, with various hero teams from Earth combating an alien threat to all animal life there. When I heard that it was being adapted into a HeroClix set I was very excited to see which characters would be included, so come along with me as we find out. In addition to an Empyre booster brick we'll also take a look at the Avengers Fantastic Four Empyre Miniatures Game, the Dice & Token Pack, and Play At Home Kit.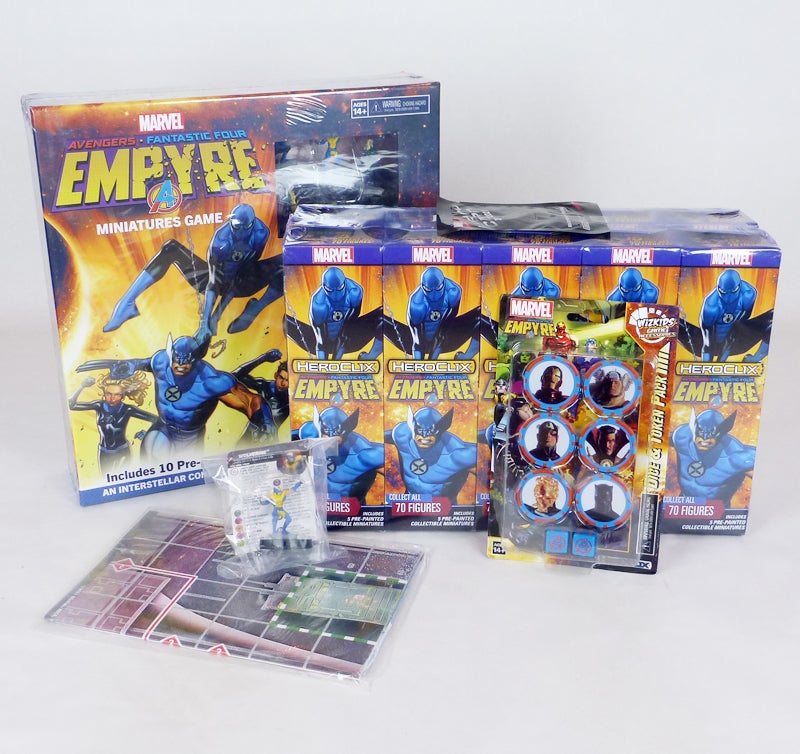 If you are new to the universe of HeroClix, WizKids has an ideal starting point for you in the Avengers Fantastic Four Empyre Miniatures Game. Based on the similar product that came alongside the Wonder Woman 80th Anniversary set, this box comes with a ton of content designed to teach new players and get them into the game with a nice number of options. The box itself is huge, and is immediately recognizable as belonging to the same product line as the main Empyre boosters. It has the fiery space background and prominent artwork of Wolverine, Spider-Man, and Fantastic Four kids running into battle. The front panel has a big window so you can most of the included figures, while the back gives you a ton of info including a list of the contents in the box, a description of the game, how long games take, and more. I really appreciate that they include an image of a game in progress so new people know generally what it's going to look like.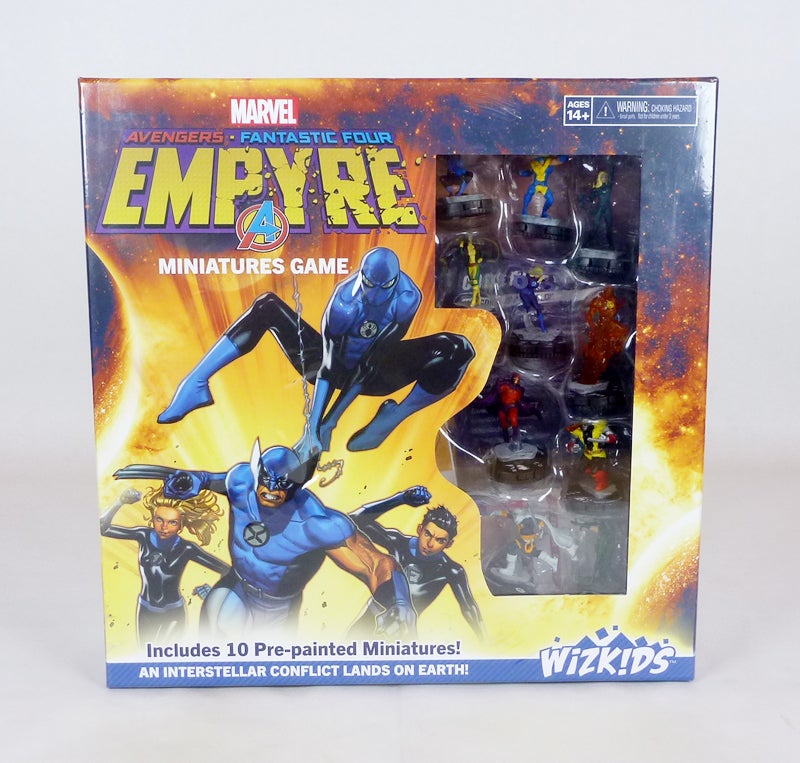 As soon as you open the big, heavy box you'll find a big plastic tray holding two d6s and ten figures. WizKids has produced quite a few sets of Avengers-themed dice, and it's always interesting to see what they do with these unique math rocks. Empyre's dice are a light blue with orange pips and the unique Avengers "A" mixed with the Fantastic Four "4" on the 6 side (note that these are the same as the ones in the Dice & Token Pack – see below). The Empyre Miniatures Game comes with figures of Captain Marvel, Human Torch, Invisible Woman, Madame Hydra, Magneto, Rogue, Spider-Man, Super Skrull: X-Men, Taskmaster, and Wolverine. These sculpts will appear in the main booster set, though these have unique dials. Each figure actually has two separate sections on its dial that correspond to different cards; there's a very basic 25-50 point "beginner" version and a slightly more complex and powerful 40-60 point "veteran" version. The "A"s have no special powers or traits (though they do have Team Abilities), while the "B"s all have one special power (except Super Skrull: X-Men who has two!). I've said it before with the previous starters like this, but I think this is a great format for new players to learn with, and the multiple dials give veteran players some very low point options for some of their favorite players that just might find a place on future teams.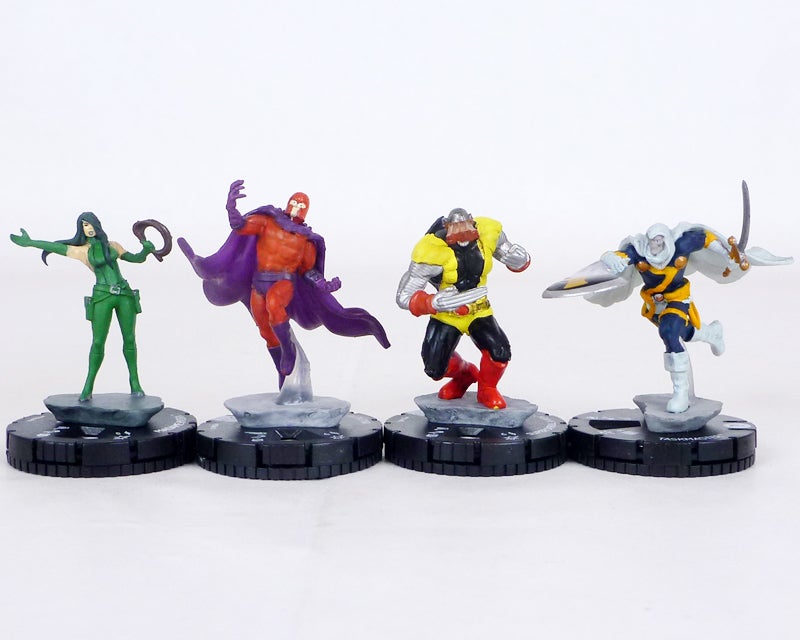 Overall, these figures look really nice! With the variety of teams and sides there isn't just one set of colors on a standard uniform or anything like that, which gives these heroes and villains a nice variety of colors and appearances. There's a little something for everyone whether you prefer the Avengers, Fantastic Four, or X-Men, and the characters are almost all highly iconic and fan-favorites. They also show off some really distinctive poses with Rogue in a sassy stance, Spider-Man in a prepared crouch, Taskmaster hurling his shield, Captain Marvel lofting her Kree universal weapon above her head, etc. All of the figures stand on rocky bases, and they show off some of WizKids' best techniques like bright colors, subtle paint apps, translucent plastic, and metallic details. I love the texture on Human Torch, Rogue's face application, the flowing of Magneto's cape, and the Madame's super cool Hydra tattoo.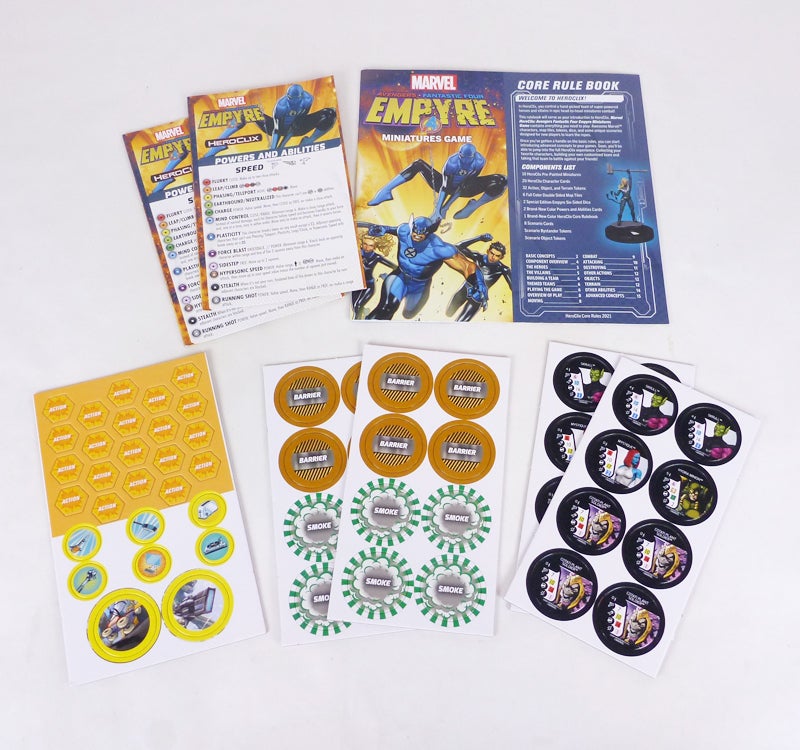 Also included in the box is an Empyre-themed Core Rule Book and two copies of an Empyre-themed Powers and Abilities Card (PAC). These are the main resources you need to play the game, the former giving you all of the rules and the latter outlining all of the cool abilities that let heroes and villains stand out from normal people. These of course reflect the current rules which recently got a *big* update and revision. Note that you can also get free copies of the rules and PAC on the HeroClix website.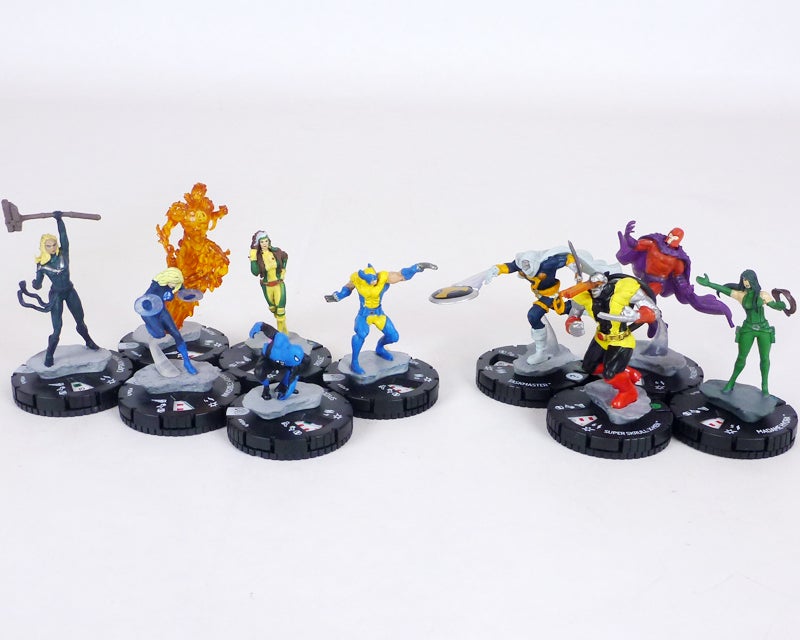 If you've never played HeroClix before, you should! It's a fun, fast-paced game of miniature combat featuring tons of superheroes and villains but also various licenses from Teenage Mutant Ninja Turtles to WWE and so many more. Each figure has an integrated combat dial in its base showing you its stats (Movement, Attack, Defense, and Damage), which will change as it takes damage or heals. Different colored blocks represent Powers, which are explained on the PAC. As standard a figure can move or attack on your turn; powers open up a world of special abilities like Charge (move and make a close attack), Running Shot (move and make a ranged attack), Toughness (reduce damage taken by 1), Outwit (turn off an enemy figure's power), and many, many more. I guarantee you'll have a great time learning the powers of your favorite figures and then building teams based off of who can do what.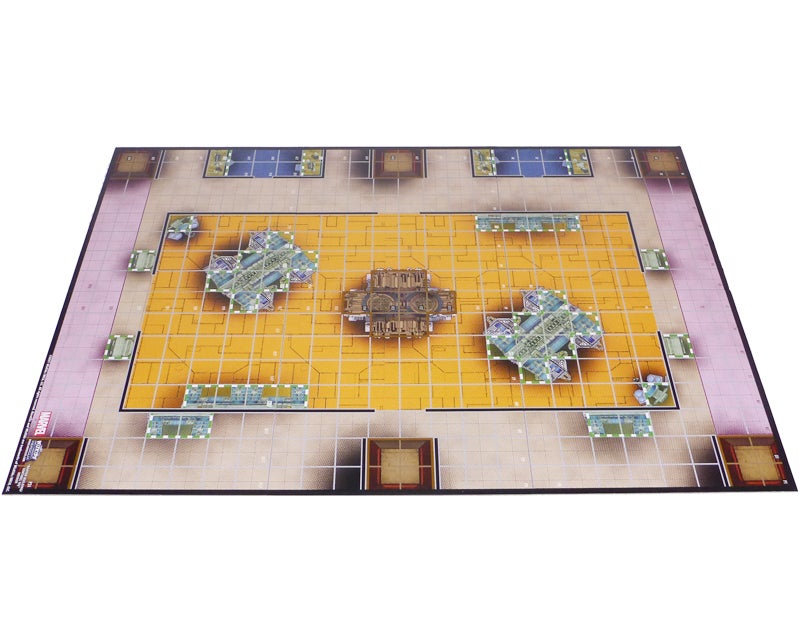 HeroClix also uses a lot of tokens, and so you'll find a big collection of them in this box. There are action tokens for marking who has acted, terrain effects like Debris, Smoke, and Barrier tokens, and a bunch of light objects that characters can pick up and use in attacks. Bystander tokens like Hydra Minions, Cotati Plant Soldiers, and Skrulls are integral to the set's narrative scenario games, which let you play through the big Empyre story beats via the included Scenario Cards. These give you specific game settings, storylines, build rules, win conditions, and more. These are very helpful for guiding new players through increasing complexity and difficulty, while also offering experienced players some fun new things to try out.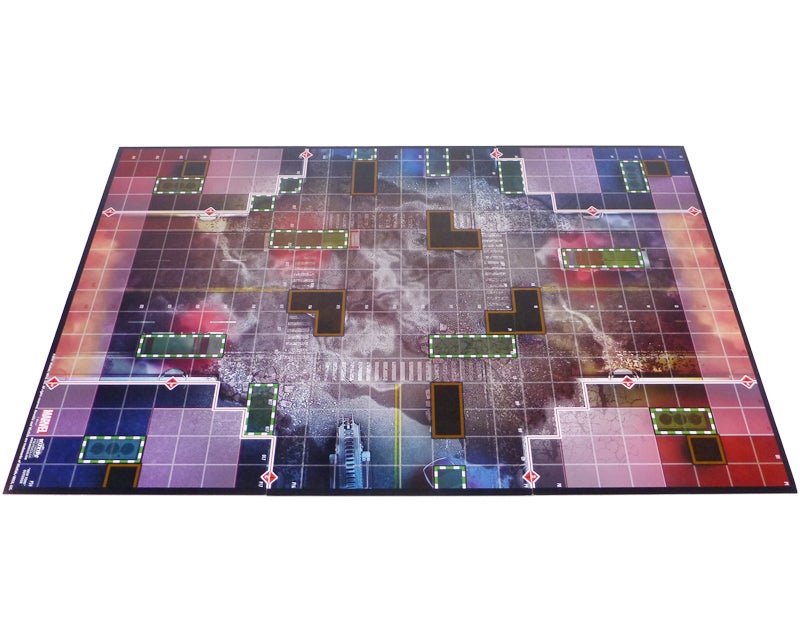 Of course, you can't play HeroClix without maps, and so this Miniatures Game includes two. These aren't your father's paper maps, but double-sided heavy duty (and just plain heavy) cardboard tiles! There are six tiles per map, and you'll find location codes on the squares so you can set them up quickly. On side is the Baxter Building/Sentinel HQ indoor map, and on the other you'll find the outdoor New York map. Both feature a nice variety of terrain types so you can learn those rules as you're learning how to play. And again, these maps are another element that will appeal to veteran players, giving them more maps in this new sturdier format.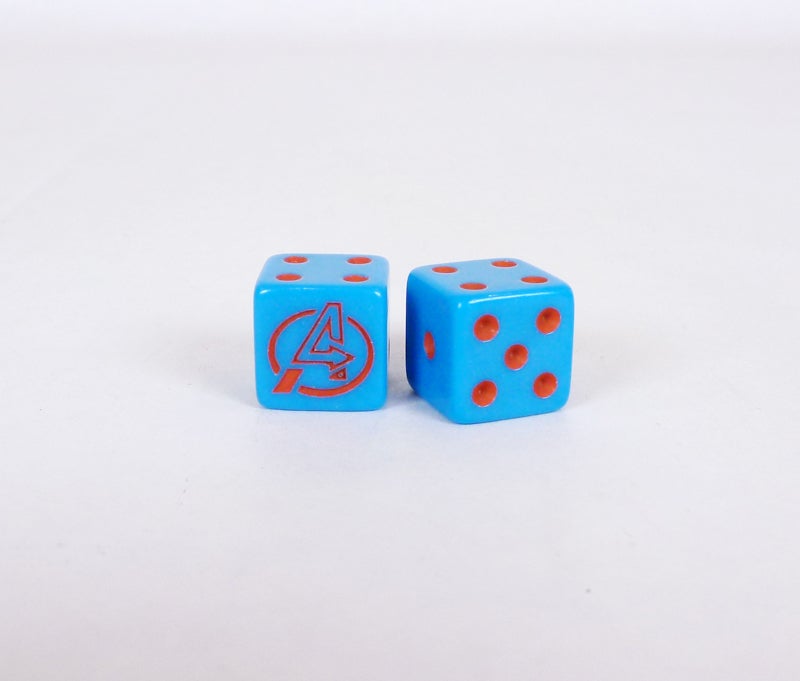 For anyone who's new to HeroClix and interested in the game, I highly recommend the Empyre Miniatures Game. I really feel like WizKids has nailed this format and made the best possible intro product, that comes with everything you need to learn and play, a bunch of great figures, and two cool maps. Plus, there's the added bonus content of the Scenario Cards and narrative campaign for even more fun ways to play. It's ideal for new players, but there's lots of great stuff here even for people who have been playing for years.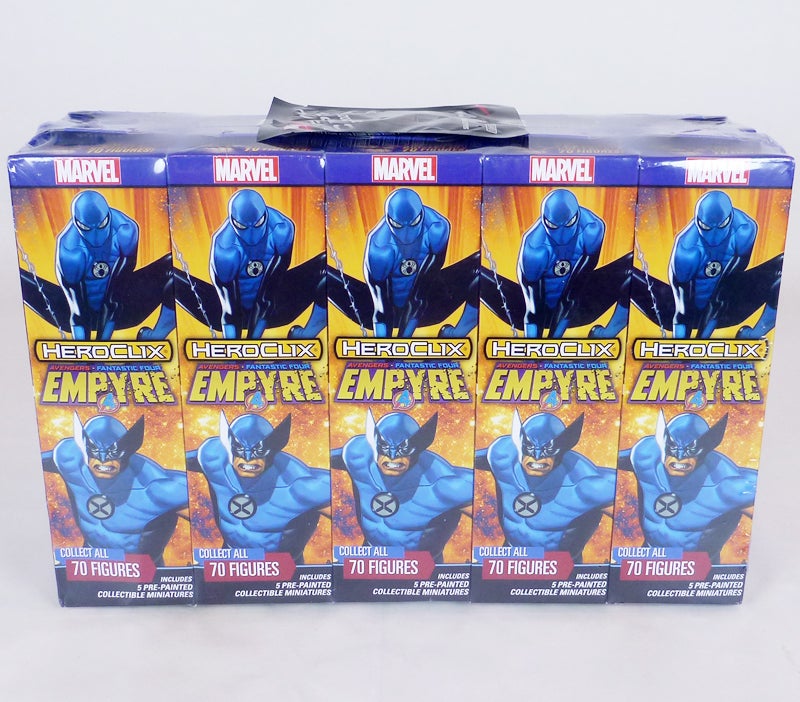 If you're looking to pick up all the hottest new figures, you've gotta hunt down some Avengers Fantastic Four Empyre HeroClix boosters, available in bricks of ten. Each booster box comes with five figures: at least one common (most often two), and at least a rare or something potentially rarer (super rare or chase). It's easy to find the Empyre boosters at your local comic book or game store with their bright blue and yellow color schemes; Spider-Man and Wolverine in their blue duds stand out pretty well against the yellow explosion background. On the sides of the boxes you'll find some of the set's themes like the Fantastic Four, Avengers, Kree, and Skrulls. Finally, the back panel shows off one of the set's crazy chase figures and gives you some HeroClix info.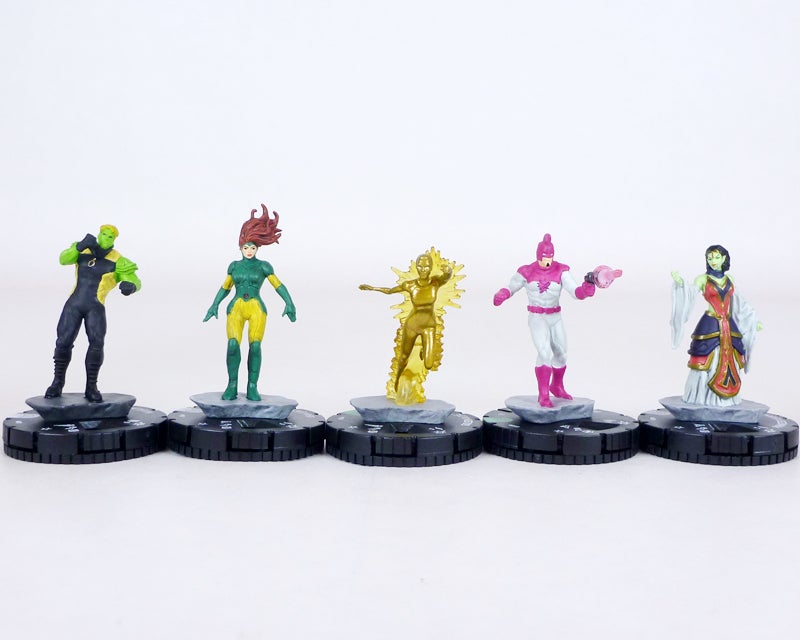 Booster 1
001 Hulkling
010 Jean Grey
018 Golden Oldie
033 Bel-Dann
036 Princess Veranke
It's fitting that our first booster opens with common Hulkling, as he's a central character in the Empyre storyline in his station as leader of the Kree/Skrull empire. He's joined by common Jean Grey in her modern look. The uncommons give us Kree hero Bel-Dann and the… unique hero Golden Oldie, Spider-Man's aunt May empowered by Galactus! Our first rare is Princess Veranke of the Skrulls, who you may remember from her appearances as far back as Secret Invasion.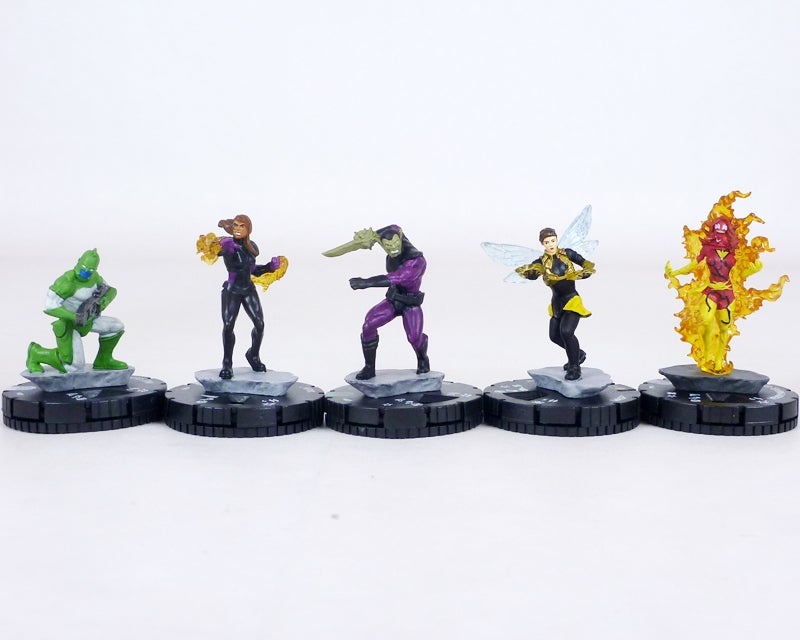 Booster 2
003 Kree Soldier
005 Xavin
023 Raksor
028 Wasp
046 Venom Marvel Girl
Aliens form the backbone of this booster starting with the generic Kree Soldier in the first common slot. In the other is Xavin, the Skrull member of the Runaways and a welcome modern addition to that team! Another Skrull appears among the uncommons with Raksor, alongside a really cool new Wasp. The rare here is our first "Venomized" character: Venom Marvel Girl. We'll see more of those along the way.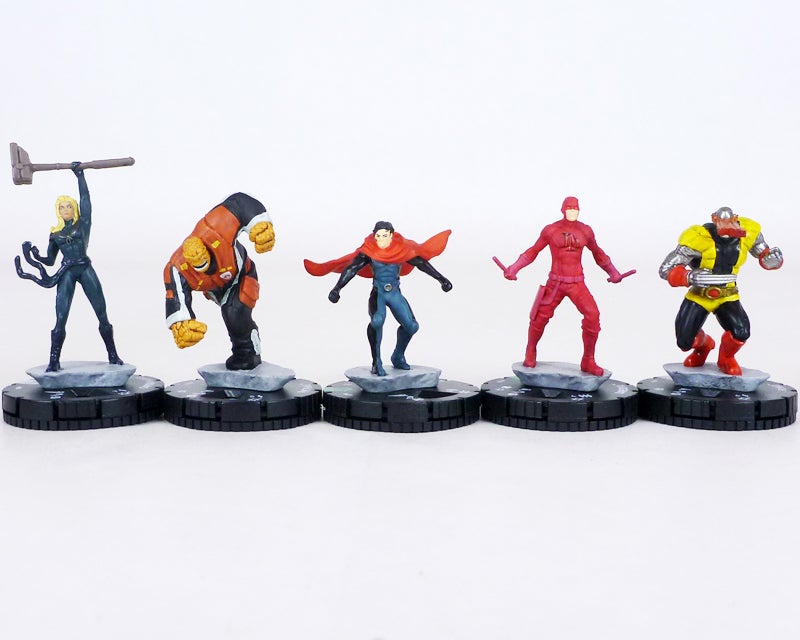 Booster 3
004 Captain Marvel
013 The Thing
021 Wiccan
030 Daredevil
049 Rl'nnd
Booster #3 has a nice mixed selection of characters starting with one of the set's power commons in Kree Accuser Captain Marvel with her Universal Weapon. The other common is The Thing, specifically in his Guardians of the Galaxy outfit from a few years ago. Our uncommons are Wiccan from the Empyre story and a fresh new Daredevil. Last but certainly not least is the Super Skrull with X-Men powers Rl'nnd!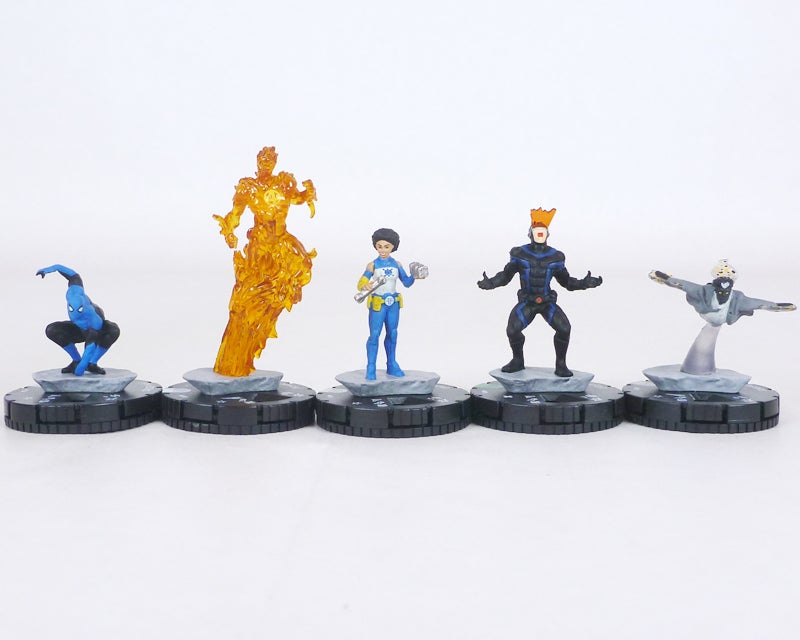 Booster 4
006 Spider-Man
008 Human Torch
015 Onome
020 Cyclops
039 Sunspot
Cover art Spider-Man in his blue suit kicks off the next booster in the first common spot, side by side with a super hot Human Torch and Wakandan prodigy Onome. Modern Cyclops (a perfect companion for common Jean Grey) is the solitary uncommon, while the A.I.M. leader Sunspot in the rare.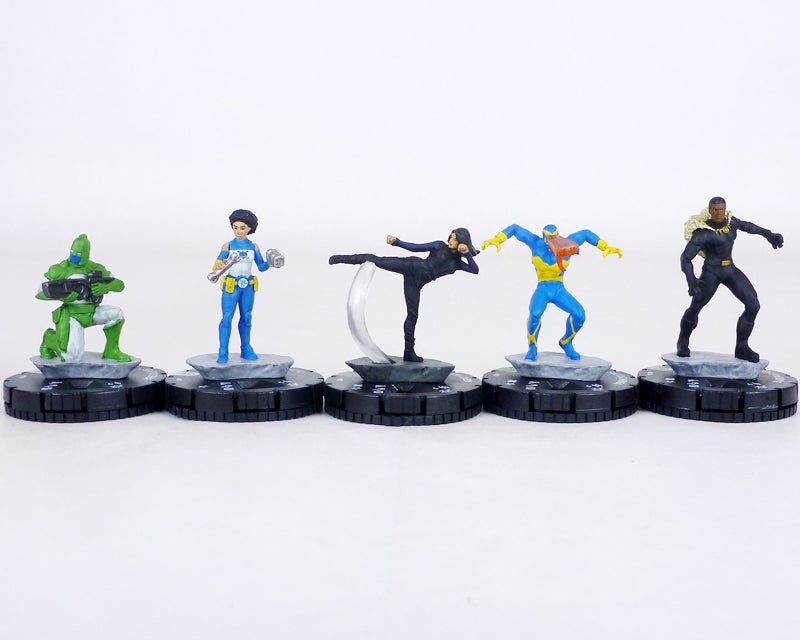 Booster 5
003 Kree Soldier
015 Onome
027 Agent May
031 Venom Cyclops
047a Black Panther
A second Kree Soldier is a welcome addition to our growing army, though a duplicate Onome is somewhat less exciting. Uncommons here are S.H.I.E.L.D.'s Agent May and Venom Cyclops, a very unique looking character who brings us to two Cyclops/Jean Grey pairings. Finally, this booster's rare is T'Chaka as an unmasked Black Panther.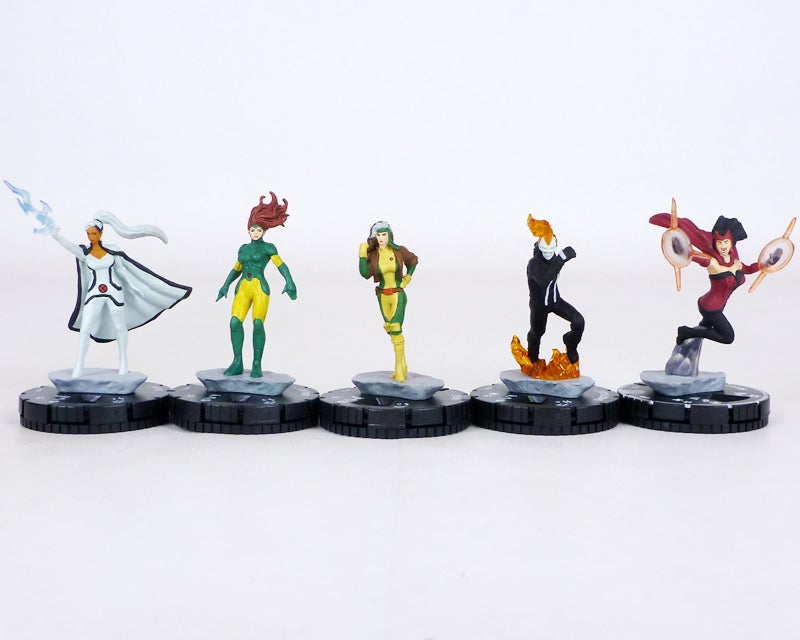 Booster 6
009 Storm
010 Jean Grey
012 Rogue
032 Ghost Rider
043 Scarlet Witch
WizKids has a history of making really cool figures of the X-Men's Storm, and this new common continues that trend as she shows up next to another Jean Grey and common Rogue to make a mutant threesome. Robbie Reyes Ghost Rider in a very convincing running pose is this booster's uncommon, while Scarlet Witch rounds out the pack in the rare slot.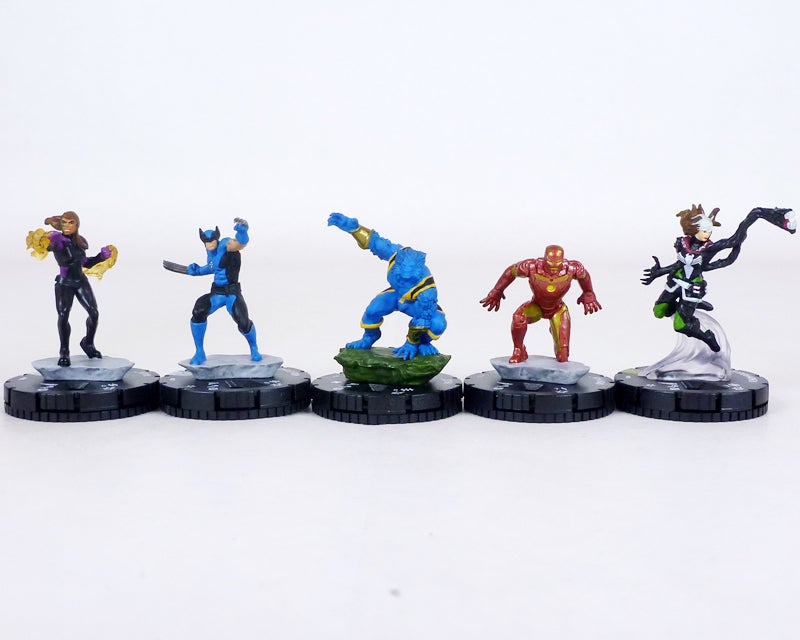 Booster 7
005 Xavin
007 Wolverine
011 Beast
025 Iron Man
061 Venom Rogue
I've saved the highest rarity figures for last, as we'll see starting here. A duplicate Xavin is joined by two mutants in blue in the common slots: Wolverine and Beast. Iron Man crouches in the uncommon spot, and like the Thing before him this Tony Stark comes from his run with the Guardians of the Galaxy. Lastly, our first super rare is Venom Rogue!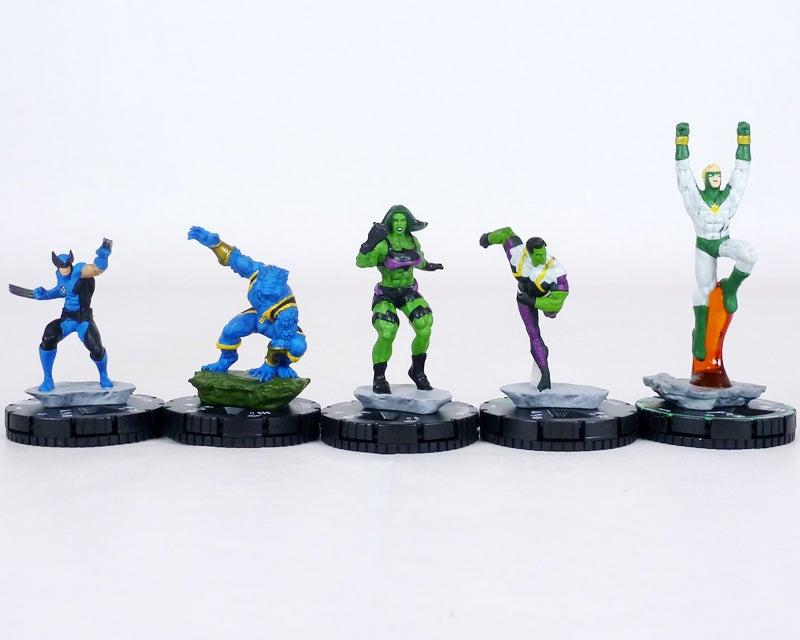 Booster 8
007 Wolverine
011 Beast
014 She-Hulk
022 Brawn
059b Captain Mar-Vell
You're not seeing double; this next booster has the same commons of Wolverine and Beast. The similarity ends there with a She-Hulk common representing her tragic story in Empyre, followed by uncommon Amadeus Cho in his Brawn incarnation. Our second super rare is a Prime, the fully Kree variant Captain Mar-Vell.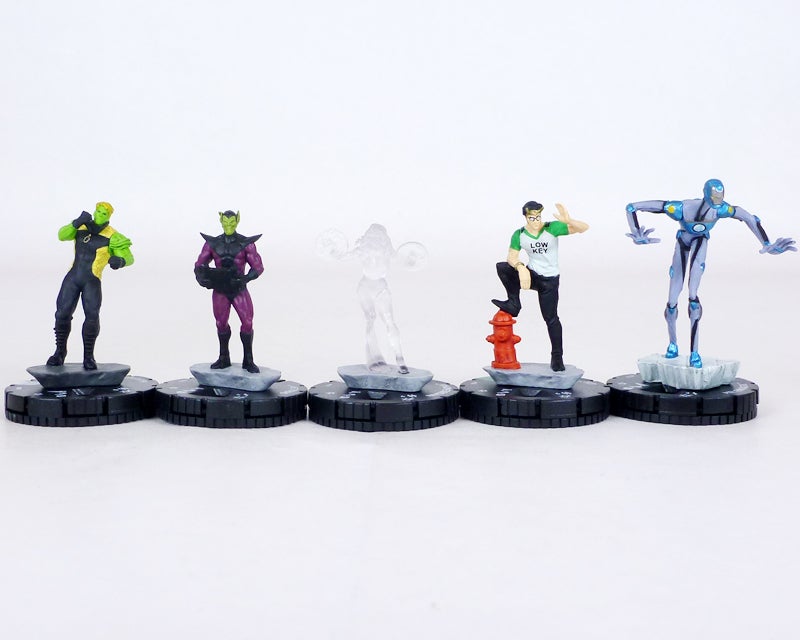 Booster 9
001 Hulkling
002 Skrull Spy
017 Invisible Woman
026 Loki
060 Mr. Fantastic
As we near the end of the brick the more common figures will include more duplicates, and so in booster #9 we find another common Hulkling and Skrull Spy. The third common is the Fantastic Four's Invisible Woman, and the uncommon is Loki in his modern youthful appearance. Joining his wife in this booster is Mr. Fantastic in an iconic look, wearing his specially designed Iron Man suit from the finale of Empyre!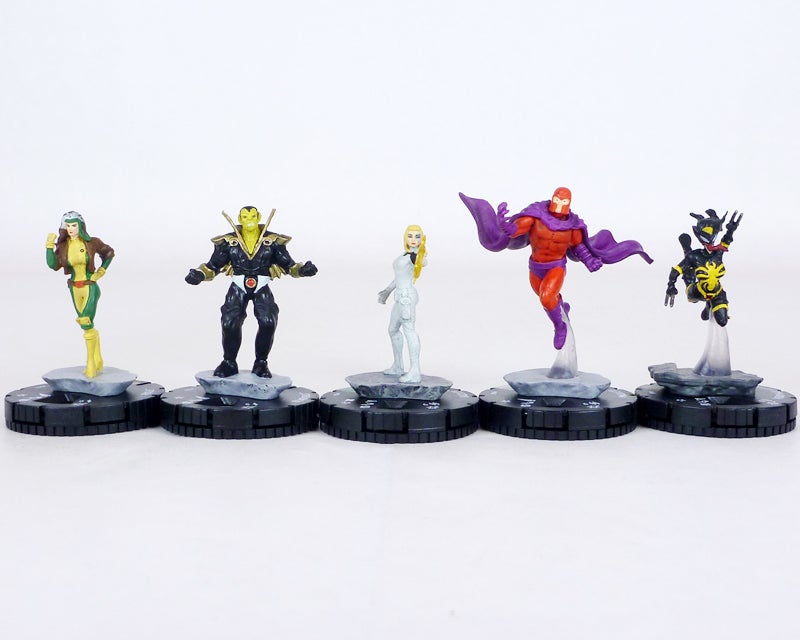 Booster 10
012 Rogue
016 Black Bolt
024 Dazzler
048 Magneto
068 Venom Wolverine
Our final booster brings only a duplicate Rogue, with a common Skrull Black Bolt, uncommon Dazzler, rare throwback Brotherhood of Mutants Magneto… and a chase figure with Venom Wolverine!
Here's the full breakdown of the figures in this brick (your results will vary of course):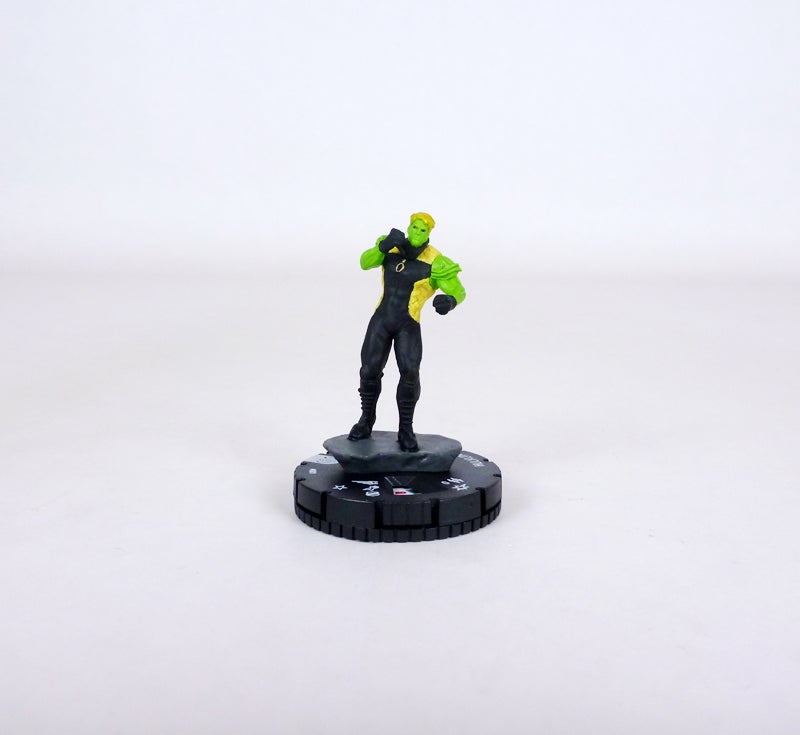 COMMONS (including duplicates)
001 Hulkling
002 Skrull Spy
003 Kree Soldier
004 Captain Marvel
005 Xavin
006 Spider-Man
007 Wolverine
008 Human Torch
009 Storm
010 Jean Grey
011 Beast
012 Rogue
013 The Thing
014 She-Hulk
015 Onome
016 Black Bolt
017 Invisible Woman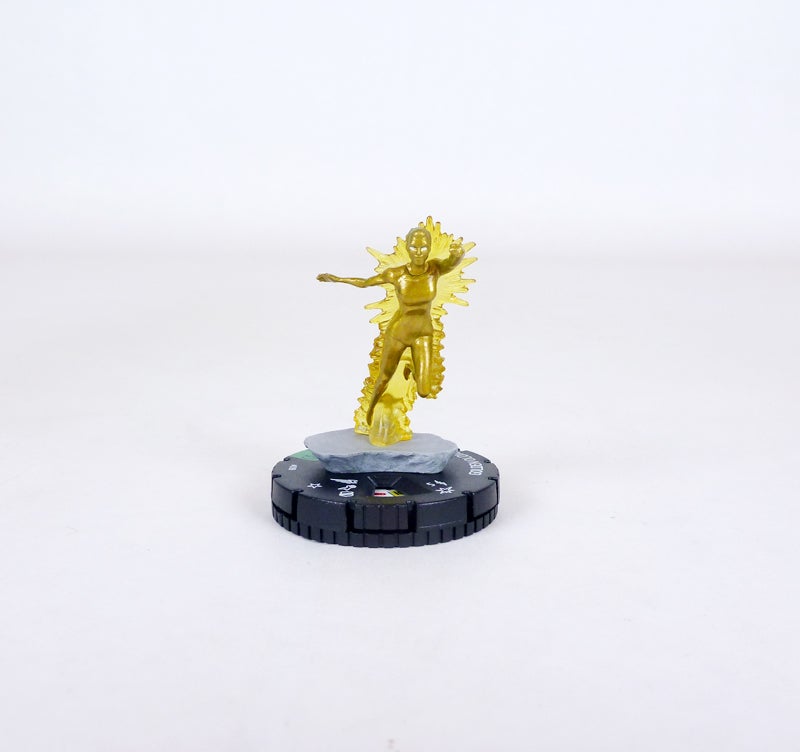 UNCOMMONS
018 Golden Oldie
020 Cyclops
021 Wiccan
022 Brawn
023 Raksor
024 Dazzler
025 Iron Man
026 Loki
027 Agent May
028 Wasp
030 Daredevil
031 Venom Cyclops
032 Ghost Rider
033 Bel-Dann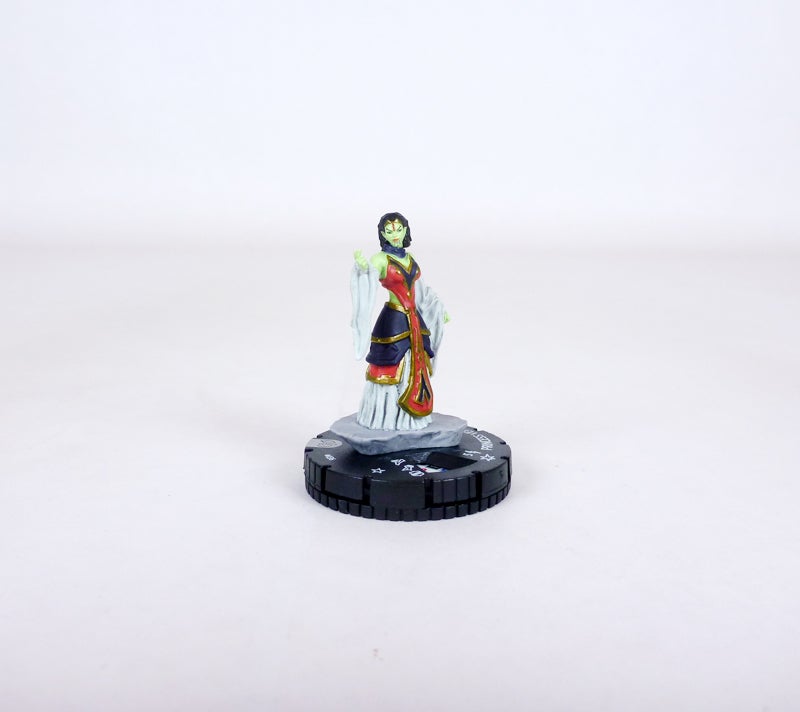 RARES
036 Princess Veranke
039 Sunspot
043 Scarlet Witch
046 Venom Marvel Girl
047a Black Panther
048 Magneto
049 Rl'nnd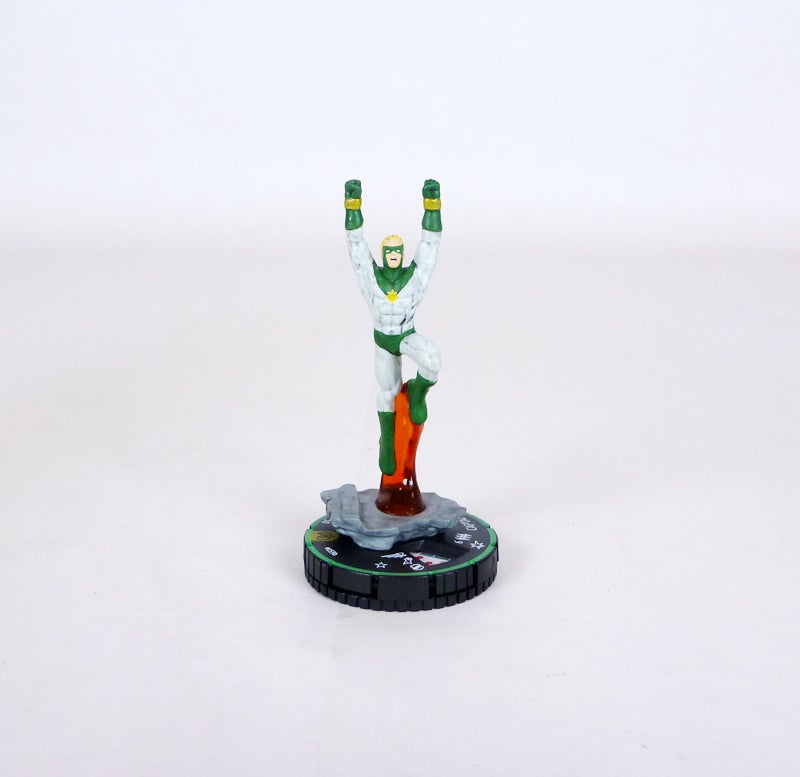 SUPER RARES
059b Captain Mar-Vell
060 Mr. Fantastic
061 Venom Rogue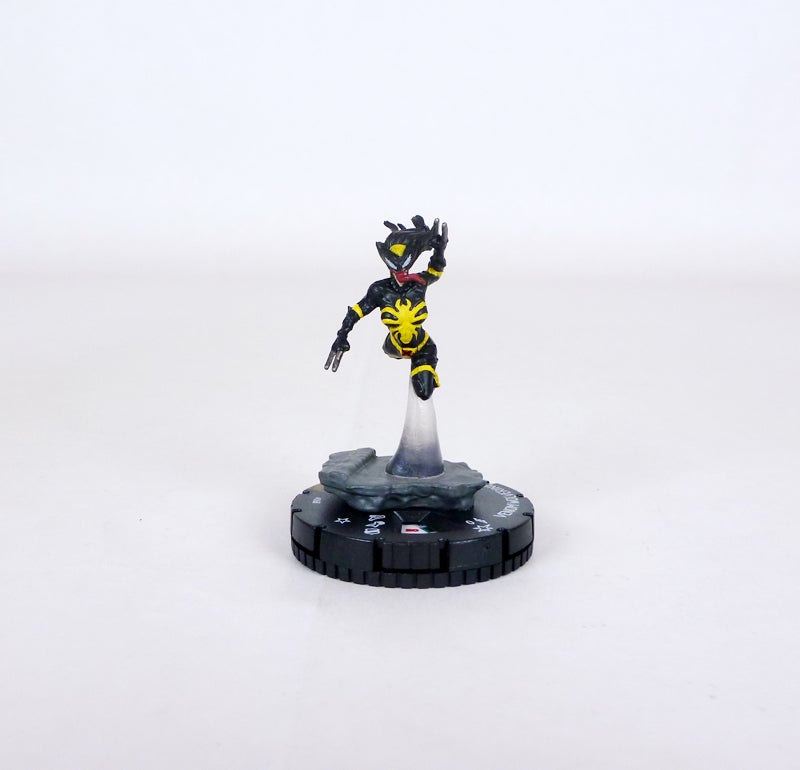 CHASE
I always take a minute here to look at the overall collation of our pulls, and at looking at the collection I'm pretty pleased. We got at least one each of the set's 17 commons, 14 of the possible 17 uncommons, seven of the 17 rares (including two Primes), three of the 14 super rares (including two Primes), and one of the 11 chases. It's a big set and it's going to be tough to track down all of those high-rarity figures, but we've got a solid start to the lower end and some choice pulls in this brick. As always, your results will vary.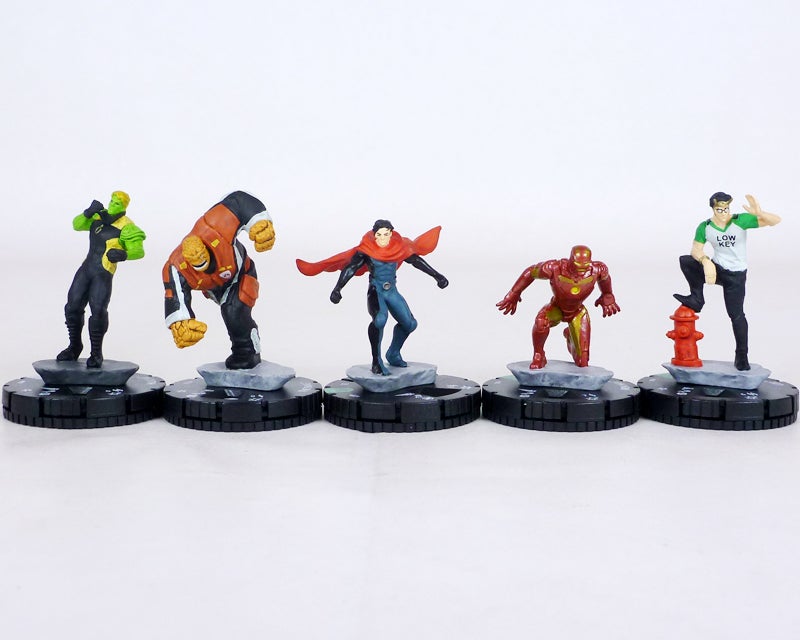 Guardians of the Galaxy
Next, let's take a bird's eye view of each rarity level starting with the commons. Often, it's a simple case of breaking down the characters by races or sub-themes, but in Empyre it's a bit more complicated. There is a tremendous number of heroes who fought the alien Cotati, from a coalition of different species and teams. Hulkling starts off the set, and he's joined by Kree Captain Marvel as well Skrulls Xavin of the Runaways and Black Bolt who had everybody fooled way back in Secret Invasion. The only generics we found were the Skrull Spy and Kree Soldier, and She-Hulk is the only hero here with just the Avengers keyword. Heroic mutants make a strong showing with X-Men Wolverine, Storm, Jean Grey, Beast, and Rogue, while the Fantastic Four bring along Spider-Man, Human Torch, the Thing, Onome, and Invisible Woman.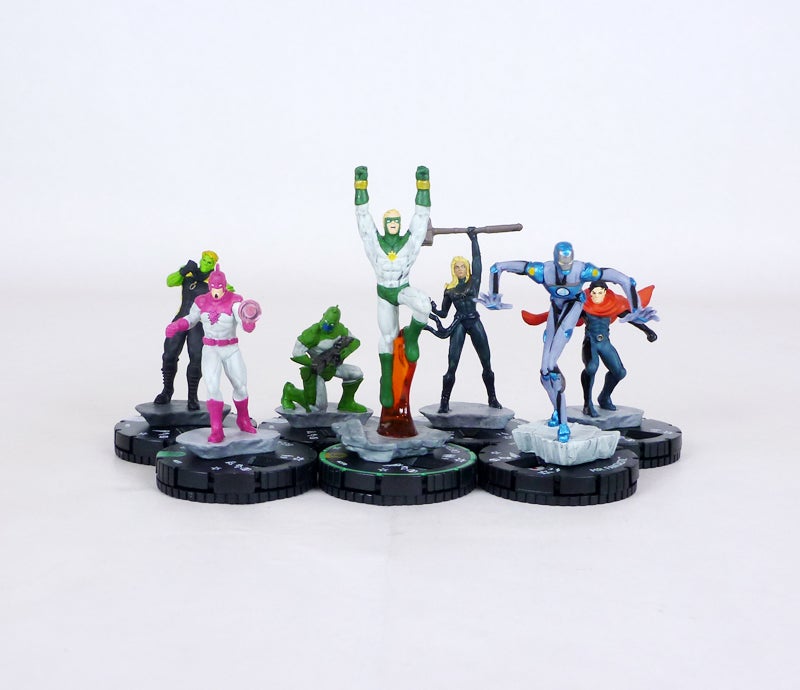 Kree
The uncommons start off with such a weird, niche character that I can only imagine WizKids included either for the completionists or just for Scott Porter: Aunt May in her Golden Oldie form! More Kree and Skrulls here include Bel-Dann of the former and Raksor of the latter, plus Wiccan with both keywords as the husband of their emperor. X-Men at this rarity level include Cyclops and a long-awaited new Dazzler, while the Avengers ranks are bolstered with Iron Man, Wasp, Daredevil, and Ghost Rider. S.H.I.E.L.D.'s Agent May made the jump from TV to comics to HeroClix, and our first Codex character is symbiote-bonded Venom Cyclops. Characters that defy placement here are Amadeus Cho as Brawn and a modern Loki, both of whom have lots of fun keywords.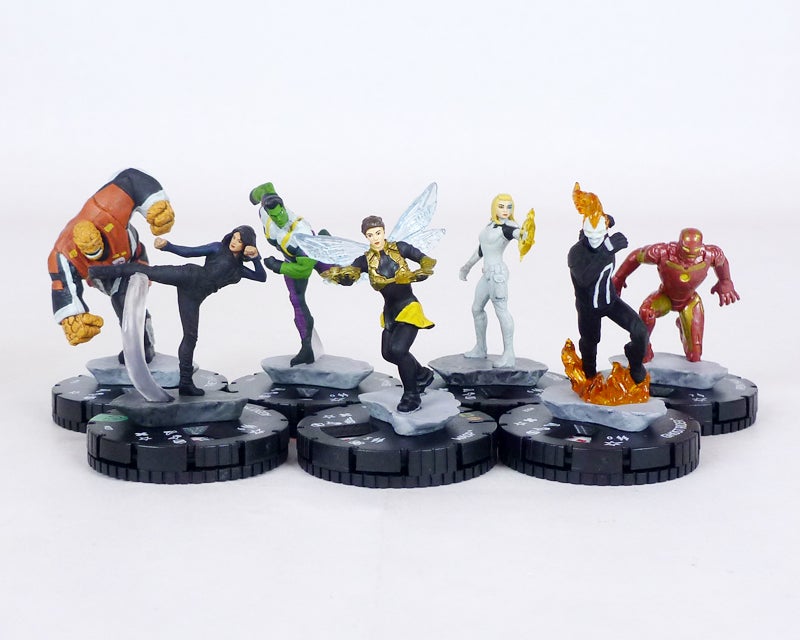 SHIELD
Does the trend continue with my rare pulls highlighting villains? Yes, it does. There are some good guys like Black Panther representing the set's Wakanda sub-theme and dual-keyword Avengers/X-Men Sunspot and Scarlet Witch. I'm not entirely sure on which side Venom Marvel Girl falls, though she does look super cool. A retro Magneto is pure Brotherhood of Mutants, while Skrulls Princess Veranke and Rl'nnd with X-Men powers are right out of Secret Invasion.
This brick's most rare figures start out with one of Marvel's most iconic heroes, the classic Captain Mar-Vell as one of the SR Primes. He's joined by Mr. Fantastic in his stretchy Iron Man suit designed by Tony Stark during Empyre. Rounding out the last of the super rares is Venom Rogue, and in the chase slot is another symbiote-bonded Codex mutant with Venom Wolverine (Laura).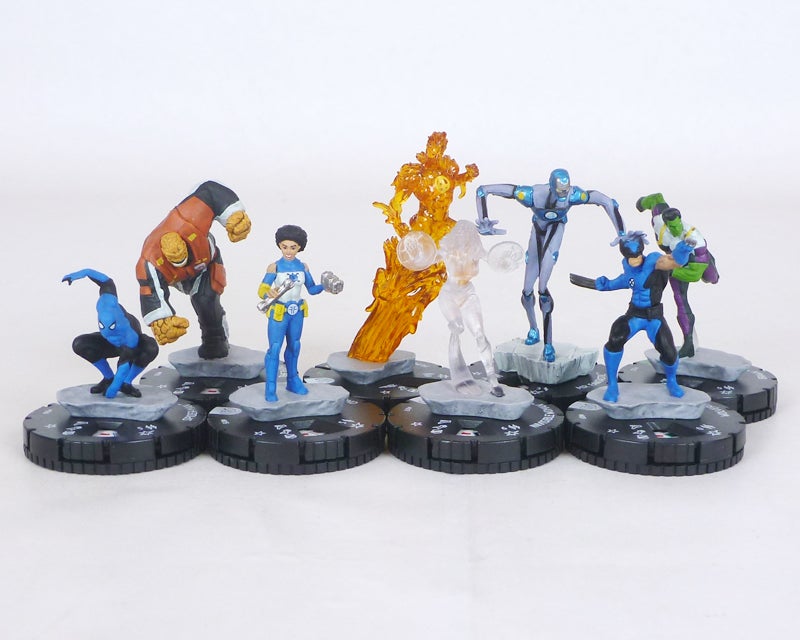 Fantastic Four
Per the usual, a new HeroClix expansion will continue the latest trends in fun game mechanics, and so in Empyre we see things like bystander token generators, figures that can summon minions with good Leadership rolls, and the like. Allies, Captains, and Sidekicks are in full force, and it really feels like those mechanics are coming into their own after their introduction with the Wonder Woman 80th Anniversary set. Rally dice pop up on quite a few figures, and unlike in the Rise & Fall set they're tied to different kinds of rolls based on their color, sometimes Opposing Attack Rolls, others Friendly Attack Rolls, or even All Attack Rolls. Lastly, we see more Recruiter figures like Agent May and Black Panther that can bring in additional allies from your Sideline.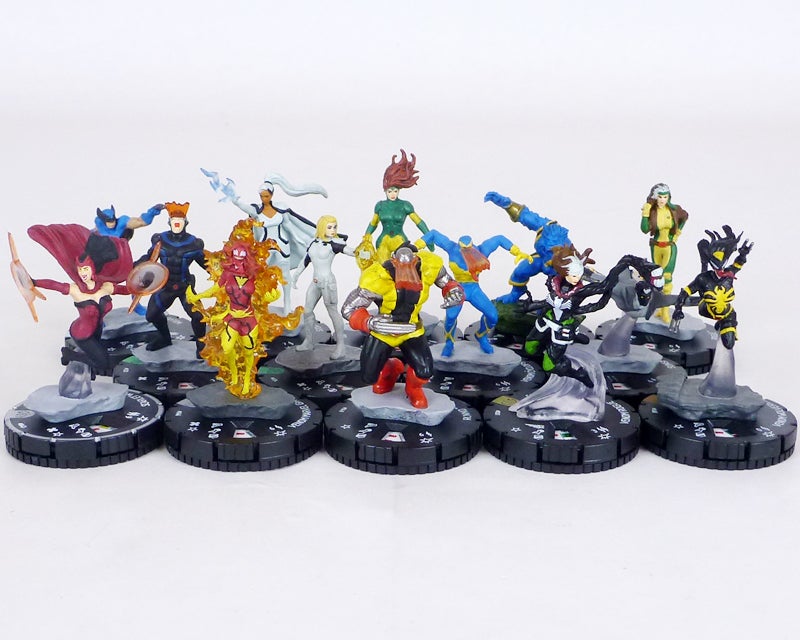 X-Men
Usually at this point in the review I go through and point out all of the interesting sculpts and paint jobs in a new set, along with noting fun textures and uses of translucent plastic and metallic paints. Instead, I'm going to point you to all of my photos where you can see those things for yourself, and rather just talk about a few of my absolute favorite figures! Overall, though, Empyre definitely continues the trend of top-notch miniatures with respect to sculpts and paint application, with tons of variety and detail in equal measure. You will not be disappointed with the figures in your boosters.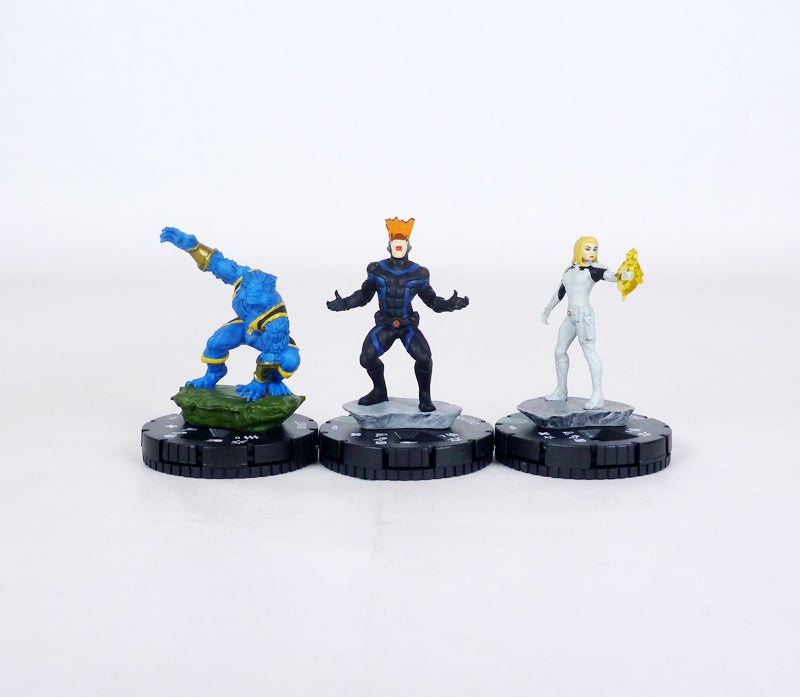 X-Factor
I was really impressed with a lot of the common figures here, a really nice group of minis. Standouts for me include Xavin with the translucent flame effects crawling across her arms and a well-painted face transitioning to Skrull green, the incredible flame texture of the translucent Human Torch, Rogue who has great paint applications, and Black Bolt with a great rendition of his classic costume in a fun pose with the added details of the Skrull head. My star uncommons include Wiccan with a nice sculpt, musculature, and billowing cloak, Dazzler who has an absolutely stellar face paint application and a fun energy effect, Wasp with her tech details and phenomenal translucent wings, and Daredevil as a very cool update on a classic character with a highly detailed sculpt. In the higher rarities it becomes harder to find figures that aren't impressive, but among the rares I was most impressed with the fine detail work in sculpt and paint on Princess Veranke (especially the creases on her robes and her immaculate face), the intricate and explosive translucent Phoenix Force effect surrounding Venom Marvel Girl, and Black Panther whose understated costume combined with a subtle pose, nicely sculpted fur collar, and great facial expression combine to make a powerful statement. All of the super rares and the chase are beautiful pieces. I really dig the motion and intensity of Captain Mar-Vell's launching pose and Mr. Fantastic's borderline creepy long-limbed stalking, while Venom Rogue and Wolverine have truly stunning sculpts and perfect paint applications.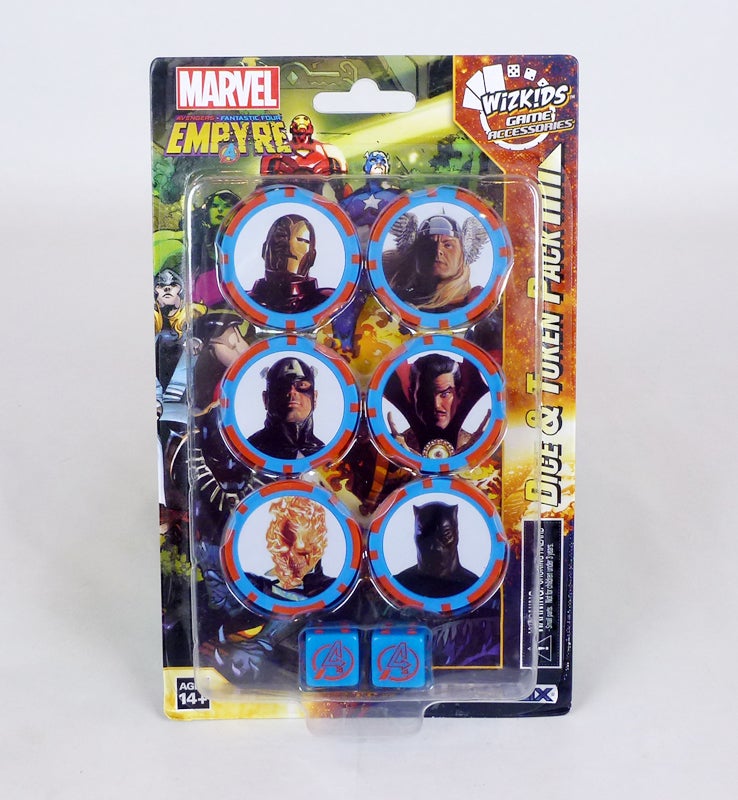 Alongside the Empyre booster set and Miniatures Game there are the usual additional products that can take your HeroClix experience to an even higher level. These include a set of things everyone needs, the Dice & Token Pack. Replace your pennies or cardboard action tokens with heavy duty poker chip-style tokens in blue and orange featuring comic book artwork of Iron Man, Thor, Captain America, Dr. Strange, Ghost Rider, and Black Panther. The reverse sides give you bystander tokens generated by figures in the main set: three Ultron Drones, two Cotati Warriors, and Jeff! The dice are matching blue with orange pips, with the Avengers/Fantastic Four "A/4" symbol on the 6 side.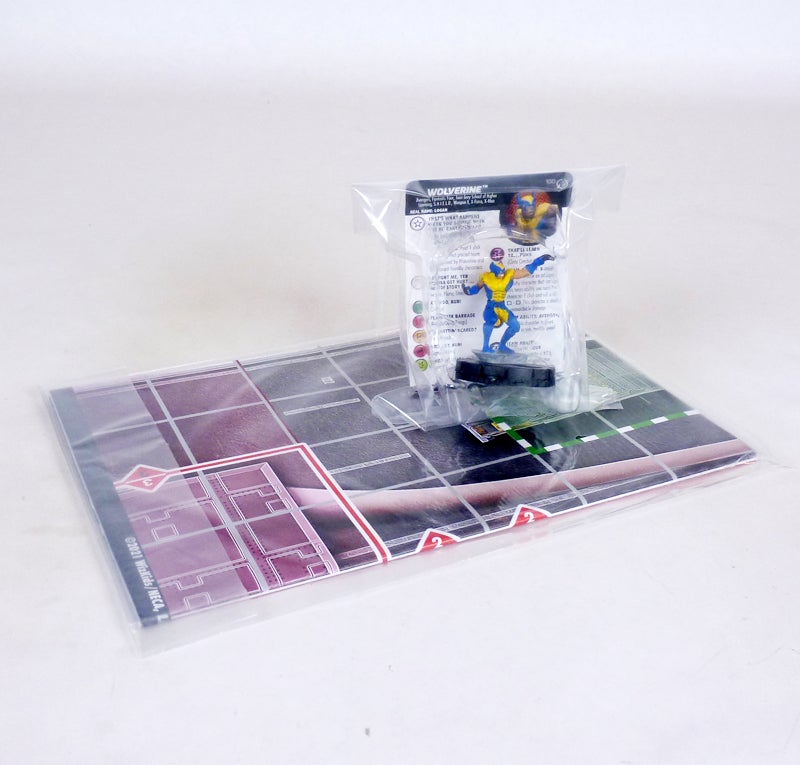 Also returning is the now-standard Play At Home Kit, a modern alternative to the old Organized Play kit for stores and live events. The Empyre box includes one exclusive figure, in this case Wolverine.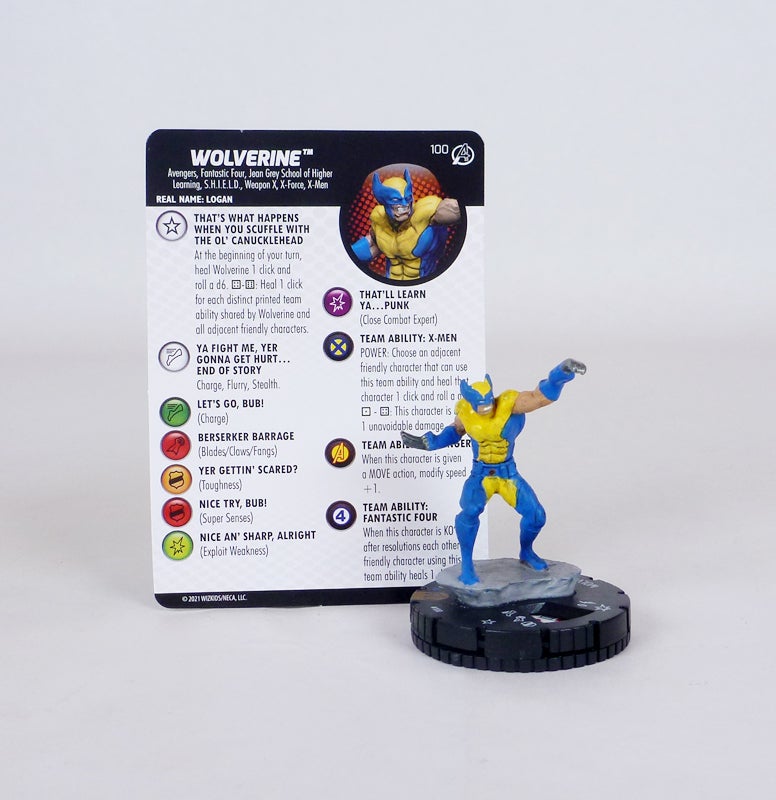 He shares the same sculpt we've seen in the main set and the Miniatures Game, with a blue and yellow costume and a totally different dial giving you even more ways to play your favorite diminutive, feral, Canadian mutant who's the best at what he does. I actually really like this Wolverine with his traited healing ability and no fewer than three stating lines for lots of flexibility on your teams. The kit also comes with a double-sided map featuring the outdoor Manhattan Bridge and indoor Hank Pym's Lab battlegrounds.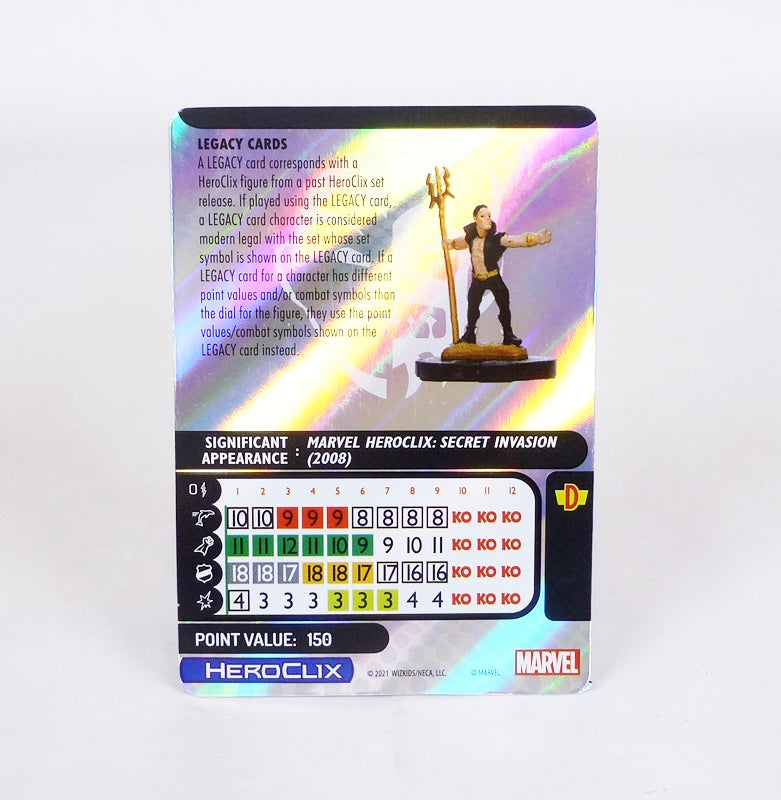 Finally, another returning feature that's become incredibly popular is the Legacy Card. Randomly collated and coming only one per brick, these cards bring fresh, modern updates to older figures that were beloved in their day. That's very applicable to the card we pulled with our Empyre brick, that of Secret Invasion Namor! In his day Namor was nearly unstoppable, though with time his shine has diminished. Now, though, he returns to the fray with his original "Avenging Son" special power boosted to un-halved Charge, his Leadership special power letting him bring in outside allies, and a massively buffed defensive special.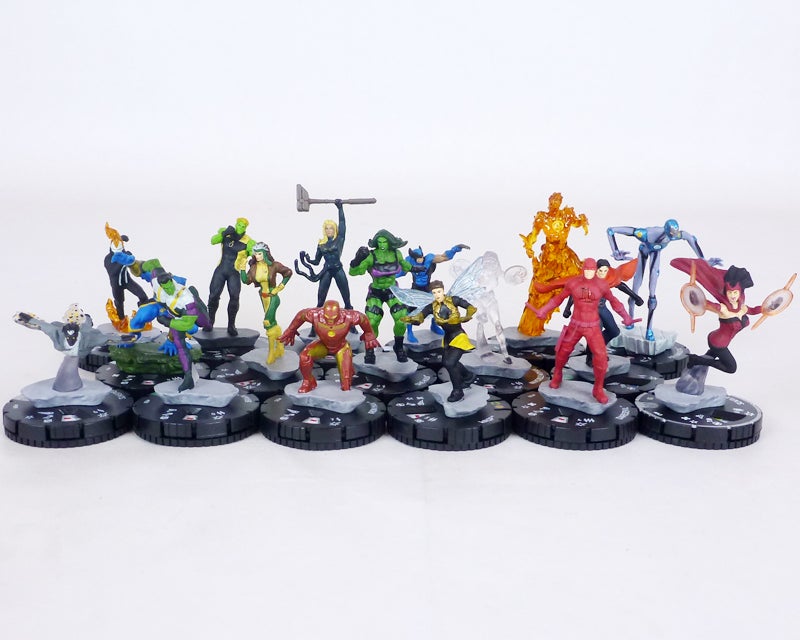 Avengers
All of this Marvel HeroClix Avengers Fantastic Four Empyre goodness hits stores this week, so make sure to check out all the fun at your local comic book or game store (barring that you can order your HeroClix online). I am really impressed with this set from the fantastic and varied character selection to the really great look of the figures. It can seem redundant saying that there's something here for every Marvel HeroClix player, but this expansion is a cool jumping on point for new people as well as veterans collecting everything from Avengers and Fantastic Four to X-Men, Kree, Skrulls, Illuminati, Guardians of the Galaxy, Wakandans, and lots more. Add to that some classic villains and the hot Venom figures and you've got a guaranteed hit! Whether you're grabbing a couple boosters or an entire brick with a Legacy Card, picking up the Dice & Token Pack and Play At Home Kit to add even more fun, or getting started with the Miniatures Game, Empyre will be very popular and is destined to be considered one of the best Marvel expansions in recent years. Good luck with your pulls!
Visit HeroClix.com for even more info as well as downloads of rules and maps, and stay tuned to Figures.com as we continue our reviews of new HeroClix! If you don't have access to a local comic book or game store at this time you can also order your HeroClix directly from the WizKids website.
Review and photos by Scott Rubin.
Review samples courtesy of WizKids Games.
We are committed to finding, researching, and recommending the best action figures and collectibles. We earn commissions from purchases you make using the retail links in our product reviews. Learn more about how this works.
BOOSTER BRICK
DICE TOKEN
MINIATURES GAME
PLAY AT HOME
---