-Fortnite Collectibles Provided Free Courtesy of Hasbro
Epic Games' 2017 video game Fortnite is one of those ultra-rare oddities that started life as one thing but then quickly took a twist and developed a life of its own. Fortnite was originally marketed as a tower defense-shooter-survival game (Fortnite: Save the World) where players were tasked to build a fortress to defend against an approaching zombie horde. However, it was Fortnite's companion free-to-play massively multiplayer game Fortnite Battle Royale that ultimately – and unexpectantly – took the world by storm. In Fortnite Battle Royale, weaponless players are airdropped from a "Battle Bus" that crosses the game's map. When they land, they must scavenge for weapons, items, resources, and even vehicles while trying to stay alive and to attack and eliminate other players.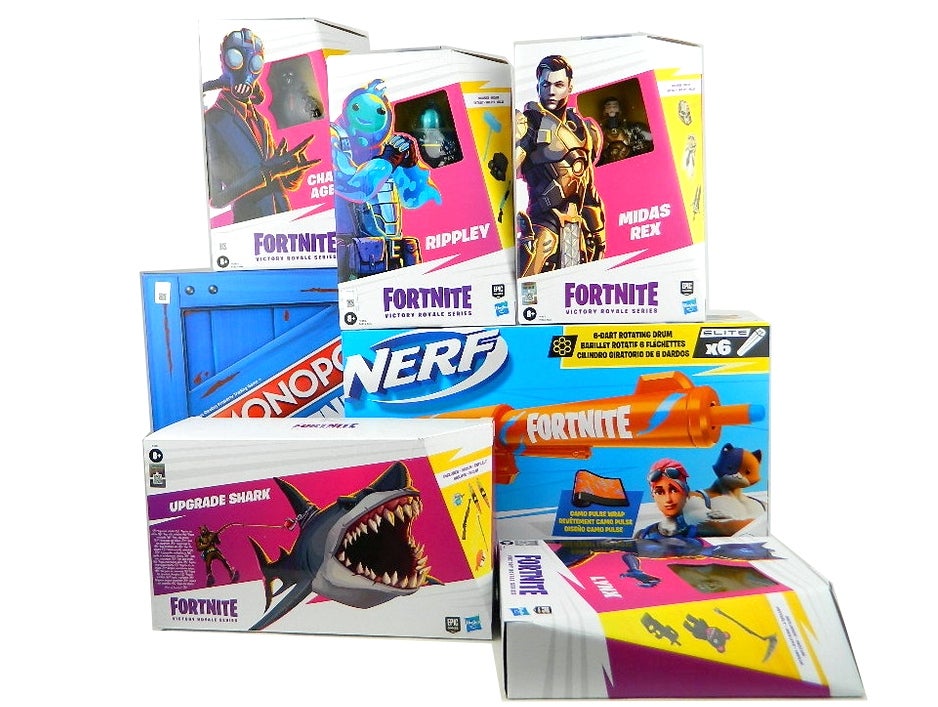 Fortnite Battle Royale's wild roster of player "skins" have made for some very entertaining action figure designs over the years. From Jazwares to McFarlane Toys, casual and die-hard Fortnite players alike have been treated to crazy "characters" (aka, you in the game) appearing as everything from a banana (Peely) to a pink teddy bear (Cuddle Team Leader), all while toting death-dealing machine guns, resource-gathering harvesting tools, and wearing cosmetic "Back Bling" (backpacks for the uninitiated). 'Cuz in a game where DJ Marshmello makes an appearance and all action stops for a virtual concert, why the hell not? Wacky and weird, Fortnite is a video game oddity that is not only fun to play but is also a creative outlet for today's digital youth.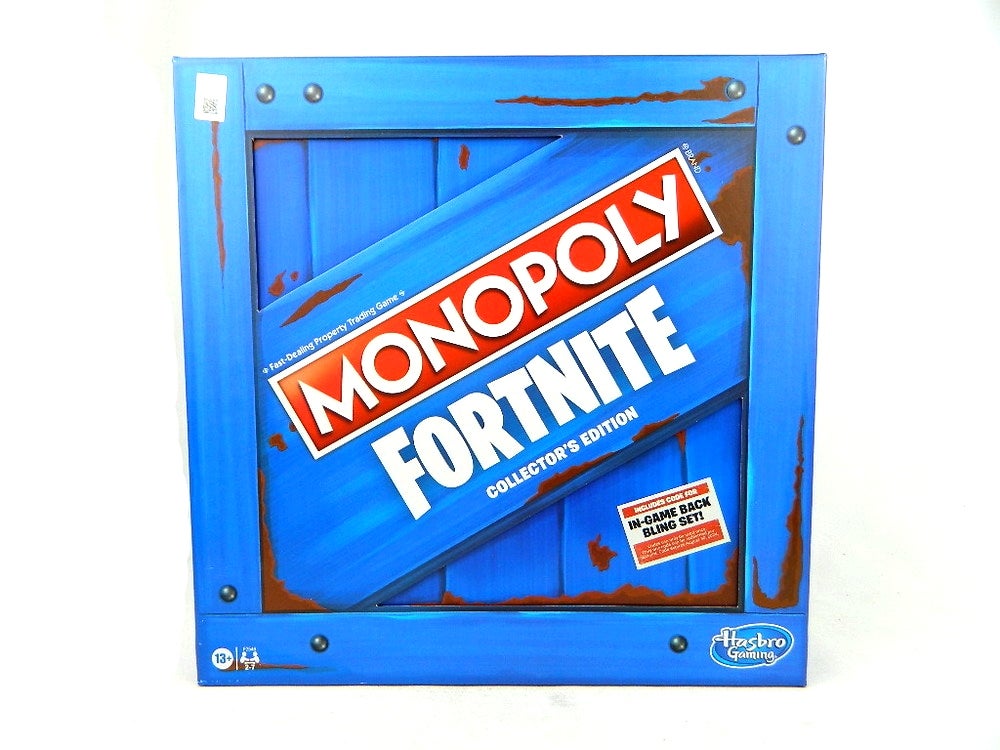 Tapping the Fortnite phenomenon, toy company Hasbro has now entered the market with action figures and collectibles. To celebrate their launch, in conjunction with Fortnite's highly anticipated eighth season of Fortnite: Cubed, the company sent over a care package stuffed to the gills with all their new Fortnite goodies.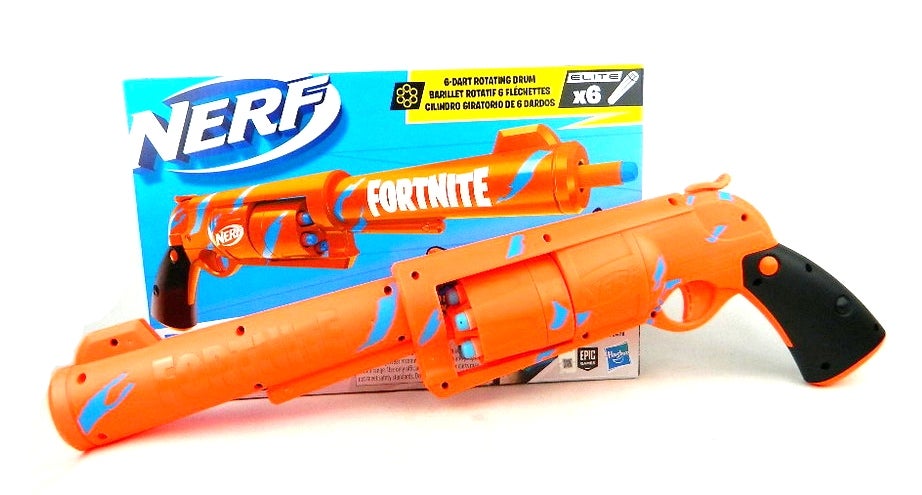 These include a fan-specific Fortnite Collector's Edition of their classic board game Monopoly (complete with action die and unique character tokens and bonus in-game code for a Back Bling set!), killer Nerf 6 SH blaster (with revolver-style cylinder, cocking hammer, and Fortnite Camo Pulse wrap design), but also all four new Fortnite Victory Royale 6-inch scale action figures!
Shipping in a uniquely-shaped closed window box, each Fortnite figure screams about the character inside. From the tres-cool wrap-around character art front and center, accessory load-out on the side, to the all-encompassing back panel, Hasbro has nailed a very attractive packaging design for their Fortnite action figures. The only thing I miss is a hit list of other characters to collect on the back panel.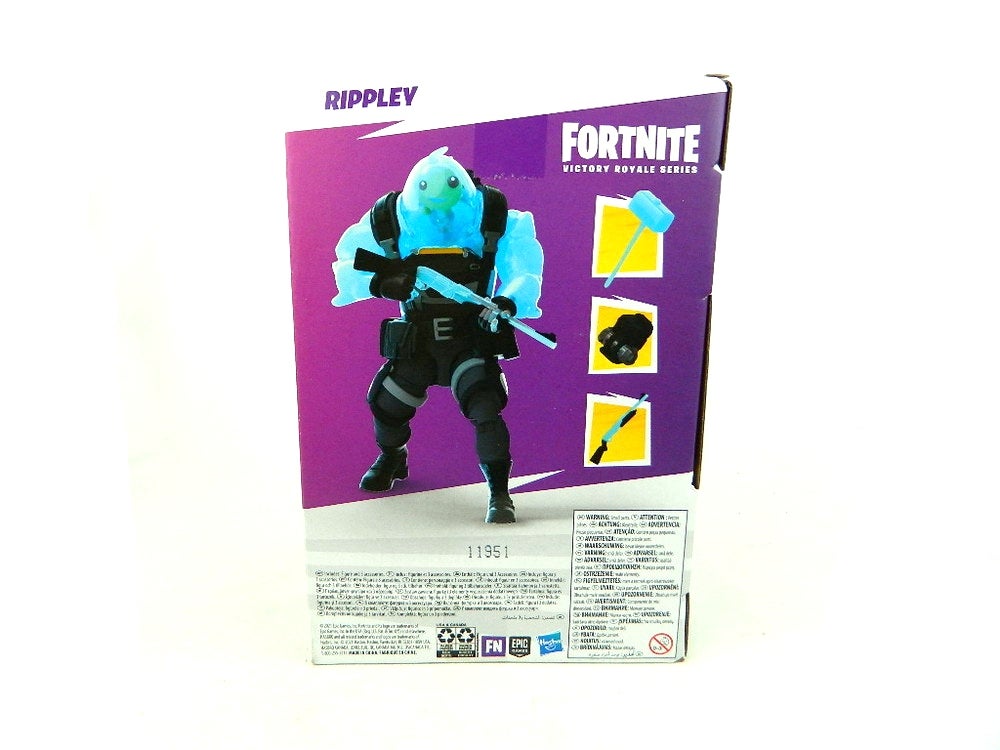 If you recall, Hasbro announced a phase-out to plastic in their packaging back in 2019 (see our story HERE). While that has not completely happened yet with the small plastic window still evident (they set a goal of 2022), the entire package is mostly made of recyclable cardboard. It is also very tamper-resistant, as it takes some effort to remove the figure inside. Regardless, hats off to Hasbro for spearheading the change for the better of our environment, all while making toys still look attractive on the shelf.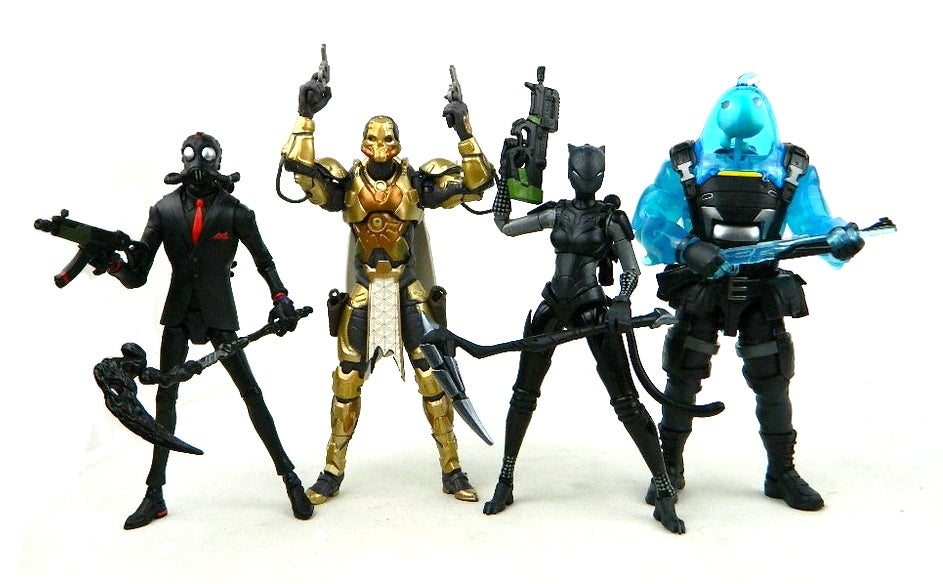 The Fortnite skins chosen for inclusion with this wave are amazing. You have the golden boy Midas Rex for fantasy lovers, plague doctor-ish Chaos Agent for death-dealers, the feline Lynx for stealth players, and my personal fave, Rippley, this goo-in-a-fishbowl-for-a-head oddity.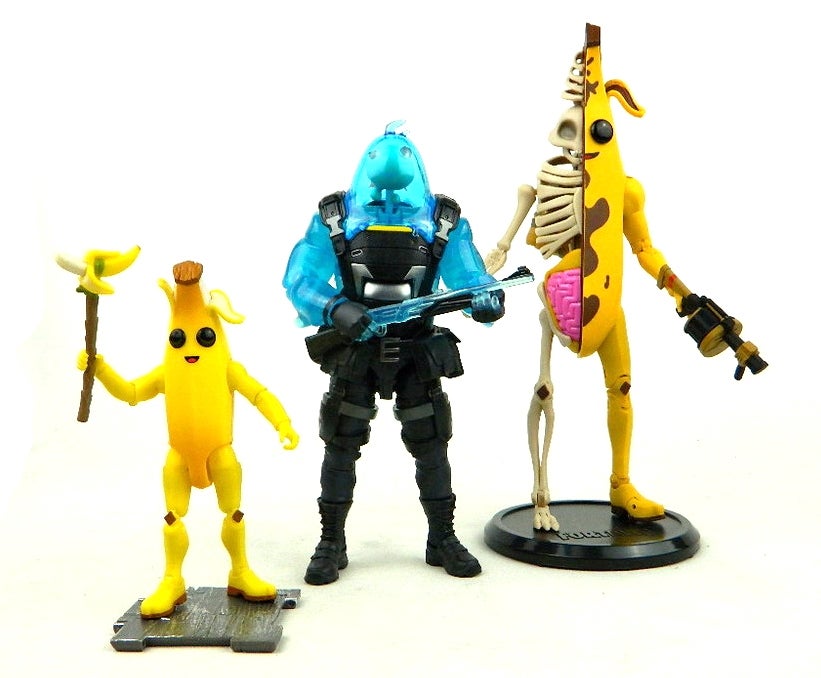 As mentioned, each action figure stands a robust 6-inches. I especially like the range in construction, from the lithe Chaos Agent and Lynx, to the meaty Midas Rex and Rippley. I included a Fortnite action figure size comparison photo above comparing Hasbro's Rippley (the largest of the bunch) to Jazwares' smaller 4-inch scale classic Peely, as well as McFarlane's larger 8-inch anatomy of a banana (!), Peely Bones.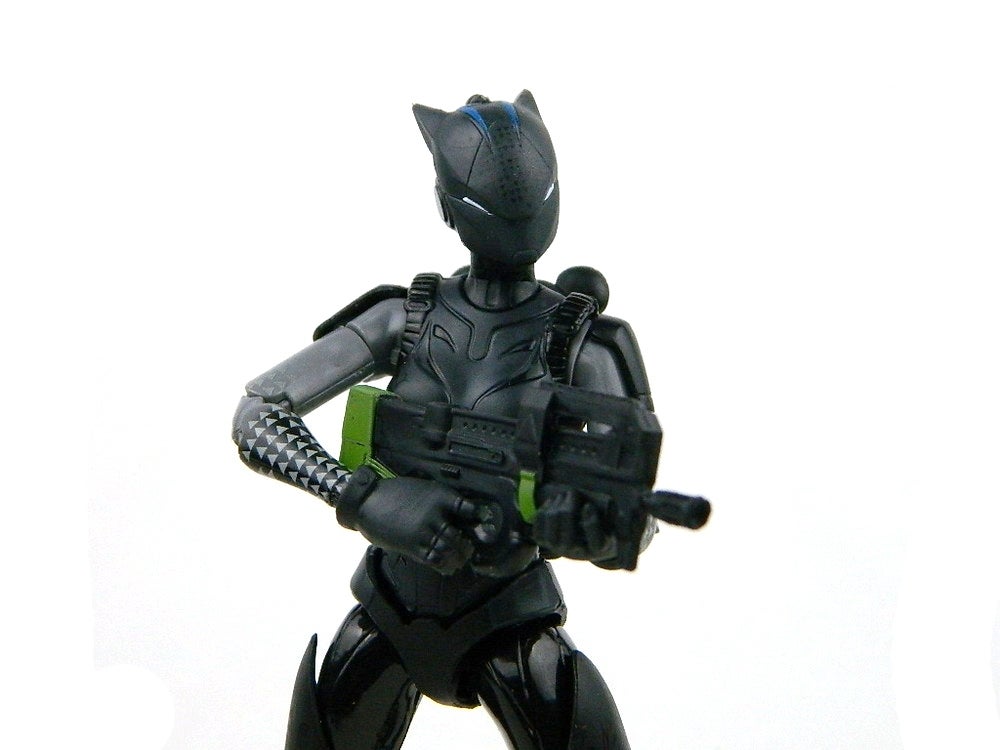 Gear-wise, these figures come loaded. Each Hasbro Fortnite figure includes three (3) unique accessories, including Back Bling and a weapon. In the case of Chaos Agent and Lynx, you also get a pickaxe.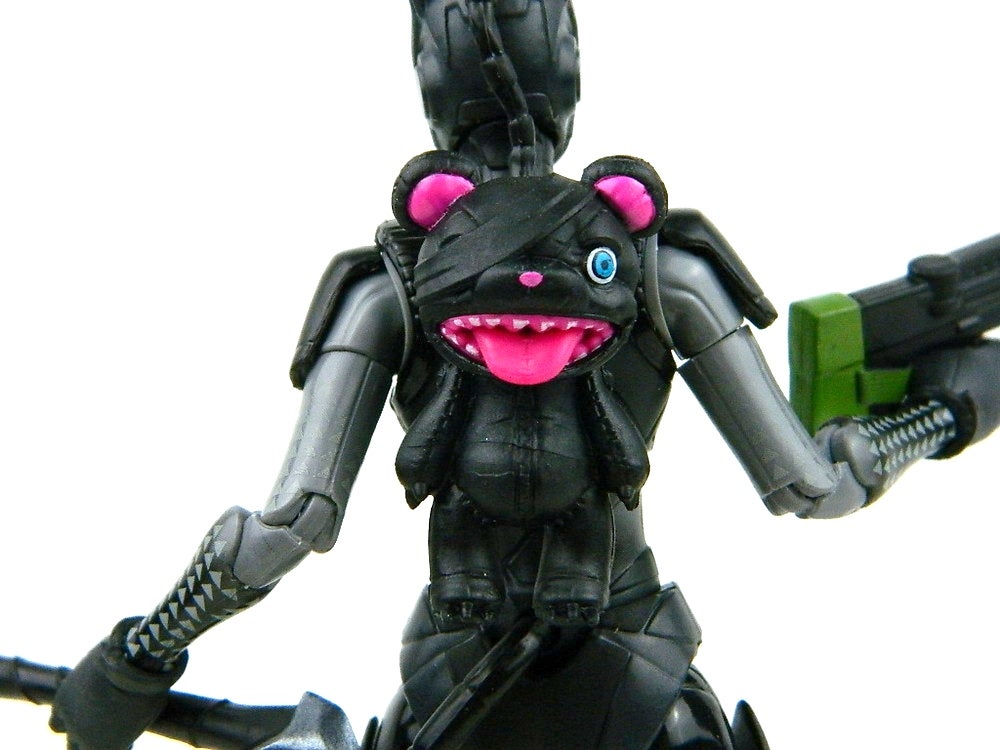 With the larger Midas Rex you receive an alternate helmeted skull head and cape in addition to his twin pistols (that can be holstered) and sword, while the beefy Rippley gets a bonus hammer.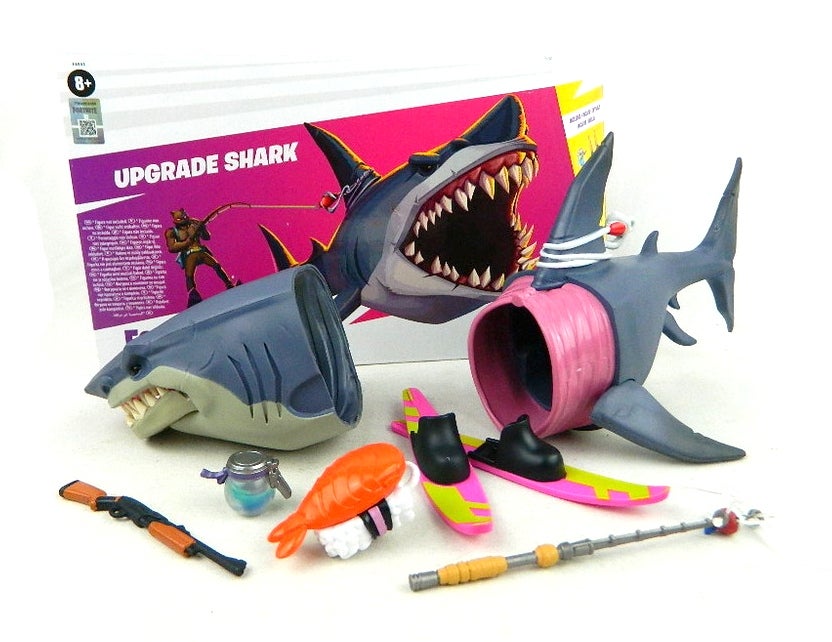 To aid our heroes (or villains), Hasbro also provides an Upgrade Shark. This captured loot creature (with an opening jaw) splits in half to reveal a host of bonus accessories for your 6-inch scale Fortnite action figure to use.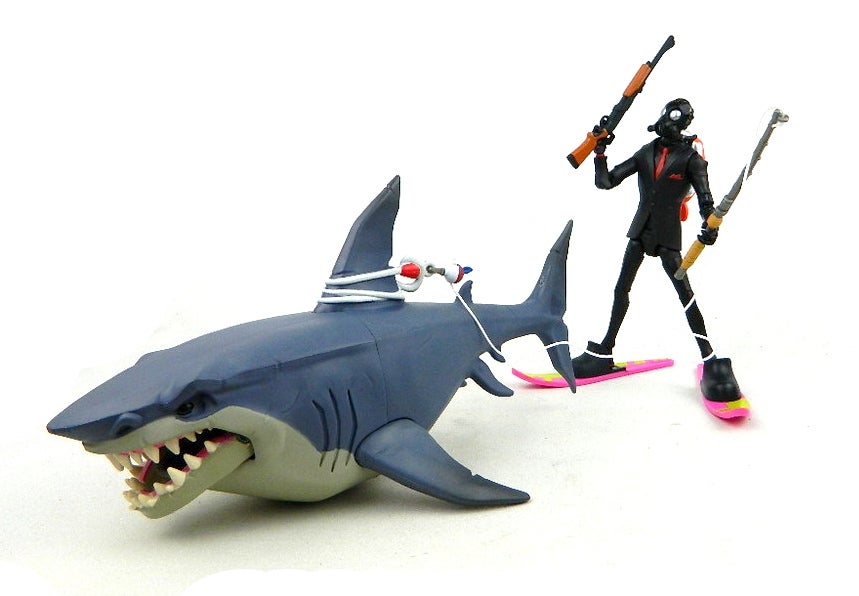 These include the fishing pole required to catch a Loot Shark (hooks to Upgrade Shark's dorsal fin), colorful water skis (that plug into the feet of any figure), a pump-action shotgun, "Shrimpy" Back Bling (think sushi, oh, yum) for plugging into the back of any figure and a shield potion.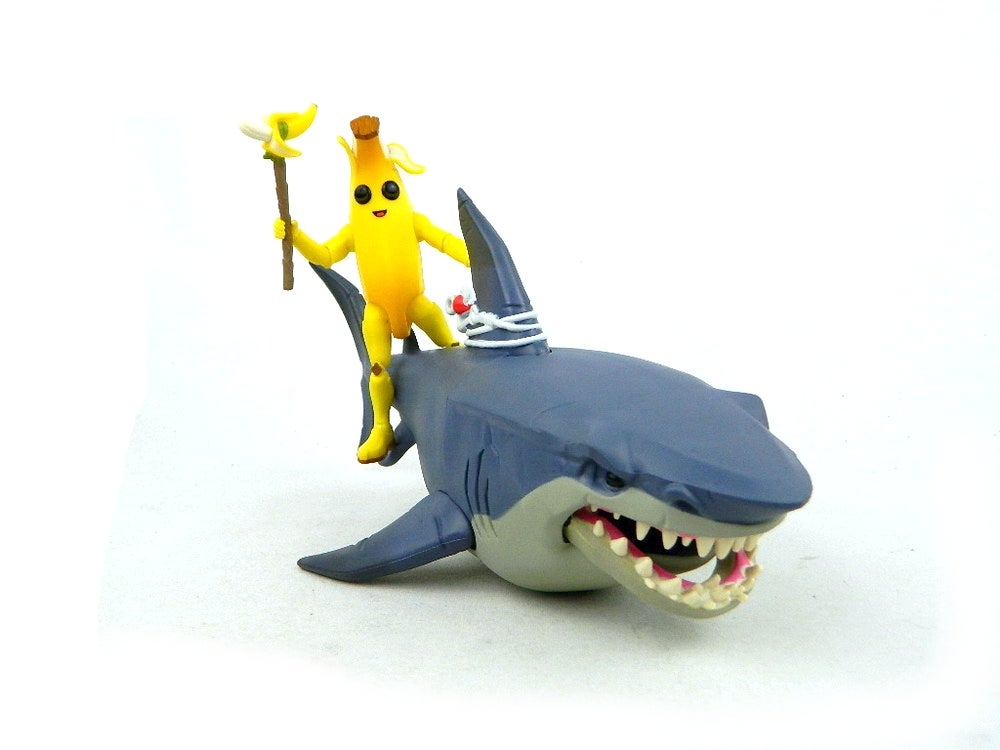 Snap sharky's two halves together for one fun apex action figure! Made of super-durable plastic, the hefty Upgrade Shark measures a solid 9-inches long. Oh, and while the shark's mouth does open, it doesn't open wide enough to accommodate a figure (except for maybe a limb). As a huge fan of Steven Spielberg's JAWS and sharks in general, Hasbro's Fortnite Upgrade Shark makes for an awesome action figure purchase with its bulky size and super cool cartoony design. Love it!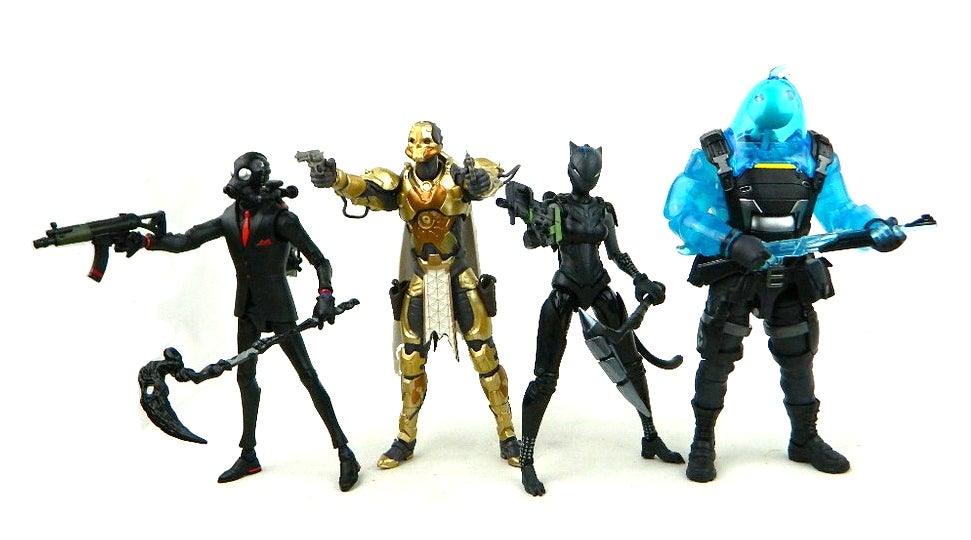 Hasbro is off to an incredible start with its Fortnite license. From family game night to office mischief, to geeky off-line play and display, Hasbro is covering all passionate Fortnite fan bases. Click any of the links below to order your Hasbro Fortnite collectibles today via Amazon and scroll on for even more product images!
We are committed to finding, researching, and recommending the best action figures and collectibles. We earn commissions from purchases you make using the retail links in our product reviews. Learn more about how this works.
-Review and Photos by Jeff Saylor
-Fortnite Collectibles Provided Free Courtesy of Hasbro
---