In my first review HERE, I introduced you to a new subscription-based collections and models brand called Fanhome (www.fanhome.com). The service charges a nominal fee per month for parts that you use to build a specific officially licensed collectible, be it R2-D2 from Star Wars, or the subject of today's review, Marvel's Iron Man. The idea is to reward collectors with the accomplishment of creating their very own premium collectible. If you have the patience and enjoy intricate model kit building, Fanhome is for you.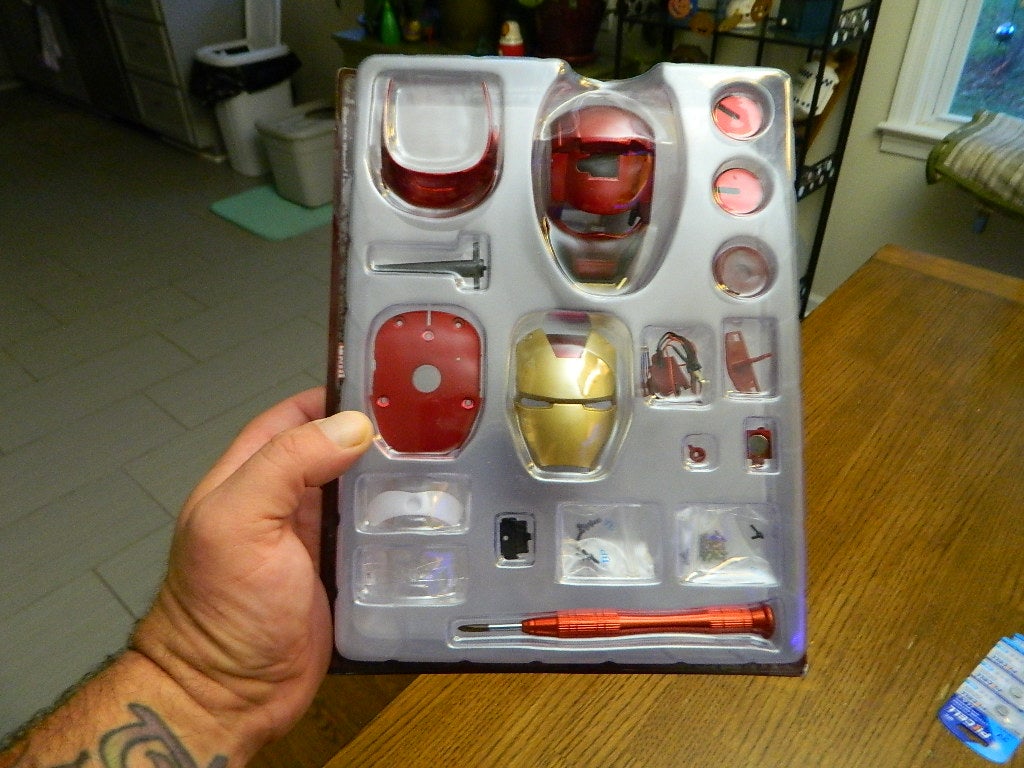 With finally a few hours of free time to spare, I sat down to start the task of building my very own 24-inch tall, fully articulated, light-up die-cast figure of Tony Stark's classic Iron Man Mark III armor. The first month of Fanhome's Iron Man subscription (with an introductory price of $1.99 for the first two kits; $6.50 for the next three stages; and $12.99 per month after) kicks off strong with a build of Iron Man's MK III helmet.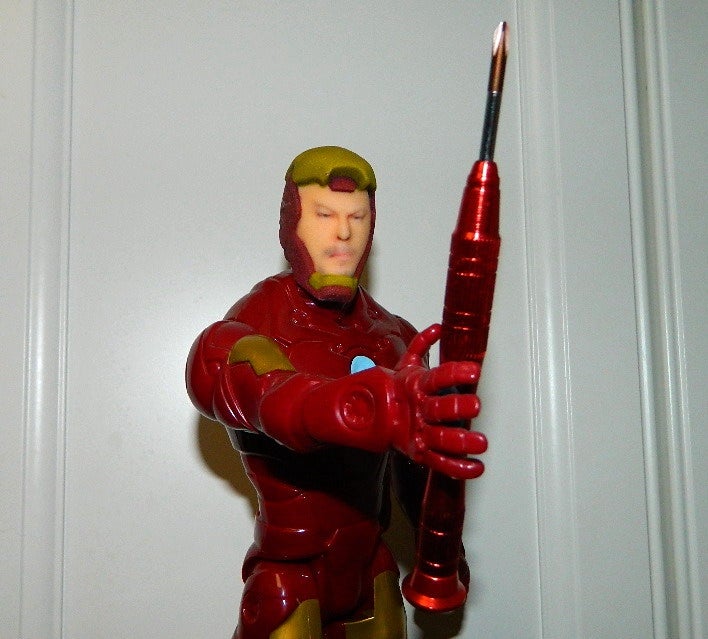 Aside from offering collectors a solid collectible in Iron Man's iconic helmet, the first Fanhome kit also provides an essential tool that you'll need with every kit moving forward: a handy-dandy Phillips head screwdriver.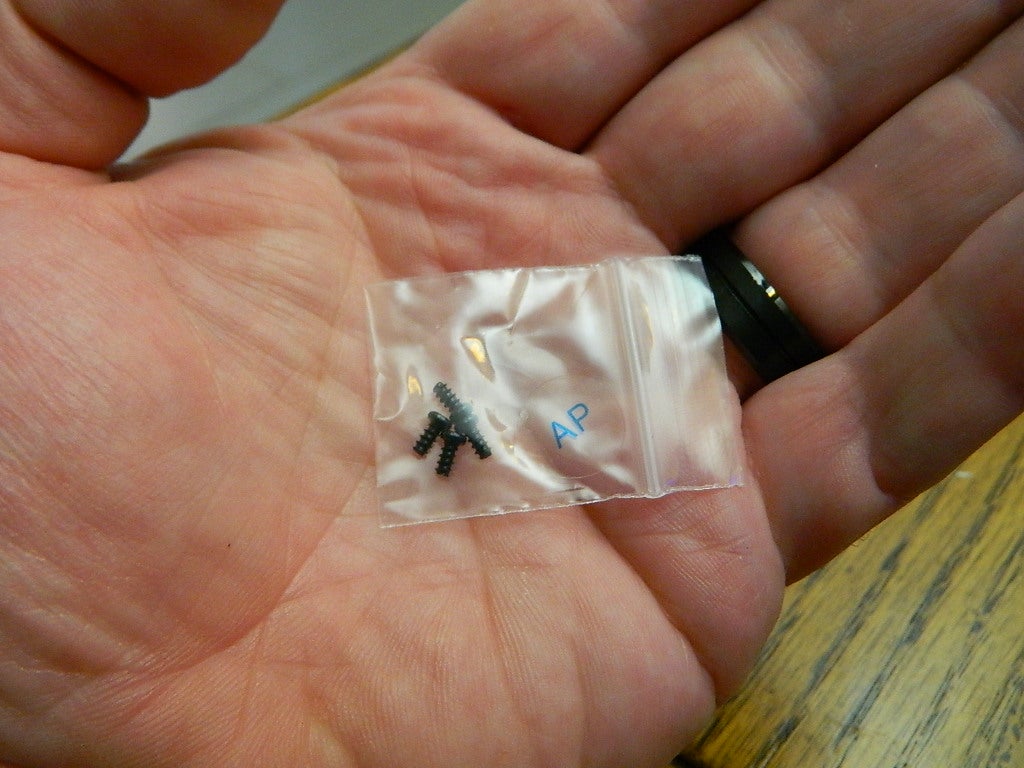 Designed with Tony Stark's metallic red armor in mind, the tool was included to handle the many different types of Phillips screws used in each assembly stage of the Iron Man build. You'll encounter everything from the more common EM screws used for holding larger kit pieces together, to more delicate AP and BP screws used for securing electronics and the like. Of note is the fact that Fanhome provides several spare screws of each type in case you lose one (or two). They are VERY small screws and handling them proved to be the most challenging aspect of my build. Luckily, the included screwdriver appears to have a magnetic head to make your job easier (as does the free-spinning screwdriver handle top).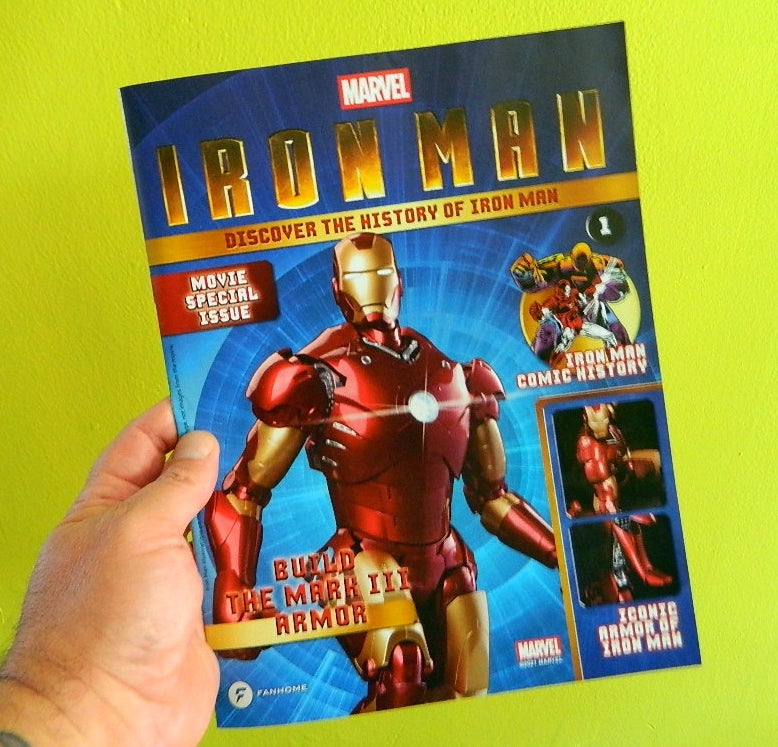 To guide you on your Fanhome figure-building journey, each assembly kit stage comes with a 16-page Iron Man magazine.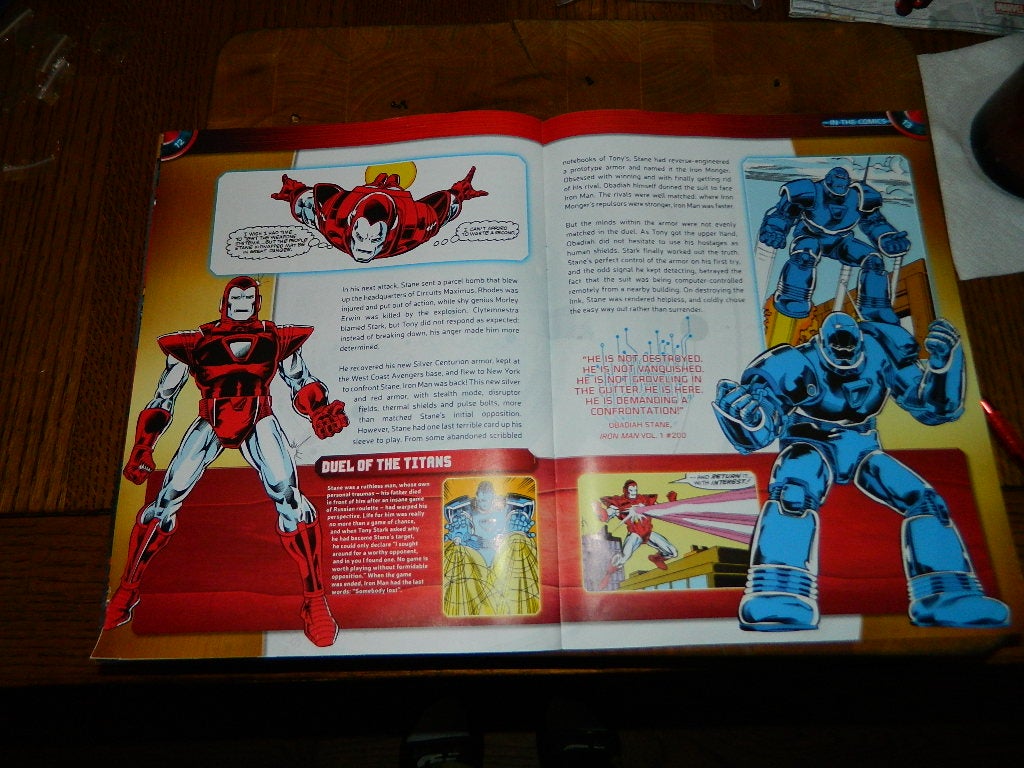 These informative reads not only give collectors fun history on Tony Stark and his Iron Man armors in both the comics and movies, but these magazines are also your instructions for building the kit.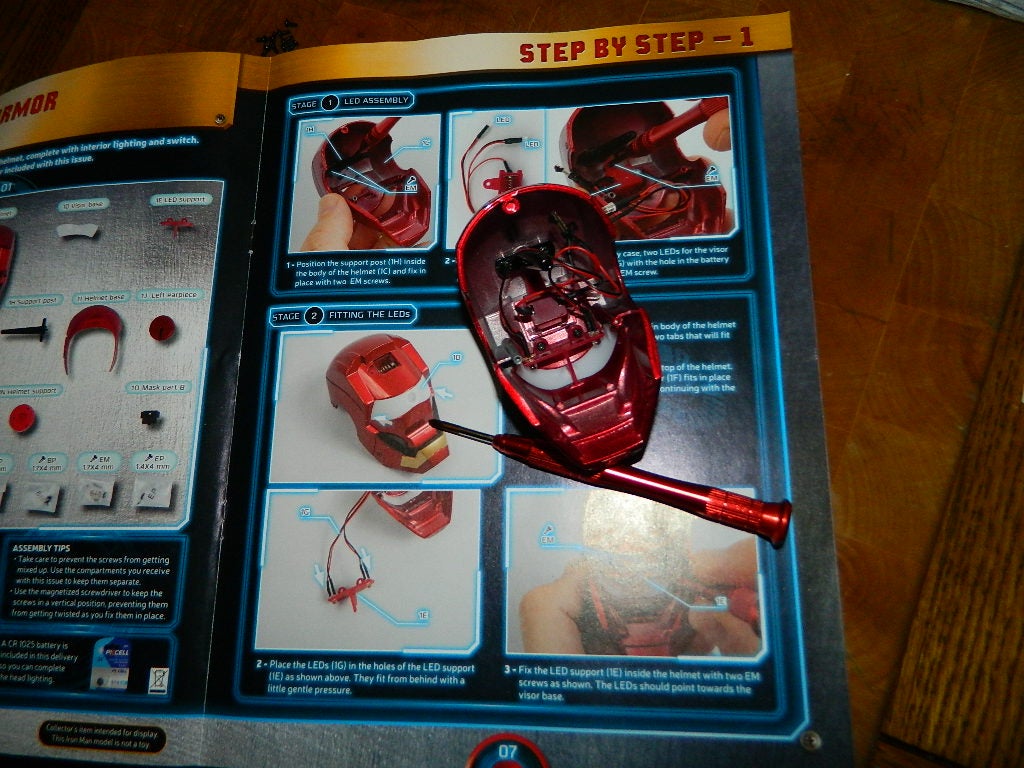 The step-by-step instructions are pretty straightforward, with the first page showing off all the kit components with their names being key. You'll find yourself referencing this page all through your build to make sure you have the right part in hand.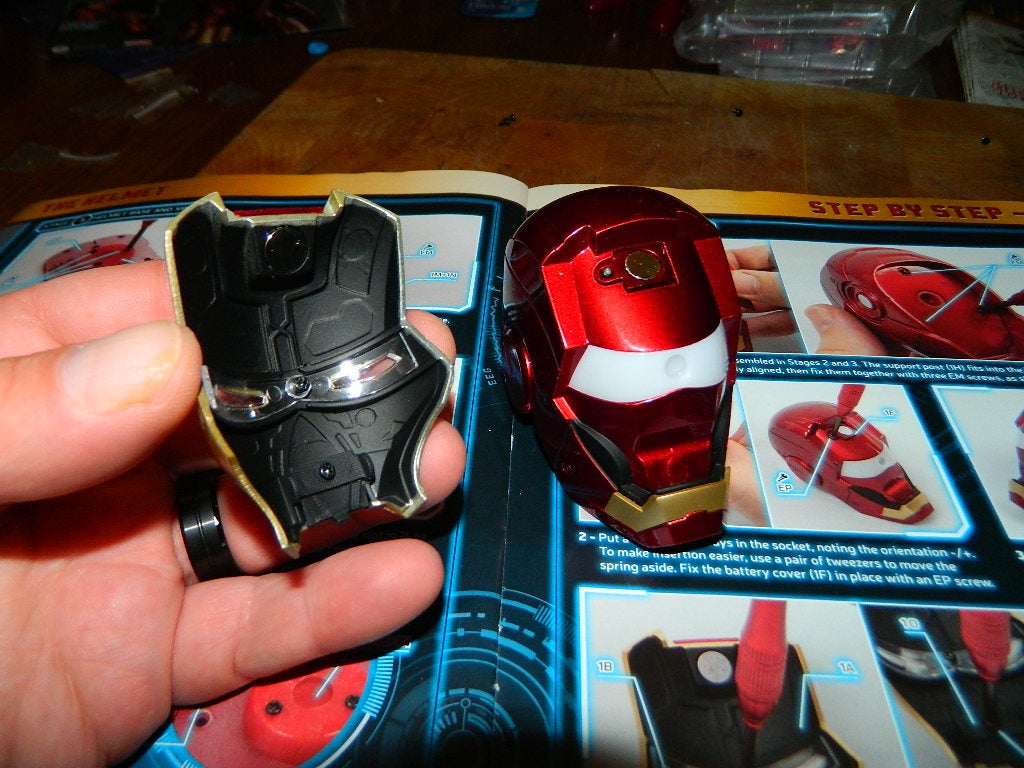 The photos are also very helpful, although I found myself carefully analyzing a few pics for part placement, especially when it came to the electronics – an intimidating build stage that you are immediately thrust into. While the prospect of my Iron Man helmet lighting up was high, carefully lining up a micro toggle switch was not. I should note here that the first kit also provides you with all the button cell batteries you'll need for the entire build. Amen.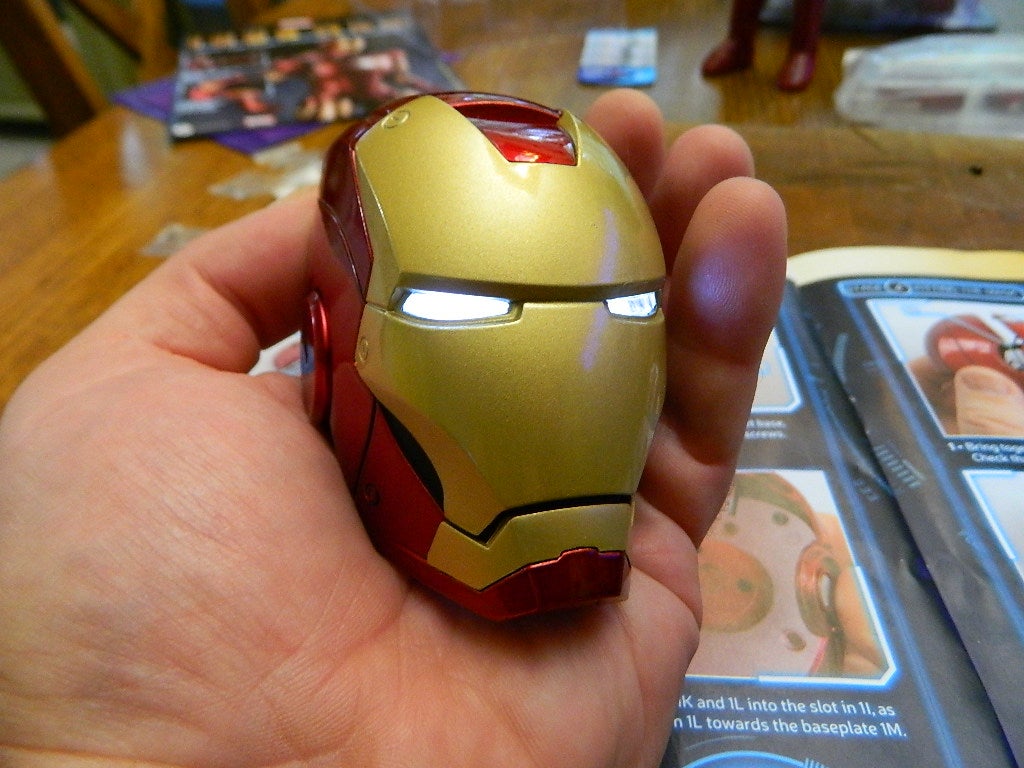 All said and done, after building Iron Man's Mark III helmet, I was wowed with its hefty die-cast metal construction, powerful magnet-secured faceplate, and yes, its awesome light-up visor. Fanhome's first Iron Man Mark III kit is a strong incentive to continue on with the full build, which is what I did moving on with kit 2 and assembling one of Iron Man's articulated, die-cast metal feet (also with a light-up function!).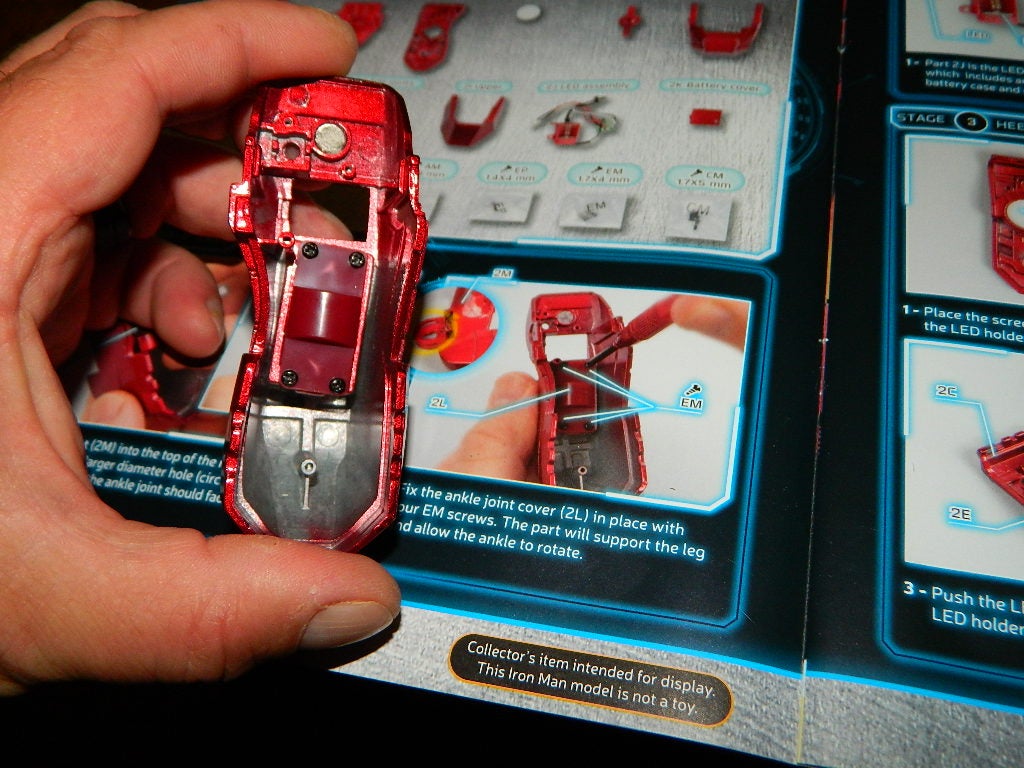 In closing, I was left very impressed with Fanhome's Iron Man Mark III subscription. If you love model kit building, the first two assembly stages for Iron Man – helmet and foot – will leave you wanting more. I didn't find Fanhome's Iron Man kit as frustrating as folding teeny tiny tabs on a Metal Earth kit, but handling the small screws was a bit of a challenge.
If you're up for the challenge and have the patience to wait and build a collectible figure on a paid month-to-month basis (you're looking at a two-year commitment to finish the Iron Man Mark III figure), then Fanhome has what you're looking for. Give it a try – you certainly can't go wrong with the $1.99 introductory price!
Review and Photos by Jeff Saylor
Review Samples Courtesy of Fanhome
---