We're back with another look at an upcoming HeroClix expansion from WizKids Games! If you're a Marvel fan (and who among us isn't?) you've probably had a pretty good year with back-to-back sets featuring the X-Men and other mutants on Krakoa in House of X and the Fantastic Four: Future Foundation. Well, now the mutants are back again with a whole new expansion celebrating X-Men, their allies and enemies, and characters from the Shi'ar Empire in Marvel HeroClix X-Men: Rise and Fall! Over the years the X-Men have had a surprising number of run-ins with the alien civilization from Professor X's on again/off again relationship with Lilandra to the multiple drag-out battles with the Imperial Guard. Today we're going to be checking out several things from Rise and Fall with an unboxing of a brick of boosters as well as the Dice & Token Pack, Fast Forces, Play At Home Kit, and a brand new Legacy Card.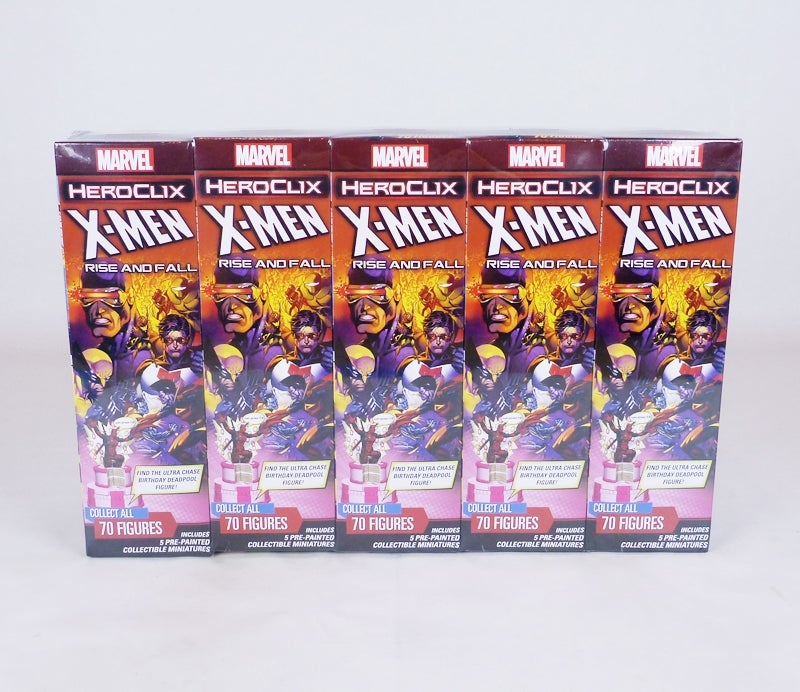 Up first is the flagship product, a 10 pack "brick" of standard five figure boosters. Every booster pack will include at least one common and at least a rare, or potentially something even rarer. The X-Men: Rise and Fall boosters are immediately eye catching with artwork on the front panel featuring a bunch of characters in action: Cyclops, Warstar, Phoenix, Smasher, Wolverine, Colossus, Gladiator… and Deadpool popping out of a cake. More on that later. The sides of the box return to the typical depiction of sub-themes utilizing 3D renders of figures with Shi'ar (Gladiator and Korvus Rook'Shir), Brotherhood of Mutants (Magneto and Sabretooth), Exiles (Blink and Mimic), and Krakoa (Mystique and •▪▪ịẬị▪▪•). Finally, the back panel of the booster shows off the set's chase theme with the wild mashup Infinity Warps!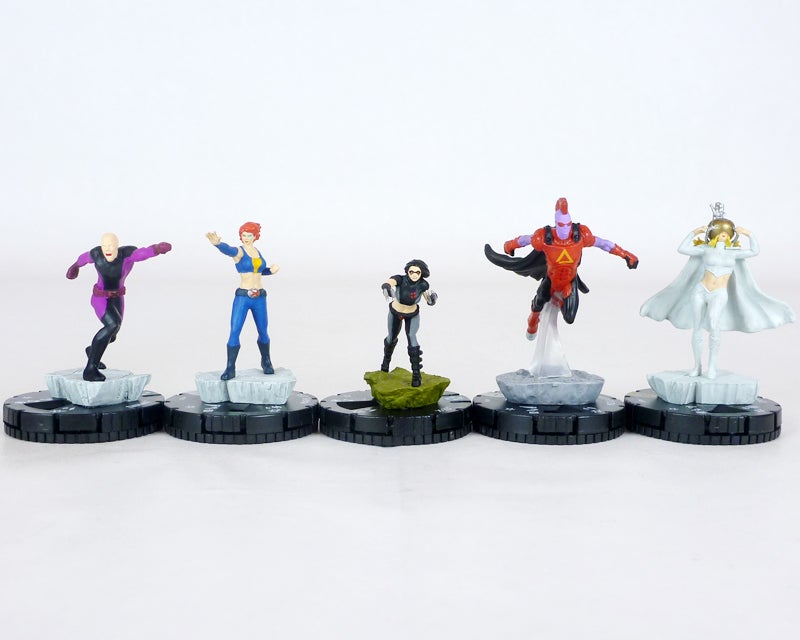 Booster 1
002 Darwin
003 Marvel Girl
031 X-23
036 Kid Gladiator
053 Emma Frost
First booster, first super rare! This is a cool lineup with lots of girl power featuring commons of Darwin and Marvel Girl, classic X-Force X-23 in the uncommon slot, rare Kid Gladiator making his return to HeroClix, and super rare Emma Frost equipped with Cerebra.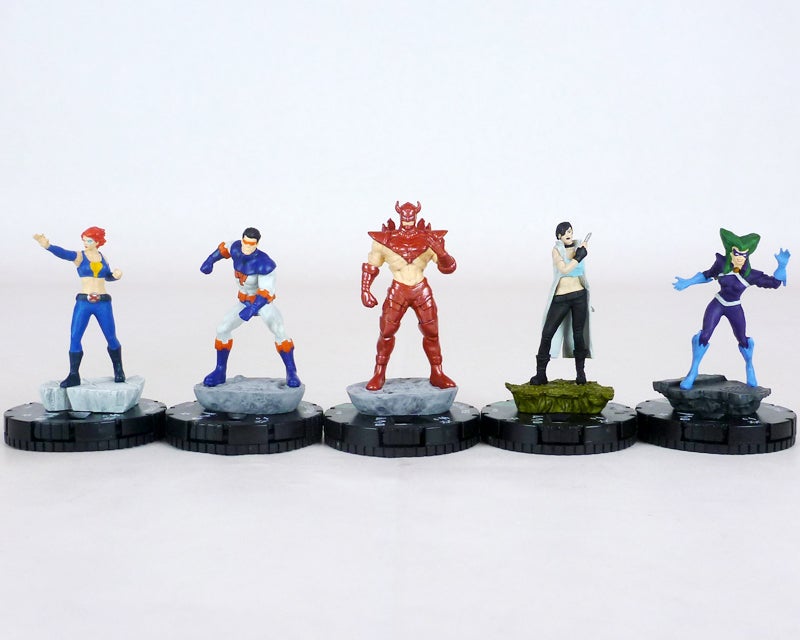 Booster 2
003 Marvel Girl
012 Smasher
018 Eric the Red
029 Callisto
040 Malice
Okay, we've got a duplicate of common Marvel Girl who's joined by the Shi'ar Smasher and uncommon Eric the Red. Morlock leader Callisto is another uncommon, and the always fun body-jumping Malice is this booster's rare.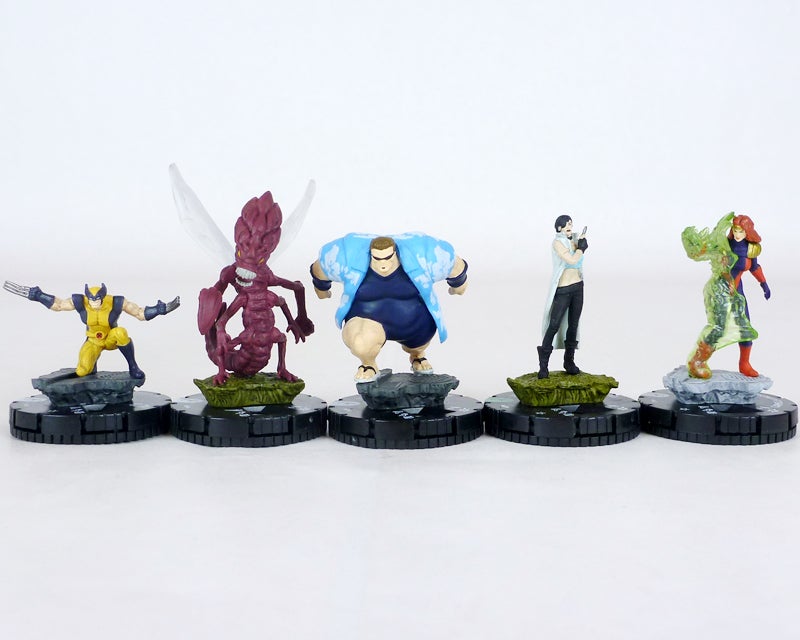 Booster 3
001 Wolverine
014 Brood
015 Blob
029 Callisto
041 Carmella Unuscione
What's next in booster #3? Surprise, surprise, we've got a common Wolverine in the 001 slot! Other commons here are the hulking Blob (looking surprisingly casual in his beach wear) and the horrific alien Brood, while the uncommon is a duplicate Callisto. Finally in the rare spot is the Acolyte Carmella Unuscione making her HeroClix debut!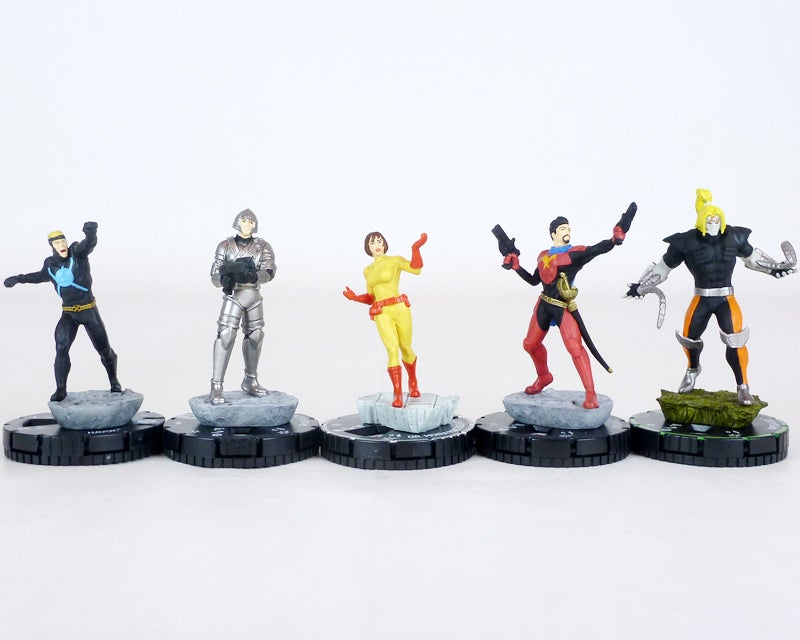 Booster 4
005 Havok
009 Shi'ar Soldier
024 Dr. Moira MacTaggart
032 Corsair
043b Omega Red
The second Summers brother Havok leads off the next booster where he faces off in the commons against a generic Shi'ar Soldier. Dr. Moira MacTaggart appears in her classic scientist form (unlike her modern Krakoan incarnation), and she's joined in the uncommons by Havok's dad Corsair. Our rare is the Prime version of Omega Red who's ready to join your X-Force or X-Men teams!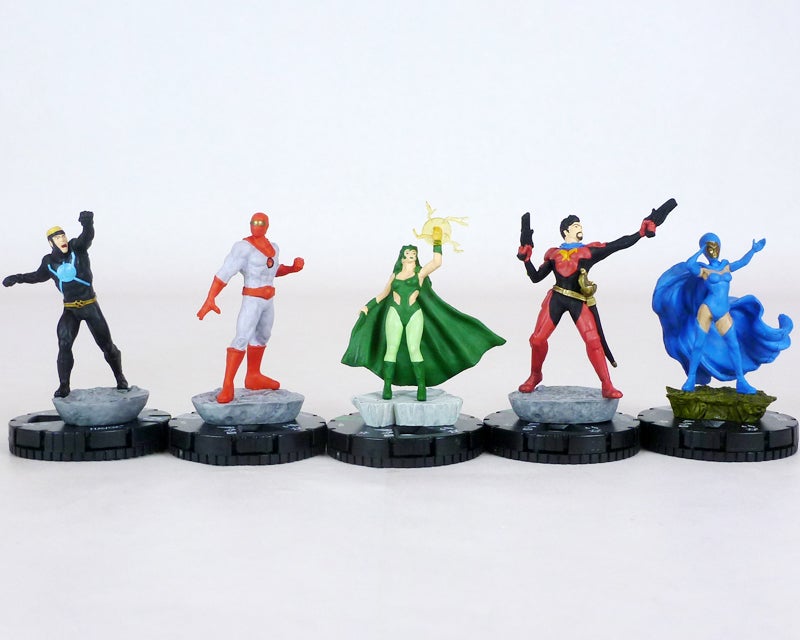 Booster 5
005 Havok
011 Impulse
026 Polaris
032 Corsair
042 Destiny
We've got a couple duplicates here, but overall, this is another fun booster. The Shi'ar Imperial Guard get another member with the visor blasting Impulse. We get both members of the longtime couple Havok and Polaris, both of whom have the Starjammers keyword so they can join Alex's dad Corsair. Finally, the mutant precog Destiny is this booster's rare.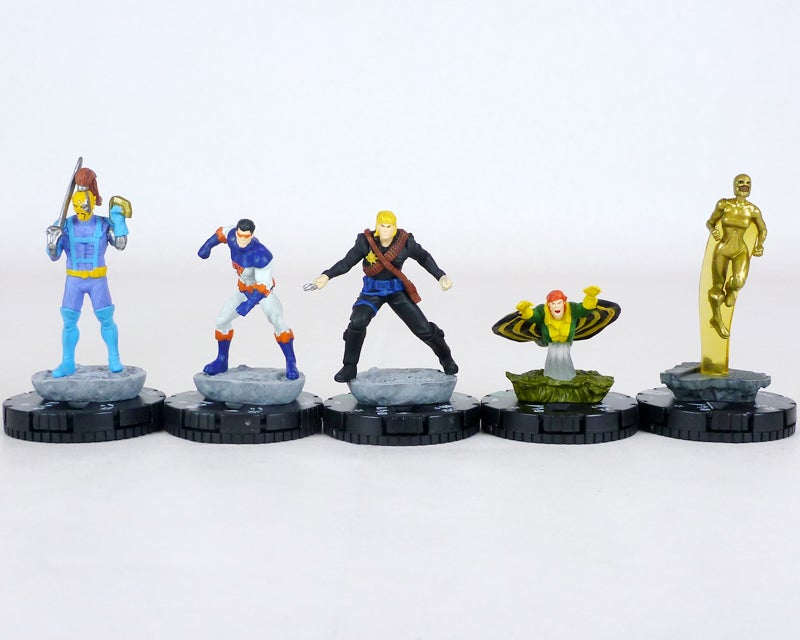 Booster 6
010 Raza
012 Smasher
023 Longshot
025 Banshee
045 Tempo
Speaking of Starjammers, here's the next classic member in the common Raza who's joined by a duplicate Smasher. The uncommons bring more fan-favorite X-Men with the Mojoverse alien Longshot and the high-flying Banshee. And the Acolyte Tempo makes her HeroClix debut as a rare!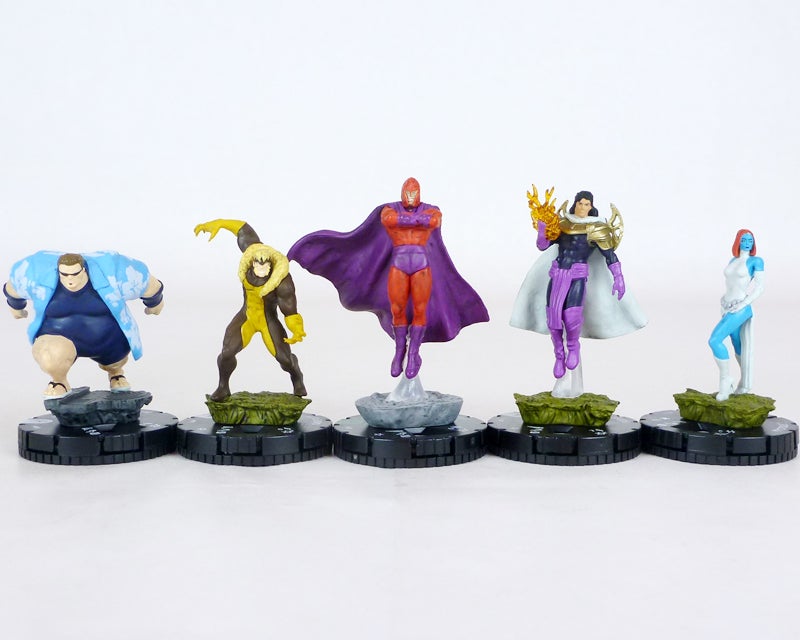 Booster 7
015 Blob
017 Sabretooth
027 Magneto
039 Exodus (with Krakoan Revival card)
060 Mystique (with Krakoan Revival card)
It's always nice to get figures at the higher end of the rarity spectrum, but it's also super cool to see themed packs like this one, an entire theme team you could play right out of the box. In this case it's the Brotherhood of Mutants with commons Blob and Sabretooth, uncommon Magneto, rare Exodus, and super rare Mystique!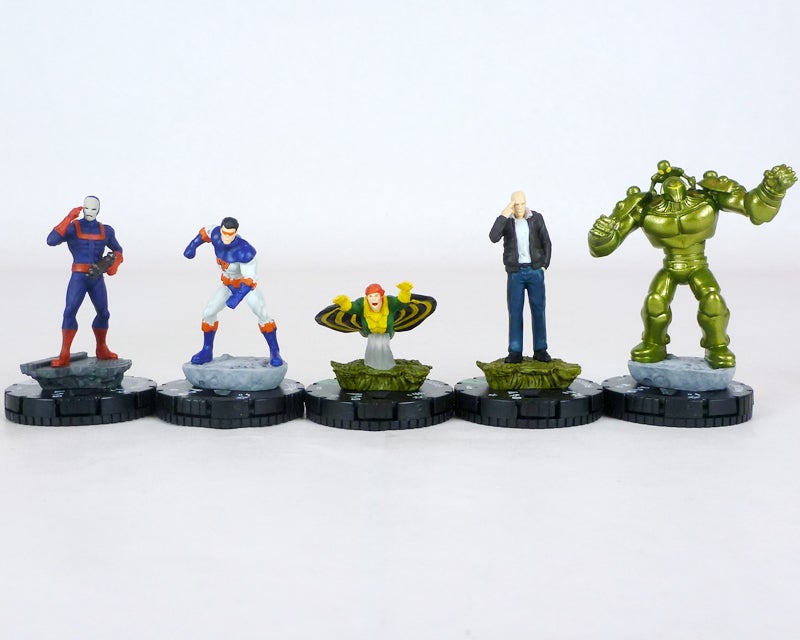 Booster 8
006 Hellfire Club Guard
012 Smasher
025 Banshee
028 Professor X
048 Warstar
Another bad guy generic pops up in the commons here with the Hellfire Club Guard, a fun mook for some of the mutants who have been members in that elite organization. Smasher appears again as does uncommon Banshee alongside everyone's favorite Professor X! Rare Warstar is here with B'nee for all of your Shi'ar Imperial Guard needs.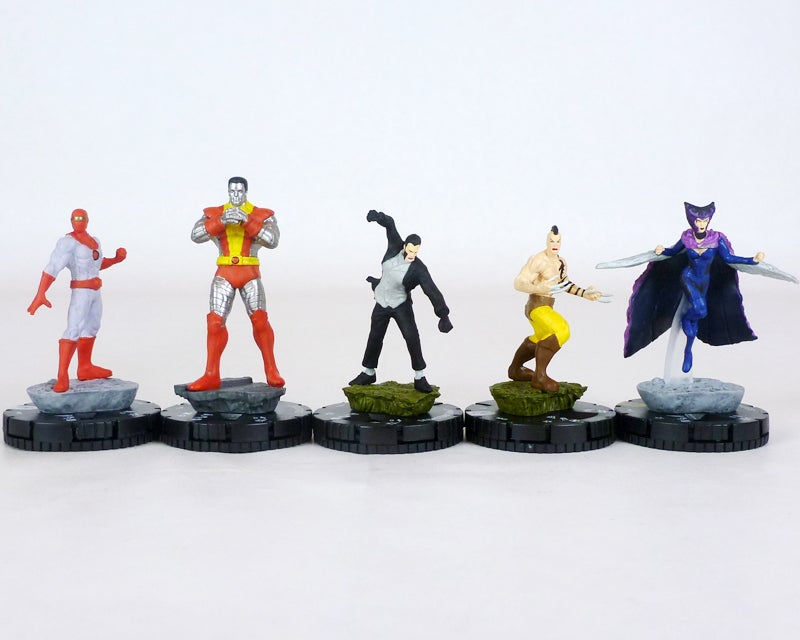 Booster 9
011 Impulse
013 Colossus
034 Sebastian Shaw (with Krakoan Revival card)
049 Daken
052 Deathbird
This booster has something for everyone: common Colossus for your X-Men, common Impulse and super rare (!) Deathbird for your Shi'ar teams, uncommon Sebastian Shaw for the Hellfire Club, and rare Daken who's served on a bunch of "Dark" teams. Of course, there are a lot more keywords at play here too.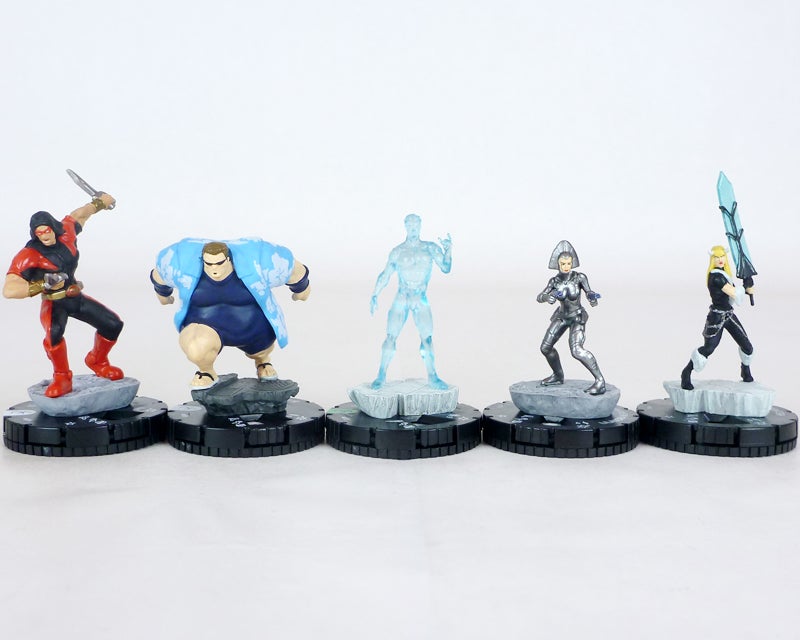 Booster 10
004 Warpath
015 Blob
033 Iceman
035 Lilandra Neramani
065 Hellhound
Drum roll, please… yes, I saved the best for last and here's our chase! First off, joining another Blob is common Warpath in his classic duds, a cool translucent Iceman is an uncommon we haven't seen yet, and the Majestrix Lilandra Neramani is a rare. Finally, our Warp World resident is Hellhound, an amalgamation of Magik and Sabretooth.
Here's the full breakdown of the figures in this brick (your results will vary of course):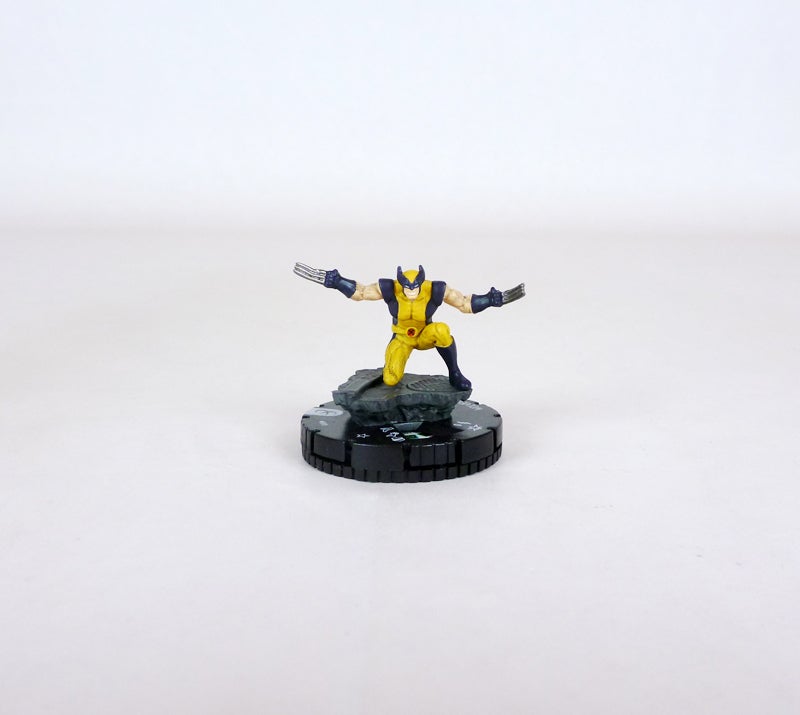 COMMONS (including duplicates)
001 Wolverine
002 Darwin
003 Marvel Girl
004 Warpath
005 Havok
006 Hellfire Club Guard
009 Shi'ar Soldier
010 Raza
011 Impulse
012 Smasher
013 Colossus
014 Brood
015 Blob
017 Sabretooth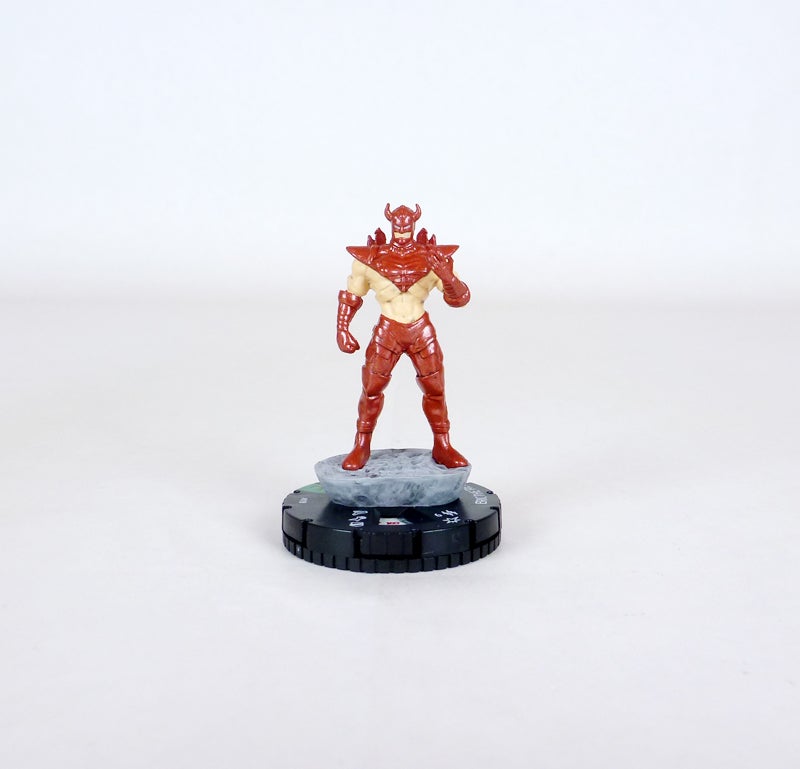 UNCOMMONS (including duplicates)
018 Eric the Red
023 Longshot
024 Dr. Moira MacTaggart
025 Banshee
026 Polaris
027 Magneto
028 Professor X
029 Callisto
031 X-23
032 Corsair
033 Iceman
034 Sebastian Shaw (with Krakoan Revival card)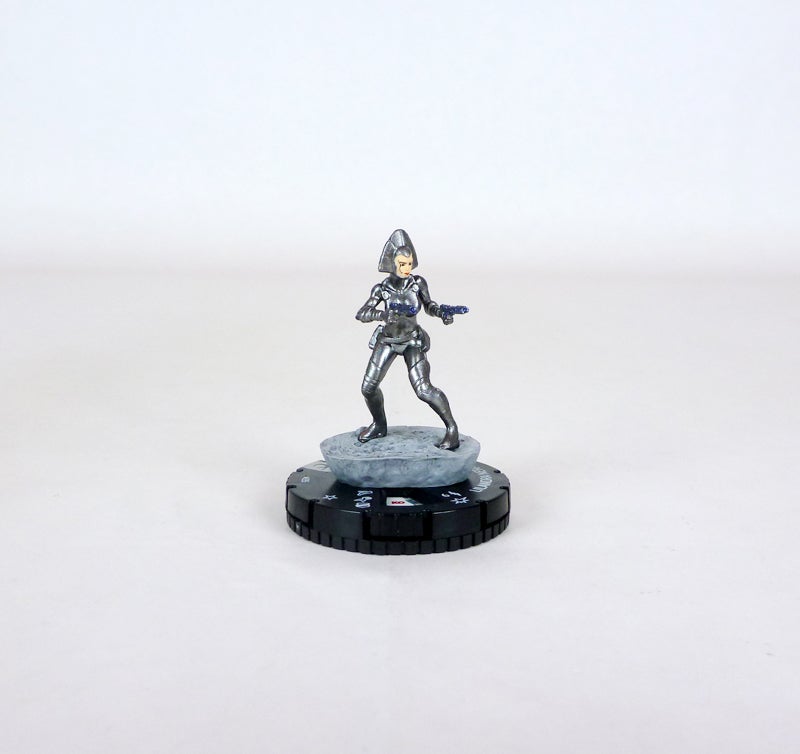 RARES
035 Lilandra Neramani
036 Kid Gladiator
039 Exodus (with Krakoan Revival card)
040 Malice
041 Carmella Unuscione
042 Destiny
043b Omega Red
045 Tempo
048 Warstar
049 Daken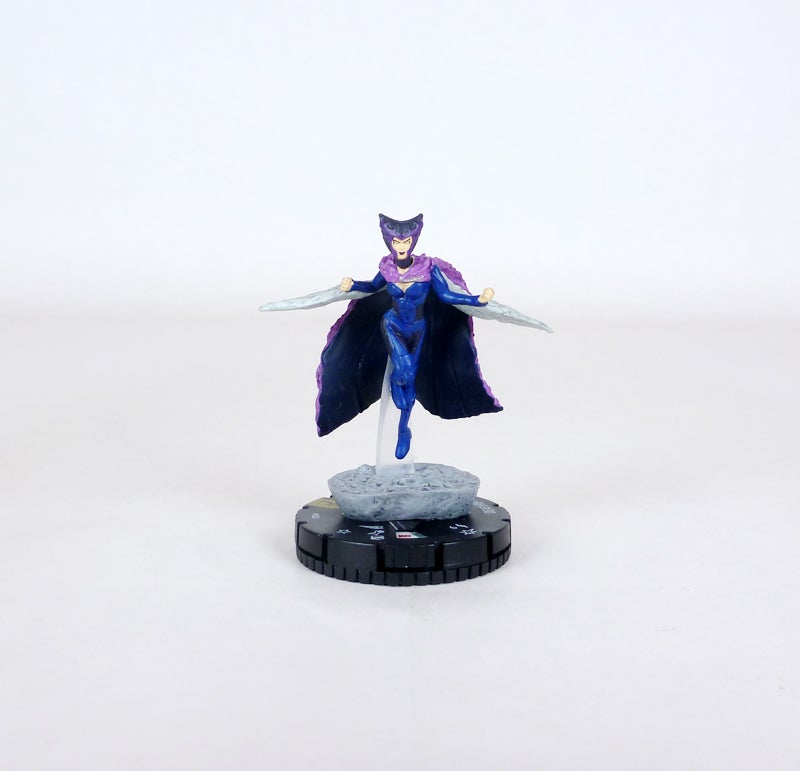 SUPER RARES
052 Deathbird
053 Emma Frost
060 Mystique (with Krakoan Revival card)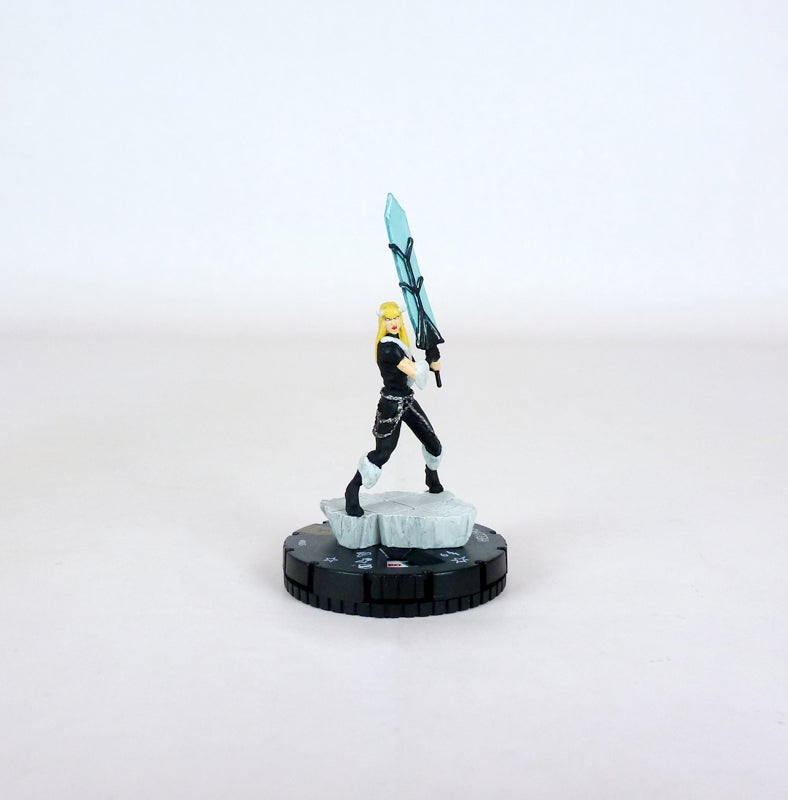 CHASE
Collation in this brick was decent, and similar to what we've seen in other recent sets. Top down it looks pretty good with a chase, a prime, and three super rares! Pretty good, right? Sure is. Unfortunately, we once again didn't complete even the commons, getting 14 out of the set's 17. Among the 17 possible uncommons we pulled 12, 10 out of the possible 18 rares (including two Primes), and three of the 14 total super rares, and the one chase. As always, your results will vary!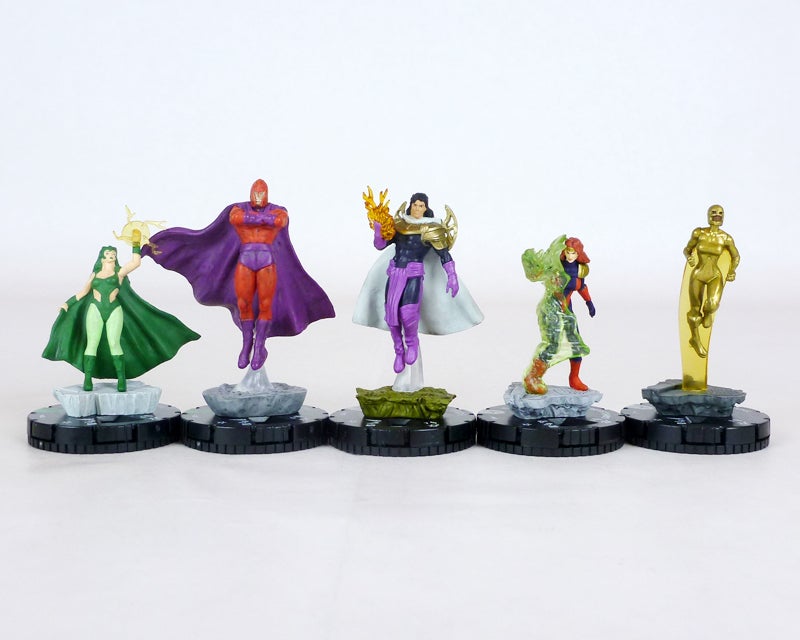 Alright, let's do our usual cruise through all of the figures by rarity! Starting with the commons, we see most of the themes that will track through the entire set though with some unique elements. In a very general sense, we can break up the figures pulled here into the following categories. We've got heroic X-Men with Wolverine, Darwin, Marvel Girl, Warpath, Havok, and Colossus. Of course, those figures have lots of other cool keywords and can fit into teams like New Mutants, X-Factor, X-Force, Excalibur, and more as well. Next up? Let's get some bad guys with Blob and Sabretooth. Similarly, to the X-Men, the less than noble mutants in this set feature keywords from Brotherhood of Mutants, Freedom Force, Acolytes, etc. There's one specific Starjammer here with Raza (though again some X-Men share that keyword). The Shi'ar Imperial Guard start strong with Impulse and Smasher, while the set's generic army builders include the Hellfire Club Guard, Shi'ar Soldier, and a very welcome new monstrous Brood!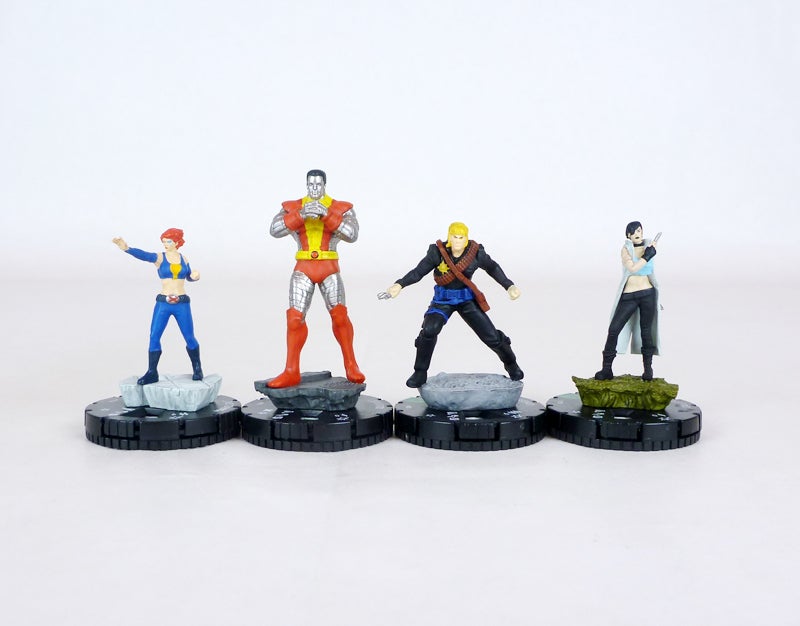 Naturally the uncommons continue the main themes of the set, though notably without any more generics. X-Men mutants and their allies include Longshot, Dr. Moira MacTaggart, Banshee, Polaris, Professor X, X-23, and Iceman, again with lots of other keywords disbursed among them. The Starjammers get their captain with Corsair, and Eric the Red shores up the Shi'ar ranks. Generally falling into the bad guy ranks here are Magneto, Callisto, and Sebastian Shaw, though again they've all also been heroes and have flexible team building options with different keywords.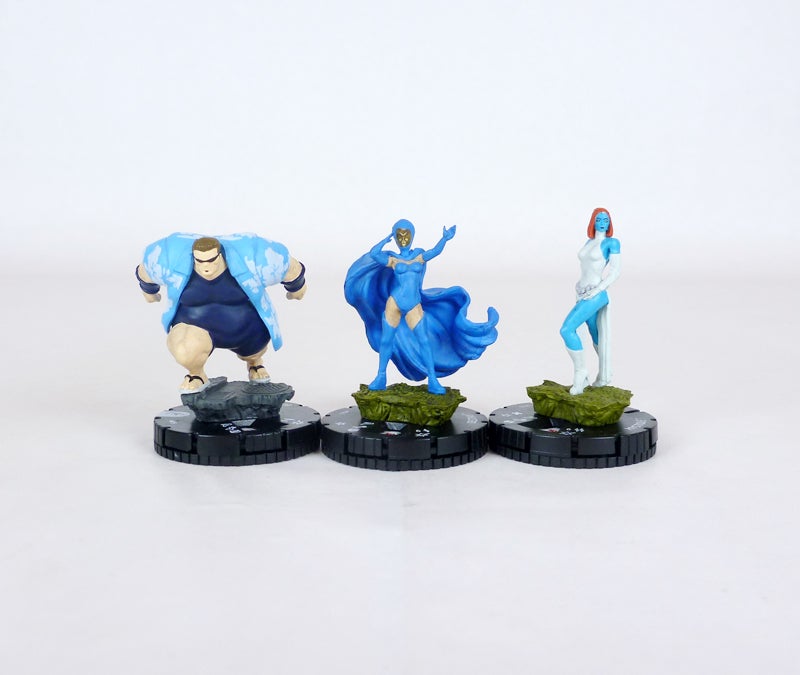 Our rare pulls are really interesting, and on the surface all of them appear to fall into three general categories. Lilandra Neramani, Kid Gladiator, and Warstar are our Shi'ar, and the rest are bad guys: Exodus (with Krakoan Revival card), Malice, Carmella Unuscione, Destiny, Omega Red, Tempo, and Daken! Of course, comics being comics this is not anywhere near a complete depiction of these characters as many of them have been (or currently are) good guys too. A lot of these figures have X-Men and other team keywords, even Exodus, Daken, and Omega Red.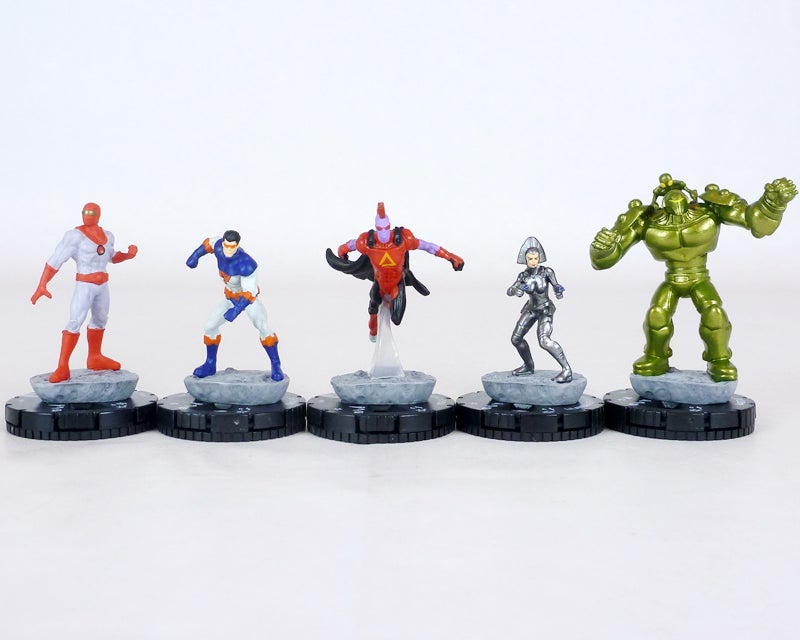 It's hard to see themes across the upper rarities as we pull so few of the figures there, but let's go through what we've got. Deathbird is an elite Shi'ar warrior and empress (who's also been a Horseman), and Emma Frost and Mystique are more sometimes good/sometimes bad characters both recently serving on the Krakoa Quiet Council. And of course, Hellhound comes from Warp World in the Infinity Warps storyline.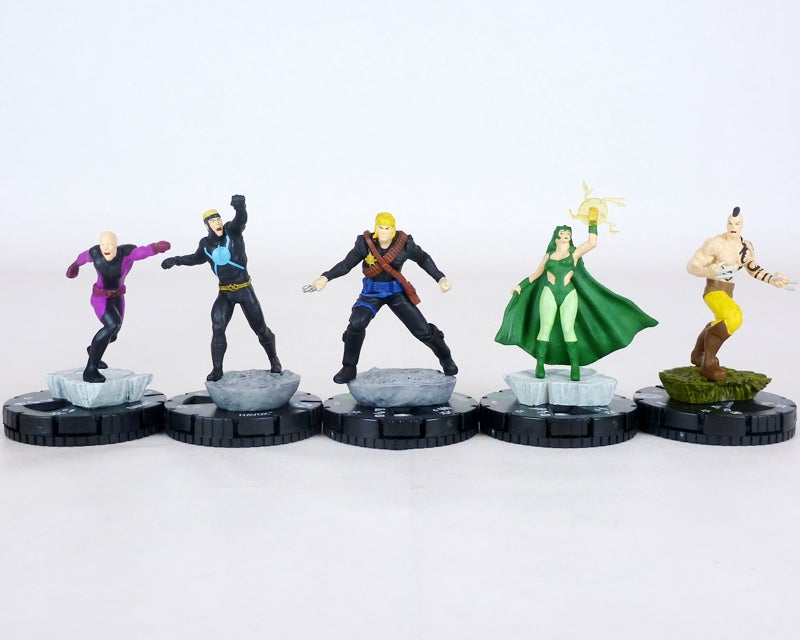 Let's talk sculpts. We've been enjoying the new larger scale of the figures, which has given WizKids the opportunity to incorporate more details and interesting poses, many of which are pretty great. Some of the figures that stood out to me from this brick include Marvel Girl with some nice subtle details, the Hellfire Club Guard in classic action pose as he listens to his radio, the plates and overlapping segments of the Shi'ar Soldier, Raza with his retro look, Eric the Red (whose great sculpt is unfortunately not honored by his minimalist paint job), Moira and Professor X showing what fun things can be done with "normal" looking humans, X-23 lunging forward with claws extended, the translucent Iceman with visible physique and hair, Lilandra rocking her own armor in a fun pose, Kid Gladiator "confidently" leading the attack, Exodus floating above the ground in his iconic costume, Malice and her amazing hair, the fierce armored form of Warstar with little B'nee on his back, Deathbird and her incredibly detailed outfit, Emma Frost looking tough while wearing a bowl on her head, and Hellhound on the attack with her massive sword. Two figures that really stuck out (again, for me personally) were the Brood for its absolutely wild and monstrous form, and the Acolyte Carmella Unuscione with a great sculpt on her human-looking half and a super cool energy sheath on the other. There are some cool action poses happening on figures like Wolverine, Warpath, Colossus, Blob, Sabretooth, Longshot, Banshee, Magneto, Corsair, and Mystique, and fun textures on the Brood, Shi'ar Soldier, Lilandra, Carmella, Destiny, and Deathbird. Overall, I'm pleased with the sculpts, especially since from what I pulled there's no sculpt reuse! Also, the bases are really cool and harken back to some of my favorite classic HeroClix sets.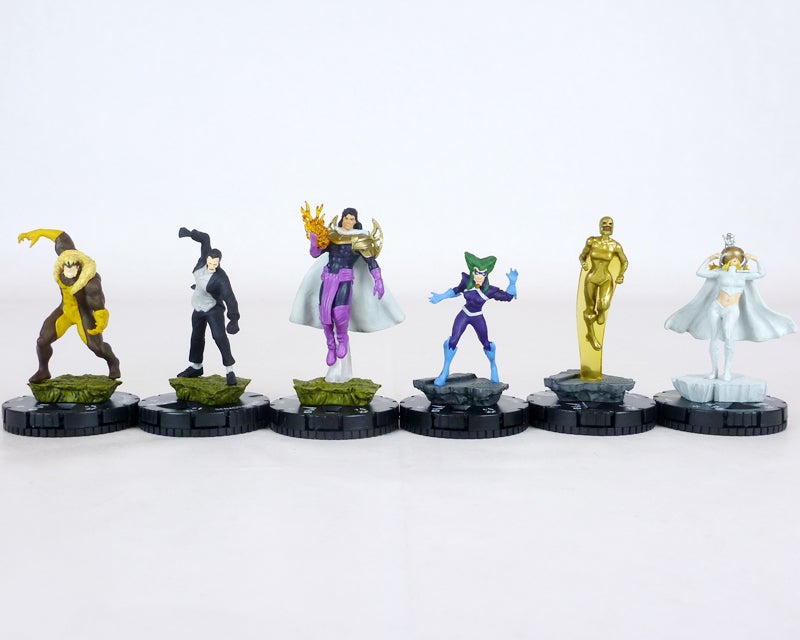 Next up is paint, and as usual you'll find a huge array of colors and patterns on the figures in this set with its incredible range of good guys and bad guys from different teams and different eras of the comics. Paint jobs on figures that impressed me in person were Marvel Girl with the precision of her colors even on her face, Raza's rad pastels in perfect lines, the beach-casual Blob looking fun, Moira and Callisto as two examples of humans painted really well with good eyes (so important!), X-23 in her awesome X-Force colors, Corsair the flamboyant space pirate, Lilandra with a perfectly applied face, Exodus in cool contrasting colors, Malice, Carmella with her nice Acolyte costume and great face paint, Daken looking awesome with all his tattoos, Mystique, and Hellhound utilizing her evil powers. As usual metallic paints are used on weapons, armor (including armored skin), and unique tech on figures like Wolverine, Warpath, Hellfire Club Guard, Shi'ar Soldier, Raza, Colossus, Callisto, X-23, Lilandra, Exodus, Omega Red, Tempo, Warstar, Daken, and Emma Frost. Last but not least, there are some super fun uses of translucent plastic on flight effects and the Brood's wings, Polaris's energy, Iceman, Exodus's hand, Carmella's psionic exoskeleton, and Hellhound's sword. Whether at a glance or looking up close, the paint work on this set is top notch and there are tons of neat details picked out.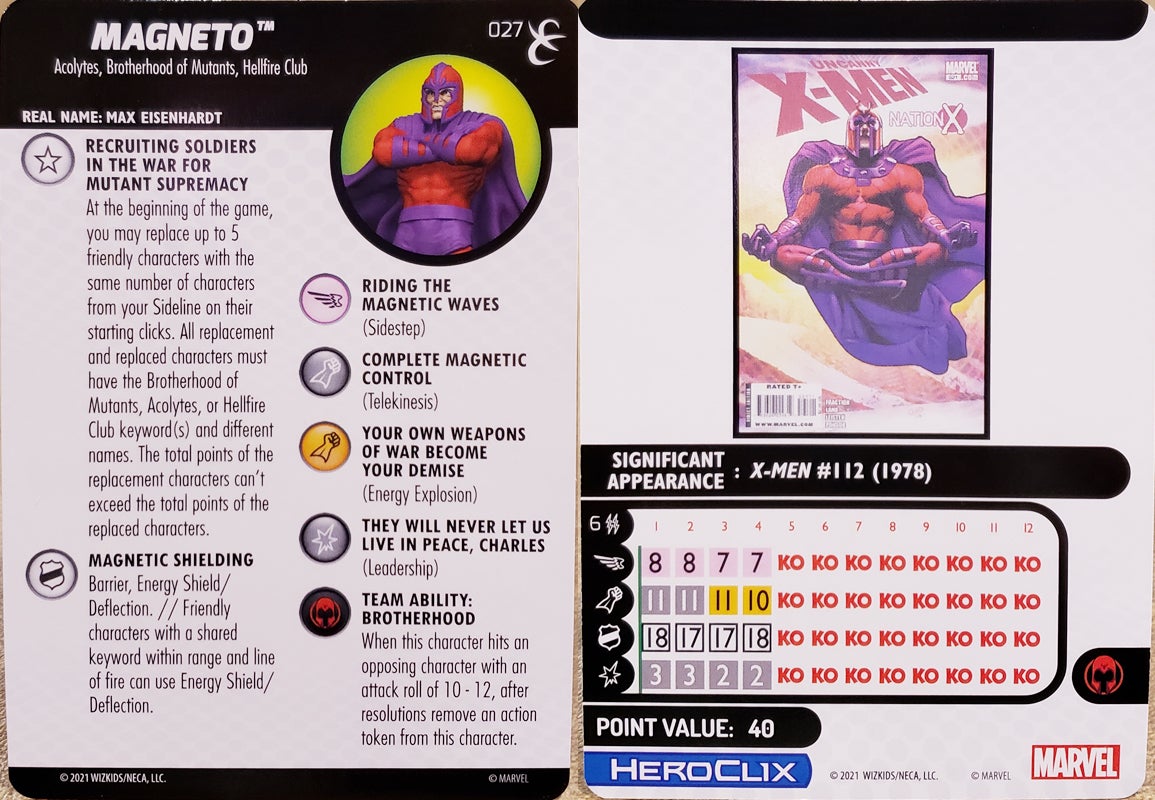 Alright, it's dial time! We've seen a bunch of X-Men: Rise and Fall dials thus far via WizKids previews, magazine reveals, and unboxings by Scott Porter and others, but we were lucky enough to pull some that I don't think have been seen thus far. Let's check out Magneto, Corsair, Kid Gladiator, prime Omega Red, Warstar, Deathbird, Emma Frost, and Hellhound!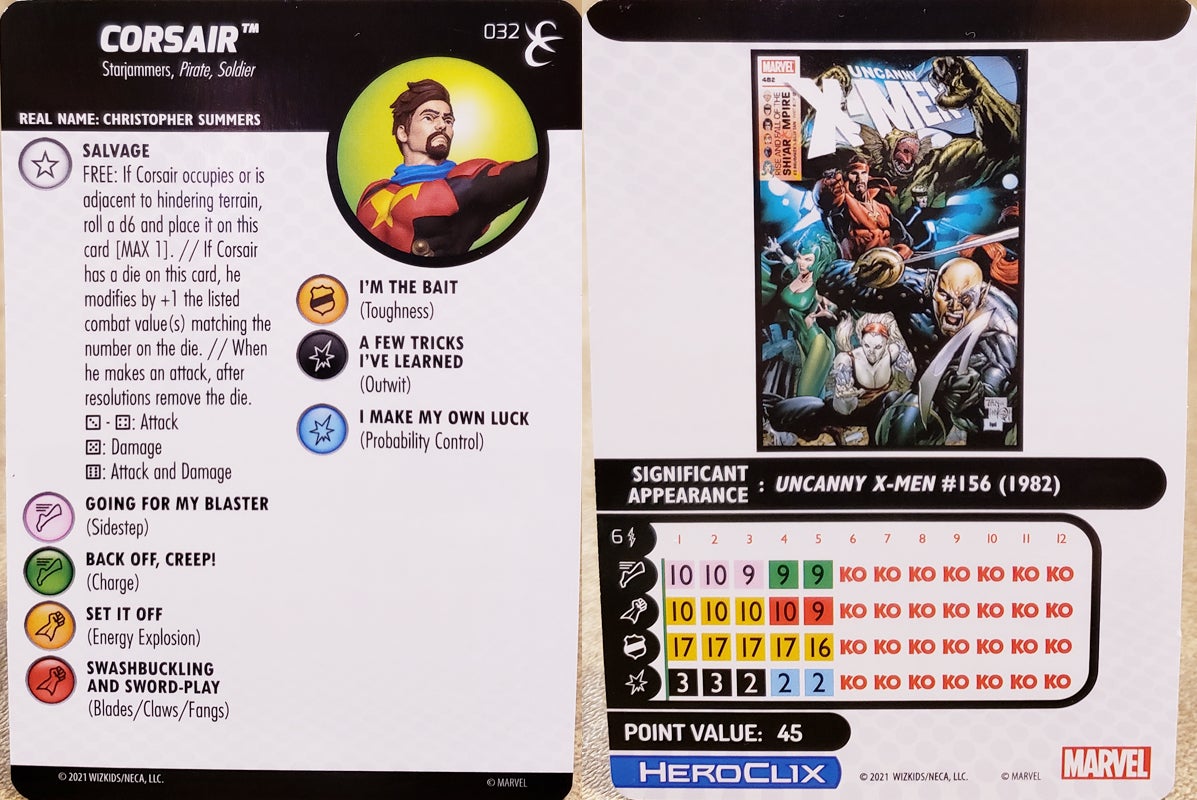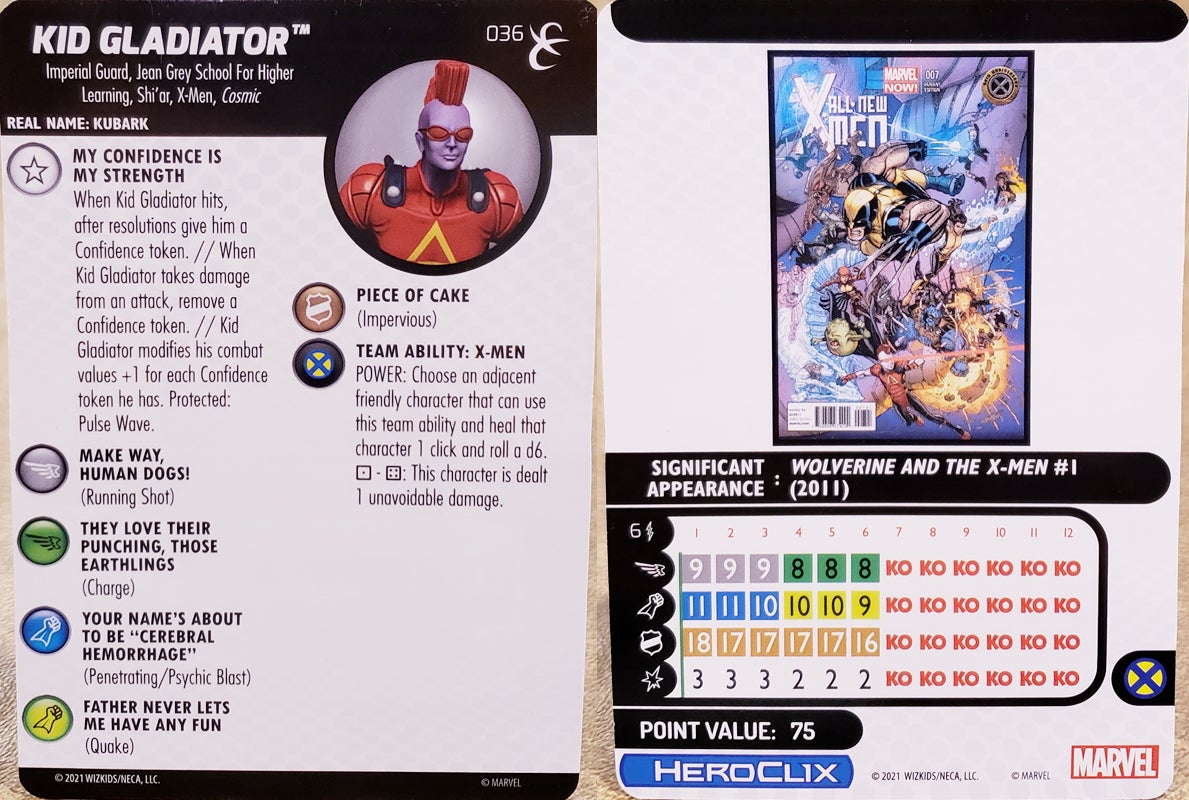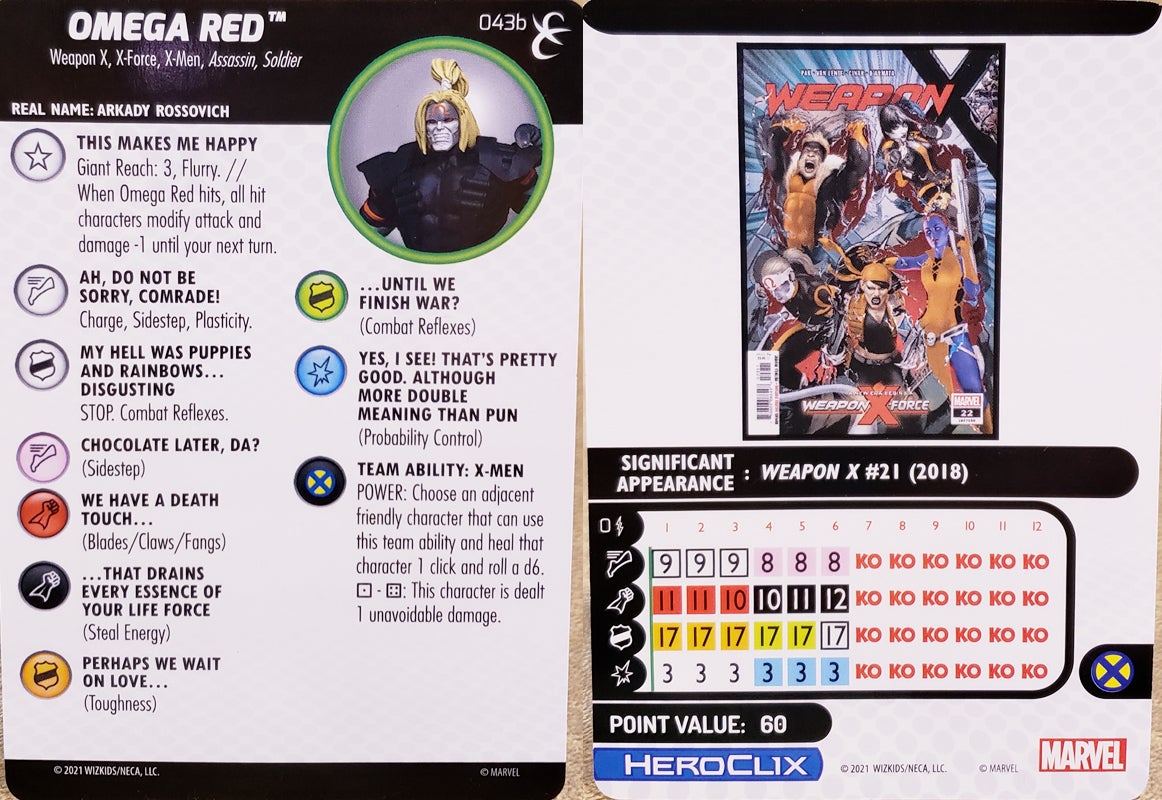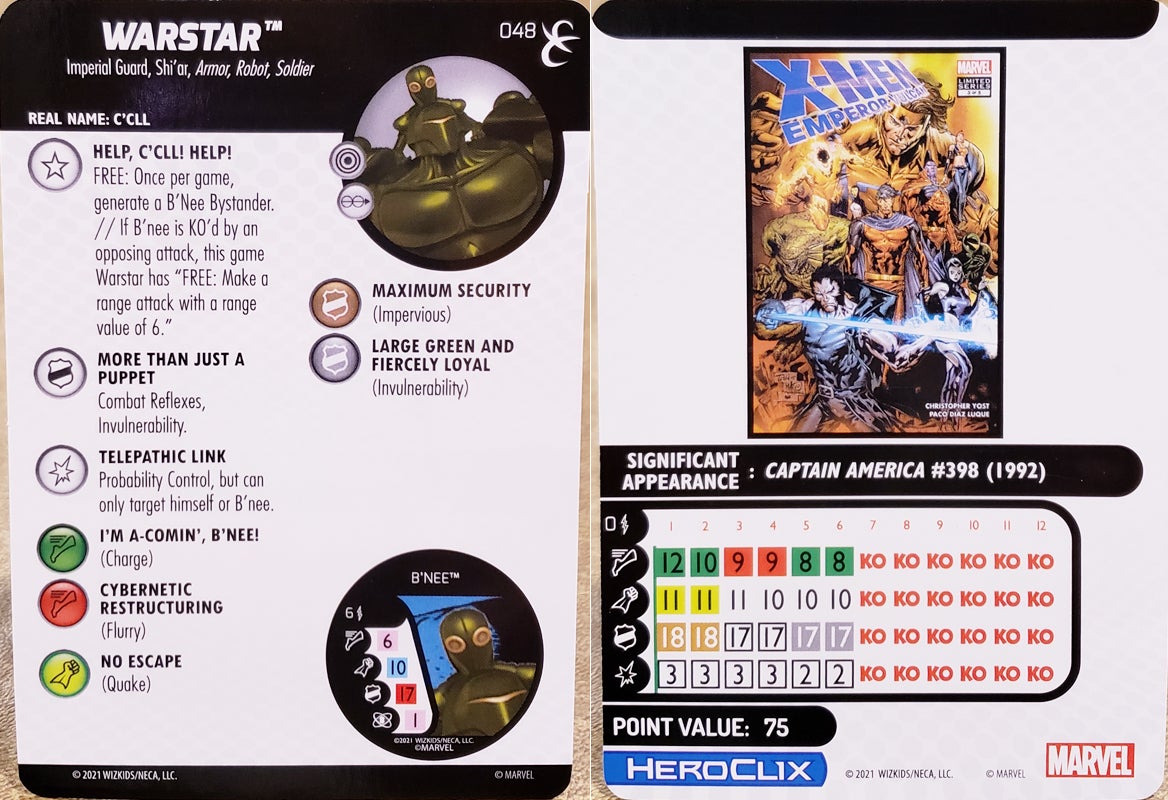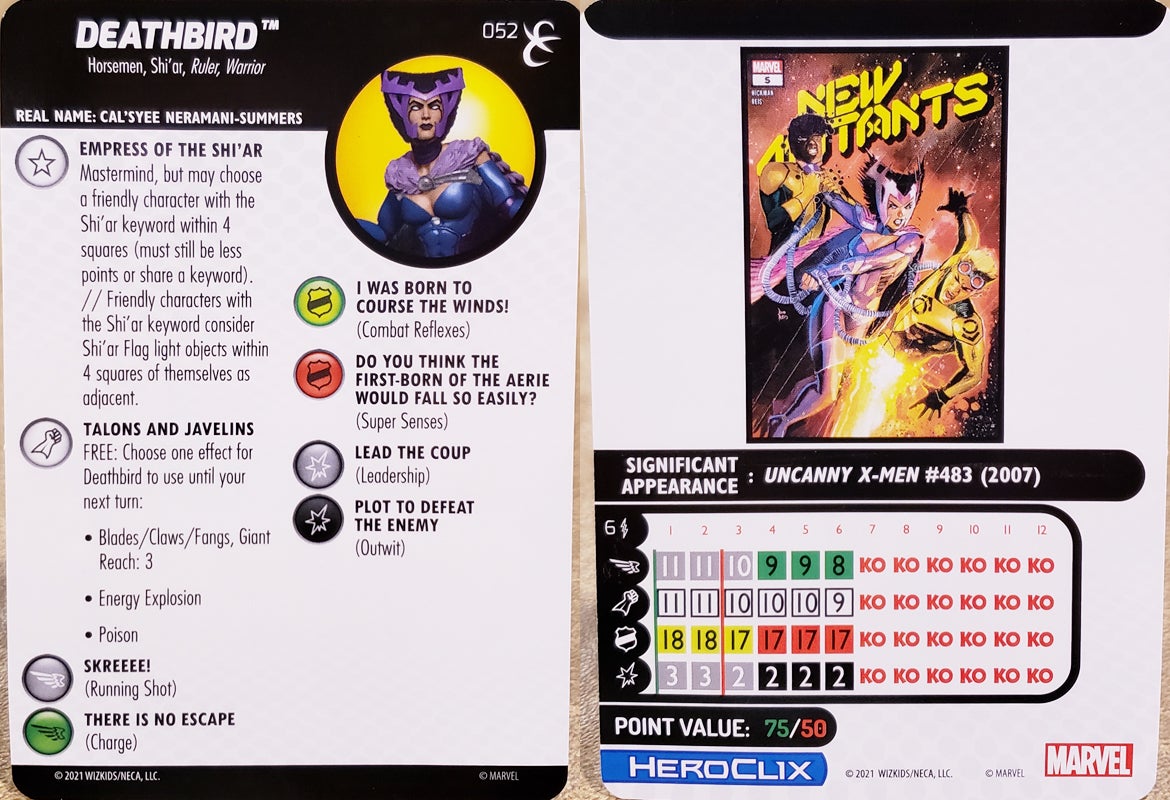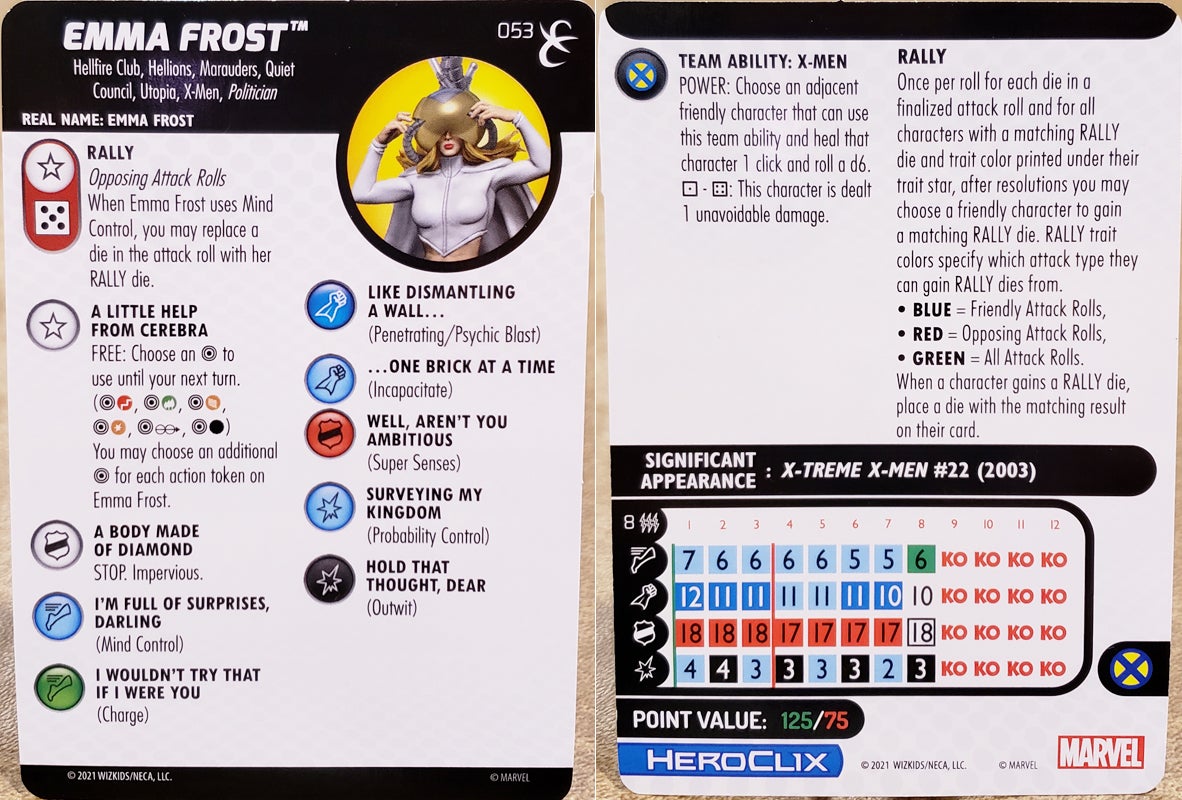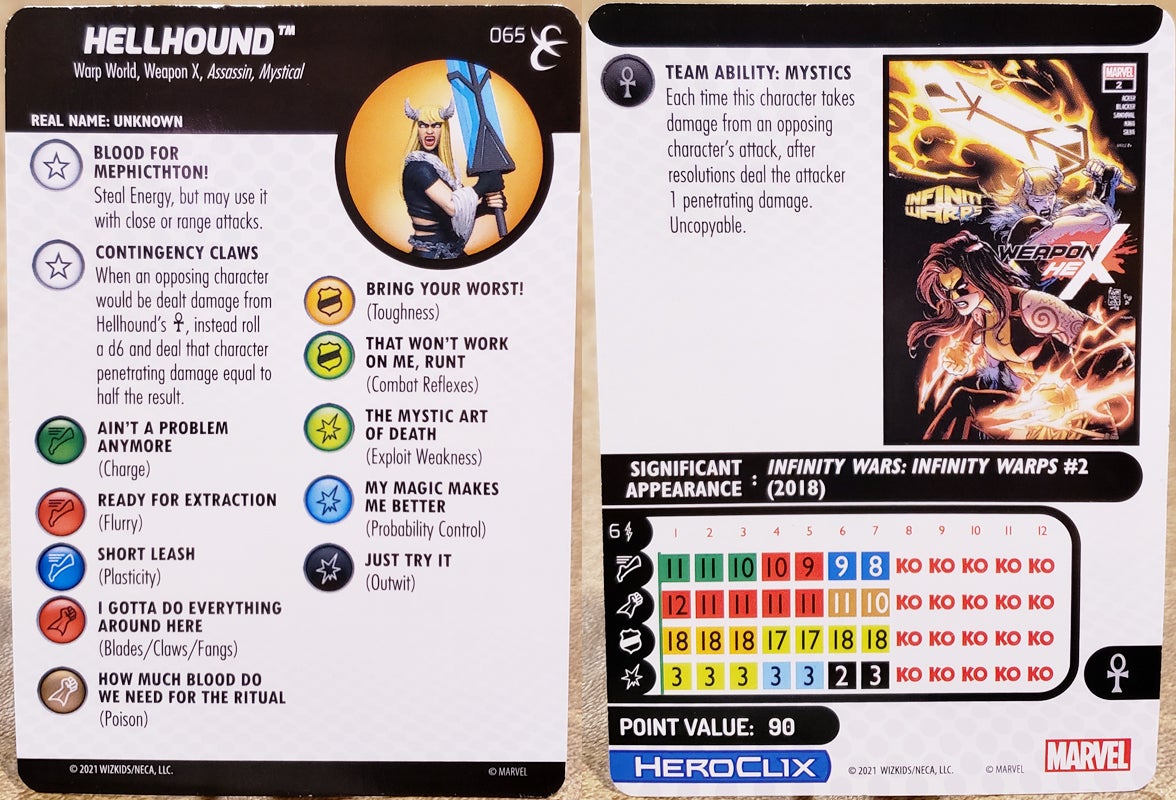 Really love HeroClix and the X-Men? WizKids has you covered with even more ancillary products! First up is the Rise and Fall Dice & Token Pack (MSRP $9.99), with six blue and purple poker chip-style tokens featuring comic book artwork of Cyclops, Colossus, Storm, Wolverine, Phoenix, and Beast. Huh, interesting that in the boosters we only pulled two of those.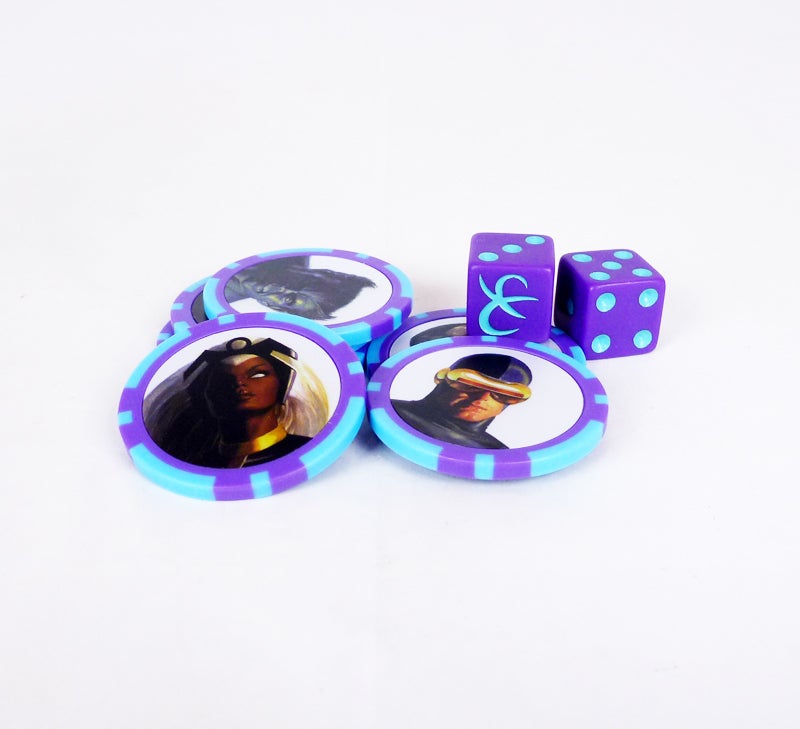 The reverse sides give you bystander tokens that figures in the booster set generate: Sikorsky, Eany and Meany, Kotik, B'nee, and Lockheed. The dice are matching purple with blue ink pips, with the Rise and Fall Phoenix (?) symbol on the "6" side.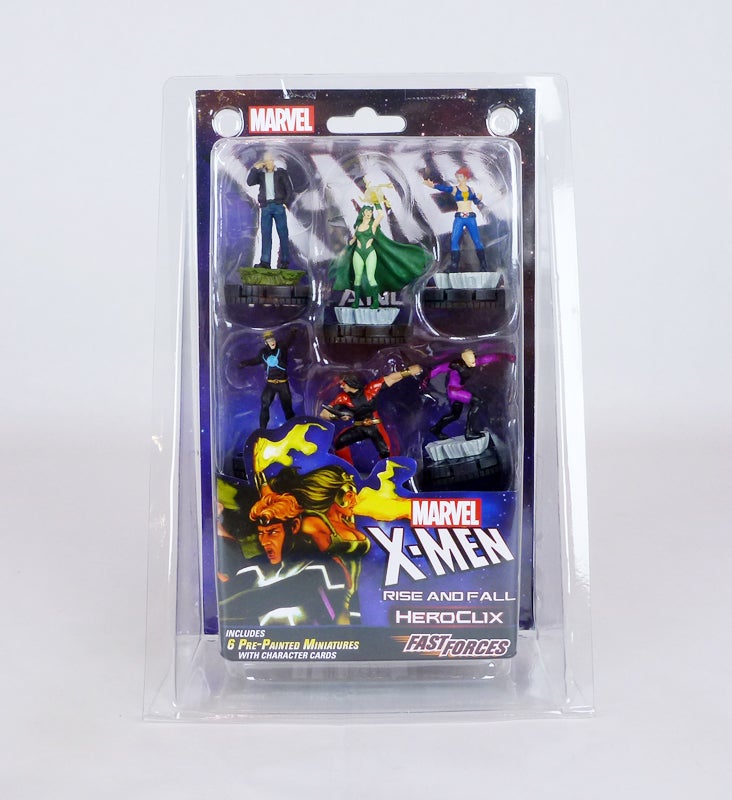 But I know you, and you want more figures. You need the X-Men: Rise and Fall Fast Forces set! This slim clamshell pack ($19.99) brings you alternate versions of six figures from the booster set with Havok, Polaris, Professor X, Warpath, Marvel Girl, and Darwin. These figures have the same sculpts and paint jobs as their other booster doppelgangers, but with unique dials for easy team building and more flexibility if you have a wider collection.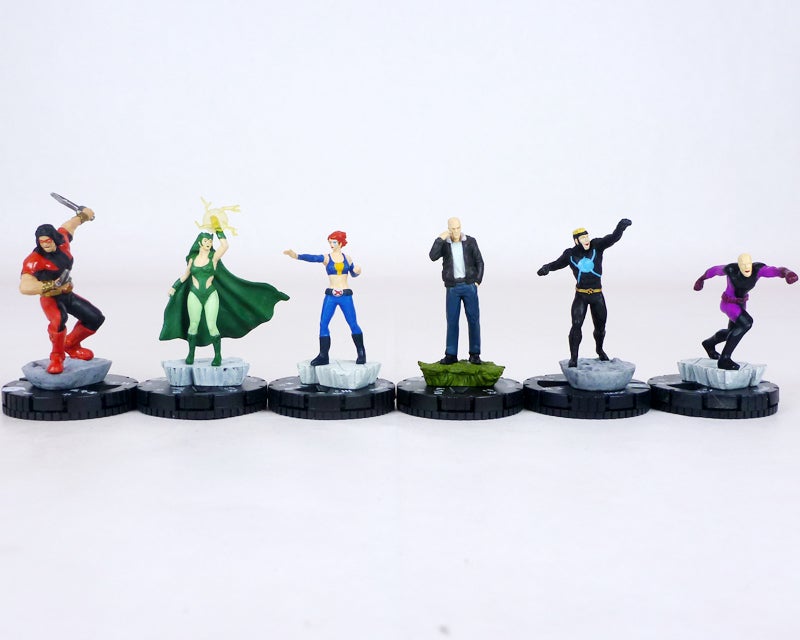 Speaking of that first point, these six figures together make a perfect 300 point X-Men team! Havok, Polaris, Darwin, and Marvel Girl are each 50 points, Warpath is 60, and the Prof is 40. Not only that, but these figures are very straightforward and perfect for new players. Other than the X-Men team ability and a Rally effect these figures have no traits or special powers with the sole exception of Professor X! This really looks like one of the best out of the box Fast Forces for beginners in a while, and with those interesting Rally effects these figures can definitely be used by experienced players to add some fun and utility to their other X-Men teams; Darwin can give up his Rally die to take damage instead of an ally getting hurt, Marvel Girl can do the same to place an action token on an enemy, and more.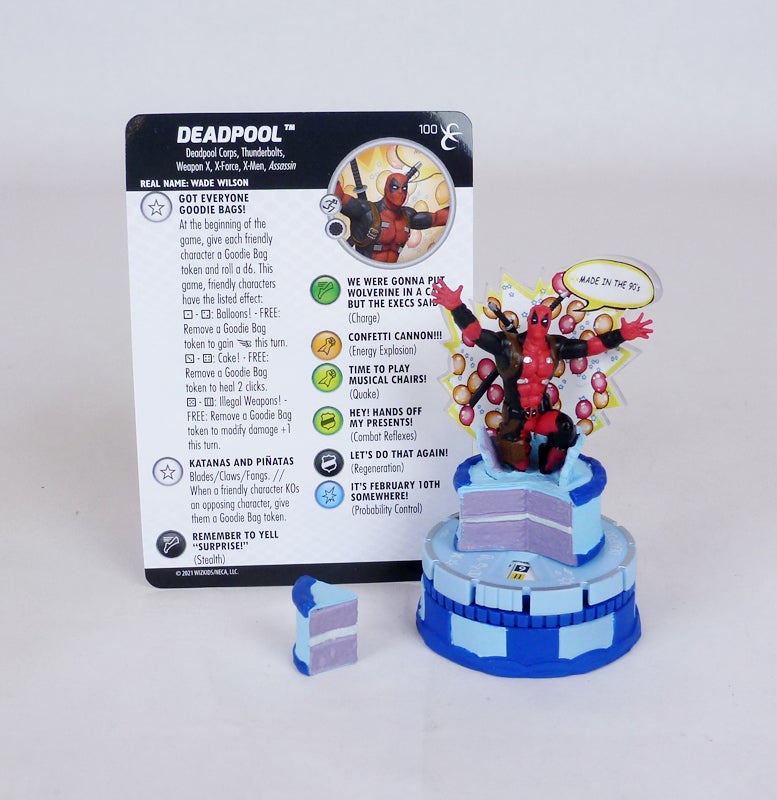 As we've seen with the last few sets, WizKids has adapted to our world being in a unique place and players unable to participate in many in-store events. Instead of Organized Play kits with exclusive maps and prize figures available only to participating venues, anyone can purchase the Rise and Fall Play At Home Kit ($9.99) directly. Here you'll get a double-sided map featuring the Abandoned Weapon X Facility and Starcore Space Station battlefields, both with markers in each square so you can play remotely with a friend. And there's a Deadpool! This version sees the wacky hero(?) popping out of a cake, throwing a party for all his friends. The figure is super fun, with an extra-tall base and a detailed sculpt, and it even comes with an extra slice of cake. You may have seen it already, but this Deadpool is a nifty little support piece that hands out goodie bags! His allies get a random buff from these presents, and while Deadpool is on the board any friendly figure that KO's an enemy gets another one. He's a decent secondary attacker with traited Blades/Claws/Fangs and full dial Probability Control, starting with Stealth, Energy Explosion, and Combat Reflexes and ending with Charge, Quake, and Regeneration.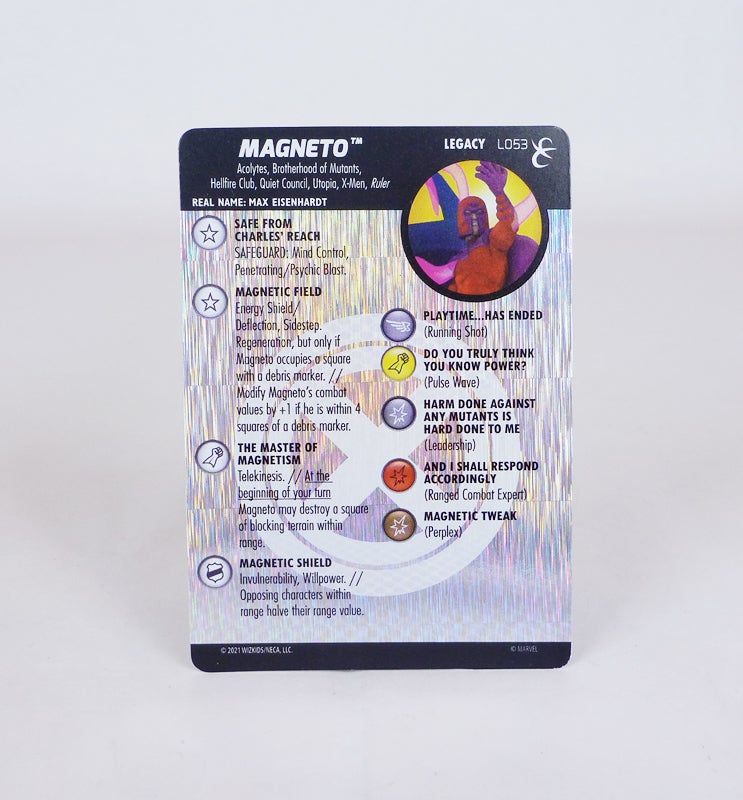 Finally, we've got Legacy Cards! For the third set in a row, WizKids is sending along new cards bringing old figures back into the "Modern" rules rotation. These come in single, blind packs attached to booster bricks (one per), so they're still fairly limited. As we've seen so far, these Legacy cards celebrate some true fan-favorites of the old days… and that's definitely reflected in the one we pulled here corresponding to Giant-Size X-Men Magneto! This guy was awesome back in his day and now he's back, baby. He takes all the stuff that made him so good and cranks them up even higher with better special powers, a more powerful take on his original trait, and a bonus trait… and all for a points DECREASE. Pretty darn cool.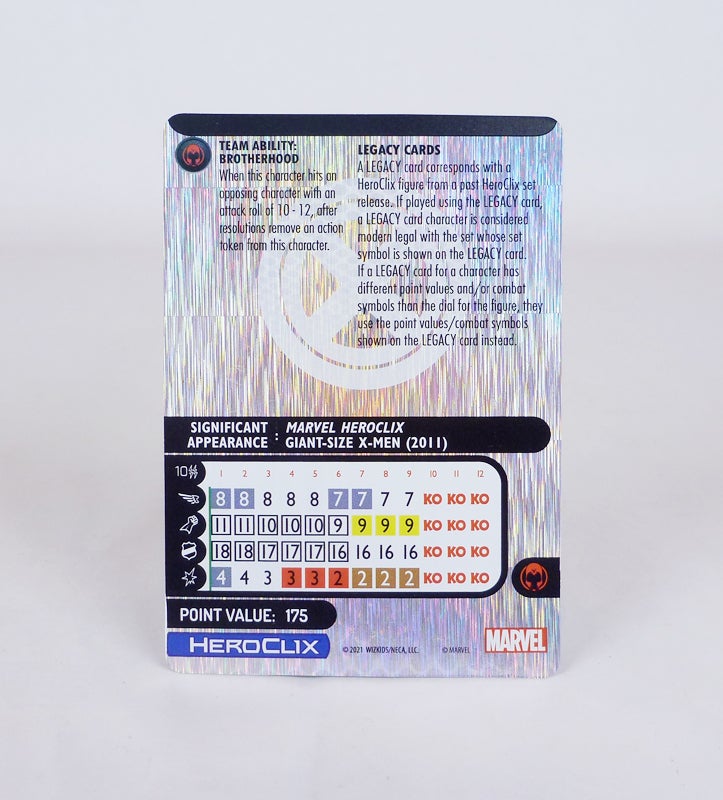 Thanks for checking out our comprehensive look at the new Marvel HeroClix X-Men: Rise and Fall expansion with a brick of boosters ($14.99 each), Dice & Token Pack, Fast Forces, Play At Home Kit, and Legacy Card! As of this posting WizKids is anticipating a Rise and Fall pre-release on June 30th, though there's a chance that could move into July, with the full product release a couple weeks later. World distribution and shipping is in flux right now, so everyone needs to be patient; our figures are on their way!
As an X-Men fan who really liked the previous set I wasn't sure how much I would be into another expansion so soon, but I'm really digging the character selection and more specifically the choices in costumes and looks of the figures here. There are tons of fan-favorites from classic and recent eras, perfect for filling out your mutant teams or playing entirely new ones. If you're a Marvel zombie, love the X-Men, or have a thing for the cool aliens of the Shi'ar and their Imperial Guard, this is absolutely a set you're going to want to dive into. Plus, you might even pull the ultimate, the Deadpool ultra chase popping out of a pink cake! As always, we hope you've enjoyed this advance sneak peek; have fun and good luck with your pulls.
Visit HeroClix.com for even more info as well as downloads of rules and maps, and stay tuned to Figures.com as we continue our reviews of new HeroClix! If you don't have access to a local comic book or game store at this time you can also order your HeroClix directly from the WizKids website.
Review and photos by Scott Rubin.
Review samples courtesy of WizKids Games.
BOOSTER
DICE/ TOKEN
FAS FORCES
LEGACY
PLAY AT HOME
---