-Review and Photos By Andy Jones
Do you enjoy indulging in DreamWorks' How to Train Your Dragon universe? Playmobil has put out some wonderful sets in the past in conjunction with the film releases. This collection of sets delves back into the island of Berk and provides playsets from the sheep-flinging dragon races. These dragons are all lovingly recreated from their onscreen counterparts. There's no mistaking who each dragon represents, but they still retain the Playmobil aesthetic and level of quality. All of the pointy spikes and claws are cast in soft rubber, but they're seamlessly integrated into the sculpt. The colors are fantastic, and they do feature plenty of articulation to get some fun poses. I love how the personality of each dragon comes through, and they're a ton of fun to grab onto and fly around the room.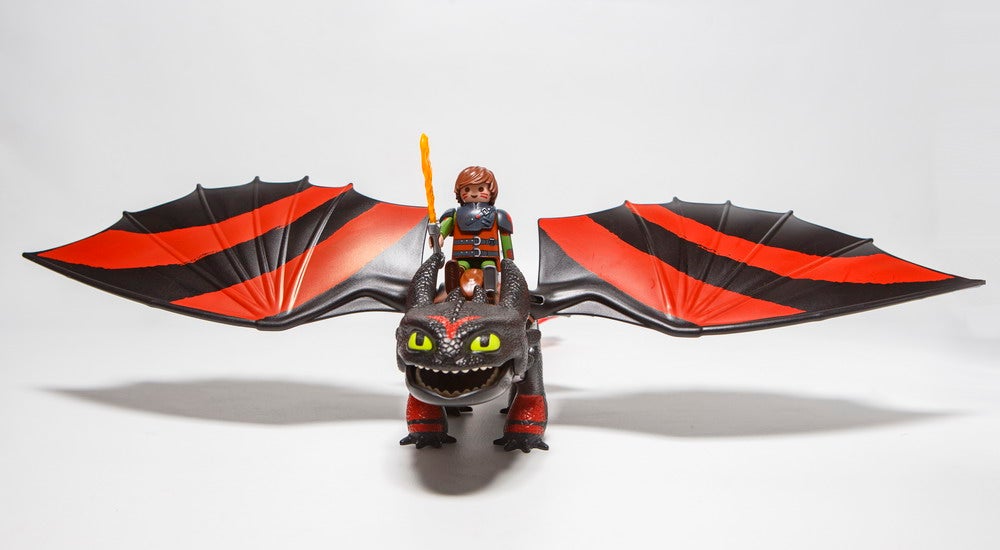 The heroes of the Dragon universe, Hiccup and Toothless are a must-have. Toothless can fire blue fireball darts out of his mouth, and his spikes light up with the press of a button. Hiccup comes with his fire sword and peg leg. There was a Hiccup and Toothless set that was released in conjunction with the third movie, but these feature a new paint-job with sweet red racing stripes and armor outfit for Hiccup.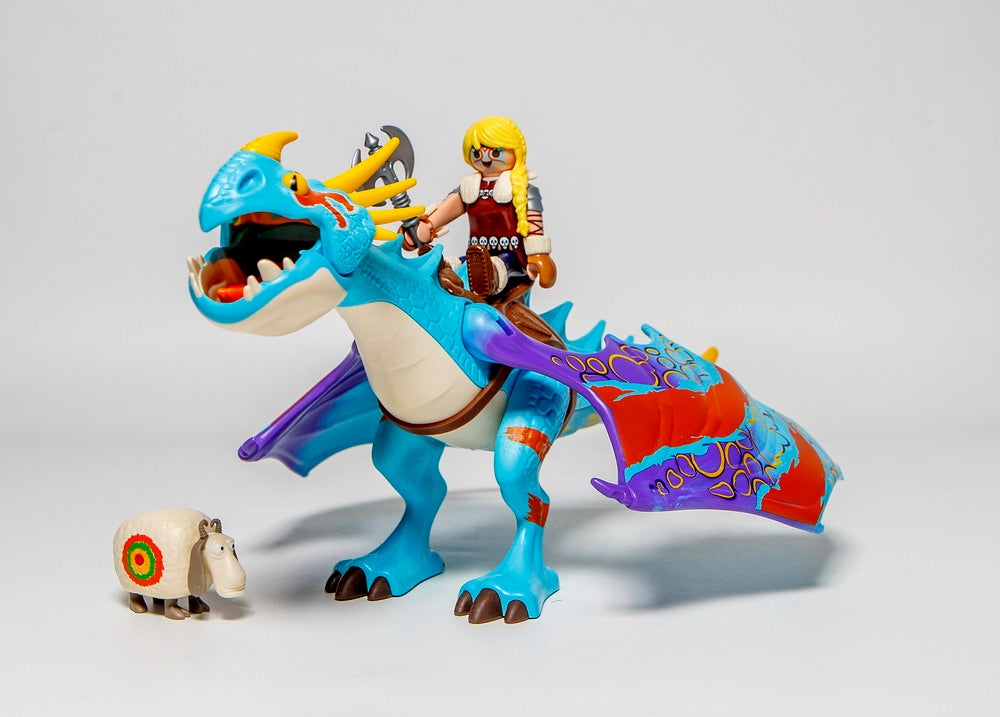 Stormfly is translated beautifully into the physical toy. I love the colors and facial expressions you can get with the moving head and jaw. The wings on all of the dragons is fantastically articulated so you can get wings up for landing or out-stretched for flying around the room. The horns on Stormfly's head are a soft rubber so you don't have to worry about hurting little fingers. I was confused at first about how to get Astrid to sit in her saddle, but she clips on just fine. This set comes with one white target sheep. I like how each dragon has a different style of saddle. This one attaches with rubber straps that go around the wings, but other ones clip on.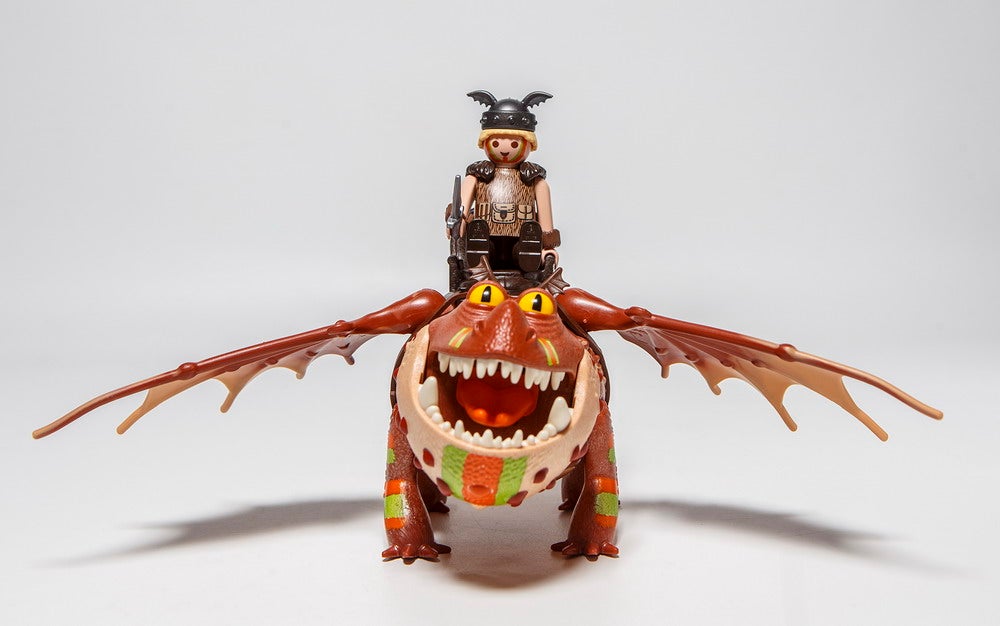 This one is my favorite dragon. You can rotate his head clockwise or counterclockwise, like how a curious puppy sees something new. His jaw opens and closes and I love Fishlegs helmet. Though his tail is short and stubby, you can still get a good handle on it and fly it around the room. But I love the expressions you can get on this one.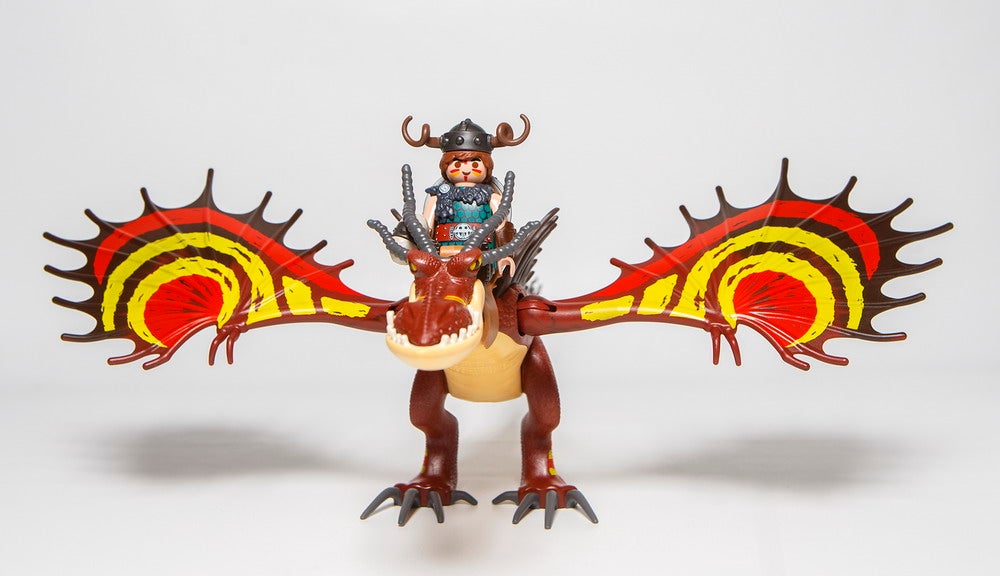 This one looks imposing, but it still has the personality from the movie. I love the chompy mouth and the long undulating tail. All his spikes and claws are rubbery soft, and I love the detail of the back of the saddle being a removable shield for Snotlout. Overall, this set has a good mix of "scary" dragon and a lot of play value. As far as handling licensed properties Playmobil has expertly applied their design sensibilities and play features to the art and excitement from the Dragons franchise.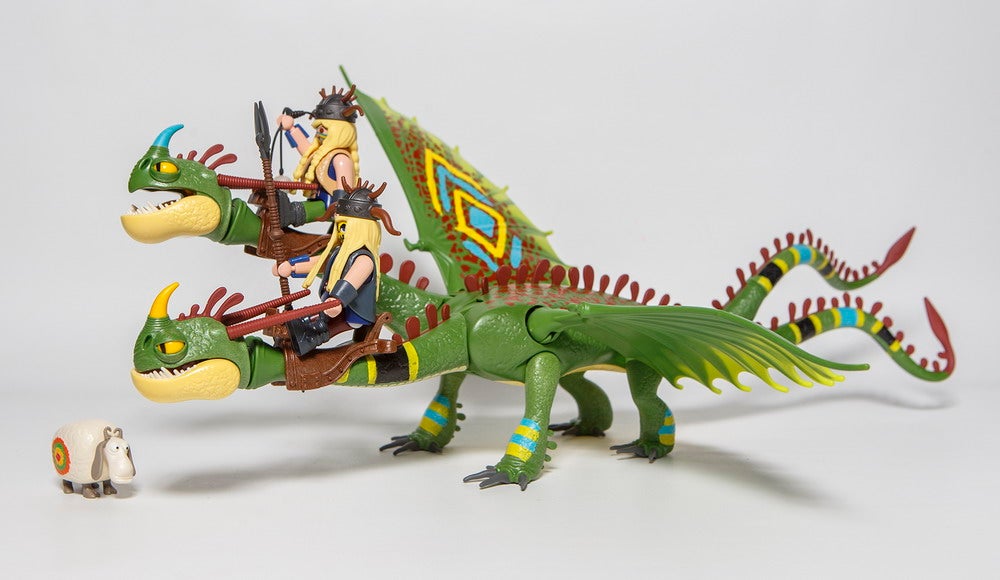 70730 – Ruffnut and Tuffnut with Barf and Belch
These are incredible. I love the helmets, the poseability of the long necks, and the dynamic sculpt of the tail. They could have been straight and static, but there's a great flow and animated livelihood to the sculpt. The jaws open and close, and holy cow I love the skull face paint job on Tuffnut. It's probably my favorite deco on a Playmobil head – ever.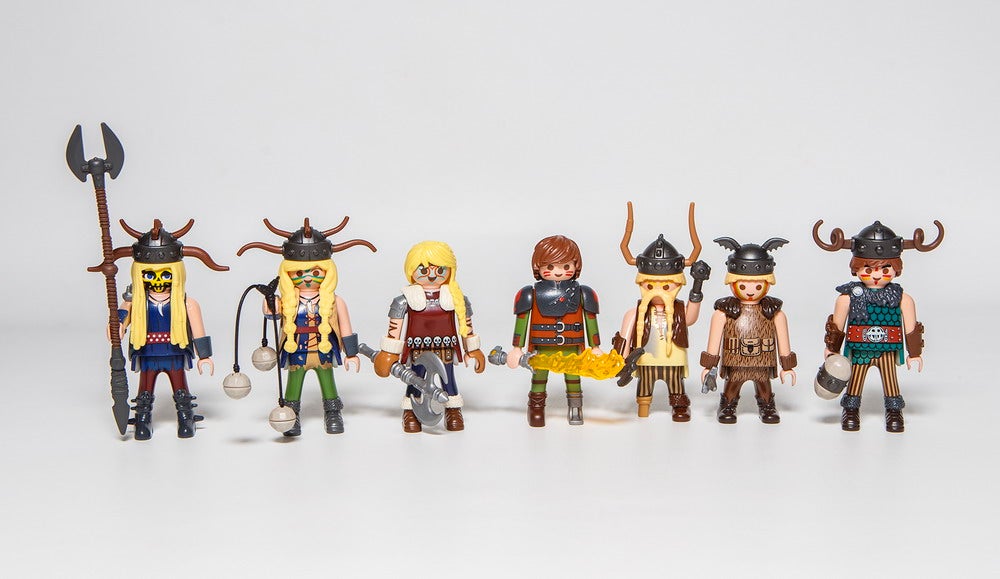 Each of the figures really grabs an attribute from their counterpart with a bit of personality. I like how Playmobil used different existing body parts (like the stubby legs) but also created new ones like Hiccup's prosthetic to Gobber's interchangeable hands.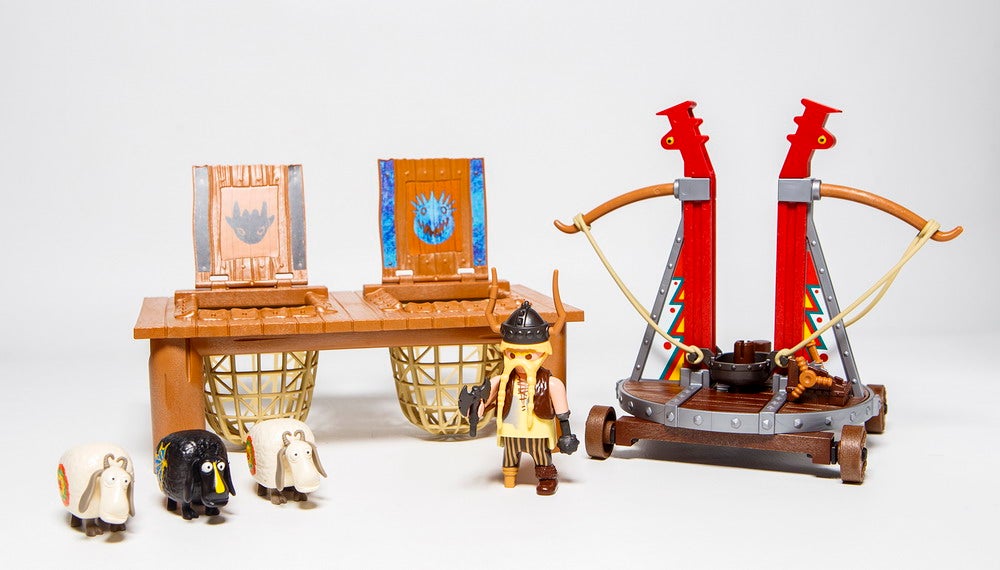 9461 – Gobber the Belch with Sheep Sling
I had a lot of fun with this playset. It looks great and you can really launch the sheep up in the air. I like the gears and handles on the launchpad and it's pretty easy to plug in one of the sheep. You get one with each of the other dragon sets and 3 with this one. Gobber's interchangeable weapon hands are pretty fun too. So check it out! You get one of the sheep and line up the "port" on their belly with the post on the launcher. Push it down until you hear a click and then push the button.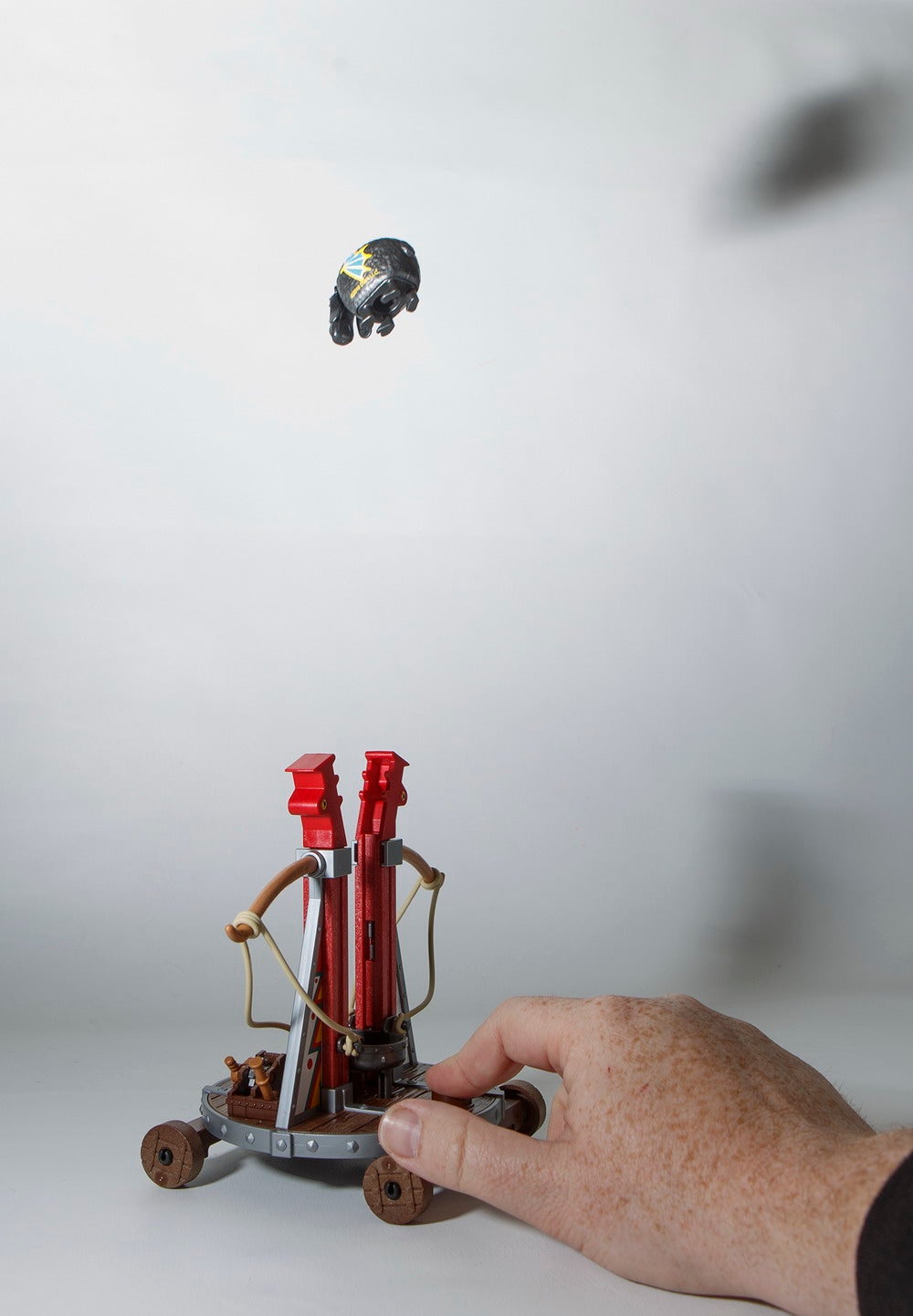 Yaaaah! It launches right up there. I didn't have any luck getting the launched sheep to land directly into a net, but I'm working on it. I've had a lot of fun taking these photos and setting up the dragons. They do look sharp on display but they're so much fun, you gotta try flying them around the room at least a few times first.
Review and Photos By Andy Jones
Review Samples Courtesy of Playmobil
We are committed to finding, researching, and recommending the best action figures and collectibles. We earn commissions from purchases you make using the retail links in our product reviews. Learn more about how this works.
---