Deadpool's back, back again. He has all-new looks, tell a friend. That's right, Monogram is bringing back Marvel's wise-crackin' "Merc with a Mouth" with a fun new assortment of 3D Figural Bag Clips!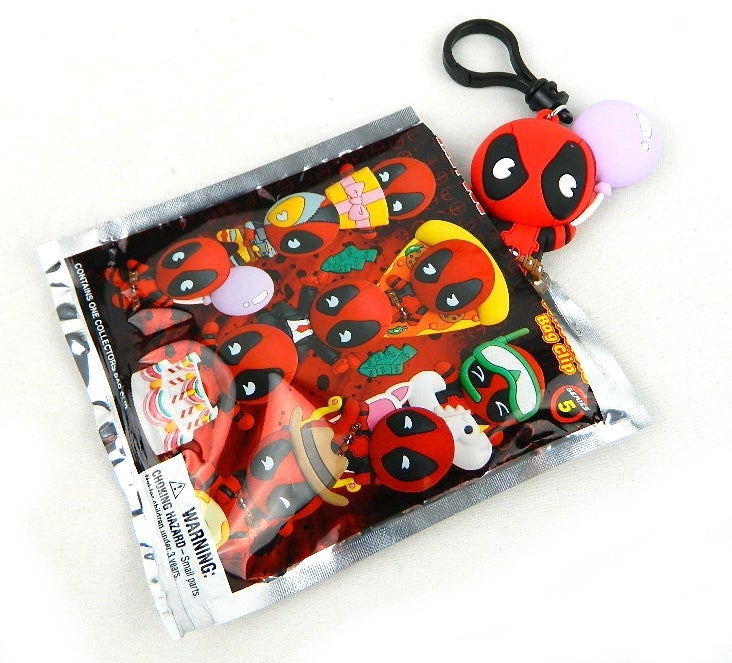 Deadpool Series 5 (!), scheduled to release next month in March, shows just how popular this odd superhero is with fans. And if you thought everything that could be done with Deadpool had already been done before, then YOU. WOULD. BE. WRONG. No crazy costume, edible food item, or insane mash-up is enough for Deadpool!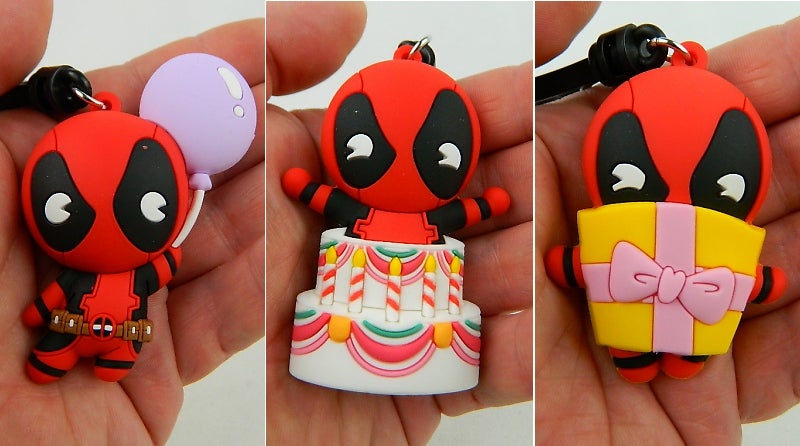 As if celebrating his return, the first three core Deadpool character clips present him in a variety of festive poses: Deadpool with Balloon, Deadpool in a Cake, and Deadpool as a Present! Deadpool Cake takes the cake for me with this zany trio.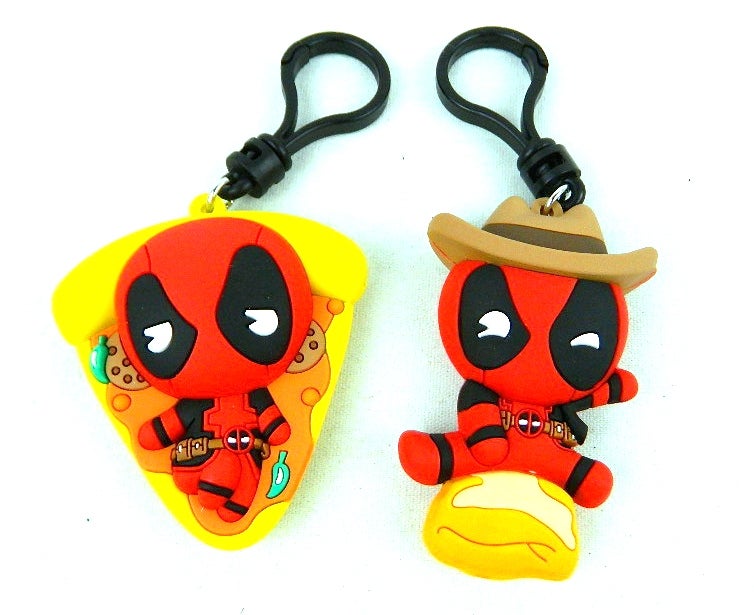 For food, Deadpool comes in strong with two of my favorite munchies: Deadpool on a Pizza and Deadpool on a Chimichanga. Dang, now I'm gonna have to GrubHub some Italian AND Mexican! Pizza Deadpool is the winner here; the large wedge-shaped bag clip screaming something special (and the jalapenos are a nice touch, yum).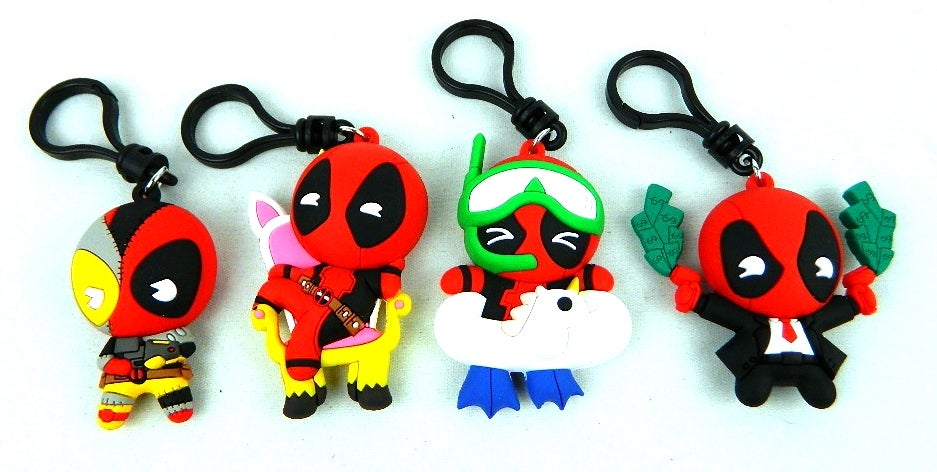 For wild new looks, Monogram presents Deadpool for Laser Tag, Deadpool on a Throne, Deadpool with a Floatie, and Deadpool with Money. The Laser Tag Deadpool confuses me, floatie 'Pool is fun (pool, get it, har!), but my money is on Deadpool on a throne and waving cash around. Show me the money!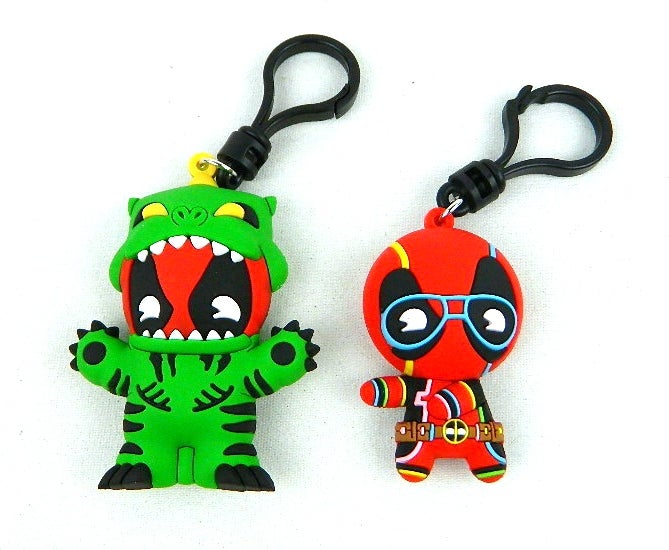 Lastly, we come to the two ultra-rare chase figures – only TWO per case of 24 figures rare! My fave is Deadpool in a Dinosaur Costume (Deadzilla?). The other chase figure is Glowstick Dance Party Deadpool, the Merc with a Mouth raving out after a hard day's work fighting crime (or not). While colorful, I feel it lacks that immediately recognizable impact of other Deadpool figures in this assortment. I was thinking "Tron Deadpool" or "Disco Deadpool". I honestly had to ask Monogram WHAT this chase was being called.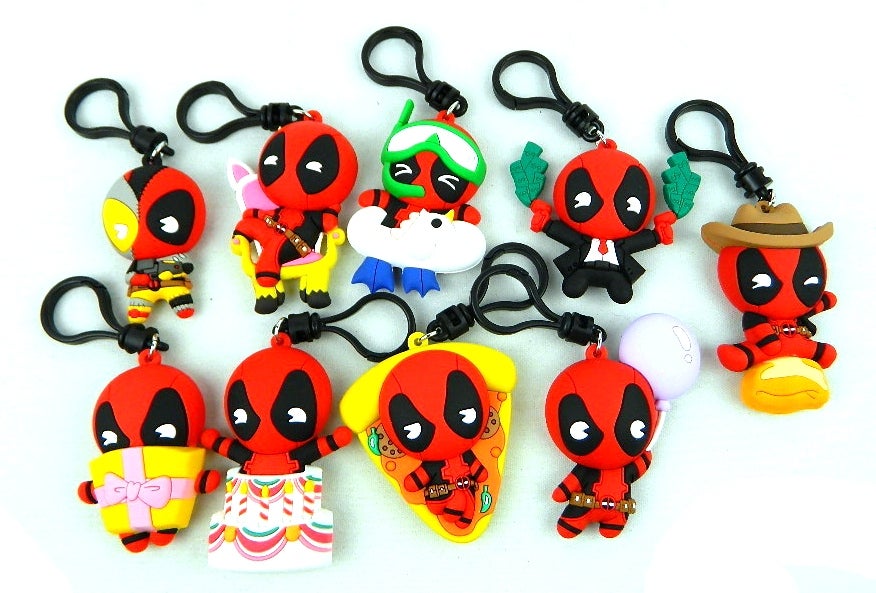 Overall this is another excellent Deadpool series for fans of the quirky Marvel hero. Bold, colorful, and creative, Deadpool Series 5 delivers the smiles and promises to be a fun assortment to trade with your friends. Best of the bunch? Deadpool on a Pizza for its chunky, colorful coolness. Birthday Cake Deadpool is a close second.
As mentioned, Deadpool fans can grab these blind bagged figures next month at specialty stores like Hot Topic!
Scroll on for more photos!
-Review and Photos by Jeff Saylor
-Review Samples Courtesy of Monogram
---