New year, new Snap Ships! That's right, we're back with another review to see what's the latest in the line of intergalactic constructible spaceship toys. This time, PlayMonster has a whole new product line for Snap Ships: Drones! These are small packs containing one "drone" vehicle (just one build instruction each), which can combine with others in the series to create larger designs. I'm really excited to see this evolution for a few reasons, all of which I'll outline below. Let's dive right in and check out the six new drones, three for each faction (Forge and Komplex) with the K-Crawler Suppression Mech, K-Dive Ambush Drone, K-Swarm Strike Drone, BP-48 Biped Mech, RL-55 Assault Drone, and DA-63 Turbine Drone!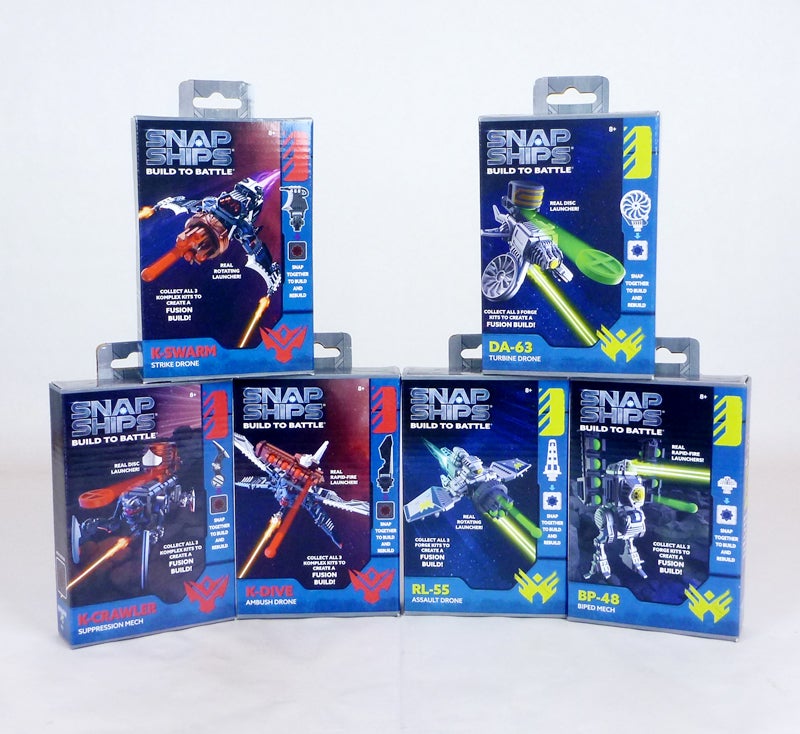 First, we'll check out the packaging for the drones, which obviously takes its cues from the established Snap Ships line. These are small rectangular cardboard boxes in the same overall shape with a rack hook at the top and no hard plastic piece that can be used as a base (more on this later). The drone packages have all the great Snap Ships graphics you've come to love with big and bright text, cool action shots of the vehicles, and tons of in-universe data including types/classes, battle roles, load-outs, and more.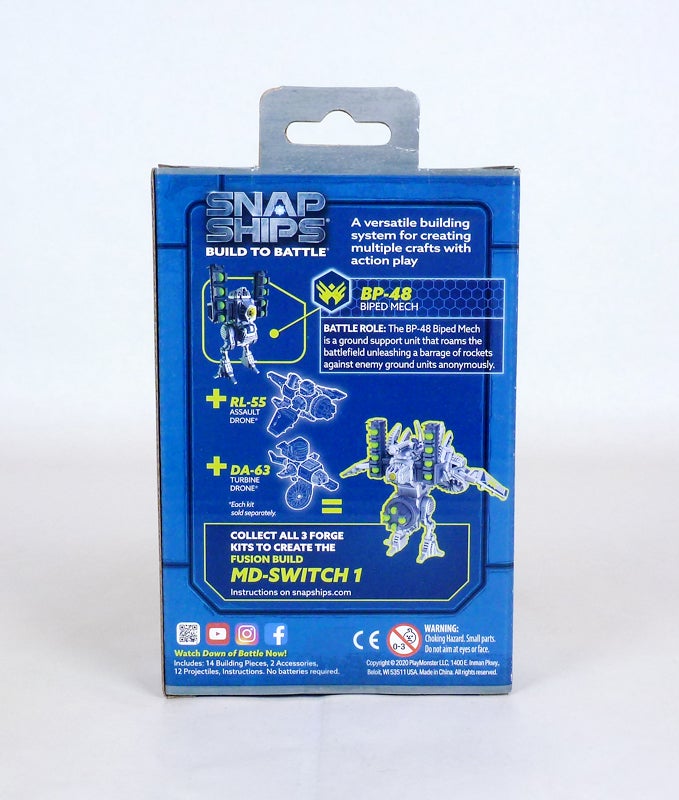 Notably, the back panels also show off how the drones can be combined into a larger Fusion Build, one for each faction. While the larger ships and vehicles are packed in trays with some separated and decorated segments these smaller ones just have a bag of parts, instructions, and an updated poster/checklist.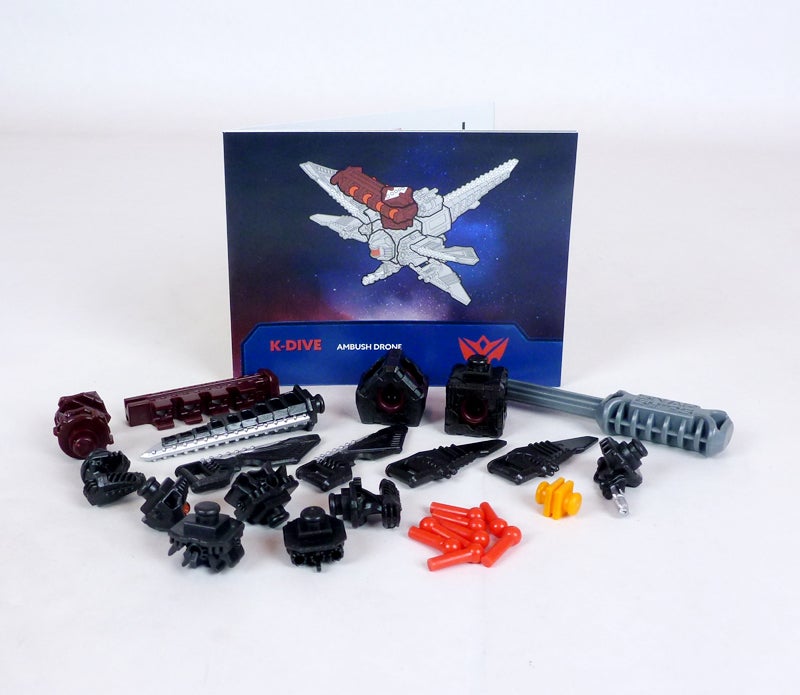 Snap Ships are generally pretty straightforward to build, with the larger ships being more involved. As you'd expect, these drones are pretty easy to construct, and the pictorial instructions are in full color and make the building a snap. Parts fit together well with some flexibility for posing, and if anything's too tight there's an included tool for separating pieces. Each drone has two of the central core pieces, either standard cubes or cubes/pentagons, each with the unique Snap Ships multi-point connectors with their cool offset options. And then there are all of the neat weapons and accessories keyed to the two factions. Lastly, while the drones do not include any of the unique UJU technology pieces, they each have some form of projectile launcher.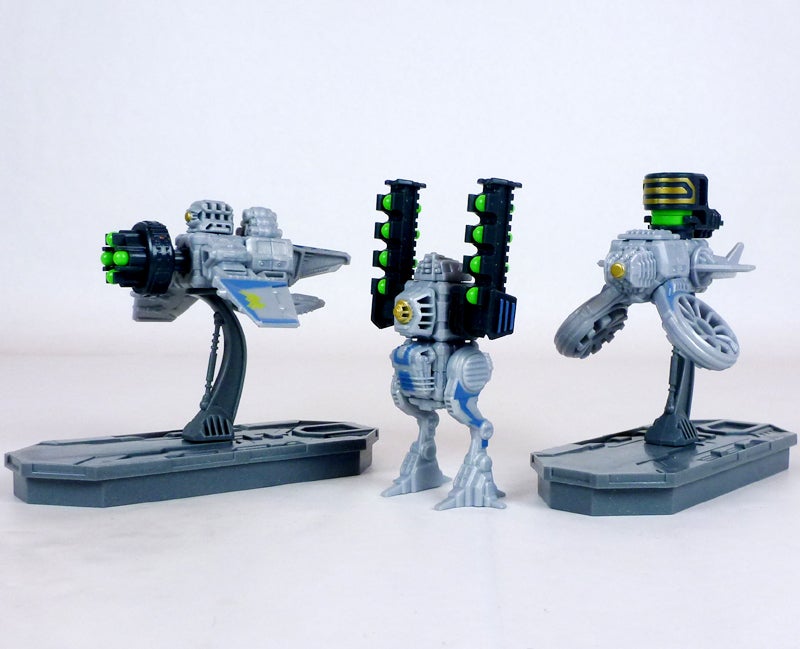 All six drones are immediately recognizable as such, small autonomous vehicles without cockpits or any large degree of internal space. They're reminiscent of some of the parts included in previous Snap Ships kits, notably the Modular Deployment Drones that came with the Trident Gunship. On the "good guy" side are the Forge's RL-55 Assault Drone, BP-48 Biped Mech, and DA-63 Turbine Drone, while the Komplex have the K-Swarm Strike Drone, K-Crawler Suppression Mech, and K-Dive Ambush Drone. Some of the names give you a pretty good sense of the drone shapes if not functions, though they all seem quite focused on destruction. In each trio there's a walking type (bipedal for Forge, quadrupedal for Komplex) and two flyers, in general one resembling an interceptor and the other a gunship. There are also three different projectile launchers with two utilizing little missiles (one fired on a rotary launcher, the other on "rapid-fire" sliding rails) and one with discs. All of these fly pretty well and are tiny, so keep track of where they go!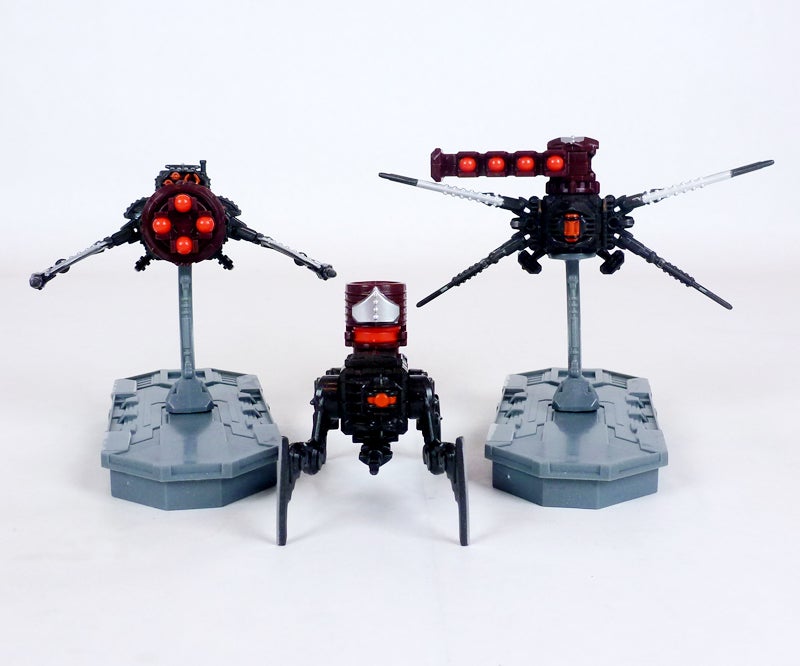 Each drone has a lot of character, thanks to its unique parts and colors based on its faction. They're really fun to zoom or walk around, and they're perfectly scaled to be a small robotic support craft for the main fleet of Snap Ships. You can easily imagine these drones deployed alongside strike fighters, bombers, tanks, etc. for additional firepower and flexibility in space or ground battles. The Biped Mech in particular resembles Destroids from Robotech and I can easily envision it as a walking missile platform mounted on the hull of a capital ship or dropped to the surface of a contested planet. Note: none of the drones come with bases but they are fully compatible with them; for these photos I used bases from my other Snap Ships.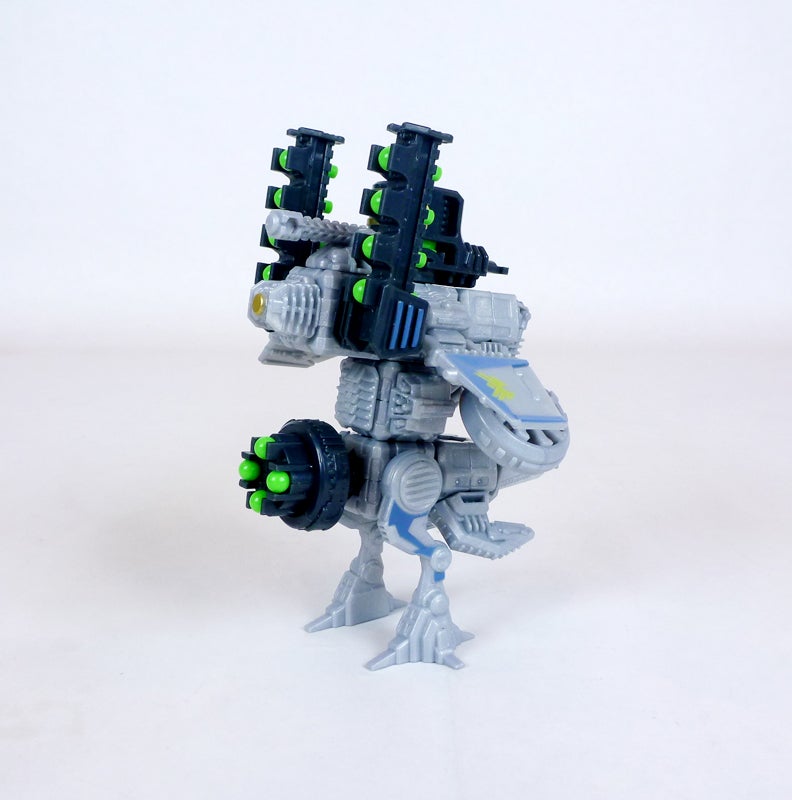 Other than their uses as attack drones individually, these crafts can also combine into larger, heavily armed "Fusion Builds!" Now, with their connection point system all Snap Ships parts can be attached and modified, but these drones specifically have a suggested Fusion form on their boxes. However, there are no instructions for these so you're on your own to try and recreate their official look or just go nuts and make your own (there are downloadable instructions on snapships.com). I tried to build things that were close, though I didn't sweat all the details. I also added bits and pieces here and there including the disc launcher on the "good guy" drone; even though it's somewhat obstructed as built it looks really cool. The Forge drones combine into the MD-Switch 1 (pictured above) while the Komplex versions create the K-Form (below). The former is like a larger, beefier version of the little Biped Mech walker, and the latter a sort of Cylon-like spaceship bristling with blades and sharp surfaces.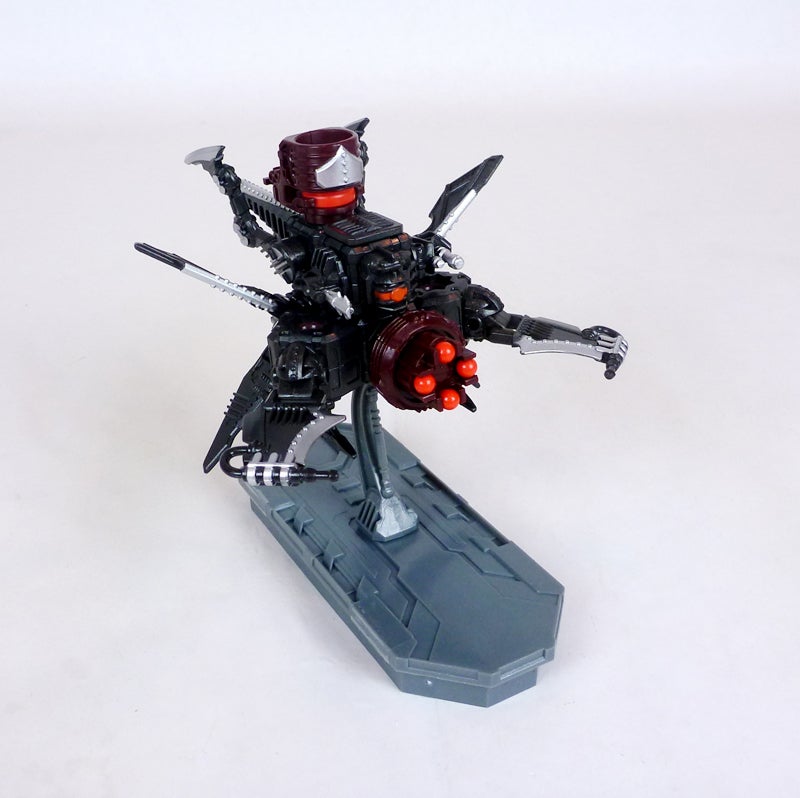 I can't talk about Snap Ships, even these little drones, without reminding you of how cool the app is. The Snap Ships app is part storyline and introduction to the universe, part counterpart to the toys with new designs you can build with your parts, and part Augmented Reality so you can zoom the ships around your house and play games with them!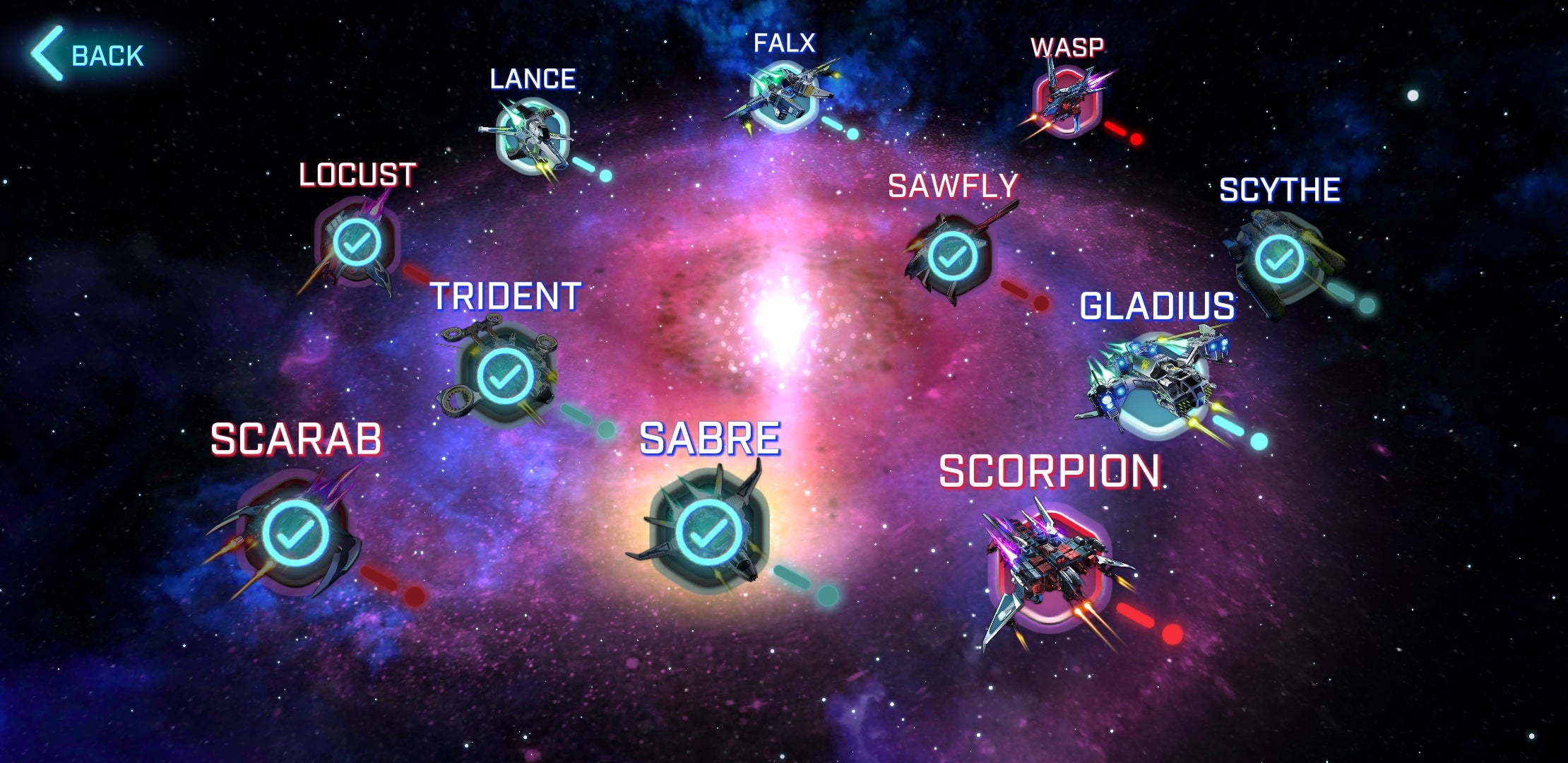 The hangar bay comes stocked with a few ships, with LOTS more you unlock by playing the game. Here you can see products you can purchase as well as models that require multiple kits to create, and the full instructions to build all of them. The Battle Map presents different ships as their own territories; in each of these you'll learn about the vessels and what they can do, then see them in action in full Augmented Reality.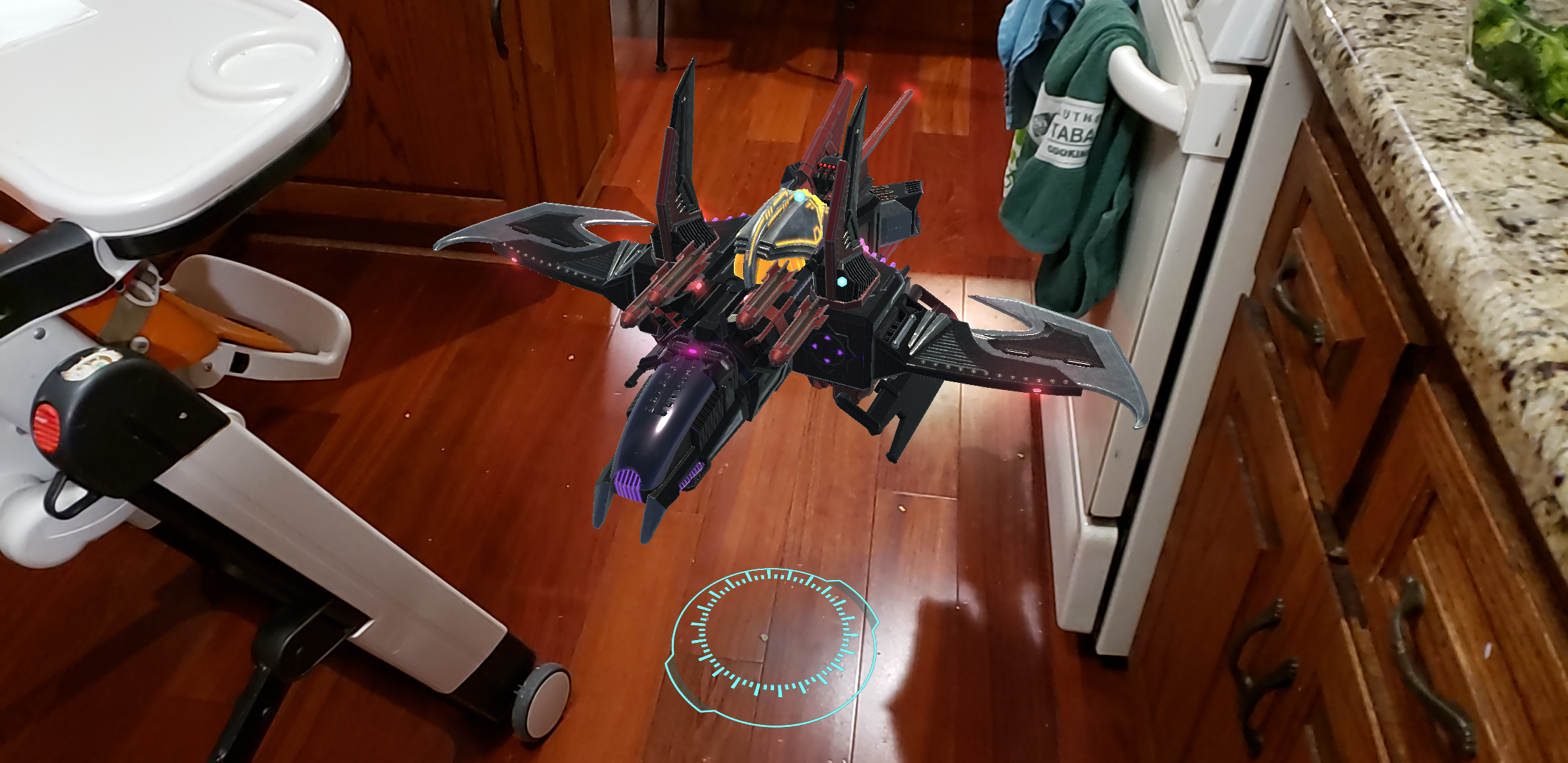 In the AR segments, you bring fully animated Snap Ships into your living room with you and proceed to investigate all of their weapons and equipment and test out those systems. It was super neat the first time I realized I could shoot missiles at a nearby wall and see them explode on contact! Once you've learned about a ship, you'll get to fly it in a (simple) mission, shooting down enemies. There's more, too, like unlockable avatars as you do more in the app, a checklist to update so the app will tell you which unique designs you can make, and links to the Snap Ships animated video series. I really like playing with the AR and ship-building, and it's even more fun doing it with my two young kids (6 and 2). Best of all, PlayMonster updates the app with new ships, and links to the Youtube series of Snap Ships short videos!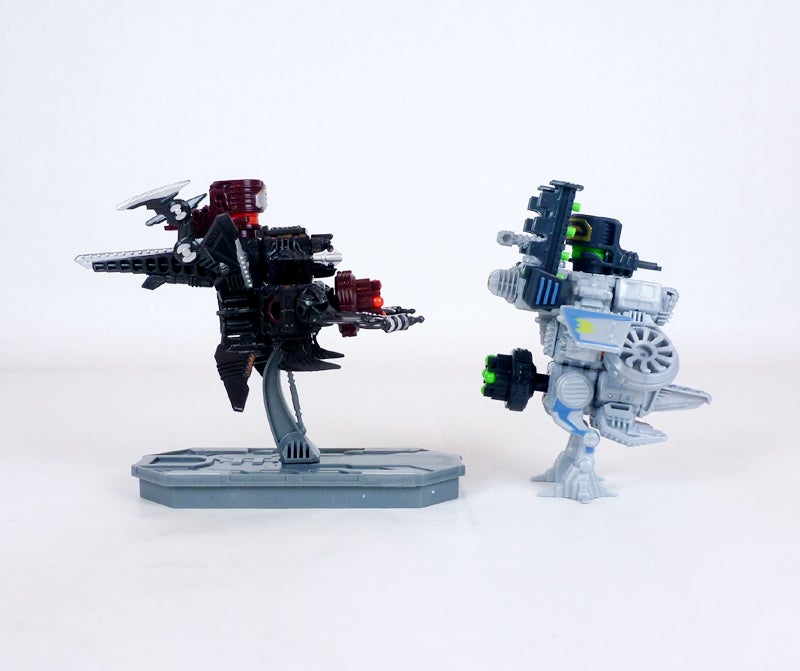 So why do I love these Snap Ships drones so much? Let me break it down for you. They're fun little vehicles (walkers, aircraft, spaceships) with good looks and cool parts, they're great for kids with easy builds and projectile launchers, and they are very affordable at only $6 a piece. The drones are great introductory products for kids getting into Snap Ships, and they're also awesome for adding some new parts to your existing collection (all parts across the entire range are interchangeable). These are going to be great as gifts, and I can see easily some builders/collectors picking up several copies of the drones to do all of that! All six Snap Ships drones are available now.
For more information, download the Snap Ships app or head over to play around on the PlayMonster Snap Ships website!
Review and photos by Scott Rubin.
Review samples courtesy of PlayMonster.
Check out my past Snap Ship reviews!
---