I have many fond memories growing up as a kid in the Eighties, including all the cool cartoons (Inspector Gadget, Voltron), imaginative toys (Dungeons & Dragons, Power Lords) and big blockbuster movies (Predator, Tron). However, if I had to define the decade with one name, and one name only, it would be Richard Simmons. Whether you were Sweatin' to the Oldies! or not, the eccentric fitness instructor was a household name – as well known as Arnold Schwarzenegger, Ronald Reagan, and Huey Lewis and the News. With his flamboyant attire and energetic personality, Richard Simmons was the living embodiment of the Eighties: fun, colorful and wild.

When NECA announced that they were producing an 8-inch clothed figure of Richard Simmons, I giggled like a little schoolgirl. This was a totally UNEXPECTED release from the company, though given their love of the Eighties, I guess I shouldn't be that surprised. Regardless, owning Richard Simmons The Action Figure – as it is affectionately called on the eye-catching red window box – was high on my list of must-haves. That day has now arrived.

Unlike most action figures I have in my collection, I didn't want a Richard Simmons figure because I thought it looked "cool". Au contraire, I wanted Richard Simmons because of Eighties nostalgia. That, and this action figure is so damn hilarious. Posing Richard Simmons The Action Figure is an absolute joy. While you only receive the one set of "jazz hands," the two included portraits ensure that every pose you strike him in is amusing and over the top.

My favorite head sculpt is with the popular aerobics guru with his mouth wide open. His expression here is absolutely priceless; his excitement contagious. I can't help but crack a smile everytime I look at it. Whichever head you prefer, swapping them out is easy peasy via a large neck ball joint.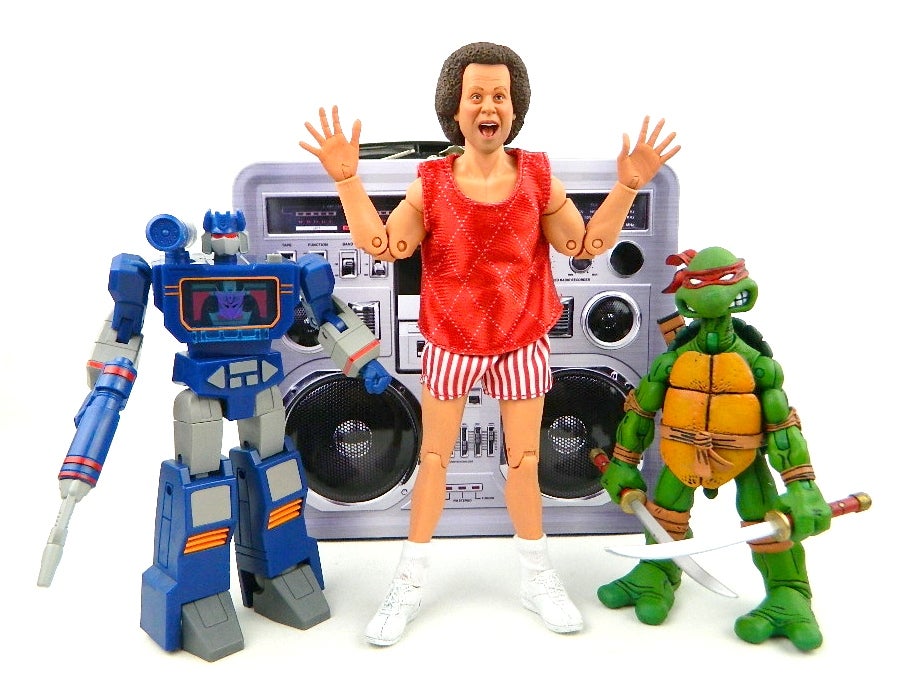 It's unfortunate that everyone didn't have the joy of growing up in the Eighties. As such, NECA's Richard Simmons action figure isn't for everyone. For me the figure is a blast from the past – a fun totem representing better, more innocent times. Now all I need is my Jane Fonda action figure…
Fellow children of the Eighties can grab their very own Richard Simmons action figure at many fine retailers, including EntertainmentEarth.com where it is priced at $32.99.
Scroll on for more photos!
Review and and Photos by Jeff Saylor
Review Sample courtesy of NECA
We are committed to finding, researching, and recommending the best action figures and collectibles. We earn commissions from purchases you make using the retail links in our product reviews. Learn more about how this works.
---