-Review and photos by Scott Rubin.
Welcome back, HeroClix players and collectors! Yes, we're here with yet another advance look at an upcoming HeroClix release, and this is a really cool one. WizKids is hot on the Marvel train after the September release of the Absolute Carnage set, now turning to the mutants. Just last year Jonathan Hickman shook up that part of the 616 with the House of X/Powers of X crossover, setting the stage for all X-books to come. HeroClix fans didn't have that long to wait as we're now getting a full mutant-themed expansion based largely on that event and its ramifications with the Marvel HeroClix X-Men House of X set! Obviously, you're going to find lots of X-Men characters and their enemies here, while themes include the Quiet Council, the Five, Excalibur, X-Force, Marauders, Horsemen of Apocalypse, Otherworld, Starjammers, and more. We pulled figures representing lots of those, so make sure to continue reading. And as always WizKids took the opportunity to give us characters who have never before appeared in HeroClix alongside new versions of old favorites. The House of X set has no fewer than 75 figures, so let's see which ones we found in our brick of 10 boosters.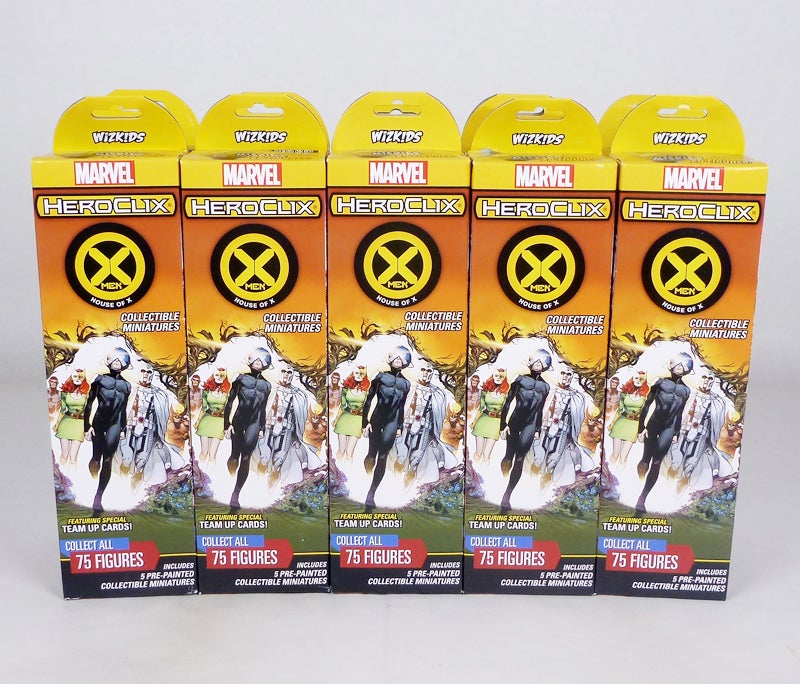 As always, boosters contain five figures of various rarities – always at least one common and at least a rare, potentially more. The House of X boosters are decorated with the iconic artwork from the cover of House of X #1 by Pepe Larraz featuring some of the most powerful and popular mutants on the planet: Professor X, Magneto, Cyclops, Jean Grey, and Wolverine. The sides of the box eschew the usual 3D renders of figures in exchange for more cool artwork, this time of some of the recent teams you'll find in figure form with X-Men, X-Force, Excalibur, and Marauders. Finally, the back panel reveals one of the expansion's unique chase figures in Old Man Wolverine and offers information about the WizKids Info Network.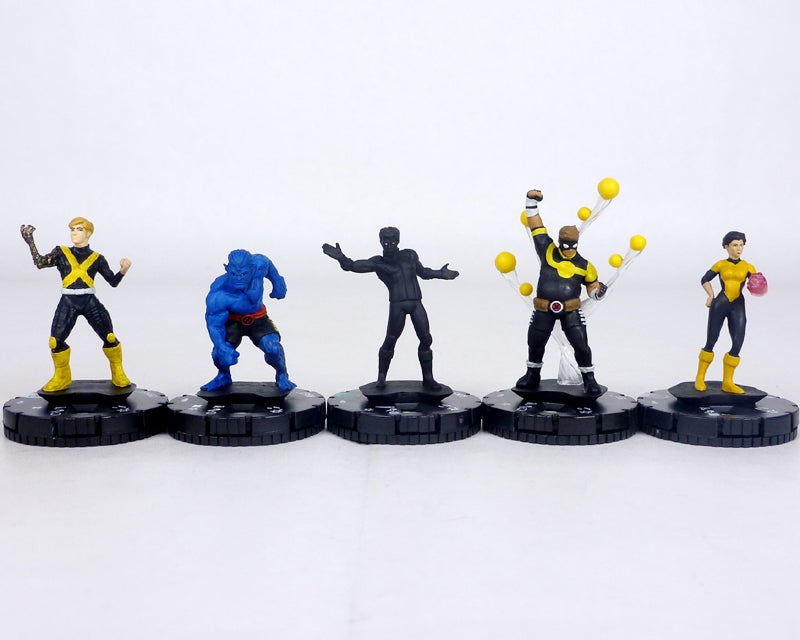 Booster 1
006 Cypher
009 Beast
025 Sunspot
032 Egg
040 Armor
What's behind door, I mean Booster #1? It's an interesting start with a solid lineup of X-people! We've got commons of the Krakoan interface Cypher and Beast who's been on just about every team by now, plus sometime A.I.M. owner and Avenger in the uncommon Sunspot, uncommon Egg (formerly Gold Balls and an important part of the Krakoan ecosystem), and the rare Armor.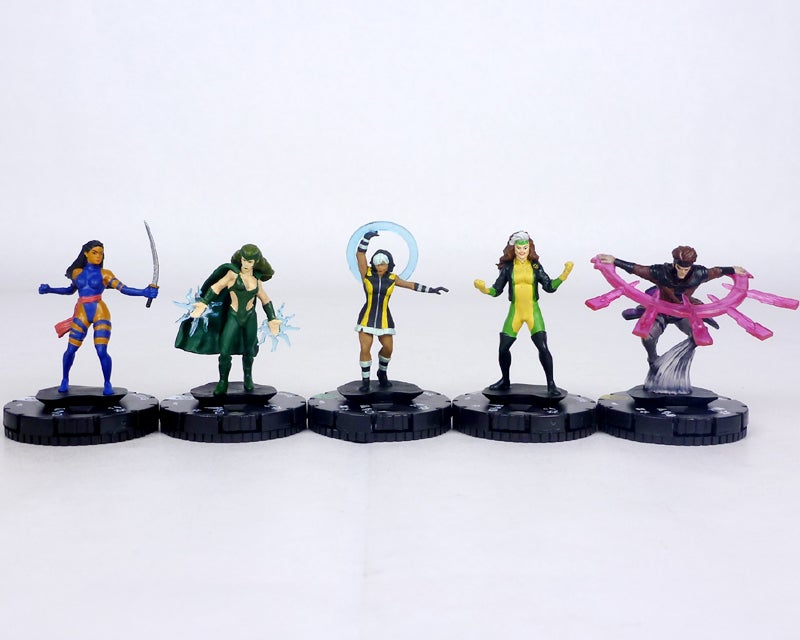 Booster 2
005 Psylocke
011 Polaris
033 Tempus
036 Rogue
052 Gambit
Booster #2 has more of the same, though you'll need to check the cards to get the whole story. In the common slots are Psylocke and the magnetic Polaris, but according to the character card the former is Kwannon and NOT Betsy Braddock. The sole uncommon here is Tempus, showing up alongside the longtime will they/won't they duo of Rogue and Gambit. She's a rare and he's our first super rare!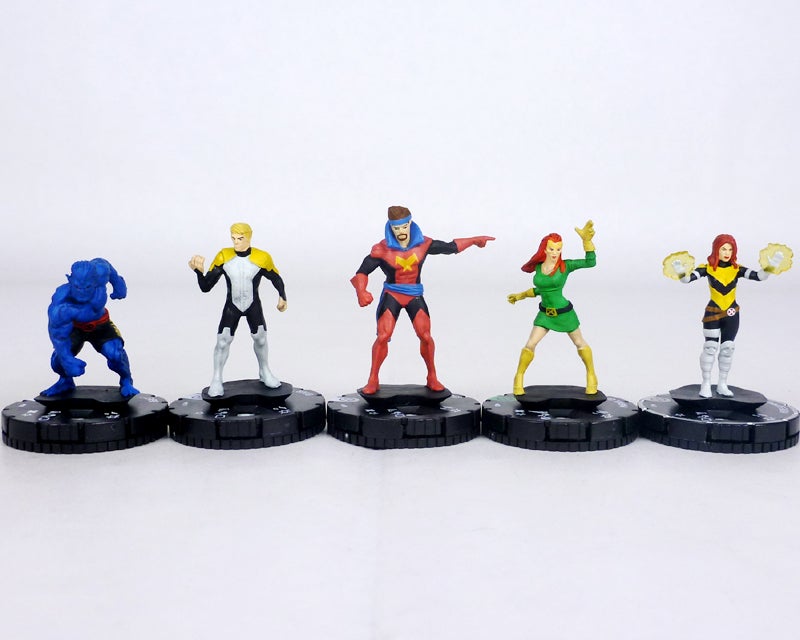 Booster 3
009 Beast
017 Elixir
018 Corsair
020 Marvel Girl
047 Hope Summers
Beast is back with our first dupe, joined in the commons by god-tier healer Elixir and space pirate Corsair. His sometime daughter-in-law Marvel Girl is uncommon, while the mutant messiah and power duplicater Hope Summers is this booster's rare.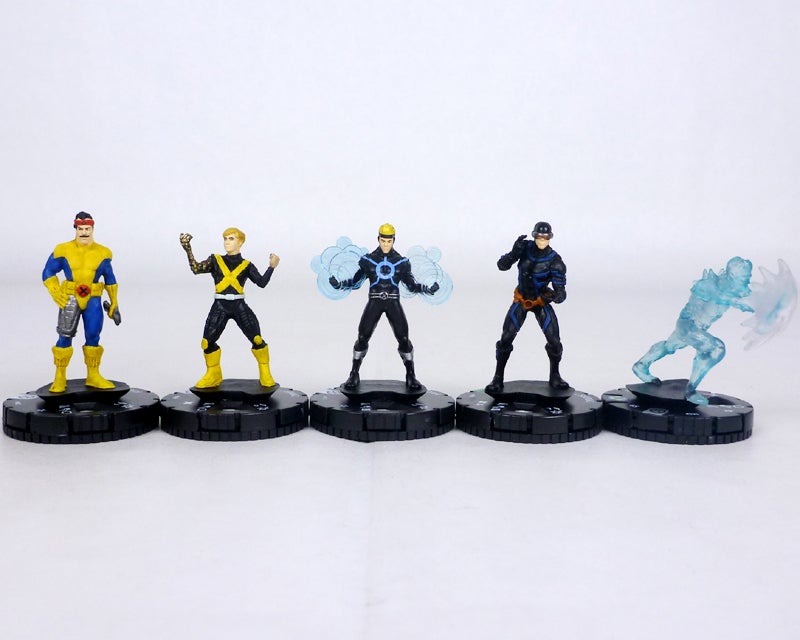 Booster 4
002 Forge
006 Cypher
010 Havok
019 Cyclops
035 Iceman
Booster #4 introduces us to the triumphant return of the gadgeteer Forge to HeroClix! He's a common along with another Cypher and Havok, who stands next to his brother Cyclops as the uncommon. Their teammate in the rare slot is Iceman.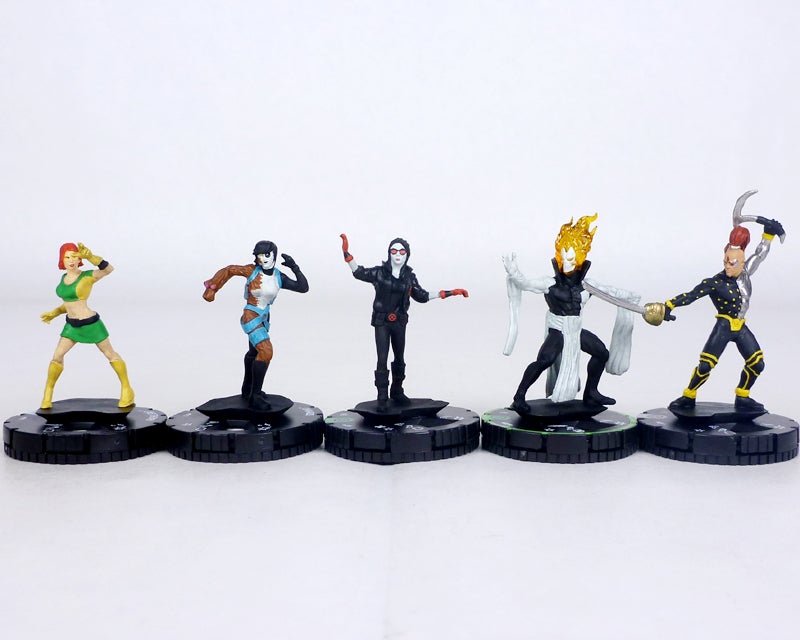 Booster 5
001 Rachel Grey
012 Domino
026 Tessa
029b Xorn
050 Raza
Did you guess we'd find more X-Men in booster #5? Then you'd be right! In the commons are Rachel Grey and Domino (newly equipped with Krakoan… wood), with uncommon Tessa and rare Starjammer Raza. They're joined by blue-"haired" Xorn, this set's uncommon Prime figure.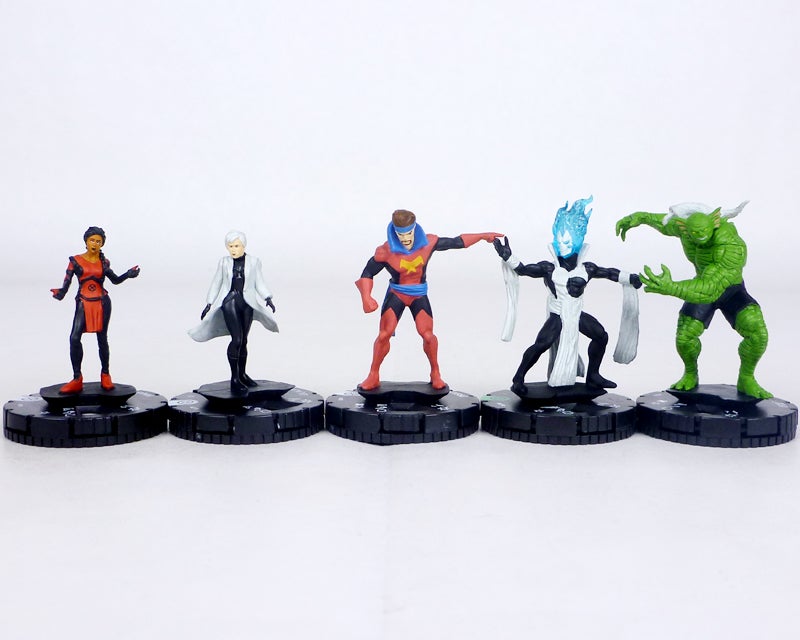 Booster 6
014 Trinary
016 Dr. Alia Gregor
018 Corsair
029a Xorn
049 Ch'od
Halfway through our brick and we uncover the first true bad guy of the bunch with common Dr. Alia Gregor who seeks to upgrade Sentinels. The other commons are technopath Trinary and another Corsair, while the uncommon slot brings the regular Xorn. And our rare is another Starjammer with the mighty Ch'od!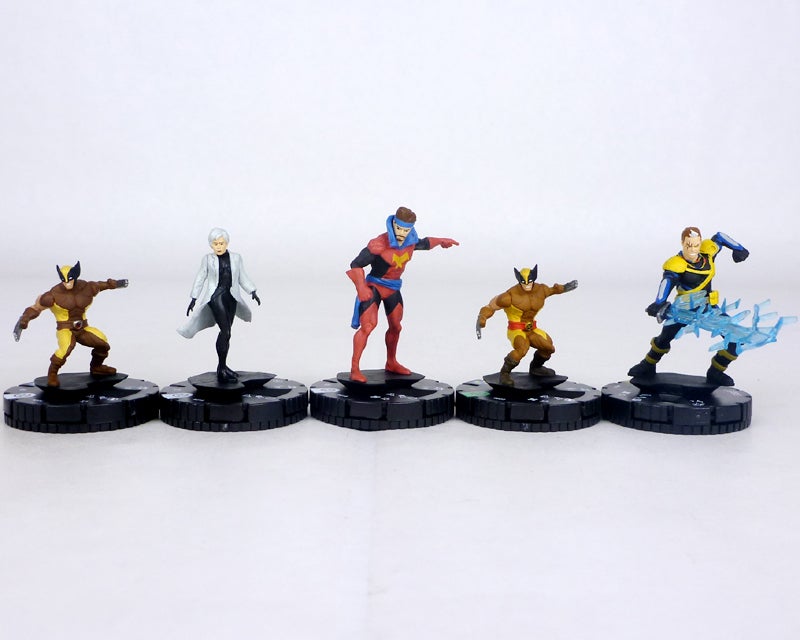 Booster 7
004 Wolverine
016 Dr. Alia Gregor
018 Corsair
022 Wolverine
058 Cable
Are you seeing double? Not exactly. Yes, this booster includes two Wolverine figures, and at first glance they're pretty similar. Look closely and you'll find their paint jobs are actually different, they occupy two different rarity levels (common and uncommon), and they have different point costs and dials. They're joined by more dupes of commons Dr. Gregor and Corsair, and then our second super rare with the young, time-displaced Cable!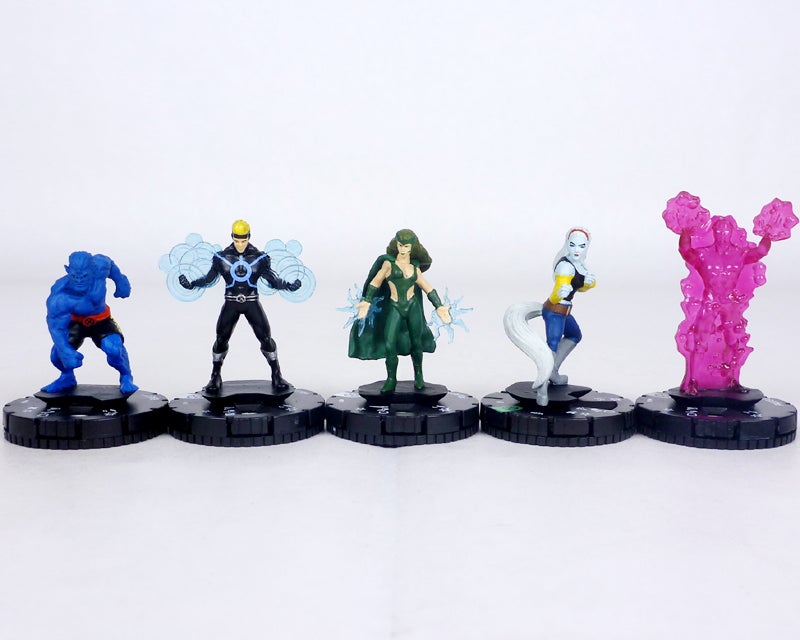 Booster 8
009 Beast
010 Havok
011 Polaris
034 Hepzibah
048 Proteus
A dupe of Beast starts Booster #8, joined in the commons by the famous duo of Havok and Polaris. Starjammer Hepzibah is the uncommon, and the rare is another important Krakoa mutant Proteus with a sweet new model.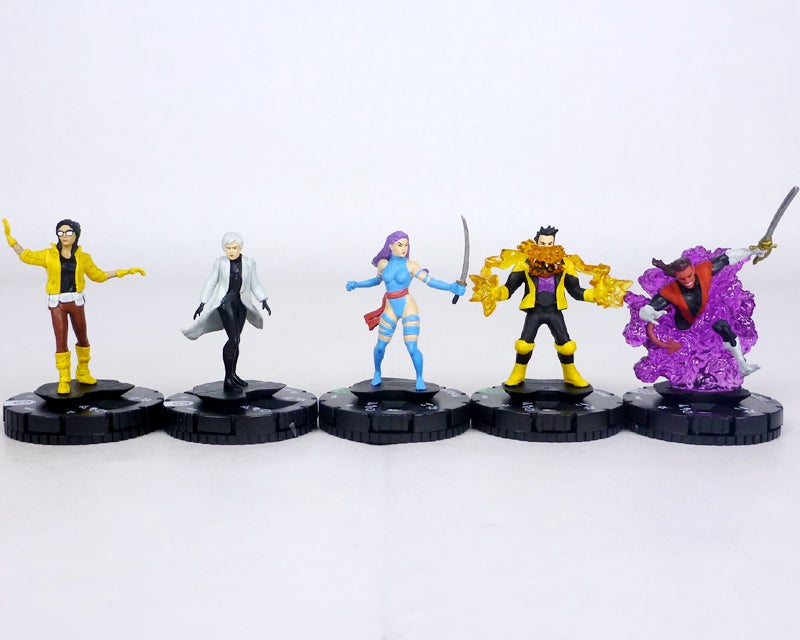 Booster 9
008 Sage
016 Dr. Alia Gregor
023 Psylocke
028 Chamber
043 Cardinal
In the second-to-last booster we see some familiar phases in new forms, with Sage (a repaint of the sculpt used on Tessa) and uncommon Betsy Braddock Psylocke. Dr. Gregor is another dupe, but we've got new figures in the uncommon Chamber and the rare Cardinal, a cool character from the future in Powers of X.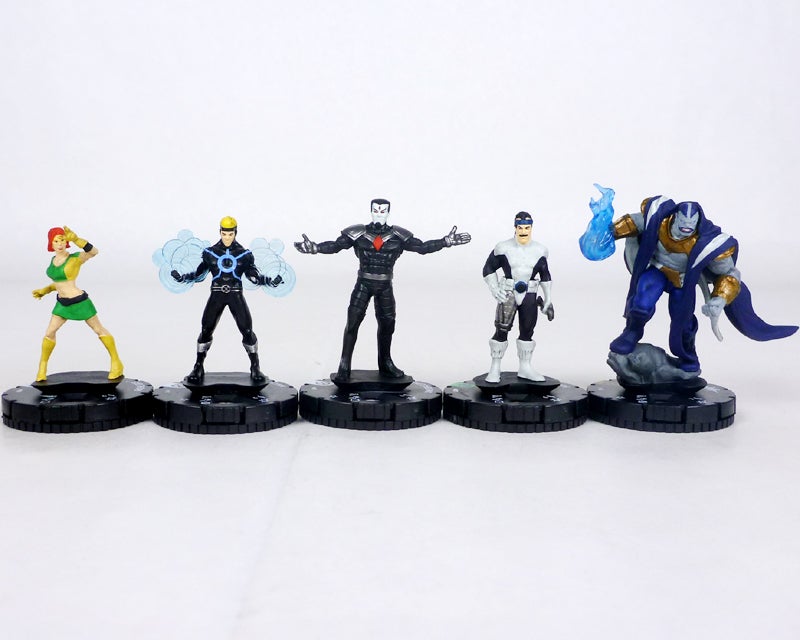 Booster 10
001 Rachel Grey
010 Havok
015 Sinister Clone
021 Forge
068 ▪▪ịẬị▪▪•
Last but not least is booster #10 and it's something quite special. There are a couple dupes with common Rachel Grey and Havok, but a new one is the suave but threatening Sinister Clone. A Forge repaint shows up as an uncommon, and low and behold we have a chase! Now, I can't exactly write out this character's actual name because I don't have the characters (let alone attempt to speak it since I'm not a mutant connected to Krakoa), so I'll go with: •▪▪ịẬị▪▪•.
Here's the full breakdown of the figures in this brick (your results will vary of course):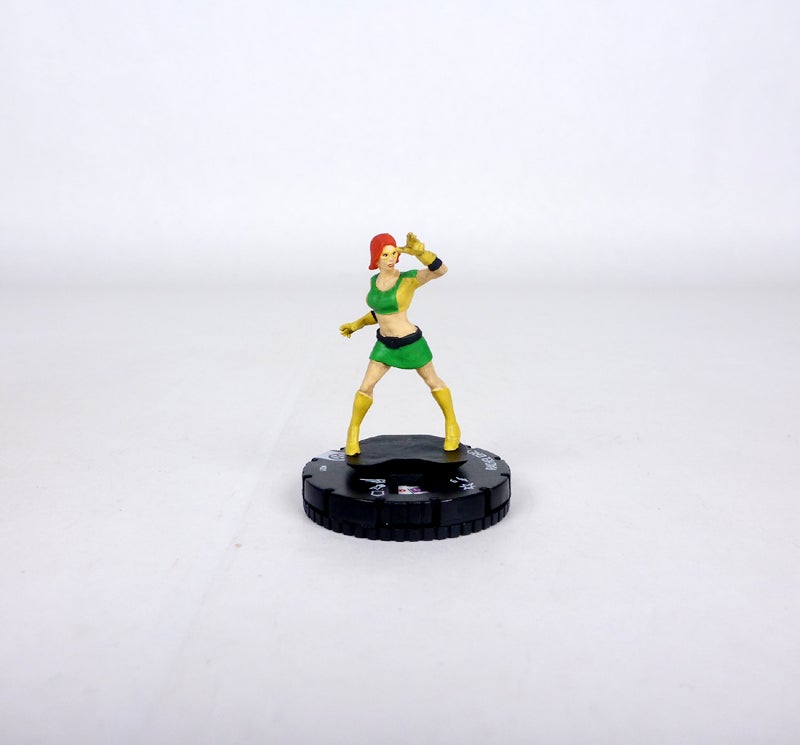 COMMONS (including duplicates)
001 Rachel Grey
002 Forge
004 Wolverine
005 Psylocke
006 Cypher
008 Sage
009 Beast
010 Havok (and 010.02)
011 Polaris
012 Domino
014 Trinary
015 Sinister Clone
016 Dr. Alia Gregor
017 Elixir
018 Corsair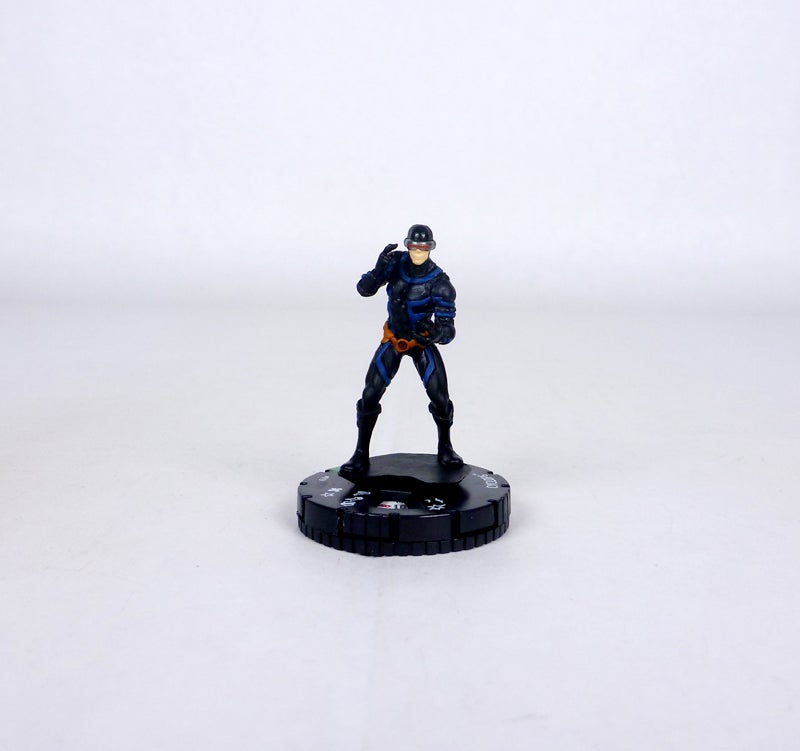 UNCOMMONS
019 Cyclops
020 Marvel Girl
021 Forge
022 Wolverine
023 Psylocke
025 Sunspot
026 Tessa
028 Chamber
029a Xorn
029b Xorn
032 Egg
033 Tempus
034 Hepzibah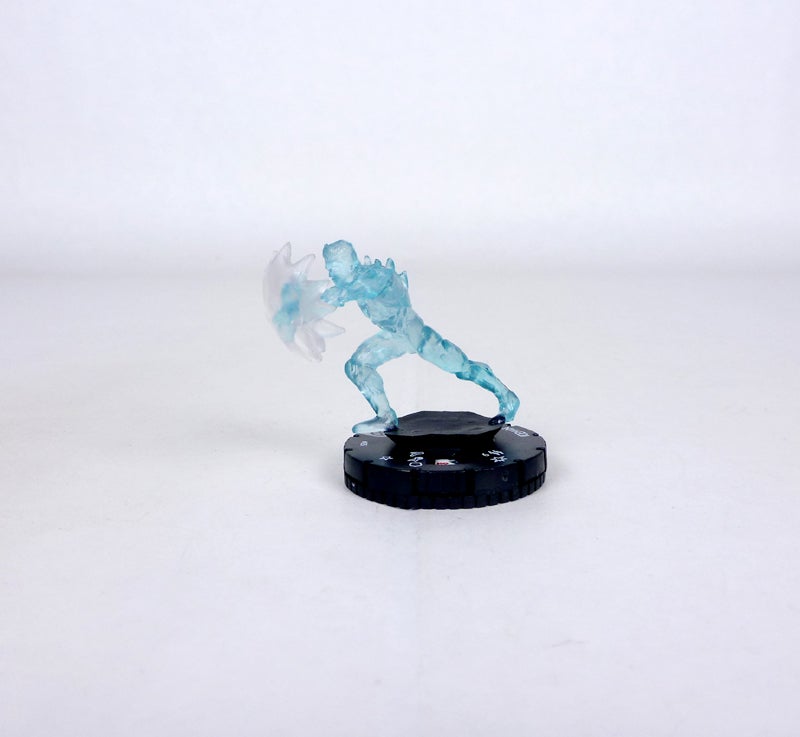 RARES
035 Iceman
036 Rogue
040 Armor
043 Cardinal
047 Hope Summers (and 047.01)
048 Proteus
049 Ch'od
050 Raza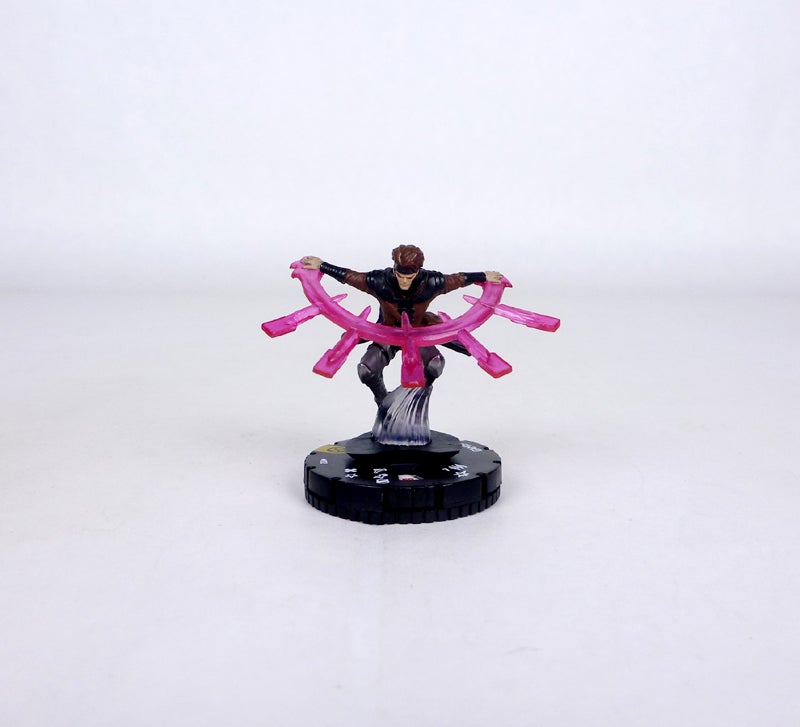 SUPER RARES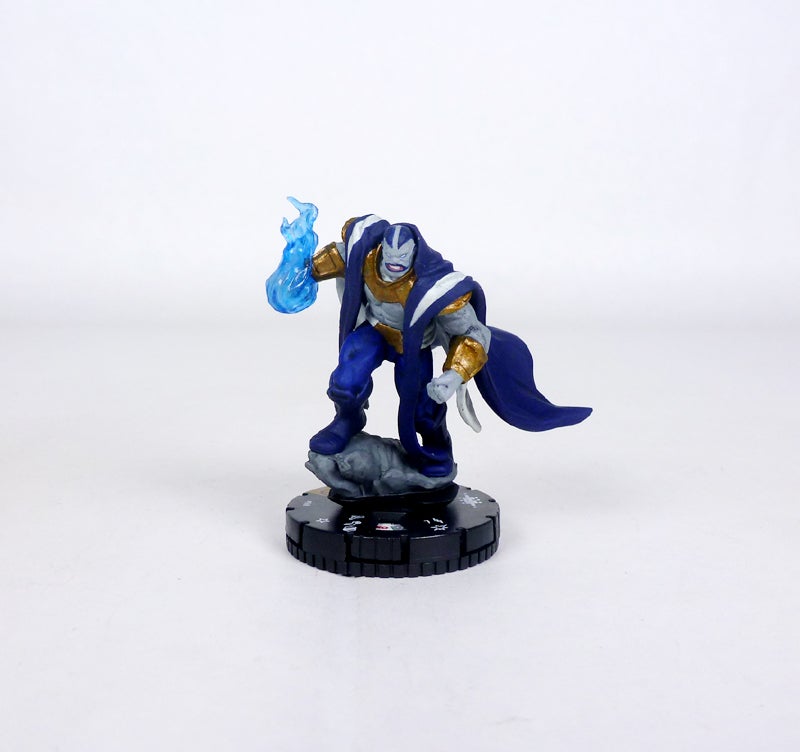 CHASE
That's a pretty cool lineup of characters, but how does collation look in this brick? Frankly, it's not super great. We only pulled 15 of the possible 19 commons (including the Prime), meaning of the standard figures we missed out on three (and getting a bunch of duplicates in the process). Among the uncommons we pulled 13 of the possible 17 including the Prime, which isn't bad and did not include any duplicates. In the rares we got 8 out of the set's 17, only two super rares out of 17, and one of the six chases. Getting a chase is great, while two SRs and a Prime is decent. As always, your results will vary.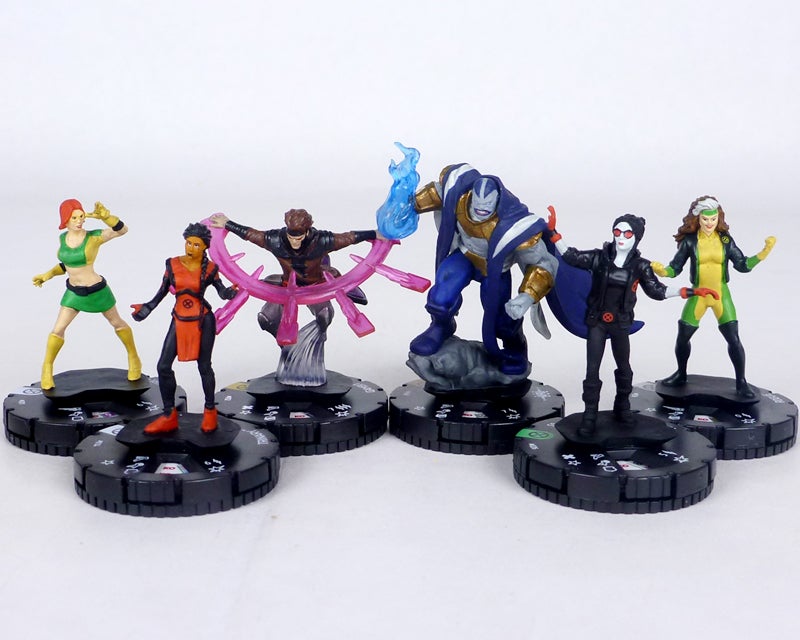 Excaliber
Since the overwhelming majority of this set's figures (at least the ones I pulled) are mutants and X-Men in particular, looking at them in terms of themes at the different rarity levels is a bit more nuanced. For starters, among the commons only three figures do NOT have the X-Men keyword! Those include the bad guys Sinister Clone for your Marauders army and Dr. Alia Gregor, along with the longtime leader of the spacefaring Starjammers and Summers patriarch Corsair. Kwannon Psylocke here has a few "bad guy" keywords and doesn't really fit into any of this set's other sub-themes. All of the rest have X-Men and at least one other keyword, many with several. Excalibur recruits Rachel Grey and Trinary, Cypher sits on the Quiet Council, and Elixir is one of the Five. Wolverine, Sage, Beast, and Domino are X-Force members, while Forge, Havok, and Polaris are X-Factor (the latter two Starjammers as well).
X-Force
The uncommons follow most of the same trends, though here we didn't pull any outright villains! In fact, every single character here has at least one X-team keyword, even the Starjammer Hepzibah with X-Force. That team also adds to its roster Forge and Psylocke, with some other crossovers with multi-keyword friends. Cyclops is the sole X-Factor hero among our pulls here, though he's Starjammers as well. The powered-up Sunspot and plasma extruding Chamber are both formerly of the New Mutants and Tessa is a part of Excalibur, while Wolverine and the "a" version of Xorn join the ranks of the ominous Horsemen. Over on Krakoa, Egg (once Goldballs) and Tempus are two more members of the Five while Marvel Girl sits on the all-important Quiet Council.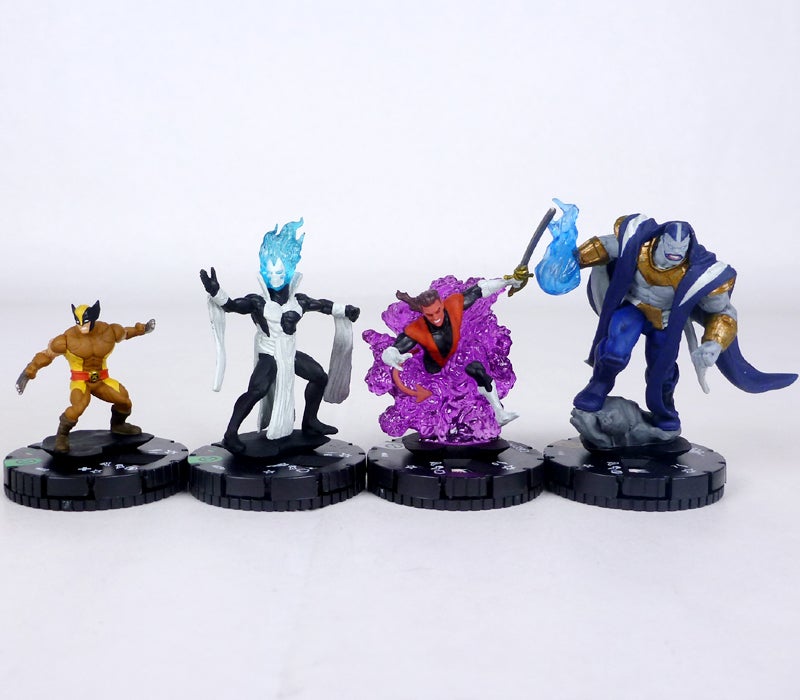 Horsemen
Not much in the way of surprises as far as themes and teams go in the rares of this set, though there are some great characters here representing specific incarnations from the comics. The classic team of Starjammers is round out by the reptilian Ch'od and swashbuckling cyborg Raza, modern Excalibur gets Rogue, Armor was a New Mutant, and an ice-blasting Iceman joins the (heroic) Marauders. Meanwhile, Hope Summers and the reality-altering Proteus complete our Five. Lastly, what may at first glance have looked like Nightcrawler is actually a Cardinal, a Horseman mutant chimera from the future and one of the race's last hopes.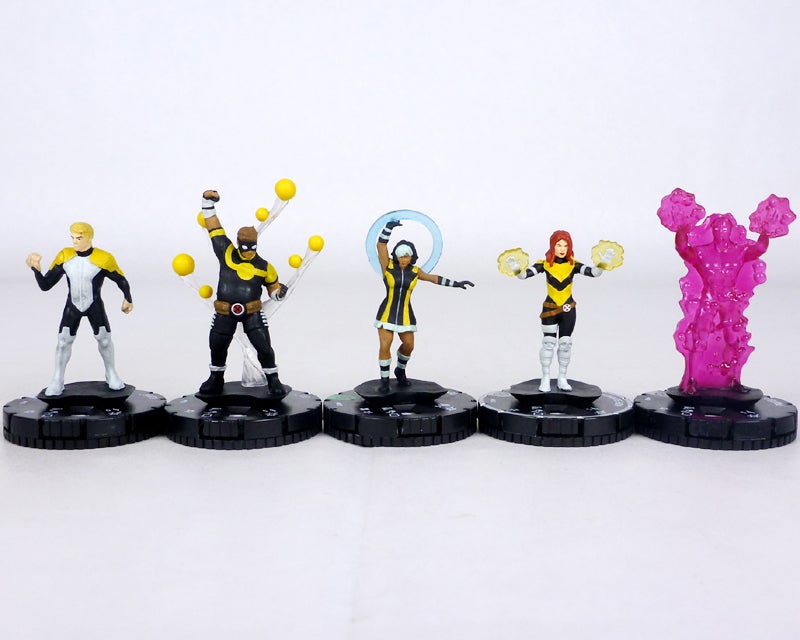 The Five
A set's super rares is where WizKids puts special characters, noteworthy villains, alternate versions of people, the final pieces to complete teams, and more. We pulled two, and they're both pretty rad. First up is Gambit, a quite popular character who is often relegated to a high rarity in HeroClix sets making him even more sought after. This one has a particularly cool sculpt and what appears to be a great dial. The other SR is Cable, but maybe not the one you're expecting. This is the young, time-displaced version of Nathan Summers, having come back to his past to put things right. Last but certainly not least is this brick's chase, •▪▪ịẬị▪▪•! He's the modern incarnation of Apocalypse turned good (maybe), and a member of both Krakoa's ruling Quiet Council and the Excalibur team.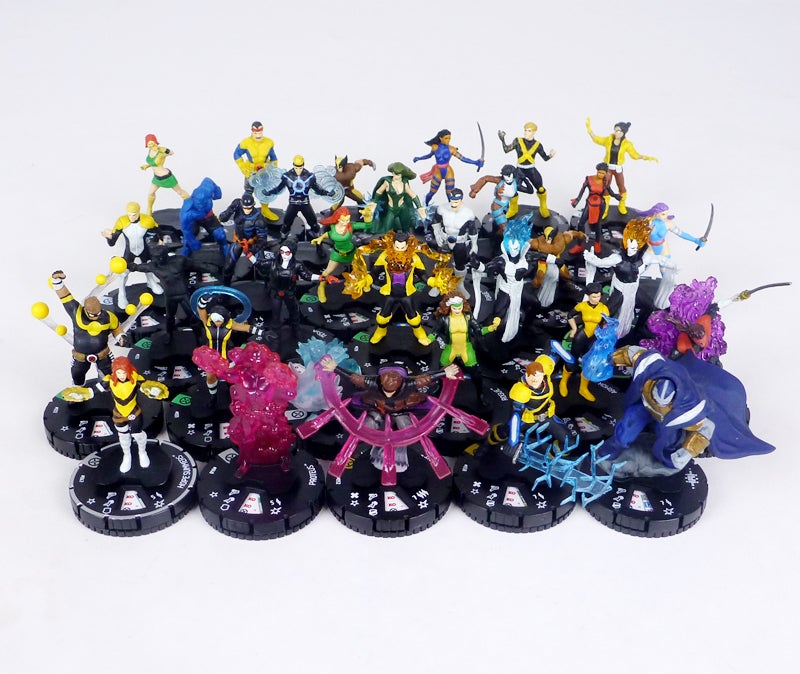 X-Men
Before I talk about the cool sculpts and paint jobs in the House of X set, I should mention that this is the debut of some pretty neat new initiatives from WizKids. Back in September the company previewed some figures, comparing them to those from past expansions and discussing upcoming and ongoing improvements with regard to "expressive poses, increased scale, improved definition and attention to detail, and refined technique." I'm really liking the new figures overall (more on specific figures below), but check out all the photos and judge for yourself!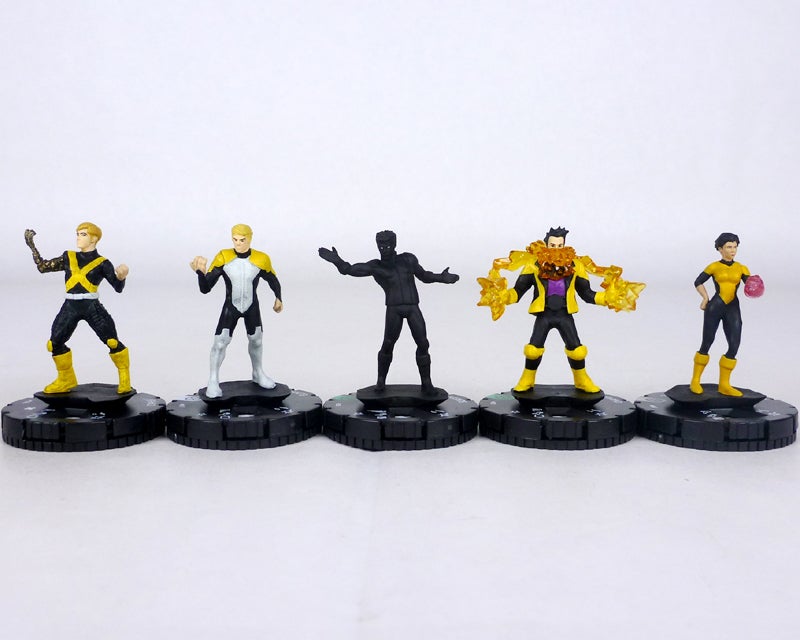 New Mutants
Across the board I quite like the sculpts in this set, and there was plenty of room for WizKids artists to stretch their creative legs with respect to humanoids in tough poses, characters with exaggerated proportions, cool weapons, energy effects, and more. Some of my favorite sculpts (purely subjective, and according to what I saw in the figures I pulled) include Forge looking cocky as hell, Wolverine in battle-ready crouch with intricately detailed costume and musculature, Psylocke and her impressive physique, Sage/Tessa who look incredibly lifelike and have neat pouches, the suave and confident Corsair, Xorn's wild robes, the Cardinal erupting out of a teleportation "bamf," the detailed outfit and face of Hope, swashbuckler Raza with different costume elements and weapons, the armor, weapon, and especially pouches of Cable, and the massive might of •▪▪ịẬị▪▪•.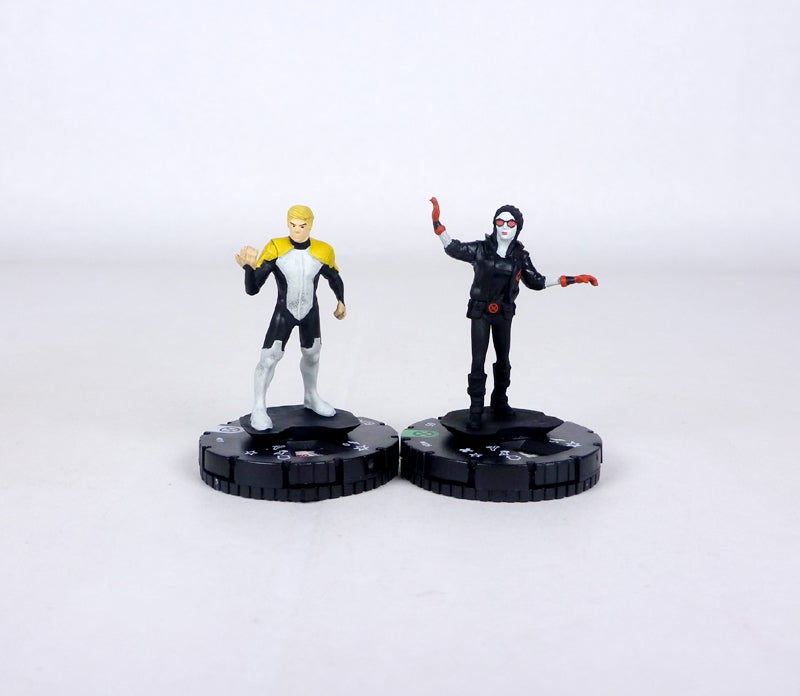 Hellfire Club
Beyond the overall sculpts I'm always on the lookout for fun and iconic poses ripped from the pages of the comics, and noteworthy examples I found were Rachel Grey/Marvel Girl expressively using their mental powers, Cyclops unleashing his optic blasts, Egg rocking out as his… eggs fly around behind him, Rogue in a power pose, Ch'od swinging for the fences, and Gambit throwing out his energized projectiles in mid-leap. Lastly, there's some really nice texture sculpting on Cypher's techno-organic arm, Beast's fur, Domino's Krakoan wood, the plasma eruption of Chamber, Xorn's fire hair, Iceman, Cardinal's teleportation effect, Proteus, and Ch'od's banded skin.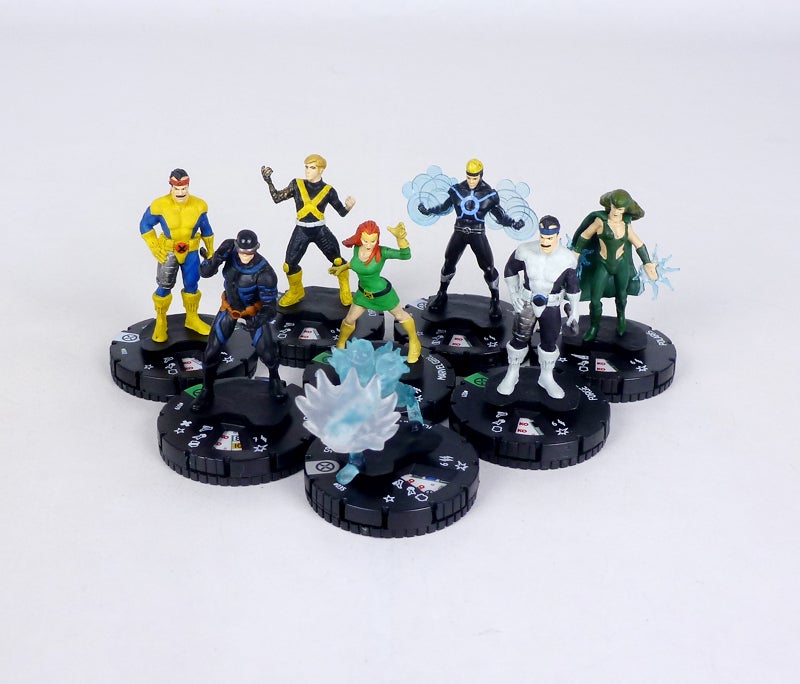 X-Factor
In a traditional X-Men focused set you'd expect to see a whole bunch of figures painted up in black/dark blue and yellow costumes, but of course X-teams aren't nearly so uniform these days. And that means House of X has a nice variety of costumes, colors, patterns, and more with some crazy skin tones, energies, armors, the like. And on some of these (slightly) larger scale figures the WizKids artists were able to add even more detail, too.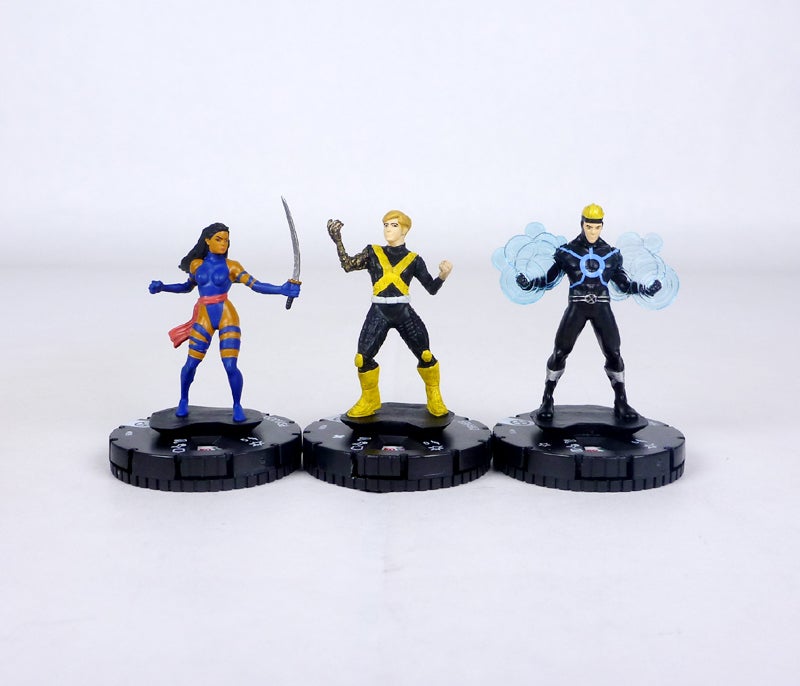 Hellions
Some of the paint applications I particularly appreciated in this set: the nice contrast between Forge's costume and cybernetic parts, both versions of Psylocke with all of the clean lines on the straps and good facial application, Sage and Tessa looking really crisp, the colors and blending on Domino, a particularly good face paint on Trinary, Corsair from top to bottom, Tempus whose costume has more really well done lines, Cardinal just looking awesome, the stark costume with contrasting colors and another good face on Hope, Raza's unique combination of colors and patterns, Cable bright and colorful yet still deadly, and the muted colors of •▪▪ịẬị▪▪• contrasting perfectly with his gold and energy effect. Metallic paints? They show up on Forge's cybernetics, Wolverine's claws, Psylocke's katana, Cypher's arm, the armor of Sinister Clone, Cyclops' visor, Cardinal, Raza, and Cable's swords, and •▪▪ịẬị▪▪•'s gold armor bits. Last but not least, I always like to check out the uses of translucent plastic, especially to see if there's anything unique. In this brick of House of X we see Havok's plasma discs, Polaris' writhing magnetic energies, the psionic energy erupting from Chamber, both Xorns' hair, the effect holding up Egg's flying eggs, Tempus' temporal energy disc, Iceman and his blast, Armor's one pink gauntlet, the teleportation "bamf" of Cardinal, Hope Summer's hands, Proteus, Gambit's energized card attack, electricity arcing along Cable's sword, and the power-wreathed hand of •▪▪ịẬị▪▪•.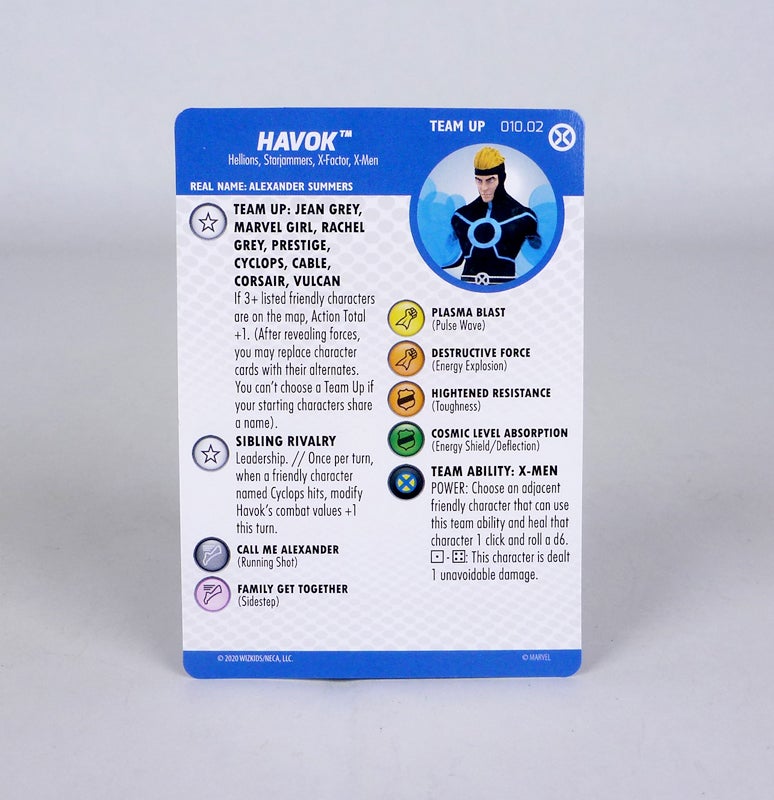 Each set introduces some new aspects to the game, whether it's full blown new mechanics or just some cool new shared traits and the like. House of X has a little bit of everything from Sibling Rivalry trait given to the Summers Brothers to shared and overlapping effects among the Five and Starjammers. This set also debuts the new Cosmic Energy team ability, a re-worded Power Cosmic, and there are Team Ups cards giving you more synergy with your teams. Probably the biggest new thing going on here is the Krakoan Revival mechanic, a very interesting twist on resurrecting KO'd characters. Basically, ten figures from House of X and its corresponding Fast Forces have an ability that lets them bring back a dead X-Men ally… but it has a cost. Your opponent still scores the KO, but also gets a free Bystander Token AND an additional 10 points. Lots of strategic thinking is necessary when dabbling with Krakoan Revivals.
Who'd like to see some dials? A lot of them have been revealed already, but let's take a look at some cool ones from what we pulled: Cypher, Havok, Dr. Alia Gregor, Corsair, Tessa, Xorn (a), Hepzibah, Cardinal, Hope, Proteus, Ch'od, Gambit, Cable, and •▪▪ịẬị▪▪•!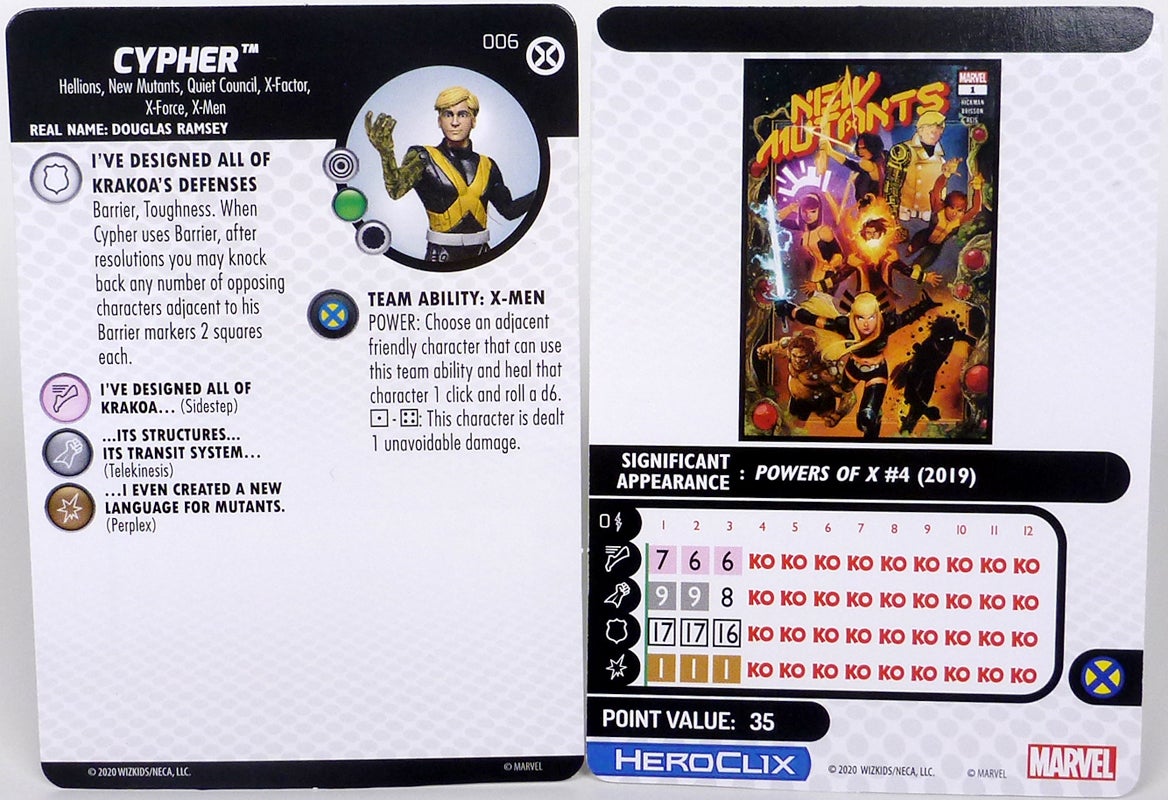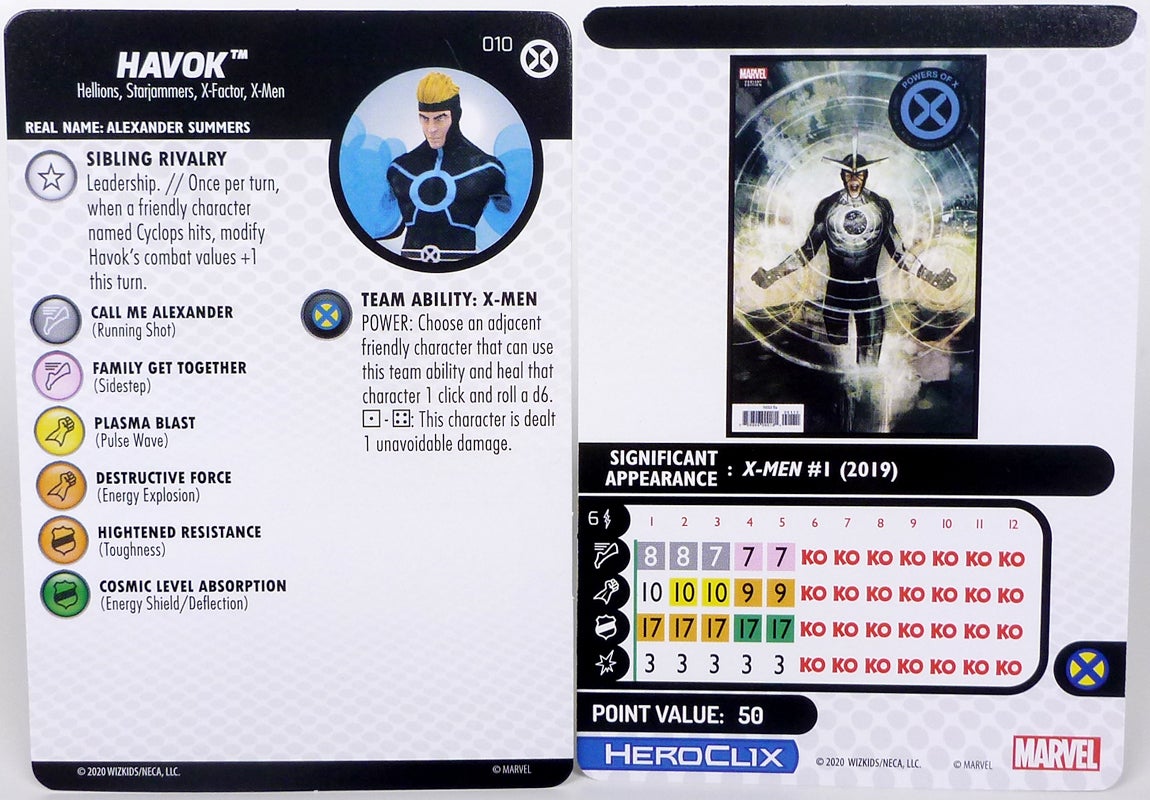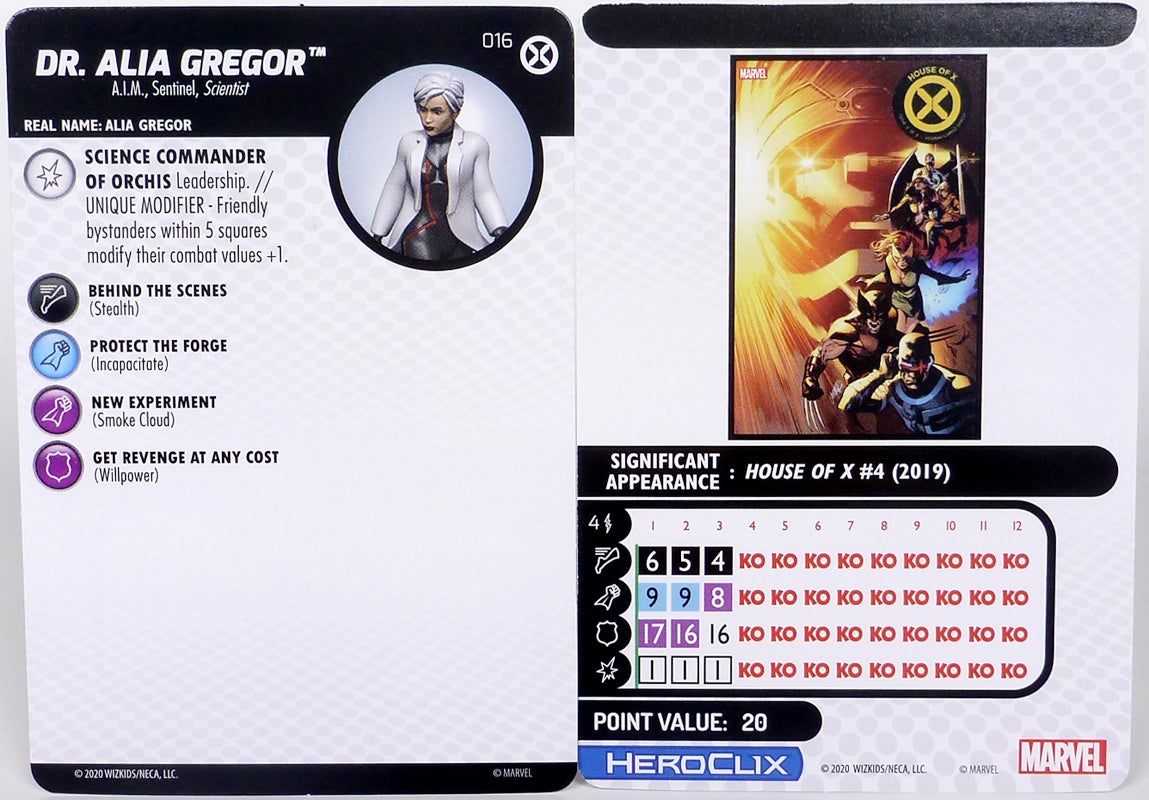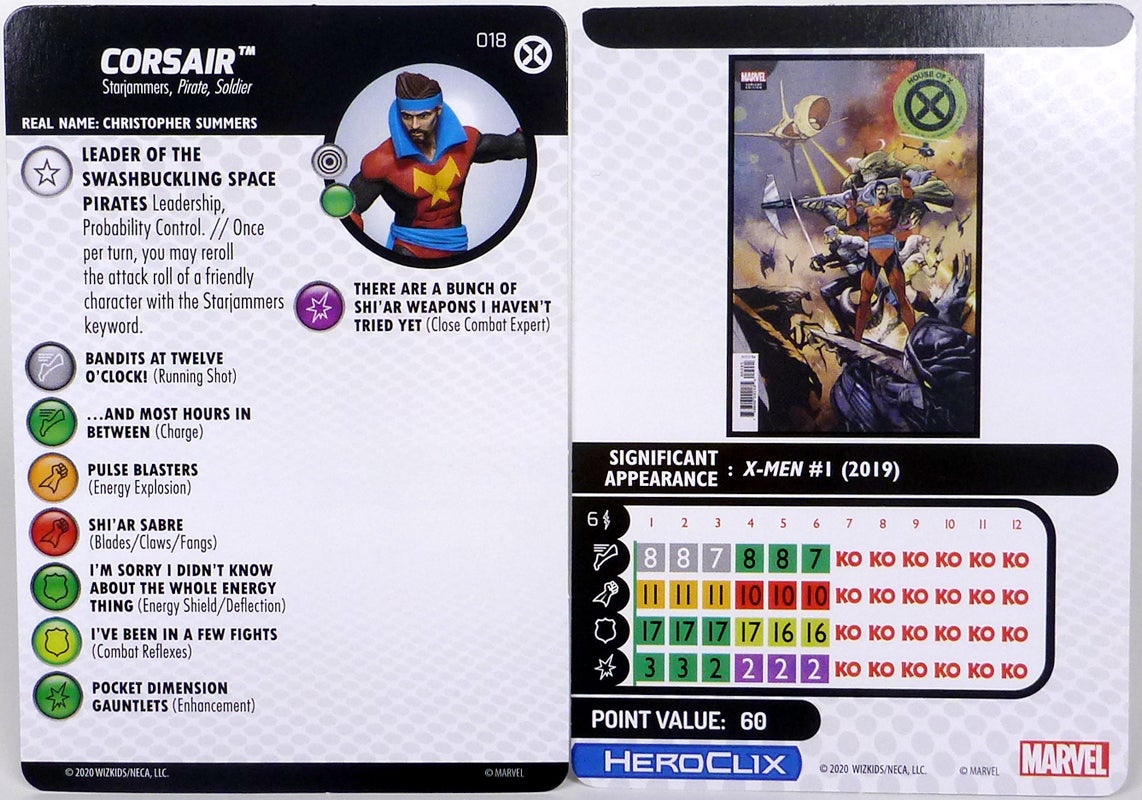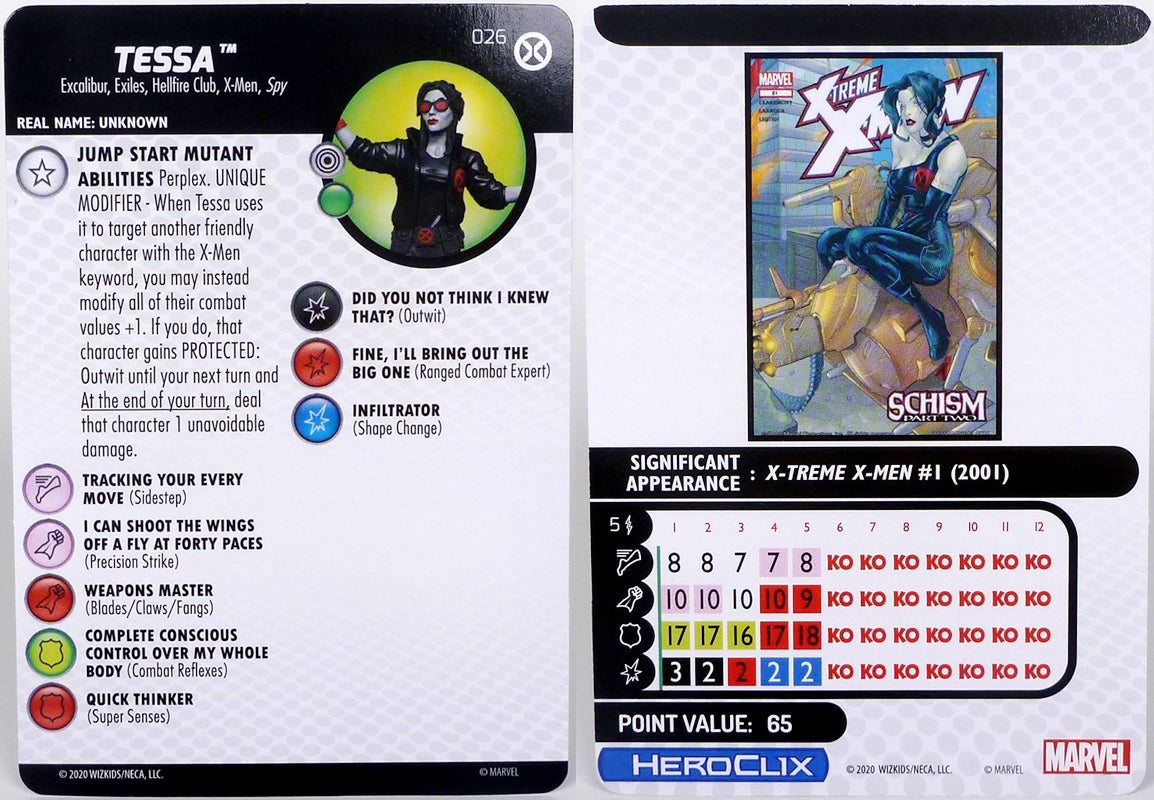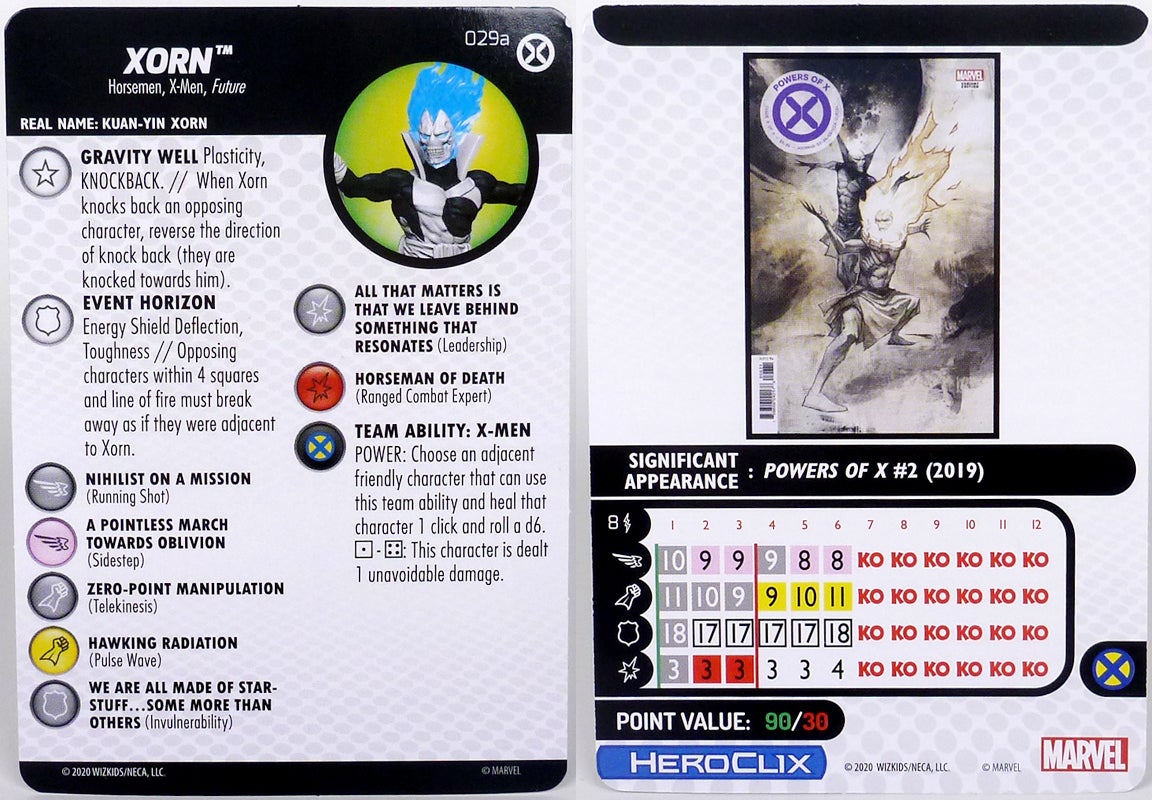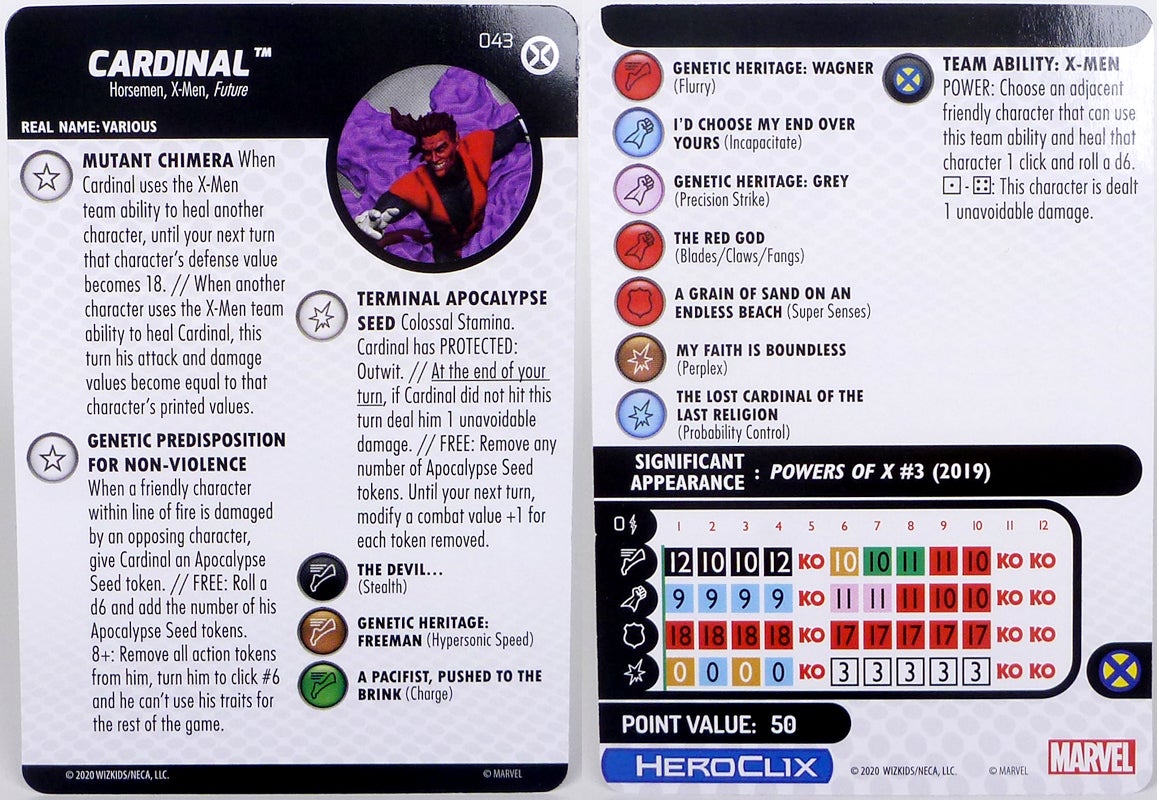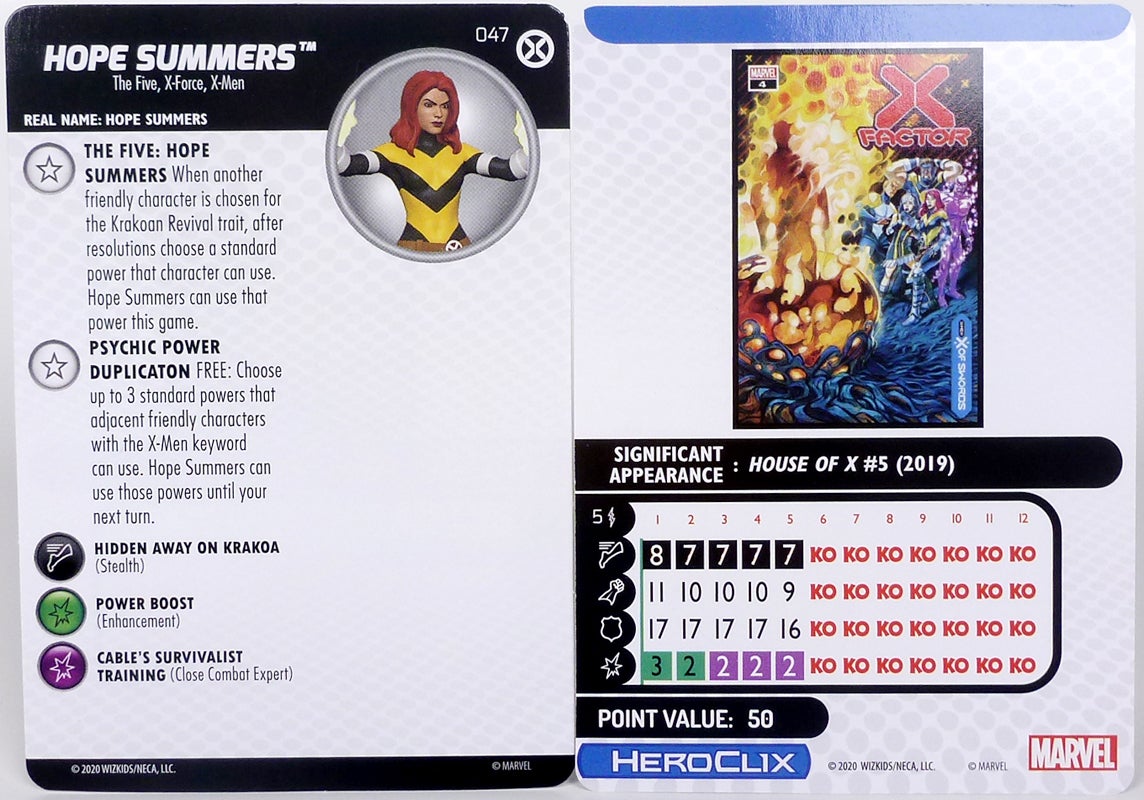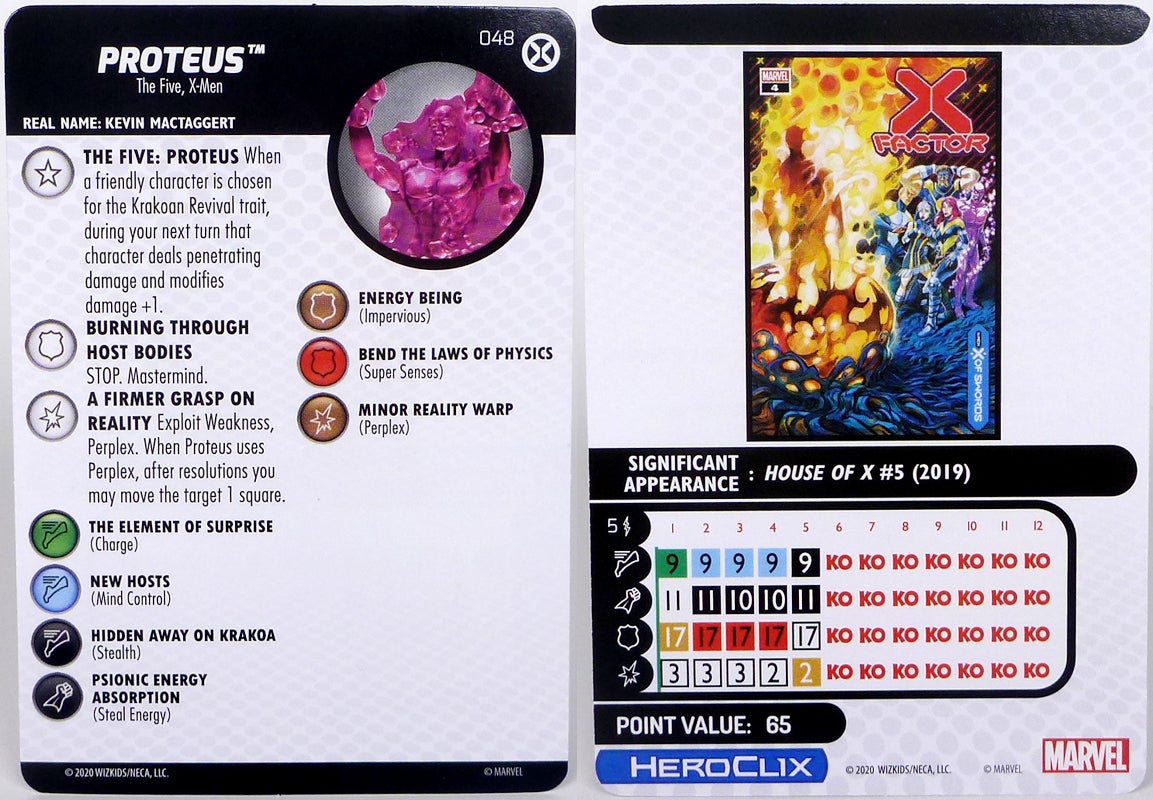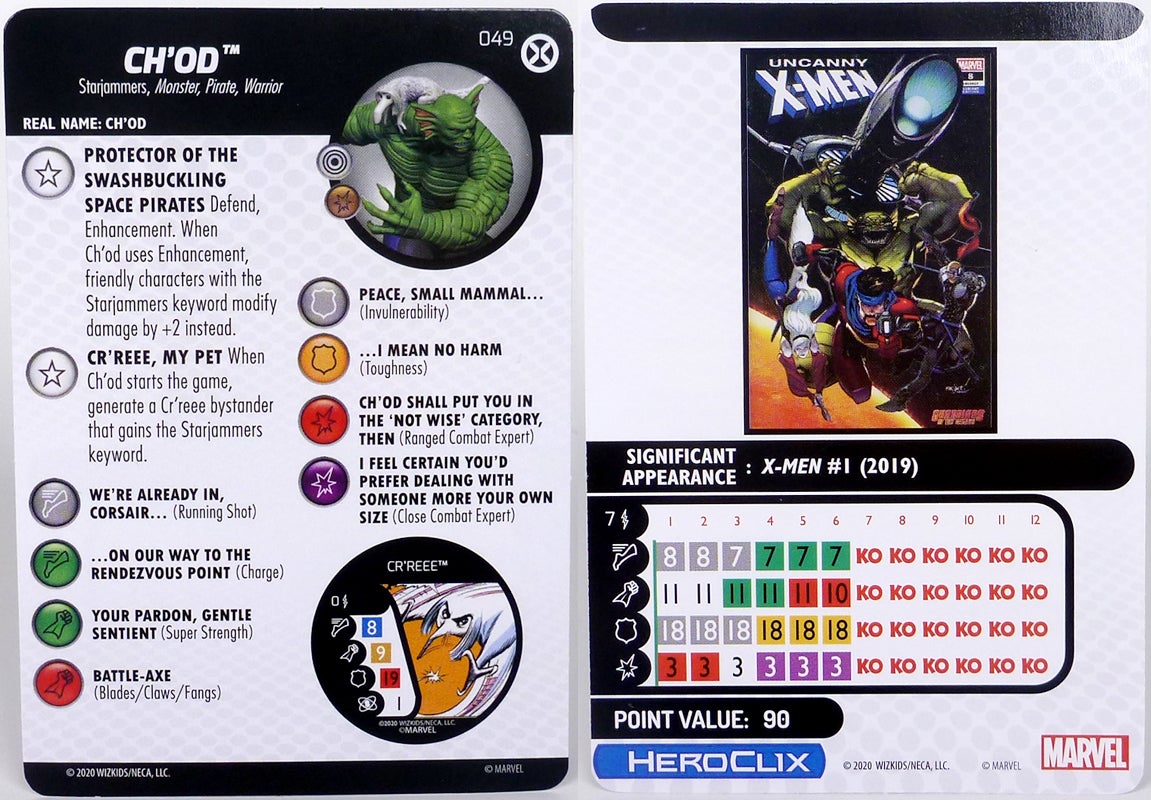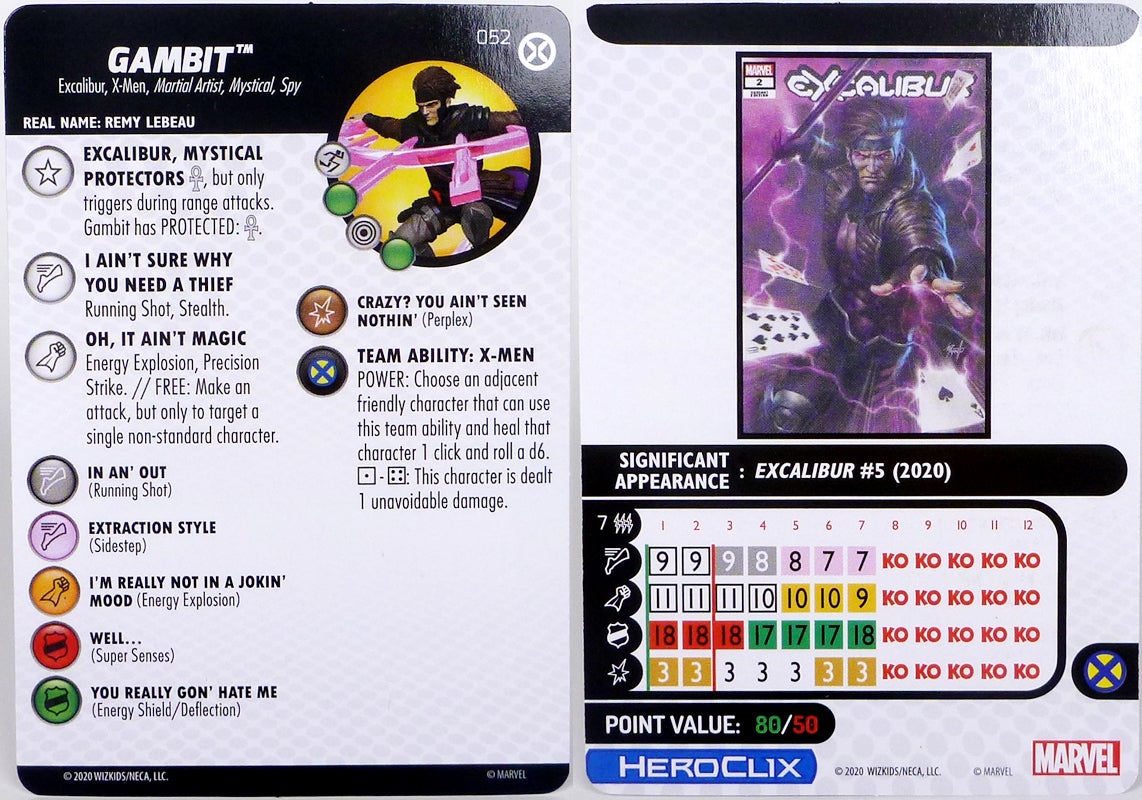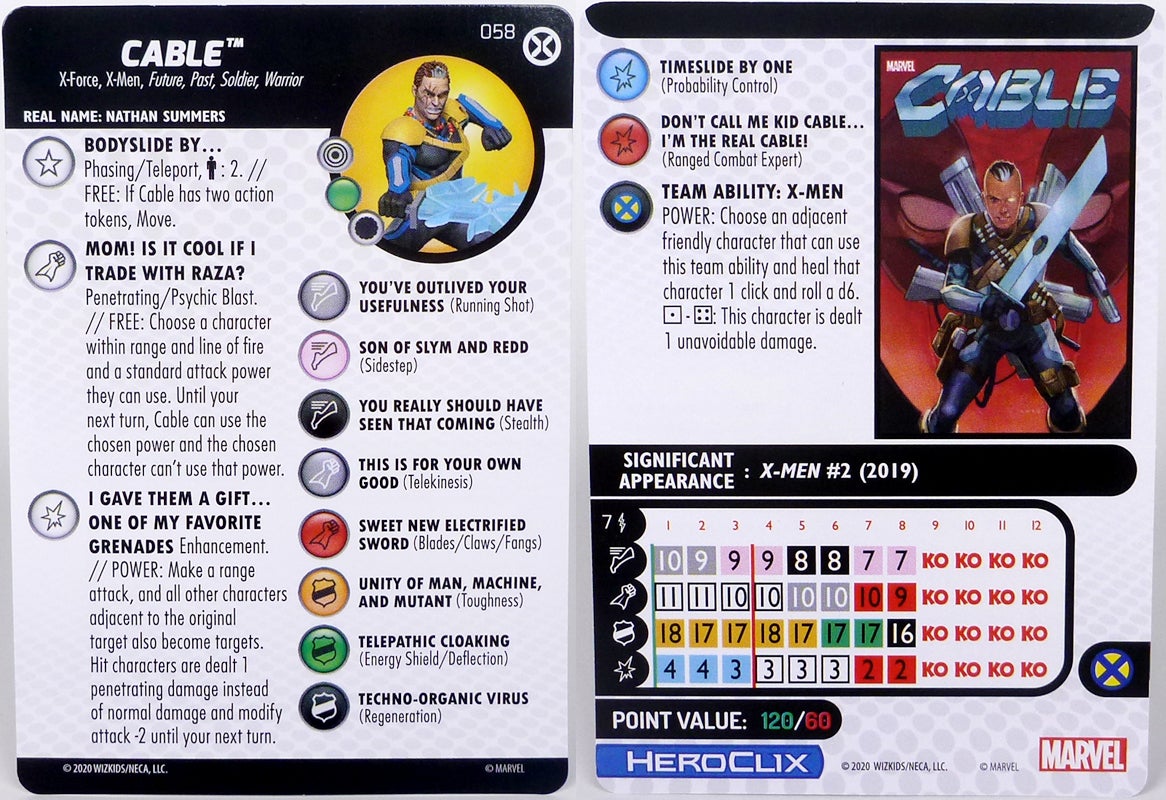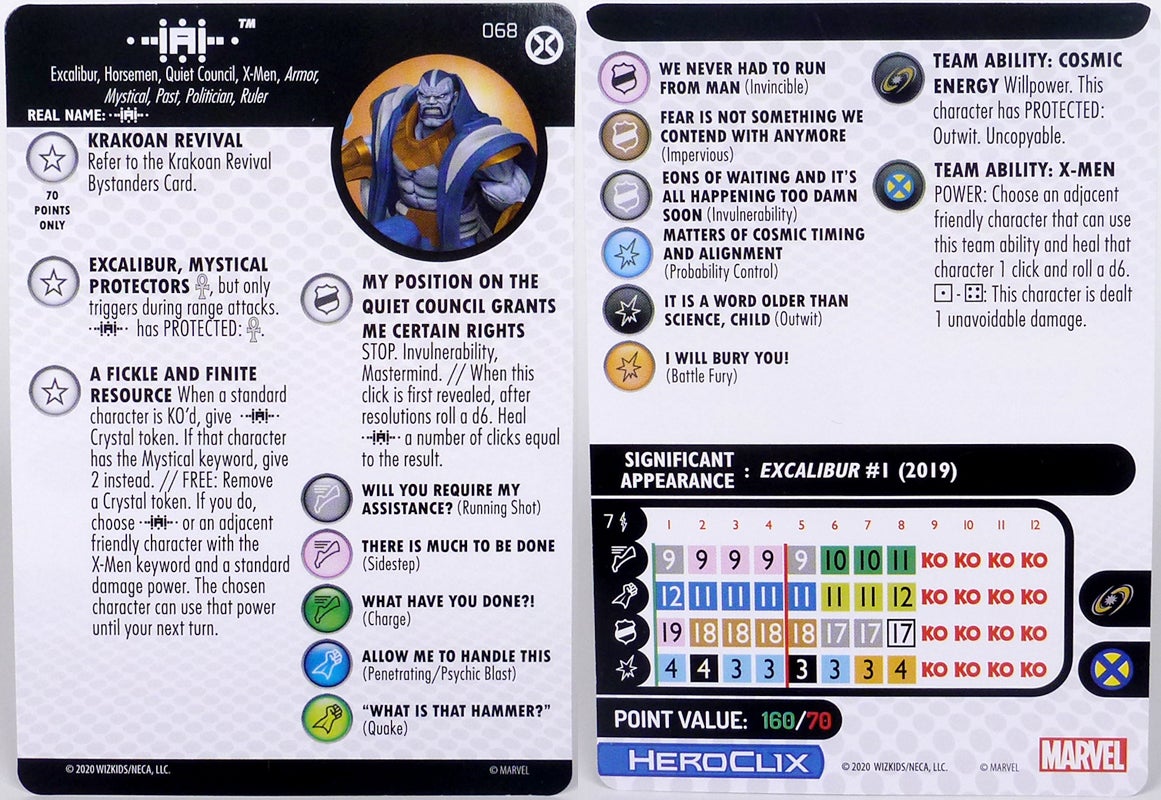 Well there you have it, folks. House of X captures a really cool moment in time, the relaunch and reworking of Marvel's mutant books. If you're a HeroClix player or collector with any interest in the X-Men and their massive world of allies, friends, and enemies, you're definitely going to want to pick up some House of X boosters (preferably a brick to guarantee some choice pulls). And with fun new mechanics, lots of figures to join existing teams, and great-looking figures this set should be quite popular. This expansion, along with a Fast Forces and Dice & Token Pack, should be hitting stores on December 9th, and as with recent releases will be available at brick and mortar shops as well as the WizKids online store. We hope you've enjoyed this advance sneak peek; as always, have fun and good luck with your pulls!
Visit HeroClix.com for even more info as well as downloads of rules and maps, and stay tuned to Figures.com as we continue our reviews of new HeroClix!
Review and photos by Scott Rubin.
Review samples courtesy of WizKids Games.
---