-Review and Photos By Andy Jones
Great Scott! Just when you though Playmobil had knocked it out of the park with their licensed Back to the Future DeLorean (read my review HERE) and it couldn't get any better, they show off what they can do and drop the Back to the Future Advent Calendar Set (in-stock and available to order now through EntertainmentEarth.com priced at only $34.99).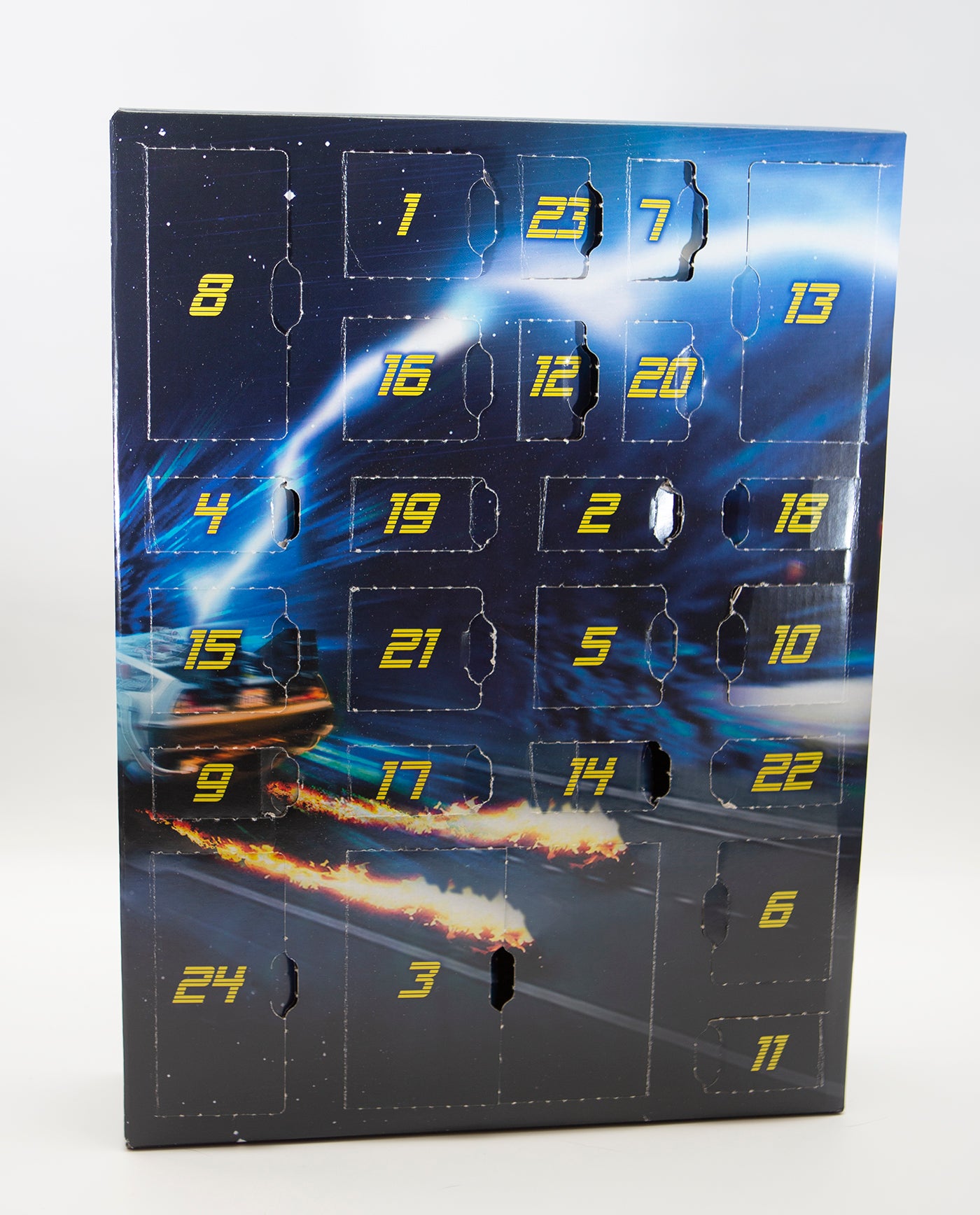 Designed to open a compartment one day at a time, counting down till Christmas, you receive a small surprise every day! Or you can do like I do and rip open each and every flap at once. Hey, it's quarantine, the rules don't apply. You don't have to be counting down the days to a very special birthday to enjoy this set. There are oodles of accessories and surprises that make this set a winner. Be warned! Don't think you can get away with just buying this set and satisfying your BTTF Playmobil itch… if you haven't bought it already, if you get this Clock Tower playset, you will absolutely be picking up the DeLorean playset to pair it up.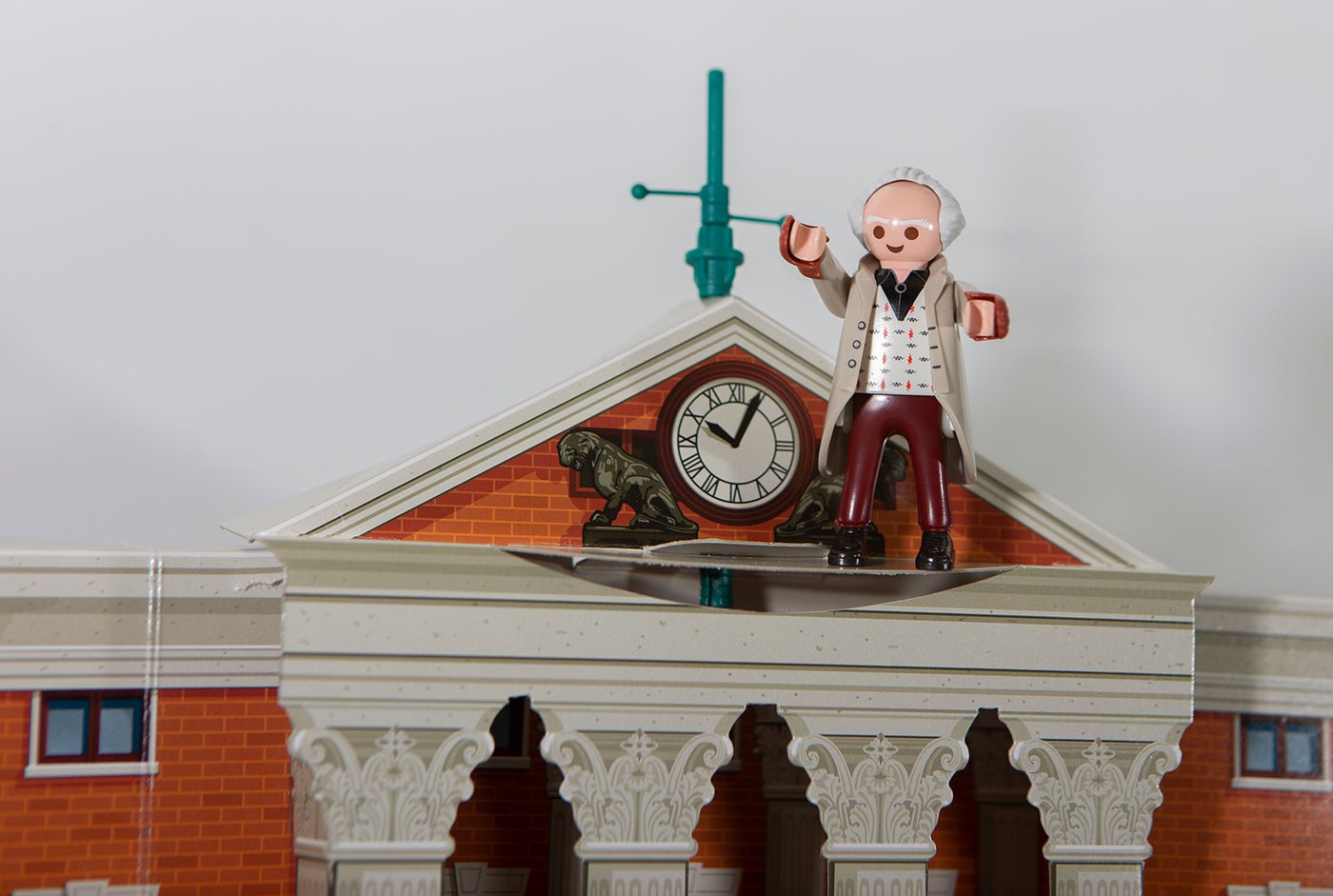 So let's say you can be an adult and practice some self control and open only one flap a day. GOOD FOR YOU. Ahem. Sorry. Anyway, the first thing you set up is the Clock Tower backdrop and the catch wire going across the street. Whew, this thing is perfect. The engineering keeps it solidly together (the rooftop ledge can support Doc standing on it) and the design fits the playmobil world design aesthetic, while its instantly recognizable as the BTTF Clock Tower. The added play feature of the zipline for Doc Brown is a great touch.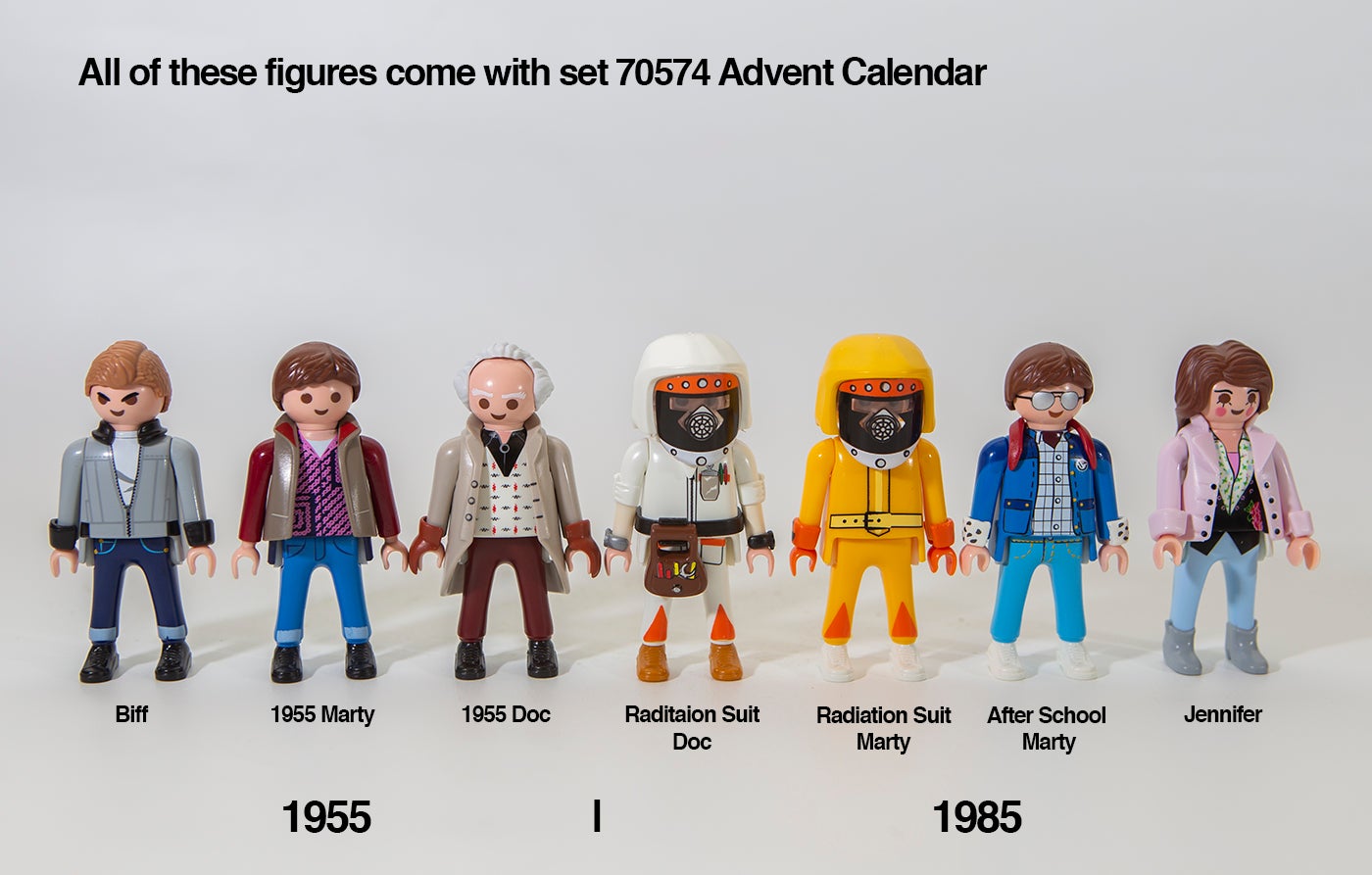 Before I go nuts telling you about all the accessories and details included in this set, rest assured you're also getting a solid line-up of Playmobil figures representing characters from the first Back to the Future film. This is our first time getting a playmobil Biff and Jennifer, and I may be mistaken, but these appear to be all new hair sculpts. (There are lots of playmobil themes I do not follow so maybe they're repurposed, but they're new to me). I love that we also get a Doc and Marty with their Radiation suits. Note that this Doc Brown has a different hair piece than the figure that came with the DeLorean, to accommodate the radiation helmet. There's a 1985 Marty without the life preserver vest and added aviator sunglasses. I also appreciate the 1955 Marty, as the only prior released 1950s Marty was dressed up for the Enchantment Under the Sea Dance. But you can see in later pics, I had a blast with Marty in his yellow radiation suit. Sorry about your barn….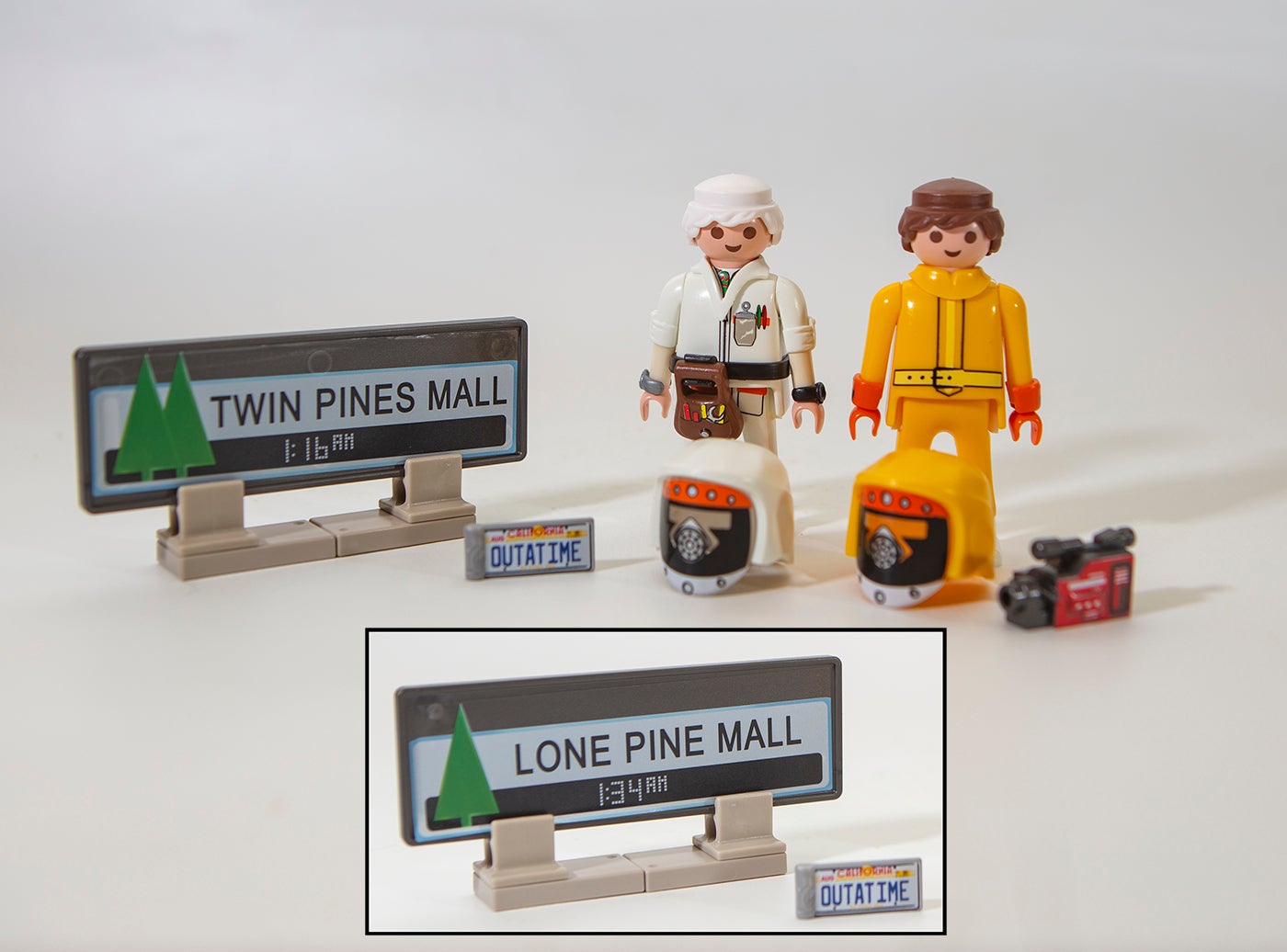 Now to get giddy about the accessories. I'll say it again, and as many times as I need to. I was wrong. I was originally very disheartened to see Playmobil jump into the licensed property game. I loved the philosophy behind their original themes and intended play experience. But holy smokes, they blew me away with their Ghostbusters line. It was made with true love for the property, but still remained firmly grounded as a Playmobil toy. It didn't feel like a heartless cash-grab, but their Ghostbusters, How to Train Your Dragon, and Scooby-Doo themes are the best representations of those properties ever made. And the Back to the Future sets are no different. You can tell the designers adore the films and aren't just slapping logos on existing plastic. Look at this Twin Pines Mall marquee… you can flip it around and it says Lone Pine Mall, so you can pick which timeline to display. The reverse of the Save the Clock Tower has Jennifer's phone number, and my favorite little surprise is the Playmobil take on the Sci-Fi magazine George had by his bed when Darth Vader threatened to melt his brains.
The little accessories are fantastic. I love that we get a wooden make-shift skateboard and Enchantment Under the Sea dance placard. The hairdryer and headphones for the Darth Vader encounter are great. I'm going to warn you one last time, getting the little red JVC camcorder, the nuclear suits, the plutonium containers, the OUTATIME license plate, and the catch-wire going across the street will make NOT buying the DeLorean playset an impossibility. I'm going to assume that if you're considering buying this set, you probably have the DeLorean already, but IF you were holding out,the fun of all the little details that come with this set will be the straw that breaks the camel's back.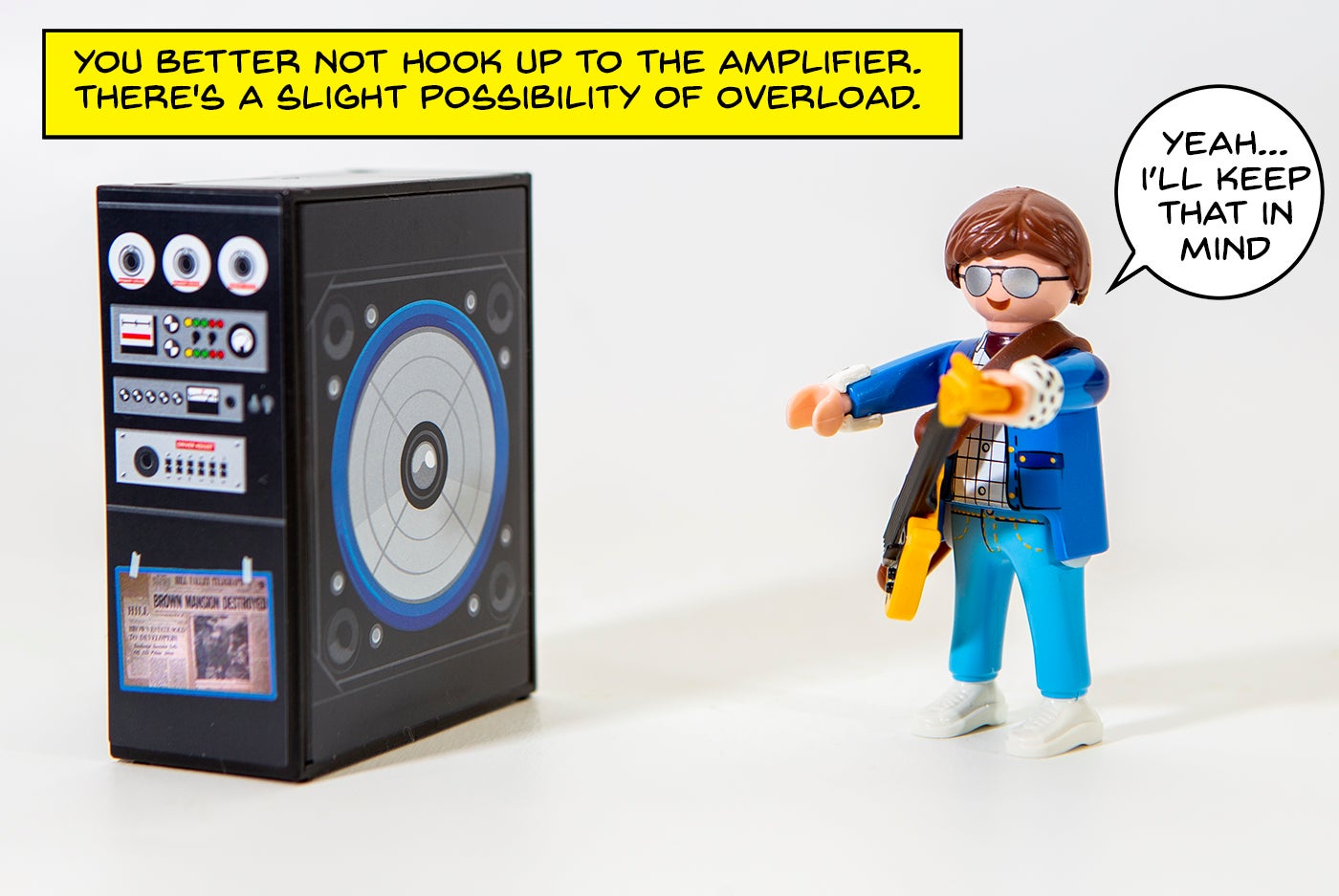 I love that we got the huge amplifier from Doc's garage. On the side there is a decal with various knobs and meters, as well as a newspaper clipping of the Brown Mansion fire. I love all these additional details. I love the aviator glasses added to this Marty figure.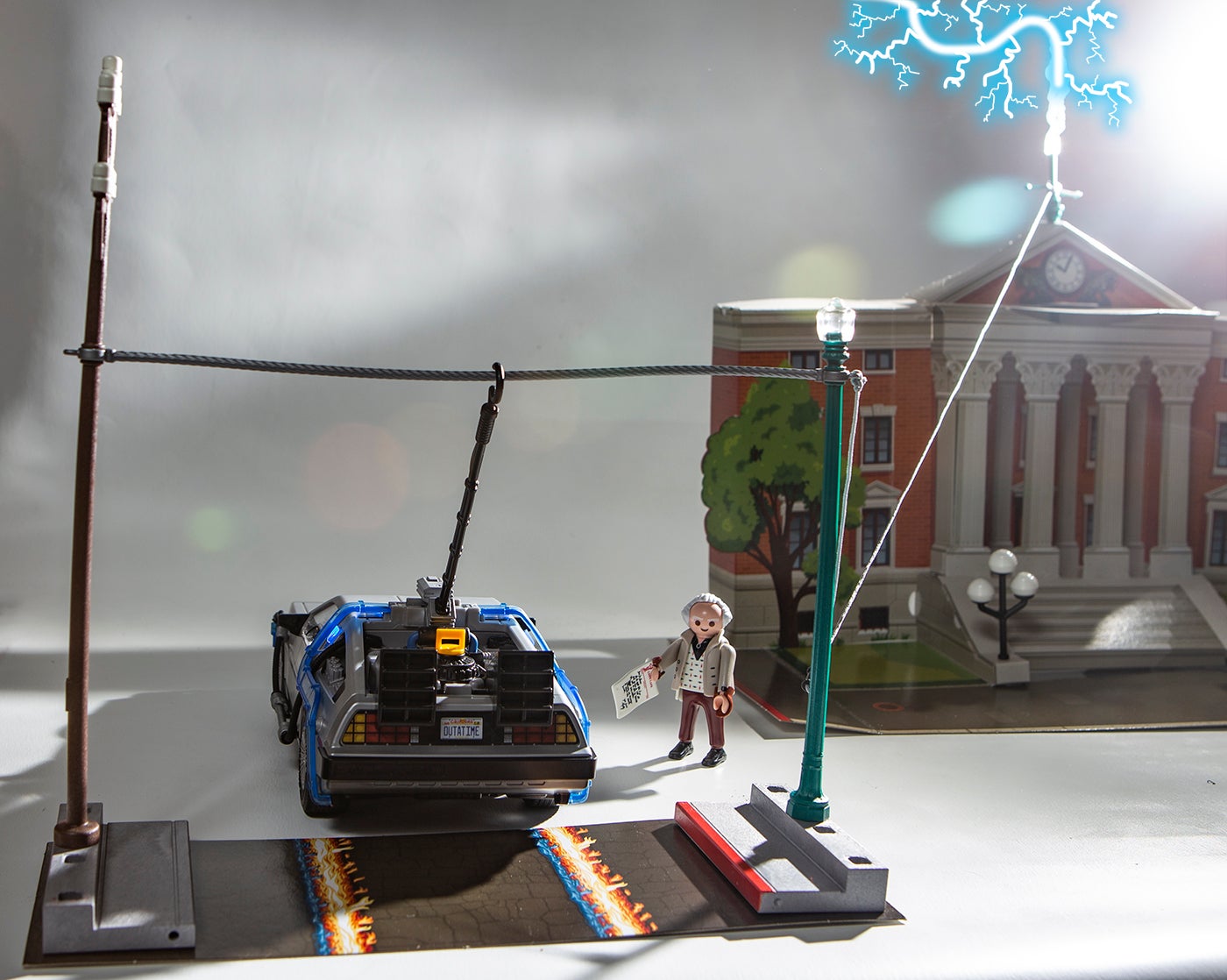 One thing that has always been true for every Playmobil set I've ever bought is that when you consider all things, you're left with an impression of "wasn't that nice!" There are always little bonuses and considerations that make me feel I've gotten more than I paid for, and rarely am I left feeling anything but over-joyed. In addition to the care given to the details from the movie, I have to say the value of this set is very high. The use of a cardboard Clock Tower gives you a great display without costing a lot. Then you get a bunch of figures that you don't already have if you have the other Back to the Future sets. There are no straight-up duplicates, even the 1950s Doc Brown (that comes with this set) has long coat tails where the 1955 Two-Pack is a waist length coat. There is a Radiation suit Doc that comes with the DeLorean playset, but this one has different hair to accommodate the helmet. We didn't get his helmet before, nor Marty in his yellow suit. Even the vest-less 1985 Marty is great. It pairs well with the yellow guitar and giant amplifier in Doc's garage.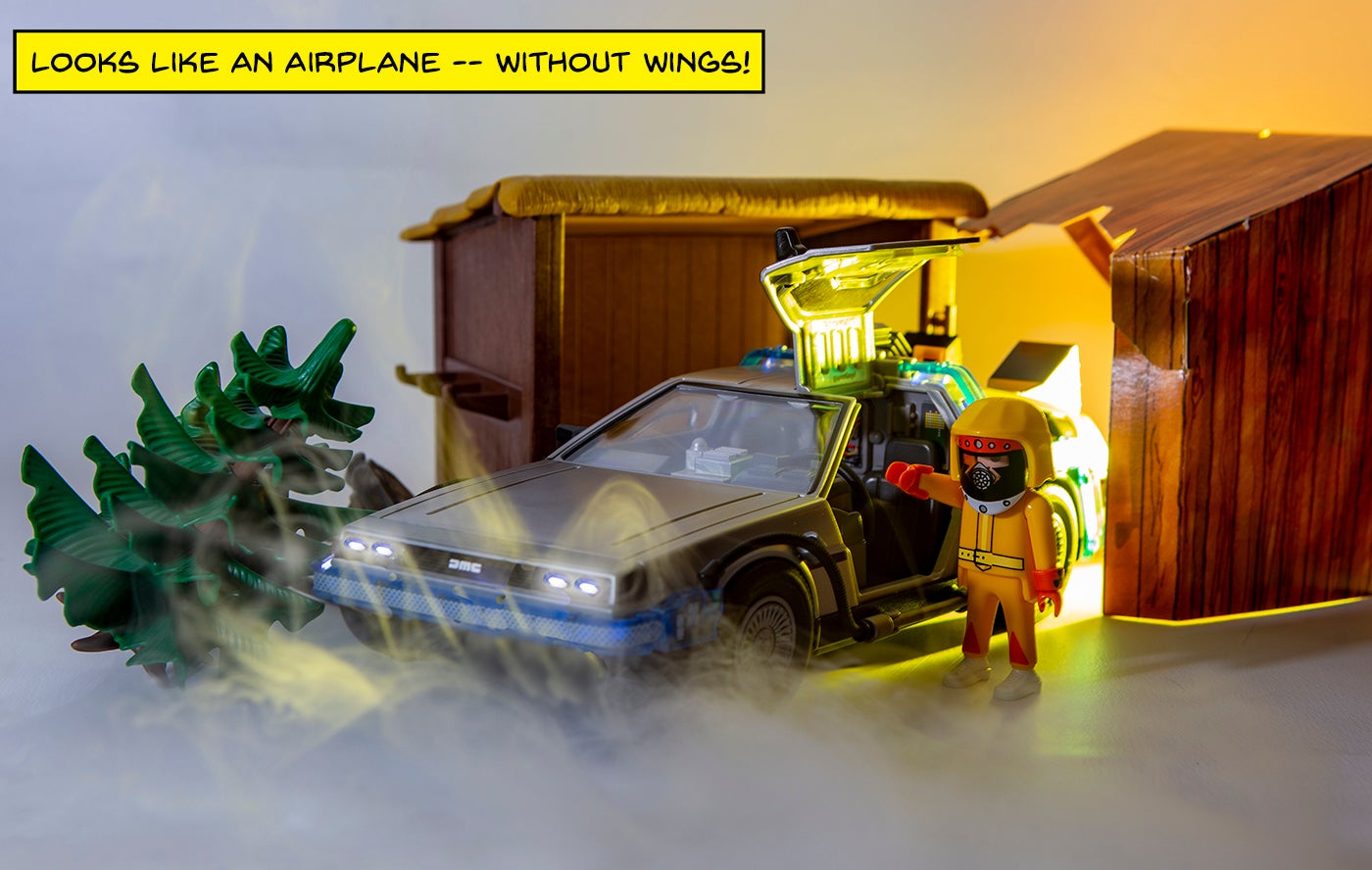 I wanted to be careful featuring photos that included pieces that didn't come with the Advent Calendar, but I wanted to show you how excited I was to get this set. Now that I have radiation suit Marty (and a miniature fog machine) I can finally recreate the scene from Peabody Farm. Actually now I'm shopping around buying a gently used playmobil barn heh heh.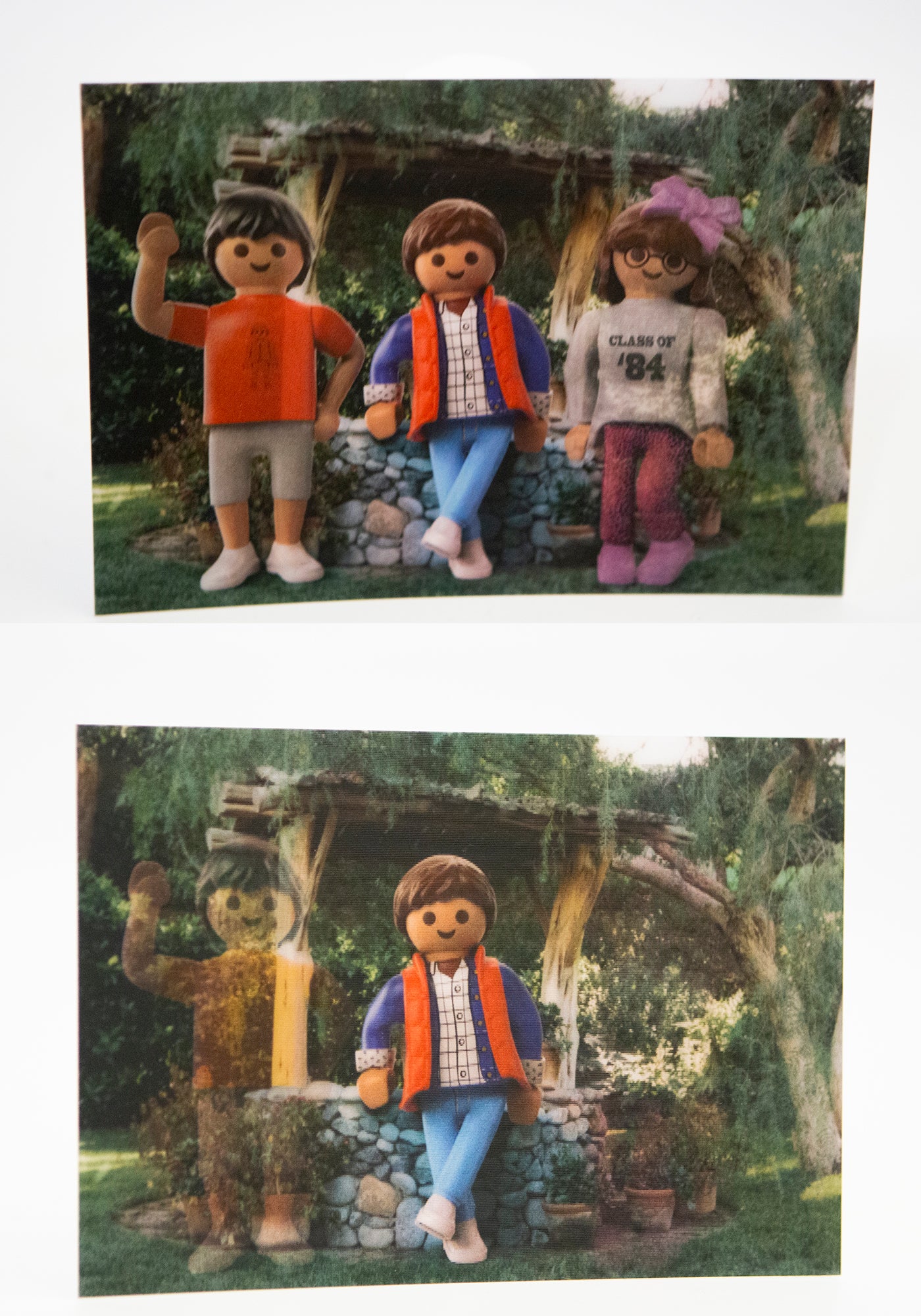 This is heavy, I almost forgot! One of the coolest "wasn't that nice!" treats is the lenticular siblings photo. Flip this photo back and forth and watch (Playmobil versions of) Marty's brother and sister fade from existence! This is great, and human-scaled as well! Very fun.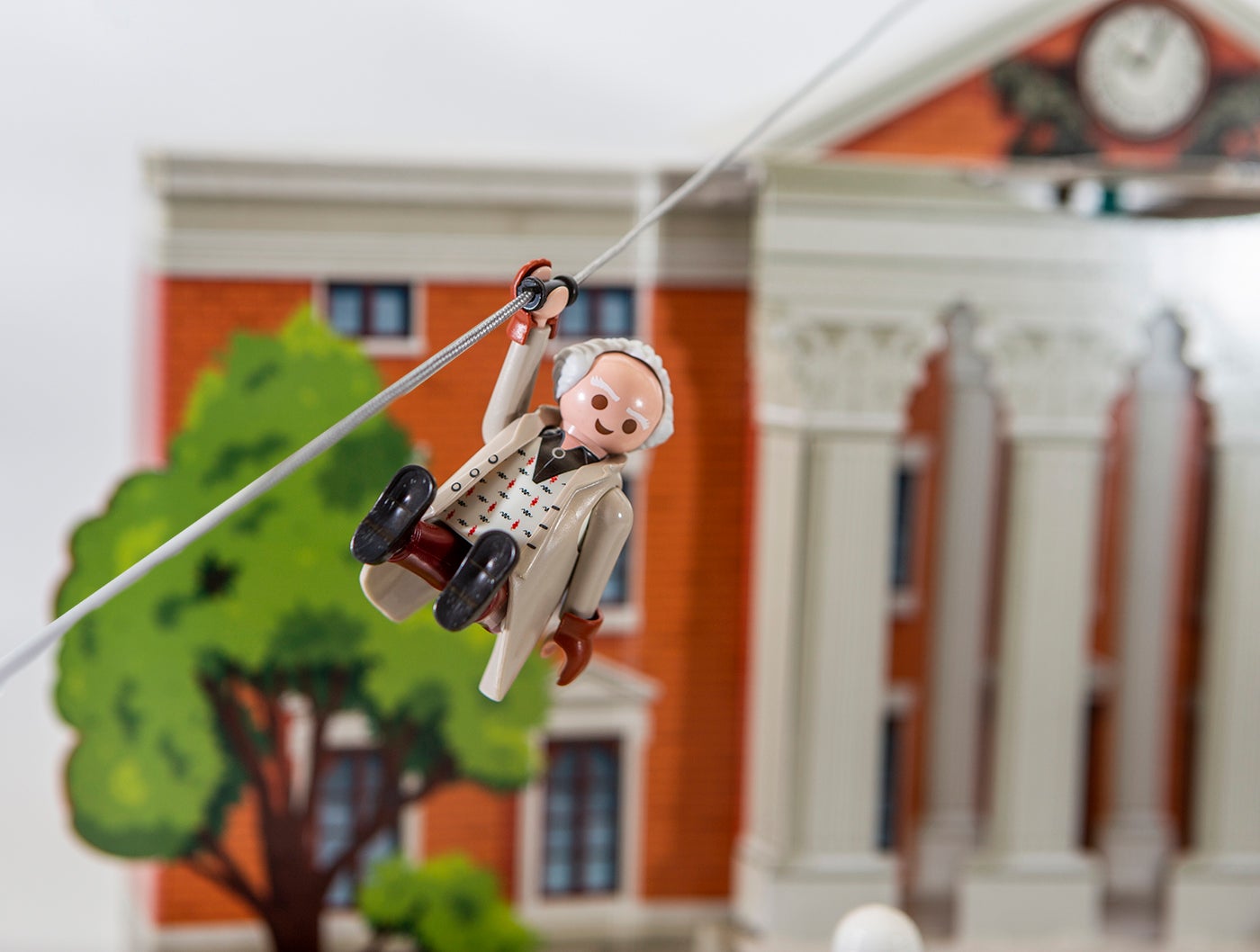 I love this playset. If you want to spice up your countdown to Christmas, this is a great way to do it, but if you're just anxious to beef up your Back to the Future toy shelf, this will give it a 1.21 jigawatt punch. I'm anxious to see what the Future will bring to the world of Playmobil, so stay tuned as we bring you more photos and reviews.
Review and Photos By Andy Jones
Review Samples Courtesy of Playmobil
We are committed to finding, researching, and recommending the best action figures and collectibles. We earn commissions from purchases you make using the retail links in our product reviews. Learn more about how this works.
---